Advertising Disclosure
Advertising disclosure:
Our partners compensate us. This may influence which products or services we review (also where and how those products appear on the site), this in no way affects our recommendations or the advice we offer. Our reviews are based on years of experience and countless hours of research. Our partners cannot pay us to guarantee favorable reviews of their products or services.
The quest to stand out, capture attention, and make a lasting impression on potential customers is a journey that every business, big or small, finds itself on. But how do you traverse this intricate landscape effectively? The answer lies in innovative, tailored marketing strategies crafted by experienced professionals.
In this realm of business enhancement and brand visibility, marketing consulting services are the unsung heroes. They work meticulously to analyze, understand, and enhance the unique narrative of each business, making it resonate with the targeted audience. 
This article tackles a detailed expedition to unravel the Top 11 Agencies for Marketing Consulting Services, shedding light on their expertise, innovations, and proven results.
---
Top Marketing Consulting Services
Top
marketing consulting services
2024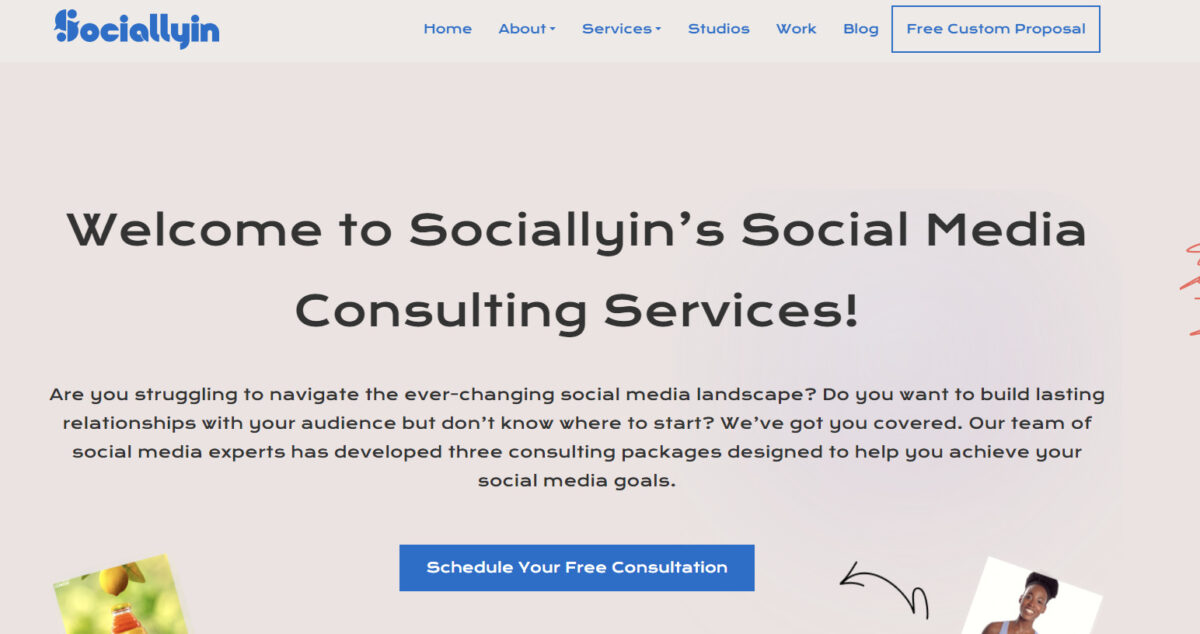 Sociallyin, a distinguished social media consulting agency, has carved a niche with its bespoke service offerings tailored to businesses eyeing amplified engagement and visibility. The agency radiates expertise and precision, blending years of experience with innovative methodologies to transform social media platforms into potent tools for brand enhancement. Specializing in a holistic approach, Sociallyin's arsenal encompasses content creation, community management, paid social media advertising, and a plethora of other services designed to catapult businesses into the limelight.
Their consulting services are engineered around the bedrock of customization, ensuring each strategy is meticulously crafted to resonate with the brand's ethos and objectives. Sociallyin's prowess emanates from a dedicated team of experts proficient in navigating the multifaceted social media landscape, bringing to the table a blend of creativity, innovation, and strategic acumen. Their packages are adaptable, offering clients the flexibility to choose services aligning with their specific needs and objectives, ensuring optimized outcomes and enhanced return on investment.
Case Study
A testament to Sociallyin's efficacy is embodied in their data-driven approach, ensuring strategies are not just intuitive but are substantiated with measurable outcomes. Every campaign is underpinned by analytics, offering clients insights into the tangible impacts of their social media endeavors. One prominent case that underscores their expertise is a bespoke social media strategy curated for a renowned brand, resulting in a 50% increase in engagement and a 30% uptick in audience reach within a span of three months. The campaign, characterized by tailored content and strategic audience targeting, epitomized Sociallyin's capability to transform social media platforms into powerful conduits for brand amplification and engagement.
---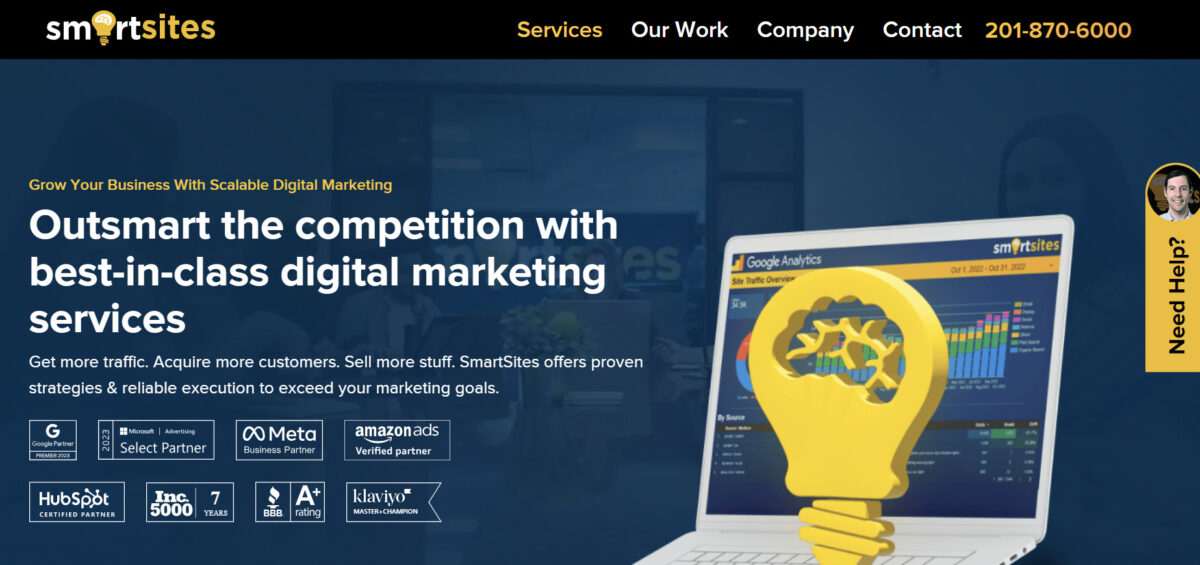 SmartSites has earned acclaim for its result-driven solutions specifically tailored for consulting services. This agency boasts an enviable portfolio, evident in their status as a Google Premier Partner and Microsoft Advertising Select Partner. What sets SmartSites apart is their innovative approach to digital marketing, seamlessly integrating website design, SEO, and PPC to ensure consulting businesses not only have a robust online presence but also convert leads into tangible sales effectively.
The core services offered by SmartSites extend beyond conventional methodologies, epitomizing a blend of creativity, technology, and strategic thinking. Their tailored digital website design and marketing solutions are not just about aesthetics but are engineered to enhance functionality, user experience, and search rankings. Every website is meticulously crafted, embedded with responsive designs and quick-loading pages to facilitate seamless navigation. The prowess of SmartSites is accentuated by their SEO strategies, crafted to enhance online visibility, driving targeted traffic and ensuring consulting services sustain a competitive edge.
Case Study
An illustrative case study that underscores SmartSites' efficacy is their work with Anexio. A strategic SEO campaign orchestrated by SmartSites led to a staggering 912% increase in organic search traffic and a 247% surge in total site traffic. Such impressive metrics are not accidental but are born from SmartSites' commitment to leveraging cutting-edge SEO tools, coupled with their in-depth industry insights.
---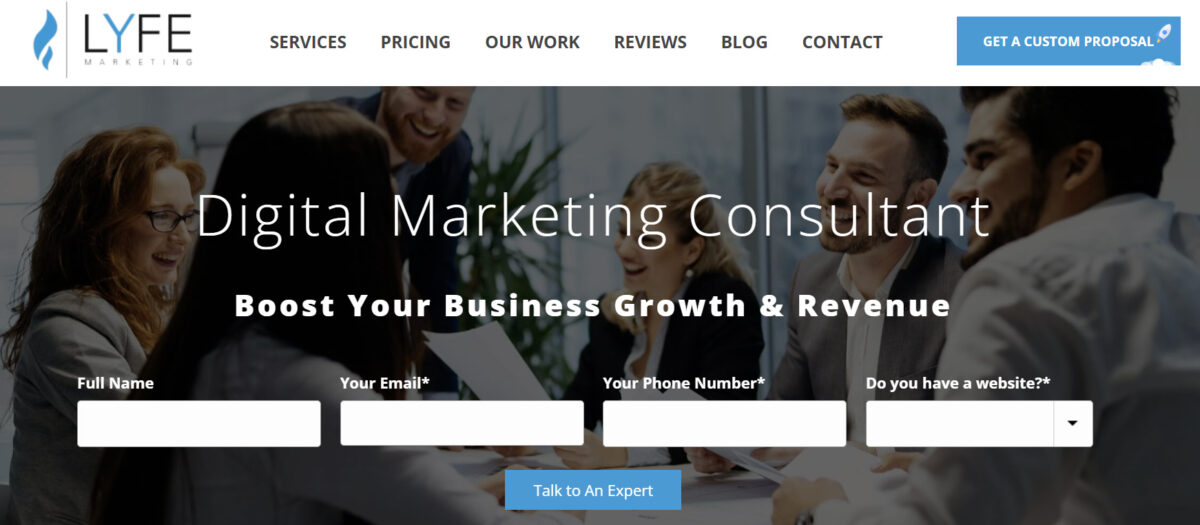 Lyfe Marketing is a prominent player in the digital marketing sphere with its complete suite of services and an evidence-backed approach. Anchored in a well-defined structure, the agency excels in harmonizing multi-channel strategies to foster brand visibility and customer engagement. Their broad spectrum of expertise spans from social media marketing and search engine optimization to pay-per-click management services. With 85% of Americans frequenting the internet daily and the vast majority relying on online insights for purchasing decisions, Lyfe Marketing's strategic involvements have become indispensable for businesses aiming to capitalize on these consumer behaviors.
With a legacy of propelling over 983,287 leads for their clients, the agency's prowess is not just in words but also in action. Each strategy is meticulously crafted, aligning with the clients' distinct business goals and accentuated by a deep comprehension of the target audience's digital footprints. Their process is demystified into five core steps: strategy development, driving traffic, generating leads, retargeting, and a robust system of measurement and reporting.
Case Study
As stated in their digital marketing blog, the case study of driving over $500K+ in sales through Google Ads is a testament to Lyfe Marketing's tangible impact. Ranked #299 on Inc.'s list of fastest-growing companies, their trajectory is a reflection of consistent delivery and innovation. Each campaign is intricately designed and optimized, embodying the dynamism of the digital landscape. The agency's ingenuity, highlighted by their adeptness at leveraging cutting-edge trends and technologies, cements their stance as a preferred partner for businesses aiming to navigate and conquer the digital expanse effectively and efficiently.
---

McKinsey's marketing consulting services stand out for their intricate blend of data-driven insights and human understanding, delivering solutions as empathetic as they are empirical. The firm excels in driving meaningful growth transformations, underpinned by a diverse suite of specialized offerings ranging from branding and consumer insights to digital marketing and analytics. McKinsey's commitment to intertwining advanced analytics with deep human insights ensures personalized, targeted solutions that resonate with diverse market segments, driving enhanced customer engagement and loyalty.
One of the distinguishing facets of McKinsey's approach lies in its innovative platforms, such as Periscope and CustomerOne. Periscope combines prescriptive analytics, world-class intellectual property, and cloud-based tools to drive sustainable revenue growth. On the other hand, CustomerOne integrates AI-powered analytics with human understanding, offering nuanced customer insights and identifying growth opportunities with speed and precision. These platforms exemplify McKinsey's commitment to integrating cutting-edge technology with strategic insight, delivering tailored solutions that immediately and sustainably drive client growth.
Case Study
Impact stories from McKinsey elucidate the tangible results of their strategic interventions. For instance, a logistics company consolidated brands and developed a consistent global portfolio under McKinsey's guidance, catapulting it into a Top 100 global brand. Another narrative involves the implementation of targeted online marketing programs, which resulted in a significant 20% sales increase and a 30% profit surge.
---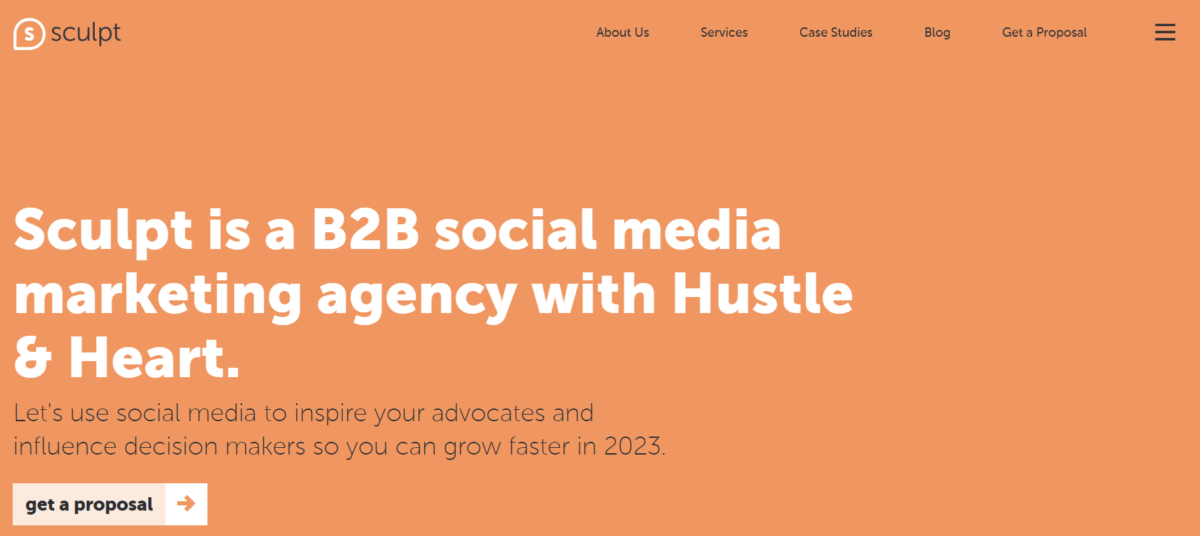 Sculpt, unambiguously dedicated to enhancing B2B social media experiences, adopts a holistic approach. It integrates organic and paid strategies, ensuring clients grow their audience and awareness and translating these metrics into tangible ROI. Sculpt's expertise transcends the ordinary; from episodic and vertical video series to nuanced social media strategy playbooks and b2b influencer campaigns, each service is meticulously crafted to elevate brand reach, resonance, and recall.
Sculpt's approach is grounded in a profound understanding of the client's specific needs, ensuring bespoke solutions that echo the uniqueness of each brand. Their suite of services, including social media consulting, content creation, community management, and a meticulous measurement and reporting mechanism, underscores their commitment to driving both audience and business growth. The agency's dynamism is further underscored by their capacity to flex, optimize, and grow, ensuring that clients are not just participants but dominant contenders in the rapidly evolving digital space. In essence, Sculpt embodies a confluence of hustle, heart, and expertise, marking it as a beacon in the B2B social media marketing terrain.
Case Study
A testament to Sculpt's efficacy is encapsulated in a vibrant portfolio of case studies, highlighting the agency's adaptability and precision. One notable example features Schneider Electric, where Sculpt's agile team adeptly met evolving needs, infusing refreshing solutions and generating impactful outcomes. This alchemy of strategic thought and creative execution is not just reserved for tech giants; mid-market category challengers and diverse B2B enterprises find in Sculpt a partner that seamlessly aligns with their voice, technical world, and contemporary social media demands.
---

Consult Yasser embodies a synthesis of expertise, innovation, and a data-centric approach in delivering bespoke marketing solutions. With over 15 years of acumen accrued, Yasser's consultancy hinges on a dynamic application of full-stack marketing strategies tailored to the distinct objectives of brands and start-ups. The agency's forte lies in orchestrating a meticulous marketing performance audit, amalgamating the precision of data analytics with strategic ingenuity to identify performance gaps and optimize efficacy across multifarious marketing channels.
The agency's 360-degree digital marketing strategy encompasses an intricate weave of market research, competitive analysis, and target segmentation analysis, ensuring that each strategic blueprint is anchored in insightful data and tailored to the client's niche. The integration of marketing mix, content marketing strategy, and growth hacking plans augments the bespoke nature of Yasser's offerings, rendering each strategy a unique fingerprint aligned to specific business objectives and market dynamics.
A distinguishing hallmark of Consult Yasser lies in the integration of advanced marketing analytics. The agency illuminates the client's journey with a fully data-driven approach, enhancing data resource integration and connecting intricate data patterns. This empirical foundation empowers stakeholders with enriched insights, optimized reporting systems, and a pivotal stance at the epicenter of performance metrics. As a testament to the agency's efficacy, its customized marketing dashboard development epitomizes a confluence of analytical rigor and strategic clarity, propelling clients to navigate the competitive terrain with informed confidence and tactical agility.
---

Digital Silk emerges as a front-runner in the intricate landscape of digital marketing consulting, distinguished by its meticulous, research-backed, and strategically nuanced approach to elevating online presence. The agency's ethos is grounded in a harmonious blend of analytical rigor and creative innovation. Digital Silk leverages a wide range of services, enveloping clients in a cocoon of strategic intelligence designed to augment website traffic, nurture leads, and fortify brand allegiance. The agency's methodical incursion into industry insights, target audience nuances, and user behavior analytics accentuates its bespoke service offerings.
Central to Digital Silk's esteemed reputation is its 360° digital marketing strategies, meticulously crafted to unveil latent opportunities through untapped channels. The agency's multichannel conversion funnel is an exemplar of tailored precision, aligning seamlessly with distinct audience behaviors. Key to this strategic alchemy is a suite of offerings, including channel optimization, marketing automation, analytics, and technology consulting. Digital Silk stands apart in its ability to morph insights into strategic milestones, driving engagement, bolstering brand loyalty, and amplifying conversion rates, demonstrating a prowess evidenced by top-rated reviews and industry accolades.
The agency's consulting process is emblematic of strategic sophistication. Commencing with an exhaustive examination of the client's business model, value proposition, and competitive landscape, Digital Silk deftly navigates through competitive analysis and user persona delineation. A case in point, a comprehensive, data-driven strategy is tailored, encapsulating nuanced investments in SEO, content mining, marketing automation, and CRM to precipitate an ascension in leads and sales while optimizing customer journeys.
---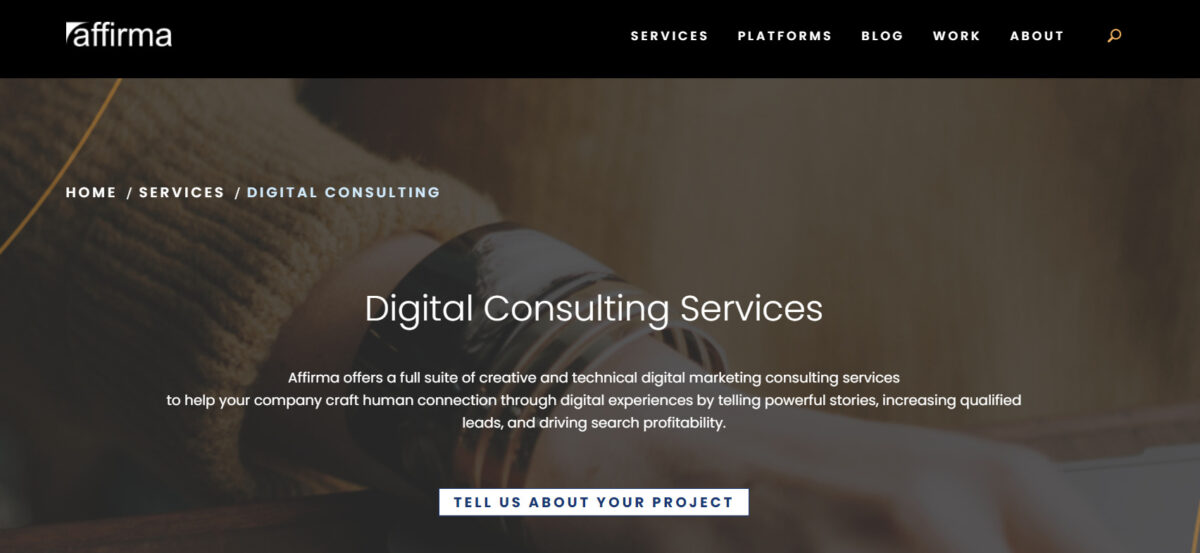 At its core, Affirma's digital consulting services offer a harmonious blend of human-centric narratives with scalable digital strategies. Recognizing the cardinal importance of human connections in the digital realm, Affirma harnesses a diverse spectrum of services, ranging from Marketing Automation & Technology, Content Marketing, and Paid Advertising to Search Engine Optimization (SEO), ensuring a holistic digital approach that encapsulates the essence of storytelling, lead generation, and search profitability.
Affirma distinguishes itself by its adeptness in the realms of marketing consultancy through a profound commitment to enhancing client engagement through tailor-made solutions. Their expertise spans an impressive gamut of platforms, including HubSpot, Salesforce, Marketo, and Mailchimp. This expertise translates into customized campaigns characterized by granularity, targeted segmentation, and unprecedented scalability. Additionally, the agency's dedicated team of creatives brings to the fore a synthesis of contemporary design trends and poignant narratives, fostering customer engagement across multiple touchpoints, be it websites, mobile applications, or offline content.
A notable testament to Affirma's prowess is their collaboration with QuoteWizard, which yielded a streamlined onboarding/offboarding process through technological innovation. Moreover, with two decades in the industry, a team of over 600 global employees, and a staggering 98% customer satisfaction rate, Affirma's credentials resonate loudly in the digital marketplace. By meticulously intertwining data, technology, and creativity, Affirma offers transformative solutions that drive brand growth, ensuring both revenue enhancement and customer delight.
---

BCG has distinguished itself as a formidable force in the sphere of digital marketing, harnessing an alchemy of precision, speed, and innovation to propel brands into new heights of visibility and engagement. At the epicenter of its offerings is a bionic approach that melds human ingenuity with technical mastery, providing a tailored pathway for companies to navigate the complex terrains of digital transformation. With a suite of offerings encapsulating digital marketing strategy, marketing technology, and data utilization, BCG emerges as a consultant and a strategic ally in unleashing tangible growth and value.
The award-winning Growth AI by BCG tool underscores the agency's innovative stride, garnering acclaim as the Best Artificial Intelligence-Driven Technology Solution at the 2023 SIIA CODiE Awards. This accolade illuminates BCG's commitment to leveraging AI in harnessing and analyzing data, driving informed decisions that steer consumer packaged goods companies to pinnacle growth. BCG's esteemed reputation is anchored in a synergy of traditional and digital marketing wisdom, underscored by tools like Lighthouse and MAKER that empower clients with real-time data and analytics, fostering informed decisions and strategic maneuverability in a dynamic digital landscape.
Case Study
Client success stands as a testament to BCG's prowess, marked by significant achievements in collaboration with world-renowned brands. A notable case study involves a global retail convenience company, where BCG spearheaded an end-to-end marketing transformation, catalyzing a staggering $200 million in-year growth and setting the trajectory towards exceeding $1 billion annually. By implementing over 100 pilots across all channels and integrating an agile-squad model, BCG not only transformed the marketing landscape but empowered the client's teams for sustained impact, epitomizing a holistic approach that blends strategy, execution, and upskilling.
---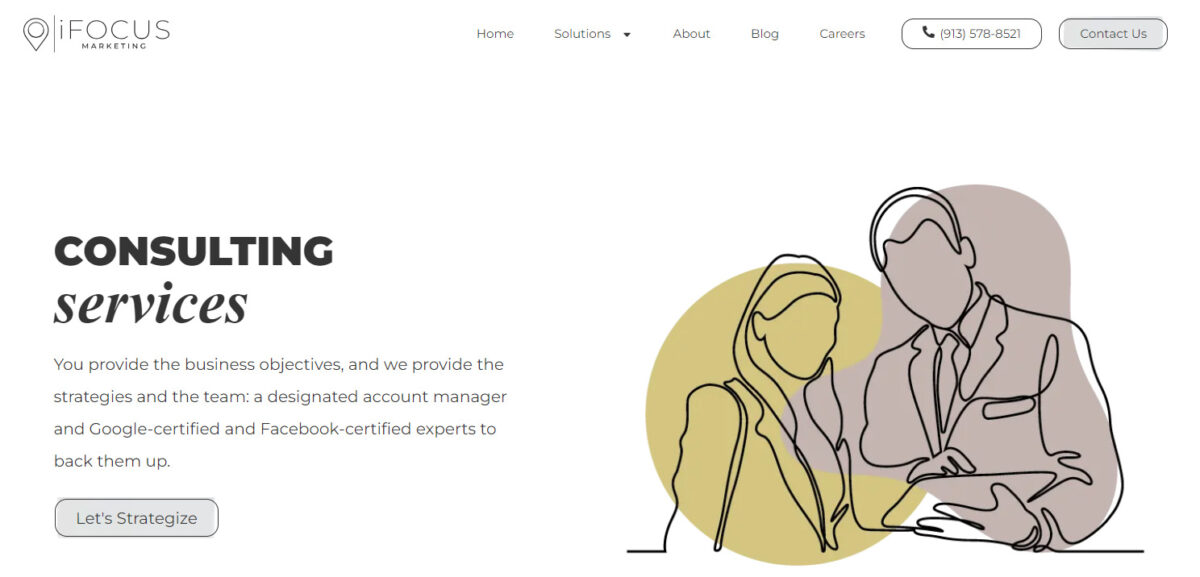 iFocus Marketing offers tailored solutions that intertwine seamlessly with the unique objectives of each business it partners with. The agency, embedded in the ethos of strategic integration and adaptability, is staffed with a team of professionals, each certified by Google and Facebook, underscoring a mastery of contemporary digital landscapes. Small to medium-sized businesses, often constrained by limited in-house marketing resources, find in iFocus a partner that not only augments capacity but infuses quality and strategic depth into every campaign.
The cornerstone of iFocus' offering is its bespoke consultative approach. Each engagement begins with an intricate process of inquiry, ensuring that the proposed strategies are not generic but are meticulously tailored to address specific business objectives and market dynamics. iFocus transcends the traditional role of a consultant, emerging as a strategic ally that immerses itself into the unique ecosystems of its clients' industries. This is manifested in the agency's well-rounded client portfolio, which underscores its adaptability and capacity to delve into diverse industry terrains, extracting insights and crafting strategies that resonate with specific market nuances.
iFocus' philosophy is anchored in the synergy of thorough strategy development and impeccable implementation. Each client is allocated a designated account manager, ensuring that the strategic blueprint is conceived and brought to life with finesse and accuracy. The agency's recognition as a Google Premier Partner in 2023 illuminates its commitment to excellence, innovation, and adherence to the highest standards of digital marketing practice.
---

RSM US exemplifies the confluence of in-depth business acumen, innovative technology application, and creative prowess in digital marketing. With a foundational approach rooted in a meticulous understanding of each client's business, RSM US transcends generic solutions, crafting strategies that are intricately tailored to enhance competitive positions and facilitate growth. They embrace an ROI-centric model, a testament to their legacy in public accounting, ensuring every digital strategy conceived and executed is innovative and yields substantive returns.
Every strategy is an eclectic mix of business, technology, and creativity, embodying a holistic methodology that ensures all facets of digital marketing are synergized for optimal impact. Notable is RSM US's expertise in leveraging the dominant platform of Amazon, enhancing visibility and conversions through a blend of insightful strategies and judicious ad spending. Their skill set is expansive, covering essential digital domains, including analytics, SEO, PPC, and social media advertising, each executed with precision to enhance visibility, engagement, and conversions.
Case Study
A notable case study that illuminates RSM US's expertise is their work with Murray's Cheese. The agency crafted a custom commerce solution through NetSuite's SuiteCommerce Advanced system, meticulously tailored to accommodate the unique product mix and seasonality of the client. This bespoke approach underscores RSM US's commitment to tailored solutions, where technology and creativity are melded to address specific client needs, driving not just engagement but tangible returns.
---
The Role of Analytics in Marketing Consulting
In the rapidly evolving world of business, making informed decisions backed by data has become a prerequisite for success. The infusion of analytics in marketing consulting accentuates the precision, effectiveness, and innovation in strategies deployed for businesses aiming to carve a niche in the competitive marketplace.
Analytics in marketing consulting pivots on the comprehensive use of data to understand customer behavior, preferences, and trends. It's not just about collecting vast amounts of data but deriving actionable insights to tailor marketing strategies that resonate with the target audience.
Marketing consultants equipped with advanced analytics tools dive deep into data lakes, unraveling patterns and insights often invisible to the untrained eye. They analyze customer touchpoints, interactions, and feedback, turning raw data into valuable information that informs strategy. It's a meticulous process of gathering, analyzing, and interpreting data to craft personalized, dynamic, and responsive marketing campaigns.
For instance, predictive analytics empowers consultants to forecast trends, customer behaviors, and market dynamics. It ensures businesses are reactive and proactive, ready to meet the customers where they are and with what they need. AI and machine learning play a pivotal role in this, automating data analysis and ensuring real-time responsiveness.
Moreover, analytics also underscores the ROI of marketing initiatives. Every campaign, strategy, and tactic is measured, analyzed, and optimized to ensure resources—time, money, and efforts—are utilized efficiently. It bridges the gap between business expectations and market realities, ensuring every marketing effort is not just intuitive but is backed by data, proof, and potential for success.
---
How Marketing Consulting Aligns with Industry Dynamics
Navigating the currents of the ever-changing market trends requires not just awareness but an ability to adapt, innovate, and lead. Marketing consulting services stand at the forefront of this, ensuring businesses are not just participants in the market but trendsetters and pioneers.
One of the salient features of top marketing consulting agencies is their adeptness at aligning strategies with market dynamics. With the global business landscape becoming increasingly volatile, uncertain, complex, and ambiguous, the need for insights, expertise, and adaptability has skyrocketed.
The alignment with industry dynamics is rooted in a constant quest for learning and evolving. Consulting agencies invest in research, knowledge, and skills to ensure their strategies are reflective of current trends and future predictions. For instance, the rise of digital transformation has escalated exponentially. According to IDC, global spending on digital transformation is expected to reach $2.3 trillion by 2023.
Marketing consultants harness such insights to develop strategies that are not just current but future-ready. They navigate the complexities of digital integration, artificial intelligence, customer experience enhancement, and personalized marketing, ensuring businesses are equipped to meet and exceed customer expectations.
Moreover, they focus on sustainability and ethics, two pillars that have become central to customer choices. A Harvard Business Review found that 32% of US consumers would undoubtedly change their consumption habits to reduce environmental impact.
---
Conclusion
As businesses grapple with the complexities of a digitalized marketplace, the 11 marketing consulting agencies delineated in this article emerge as partners, empowering brands to navigate with confidence, innovation, and strategic acumen. Their expertise is not just about elevating visibility but is intricately tied to driving tangible results, enhancing ROI, and ensuring that businesses are equipped to not just participate in the competitive landscape but to lead, innovate, and set trends. They are the unseen architects of brand narratives that resonate, engage, and transform audience interactions into tangible business value.
Frequently Asked Questions
What is the Cost Structure of Hiring a Marketing Consulting Agency?
Costs can vary based on the agency's reputation, the scope of services offered, and the specific needs of your business. It's essential to discuss pricing structures and get a detailed quote before proceeding to ensure transparency and affordability.
How do Marketing Consulting Agencies Ensure the Confidentiality of Business Information?
Agencies often have strict confidentiality protocols, including non-disclosure agreements and secure data handling practices, to ensure your business information remains private and protected.
Can Marketing Consulting Services be Customized According to Specific Business Needs?
Absolutely. One of the key benefits of hiring a marketing consulting agency is the tailored approach they adopt. Services are often customized to align with your business goals, target audience, and industry specifics.
What is the Typical Duration of a Marketing Consultation Contract?
The duration can vary. Some businesses require short-term consultation for specific campaigns, while others seek long-term partnerships for ongoing marketing support. The duration is often agreed upon based on the business's unique needs and goals.
How is the Success of a Marketing Strategy Measured by Consulting Agencies?
Marketing consulting agencies employ various metrics to measure the success of a campaign, including KPIs like website traffic, lead generation, conversion rates, and ROI. They provide detailed analytics reports to demonstrate the effectiveness of the marketing strategies implemented.