Advertising Disclosure
Advertising disclosure:
Our partners compensate us. This may influence which products or services we review (also where and how those products appear on the site), this in no way affects our recommendations or the advice we offer. Our reviews are based on years of experience and countless hours of research. Our partners cannot pay us to guarantee favorable reviews of their products or services.
Finding the right online marketing agency in Los Angeles can be a daunting task. But fear not because we've done the research for you.
Welcome to our comprehensive guide, where we unveil the top 9 online marketing agencies in the City of Angels. Whether you're a local business seeking to boost your online presence or a global brand aiming to conquer the Los Angeles market, this article is your key to digital success. Join us as we navigate through the premier agencies that will help you soar in the world of online marketing.
---
Top Los Angeles Online Marketing Agency Picks
Top
online marketing agencies los angeles
2024

Founded: 2005
Location: Los Angeles and San Diego, California
Employees: 10-49
Thrive, a prominent Los Angeles-based digital marketing agency, is renowned for its comprehensive approach to online marketing. Their expertise spans a wide range of services, from Search Engine Optimization (SEO) to pay-per-click (PPC) marketing, ensuring brands achieve optimal online visibility. Thrive's meticulous strategies are designed to cater to unique digital marketing objectives, ensuring campaigns that resonate with the target audience.
Their commitment to excellence is evident in their Conversion Rate Optimization services, where they focus on transforming passive website visitors into active users. By analyzing user behavior and implementing data-driven strategies, Thrive positions brands to achieve a higher return on their marketing investments. Moreover, Thrive's prowess in content creation is noteworthy. They understand that compelling content is pivotal in engaging the audience. Hence, they offer SEO Content Writing Services that not only rank well on search engines but also captivate readers. Their dedication to maintaining and enhancing a brand's online reputation further solidifies their position as a trusted partner in the digital marketing realm.
Thrive's multifaceted digital marketing services, combined with their expertise in web design and development, make them a go-to choice for businesses seeking to establish a dominant online presence. Their client-centric approach, coupled with proven results, sets them apart in the competitive landscape of digital marketing.
---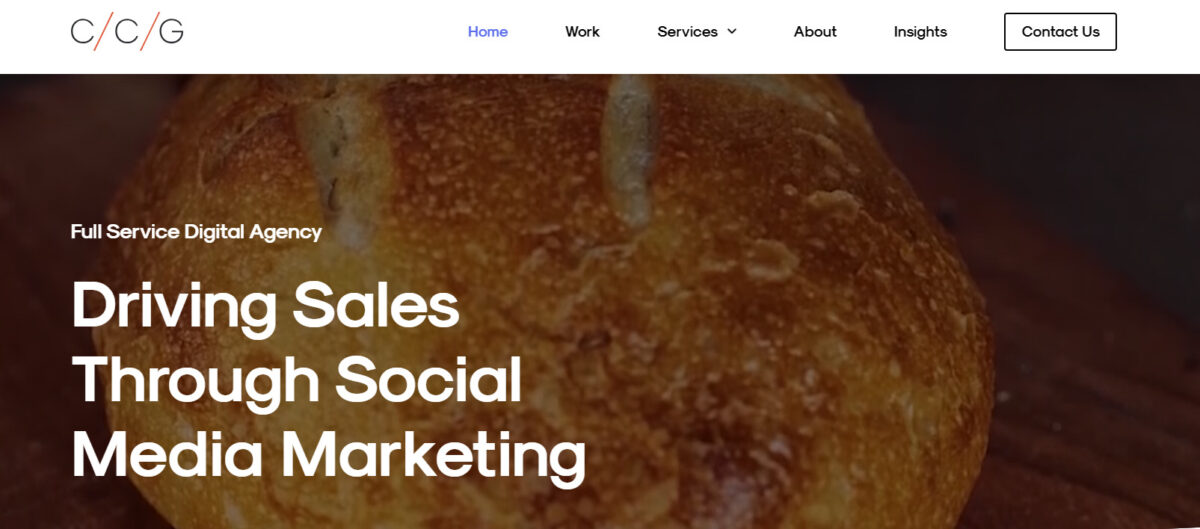 Founded: 2009
Location: Los Angeles, California
Employees: 10-49
CCG is known for its multifaceted array of services designed to foster impactful connections in the digital realm. At the heart of their offerings lies their expertise in Social Media Solutions. CCG understands that social media is more than just a broadcast platform; it's a dynamic conversation unfolding in real-time. Their approach includes meticulous Channel Expansion and diversification, ensuring brands seamlessly engage with customers across top platforms.
But what sets CCG apart is their comprehensive strategy, beginning with a deep dive into a brand's landscape. They offer Influencer Activations, tapping into a curated list of influencers to create collaborations that resonate with a brand's essence. Community Management is another forte, enhancing engagement and consumer retention while attracting new audiences. CCG crafts paid media that blend authentic messaging with compelling visuals to effectively convey the brand story. Their Content Mix challenges convention, leaving a lasting impression. With Report & Analytics, they harness essential insights to optimize future efforts.
Furthermore, CCG's adaptability shines through their ability to navigate emerging platforms, ensuring brands stay current in the ever-evolving digital landscape. Their commitment to delivering Increased Impact is evident in their data-driven and creatively relevant campaigns, fostering lasting brand impressions. CCG's dedication to creating meaningful digital connections sets them apart in the Los Angeles-based online marketing agency landscape.
---

Founded: 2014
Location: Los Angeles, California
Employees: 2-9
Intensify stands out as a digital marketing expert dedicated to driving tangible growth for businesses. At its core, Intensify offers a diverse range of services, starting with Digital Advertising. The agency leverages platforms like Google Local Service Ads, Facebook Ads, TikTok Ads, and Microsoft Ads to deliver outstanding results. Their approach emphasizes compelling copy, creative innovation, data-driven targeting, and continuous A/B testing for superior performance.
Another key pillar of Intensify's service offerings is Search Engine Optimization (SEO), where they enhance organic rankings through meticulous on-page, off-page, and local SEO strategies. Consistent content creation and link building are central to their methodology, ensuring clients experience real SEO improvements. Moreover, Intensify specializes in Conversion Rate Optimization (CRO) and Funnel Strategy.
But what distinguishes Intensify is their dedicated team, armed with decades of experience in spearheading and executing growth marketing strategies. They possess in-depth expertise in numerous digital technologies and methodologies. Unlike many, Intensify measures success based on the growth of their clients' businesses, making their commitment to success a top priority. With a track record of success, transparency in reporting, and a focus on reliability, Intensify positions itself as a go-to choice among Los Angeles-based online marketing agencies.
---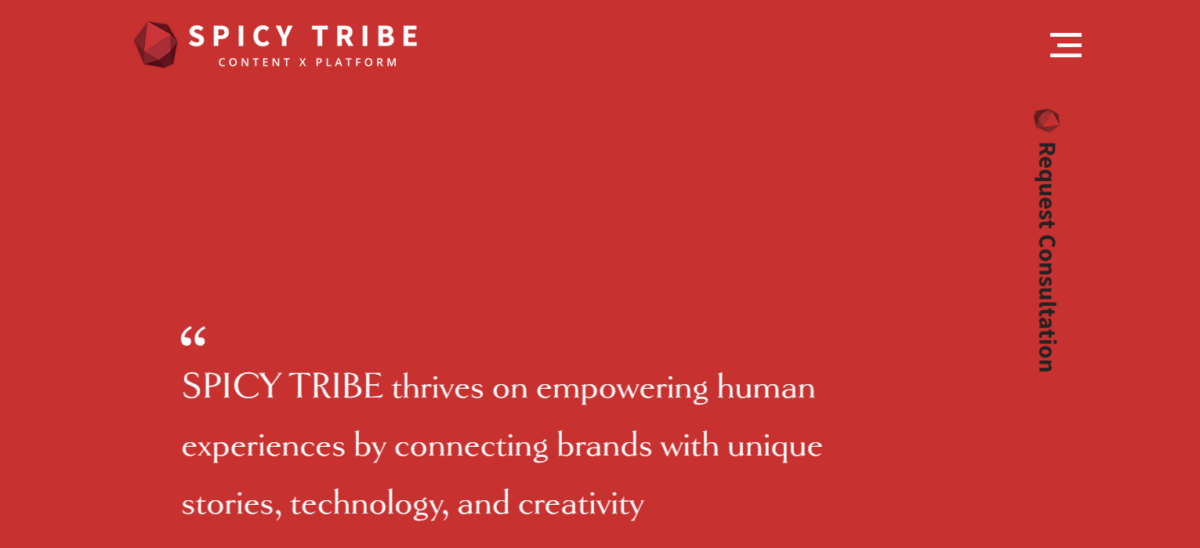 Founded: 2016
Location: Los Angeles
Employees: 2-9
Spicy Tribe is a well-versed online marketing agency with a comprehensive range of core services tailored to drive brand growth and success. At the heart of their offerings is the "New Growth Strategy," where they empower businesses to expand into new markets, enhance customer experiences, and boost retention through targeted marketing initiatives.
Spicy Tribe's approach involves in-depth market research, comprehensive analysis to identify growth opportunities, and constant monitoring to adapt strategies based on feedback and data. Their specialization spans problem diagnosis, market penetration, branding, positioning, competitor analysis, and growth marketing strategies, providing a holistic solution for brand expansion.
Performance Marketing is another forte of Spicy Tribe, with a primary focus on maximizing ROI. They excel in delivering measurable results through strategies like Search Engine Optimization (SEO), Pay-Per-Click Advertising (PPC), Conversion Rate Optimization, and affiliate marketing. Spicy Tribe combines a strategic data-driven approach with expertise in social media marketing, ensuring their clients effectively engage with their target audiences. With an array of specialized services and a commitment to delivering tangible results, Spicy Tribe emerges as a top-tier choice among Los Angeles-based online marketing agencies.
---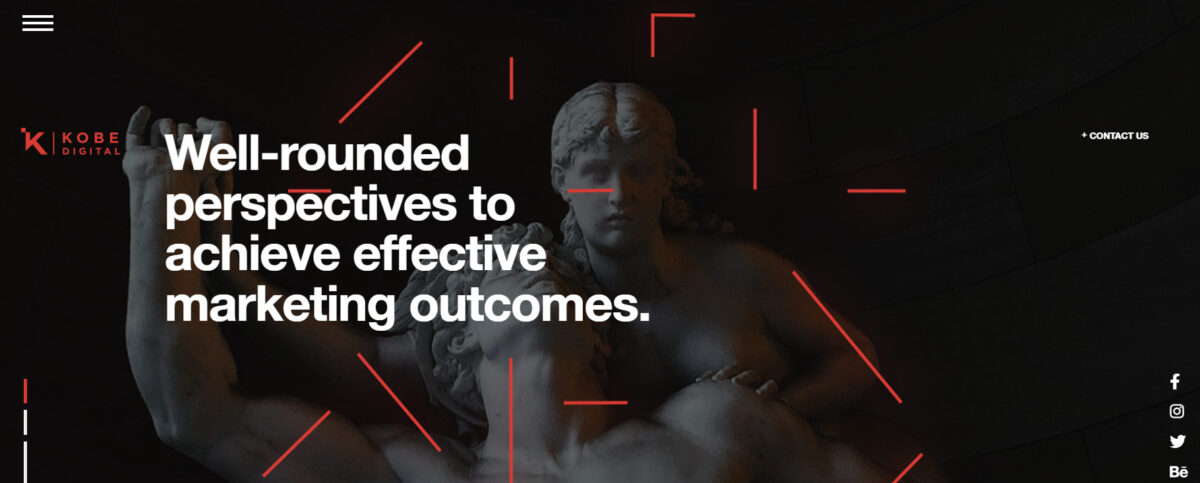 Founded: 2016
Location: Los Angeles, California | Miami, Florida
Employees: 10-49
Kobe Digital stands out with its innovative media solutions driven by a performance-driven mindset. The agency's exceptional work portfolio reflects its expertise in transforming businesses for the digital age. Notable projects, such as their collaboration with Leica Camera AG, demonstrate how Kobe Media helped iconic brands reimagine their direct-to-consumer ad campaigns and diversify distribution strategies to reach new generations of customers effectively.
Another standout project with LF Stores showcases Kobe Digital's ability to navigate changing market conditions, aiding brands to transition to pure-play online retail models. Moreover, their work with WASH Multifamily Laundry Systems underscores their proficiency in generating B2B leads through effective paid search strategies.
With a comprehensive suite of services, including Performance Marketing, Search Engine Marketing, and Social Media Marketing, Kobe Digital's track record of delivering measurable results and innovative strategies makes them a top choice among Los Angeles-based online marketing agencies. Their distinct approach and impressive client portfolio speak to their exceptional ability to navigate the evolving digital landscape and help achieve outstanding results.
---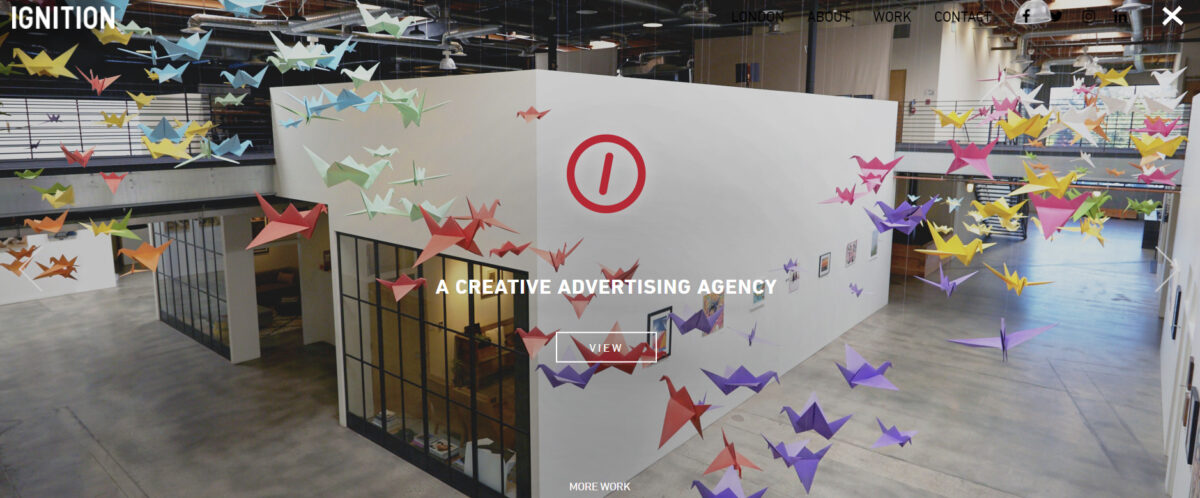 Founded: 2003
Location: Los Angeles, California | London, UK
Employees: 2-9
Ignition Creative, a fiercely creative independent agency based in Los Angeles, distinguishes itself by seamlessly merging the art of marketing with the vivacity of entertainment. Their exceptional work transcends traditional boundaries and includes a diverse range of projects, such as Audio-Visual campaigns for "Underdog Champions" and "Star Wars: Tales of the Jedi," showcasing their prowess in elevating prominent entertainment projects to the marketing domain. But Ignition Creative is not limited to the big screen; they also excel in social media marketing with projects like "The Late Show" and "Halloween."
Ignition Creative's ability to infuse entertainment value into their endeavors sets it apart in the Los Angeles online marketing landscape. Their work goes beyond what's accepted as "the norm," and their portfolio demonstrates a unique blend of creativity, visual excellence, and storytelling with each online marketing campaign. With a global presence extending to London, Ignition Creative is well-equipped to deliver innovative, cross-channel marketing solutions that captivate audiences and redefine branding in the digital age.
With a diverse range of services, Ignition Creative is a top-tier choice for businesses seeking a creative partner that can elevate their brand to new online heights.
---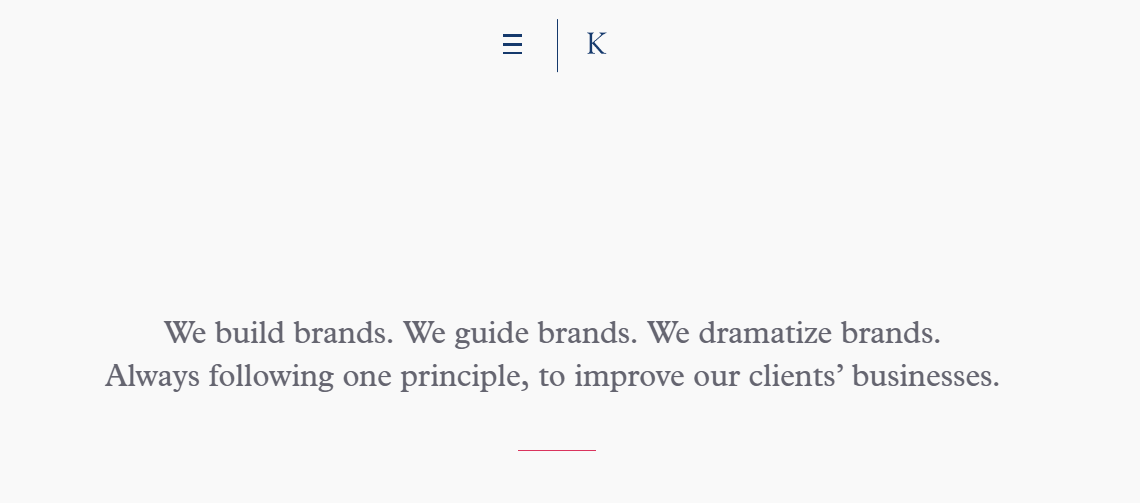 Founded: 1985
Location: Los Angeles, California | Milan, Italy | Madrid, Spain | London, UK | Frankfurt, Germany | Budapest, Hungary
Employees: 50 -199
Kastner is an online marketing agency based in Los Angeles that goes beyond the conventional boundaries of marketing. They don't just create award-winning, results-oriented marketing; they drive culture. Kastner is more than just brand stewards, storytellers, and world-class designers; they are culture creators. With a deep understanding of today's world and the ability to navigate the ever-changing digital climate, Kastner crafts content and experiences that engage the world with universal truths.
They work with brands that embrace fluidity and can pivot quickly in response to cultural shifts. Kastner doesn't view marketing as just driving revenue; they see it as generating movements that unite tribes with shared values and goals to make the world better for future generations. They offer a comprehensive range of services, including brand strategy, social strategy, advertising, experiential marketing, digital marketing, app development, social media content, community management, and sports marketing.
What sets Kastner apart is their ability to leverage the power of storytelling in an honest and impactful way, creating marketing campaigns that resonate with audiences on a deep level. Led by one of the top creative minds in the industry, Kastner embraces diversity and reflects the world's rich tapestry. Their commitment to driving cultural change and making a positive impact sets them apart in the landscape of Los Angeles-based online marketing agencies.
---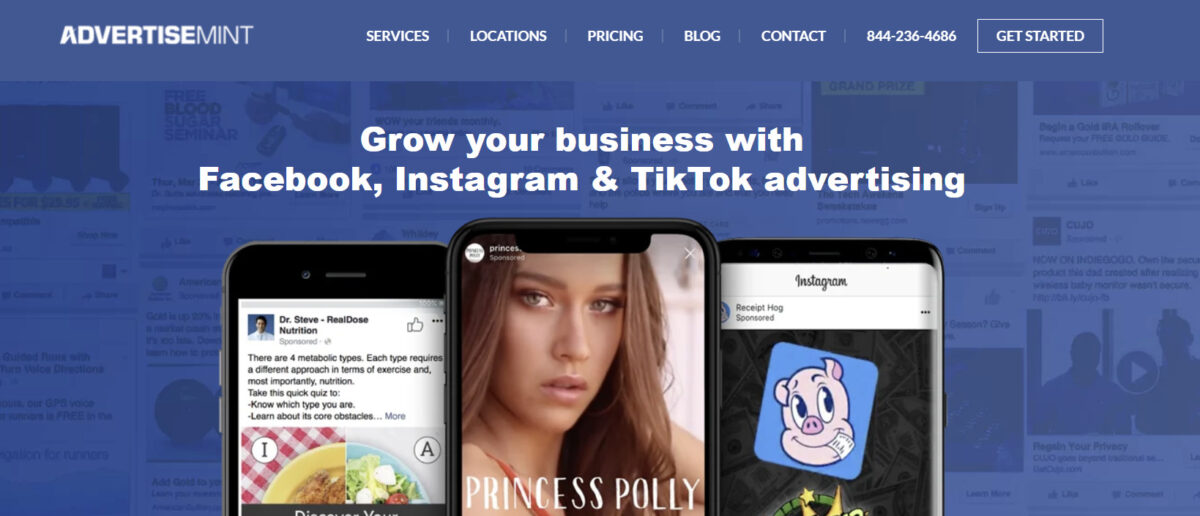 Founded: 2014
Location: Los Angeles, California
Employees: 10-49
AdvertiseMint is a notable marketing agency specializing in Facebook, Instagram, and TikTok advertising. With a team of paid social experts, they excel in crafting campaigns that connect with the right audience at the right time. Although they excel in social media marketing, AdvertiseMint also offers extensive Google Ads and Amazon advertising services, making them a one-stop solution for businesses looking to expand their online presence.
AdvertiseMint stands out through their focus on delivering results and ROI for their clients. They offer flexible month-to-month contracts, demonstrating their commitment to earning their clients' business consistently. With an emphasis on powerful targeting options, creative ad formats, and a dedicated account management team, AdvertiseMint empowers businesses to tell their unique stories effectively.
Their founder, Brian Meert, is passionate about building a legacy of results and profitability for clients, making AdvertiseMint a trusted choice for businesses seeking success in the dynamic world of social and online marketing.
---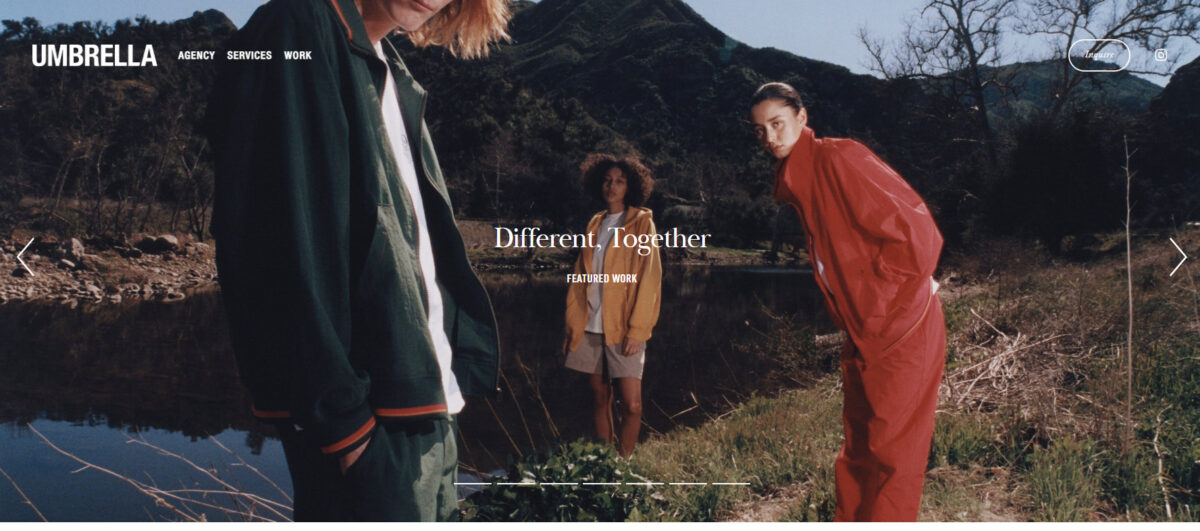 Founded: 2019
Location: Los Angeles, California
Employees: Undisclosed
With a keen understanding of marketing, tech startups, eCommerce, social media, and fashion, Umbrella caters to highly ambitious brands seeking to enhance their online presence across various platforms. Their services encompass content production, social media marketing, digital marketing, email marketing, SEO, influencer marketing, and much more.
What sets Umbrella apart is their commitment to cohesive storytelling driven by data and ROI. They understand that brands require more than sub-par marketing efforts. So, Umbrella collaborates closely with clients to comprehend their brand's essence and potential, delivering bold, creative solutions that resonate with audiences across the online world.
Whether it's shaping the narrative for startups or redefining well-established brands, Umbrella combines strategy and aesthetics for quantifiable brand interest. Their dedication to clients' success, coupled with their holistic approach to digital marketing, positions Umbrella as a top choice in the competitive Los Angeles market.
---
Are Online Marketing Agencies in Los Angeles Expensive?
The cost of hiring an online marketing agency in Los Angeles can vary significantly, and whether brands consider it expensive depends on various factors, including budgets, business goals, and services required.
Los Angeles is a hub for creativity, innovation, and entertainment, which often translates into a competitive digital marketing landscape. As a result, some agencies in the city may charge premium rates for their services. However, this doesn't mean that affordable options aren't available.
When evaluating the cost of online marketing agencies in Los Angeles, consider the following factors:
Scope of Services: The range of services businesses need will directly impact the cost. Comprehensive digital marketing packages that include SEO, social media management, content creation, and pay-per-click advertising will generally be more expensive than a single-service contract.
Agency Reputation: Established agencies with a proven track record and a portfolio of successful campaigns may charge higher fees. With that said, their expertise can often lead to more effective results.
Location: Agencies located in prime areas of Los Angeles, such as Beverly Hills or Santa Monica, may charge more due to higher operating costs in these regions.
Business Size: A client's business size can also influence pricing. Smaller businesses may find more budget-friendly options that cater to their specific needs.
Customization: Some agencies offer customized marketing solutions tailored to budgets. This flexibility can help brands get the best value for their money.
Furthermore, we can judge if LA-based agencies are expensive by breaking down how much you can expect to pay per campaign and hour on average:
Before making a decision, it's essential to request quotes from multiple agencies, compare their offerings, and carefully review their pricing structures. Don't forget to inquire about any hidden fees or additional costs that may arise during the campaign. Ultimately, while Los Angeles may have a reputation for higher marketing costs, it's essential to find an agency that aligns with your budget and can deliver the results you seek.
---
What Industries Do Los Angeles Online Marketing Agencies Specialize In?
Entertainment: Given Los Angeles' status as the entertainment capital of the world, many agencies focus on marketing for the film, television, music, and gaming industries. They understand the intricacies of promoting entertainment content and events. Moreover, they often have strong connections with influential networks in Hollywood and beyond, enabling them to create impactful marketing campaigns that resonate with targeted audiences.
Fashion and Apparel:

With a strong presence of fashion brands and designers, Los Angeles-based agencies are well-versed in creating digital marketing strategies for fashion, beauty, and lifestyle brands. The city's status as a fashion hub facilitates a rich understanding among agencies regarding emerging trends, making them particularly adept at helping brands establish a distinguished market presence.

Technology and Startups: The city's burgeoning tech scene has led to a specialization in marketing for tech startups, SaaS companies, and innovative ventures. These agencies are adept at promoting cutting-edge products and services. Through comprehensive market analysis and understanding of tech consumers, they craft strategies that effectively navigate the competitive tech landscape.
Healthcare and Wellness: Los Angeles is home to numerous healthcare providers, wellness centers, and fitness brands. Marketing agencies here often have expertise in healthcare marketing, including medical practices, wellness products, and telemedicine services. They also tend to have a good grasp of regulatory compliance, ensuring that marketing strategies adhere to industry standards and laws.
Real Estate: Given the city's booming real estate market, agencies specialize in marketing luxury properties, residential developments, and commercial real estate. They have a keen understanding of the local real estate market dynamics and leverage advanced digital marketing tools to attract potential buyers and investors.
Hospitality and Tourism: Agencies in Los Angeles frequently work with hotels, restaurants, and tourist destinations, crafting marketing strategies to attract visitors and guests. Utilizing a mix of traditional and digital marketing, they excel in promoting the city's vibrant culture and numerous attractions to a global audience.
Food and Beverage: The city's diverse culinary scene has led to specialization in promoting restaurants, food products, and beverage brands. Through engaging storytelling and creative campaigns, these agencies help in amplifying the unique flavors and experiences that LA's food scene has to offer.
eCommerce: With the growth of online retail, many agencies excel in e-commerce marketing, helping businesses establish a strong online presence and drive sales. They provide a range of services including SEO, SEM, social media advertising, and content marketing to enhance brand visibility and customer engagement, often leading to improved sales performance."
When choosing an online marketing agency in Los Angeles, it's crucial to select one with experience in your specific industry. Industry-focused agencies understand the unique challenges and opportunities within your sector and can tailor their strategies accordingly. This specialization can lead to more effective marketing campaigns and better results for your business.
---
Conclusion
Our comprehensive guide unveiled the top 9 agencies based in Los Angeles that elevate online presences. Whether a local business aiming to boost its online visibility or a global brand looking to conquer the Los Angeles market, this article is the key to digital success.
Each agency brings its unique strengths and specialties, ensuring businesses find the perfect partner to meet their marketing goals. From strategic branding to performance-driven campaigns, these agencies are a ticket to making a lasting impact in the dynamic landscape of Los Angeles.
Frequently Asked Questions
Can I Expect Quick Results from an Online Marketing Agency in Los Angeles?
Results from a Los Angeles online marketing agency depend on factors like campaign complexity, competition, budget, and strategy. Quick results can occur with tactics like PPC, but sustainable growth often takes several months to a year. Expect a marathon, not a sprint.
Do Online Marketing Agencies in Los Angeles Offer Multilingual Services?
Yes, many Los Angeles marketing agencies provide multilingual solutions. They offer services like multilingual SEO, content translation, social media management, PPC advertising, and localized content to reach diverse audiences effectively. It's a valuable strategy for tapping into the city's multicultural market.
What Unique Strategies Do Los Angeles Agencies Use for Local SEO?
Los Angeles agencies employ specialized local SEO strategies, including hyperlocal keyword targeting, optimized Google My Business profiles, locally focused content marketing, influencer partnerships, and active community engagement. These tactics leverage the city's unique culture, neighborhoods, and events to enhance local visibility, all within a concise 100-word limit.