There has been a considerable swing in digital usage to mobile in recent years. According to Stone Temple, in 2018, 58% of site visits were from mobile devices, and mobile devices made up 42% of total time spent online. This shift is just as prevalent in the retail sector as the rest of the online world. Mobile apps help business owners and managers carry out the multitude of necessary tasks that need to be carried out in the retail environment.
The increased popularity of mobile browsing has led to a rise in the number of mobile retail apps. Quite a few started out as desktop only, but the developers have added a mobile component, making them available for use, wherever the user desires. This is ideal for inherently mobile businesses, such as taxis and transport firms. However, it is also suitable for other firms where management simply wants to move around rather than being tethered to a desktop computer. Some apps have even revolutionized selling itself, as it means that salesmen now have their own mini-computer in the smartphones in their pockets and can access and add data from anywhere in the field.
Of course, not all retail activity needs to be mobile. Most of these apps are web-based and will work on any internet-connected devices, including traditional in-store computers.
---
Here is a selection of 8 of the best retail apps, covering a range of functions.
---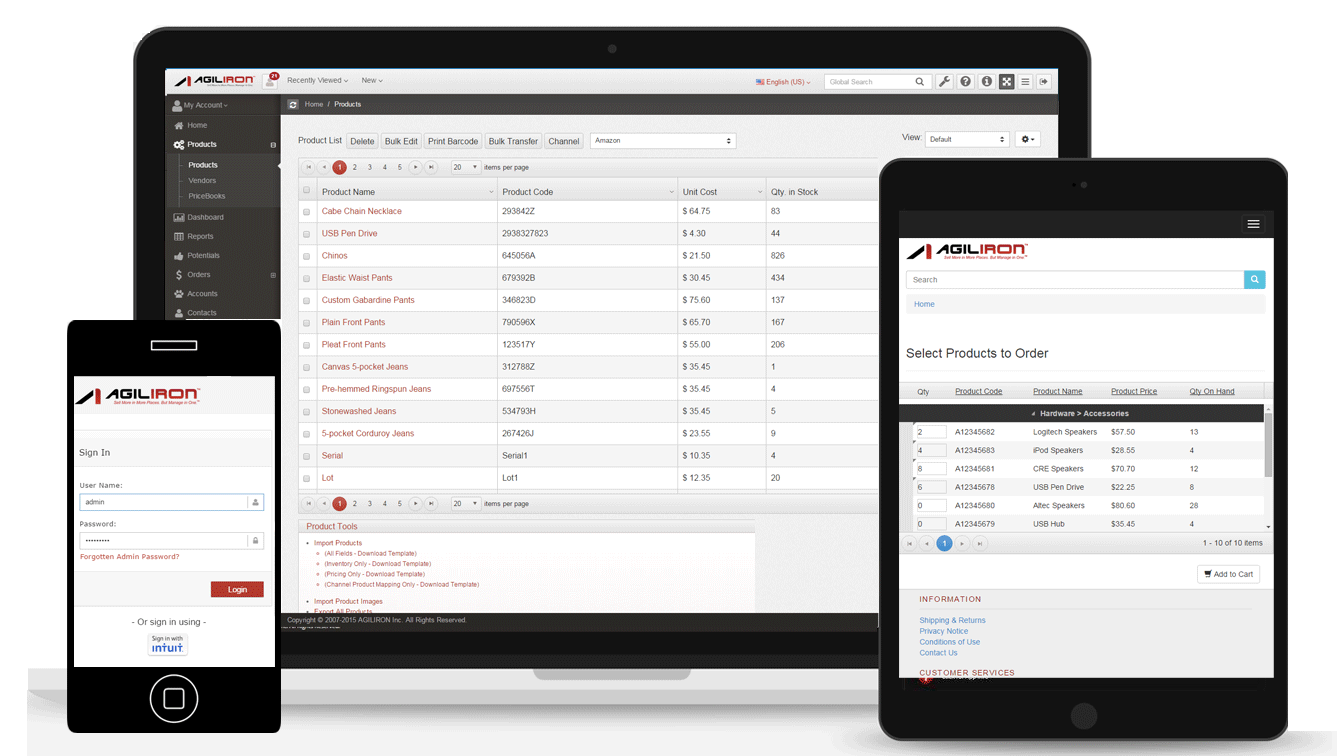 Agiliron is a software suite covering POS, inventory management, and eCommerce. It allows you to efficiently manage all orders, customers, and inventory from all channels in one place. The Point of Sales module is mobile, meaning that salesclerks can go anywhere – they don't even need an internet connection. The POS detects connection loss and automatically switches to offline mode. It allows you to efficiently manage all orders, customers, and inventory from all channels in one place.
It includes an inventory module that helps you efficiently manage your inventory from all channels – in-store, online, 3rd party marketplaces, etc. - in one place.
Agilron integrates with many other common software tools, including Amazon, eBay, Magento. Shopify, WooCommerce, QuickBooks, PayPal, and many others.
The software comes in three pricing tiers: Premier ($79/month), Enterprise ($169/month), and Global Enterprise ($249 per month). All levels include the core features of Point of Sale, CRM, eCommerce Store, and QuickBooks, eBay and Amazon integration. The Enterprise tier adds in advanced business intelligence, B2B Store, multiple stock locations, the warehouse mobile app, and advanced inventory management. You need to opt for the Global Enterprise package if you sell internationally, dealing with channels across multiple countries, and multi-currency support.
---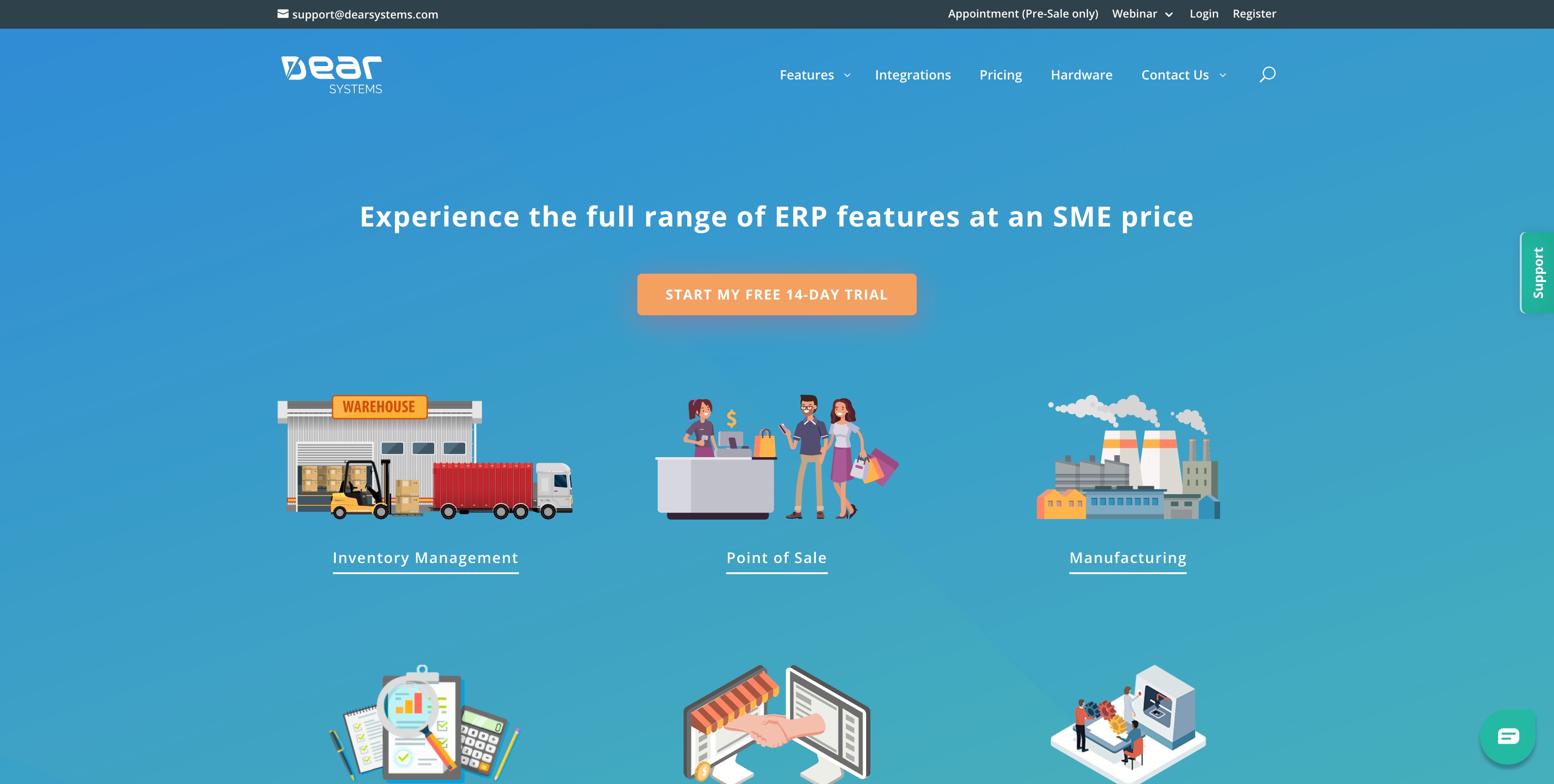 DEAR Systems includes a full range of ERP features, although it is probably best known for its inventory management module – DEAR Inventory. In total, the suite covers tools for purchasing, sales, manufacturing, inventory management, accounting, eCommerce, Point of Sale, WMS, and a B2B portal.
DEAR Inventory helps you keep track of your inventory. You can use it to manage large product volumes and extensive product lines. It easily keeps track of your inventory and stock levels, even when you operate across multiple locations. It also helps you streamline stocktaking, allowing you to scan your inventory with a barcode scanner, and it will instantly select the correct entry from your records.
It ties in with DEAR POS, which can be used on iPad, Android, PC, and Mac. You can use the POS across unlimited outlets and registers, both online and offline.
---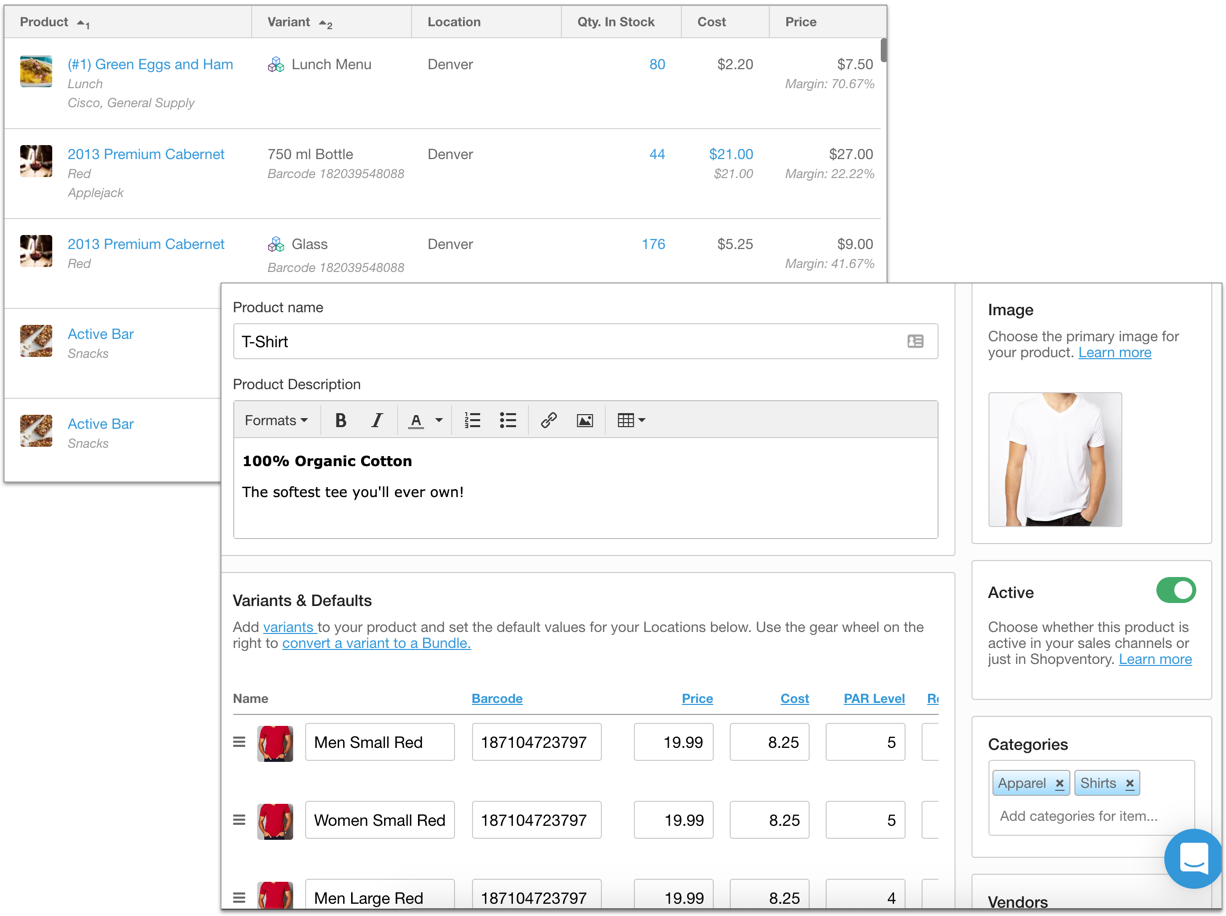 Shopventory provides real-time inventory management that integrates with most sales systems, including Square, Clover, WooCommerce, Shopify, PayPal Here, QuickBooks Online, and Amazon Alexa.
You can select from five different pricing plans, ranging from the free Basic Plan, up to the Elite $399/month plan. The differences between the plans relate to the number of locations, transactions, length of order history, and length of reporting. Each pricing tier also adds some additional features, so you might have to opt for a higher level if it includes a must-have feature. The $79/month Standard plan (the middle one) will meet the needs of most firms with three or fewer locations.
Shopventory helps you identify and fix inventory problems using real-time reporting that highlights trouble-spots. You can set powerful condition-based alerts to help you know when to order more inventory. Shopventory helps you manage your vendors and assign items to them for easy re-ordering. You can even use your iOS or Android device to easily and quickly receive and reconcile inventory quantities using the camera.
---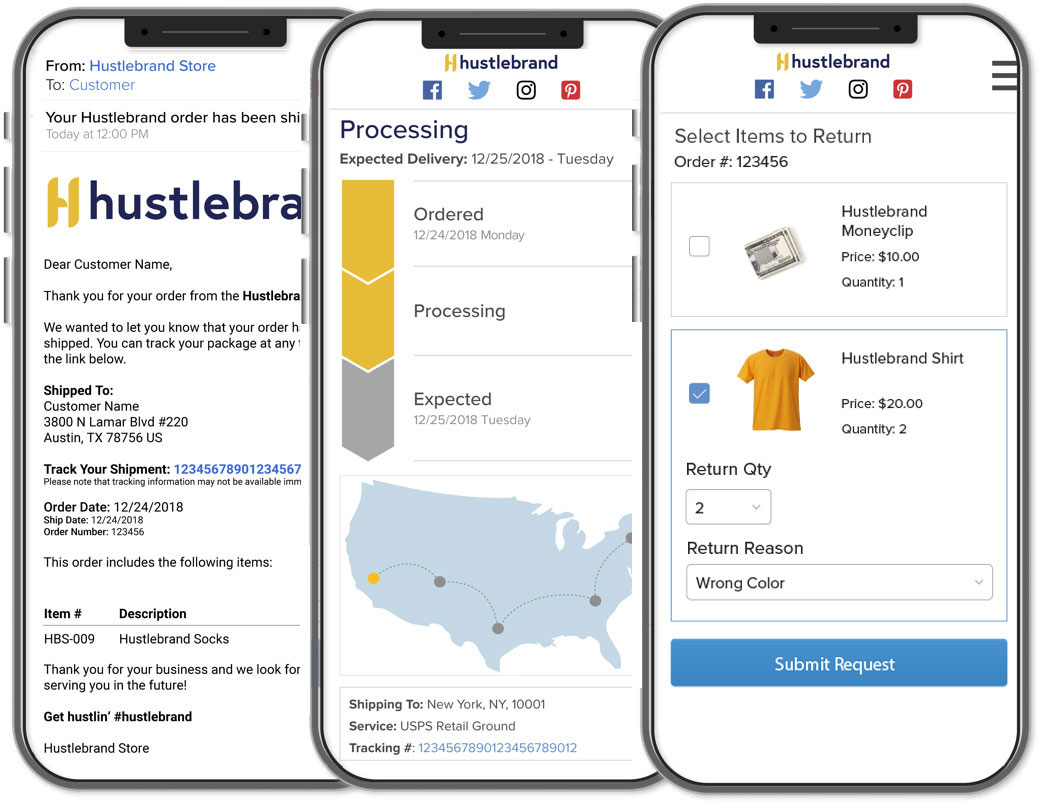 ShipStation helps firms with their online shopping and order fulfillment. It automatically brings in orders from all of your sales channels. You can compare real-time rates and delivery times for all carriers and automatically select the best carrier for each shipment based on cost and delivery time.
It includes a full-featured mobile app that lets you manage and ship orders, check reports, communicate with customers, and receive push notifications right from your phone or tablet. You can build your own custom tracking page featuring your company brand, colors, social media icons, and messaging.
You can use ShipStation to monitor and sync your inventory levels.
ShipStation comes in six pricing tiers, predominantly differentiated by the number of shipments you make each month. Its lowest level (Starter) caters for 50 shipments per month. With its highest (Enterprise), you can ship an unlimited number of shipments per month with customized packing slips and branded labels.
---
Shopify makes it easy to build your online retail business. It is an online platform with all the e-commerce and point of sale features you need to start, run, and grow your business.
You can build your business website using Shopify. It offers more than 70 professional themes. You can quickly and easily customize every facet of your storefront. Unlike most website builders, Shopify focuses solely on catering to businesses that make sales. Your online Shopify store includes a built-in mobile commerce shopping cart. Your customers can browse and buy from your store using any mobile phone or tablet.
The shopping cart allows you to accept Visa, Mastercard, Discover, and American Express the minute you launch your shop. Shopify integrates with over 100 external payment gateways from around the world.
You can easily manage your store with features such as customer profiles, customer accounts, order fulfillment, and even drop shipping integration. Your Shopify site is set up to allow returns and give discounts. You can even use it to sell directly on Facebook.
You can use Shopify to help with your inventory management and product organization. Customers can order and download digital products right from your online store.
Shopify's mobile app allows you to capture payments and fulfill orders right from your phone. You can add products, take a product photo, change a price, or manage inventory. All products, inventory, orders, and customers automatically sync between the Shopify app and your online store.
---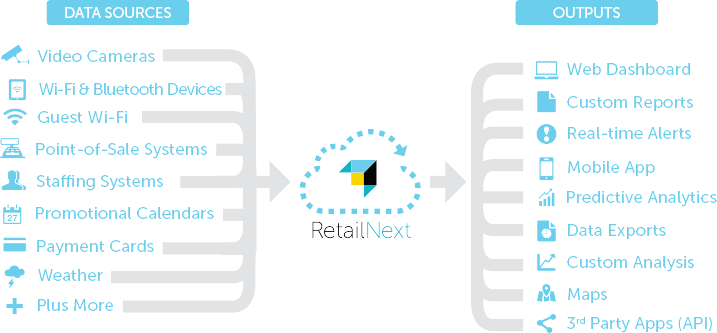 RetailNext provides powerful insights to retailers. It collects and evaluates a wide variety of information from your business.
It collects the information using a sensor called Aurora. This is an all-in-one IoT sensor simplifying shopper behavior measurement. Some of the areas where you can use Aurora and its associated software to gather data include:
Traffic counting and conversion - visit duration, unique traffic, pass-by traffic, visit frequency, and entrance path analytics

Shopper behavior classification

Staff exclusion, i.e., it can distinguish staff from customers when it counts the people in your store

Display and window effectiveness – you can use capture rate to reveal if window displays, visual merchandise, and specific products are bringing shoppers into your store.

Shopper engagement

Store compliance and execution
---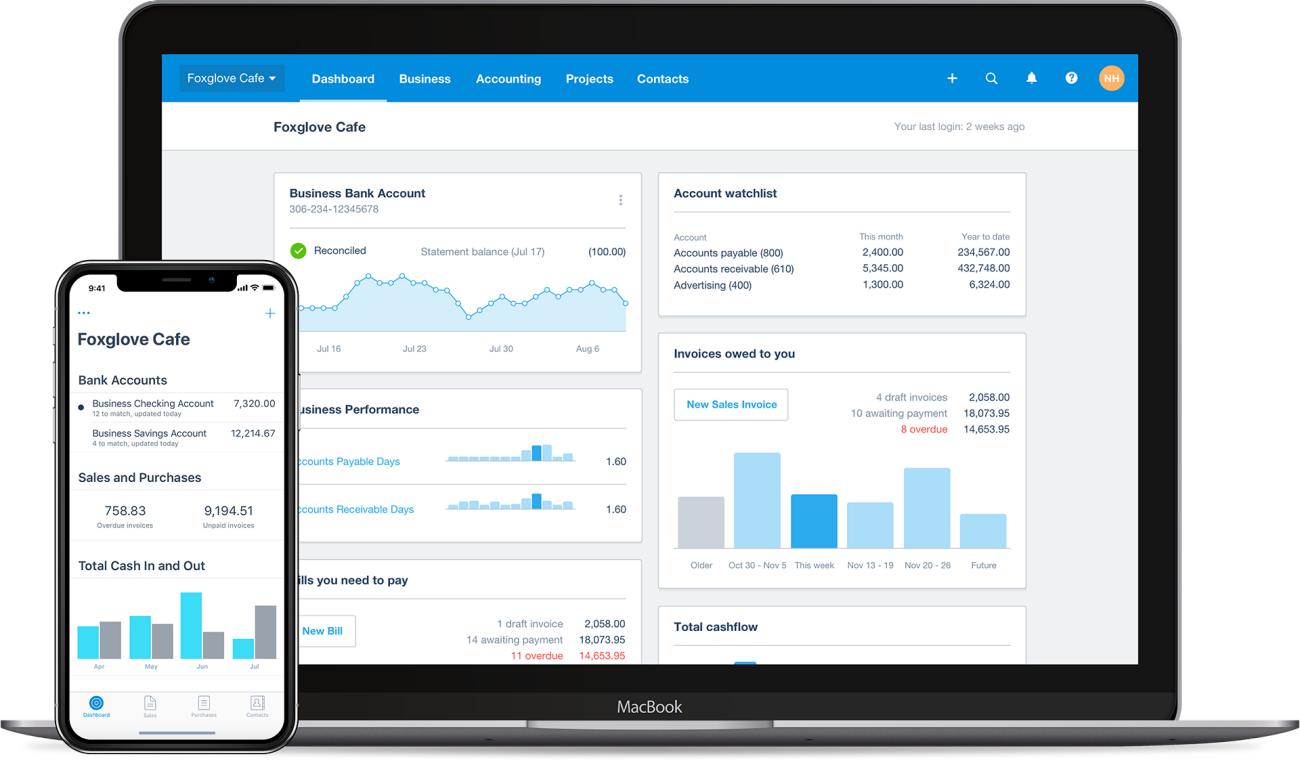 Xero helps you keep all your financial records, and is easy to use, even for non-accountants. It includes particularly user-friendly ways of entering your transactions. Once you've given consent, your bank automatically sends Xero all your transactions from the previous day. You spend a few minutes each day reconciling your transactions. This may take a while at the very beginning, but Xero quickly learns your common transactions and does an excellent job of predicting the correct accounts.
You can easily design invoices and send them to your customers. Once you decide on your general design, you simply need to alter minor details for each transaction, with Xero filling all relevant data fields.
Uploading accounts is even easier. You can email your bills to a particular address, and Xero automatically converts the bill into a transaction.
Xero includes inventory management software, making it easy to keep track of your stock. You can use Xero to get an up-to-date view on what your bestselling product lines are and how much profit you're making.
Xero integrates with many retail apps, including Shopify, Vend, and DEAR Inventory.
---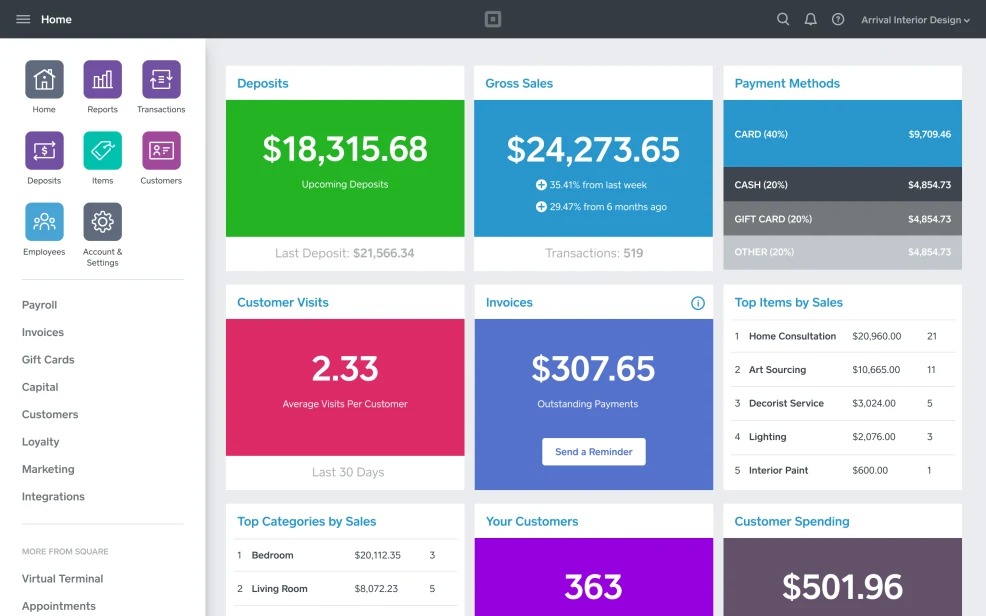 Square is an online payments system. Square Point of Sale is their free app designed to make Point of Sale as easy as possible. It helps you have POS and payment processing all in one place. You can accept cards, cash, checks, and gift cards all with the Square Point of Sale app, even if your connection to the Internet goes down.
You can easily accept card payments on a phone or tablet—no matter if you're selling on the go or at your store.
You can send custom invoices straight from your POS on a mobile device or from your laptop right to your customers' inboxes.
Square recognizes the importance of analytics. They provide you with the Square Dashboard, detailing all the information you need. You can check analytics anytime with no waiting required for end-of-day reports.