With more and more businesses turning to the digital space to sell their products, it's become more challenging to gain visibility in a sea of choices. As a result, businesses have no choice but to look for new and creative channels to market and advertise their offering. This brings us to retail media networks, which are currently gaining popularity in the advertising world.
This post will serve as a guide on retail media networks so you can learn all about what they are, how businesses can benefit from them, and how to choose the right network for your brand. We also provide you with a list of top retail networks you should consider using. Let's dive into it.
---
What is a Retail Media Network? – Understanding Its Role in Digital Marketing:
---
What is a Retail Media Network?
A retail media network refers to an advertising service offered by retail brands, which allows third-party brands to advertise on the retailer's website. Through this service, advertisers can make use of the retailer's first-party data to streamline their targeting and get their brand and products in front of the right shoppers.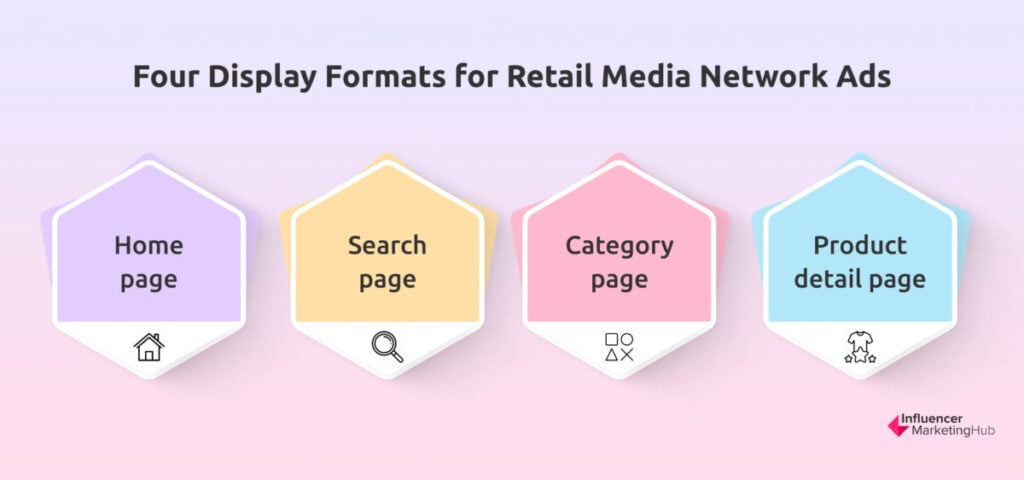 There are four main ways in which ads on a retail media network will be displayed. This includes:
Home page –

Most shoppers visit a retailer's home page first before they conduct a search or go to their desired category. As such, this page sees the most amount of traffic. Displaying an ad on the retailer's home page can be a great way to get more eyeballs for your brand.
Search page –

Since shoppers who use the search box on a retailer's website are looking for something very specific, targeting them with relevant ads can be a great idea. With your listing

showing up prominently in their search results

, you could very likely get them to buy your product.
Category page –

Shoppers browsing the category page aren't very specific with their needs yet, making them more receptive to advertising. So displaying your ads on the category page is an effective way to introduce prospective customers to your brand.
Product detail page –

When someone looks at a product detail page, they're doing so to learn more about the product. This means they're already narrowing down their choices. Displaying your ad on the product detail page will provide them with alternative options and can be a great way to promote similar or related products.
You may have come across and even bought products through these ads many times without even realizing it. Here's one example of an ad that shows up as a sponsored product listing on Wayfair's category page.
---
Weighing the Pros and Cons of a Retail Media Network
So how beneficial is it to advertise on a retail media network? And are there any disadvantages to consider? How does it benefit the retailers who offer the service? Let's carefully weigh the pros on cons of retail media networks.
Pros
For retailers
The biggest advantage of retail media networks for retailers is that they create a new revenue stream. In fact, retailers garnered an estimated $88 billion in revenue in 2021 and $101 billion in 2022 from retail media networks. So even if they face other revenue-related challenges, this gives them an opportunity to significantly boost their profits.
---
For advertisers
For brands that want to use retail media networks to advertise, the biggest advantage is that they get to showcase their products prominently in front of the right audience. This means they have the opportunity to stand out, which improves their chances of driving sales.
Moreover, retailers provide them with access to valuable first-party data. This may include data related to purchase history, search history, and point-of-sale information. Advertisers can leverage this data to make informed decisions and improve their targeting to make the most of their advertising dollars. Additionally, they can also personalize their messaging to align with the shopper's preferences and buying behavior.
---
For consumers
Ads on a retail media network can also be beneficial for consumers in a few ways. First of all, when the right ads are shown to them, it enhances their experience as they get to discover brands and products that are highly relevant to them.
Moreover, since the retailer is generating revenue through these ads, they won't be too quick to raise prices. If their prices increase, they could end up losing customers, which will result in a dip in traffic and lower ad revenue. For consumers, this means they can enjoy better price control as a result of retail media.
---
Cons
Based on what we can see so far, it's clear that there are astounding benefits to retail media networks for both advertisers and retailers as well as consumers. However, smaller brands may be at a disadvantage because they have smaller budgets and resources to work with. This is the main con since it gives leverage to brands that are already big.
---
5 Things to Consider When Choosing a Retail Media Network
Now that we've established the value of retail media networks, you may be excited to start using them to advertise your brand. For this, you'd need to carefully assess which retail media network you should leverage. Here are some key considerations to make when deciding on a retail media network.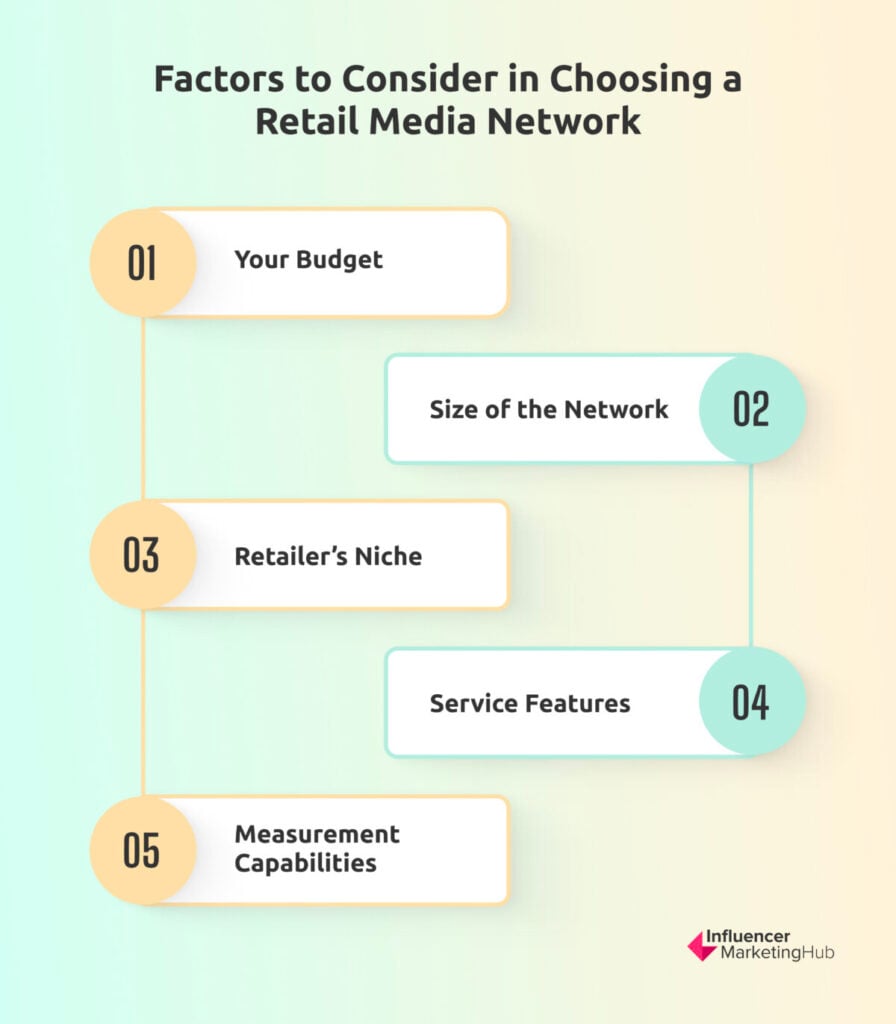 Your Budget
Does the retail media network you want to use align with your advertising budget? First things first, you have to make sure you're not overspending to advertise on the network. Start with a clear budget and look for a retail media network that's within said budget.
Since you ultimately want to generate a positive return on your investment, you don't want to invest in something you can't afford. So don't forget to carefully compare rates between different networks to narrow down the option that will give you the most bang for your buck.
---
Size of the Network
The retail network's size is another important consideration. Since the goal is to get your brand in front of as many people as possible, you'd want to work with a fairly large network that has a massive reach.
For instance, Amazon is a leader in the retail industry with 310 million customers all over the world. So advertising on the network will give you the opportunity to get your brand in front of hundreds of millions of potential customers. Meanwhile, networks like CVS are more niche, having about 44 million unique customers. As such, your potential reach is a bit smaller if you choose to advertise on the network.
That being said, the impact also depends largely on the relevance of the audience. But more on that in the next section.
---
Retailer's Niche
To continue with the above point, you have to consider how relevant the retailer's audience is to your brand. Is the retailer capable of attracting the type of audience you want to reach? This is why you should prioritize the retailer's niche before choosing a network to advertise on.
Looking at the Amazon vs. CVS comparison, if you're selling products related to healthcare and personal hygiene, CVS may be a much better option. Even with a smaller reach, the platform gives you 44 million unique customers who might be potentially interested in healthcare and personal hygiene products.
Meanwhile, Amazon's customer base is broader, meaning the 310 million customers may be interested in all sorts of products and only a small portion may be interested in what you have to sell. As such, it wouldn't make too much sense to choose the network over a healthcare-focused network such as CVS.
Similarly, a brand that sells home furnishing and bed linen would want to take advantage of retail networks that people popularly leverage to shop for those items. For instance, the following ad can be seen on a product detail page at Target.
---
Service Features
Once you've narrowed down your options based on the above factors, you can further streamline your search by considering the network's advertising features. Look at details such as what type of placement the service offers. Some retailers such as Target's Roundel solution offers a variety of ad placements that goes beyond the basics, including gift registry pages and homepage takeovers.
Meanwhile, Home Depot's Retail Media+ offers both onsite and offsite advertising solutions. The offsite advertising would involve delivering retargeted ads through social media and other channels outside of the Home Depot website.
---
Measurement Capabilities
Like every advertising campaign, your ads on the retail media network will also need to be tracked. This is essential to determine the ad's effectiveness so you can understand how well your investment is paying off and whether you need to make adjustments. Otherwise, you'll just be throwing money away at an ad channel that may or may not be yielding results.
So one of the most crucial aspects of choosing a retail media network is its performance measurement capabilities. It's safe to assume that every network will offer some type of analytics reporting feature. However, make sure to take a closer look at exactly what performance metrics that report will contain. Will it be able to show you the metrics that matter to you?
---
3 Top Retail Media Networks to Consider
While you may now have a fair idea of how to choose the right retail media network for your brand, you may also be overwhelmed by the variety of options. So to help you narrow down your choice, here are some of the top retail media networks to consider.
Of course, you wouldn't want to miss out on attracting the audience of the world's largest retailer. As such, Amazon Advertising is one of the top retail media networks to consider. It's also a cost-effective solution even for smaller brands since you pay per click and you get to set a budget that Amazon will stick by when showcasing your ads.
Amazon Advertising offers a wide variety of placements and ad formats so your brand can stand out. For starters, you can set up your ads to show up as sponsored products on product detail pages and shopping results. Or you may display your brand prominently with a customized headline at the top of product detail pages and shopping results. Additionally, you can further extend your reach on and off Amazon with sponsored display ads.
---
Roundel is Target's retail media network, offering valuable multichannel solutions to advertisers. This includes Search so you can display your ads in relevant search results either within Target or on Google. The Display solutions let you run eye-catching display ads within the Target website and app or across 150+ premium publishers. Roundel also offers advertising solutions for social, video, and programmatic campaigns.
For each of these advertising solutions, Roundel further adds value by providing high-quality first-party data to help you reach your target audience more effectively. You can use custom audiences to connect with the most relevant shoppers and even tailor your messaging to boost advertising impact.
---
If you're looking for a retail media network that's a bit more niche, Home Depot's Retail Media+ offers an excellent solution for brands relevant to home décor and improvement, furniture, and kitchenware. This retail media network offers an expansive range of ad channels and placement solutions both onsite and offsite. Within The Home Depot website, you'll be able to showcase sponsored products in-grid and in-carousel or display your brand prominently in banners on top of relevant pages.
For offsite advertising, Retail Media+ lets you reach shoppers who have visited your product pages on the website using retargeted ads. These ads will be delivered on social media and other offsite channels. This retail media network even gives you the option to get ad placements in the retailer's weekly promotional emails to further raise brand awareness.
---
Leveraging Retail Media Networks for Brand Growth
With the information you have about retail media networks so far, you're probably all set to start experimenting with them. Keep in mind that most brands leverage more than one retail media network to exponentially grow their reach. However, when you're just starting out, it's best to start small and then expand once you've gotten the hang of it.
Frequently Asked Questions
Is Amazon a retail media network?
Amazon is part of its own retail media network called Amazon Advertising.
What is Amazon's retail media network called?
The Amazon retail media network is called Amazon Advertising.
Who are the three largest retailers?
What is retail media advertising?
Retail media advertising is the process of placing an ad on a retailer's website or app by a third-party brand within the retailer's media network.
What are the advantages of retail media for brands?
Retail media allows brands to exponentially grow their reach by tapping into the massive audience base of leading retailers. It also provides them with valuable first-party data that can help them streamline their targeting and get their brand in front of highly relevant shoppers.