If you're in marketing, you've probably heard of sentiment analysis. After all, there's tons of data available to us these days, right? We have social media analytics, website analytics, app analytics. And all of those analytics provide numbers-based information that we can use to make data-driven decisions about our businesses. But what those analytics don't really tell us is how our audience thinks of us or how they feel about us. Much of that data isn't structured, it's text-based rather than numbers-based. And that makes it harder to decipher and analyze.
That's where sentiment analysis comes in.
But what is sentiment analysis, really? And does it actually matter — will it actually make a difference to your business? The short answer is yes, it will make a difference to your business. Keep reading our guide to sentiment analysis to find out more.
---
Best Sentiment Analysis Tools on the Market:
---
What Is Sentiment Analysis?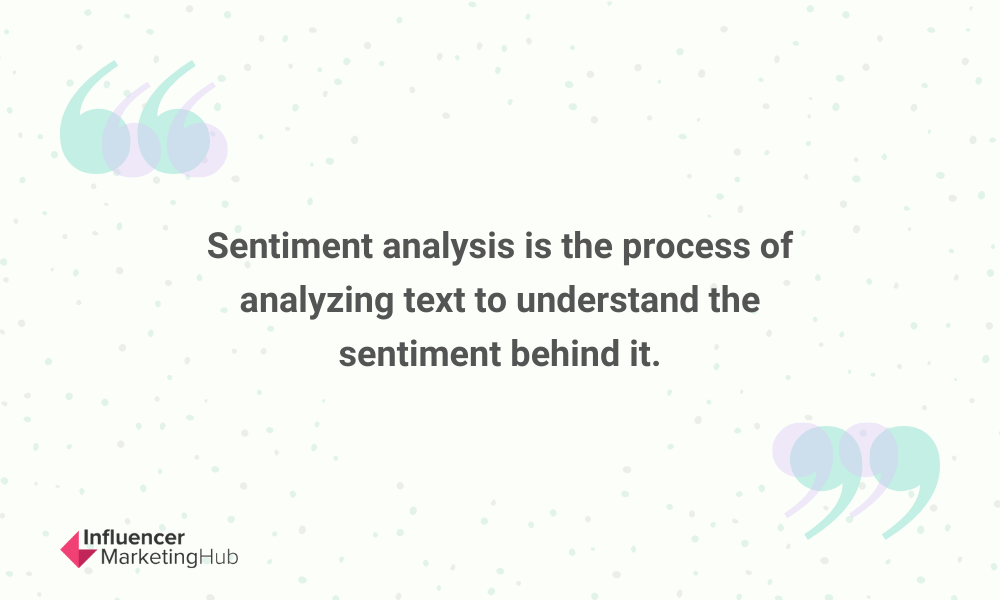 Sentiment analysis is the process of analyzing text to understand the sentiment behind it. It's an automated process using machine learning and text analysis to categorize statements about your brand as positive, negative, or neutral. Sentiment analysis is sometimes called opinion mining and is used to capture voice of customer data as well as determine how consumers feel about a brand, product, or individual.
---
How Sentiment Analysis Works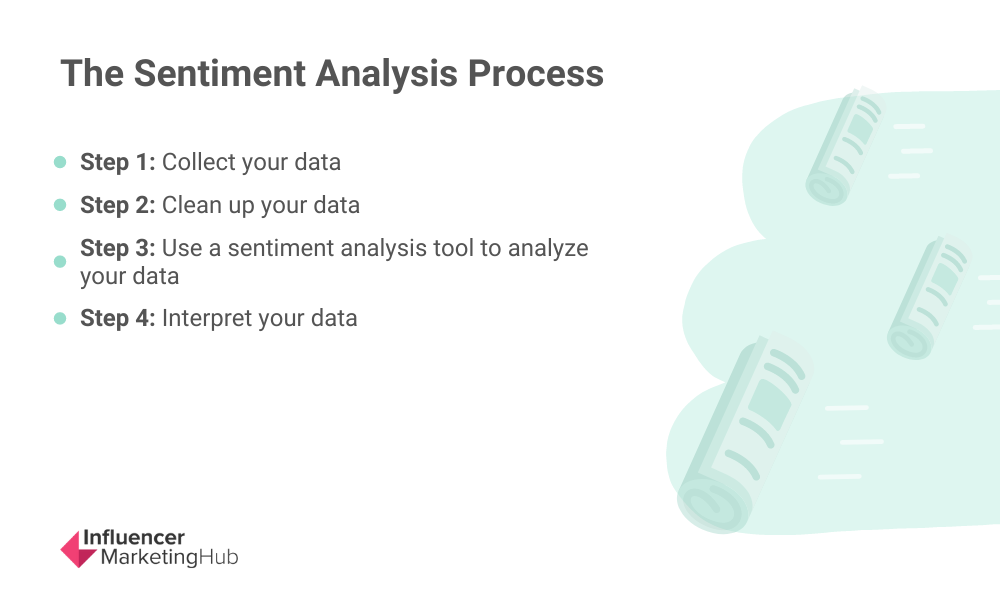 Sentiment analysis is a powerful tool to have in your marketing toolkit. And, despite having a lot of moving pieces, it's really a straightforward process. Here's how sentiment analysis works:
---
Collecting Data
As you probably guessed, sentiment analysis starts with collecting data. This data can be found just about anywhere — emails, review sites, social media, and more. One of the easiest ways to gather your social media data is through social media listening tools, many of which have their own sentiment analysis features included. You can also get data for your sentiment analysis through survey responses, website comments, reviews, and pretty much anything you can request directly from consumers or scrape from the internet.
---
Cleaning Data
Once you've collected your data, you have to clean it. Since you've gathered data from multiple sources and in various formats, your data is probably going to be a bit messy. You will have to clean it before it will be useful to you. This means removing "stop words" (and, but, or, a, how, what, etc) and punctuation. You'll also want to perform stemming, a text normalization technique in which you remove suffixes and bring words to the base word. This will reduce the amount of processing your data requires.
---
Sentiment Analysis
Here's where you get into the actual sentiment analysis in the sentiment analysis process. This is going to take forever if you don't have a sentiment analysis tool. We'll share a list of our favorites at the end of this article. These tools are necessary to help you glean the necessary information from your data. They include algorithms that can help you identify consumer emotions around your brand so you can have a better, deeper understanding of how people perceive your brand.
---
Understanding the Data
Once sentiment analysis is complete, you'll be able to see the positive, negative, and neutral feelings grouped together. From here, you can identify trends and note how sentiment has changed over time so you can capitalize on that information, addressing issues and leveraging positive sentiment.
---
Approaches to Sentiment Analysis
There are several different approaches to sentiment analysis which can be categorized as machine learning, rules-based, or hybrid techniques. Different approaches have different strengths and weaknesses. Let's take a closer look at the different approaches to sentiment analysis.
Standard Sentiment
Standard sentiment analysis identifies opinions as positive, negative, or neutral. This is the most common approach to sentiment analysis.
Emotion Detection Sentiment
Emotion detection sentiment analysis is a bit more nuanced than standard. As you can probably deduce from the name, emotion detection sentiment goes beyond positive, negative, and neutral sentiment to detect emotions like happiness, anger, frustration, sadness, and others. Emotion detection sentiment analysis tools typically use lexicons or machine learning to accurately detect emotion with machine learning providing a more accurate measure.
Intent-Based Sentiment
Intent-based sentiment analysis looks for behaviors and actions behind a particular opinion, such as whether or not a consumer was just browsing or wanted to buy a product. This approach to sentiment analysis helps you identify opportunities to help your customers when there's an issue as well as track and retarget them (or not retarget them, depending on their intent).
Aspect-Based Analysis
Aspect-based sentiment analysis focuses on certain features (aspects) of your product or service. With this approach to sentiment analysis, you can determine if something positive, negative, or neutral was said and about which feature.
Fine-grained Sentiment
Fine-grained sentiment analysis is similar to standard but it's typically done through rating feedback on a scale (1–5 and 1–10 are the most common). In words, this might translate to opinions that are very negative, negative, neutral, positive, or very positive.
---
Benefits of Sentiment Analysis
By now, you might be thinking, "Sentiment analysis seems complicated. Do I really need to bother?" And, trust us, we understand where you're coming from. But sentiment analysis has quite literally thousands of beneficial applications for your business. Let's take a look at some of them.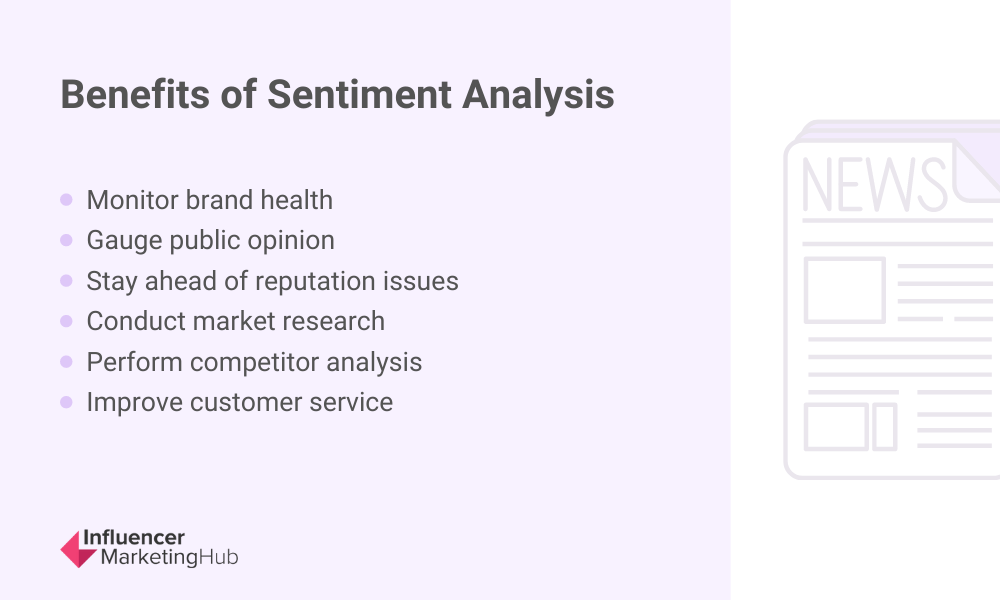 Monitor Brand Health
Sentiment analysis can help you track and monitor your brand's overall health. Even having a basic knowledge of the ratio of positive to negative mentions about your brand can help you make improvements. You can also key in on what aspects of your business, products, or services are most valuable or present the most issues for your customers.
Gauge Public Opinion
You can use sentiment analysis to gauge public opinion on just about anything. This is especially helpful if you're launching a new product or service or a new marketing campaign. By tracking mentions of your brand, you can gauge how your ideal audience is responding to your new offer and gain the insight you need to improve your offer.
Stay Ahead of Reputation Issues
Sentiment analysis can also be used to help you identify potential reputation concerns before they turn into full-blown problems for your brand. If you're noticing a spike in negative mentions, you'll be able to dig deeper into what's driving those negative mentions so you can answer questions or address concerns quickly.
Conduct Market Research
If you're thinking about bringing a new product to market, you'll need market research to validate that product. Sentiment analysis can help you research market trends, find out what's working for your competitors, and even provide valuable information that might save you from investing tons of money into an idea that your audience doesn't actually want.
Perform Competitor Analysis
Sentiment analysis can also help you keep an eye on your competitors. Tracking and monitoring your competitors is hugely beneficial and lets you find out what products or services they offer that your ideal customers might be interested in. You'll also be able to discover where they're falling short of their customers' expectations so you can work towards filling that gap.
Improve Customer Service
The last benefit of sentiment analysis we're going to talk about in this article is improving customer service. Not only will you be able to jump in when you see negative mentions but the information you gain from sentiment analysis can inform the way your customer support team handles inquiries.
---
Challenges to Sentiment Analysis
Sentiment analysis isn't perfect. There are limitations in the process due to the complexity of language. Think about how difficult it is to determine tone from an email or a text message. These difficulties make sentiment analysis tricky, even with natural language processing and algorithms that mimic the way we speak. Here are a few of the biggest challenges to sentiment analysis tools:
Sarcasm
Just as some people struggle to understand sarcasm, so too do sentiment analysis tools. Much of the time with sentiment analysis, there's limited text to work with. That means limited context.
Negation
Negations reverse the meaning of words and could even change the meaning of an entire sentence or comment. Plus, not everyone uses negation correctly. This all combines to make understanding sentiment a bit difficult for even the best tools. Different tools deal with this in different ways, with some using the negation to reverse the meaning within a single sentence, but this isn't a perfect method.
Just consider a review that says "I hoped the curry would taste wonderful. It didn't." Many sentiment analysis tools would read the first sentence completely separate from the second sentence when, in fact, the review of the curry was actually in the second sentence.
Contrastive Conjunction
Contrastive conjunction, or multipolarity, requires evaluation and understanding of different sentiments within the same sentence. This might happen when the reviewer is comparing one brand to another or when a sentence includes both positive and negative sentiments, particularly about two different topics (ie, "dinner was awful, but the bartender was great!").
Ambiguity
Ambiguity is another nemesis of both humans and sentiment analysis tools alike. This ambiguity might be the result of pronoun (or anaphora) resolution in which it's not clear what subject the description refers to. When you combine this ambiguity with contrastive conjunction, it can get quite confusing.
Name Recognition
Name recognition can also be confusing for sentiment analysis tools. Sometimes people capitalize words that have no business being capitalized and sometimes they don't capitalize proper nouns. So, are they calling your shop a "National Treasure," or are they referring to the movie? Your sentiment analysis tool might not know.
Text Speak
The internet and texting capabilities have changed not only the way we communicate but the words we use, too. There are emojis, acronyms, bad spelling, lack of punctuation, and inattention to grammar rules to consider. These can all pose problems for sentiment analysis software.
---
10 Best Sentiment Analysis Tools
Now that we've covered how sentiment analysis works, its benefits, and some of the challenges, let's talk tools! A sentiment analysis tool analyzes text for emotion, tone, and intent with the goal of providing insights you can use across your business to make improvements and handle client issues. They're particularly beneficial if you use omnichannel marketing and can save you tons of time collecting, organizing, and reporting on feedback.
So, what are the best sentiment analysis tools? Here are our 10 favorites right now.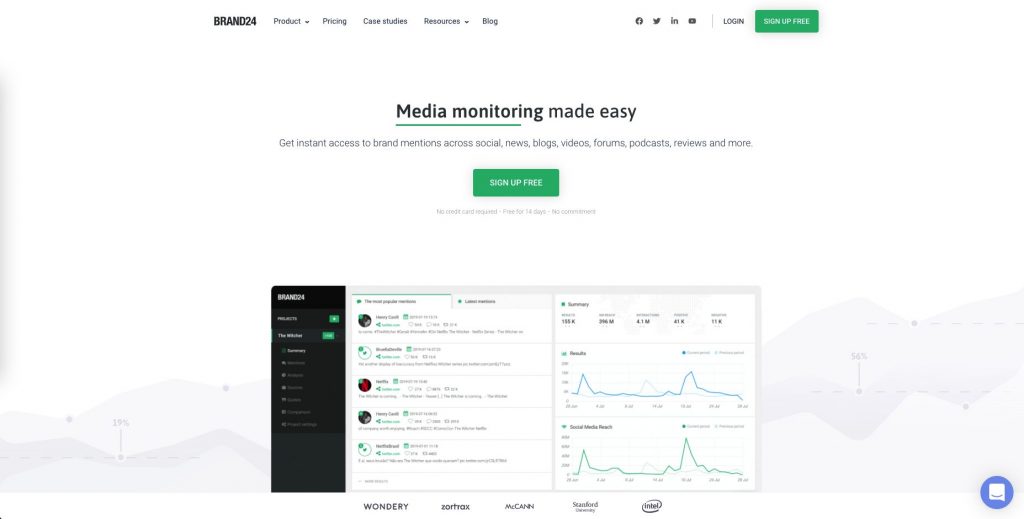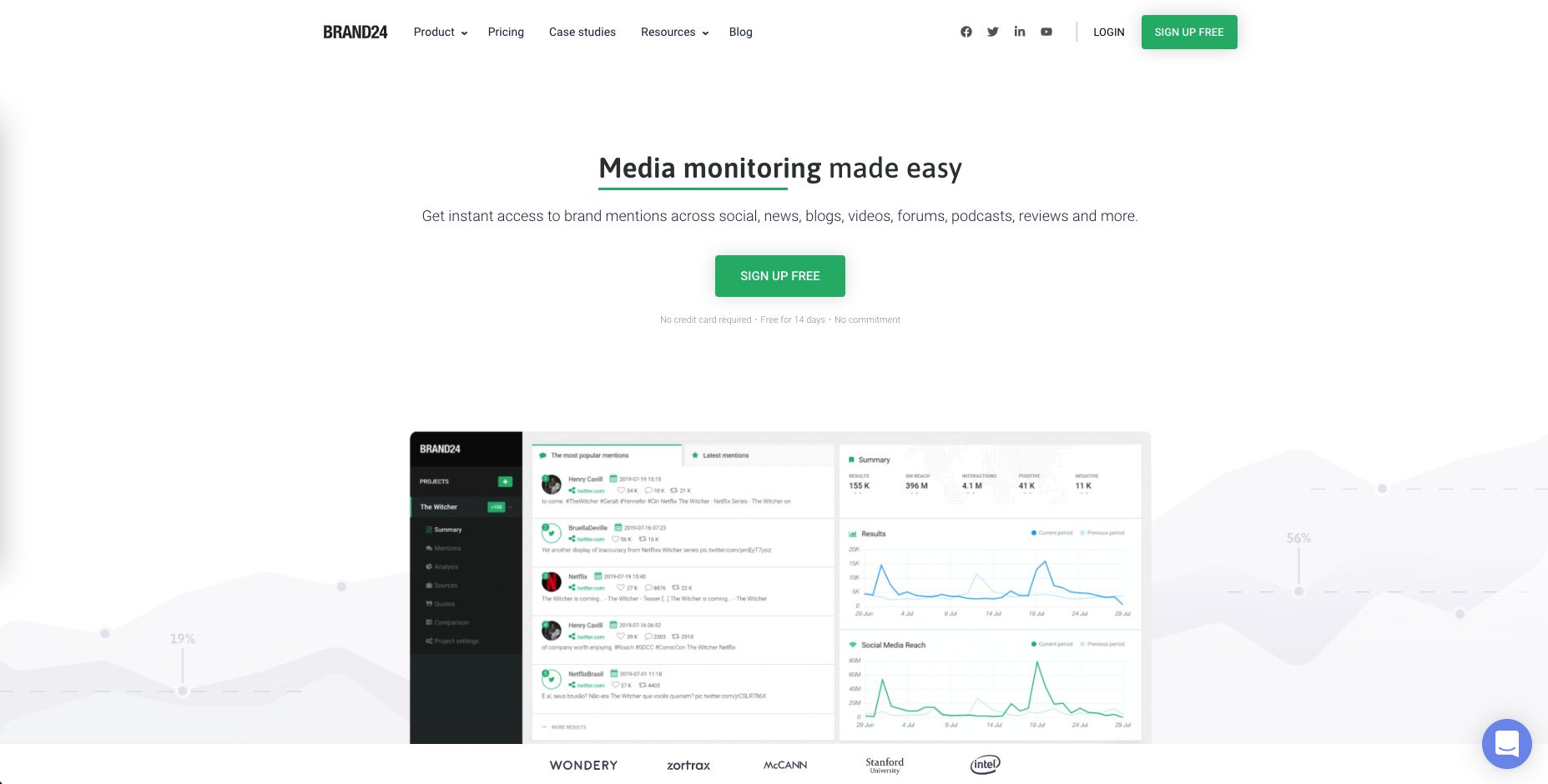 Brand24 is an AI-driven online media monitoring platform and social media analytics platform. The platform makes it easy to track keywords across different social media platforms and, based on mentions, calculates share of voice, social media reach, and hashtag performance. It makes it onto our list thanks to its AI-driven sentiment analysis so you can protect your brand's reputation, improve customer service, and glean key marketing insights.
Key Features:
Mentions Feed:

Find out what people are saying and address those mentions in real-time.

Discussion Volume Chart:

Identify changes in the discussion volume to spot problems before they escalate.

Alerts:

Create customized alerts to monitor your brand the way you want.

Data Exporting:

Export your data as PDF reports, spreadsheets, or infographics.

Filtering:

Filter by mention source, sentiment, number of visits, or more.
Pricing
Plus:

$49/month

Premium:

$99/month

Max:

$299/month
---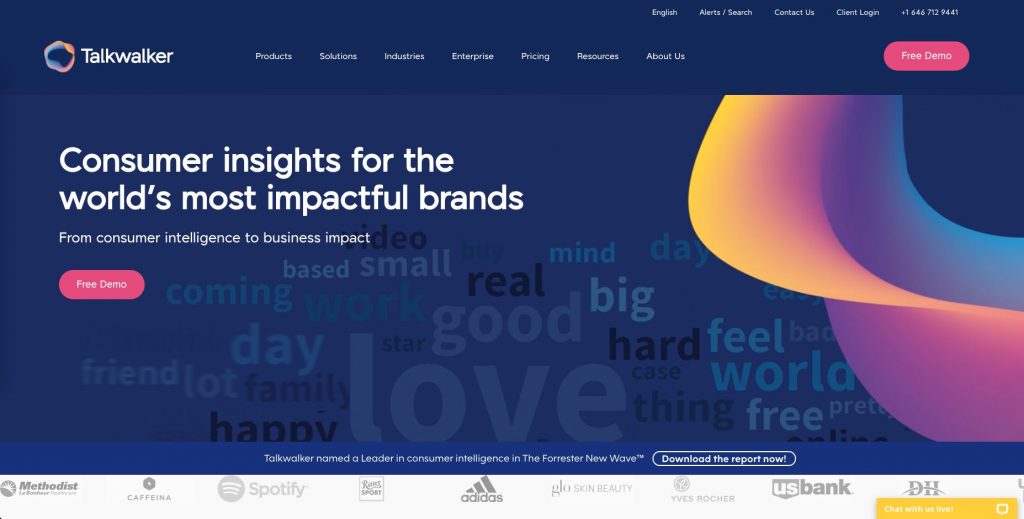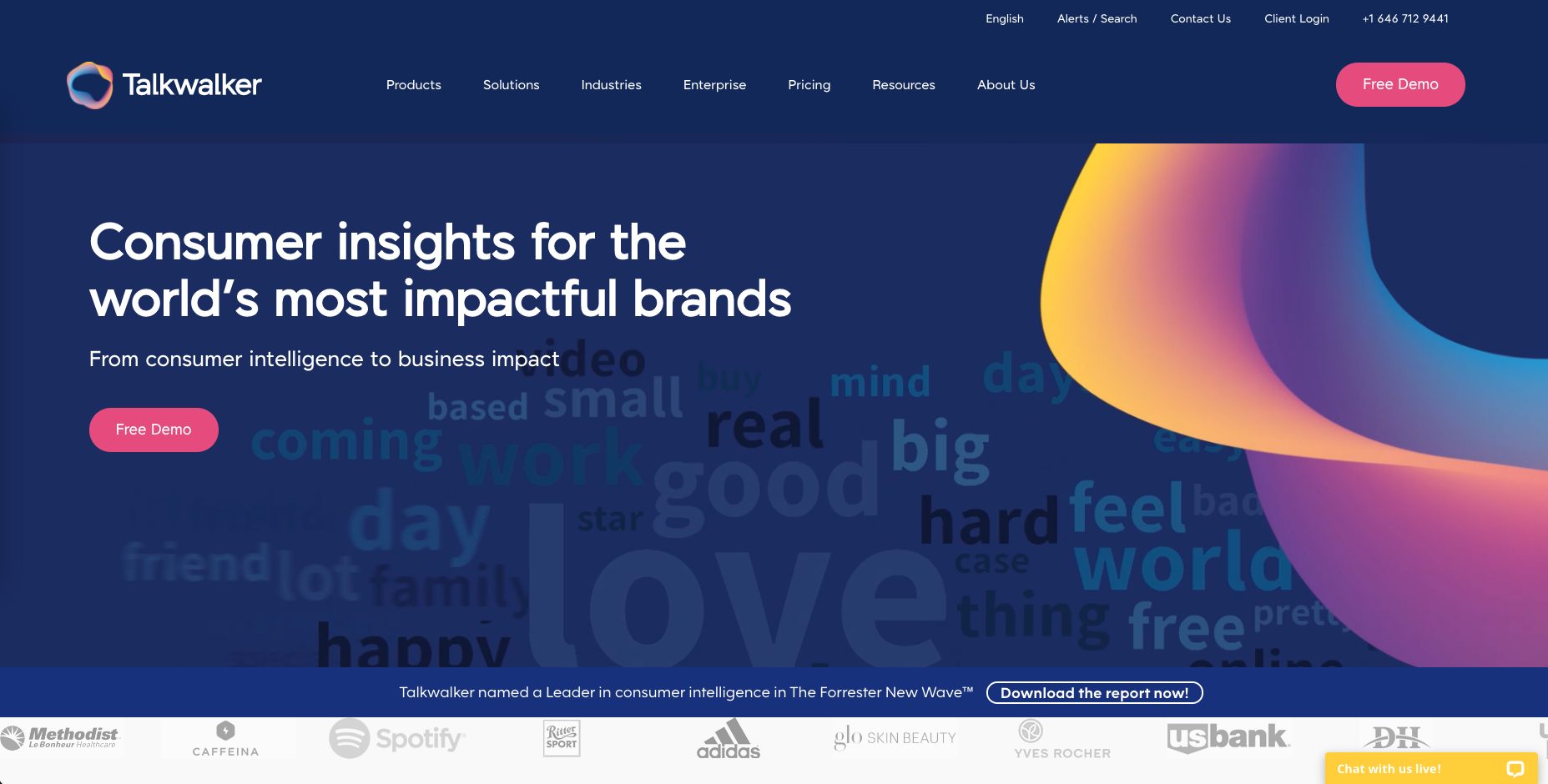 Talkwalker Analytics is a social media listening and analytics platform that analyzes online, social, print, TV, and radio content in a single platform. If you're looking for a sentiment analysis feature, Talkwalker Analytics likely has it. You can monitor your own brand, your competitors, or both on pretty much any marketing channel you can imagine. By default, Talkwalker goes through the last two years of data based on topics you've set up. A quick note: keyword searches are surprisingly much more complex to set up than image recognition.
Key Features:
Social Listening:

Advanced AI monitors content across marketing channels in real-time for 187 languages.

Social Media Analytics:

Analyze text and visual content using fully integrated image recognition technology and even learn how to replicate viral campaigns using the Virality Map.

Social Media Reporting:

More than 30 prebuilt use cases for easy reporting. Plus, you can build customized dashboards showing the info you want to see.

Social Data Intelligence:

Create a central location for all of your data intelligence.
Pricing:
Listening:

starting at $9,000/year

Analytics:

By quote

Research:

By quote
---
3. HubSpot Service Hub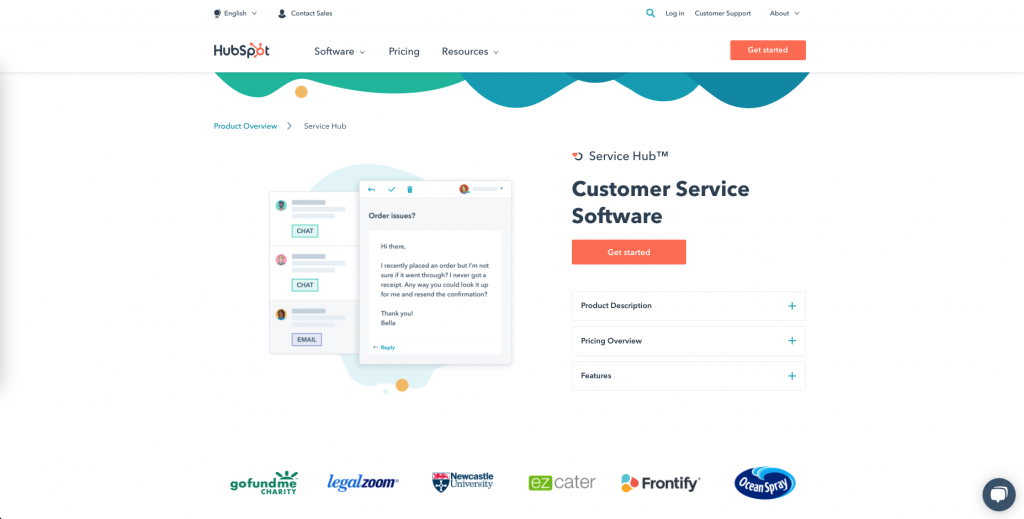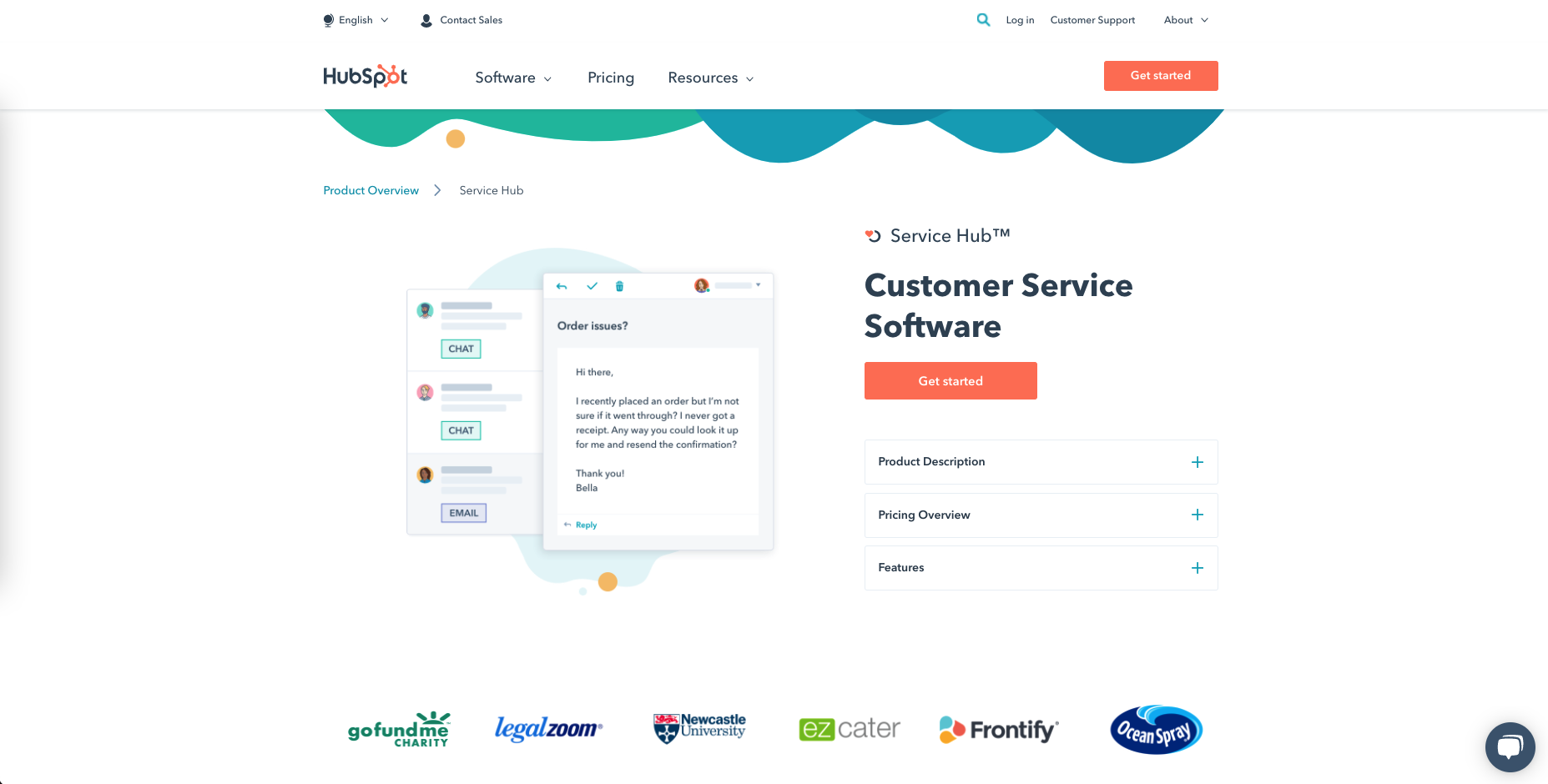 HubSpot Service Hub is a little bit different than the other sentiment analysis tools on our list since it is a complete customer service software that brings several tools and functionalities into one platform. It offers conversational tools, help desk automation, knowledge base functionality, reporting, customer feedback surveys (sentiment analysis), and more.
Key Features:
Convert FAQs into a searchable support library of articles, videos, and documentation.

Deploy several types of feedback surveys like NPS, CSAT, CES, and custom surveys so you can gather the feedback you need to build a better customer experience.
Pricing:
Plan pricing ranges from $45–$1,200/month.
---
4. Social Animal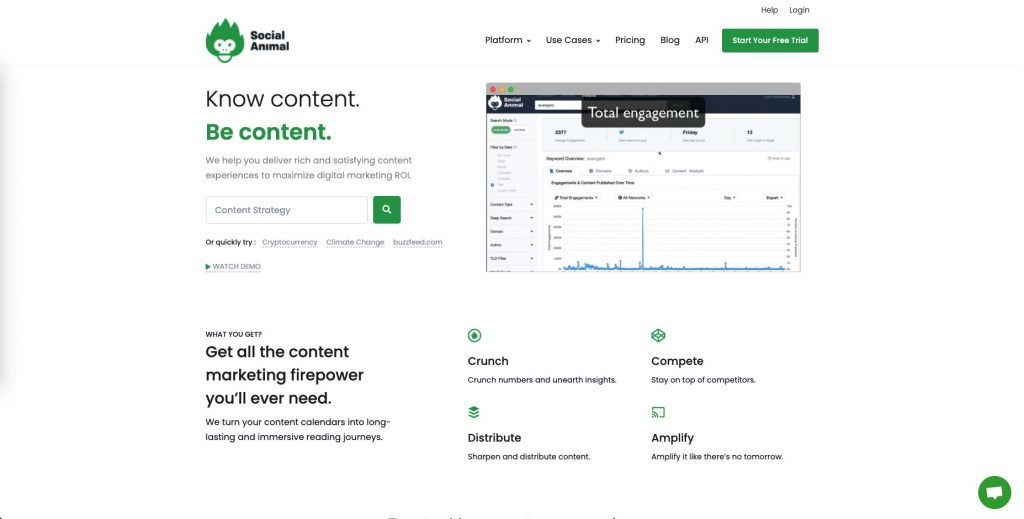 Social Animal uses AI and machine learning to help you perform content research, content discovery, influencer discovery, Facebook insights, and competitor monitoring. It's packed with features that help you collect, track, monitor, and (importantly) understand data about your customers, potential customers, and competitors.
Key Features:
Content Research & Discovery:

Find out what's trending, get new ideas for content, and learn more about your audience.

Influencer Discovery:

Analyze millions of influencers to find the best fit for your brand.

Facebook Insights:

Analyze more than 100K Facebook pages for sentiment analysis, find posts that resonate, and assess your competitors.

Competitor Monitoring:

Content with your competitors' audiences and wow them with what you can do better.
Pricing:
Blogger:

$49/month ($492/year)

Enterprise:

$199/month ($1,992/year)

Agency:

$499/month ($4,992/year)
---
5. Lexalytics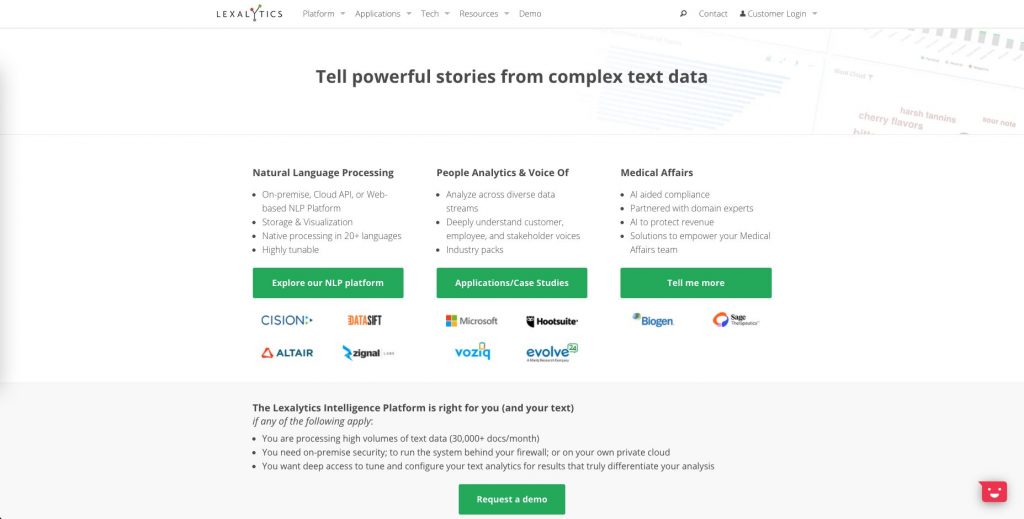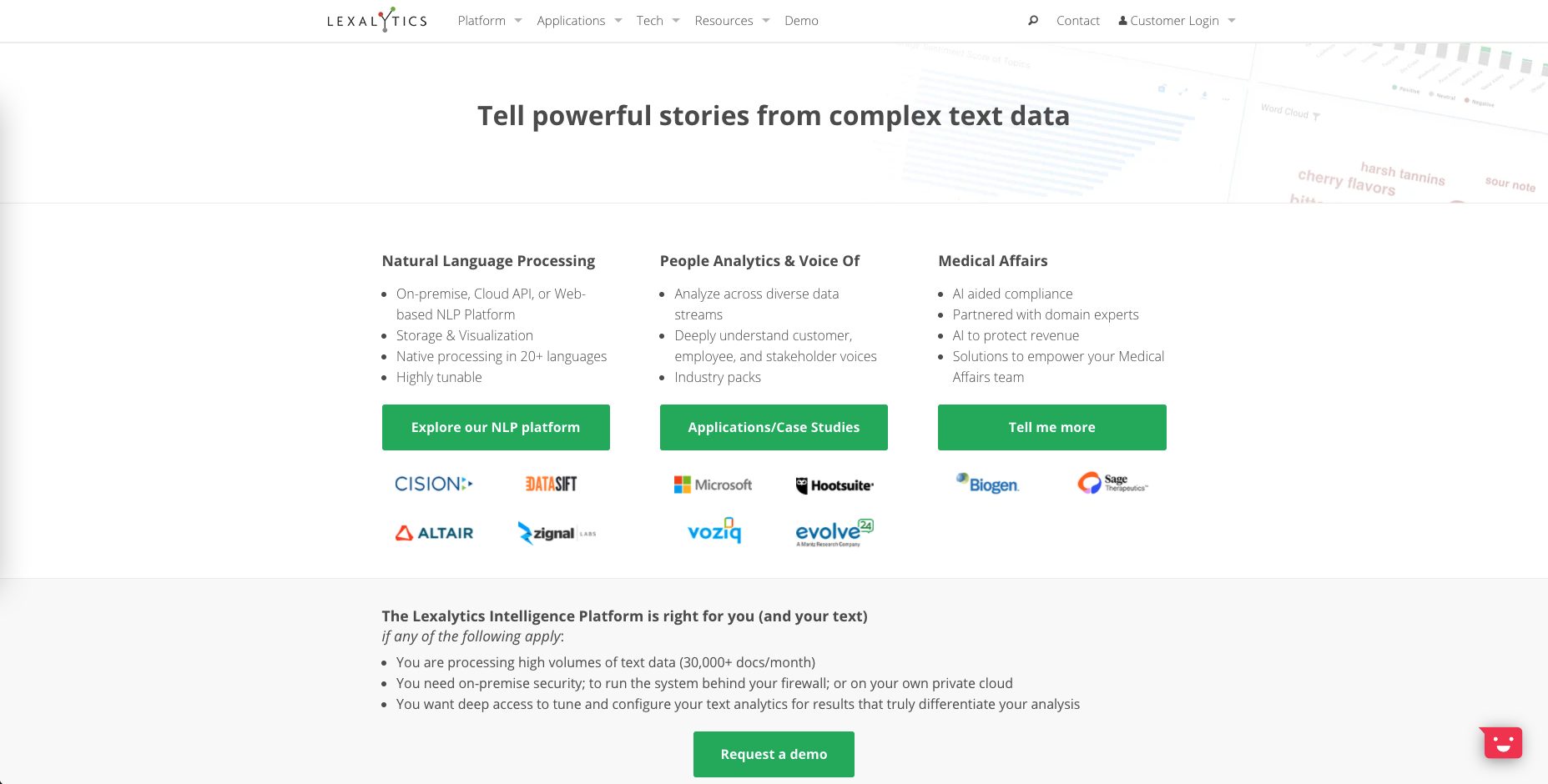 Lexalytics is a cloud-based text-analysis tool that uses natural language processing to run sentiment analysis. From there, the platform compiles its research into a shareable, easy-to-read report. What sets Lexalytics apart is that it not only tells you how consumers are feeling but why they feel the way they do. The platform connects to Excel, making it really easy to get your data into other reporting and analytics tools. Lexalytics is well-trained to deal with slang and poor grammar, making its accuracy in sentiment analysis one of the highest. This accuracy comes at a cost, however, as the product is a bit complex.
Key Features:
Configuration:

Define custom entities, create new query topics, build category taxonomies, and more using graphical configuration tools.

Industry Packs:

Pre-built industry configurations for sentiment accuracy, topic detection, categorization, and more.

Languages:

Supports 24 languages and dialects representing 67% of the world's population spread across 6 continents.
Pricing
$10,000 system cost + ongoing costs of $999/month.
---
6. Clarabridge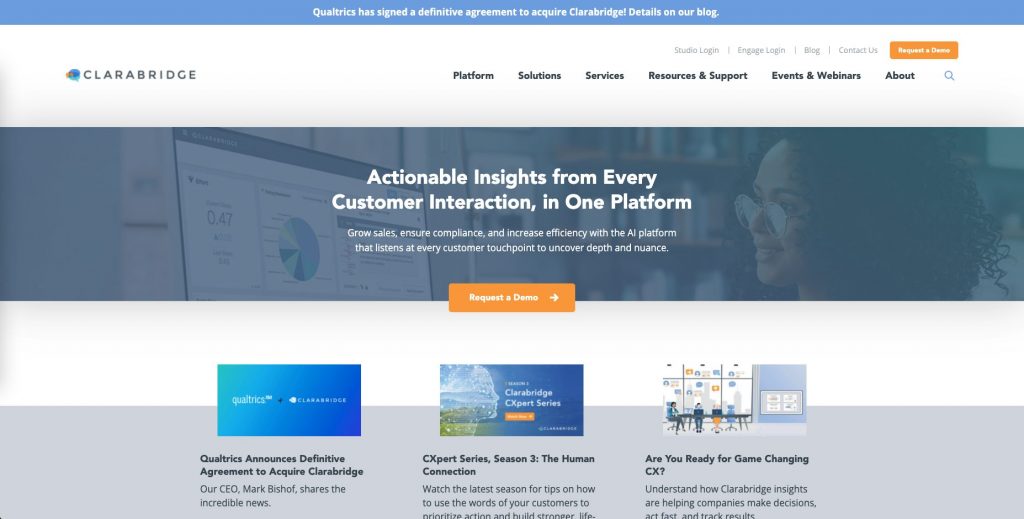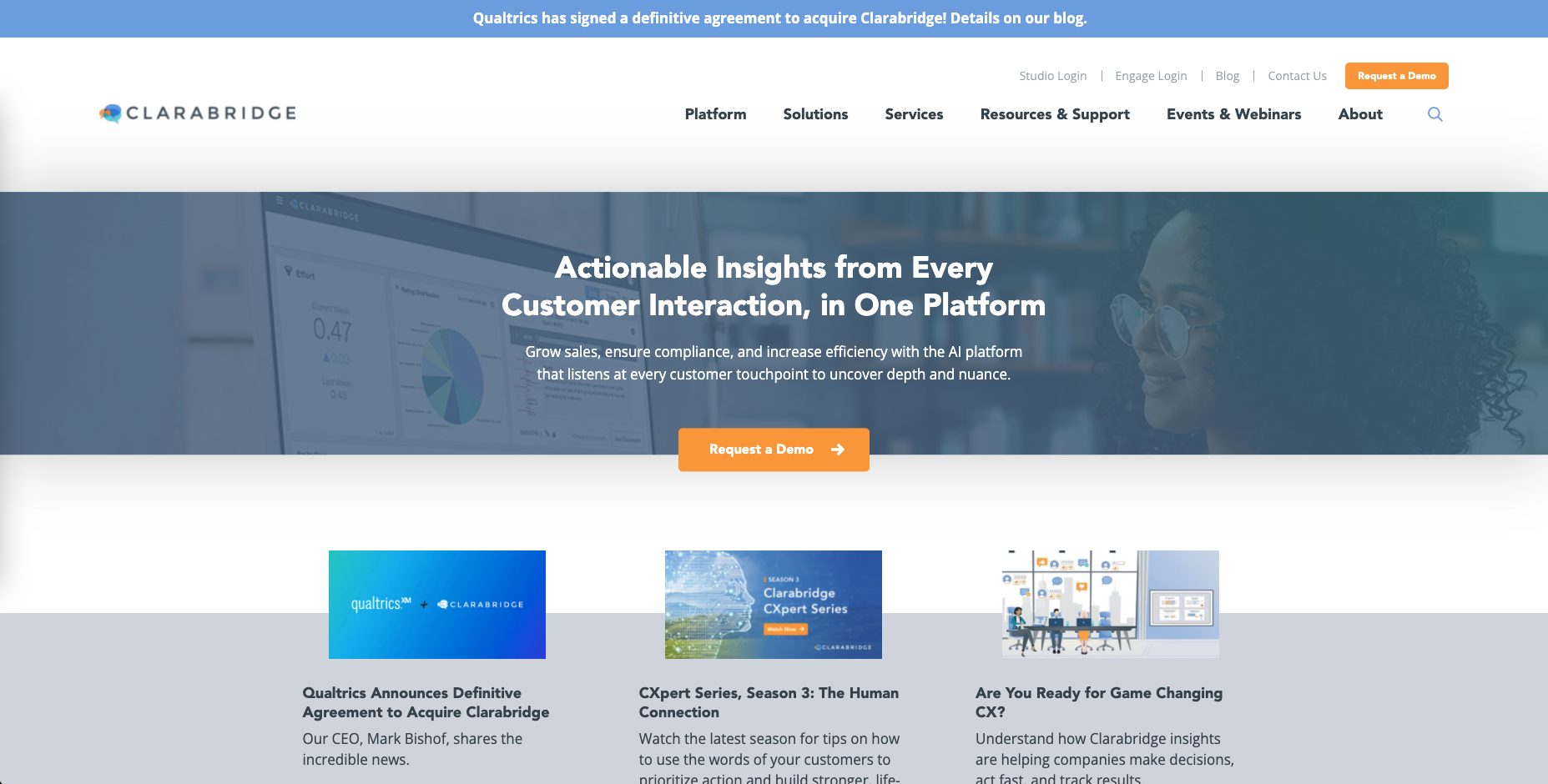 Clarabridge provides sentiment analysis through its CX Analytics and CX Social modules. The platform monitors everything you'd need, including social media platforms, forums, blogs, review sites, and news sites, analyzing engagement rate, response time, sentiment, and growth of mentions. Clarabridge uses an 11-point scale to index sentiment and takes context, grammar, industry, and the source of the data into account during scoring.
Key Features:
Multiple Sources:

Collect data from hundreds of sources like calls, emails, chats, surveys, social interactions, ratings and reviews, or forums.

Customer Effort:

Understand how much effort your customers are putting in through analysis of the keywords used in feedback.

Sentiment Analysis:

Combining lexical and grammatical approaches to analyze sentiment at the clause level.

Pre-Built Industry Categorization:

Group text data into related buckets that make sense for your industry.

Emotion Analysis:

Examine and understand the motions customers feel when engaging with your company, products, or service.

Intent Detection:

AI-powered semantic analysis strategies can identify 21 different kinds of intents like requests, praise, cries for help, churn, and even legal disclosures in customer feedback.
Pricing:
By quote.
---
7. Critical Mention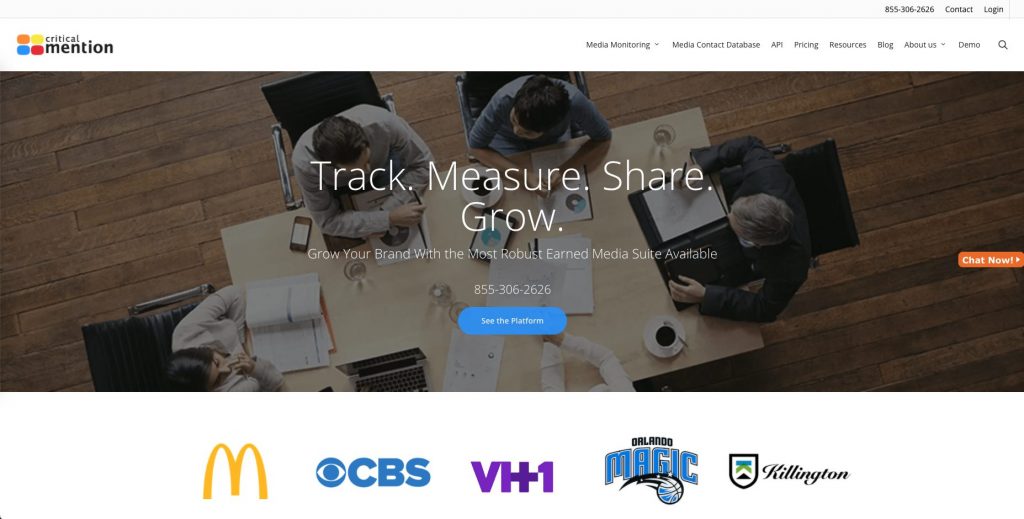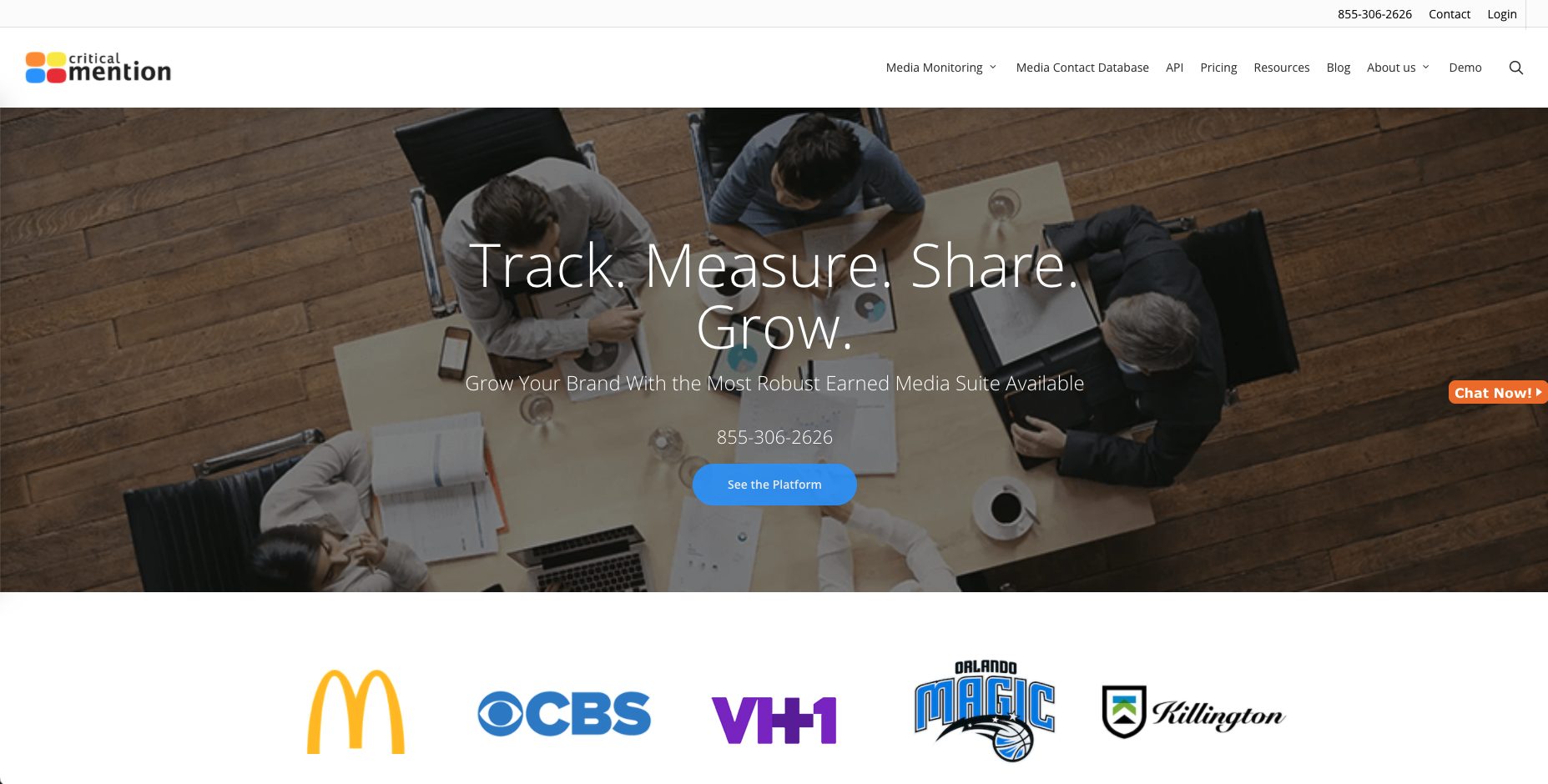 Critical Mention is a platform that helps you track, manage, and monitor your brand's earned media. This includes all of the content we've mentioned for the other sentiment analysis tools on our list as well as news and other publications. In addition, Critical Mention can search video files and even live broadcasts! Sentiment analysis tools aren't strong here, but the broad range of mentions you can track earns it a spot on our list.
Key Features:
Fast Search:

Get results in 60 seconds as well as real-time notifications.

Custom Reports:

Customize the reports the way you want with charts and graphs.

Instant Sharing:

One-click sharing makes it easy to keep everyone informed.

Sentiment Analysis:

Identify sentiment and trends with density maps and word clouds.
Pricing:
By quote.
---
8. Repustate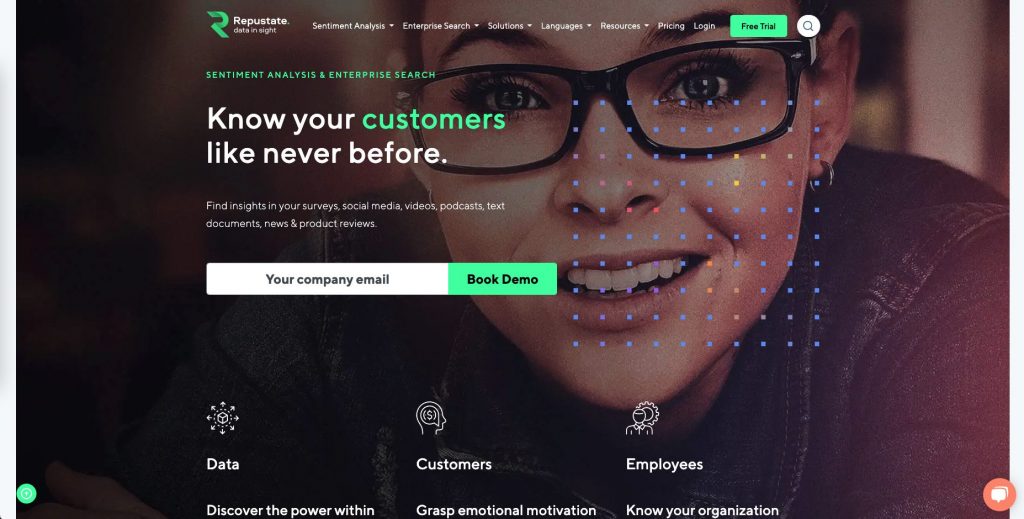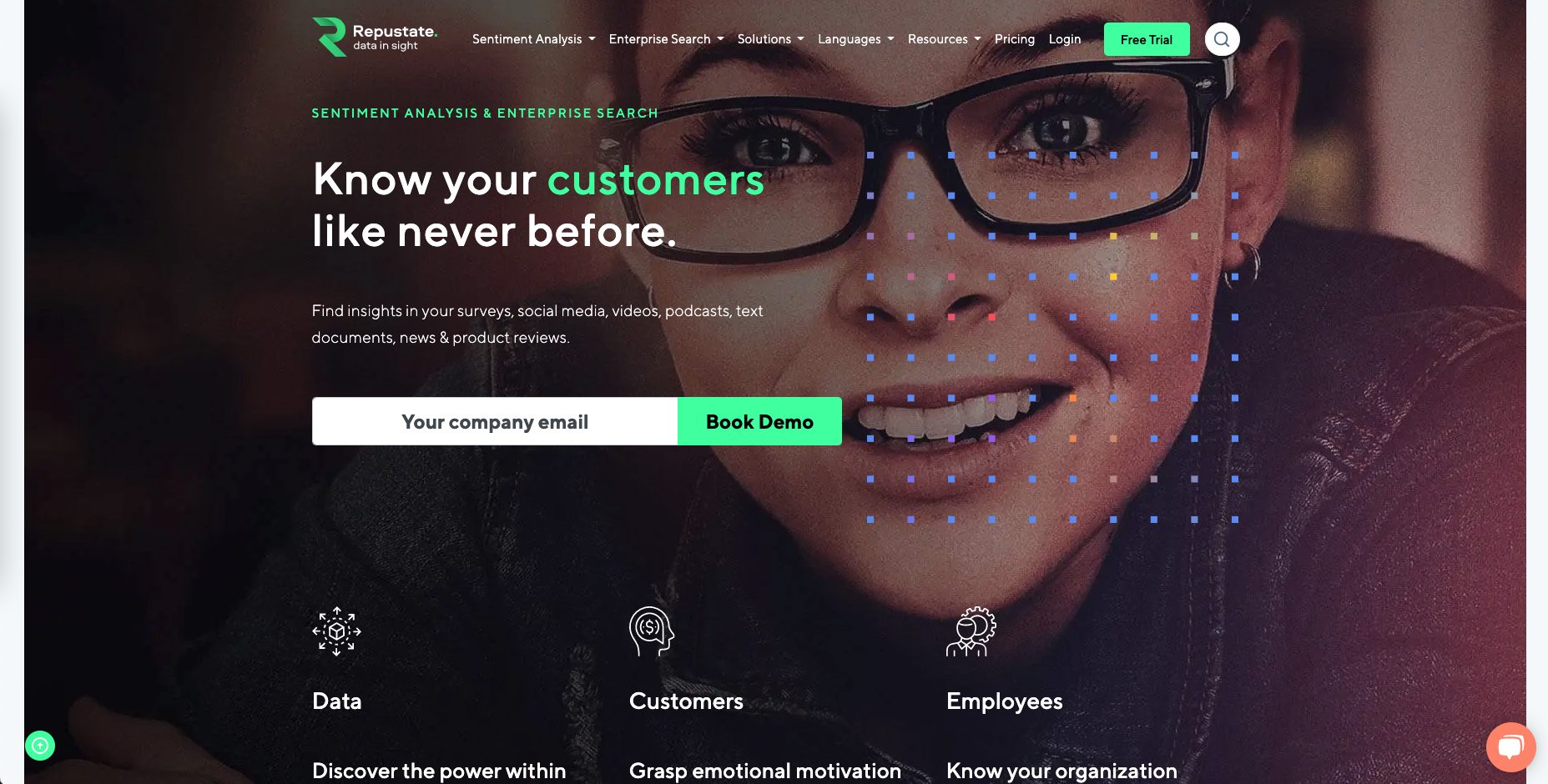 Repustate is a sentiment analysis tool that provides insights into surveys, social media, videos, podcasts, text documents, news, and product reviews. It has an AI-powered API that automates data collection using semantic technology to highlight emotion and intent. That data is then used to measure the perception of your brand using language analysis technology.
Key Features:
Speed & Accuracy:

12X faster and 50% more accurate.

Multilingual Support:

Native language analysis in more than 20 languages.

Easy Deployment:

Use the API or on-premise product with a single click.
Pricing:
Standard:

$299/month

Custom:

By quote
---
9. Brandwatch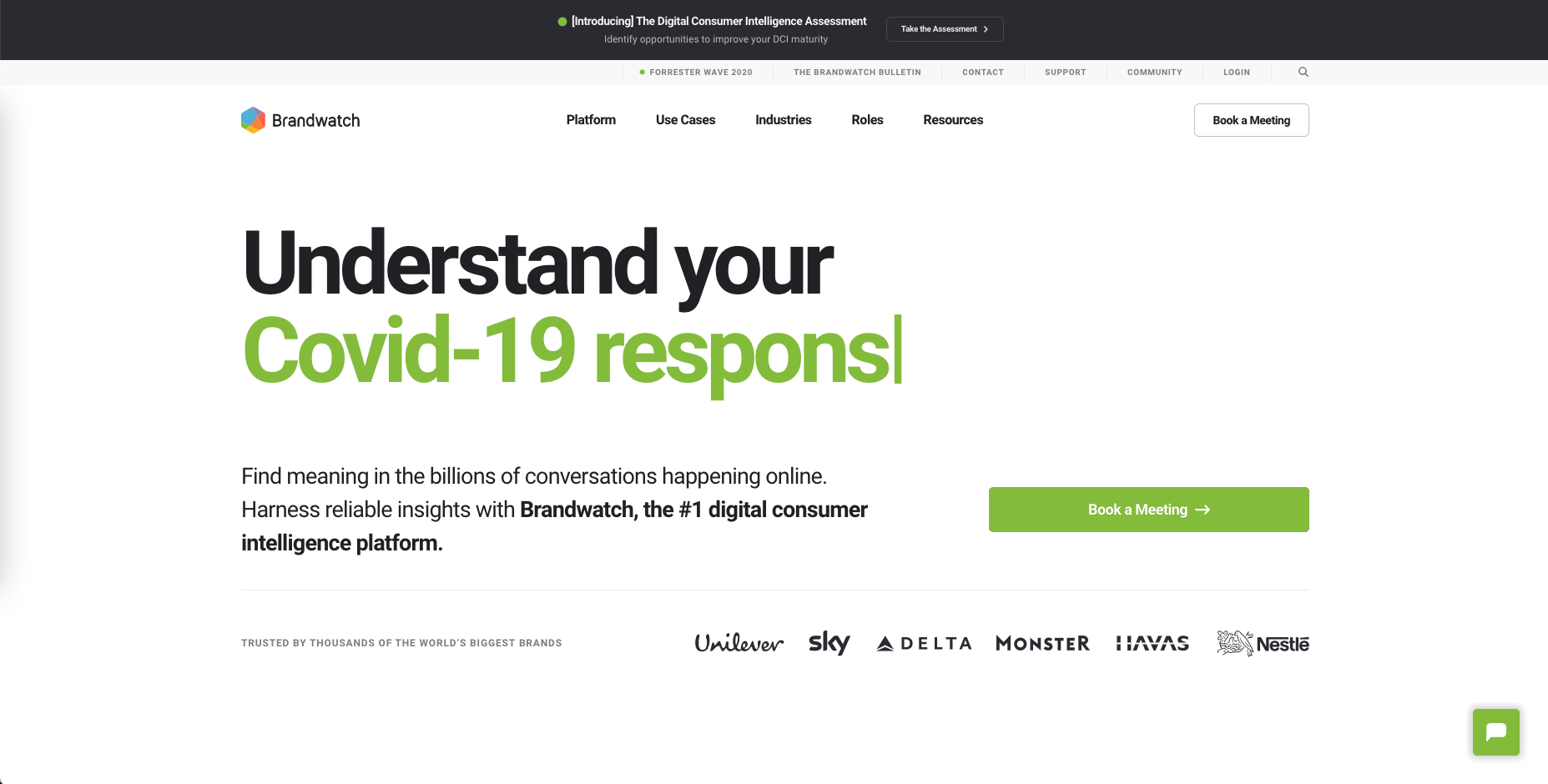 Brandwatch is a consumer intelligence platform that helps you uncover insights from billions of daily online interactions, helping you discover more information about your customers, their motivations, and how they feel about your brand. Brandwatch even has an image insights feature that identifies images associated with your brand so you can track where your brand logo shows up online. With Brandwatch, you'll be able to track import social media metrics like followers, mention volume, and activity.
Key Features:
Advanced AI:

AI-powered search with custom classifiers and image analysis.

Consumer Research:

Get instant access to the world's largest archive of consumer opinions including more than 1.4 trillion posts dating back to 2008!

Powerful Analytics:

A flexible UI with 50+ live visualizations.

Connected Solutions:

Integrations with a full suite of intelligence products.
Pricing:
By quote.
---
10. Social Mention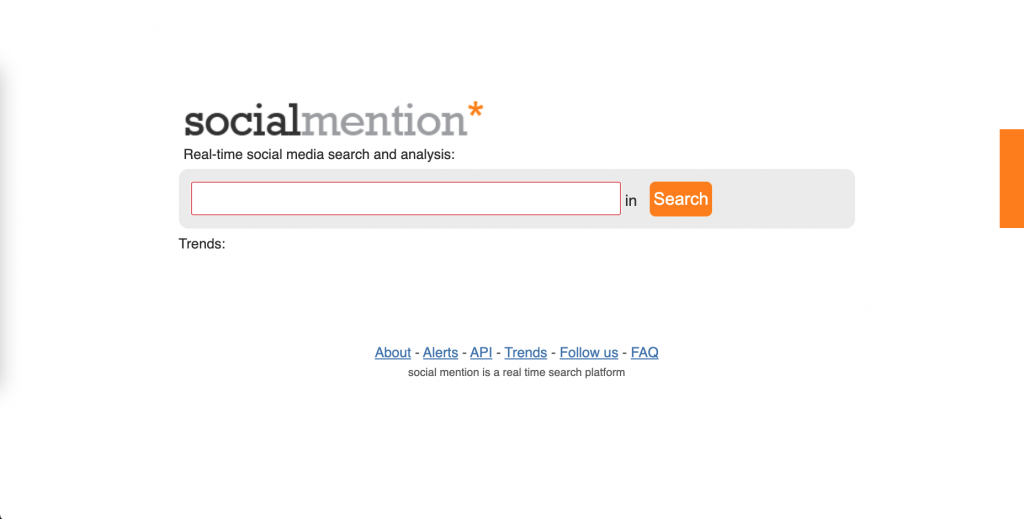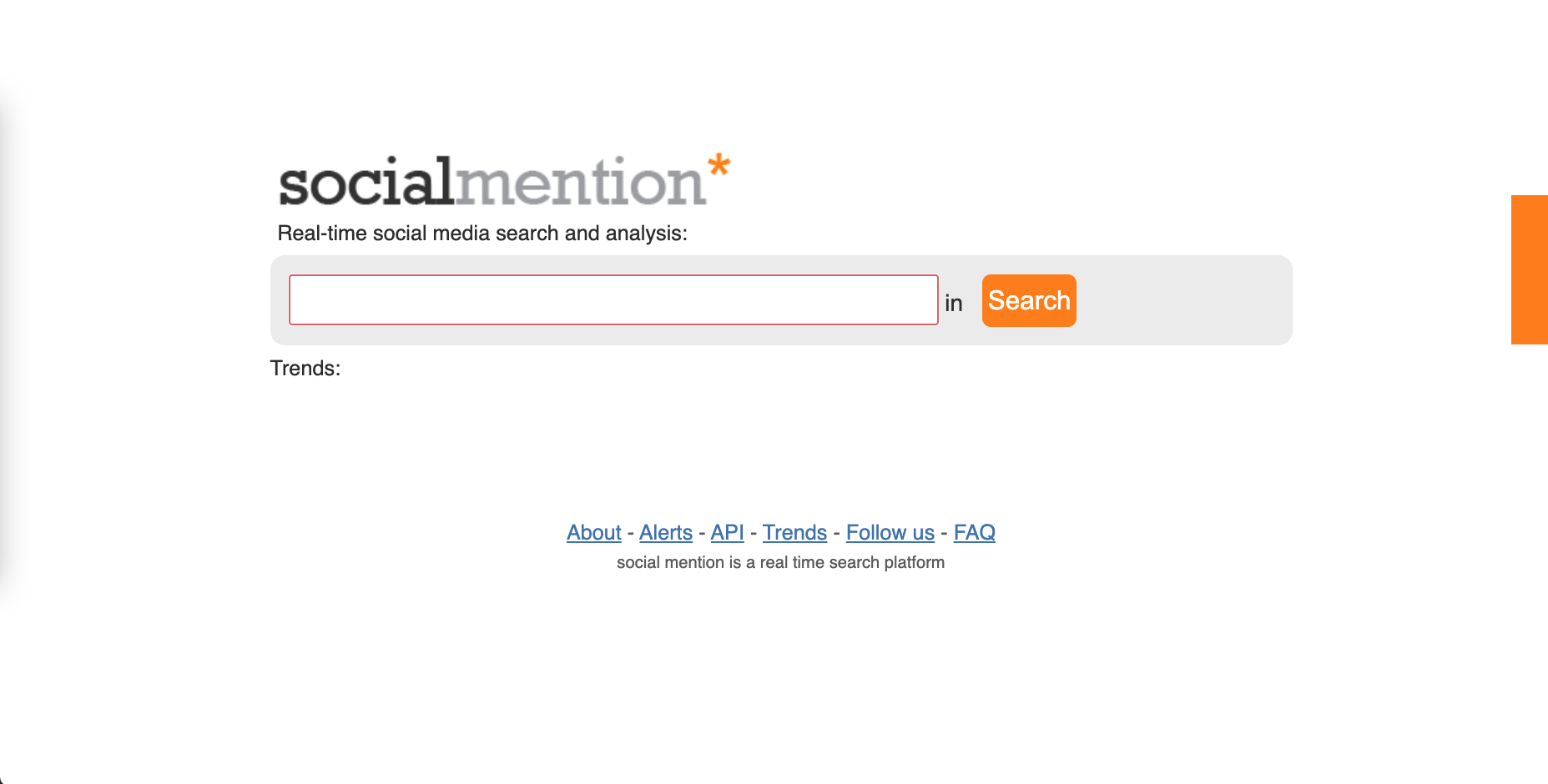 Social Mention has an incredibly simple interface consisting of a search box. You enter your search term and it will give you a report showing mentions, sentiments, keywords, and more:
Social Mention monitors sites like Twitter, Facebook, YouTube, Google, FriendFeed, Digg, and others. It's a free tool that offers an API for those who want to interface with the platform. While it's not as robust as the other tools on our list, it is free and does give you more information than you'd have without it.
Key Features:
Sentiment Analysis:

See whether mentions are positive, negative, or neutral.

Advanced Search:

Refine your search using additional keywords, excluding keywords, different timeframes, different sources, and more.

Alerts:

Sign up for daily social media alerts so you can monitor brand mentions and sentiment.
Pricing:
Free!
---
Conclusion
Sentiment analysis provides amazing insights through robust data analysis, helping you better understand your customers and your competitors so you can offer better service, improve your products, and maintain a solid online reputation. Through this guide to sentiment analysis, you've learned everything you need to know about how it works, the benefits it offers to your brand, challenges to the process, and more. Plus, with any of the sentiment analysis tools included here, you'll be well poised to glean the data you need to take your business from good to awesome.
Frequently Asked Questions
What is sentiment analysis?
Sentiment analysis is the process of analyzing text to understand the sentiment behind it. It's an automated process using machine learning and text analysis to categorize statements about your brand as positive, negative, or neutral. Sentiment analysis is sometimes called opinion mining and is used to capture voice of customer data as well as determine how consumers feel about a brand, product, or individual.
How do I do sentiment analysis?
Sentiment analysis is a relatively simple 4-step process:
Collect data
Clean data
Analyze data
Understand data
What are the benefits of sentiment analysis?
Sentiment analysis helps you:
Monitor brand health
Gauge public opinion
Stay ahead of reputation issues
Conduct market research
Perform competitor analysis
Improve customer service
What are the best sentiment analysis tools?
The sentiment analysis tools we've included in this article are the best place to start your search:
Brand24
HubSpot Service Hub
Social Animal
Lexalytics
Clarabridge
Talkwalker Analytics
Critical Mention
Repustate
Brandwatch
Social Mention