Advertising Disclosure
Advertising disclosure:
Our partners compensate us. This may influence which products or services we review (also where and how those products appear on the site), this in no way affects our recommendations or the advice we offer. Our reviews are based on years of experience and countless hours of research. Our partners cannot pay us to guarantee favorable reviews of their products or services.
In the sprawling digital landscape, the visibility of a business website is paramount. London, a global hub for commerce and innovation, hosts a plethora of businesses vying for attention in the digital domain. Yet, a prominent online presence isn't simply about having a website – it's about ensuring that your website stands out and reaches the right audience at the right time. Search Engine Optimization (SEO) plays a pivotal role in this endeavour.
According to recent data, over 68% of online experiences commence with a search engine query. However, a staggering 75% of users never scroll past the first page of search results. This underscores the vital importance of securing top rankings in search engine results pages (SERPs). Hence, the choice of the right SEO agency, especially in a competitive market like London, becomes not just strategic but essential for any business aiming to thrive.
SEO agencies in London are not just about optimizing for search engines. They are versed in understanding the nuances of the local market, cultural idiosyncrasies, and the changing dynamics of the London digital audience. Yet, with a myriad of agencies promising stellar results, how does one make the informed choice?
In this listicle, we will be unraveling the top SEO agencies in London for 2024. We'll delve deep into their credentials, services, and the value they bring to the table, guiding business owners in making a decision that could reshape their digital fortunes.
---
Top SEO Agency Services in London
Top
seo agencies services london
2024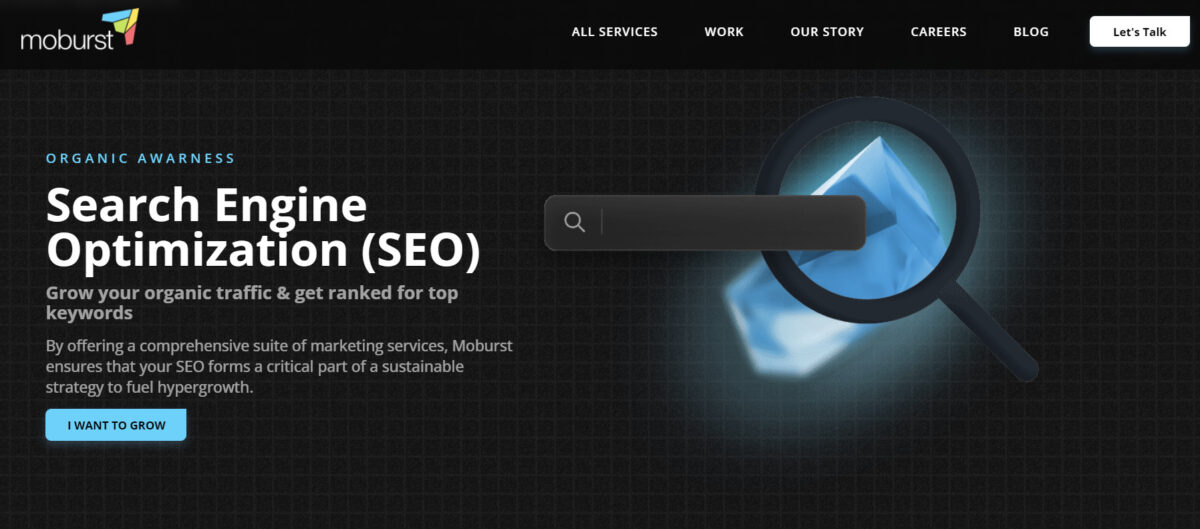 SEO Services Provided: Content Optimization, Technical SEO, Local SEO, SEO Strategy
Moburst SEO agency in London cuts through the noise by offering a comprehensive suite of digital marketing services. Their ethos revolves around 'Organic Awareness,' a term that underscores the significance of gaining organic traffic. The agency believes that strong SEO foundations are imperative to not just attract but also retain organic traffic. This is manifested through their meticulous strategies, which include ensuring each SEO element, from meta tags to content quality, is optimized to perfection, allowing search engines like Google to easily categorize and rank them.
Moburst combines multiple assets and methodologies, which is a blend of both technical and creative prowess. The agency's process starts with research that dives into understanding the niche, the company, the competitive landscape and identifying opportunities. Furthermore, their detailed analysis of the current standing of a website, from its audience demographics to its keyword performance, showcases their commitment to tailored strategies. Such an approach not only guarantees improved site discoverability but also bolsters brand awareness and organic page views.
Moburst is not just about promises; their results speak volumes. A prime example is their collaboration with Redefine Meat. Not only did Moburst assist in a website redesign, but they also successfully launched Redefine Meat in four European cities. Their innovative campaigns generated unprecedented awareness, as evidenced by the massive engagement rates on platforms like TikTok and Facebook.
---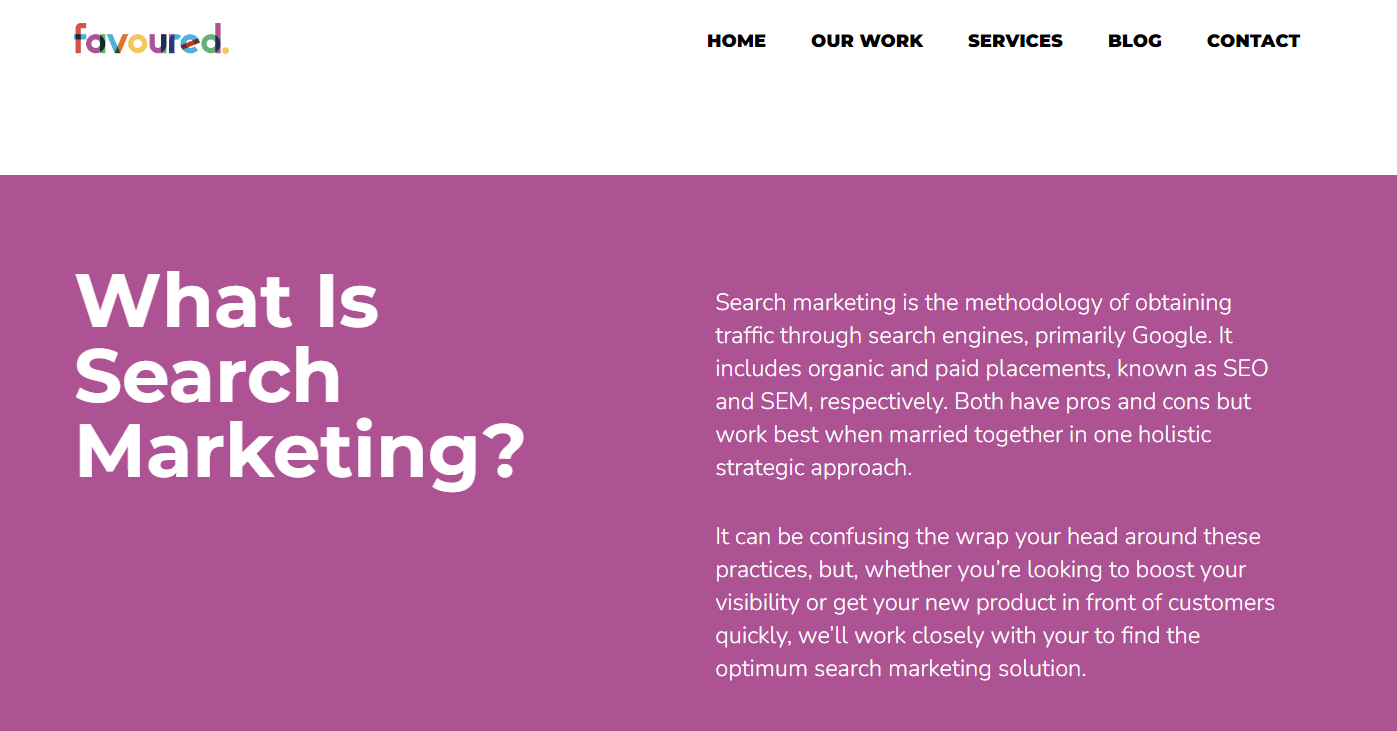 SEO Services Provided: SEM, Copywriting, PPC
Search marketing is a blend of art and science, and Favoured positions itself at the confluence of these two realms. At its core, the agency emphasizes the importance of obtaining traffic via search engines, with a keen focus on both SEO and SEM, which represent the organic and paid aspects, respectively. Favoured understands the intertwined intricacies of these disciplines, and instead of treating them in silos, they are harmonized to create a holistic strategic approach. The objective is clear – ensuring businesses not only boost their visibility but also position themselves at the forefront when potential customers are actively seeking information during their research phase.
Beyond conventional SEO strategies, Favoured offers an extensive suite of services tailored to elevate a business's online presence. On the SEO front, they combine onsite and offsite content strategies, rigorous technical research, and personalized organic campaigns. Additionally, they provide comprehensive paid marketing solutions encompassing PPC, Social Media Ads, and Google Ads. Their focus remains on ensuring ad relevance and optimal Ad Rank quality.
The hallmark of a top-tier agency lies in its commitment to continuous improvement. Favoured embodies this by placing a heavy emphasis on monitoring, analysis, and iterative strategy enhancements. Periodic reporting ensures transparency and their data-driven approach acts as a catalyst, constantly pushing for superior outcomes.
---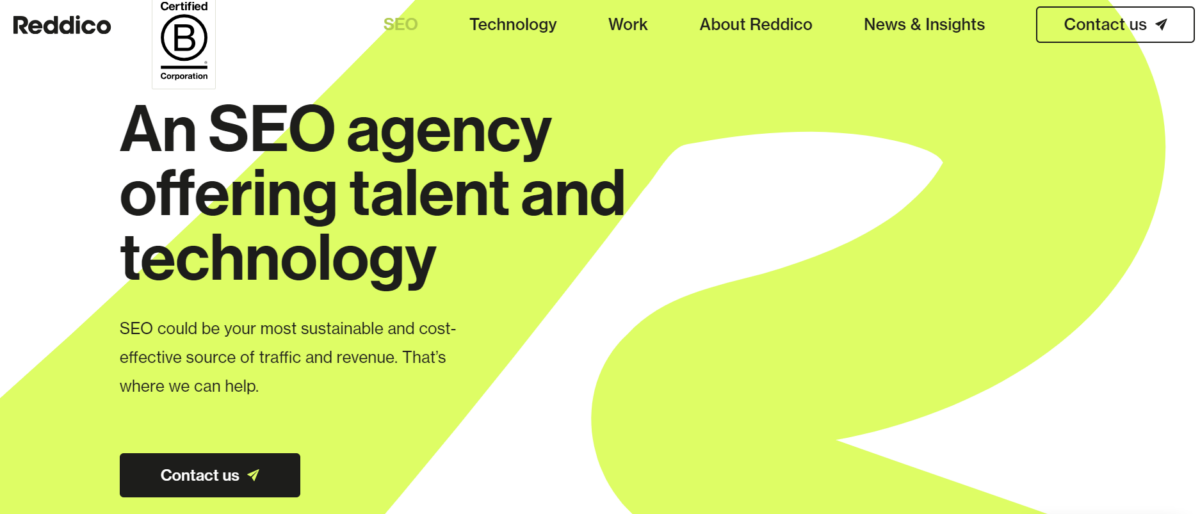 SEO Services Provided: On and Off-Page SEO, Site Migration SEO, Keyword Research, Content Creation
Navigating the complex world of search engine marketing requires a distinct blend of technical acumen and creative flair, and Reddico exemplifies this balance. At its foundation, Reddico champions the art of drawing traffic through search engines, wielding both organic and paid strategies to maximum effect. This agency's nuanced understanding of the dynamic SEO landscape, coupled with its commitment to a custom-tailored approach, sets it apart.
Diverging from the routine, Reddico crafts bespoke SEO strategies for each project, acknowledging the uniqueness of every brand. Their suite encompasses a vast array of services, from addressing on-page, off-page, and technical SEO nuances to creating compelling content and building robust backlinks. What makes them exceptional is their proprietary technology, developed out of a need for deeper insights, which offers real-time performance monitoring, competitive analysis, and actionable recommendations. Amplifying its main services, the agency employs its in-house expertise for tasks like UI/UX analysis, international SEO setups, and meticulous site migration strategies, ensuring that brands sail smoothly through the ever-changing digital currents.
Reddico's accolades speak volumes about their competency. Their shelves gleam with awards like the "Best Large SEO Agency" at the European Search Awards 2023 and recognition for their effective use of organic search. Their client testimonials further underscore their capabilities, highlighting their adaptability and responsiveness, even in the face of complex challenges.
---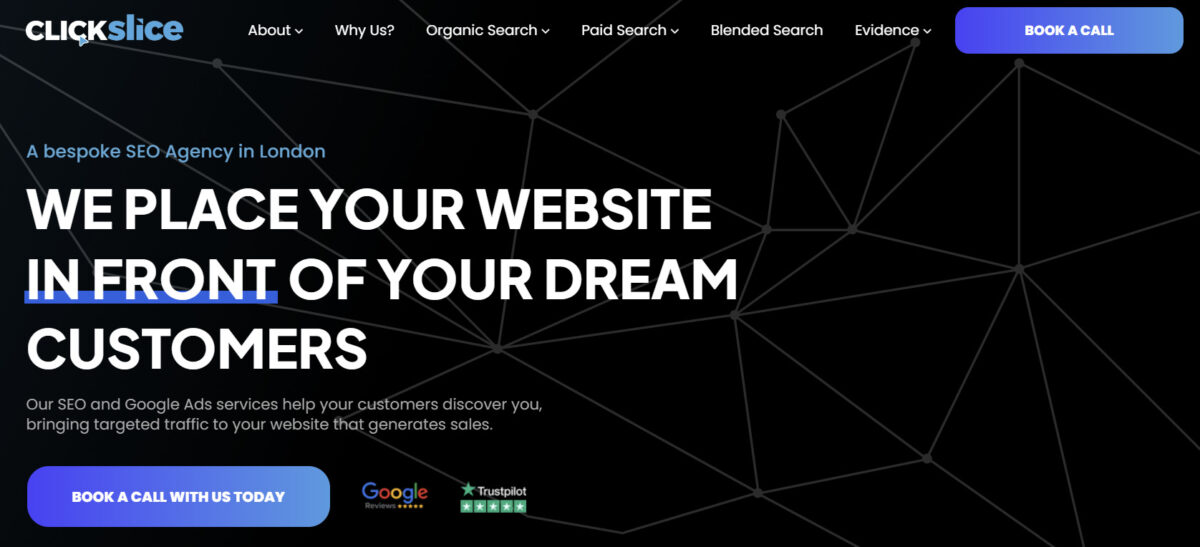 SEO Services Provided: eCommerce SEO, National SEO, SEO Auditing, PPC, WordPress SEO
Clickslice has emerged as a beacon of excellence within London's crowded SEO landscape. Their philosophy revolves around the cornerstone of making businesses both seen and heard in the vast expanse of the digital marketplace. A deep dive into their offerings reveals a commitment to bespoke, results-oriented strategies that harmoniously blend organic and paid search techniques.
Central to Clickslice's suite of offerings is their keen understanding of the importance of tailored SEO strategies. Their meticulously crafted services encompass everything from keyword research, content creation, competitor analysis, technical SEO, and bespoke campaign designs. In tandem with these organic strategies, their prowess in paid advertising ensures businesses secure prime real estate atop search engine results. Notably, their Google Ads services, underscored by a remarkable 75% average conversion rate, promise instant visibility, driving immediate traffic and accentuating brand presence.
Clickslice stands out with its dedication to open communication, as demonstrated through its regular updates, monthly reports, and quarterly campaign review calls. Their refusal to tie clients into long-term contracts showcases a refreshing confidence in their ability to deliver consistently.
---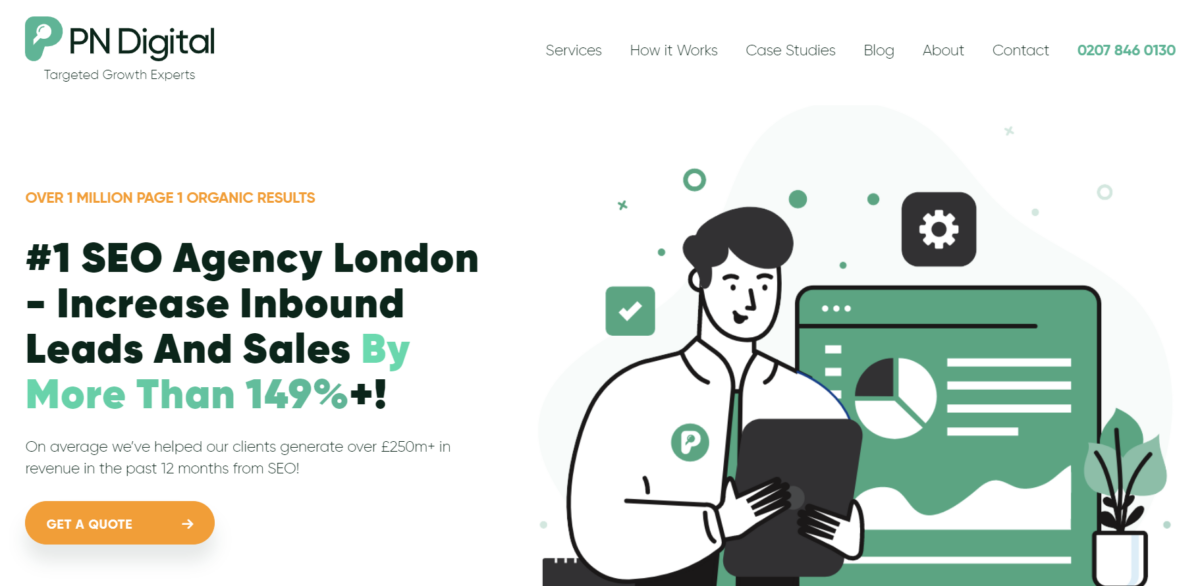 SEO Services Provided: eCommerce SEO, Shopify SEO, AI SEO Services, SEO SaaS
Navigating the densely populated SEO sphere in London, PN Digital emerges as a powerhouse known for its targeted growth strategies. Their dedication to elevating businesses in the digital realm is reflected in the striking statistic: over 1 million page 1 organic results. Driven by results, the agency's claim of a staggering 149%+ increase in inbound leads and sales not only underlines their prowess but also the tangible impact they've achieved for their clientele.
They approach SEO from multiple angles: from the bedrock of technical website optimization and keyword research to holistic strategies that ensure businesses aren't just visible but also dominant in their niches. Their commitment to continuous growth is further manifested in their adaptability to Google's frequent updates. As the digital giant regularly refines its algorithms, PN Digital swiftly responds, ensuring its clients remain at the pinnacle of search results. Beyond mere SEO, the agency also showcases proficiency in PPC, mobile app development, and website design, thereby presenting a multifaceted strategy to digital prominence.
What sets PN Digital apart in the bustling London SEO milieu is its ethos rooted in transparency and commitment. With robust tools at their disposal and a suite of SEO services tailored to individual business needs, they maintain an unwavering focus on client success. This client-centric approach is further evidenced by an array of testimonials, painting a picture of an agency driven by numbers and genuine client growth and satisfaction.
---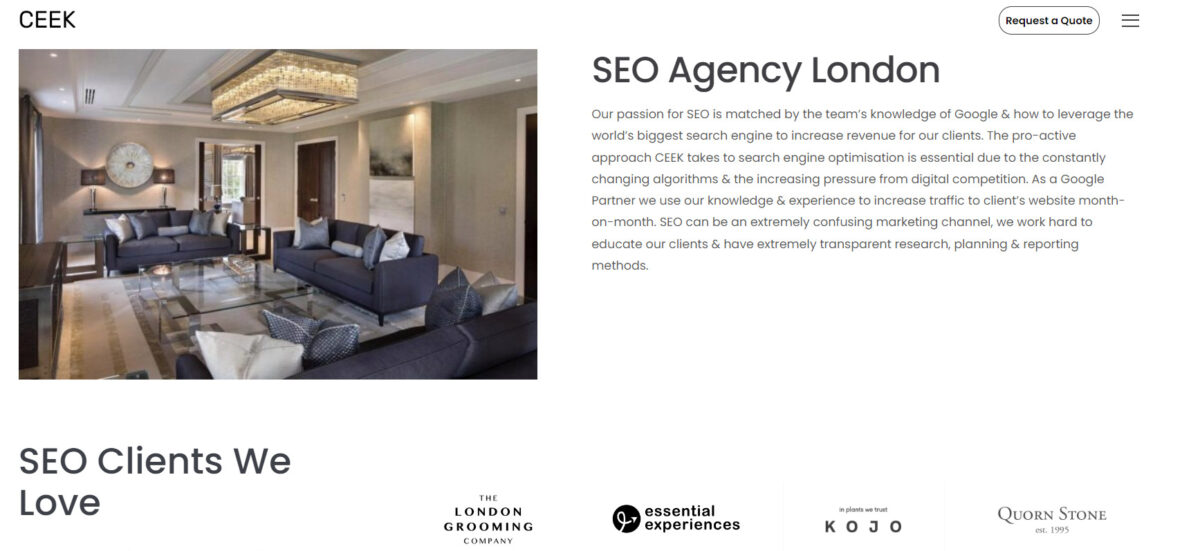 SEO Services Provided: Content Creation, Technical SEO, Competitor Research, SEM, Keyword and Trend Research
Recognized for its award-winning digital services, CEEK boasts a diverse toolkit aimed at optimizing businesses' digital footprints. Their claim to fame is a reasonable blend of seasoned expertise and a commitment to adapting to the rapid evolutions of the digital marketing landscape.
The fulcrum of CEEK's offerings lies in its holistic approach to SEO. From technical SEO, ensuring websites are in sync with Google's ever-evolving algorithms, to the art of competitor-driven targeting, their strategies are designed for visibility and dominance. But CEEK isn't just about ensuring businesses rank high; they're about making sure they're seen and heard in all the right places. Their multifaceted services encompass web development, content creation, influencer marketing, and a deep dive into paid targeting across renowned platforms. Their emphasis on Local SEO, acknowledging the surge in location-centric searches, further accentuates their nuanced understanding of the market.
However, CEEK's true differentiation stems from its client-first approach. Their 100-point marketing audit is a testament to their meticulousness, ensuring every digital touchpoint is optimized for maximum impact. Coupled with their proactive backlink analysis and penalty removal services, the agency ensures that brands lead in the digital realm.
---

SEO Services Provided: Copywriting, Paid Media, Organic Search, eCommerce SEO
Propeller carves a distinct mark with its versatile and strategic approach. Recognized for its proficiency in e-commerce, particularly with its sterling experience in Shopify and Shopify Plus platforms, the agency lays out a comprehensive array of services to elevate brands in the online marketplace. From its UX & Product Planning that ensures strategic objectives transform into commercial successes to its customized theme designs that embody both aesthetics and functionality.
But Propeller's excellence doesn't stop at e-commerce alone. Their digital marketing services radiate ingenuity, always rooting strategies in tangible insights. Whether it's leveraging organic search through compelling SEO content, optimizing paid campaigns for wider reach, or fostering customer relationships through CRM, Propeller's multifaceted approach aims for holistic brand growth.
What truly accentuates Propeller's reputation is the testament to brands they've worked with. With an array of recognitions to its name and operations extending globally, Propeller consistently demonstrates its ability to achieve tangible results and formulate effective digital strategies.
---

SEO Services Provided: SEM, SEO Strategy, Content Creation
In digital marketing, Crowd establishes itself as an authority, wielding a deep understanding of the nuanced components that underpin a brand's digital success. Central to their prowess is their robust approach to search engine optimization and marketing (SEO/SEM). By recognizing the importance of aligning voice, image, and written content, Crowd seamlessly integrates technical page set-ups, regional strategies, and written content relevance. They navigate the vast digital terrain by integrating factors such as social media, PR, inbound/outbound links, and more, ensuring that websites are not only discoverable but also resonate with their target audience.
Their digital marketing arm is expansive, focusing on strategic foresight to anticipate and harness future trends. Be it through crafting compelling marketing campaigns, insightful data analysis, or engaging content creation, their services encompass every facet of a brand's online presence. The agency's emphasis on refining brand language according to search trends underlines their adaptability and foresight, qualities that foster credibility and trust in the digital space.
A distinguishing feature of Crowd is its truly international ethos. With a diverse team that boasts over 70 staff members from 25 nationalities, speaking 17 languages, they bring a truly global perspective to every project. This multicultural fabric ensures their strategies are not only universally relevant but also tailored for specific regional nuances, guaranteeing a wide yet precise reach for their clients in the global digital marketplace.
---
The Interplay of Global and Regional SEO Strategies
Businesses often struggle to balance global outreach and resonating with local audiences. This balancing act is particularly pronounced in the realm of Search Engine Optimization (SEO), where the tug-of-war between global and regional strategies can dictate the success of a brand online.
Understanding the Duality
At its core, global SEO focuses on establishing an online presence across diverse markets, irrespective of geographical boundaries. This entails consistent branding, universal keyword targeting, and content strategies that appeal to a wide audience.
On the other hand, regional SEO, often termed as 'Local SEO,' zeroes in on reaching audiences in specific locations. This involves optimizing for local search queries, understanding regional search habits, and leveraging tools like Google My Business.
---
Why Both Matter
The significance of global SEO is undeniable for businesses with an international footprint. It ensures a brand's message is uniform, creating a consistent brand image across the board. However, the downside is its broad-brush approach, which can sometimes lack personalization.
Regional SEO, with its hyper-focused approach, fills this void. By understanding and catering to local nuances, businesses can create more personal, relatable content. This is crucial, especially considering that 46% of all Google searches are seeking local information.
---
Striking the Balance
The key lies in harmonizing these strategies:
Unified Brand Image: While tailoring content to local audiences, ensure the core brand message remains consistent.
Keyword Research: Understand and target both global and regional search terms. For instance, while 'sneakers' might be a popular term globally, 'trainers' would resonate more in the UK.
Cultural Considerations: Being aware of regional holidays, traditions, and cultural norms can significantly elevate localized content strategy.
---
Conclusion
In the bustling heart of London's digital landscape, businesses must navigate the intricacies of SEO to truly shine. With the vast majority of online interactions beginning with a search engine and a competitive digital arena, securing a prime spot on search results is paramount.
This comprehensive exploration underscores the vital importance of partnering with an adept SEO agency in London. Whether global reach or local resonance, these agencies have showcased their prowess in crafting strategies that resonate with audiences and drive tangible results. As businesses strive to elevate their digital presence, making an informed choice from this illustrious list can indeed redefine their path to digital success.
Frequently Asked Questions
What is the main purpose of hiring an SEO agency in London?
Hiring an SEO agency in London can significantly improve the visibility of your website on search engines like Google. The primary aim is to increase organic traffic, leading to more conversions and brand awareness.
Why can't I just do SEO myself?
While some basic SEO tasks can be managed in-house, a specialized agency brings expertise, experience, and advanced tools to the table. They stay updated with ever-changing search engine algorithms and can implement strategies more effectively and efficiently.
Are there different types of SEO services?
Yes. SEO encompasses a range of services, including on-page SEO (content optimization), off-page SEO (link building), technical SEO (website structure, speed), and local SEO (geographical targeting).
How do I know which SEO agency in London is right for my business?
Consider agencies with industry experience, a track record of success, positive client testimonials, and transparent reporting methods. Establishing good communication and feeling confident in the agency's approach is also essential.