Advertising Disclosure
Advertising disclosure:
Our partners compensate us. This may influence which products or services we review (also where and how those products appear on the site), this in no way affects our recommendations or the advice we offer. Our reviews are based on years of experience and countless hours of research. Our partners cannot pay us to guarantee favorable reviews of their products or services.
The digital landscape is vast, intricate, and ever-evolving. For marketing agencies and teams dedicated to steering clients through this dynamic environment, effective search engine optimization (SEO) is the beacon that ensures online visibility. 
Just as an adept sailor requires a compass and a map, agencies need state-of-the-art SEO software to guide them on this digital voyage. These software solutions are vital tools to elevate website rankings, boost organic traffic, and optimize a brand's online presence. As the virtual marketplace grows more competitive, employing high-quality SEO software becomes not just advisable but imperative for any agency.
Join us in this endeavor as we explore the top 9 SEO Software for agencies, especially for those handling multiple clients.
---
Top SEO Software for Agencies
Top
seo software for agencies
2024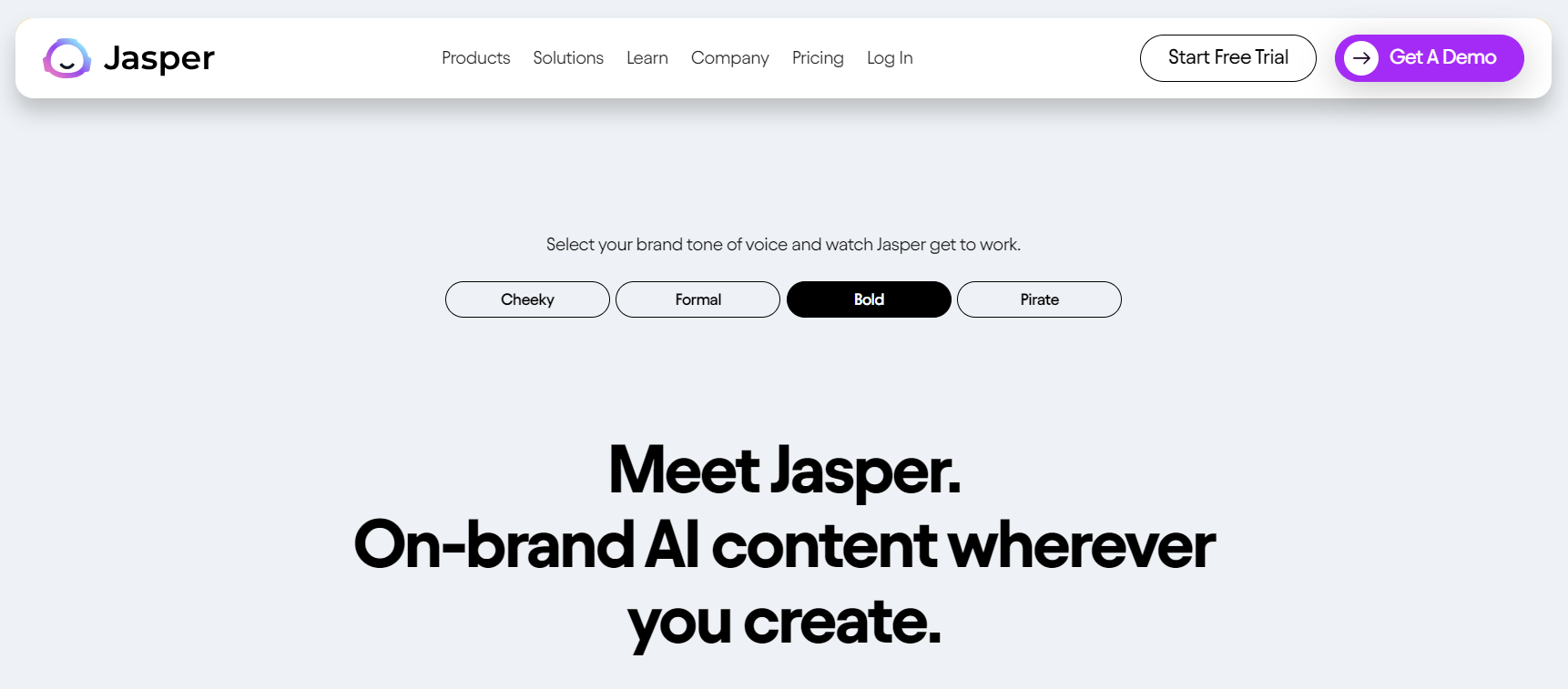 Best for: Content-focused SEO agencies utilizing AI for optimization.
SEO is an ever-evolving and constantly expanding niche, and Jasper emerges as a game-changer for digital marketing strategies. It's especially useful for those new to content creation and SEO, offering an avenue to craft content expediently with AI. Even more so, Jasper will help businesses with content optimization for top-tier Google rankings.
But how does Jasper stand out?
Primarily, the tool stands out with its multifunctional Jasper Chat. This chatbot can handle various SEO tasks such as creating schema markup, formulating FAQ sections, or even curating blog outlines. Furthermore, the software's impressive array of features, like grammar and tone checks, plagiarism analysis, and text optimization, ensures generated content remains original and SEO-compliant.
For those inclined towards structured SEO efforts, Jasper's meta description & title tag templates can be invaluable. These templates are tailored for blogs, home pages, and service pages, ensuring consistency and best practices in meta creation.
Finally, Jasper's SEO course underlines its commitment to user education, teaching the specifics of conducting profound search engine optimization research. This includes targeting long-tail keywords with less competition, understanding search volume metrics, and harnessing search intent phrases.
Pricing:
Creator: $39.00 Per Month
Teams: Starting at $99.00 Per Month
Business: Contact Us
---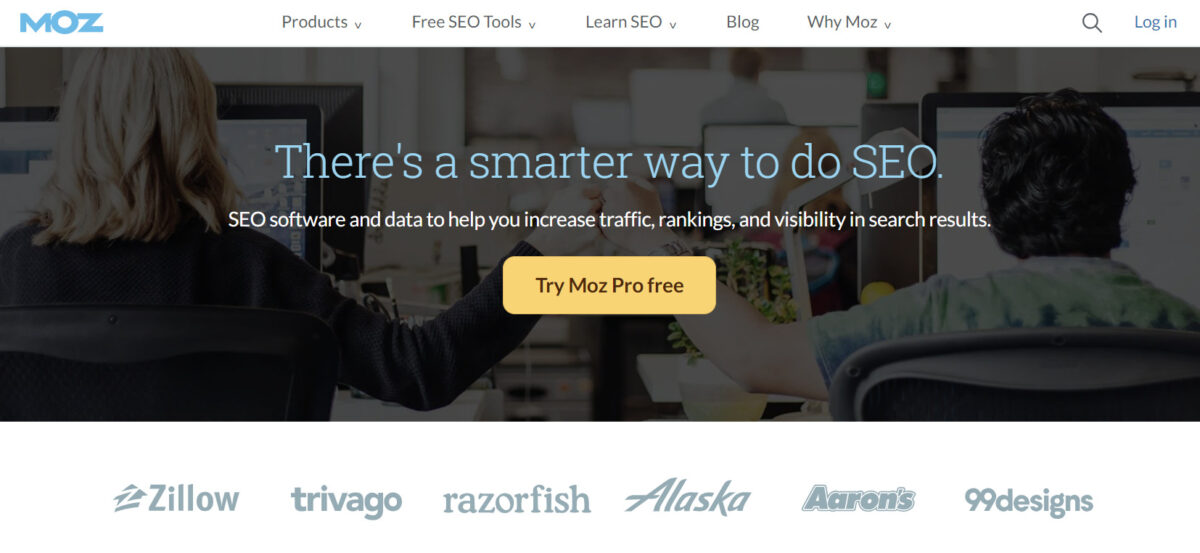 Best for: Client-focused agencies requiring a holistic SEO solution.
In the realm of SEO, Moz Pro emerges as a hallmark of reliability and thoroughness. Renowned for its emphasis on client-centric campaigns, it offers a suite that transforms raw data into client success stories. Moz Pro, with its dedicated link explorer, enables agencies to access a colossal database of 40 trillion links. This isn't about sheer magnitude; it's a testament to its commitment to provide exhaustive backlink analysis.
What's the implication?
Depth paired with breadth ensures no stone is left unturned when sculpting backlink strategies. Moz Pro distinguishes itself by making this complex web of data approachable. By breaking down intricate metrics into digestible insights, it serves as an indispensable ally for agencies striving for growth.
Moz Pro's suite encapsulates diverse functionalities, including site diagnostics, competitor benchmarks, and focused keyword exploration. But Moz is a complex SEO software that can perform a wide range of additional SEO-related tasks. Most notably, Moz comes with a SERP tracking feature, allowing brands to monitor their website search ranking.
Last but not least, Moz Pro facilitates content-driven insights extraction, capable of dissecting every measurable insight from a website's content.  As a result, Moz Pro isn't just an SEO tool but a strategic partner for digital growth.
Pricing:
Free: 30-Day Trial
Standard: $99 Per Month
Medium: $143 Per Month
Large: $239 Per Month
Premium: $479 Per Month
---

Best for: SEO agencies seeking influencer marketing integration.
Intellifluence brings a unique blend of influencer marketing to the SEO world. But why should someone looking for SEO services care? It's because influencer marketing and SEO are intrinsically tied. Namely, it all comes down to the following: Quality content from reputable influencers can elevate a site's authority and visibility in searches.
Intellifluence at a glance
Astonishingly, the platform boasts a vast network of over 200,000 trusted content creators from 176 countries, including more than 18,000 active bloggers. This helps brands looking for UGC (user-generated content) to supplement their SEO game. With Intellifluence, users can refine their influencer search using critical SEO metrics such as MOZ Domain Authority, Majestic Trust and Citation Flows, and even SEMrush keyword estimates.
Especially beneficial for agencies representing multiple brands, the system offers multi-brand support, facilitating seamless budget allocations and efficient brand management. Furthermore, with the Discover tool, agencies gain insightful access to the expansive influencer database, enabling them to make data-driven decisions. 
Ultimately, the platform stands out as an end-to-end solution, streamlining everything from the initial influencer outreach to their compensation via the Intellifluence Payments system.
Pricing:
Free (Ideal for testing out influencer marketing)
Starter: $99/mo (A solution for small businesses)
Regular: $249/mo (Perfect for marketers and agencies)
Advanced: $599/mo (Let them handle everything for you!)
Key Features: Search/Discovery, Automated Recruiting, Influencer Relationship Management, Influencer Marketplace, Campaign Management, Product/Gifting Tools, Payment Processing,
Channels: Facebook, Twitter, Instagram, Pinterest, YouTube, LinkedIn, Twitch, TikTok, Reddit
---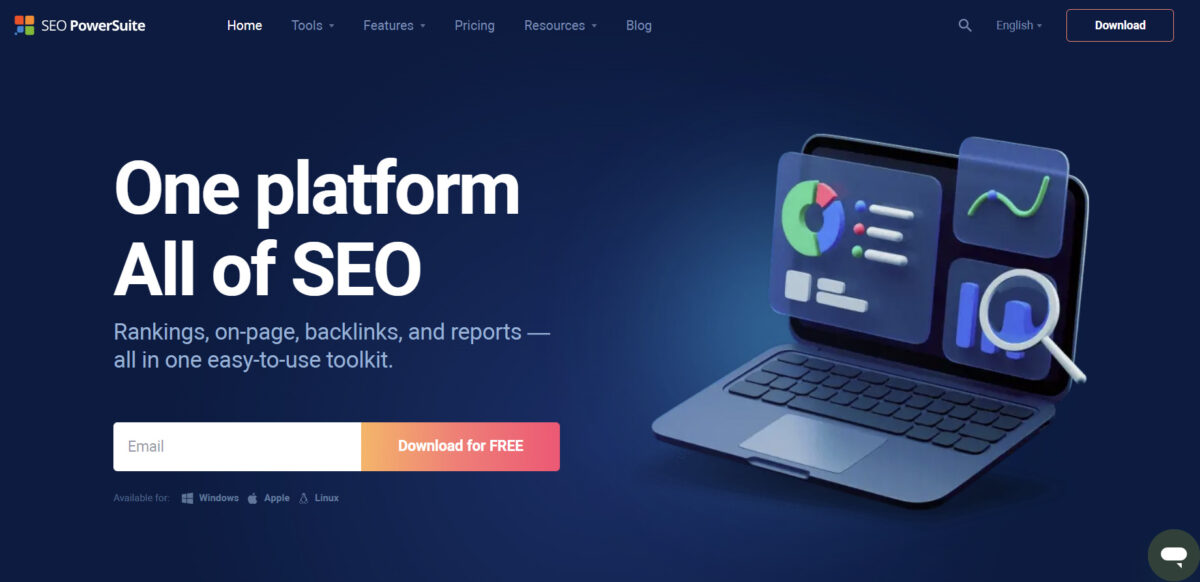 Best for: Comprehensive SEO tasks and needs.
When it comes to an all-in-one free SEO tool (with premium plans for scalability), SEO PowerSuite has carved its niche. But PowerSuite is not just another tool—it's an entire suite tailored for both newbies and seasoned SEO professionals.
Key offerings of SEO PowerSuite
SEO PowerSuite is a comprehensive solution that addresses the full range of SEO needs, from rank tracking and site audits to backlink analysis and link building. With its Rank Tracker, agencies can access extensive keyword research tools to gauge organic search volume, understand SEO costs, and monitor rankings across various search engines.
In addition, the WebSite Auditor detects not only technical SEO mistakes but also provides on-page optimization suggestions, complemented by an integrated SEO Content Editor to assist content creators in developing optimized content. For those wanting a deep dive into backlink information, SEO SpyGlass provides valuable insights from an impressive index of over 3.4 trillion backlinks.
Other than the core features, SEO PowerSuite stands out due to its customization capabilities. Agencies can sort and filter data, customize SEO analytics presentations, and even export this data. Furthermore, the platform offers white-label and responsive reports, ensuring that agencies can maintain their branding consistency when reporting to clients.
Pricing:
Free (Basic functionalities with some limitations)
Professional: $299/year (For individual SEO professionals)
Enterprise: $499/year (Tailored for large SEO agencies, with a 7-day free trial)
---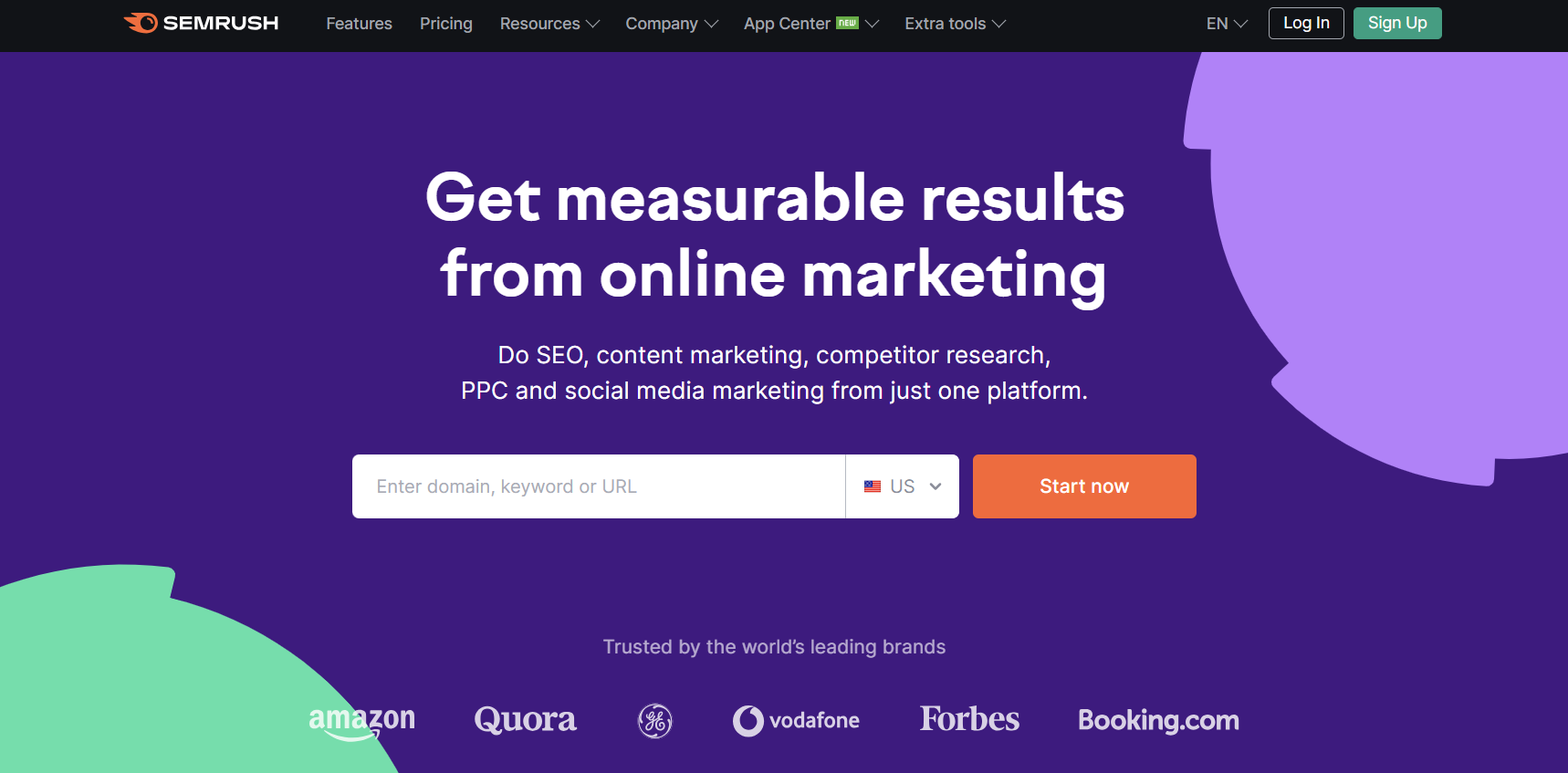 Best for: Comprehensive SEO and content optimization for large-scale agencies.
When discussing cutting-edge SEO tools, SEMrush consistently takes a prominent position, recognized universally for its exhaustive suite of features tailored for large-scale operations. With an emphasis on intricate content strategies and an understanding of the entire SEO ecosystem, SEMrush steps beyond just basic tools.
SEMrush, distinguished for its expansive keyword database, offers agencies unmatched insights spanning over 20 billion keywords. Such immense data isn't merely about volume; it's the bedrock on which formidable SEO strategies are built.
What's the advantage?
A comprehensive repository means precision and variety, allowing campaigns to be versatile and laser-focused simultaneously. Moreover, SEMrush ensures this trove of data is not overwhelming. Through its intuitive dashboard, it delivers insights that can be immediately translated into actionable steps, establishing it as a leader in the domain.
SEMrush boasts an impressive backlink profiling feature, capable of detecting where backlinks originate from and their strength. Its holistic website health checks ensure businesses are up to date regarding website maintenance and potential technical support.
Pair that with the software's organic traffic progression and precision keyword analysis features, and businesses are fully armed with data to empower them at the top of search rankings. Simply put, SEMrush specializes in transformative outcomes based on best-in-industry SEO methodologies and practices.
Pricing:
Free Trial
Pro: $129.95 Per Month
Guru: $249.95 Per Month
Business: $499.95 Per Month
---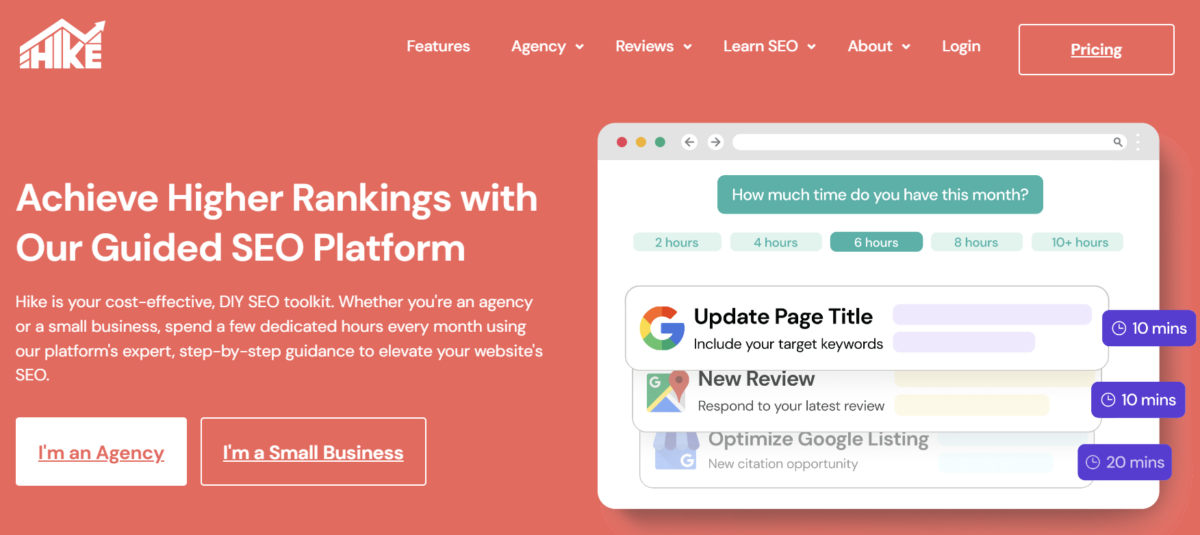 Best for: Agencies looking to add SEO services without the need for specialized expertise.
HikeSEO is a versatile, user-friendly SEO software built to help agencies expand their service portfolio effortlessly. This all-in-one platform simplifies the search engine game, making it accessible even for those with minimal experience.
HikeSEO's powerful suite guides you through the core elements of any SEO campaign, from strategy development to implementation. It offers actionable monthly tasks and generates comprehensive branded reports that can be shared with clients from within the platform.
What makes HikeSEO stand out?
A standout feature of HikeSEO is its white-label solution. The platform provides brands with a low-cost, 'do-it-yourself' SEO platform specifically aimed at smaller budgets. It is fully customizable with an agency's branding needs, custom domain, live chat, and unlimited users.
HikeSEO promotes efficiency by allowing junior team members to manage SEO tasks with easy-to-follow instructions. Furthermore, it features an embedded SEO audit tool that helps turn website visitors into potential leads.
Finally, HikeSEO also provides an on-demand expert team to help with SEO tasks like content creation, backlink building, and local SEO.
Pricing:
Full Access to All Features: $35.99 Per Month per website, billed yearly
14-Day Money-Back Guarantee
---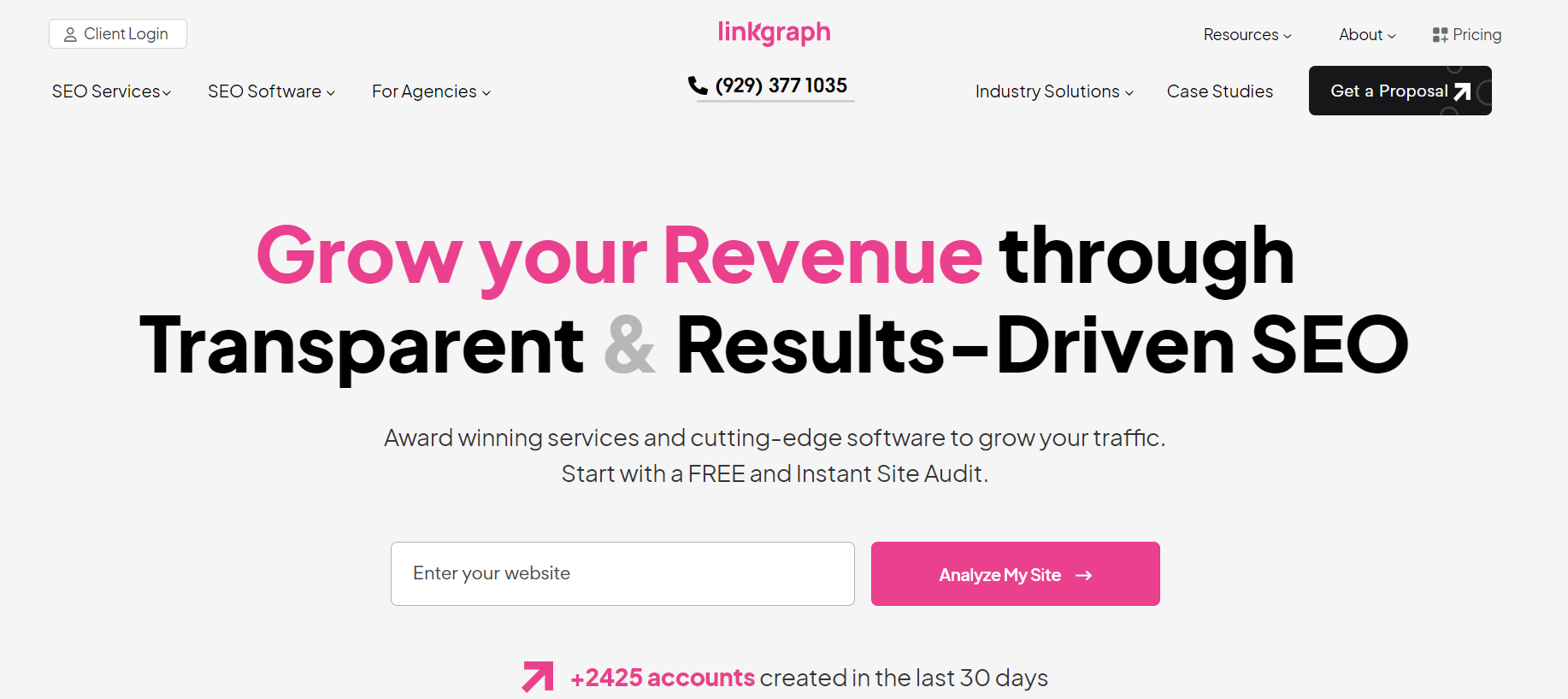 Best for: Agencies requiring powerful growth marketing and white-label solutions.
When it comes to optimizing your SEO campaigns and workflows, LinkGraph is a name that's revered by over 800+ organizations globally. Renowned as a FINALIST in the GLOBAL SEARCH AWARDS for "BEST GLOBAL SEO SOFTWARE SUITE," their platform is designed to keep the needs of digital marketing agencies in focus.
Why makes LinkGraph special?
LinkGraph is an all-in-one solution for businesses of all sizes and freelancers. The platform comes with an intuitive dashboard to manage every aspect of an SEO campaign, including keyword research supplemented by AI. Furthermore, LinkGraph provides an SEO audit tool for full insights into the visibility of a website in search engines.
With features for enhanced content creation and strategy curation, LinkGraph is undeniably a platform every SEO expert must have in their arsenal.
Pricing:
Starter: Tailored for freelancers and small teams.
Growth: Ideal for agencies and mid-size businesses.
Pro: Crafted for large agencies and enterprises.
Enterprise: Custom functionality & quotas, Price upon call.
---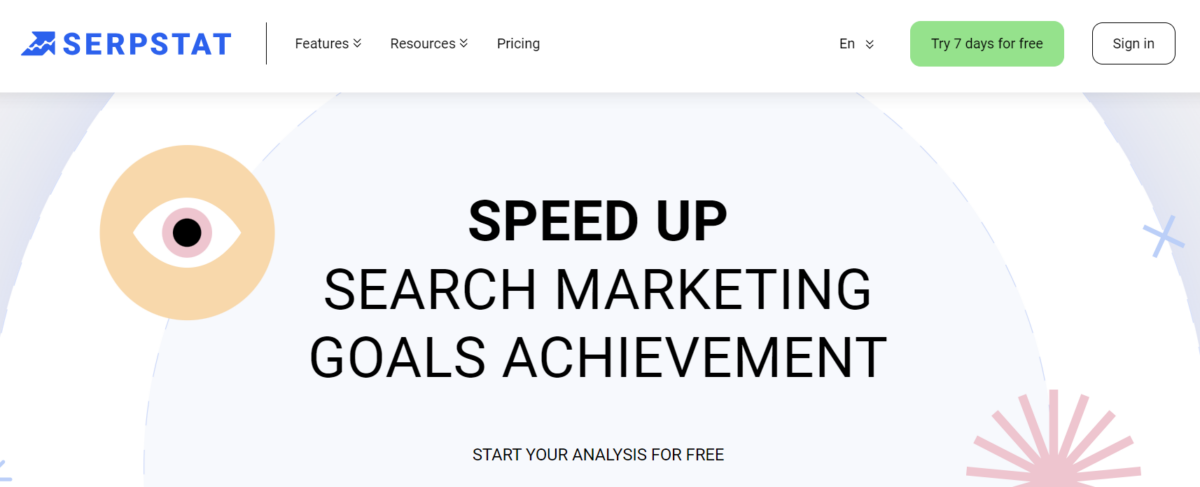 Best for: Multifunctional SEO solutions catering to agency leaders and SEO experts.
Serpstat is a force to reckon with in the SEO software arena. As one of the best SEO software for agencies, it ensures businesses are always ahead, be it in lead generation, project reporting, or streamlining internal processes.
Their multifunctional platform is a boon for digital markers, with features such as pre-sale report generators that quicken proposal time or their custom, branded, and white label reports that offer maximum transparency.
Highlight Features of Serpstat
One of Serpstat's highlight features is its comprehensive API that allows businesses to automate routine and mundane SEO tasks seamlessly and effortlessly. Moreover, the platform's analytical tools with multi-user mode enhance collaboration by allowing up to 30 specialists to work simultaneously, depending on the plan.
Furthermore, the platform provides white-label reports, letting businesses send detailed analytics on search, site audits, and link analysis without the hassle of manual creation. Additionally, with project task lists, businesses can make the most of pre-defined templates tailored for different client project aspects, enabling them to set up their to-do lists and monitor the progress efficiently.
Pricing Overview:
Team: $119/month, suitable for teams of up to 3 members. 
Agency: $479/month, ideal for up to 30 members. 
---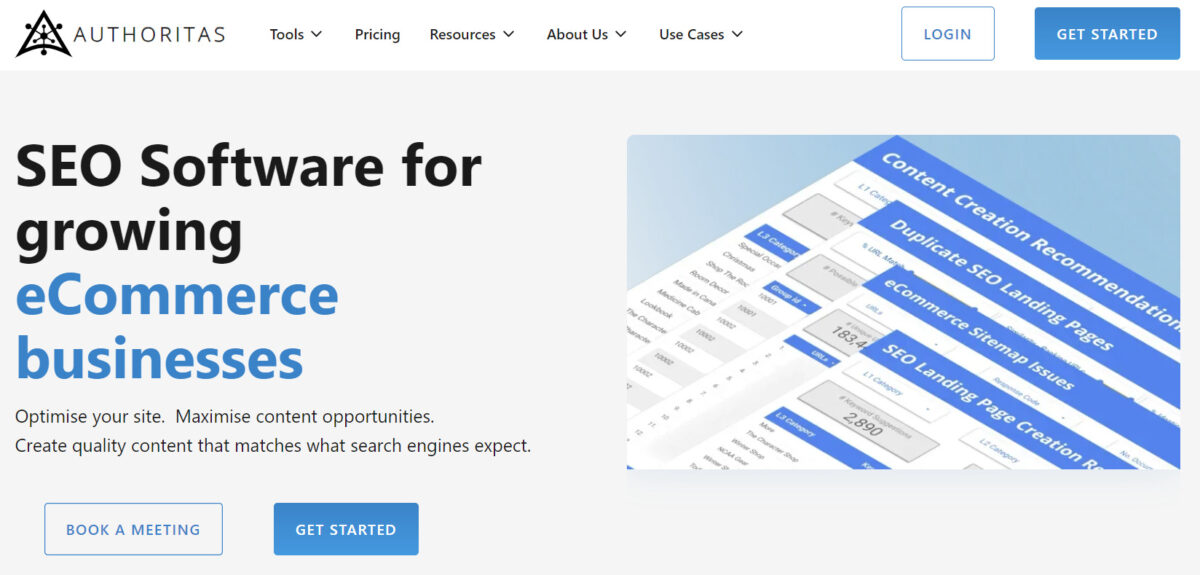 Best for: Comprehensive SEO agencies aiming for efficiency and growth.
Authoritas steps into SEO not just as another software solution but as an experienced player. Originating as an SEO and website development agency, they truly understand the challenges of running an agency in a competitive environment.
Instead of giving generic insights, Authoritas offers an advanced platform designed specifically for growing SEO agencies. They take pride in avoiding "banal suggestions" and aim to provide a competitive edge, which is crucial in the ever-evolving landscape of SEO.
What sets Authoritas apart?
Authoritas provides detailed SEO reports that narrate a comprehensive story of a client's performance, delving into the reasons behind such outcomes and offering actionable steps for improvements. Its Competitive Analysis feature can measure SEO performance against a brand's competitors, essentially allowing them to strategize and determine the success factor more effectively.
Beyond that, Authoritas offers a systematic approach to SEO workflow, enhancing task management and completion through automation features. But even more so, Authoritas extends its arm in training and support, offering clients access to employee training sessions for project success.
Last but not least, Authoritas is at the forefront of technological advancements, harnessing the power of AI with tools such as GPT-3 to streamline content creation.
Pricing (Original Price in GBP):
Starter: Starting at $120. Per Month
Team: Starting at $392.00 Per Month
Enterprise: Starting at $484.00 Per Month
---
What Role Does SEO Software Play for Digital Agencies?
At its core, SEO is a multifaceted discipline. From keyword research and backlink analysis to site audits and competitive intelligence, the array of tasks is diverse and, at times, daunting. SEO software streamlines this complexity, turning raw data into actionable insights. With it, agencies can dissect the intricacies of a website's performance, identify areas of improvement, and implement changes that resonate with search algorithms. In essence, it provides a detailed roadmap for digital success, anchored in data-driven decisions.
Agencies often cater to multiple clients, each with its unique needs, target audience, and goals. Handling such diversity manually is not only labor-intensive but also prone to oversights. SEO software, tailored for agency use, often comes with features that allow for bulk management, reporting, and tracking, thereby ensuring each client gets the meticulous attention they deserve.
More than just tools, these platforms serve as strategic partners, assisting agencies in their pursuit of achieving the best outcomes for their clientele.
---
How To Choose the right SEO Software for Your Agency?
The most suitable selection often hinges less on grandiose marketing promises and more on the nuanced needs of individual agencies. When evaluating the suitability of SEO software, it's crucial to ponder over various aspects.
Firstly, consider the dynamic nature of the agencies. As agencies expand, they simultaneously witness an upsurge in their client base and associated SEO requirements. Therefore, the software in question needs the elasticity to adapt to this growth, ensuring there's no dip in efficacy.
Furthermore, in the interconnected realm of digital marketing, SEO software must exhibit seamless compatibility with a myriad of other tools and platforms. This includes, but is not limited to, content management systems, analytical instruments, and Customer Relationship Management (CRM) platforms. This ensures a harmonized, panoramic overview of various facets of digital marketing.
The efficacy of any tool rests predominantly on its usability. Therefore, the chosen software should boast an intuitive design characterized by user-friendly interfaces and dashboards. This, complemented by robust support mechanisms, optimizes the user experience.
Additionally, an often underestimated yet quintessential feature of an ideal SEO tool is its reporting and analytical prowess. Agencies bear the onus of showcasing tangible value to their clients. This necessitates software that can generate intricate, tailored reports, elucidating insights in a comprehensible manner, thereby fortifying the trust and understanding between clients and agencies.
Lastly, the economic feasibility of the tool cannot be overlooked. Agencies, like all entities, operate within certain financial boundaries. Thus, any monetary allocation towards SEO software should be vindicated by its outcomes — gauged not merely in functional terms, but also through the lens of client contentment and overall agency trajectory.
---
Conclusion
As the digital realm continues to evolve, agencies face the dual challenge of staying ahead of SEO trends while also managing the diverse needs of their clients. Quality SEO software isn't just a tool; it's an extension of an agency's expertise and commitment to delivering excellence. Therefore, making a judicious choice in this domain is a critical step toward sustained success in the competitive world of digital marketing.
Frequently Asked Questions
How can SEO software give my agency a competitive edge?
SEO software provides in-depth analytics, competitor analysis, and trend tracking, helping agencies identify gaps and opportunities that might be overlooked manually. Staying ahead of trends and understanding the competition gives an undeniable edge in the marketplace.
Are these SEO tools suitable for agencies of all sizes?
Absolutely! While some tools might cater more to larger agencies with more robust needs, many of the software options listed offer scalable solutions, ensuring small to large agencies can benefit.
Can I integrate these SEO tools with other digital marketing tools I'm using?
Many top-tier SEO software solutions offer integration capabilities with popular digital marketing tools. However, the degree of integration and compatibility varies, so it's best to check with the specific software provider.
How steep is the learning curve for these SEO tools?
While there's always a learning curve with new software, many of the top SEO tools prioritize user-friendliness. Moreover, these companies often provide detailed tutorials, webinars, and customer support to aid in the onboarding process.