Advertising Disclosure
Advertising disclosure:
Our partners compensate us. This may influence which products or services we review (also where and how those products appear on the site), this in no way affects our recommendations or the advice we offer. Our reviews are based on years of experience and countless hours of research. Our partners cannot pay us to guarantee favorable reviews of their products or services.
Step into the world of Shopify SEO with our curated selection, highlighting the expertise of 10 premier agencies. Our comprehensive review unveils agencies that have made significant strides in elevating eCommerce brands, with a special focus spanning diverse industries, from the elegant corridors of fashion to the innovative realms of tech gadgets.
We've meticulously evaluated each agency, assessing their performance based on criteria like effectiveness, client satisfaction, and innovative approaches, ensuring you're informed about who leads the pack in delivering exceptional Shopify SEO services.
---
Top Shopify SEO Services
Top
shopify seo services
2024

Disruptive Advertising stands out in the realm of Shopify SEO, offering a synthesis of data-driven and results-oriented approaches. The agency, steered by seasoned experts, is known for crafting tailored strategies that ensure client websites not only gain top positions on search engine results pages but also become the preferred choice for a diverse audience. Their methods are underscored by impressive metrics, with a notable emphasis on capturing the substantial volume of clicks allocated to organic search results and the nuanced approach to ensuring clients feature prominently on the first page of search results.
The uniqueness of Disruptive Advertising lies in its holistic approach, blending traffic generation with a strong emphasis on conversion rate optimization. Their strategy formulation is rooted in an in-depth analysis and auditing, ensuring each campaign is meticulously tailored to the client's specific needs and objectives. Client testimonials affirm the agency's commitment to bespoke service, highlighting a strategic mix of expertise and customized solutions that not only elevate visibility but also enhance sales and brand engagement, marking Disruptive Advertising as a pinnacle of personalized, results-driven Shopify SEO service.
Shopify SEO Services Offered:
Lead Generation
Shopify Traffic
Keyword Research
Competitor Research
Paid Search 
---

SmartSites Digital Marketing Agency has carved a niche in the realm of Shopify SEO, leveraging a blend of expertise and innovation to drive measurable results. The agency boasts an array of notable accolades, including being a Google Premier Partner and being rated highly by platforms like G2 and GoodFirms. They specialize in developing SEO strategies that are not just about elevating rankings but are geared toward long-term success. The agency has a laudable track record of doubling the traffic for most of their SEO campaigns within six months, underscoring their efficacy in driving both rankings and engagement.
The distinctiveness of SmartSites lies in their comprehensive approach to Search Engine Optimization. They transcend traditional boundaries, offering a full-service digital marketing solution. Every SEO strategy is rooted in an in-depth analysis that examines every variable affecting SERPs, backed by real-time custom reporting and expert analysis to enhance decision-making. Their expertise is validated by an array of positive client testimonials, each echoing the agency's capacity to deliver results that not only elevate online visibility but also significantly boost traffic, conversions, and overall business growth.
Shopify SEO Services Offered:
Shopify Design
PPC
Monthly Reports 
Ad Optimization
---

Thrive Internet Marketing Agency demonstrates an exemplary command in delivering comprehensive Shopify SEO services, positioning eCommerce businesses for significant growth and global reach. Recognized for their expertise in scaling online stores, Thrive employs strategic multi-channel marketing approaches that ensure not just increased traffic but also enhanced brand authority. They are adept at tailoring SEO strategies to the unique needs of each client, maximizing visibility and customer engagement. Thrive's prowess in Shopify SEO is reinforced by their capability to optimize both on-page and off-page elements, ensuring a holistic approach to improving search rankings and user experience.
In addition to their core offerings, Thrive distinguishes itself with a robust portfolio of services, including technical SEO, content writing, and conversion rate optimization. Their technical team ensures that eCommerce stores are not just visible but are also optimized for performance, usability, and security. The agency's content strategists focus on creating SEO-optimized content that resonates with the target audience, driving engagement to client stores. Thrive's reputation management integrations underscore their commitment to building and maintaining a positive brand image for their clients. Every service is delivered with a focus on transparency, customization, and results, positioning Thrive as a preferred partner for businesses seeking to exploit the full potential of their Shopify stores.
Shopify SEO Services Offered:
Shopify SEO Audit
Keyword Research and Strategy
Link Building
PPC Advertising
Shopify Design
---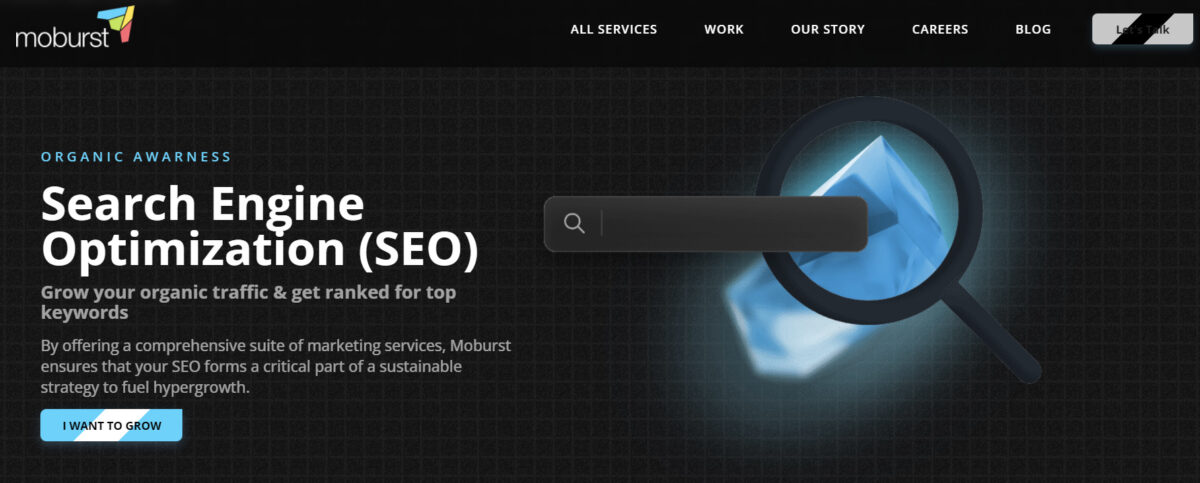 Moburst excels in offering customized SEO services, underscored by a meticulous approach to enhancing organic awareness and brand visibility. The agency adeptly integrates technical and creative proficiencies, offering a comprehensive suite of services meticulously designed to fuel the hypergrowth of online businesses. One of Moburst's definitive strengths lies in laying strong SEO foundations. They ensure every SEO element is optimized, enabling Google and other search engines to effectively read, understand, and categorize the content, assuring clients' websites rank for the appropriate keywords and phrases.
The agency's SEO process is characterized by a structured approach involving research, optimization, and tracking. Initial stages include an exhaustive analysis of the niche, competitive landscape, and the client's current website standing, ensuring tailored strategies that align with specific business objectives and market dynamics. Moburst is acclaimed for enhancing site discoverability and building lasting brand awareness. Their expertise in keyword optimization ensures websites not only attract increased organic page views but also achieve top rankings in search results. Furthermore, their adeptness in content creation and technical SEO amplifies their clients' competitive edge, making Moburst a distinguished partner for businesses aiming to elevate their online presence and engagement.
Shopify SEO Services Offered:
Storefront Optimization
Keyword Research
Link Building
PPC
Shopify Design
---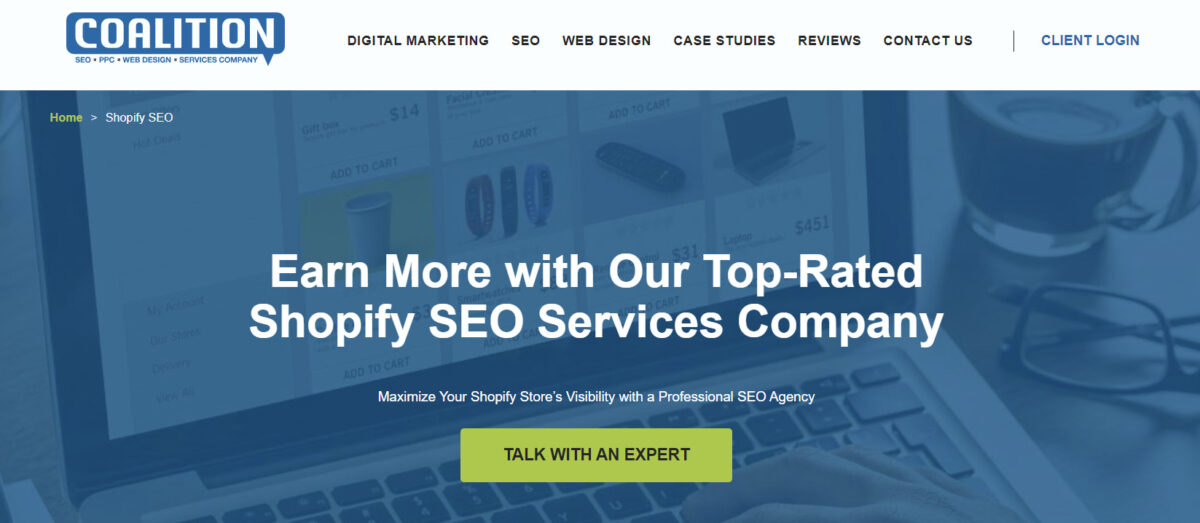 Coalition Technologies excels in delivering bespoke Shopify SEO services that marry innovation and efficacy to maximize eCommerce success. The agency distinguishes itself through a holistic approach, offering services that extend beyond basic SEO.  Every strategy is tailored, ensuring that Shopify stores not only gain increased visibility but also achieve enhanced user engagement and conversion rates.
Their reputation for transforming enhanced visibility into tangible business growth is underscored by proven results and positive client testimonials. Coalition's dedicated approach to personalized service ensures each Shopify store is optimized according to its unique business goals and market dynamics. The agency's commitment to continuous improvement and adaptability is evident in their use of data-informed re-optimizations, marking Coalition Technologies as a dynamic partner for sustainable e-commerce success in a competitive digital landscape.
Shopify SEO Services Offered:
Marketing App Integration
Product Review Marketing
Category and Product Pages
SEO-Friendly Architecture
Google Shopping Feed
---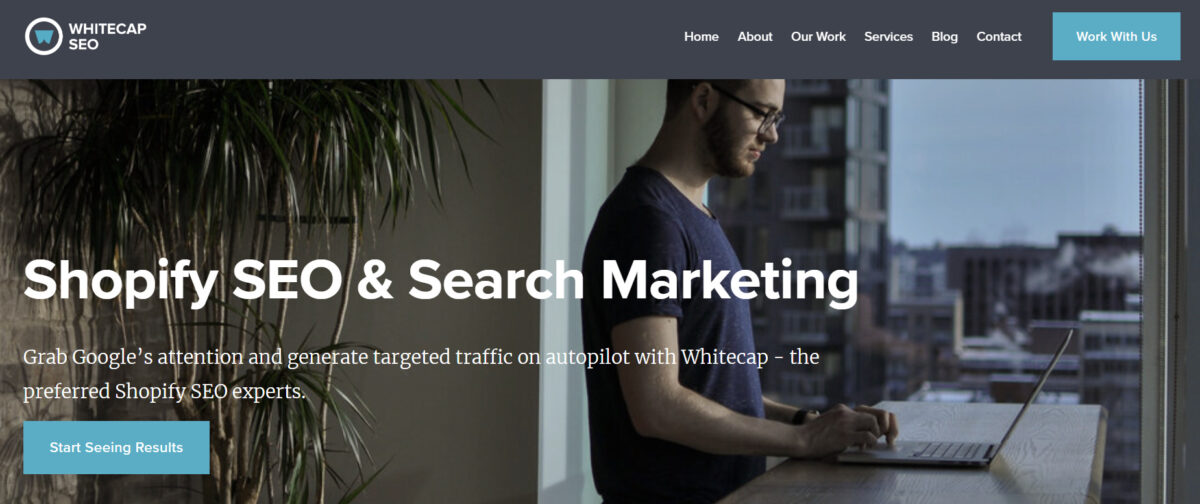 White Cap SEO distinguishes itself in the competitive landscape of Shopify SEO services through its customized, results-driven approaches. Specializing in eCommerce SEO, the agency meticulously crafts strategies, focusing on structural analysis, optimized meta tags, tailored keyword research, and content marketing. Each Shopify store is treated uniquely, with personalized optimizations for targeted traffic attraction and engagement. With a robust record of measurable results, clients experience increased organic website hits and revenue, underscoring White Cap SEO's effectiveness and commitment to transparency.
The agency's bespoke services extend beyond generic SEO solutions, offering Shopify store owners a tailored strategy aimed at diversifying online traffic, enhancing brand visibility, and establishing a sustainable profit strategy. By integrating advanced technical SEO strategies with the user-friendly features of Shopify, White Cap SEO ensures each eCommerce store is optimally positioned to maximize online visibility and sales. Client testimonials highlight the agency's professionalism and efficacy, marking White Cap SEO as a preferred partner for eCommerce entrepreneurs aiming to transform their online presence and business performance.
Shopify SEO Services Offered:
Structural Analysis
Internal Links
Product Pages Optimization
Monthly SEO Reporting
---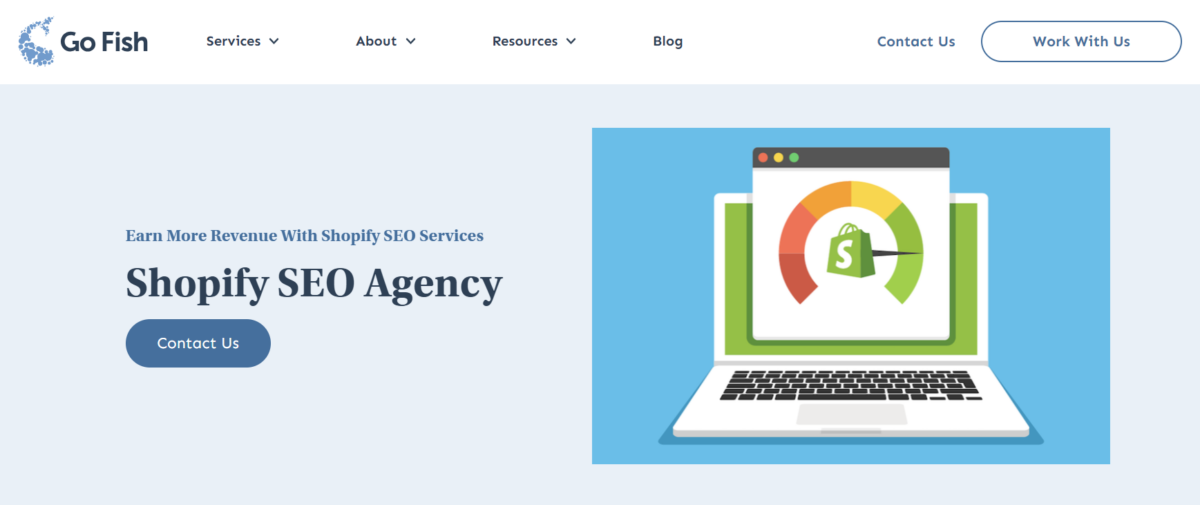 Go Fish Digital stands out as a leading Shopify SEO agency, renowned for delivering remarkable ROI through an amalgamation of contextual and technical SEO strategies tailored specifically for Shopify platforms. The agency prides itself on achieving up to 1125% ROI for a beauty retailer, highlighting their competence in driving tangible results. Contextually, Go Fish Digital focuses on enhancing the content of Shopify stores by identifying and capitalizing on new content opportunities, optimizing on-page elements, and conducting comprehensive content gap and UX reviews. Their strategies are centered on aligning the content with targeted keywords and user intents, ensuring that Shopify stores not only attract traffic but also enhance user engagement and conversions.
On the technical front, the agency addresses common SEO challenges associated with Shopify platforms, offering solutions that are both bespoke and effective. Services such as identification and resolution of duplicate content issues, rendering reviews, and site crawls are pivotal in ensuring optimal website performance. Go Fish Digital also focuses on Core Web Vitals and structured data reviews to enhance page experiences and ensure proper utilization of schema elements. Their dedicated frameworks, developed from years of experience, are custom-tailored to address the distinct SEO needs of each Shopify store. The agency's proficiency in Shopify SEO underscores their comprehensive service offerings designed to elevate stores' visibility, user experience, and revenue generation.
Shopify SEO Services Offered:
Content Gap Reviews
Category and Product Page Optimization
Store Navigation Improvements
Internal Linking
---

East Side Co. is a notable figure in the landscape of Shopify SEO agencies, blending intricate artistry and technical proficiency to elevate eCommerce businesses on the digital map. The agency integrates a multifaceted approach grounded in transparency and clarity, ensuring clients are always in the loop with real-time, jargon-free insights. The agency's specialists are adept in an array of SEO tactics, ranging from the intricacies of technical SEO for optimal site crawlability and indexing to the art of content marketing, where brand narratives are woven with precision to captivate and convert audiences.
The agency's approach extends to detailed SEO audits that offer in-depth insights into a website's performance and SEO health, forming the foundation for tailored strategies. Moreover, East Side Co. distinguishes itself with its adeptness in local and international SEO, ensuring businesses resonate with audiences across geographical boundaries. Site migration and Google penalty recovery services underscore the agency's comprehensive service portfolio, with each offering tailored to ensure seamless transitions and rapid recoveries, respectively. In every facet of their service, East Side Co's transparency shines, offering clients clear, actionable insights through comprehensive, easy-to-understand SEO reporting.
Shopify SEO Services Offered:
Shopify Strategy
Competitor Analysis
Keyword Research
Outreach
SEO Reporting
---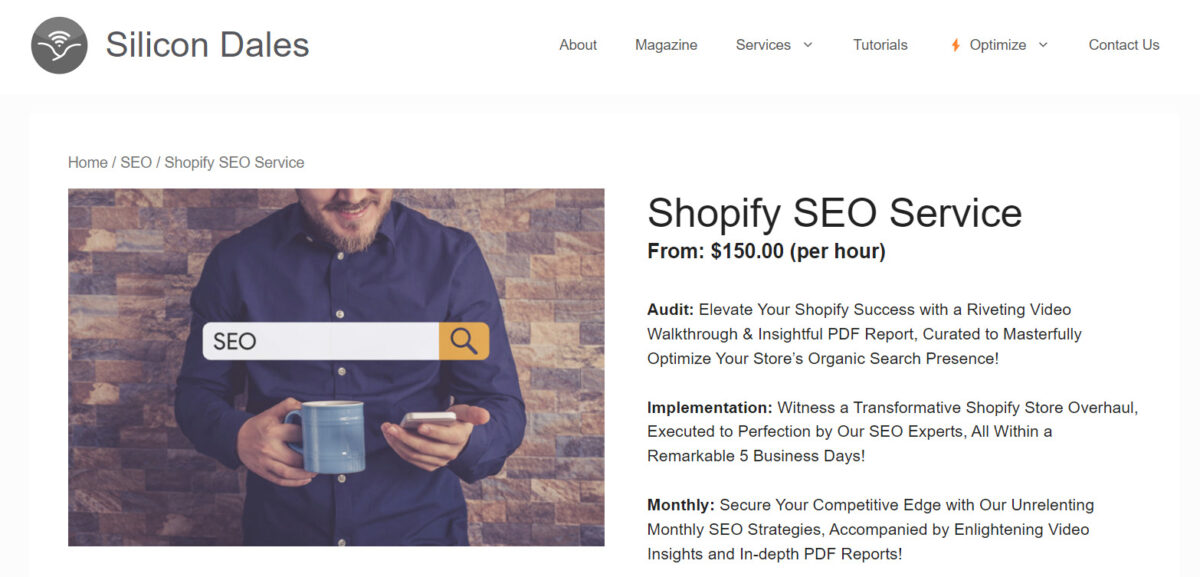 Silicon Dales has carved a niche in the competitive landscape of Shopify SEO through its meticulously tailored and comprehensive services. Starting with a rigorous Shopify On-Page SEO Audit, clients receive a comprehensive video walkthrough and a detailed PDF report that reveals actionable insights and strategies to enhance a store's Google ranking. Each audit is tailored to unveil targeted keyword and category identification, optimal homepage configuration, and collection page enhancements. Moreover, in just five business days, the SEO experts at Silicon Dales implement every strategy derived from the audit, ensuring each Shopify store is not just optimized but transformed to offer an enhanced user and search engine experience.
The agency's monthly SEO service is a testament to its commitment to long-term, sustained growth and strategic excellence. Clients benefit from a holistic SEO package that includes the aforementioned SEO audit and implementation, business directory and citation audit, and innovative link-building strategies rooted in high domain authority and relevance. Every step of the process is transparent, with clients receiving detailed monthly reports that offer insights into work completion, ranking improvements, and eCommerce analytics. Silicon Dales transcends typical SEO service delivery, offering a transformative experience that is both bespoke and results-driven, ensuring Shopify stores not only stand out in the digital space but also achieve lucrative dominance.
Shopify SEO Services Offered:
Optimizing Product Descriptions
Content Clarity
Competitor Analysis and Strategy Reversal
---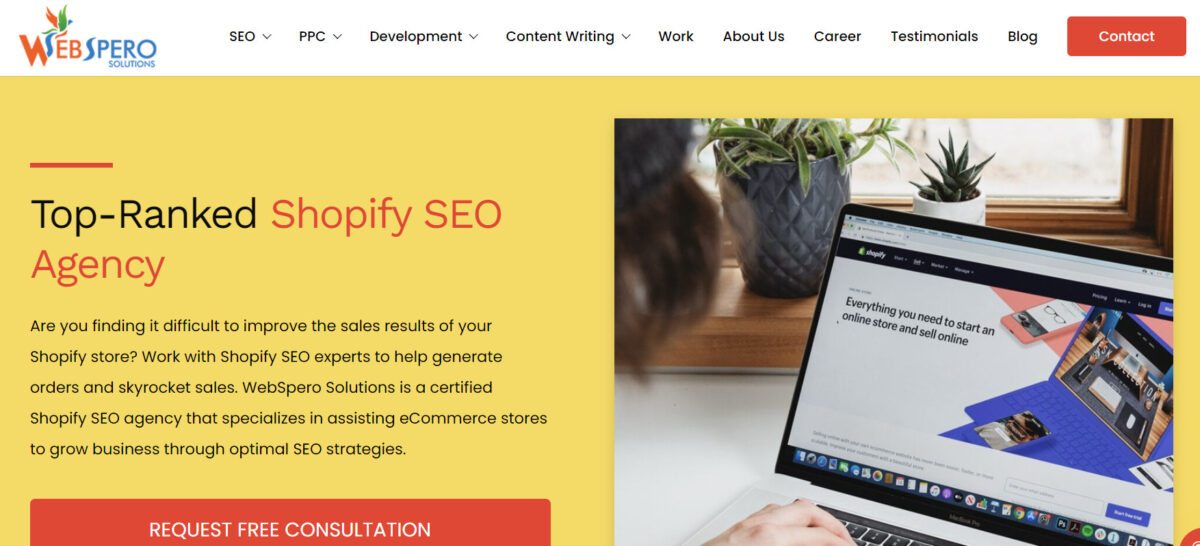 WebSpero Solutions is a Shopify SEO agency with a multidimensional approach meticulously tailored to elevate each client's eCommerce presence and sales performance. The agency is acclaimed for implementing bespoke strategies, recognizing that every online store possesses unique attributes and requirements. Their process initiates with an in-depth Shopify code review and optimization, a technique that is often overlooked but stands as a cornerstone of WebSpero's methodology. By refining the underlying code, the agency ensures the website is primed for advanced SEO implementations, resulting in enhanced search engine visibility and user experience.
Every campaign benefits from a robust ongoing content strategy aimed at enriching the client's website with engaging and SEO-optimized content. WebSpero's expertise in internal and external link building bolsters the website's authority and search engine rankings. Clients are empowered with transparent, detailed monthly SEO reports, evidencing the tangible impacts of the SEO strategies employed. Speed optimization and store conversion optimization stand as testimonies to WebSpero's commitment to not just driving traffic but also ensuring an optimized user experience and conversion rate. The agency's candidness in sharing campaign progress and results underscores its ethos of transparency and collaboration, marking it as a partner invested in their clients' holistic eCommerce success.
Shopify SEO Services Offered:
Shopify Code Review and Optimization
Keyword Research
URL Optimization and Updates
In-Depth Reporting
Shopify Strategy Management
---
Can Shopify SEO Services Help in International Market Expansion?
The prospect of expanding an eCommerce business internationally is both thrilling and challenging. One of the vital aspects of this expansion involves ensuring online stores are optimized for search engines across various regions and languages. This is where Shopify SEO services can play a pivotal role. 
Shopify SEO services are instrumental in tailoring your eCommerce store to resonate with international audiences. They ensure that your website is not just visible but effectively caters to the needs and preferences of diverse demographic segments. The customization of content to align with the cultural and linguistic nuances of different regions is a crucial aspect of this optimization.
Language and content localization is a cornerstone service. SEO professionals adeptly modify the content, not just translating the language but also adapting the context, imagery, and other elements to be culturally appropriate and engaging. This ensures that the content resonates with the local audience, enhancing user experience and the website's search engine rankings.
Moreover, geo-targeting is another vital aspect. SEO services optimize the website to be easily discoverable by users in specific locations. This includes employing strategies like local keyword optimization and managing local citations to improve visibility in local search results.
Additionally, implementing hreflang tags is crucial in international SEO. It helps search engines understand the language and regional targeting of pages, ensuring that the right content version is presented to the right audience. Shopify SEO services ensure meticulous implementation and management of these tags to optimize content visibility across multiple languages and regions.
Furthermore, international SEO also involves addressing technical aspects like ensuring the website's speed and performance are optimal across various regions and dealing with legal and regulatory compliance issues associated with different countries.
---
Conclusion
In the comprehensive analysis of top-tier Shopify SEO agencies, each detailed review offers insights into their custom-tailored strategies and proven results in enhancing eCommerce visibility and engagement. These agencies stand out for their innovative and personalized SEO methodologies, addressing both technical and content optimization to elevate the online presence and user experience of eCommerce platforms.
The intricate landscape of Shopify SEO is adeptly navigated by these top agencies, showcasing their prowess in delivering tailored and impactful solutions. For business owners and marketers, this review serves as a valuable resource, highlighting agencies that not only optimize for increased traffic but also focus on enhancing user engagement and conversion rates, epitomizing a holistic approach to digital excellence.
Frequently Asked Questions
How can I track the effectiveness of a Shopify SEO service?
Utilize tools like Google Analytics and Shopify analytics to monitor traffic, conversion rates, and other key performance indicators to evaluate SEO effectiveness.
How long do Shopify SEO Services results take?
SEO results can vary, but typically, noticeable improvements in traffic and rankings can be observed within three to six months after the implementation of the SEO strategies.
Are there industry-specific Shopify SEO strategies?
Absolutely, SEO strategies can be tailored specifically for different industries to meet the unique needs and challenges of each market segment.
How do content creation and blogging integrate with Shopify SEO?
Quality content boosts SEO by providing value to visitors, incorporating keywords, and creating opportunities for backlinking, improving site authority and rankings.
Is mobile SEO included in Shopify SEO services?
Most agencies use mobile SEO to optimize your Shopify store for mobile users, enhance usability, and improve mobile search rankings.