Advertising Disclosure
Advertising disclosure:
Our partners compensate us. This may influence which products or services we review (also where and how those products appear on the site), this in no way affects our recommendations or the advice we offer. Our reviews are based on years of experience and countless hours of research. Our partners cannot pay us to guarantee favorable reviews of their products or services.
Small businesses typically work with limited budgets. They can ill afford to overhire. As such, they often turn to third-party service providers to fill the gaps as they pop up without having to add another full-time employee to their payroll. One such independent contractor that can make a huge difference is a consultant. By hiring a small business consultant, you can leverage years' of experience even if you can't afford to pay a competitive salary to match their expertise.
Not only can a consultant be invaluable to small businesses, but becoming one is also one of the best small business ideas requiring minimal startup costs. All you basically need are relevant experience in a field like marketing, IT, or project management, a willingness to share what you've learned along the way, and a knack for working with people.
Whether you're a small business owner yourself or looking to start a boutique consulting firm, here are seven areas where consultants can help.
---
Small Business Consulting Companies to Consult:
Top
small business consulting services
2024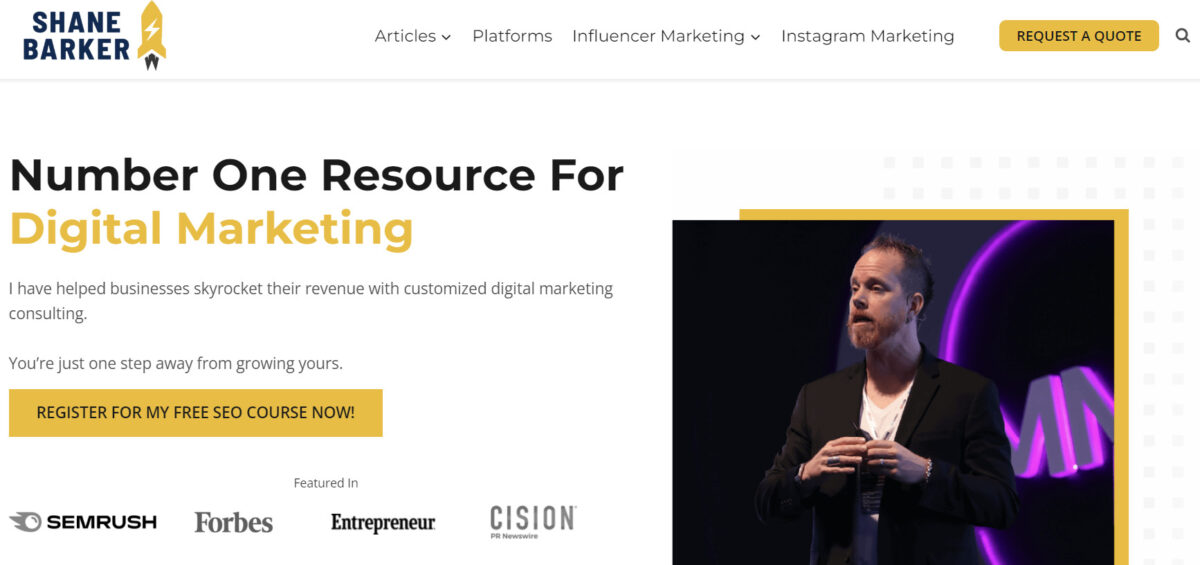 Based in California, Shane Barker is one of the authorities in digital marketing. He's been featured in resources such as Entrepreneur and Forbes and has also won several accolades.
Aside from working with small businesses, he has also helped Fortune 500 companies as well as influencers and celebrities to grow their social media marketing. Whether you need help with influencer marketing, pay-per-click campaigns, or reputation management, he can consult on various marketing services.
---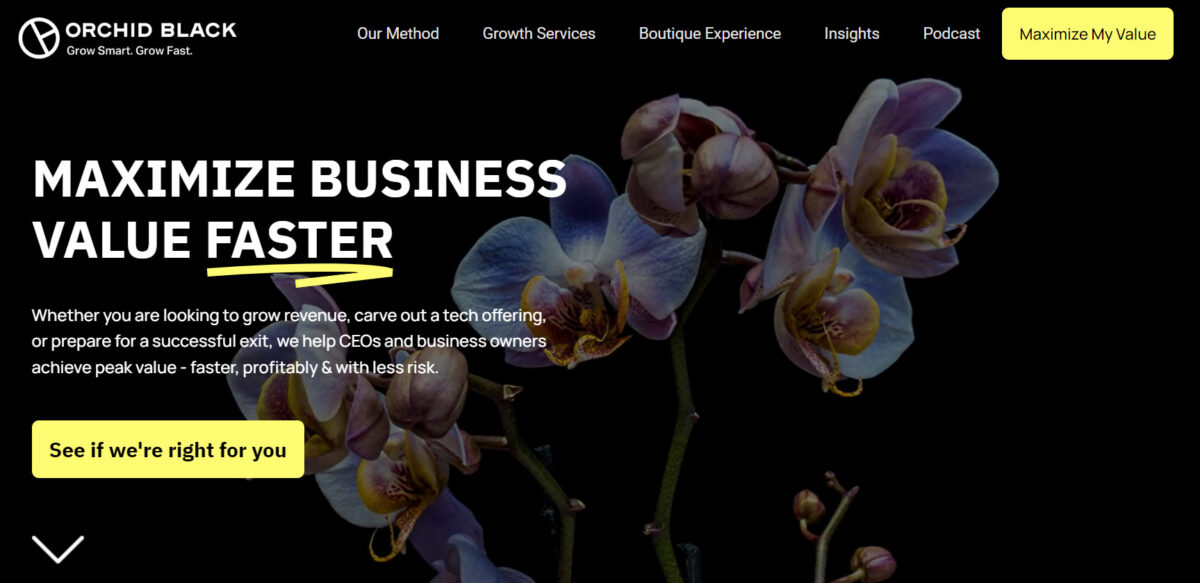 Businesses finding themselves in the growth stage can check out Orchid Black. Rated as one of the top small business consulting firms on Clutch, their team of growth experts come from tech and investing backgrounds.
Their focus area is strategy consulting. In addition to strategy, they also focus on four other core pillars — product, talent, revenue, and operation.
Value Creation Assessment (VCA) is at the core of their approach. It's a proprietary tool founded upon solid research and tried-and-tested methodologies that's been designed with the purpose of empowering and elevating companies.
Headquartered in Florida, they also have offices in New York City, Chicago, and San Francisco.
---
For help in the IT department, there's CIS. They're one of the most-reviewed digital science consulting firms on Clutch and have worked with dozens of industries.
While they can help with things like cloud services and optimize your architecture, they're more focused on data and analytics. Basically, they help businesses to gather, consolidate, and make sense of data, helping them to meet their business needs.
As such, their services can also be applied to financials, sales, and human resources. They can, for instance, help you to monitor costs, budget, and evaluate employee happiness.
In addition to having a number of offices in the United States, they also have offices in several other countries including the United Kingdom, Denmark, and South Africa.
---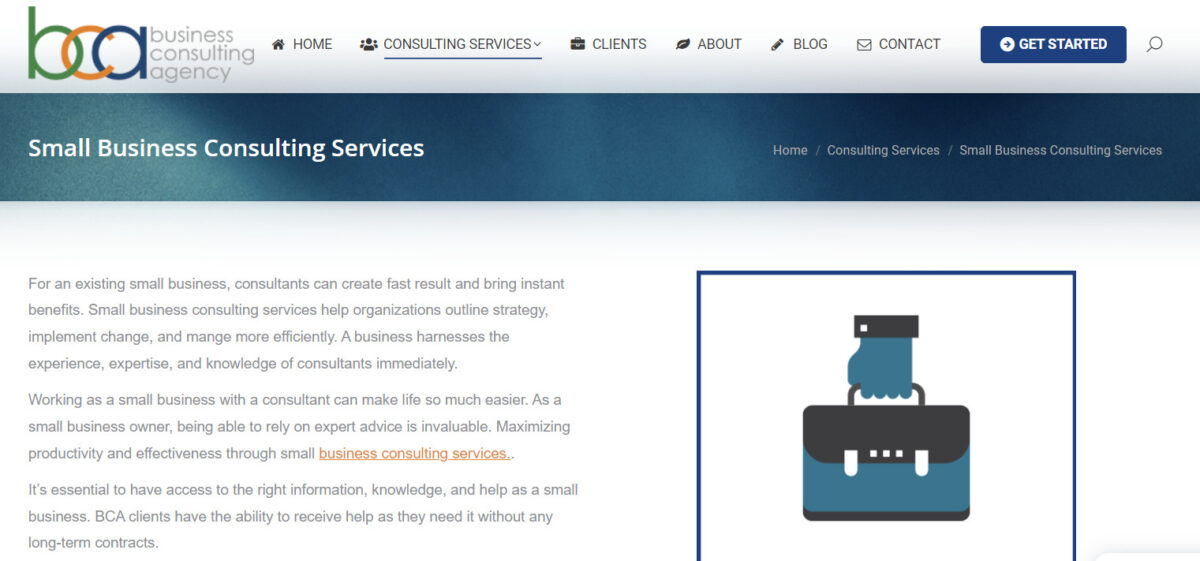 Based in Portland, Oregon, BCA is a full-service consulting agency that can help with sales, design and development, as well as marketing. Not only can they help in various areas, but they've also worked with clients across different fields.
One of the benefits of working with them is that they require no contracts or long-term agreements. Instead, you're given the freedom to buy an hourly package.
---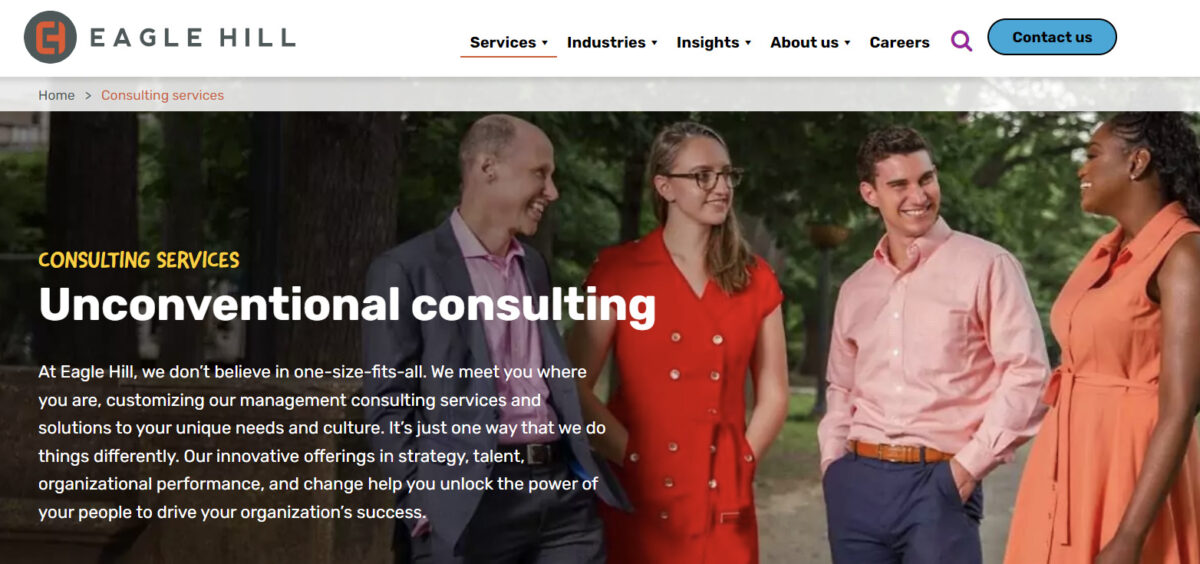 Eagle Hill Consulting is an award-winning, women-owned consulting firm that can help with strategy. Their solutions can be applied to different key areas like employee experience, organizational design, and workforce planning, among other things. As for the industries that they serve, they work with a number of fields including healthcare, nonprofit, and technology.
Their team of strategists will first take the time to get to know your business fully. After they've done that, they'll use a human-centered perspective to address all strategic touchpoints.
In addition to Washington, D.C., they also have offices in Boston and Seattle.
---
7 of the Most Popular Consulting Services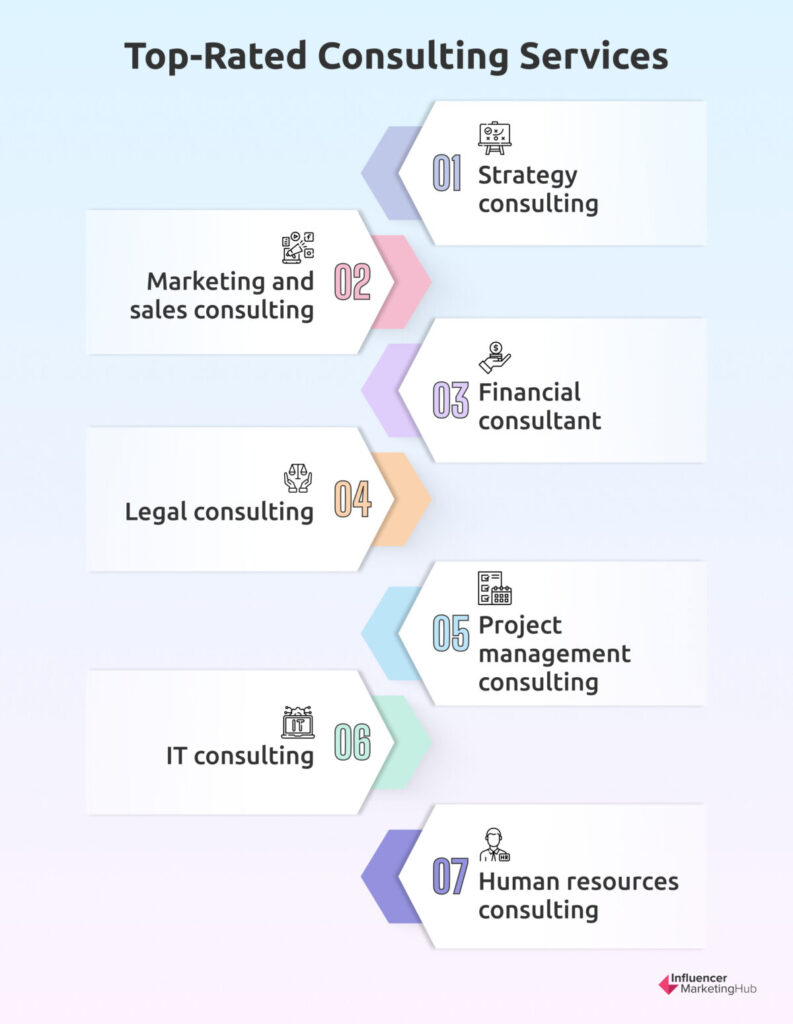 1. Strategy consulting
Businesses need a well-thought-out action plan to reach their goals. A business consultant who specializes in strategic planning can help fine-tune business plans, among other things.
Planning a new product? Strategy consultants can also help with product launches. They can help with key aspects like forecasting and brand messaging to help grow your market share.
---
2. Marketing and sales consulting
Instead of being actively responsible for marketing campaigns, experienced marketers can also consult small businesses on their current marketing. From social media marketing to search engine optimization, marketing consultants can focus on more than one area.
When they slot into this role, they'll observe how the company's marketing team goes about their work. They'll then use their observations to uncover issues and create a strategy to solve these problems. This means that their strategy will be concerned about fixing the issues within the current department rather than crafting marketing strategies from scratch.
That being said, they can also offer suggestions for how the company can use marketing campaigns to reach their target audience. This could include assisting with market research.
At the end of the day, the goal of a consultant that specializes in marketing is to help their client (the small business) to create relevant content that will reach and resonate with their ideal customers.
---
3. Financial consultant
Marketing and sales consultants can help to increase sales and push the needle in the right direction. However, there's more to financials than merely sales.
Financial consultants can assist with various areas like:
Accounting

Financial planning and budgeting

Investments

Fundraising 

Taxes and regulatory compliance

Payroll
Small businesses that specifically need help with accounting will probably end up hiring a consultant on a more long-term basis. It might not make sense for a small business to keep a dedicated accounting department on their payroll, especially when they're only starting out. However, considering that accounting is one of the most complex and crucial tasks involved in running a successful business, outsourcing it to an experienced consulting firm is recommended.
---
4. Legal consulting
Depending on the niche, most businesses will probably find that they'll only need legal advice from time to time. As such, many small businesses turn to a legal consultant instead of employing a full-time, in-house lawyer.
A legal consultant offers advice regarding anything that deals with regulations and the law. This can include:
Contracts

Company policies

Mergers

Acquisitions

Conflict management

Complaints or disputes
For example, when a business needs to hire new employees, legal consultants can help prepare an employee contract. Alternatively, before the business signs a contract after landing a new client, for example, they can also first approach a legal consultant for their input.
Small businesses that operate in a strictly regulated industry, like a beverage company, can also ask a legal consultant to help them stay on top of industry regulations.
Basically, legal consultants aren't just there to help their clients when they've landed in hot water. Sure, they can offer legal input and help craft an appropriate response, but their services can also prevent matters from escalating to that point. For instance, if a small firm hires a legal consultant to help formulate company policies that promote diversity and inclusion in the workplace, they're less likely to get accused of discrimination or unfair dismissal down the line.
While legal consultants can help in more ways than one, it's best to hire one who's familiar with a specific region. This means that if you're thinking about becoming a legal consultant, your target market will mostly be restricted to local businesses.
---
5. Project management consulting
Project management consultants can either supervise a specific project or assess current project management operations and share suggestions for how it can be improved or train employees. Companies hiring one to assist with one of their projects can include them on all the phases or only a few. For example, if you're launching a new product on Amazon, you can entrust demand forecasting and brand messaging to a strategic consultant and let a project management consultant deal with budgeting and allocating resources.
Some of the other project phases that this type of consulting service can tackle include:
Risk management

Project execution

Testing

Reviewing project outcomes
---
6. IT consulting
Considering that nearly everything is digital nowadays, IT consulting is in demand. IT consultants can help brand-new small businesses to develop their IT system by helping them set up computers, install the necessary software and hardware, and recommend tools for their unique requirements. Established small businesses will also need to review their current setup from time to time and an IT consultant will be able to suggest what to upgrade first.
Needless to say, cybersecurity is a big priority. A security breach can be costly and if you're working with a lot of customer data, an embarrassing situation to find yourself in. As such, even businesses that are happy with their current tech stack should ask an IT consultant to double-check their security.
---
7. Human resources consulting
Outsourcing jobs like recruitment to an HR consultant is common practice among business owners. In addition to recruiting, HR consultants can also help with employee training, improving employee engagement, and onboarding new employees. Small companies might also choose to work with one in conjunction with a legal consultant when they need advice on remuneration or employee contracts/policies.
With an increased focus on workplace culture (and rightfully so), hiring a consultant to help you with staff matters ain't a trivial activity. If you're struggling with employee turnover, this can help solve the issue (or at least uncover where the problem lies). An unbiased (let alone trained) third party can offer fresh insight into interpersonal dynamics.
---
Four Benefits of Hiring a Small Business Consultant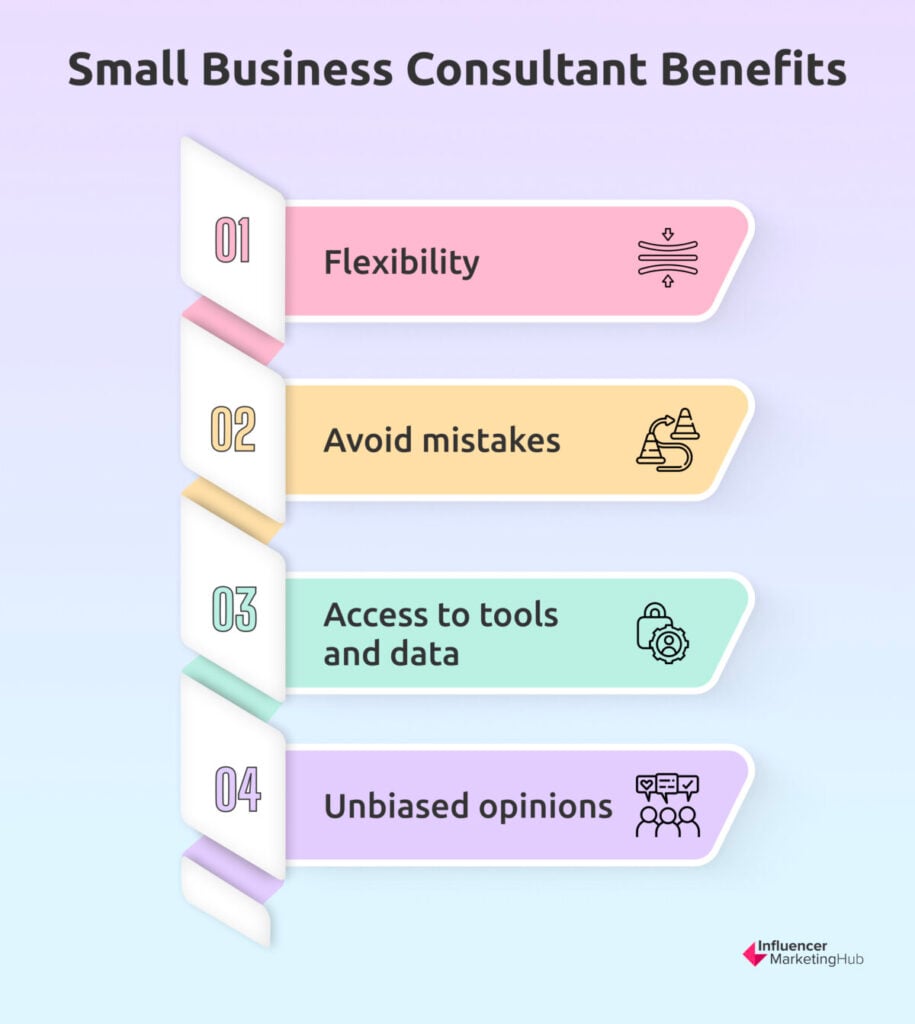 Flexibility
One of the main benefits of hiring a small business consultant is flexibility. Many charge an hourly rate, eliminating the need to enter into a long-term (and expensive) contract.
A consultant will also typically have a number of clients. This means that if you no longer need their services, you don't need to keep them on because you feel responsible for their salary.
---
Avoid mistakes
You don't need to make every common business mistake yourself in order to grow. Experienced consultants would have made a few mistakes on their own or would have seen some of their clients' decisions backfire.
Using this prior, first-hand experience, they can help you to avoid making the same mistake. Basically, just like they know how to get results, they also know which actions spell potential disaster.
---
Access to tools and data
Aside from sharing their knowledge, small business consultants might also suggest tools like a social media scheduling tool, chatbot, or an affiliate marketing platform, that you can use to streamline business processes. Also, as they most likely have access to a wealth of data, you can rest assured that their recommendations are backed by data too.
---
Unbiased opinions
From time to time, business owners need to get an honest opinion. Though, who do they ask?
Employees might fear getting treated differently after they've spoken their minds. Your friends and family might want to spare your feelings. And, you can't exactly trust that your competition will have your best interests at heart?
A consultant won't only tell you as it is, but their opinion will also be founded on relevant experience. Your friends might not like your new logo because they simply dislike orange. However, a marketing consultant will be able to tell you that orange isn't the right color for your brand because it will make you look too playful.
---
Wrapping Things Up
Hiring a small business consultant can be a great solution for businesses that want to stay lean. They'll gain valuable experience and possibly even access to data or tools that will help them to scale faster without necessarily having to hire more full-time employees. It's this type of flexibility that makes it a low-risk business move.
If you're thinking about starting your own consulting business, any one of these seven services can be a great field to make your niche. Let your prior experience and passion guide you.
Frequently Asked Questions
What does a small business consultant do?
A small business consultant advises owners of small businesses on strategy and can identify issues and suggest solutions to help them reach their goals. These types of consultants can also create a plan for improving business performance and identify available resources. They typically work on a contract basis, making them an attractive alternative to businesses that don't want to appoint another full-time employee.
How much does a small business consultant earn?
According to data shared by ZipRecruiter, the average hourly rate of a small business consultant in the United States ranges around $27.50 per hour. This adds up to an average annual salary of about $57,000 per year, but some can earn as much as $73,000 per year, especially if you work in the state of California. The niche will also determine the salary. For example, consultants that specialize in IT typically earn more.
How do you decide how much to charge as a small business consultant?
The average going rate charged by small business consultants varies by location and focus area. This makes it challenging to decide how much to charge. To help you set your consulting rates, start with competitor research. Look at what other consultants in your area charge. You can also work out what someone with your experience and skills earn on average per year. You can use this number to set a rate that matches your expertise. Then, remember to increase your rate gradually to reflect your experience.
How do you become a small business consultant?
If you're thinking about offering consulting services to small businesses on a freelance basis, you can follow these tips for getting started:
Decide which area you want to focus on e.g. marketing, human resources, or accounting 

Double-check if you need any certifications to work as a consultant (even if you don't need a formal certification it's still a good idea to embrace continuous learning and complete relevant online courses regularly)

Attend events and conferences where you can network with small business owners

Formulate your marketing and pricing plans
What are some popular small business ideas with minimal startup costs?
Here are 10 of the most popular small business ideas that require little money to get started:
Consultant

Virtual assistant (VA)

Online teaching or tutoring

Data entry

Dropshipping

Influencer marketing

Bookkeeper

Voiceover artist

Transcription

Website design