If the past two years have taught us anything, it's the importance of upskilling and the value of face-to-face interaction. Luckily, there are a number of great social media events planned for 2022 that can fulfill both these needs simultaneously.
Many of these cater to beginners as well as more advanced professionals. So, you're bound to find an event that will meet your needs. What's more, they cover a wide range of topics that include practically everything you need to know about social media marketing.
We've also included a couple of events that focus specifically on podcasting. While social media is a lot broader than just podcasting, this medium is becoming a promising channel that marketing teams can explore in the new year.
---
Top Social Media Events:
---

Location: Dallas, USA
Dates: 23 August – 26 August 2022
Over the course of eight years, Podcast Movement has helped thousands of industry experts and professionals to expand their skills and has grown to become the biggest expo and trade show the podcasting industry has to offer. In August, the highlight on the podcasting calendar will return to Dallas. The four-day event will offer over 150 workshops and educational sessions. There will also be plenty of opportunities for attendees to network.
---
Location: Orlando, USA
Dates: September 12 – 15 2022
The Podfest Expo will return for an in-person live event at the end of May. In short, it's a community that's passionate about sharing content via video and audio. Since 2013, they've built a tight-knit community and today the event is a great resource for newbies and veteran podcasters.
At the event, they'll feature engaging speakers and share in-depth content. Topics that will be covered at 2022's event include:
Creation and launch

Technology and innovation

Audience growth

Monetization and marketing

YouTube
---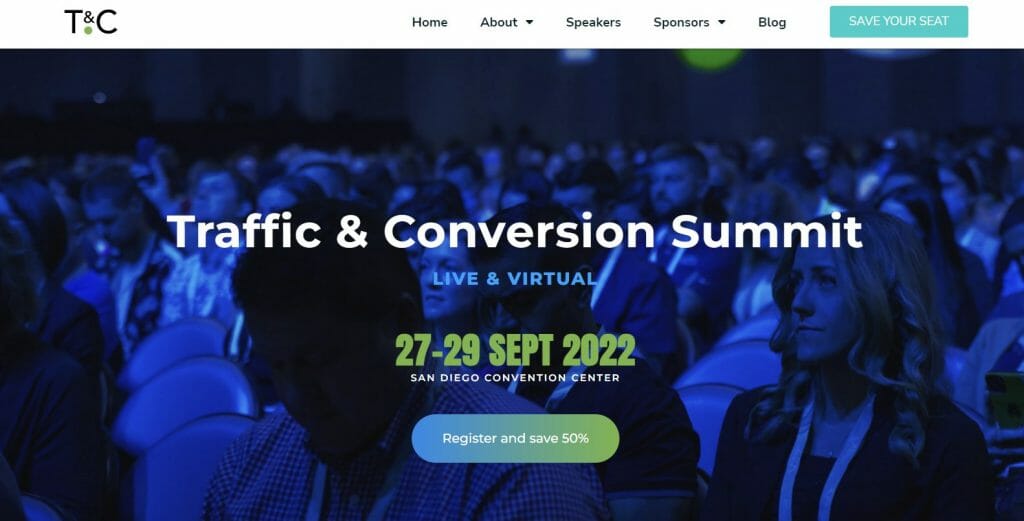 Location: San Diego, USA
Dates: September 27 – 29 2022
Traffic & Conversion Summit was first held in 2009 when thousands of marketers across the globe came together to learn about the newest trends in digital marketing and practices that actually work. It was founded by Ryan Deiss, the CEO and co-founder of DigitalMarketer.
Past speakers have included Arnold Schwarzenegger (yes, the one and only), Rachel Bell (founder of Online Coach University), and Jay Abraham (founder and CEO of The Abraham Group).
In 2022, the show will be held virtually as well as in-person. The line-up includes the likes of:
Magic Johnson

Gary Vaynerchuk

Marie Forleo

Bonin Bough
If you know something about marketing, you'll know at least some of these names. If you don't, a quick Google search will reveal their claim to internet fame.
Another highlight that also deserves a special mention is the access to the event app that you'll get when you buy a ticket. This way, you can network with other attendees.
Topics that will be covered include:
Content and SEO

The future of marketing

Digital advertising

Email and automation

Social and influencer marketing

Growth hacking

eCommerce

B2B
Pricing starts at $2,595, but you might be able to get a generous discount of as much as 65%.
---

Location: Online
Dates: October 11 – 12 2022
Ad World was the biggest online advertising event in the world. From founders to podcasters, various professionals learned more about the secrets of online marketing and benefit from innovative ideas that were shared during the live Q&A sessions. During the two days, more than 10 digital advertising tracks were streamed that consist of hyper-focused speeches and panels.
Previous speakers have included the likes of Sir Martin Sorrell (Executive Chairman of S4 Capital Group), Rory Sutherland (Vice Chairman of Ogilvy UK), and Bernise Alviar (Head of Performance Marketing at Canva). Speakers who addressed the 50,000+ attendees in 2022 include Kipp Bodnar (CMO of HubSpot), Seth Godin (marketing visionary), and Brandon Smithwrick (Senior Content Strategist at Squarespace).
---
Location: San Diego, USA
Dates: March 13 – 15 2023
Brought to you by Social Media Examiner, this huge conference aims to empower marketers and influencers by teaching them the best social media marketing strategies that will help them to build their businesses. The event focuses on four main areas of social marketing: organic social marketing, paid social, social strategy, and content marketing.
Previous speakers have included Michael Stelzner (the founder of Social Media Examiner), and Ann Handley (the Chief Content Officer at MarketingProf), and a handful of leading Facebook, Instagram, LinkedIn, and YouTube experts. This year's line-up promises to be equally valuable and some of the expert trainers who are speaking at 2022's event include:
Joe Pulizzi, one of the top authorities on content marketing across the globe

Tim Schomoyer, leading YouTube strategist

Mark Schaefer, social futurist and strategist

Sean Cannell, YouTube master and influencer coach
---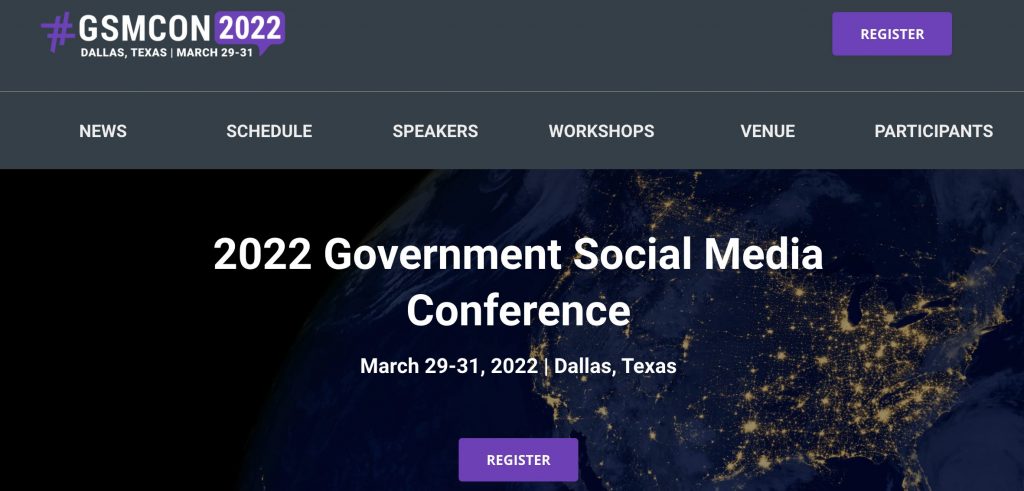 Location: Dallas, USA
Dates: May 2 – 4 2023
The Government Social Media Conference will be held in person at the end of March. It's described as the biggest social media conference in the United States specifically for government agencies and is aimed at marketers, communicators, elected officials, and emergency managers.
Attendees will learn practical skills that will help them to manage the public sector's social media. It's also a great opportunity to network with other agencies across the US.
Sessions for 2022's event include:
Building Public Trust Through Social Customer Care

Conquering Instagram to Tell Your Brand's Story

Small Teams and Small Budgets: Social on a Shoestring

TikTok on the Clock: Where Does Government Fit In?

How to Use Brand Ambassadors/Influencers to Promote Awareness & Engagement
---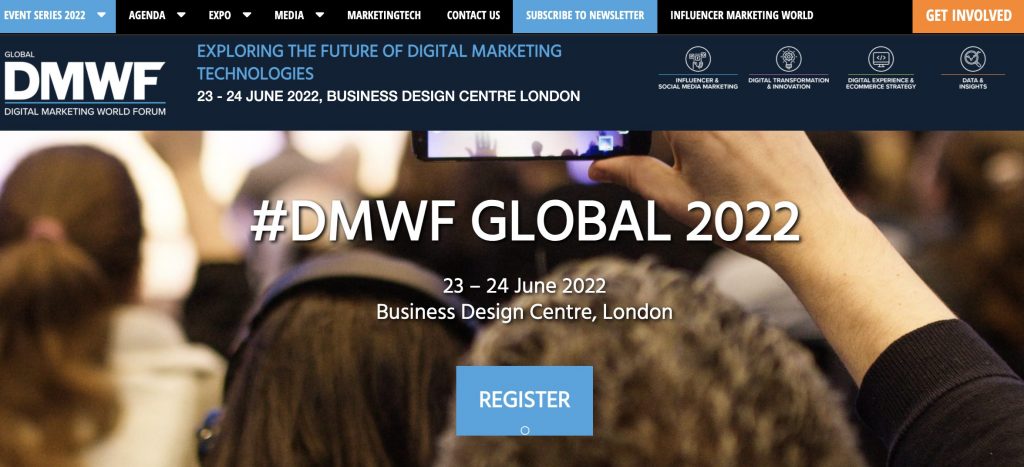 Location: London, UK
Dates: June 21 – 22 2023
For over 12 years, DMWF has brought the international digital marketing community closer by looking at the problems posed by the digital future. More than 2,000 attendees are expected to tune in for two days of content that will include five conference tracks and more than 60 speakers and 30 exhibitors.
Last year's conference was completely virtual and included speakers from platforms like Twitch, Google, Facebook, and big brands like Hugo Boss, Coca-Cola, and Nickelodeon.
While 2022's event will be in-person, a virtual conference pass is also available. Ticket sales are already open and by taking advantage of early-bird specials you can save as much as 50%.
---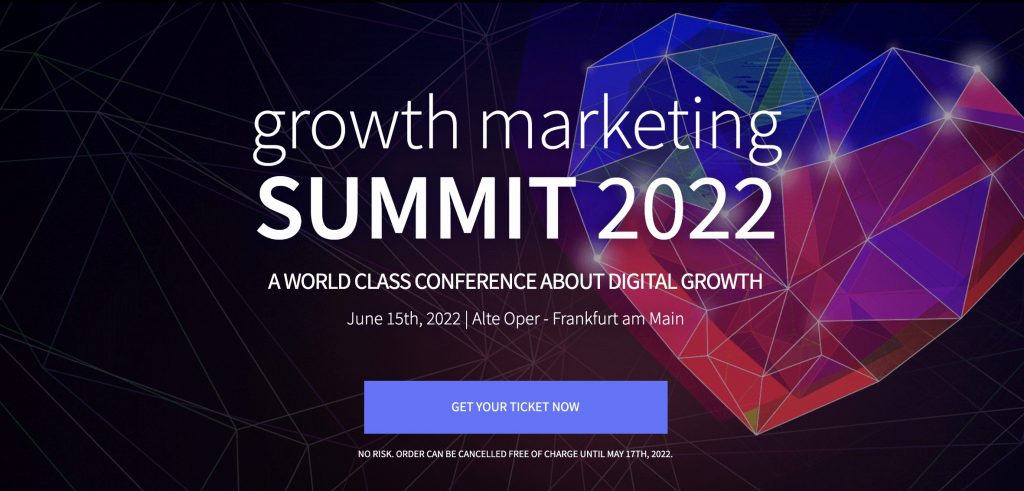 Location: Frankfurt
Dates: 22 June 2023
Growth Marketing Summit is the largest conference for digital growth and optimization in Europe. It concentrates on a data-driven, customer-oriented and agile approach to help businesses grow sustainably.
Previous speakers have included Joost de Schepper (Associate Director at Spotify), Erin Weigl (Principal Designer at Booking.com), and Krista Seiden (Founder and Principal Consultant at KS Digital). This year's keynote speaker is Dan Ariely, a best-selling author and behavioral economist.
Other speakers included in 2022's line-up are:
Anna Tiplady, Senior Conversion Consultant

Simon Dahla, Premium Conversion Lead at Spotify

André Morys, CEO of konversionsKRAFT
Tickets start at €799. Attractive bundle prices are also available.
---
Location: Halifax, Canada
Dates: June 2023
Social Media Day Halifax is the premier yearly social media marketing conference of Atlantic Canada. During this one-day conference, attendees can learn new ways to tie their business goals to their social media marketing efforts and find out more about key trends and changes in the industry.
It's ideal for business owners, entrepreneurs, and professionals who are employed in social media roles. In short, anyone who wants to boost their social media communications and marketing will benefit. Beginners as well as advanced marketers will uncover new ideas and leave feeling inspired.
Attendees can look forward to learning how:
To get their posts seen by more customers

To incorporate brand storytelling and video marketing

To build an email list

To advertise on Facebook
---
Past 2022 Events
Below are some of the past events that are still worth checking out. Note that many of these events take place annually or at least several times a year.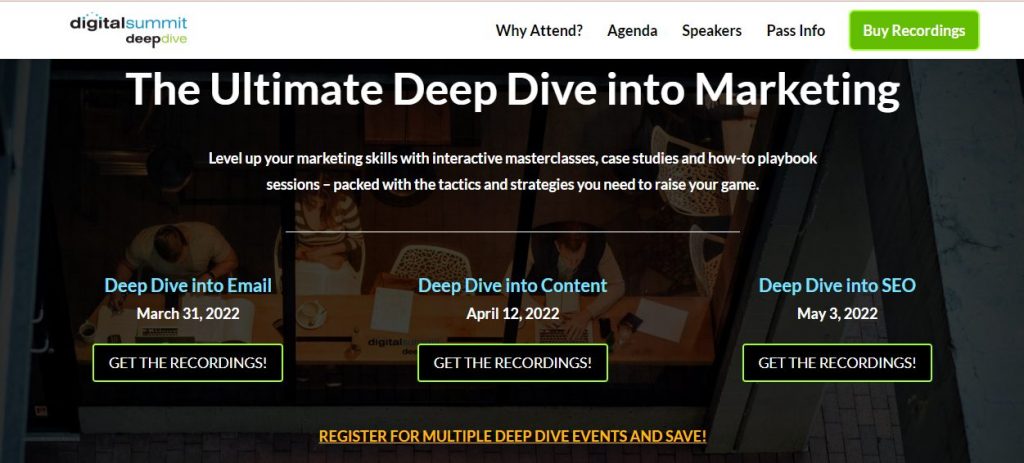 Date: 3 May 2022
Deep Dive into SEO forms part of the Digital Summit series, a series of events that focus on social media and digital marketing. Attendees were able to take part in two interactive Q&A sessions, three hours of masterclasses, over six hours of insightful content, and more than nine actionable sessions.
Speakers for this event include:
Jerri Helms (from HarperCollins Publishers)

Dale Bertrand (from Fire&Spark)

Janet Driscoll Miller (from Marketing Mojo)
In addition to learning advanced SEO tactics for 2022, a lot of the focus was on link building. Also, while this event focused specifically on SEO, more upcoming events about other marketing-related topics are also planned for 2022. Some of the topics that were covered in 2021 included creativity, B2B marketing, email marketing, and website strategy.
Access to this specific event costs $250 per pass.
---
Location: Orlando, USA
Dates: April 27–29 2022
For the first time, the Association of National Advertisers (ANA) will hold a conference that will look specifically at content marketing. This inaugural event will look at strategy, resources, and best practices to help improve customer relationships and generate measurable results.
Areas that the conference will cover include:
Developing a content strategy

Measurement

Social and digital amplification

Content partnerships

Creativity
It's aimed at senior-level content and general marketers who want to learn advanced skills about content marketing. In addition to the in-person event, there will also be a virtual platform. For the in-person event, pricing starts at $1,199, while the virtual option is much cheaper and starts at only $299.
---
Location: Scottsdale, USA
Dates: 28 February – 2 March 2022
If you work in B2B sales or as a marketing practitioner, the B2B Marketing Exchange (#B2BMX) is an event that you definitely need to diarize. The conference will be held in person at The Phoenician, a luxury hotel resort, in Scottsdale.
The line-up includes five tracks, more than 80 sessions, and over 20 case studies. The tracks will cover cutting-edge approaches to areas like content strategy, sales enablement, and demand generation.
The first day will kick off with workshops on the art of virtual selling and content storytelling to mention only two of the highlights. The second and third day promise to be just as jam-packed with loads of opportunities to network and listen to keynote speakers.
---
Location: Online
Dates: 23 – 24 February 2022
The Social Media Strategies Summit Virtual Event 2022 is organized by GSMI and is one of the leading events for senior marketers. The two-day event promises to deliver unique opportunities to participate in interactive learning and discussions to identify solutions to the social media and digital marketing challenges that can impact your revenue. Topics that will be explored include:
Storytelling

Paid media

Video

Analytics

Strategy

Customer service
---
Location: To be confirmed
Date: June 30, 2022
Since 2012, Social Media Day San Diego has been one of the top social media day events for marketers. One of the appeals of this event is that you don't have to set aside three full days. While it's only a one-day event, attendees are treated to a list of experienced speakers. Previous speakers have included Scott Ayers (from AgoraPulse), Tiffany Rivers (VP of Marketing at iOFFICE), and Bruce Irving (from Smart Pizza Marketing).
Sadly, 2021's event had to be rescheduled to 2022. Topics that will be covered include:
Instagram marketing

Facebook and Instagram Ads

Video marketing

Marketing funnels

Social media strategies

Content marketing

Inclusive marketing
---
Location: Los Angeles, USA
Date: 23 June 2022
Listen In is a niche social media event aimed at podcast industry specialists. Though, decision-makers from corporate marketing teams and start-ups will also find the highly customizable and actionable insights useful.
Sadly, Listen In's 2021 event had to be canceled in light of the COVID-19 pandemic. The good news is that it will return in June 2022.
The event's headliner, Sarah Koenig, is the host and co-creator of Serial, an award-winning podcast that already has three very successful seasons behind its name. The conference also has a line-up of speakers from businesses that have launched a successful branded podcast or used the medium as an advertising opportunity.
---
Location: Atlanta, USA
Dates: 8 – 10 June 2022
This social media event is aimed at CEOs, social media/digital marketing managers, and content strategists. Companies like Stackla, Adobe Spark, American Marketing Association, and CreatorIQ have attended this event in the past. The list of previous speakers are just as impressive and have included the likes of Rachel Krupitsky (Director of Social Media Strategy at Penguin Random House), and James Gregson (Head of Social Studio at Lego).
During the sessions, advanced topics relating to social media marketing are discussed which means that even more experienced marketers will find it valuable too. While the pricing for 2022 has not been revealed yet, tickets for 2021's event ranged from $895 – $3,245.
---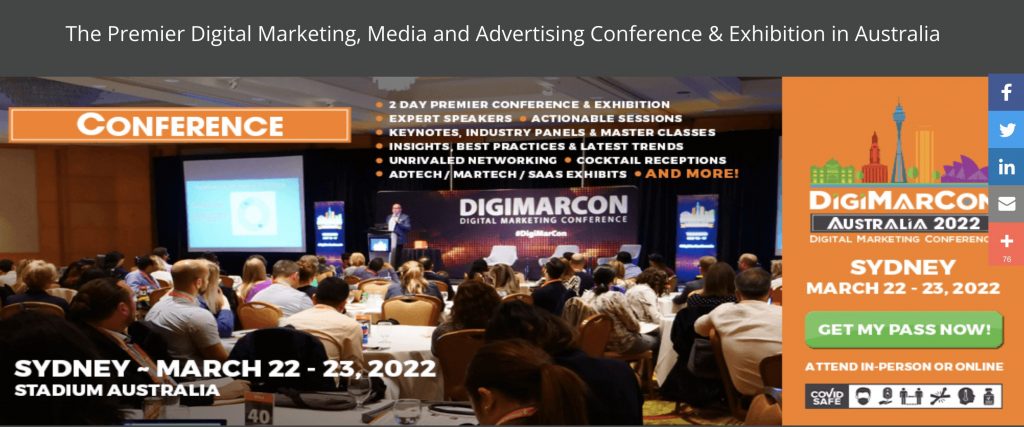 Various locations and dates
DigiMarCon is the biggest digital marketing, media and advertising conference and exhibition series in the world, according to their website. Numerous events are held throughout the year across the globe where attendees can enjoy an intimate gathering with key players in the marketing sector. Plus, there's also an international cruise planned for 2022-2023.
If you prefer sticking to terra firma, cities that will host a DigiMarCon conference in 2022 include:
Chicago

Houston

San Francisco

London

Montreal

Dubai

Johannesburg
To give you a better idea of what you can expect, 2021's sessions have included topics like:
Augmenting Your Digital Strategy

Creativity vs Clicks

How to Automate Your Sales Funnels with Messenger Marketing

How to Reach Millennials in the Digital Age

The Modern Marketing Mandate

Why Facebook Messenger is the Next Big Marketing Channel

Social Media Marketing: Beyond Likes, Shares, and Cat Photos
The first conference for 2022 is planned for the end of March and will be hosted by Sydney. It will span across two days and will include expert panels, keynote speakers, and solutions providers.