If the past two years have taught us anything, it's the importance of upskilling and the value of face-to-face interaction. Luckily, there are a number of great social media events planned for 2023 that can fulfill both these needs simultaneously.
Many of these cater to beginners as well as more advanced professionals. So, you're bound to find an event that will meet your needs. What's more, they cover a wide range of topics that include practically everything you need to know about social media marketing.
We've also included a couple of events that focus specifically on podcasting. While social media is a lot broader than just podcasting, this medium is becoming a promising channel that marketing teams can explore in the new year.
---
Top Social Media Events:
---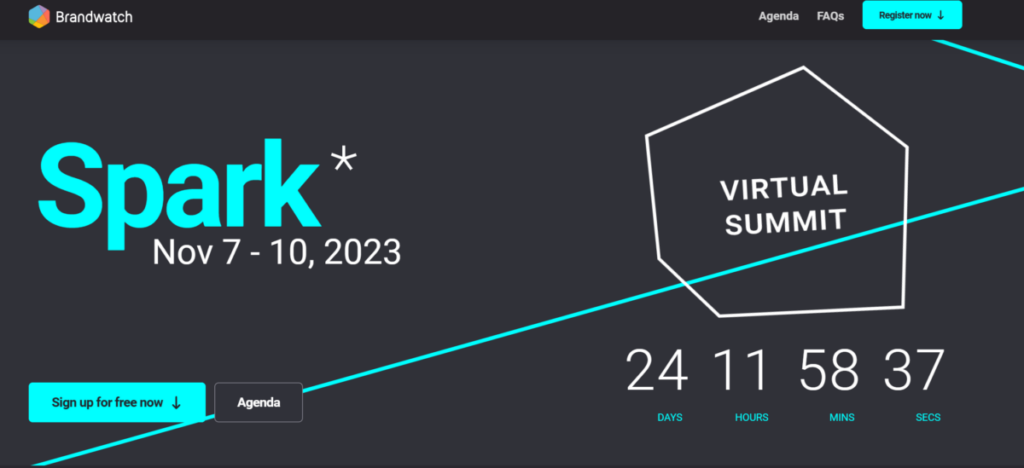 Location: Virtual
Dates: 7 November – 10 November 2023
Spark isn't just another event on the calendar; it's where innovation truly shines. Designed for the forward-thinking marketer, this virtual conference promises to turn the buzz of digital insights into actionable strategies that make a difference in the real world. By aligning with Spark, you're placing yourself alongside individuals eager to harness the transformative power of marketing.
The sessions at Spark range from pinpointing the nuances of social media trends, like (TikTok Fireside Chat) "Social Networks Through Ripple Tracking and Beyond", to diving deep into topics like AI's future in marketing. With speakers from renowned brands like Brandwatch and Adidas, you're in for some top-tier insights. Plus, the timezone-friendly scheduling ensures that no matter where you're tuning in from—be it EDT, GMT, or CET—you won't miss a beat.
But what makes Spark truly special is its approach to accessibility. Everyone gets a front-row seat, and guess what? It's free of charge. Stream seamlessly through Goldcast, preferably via Chrome, and if you can't catch a session live, don't sweat it. Recordings will be at your fingertips for a replay.
While it's a virtual affair, interaction is front and center. Engage with speakers, initiate chats, and be an active participant in Q&A sessions. The essence of Spark is all about community, collaboration, and, of course, sparking innovative ideas.

Location: Orlando, Florida, USA
Dates: 26 January – 29 January 2023
The Podfest Expo is committed to providing an amazing experience for all attendees. The team has built incredible relationships with leading industry professionals and creative innovators to bring you the best possible content and experiences. In addition to providing insightful keynotes, they also offer hands-on workshops, networking sessions, meetups, and more. The goal is to create a unique environment of support and collaboration that encourages growth and success for all podcasters of any level.
With the help of its partners and supporters, the event in January 2023 will be invaluable for newbies and veteran podcasters alike, as it features engaging speakers who share in-depth knowledge and expertise on the following topics:
Creation and launch

Technology and innovation

Audience growth

Monetization and marketing

YouTube and video
Tickets start at $99 for beginner podcasters up to $1,195, which is ideal for the full-time professional podcaster and creator. For those interested in creating something extra to remember the event, lunch-and-learn passes and t-shirt merchandise are optional add-ons.
---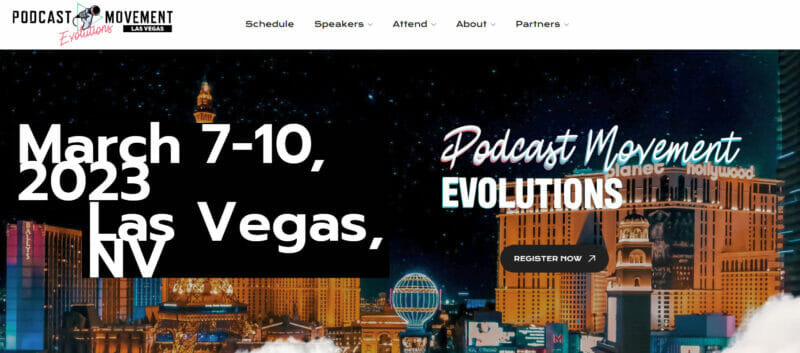 Location: Las Vegas, Nevada, USA
Dates: 7 March – 10 March 2023
Next year's Podcast Movement takes place over four days with more than 100 workshops, breakout sessions, and panels featuring some of today's most successful names in the podcast industry. From keynotes to networking events, this conference has plenty to offer for everyone.. The event also includes a trade show, so if you're looking to upgrade your podcast gear, this is the place to go.
Choose from the three different tracks available, which are curated specifically for novice, advanced, and professional podcasters, as well as entrepreneurs in the podcasting industry. Featuring a variety of topics and speakers, each track pass promises an incredible learning experience for everyone.
---

Location: San Diego, California, USA
Dates: 13 March – 15 March 2023
Attending The Social Media Marketing World will get you access to hundreds of sessions and workshops with the top experts and influencers from the social media marketing industry. You will also have the chance to learn how to make the most of your campaigns. You will network with professionals from around the world, and gain insights into the latest tools and strategies that can help you grow your business.
This event is a must-attend for anyone looking to build their social media presence and connect with like-minded individuals to help them succeed. Attendees will leave with a better idea of how to make their campaigns more effective and gain more customers through social media marketing. Finally, there will be plenty of opportunities for networking in the form of panels, socials, and receptions. You can gain valuable contacts that will help your business grow even further.
The conference offers four ticket options, which start at $697 for those who want to do a remote live stream of all sessions. Alternatively, purchasing an all-access ticket gets you on-site and online access to the entire event, including recordings of all the sessions and workshops that happen during the event.
---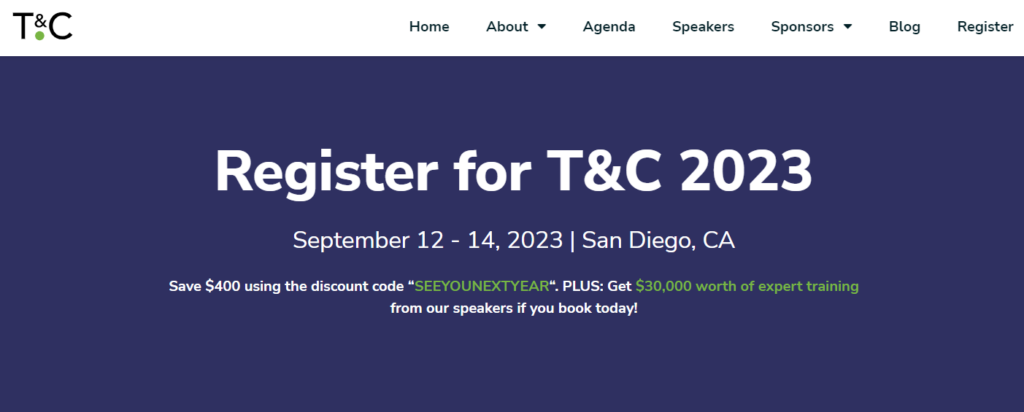 Location: San Diego, California, USA
Dates: 12 September – 14 September 2023
For marketers looking for the latest strategies, tips, and trends for SEO, social media, email marketing, content marketing, SEO, and e-commerce, among others, the Traffic & Conversion Summit can be a very valuable resource. This three-day event will allow you to learn from experts who have been successful in turning their businesses into prosperous and profitable ones. You will be able to network with other professionals, get access to updated tools and resources, and even participate in workshops and seminars. Not only will you take away a notebook full of marketing tips, but you'll also be able to make valuable connections with professionals from across the industry.
For the super early birds who register for the event, you'll get a discount on both their All-Access and VIP Passes. In both cases, you'll be able to attend not just the workshops but also the official parties, where you can socialize and build your network.
---

Location: Online
Dates: 29 March – 30 March 2023
Ad World might be the premier virtual event for marketing and advertising professionals. It offers two days of learning on 7 tracks filled with expert insights and exclusive access to the people powering the digital advertising industry. From live sessions on emerging trends in online advertising to panels discussing content marketing, ad creatives, and social media strategies – it's all here.
You'll learn the latest trends and strategies used by leading brands and companies, whether you attend as an individual or as a representative of your company. This event will also introduce you to marketing professionals looking to take their digital advertising career to the next level. And don't forget about the live chat sessions where you can ask questions directly to our panelists.
---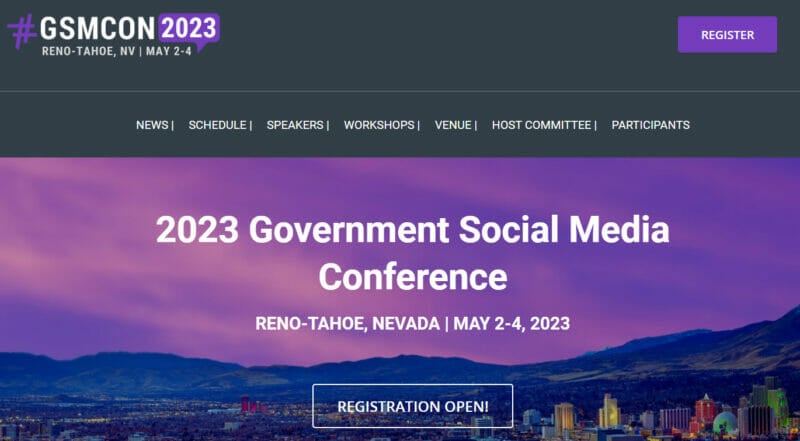 Location: Reno-Tahoe, Nevada, USA
Dates: 2 May – 4 May 2023
The Government Social Media Conference will get participants up to speed on the latest trends, strategies, and tactics for harnessing social media within the public sector and other government organizations. Through case studies and expert speakers, attendees will learn how to strengthen their presence in the digital space, create engaging content, and measure results from their social media efforts.
You can choose to buy an in-person or virtual ticket. In-person attendees will be able to attend the physical event and experience all of the live sessions, keynotes, workshops and networking opportunities. Virtual ticket holders can join from anywhere in the world via our interactive live stream platform. This gives you access to a live stream of all content and remote networking participation options including Q&A sessions with speakers.
---

Location: London, UK
Dates: 21 June – 22 June 2023
Over the past 13 years, the Digital Marketing World Forum has brought together the global digital marketing community to take on the challenges of the digital future. Through 5 tracks, global brands will present two days' worth of top-level content, networking, and discussion on topics such as content and digital brand strategy, influencer marketing, analytics, mobile marketing, and more.
Choose to register and attend the first or second day, or even both days to get the full experience. With a variety of keynotes, panels, workshops, and networking opportunities, you'll leave with the knowledge and connections to take your brand's digital marketing strategy to the next level.
---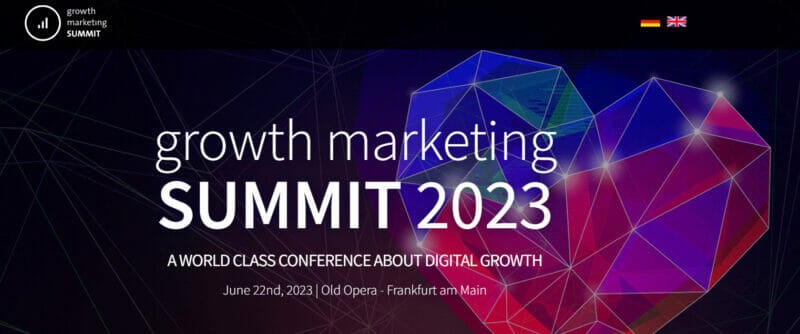 Location: Frankfurt, Germany
Date: 22 June 2023
The Growth Marketing Summit is a one-day event with expert speakers and panelists who will give their insights on how to use growth marketing tactics to fuel business success. Attendees can expect hands-on workshops, case studies, and interactive discussions with thought leaders in the field.
Tickets are on discount for early bird and group purchases, which will get you in on their social hour for networking.
---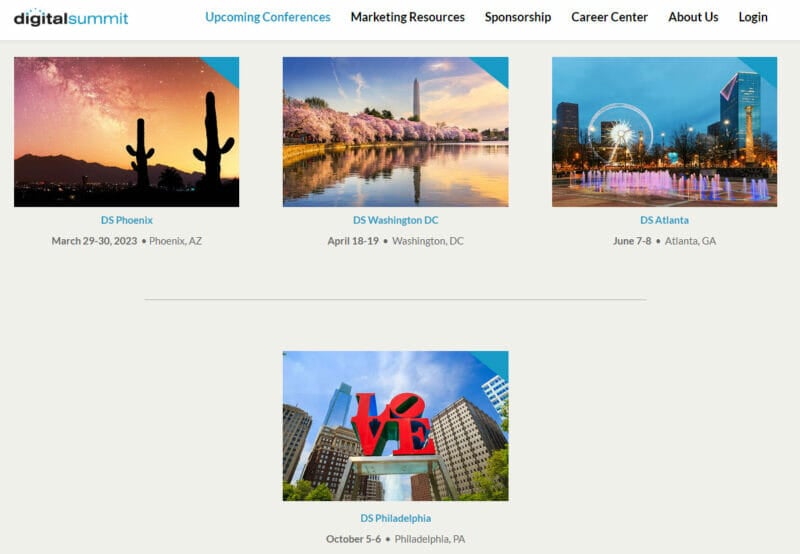 Location: Multiple states, USA
Dates: March, April, June, October 2023
The Digital Summit is the one-stop shop for all things marketing. Their upcoming conferences in 2023 are spread across different US states so you will not have to travel far to take advantage of their valuable workshops and talks. With themes ranging from Search Engine Optimization (SEO) to website design and social media tactics, the event will help equip your business with the knowledge you need to succeed in this digital world.
---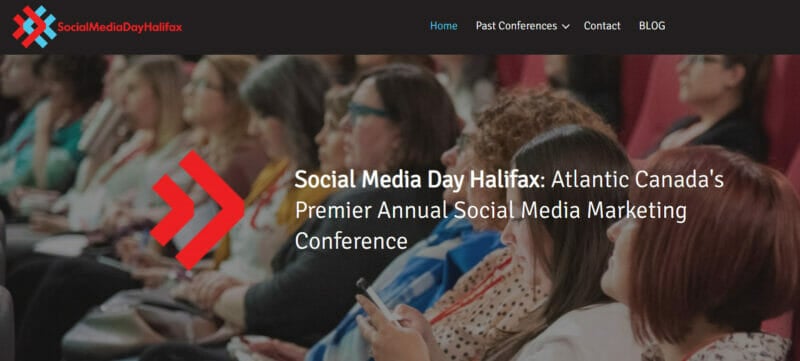 Location: Halifax, Canada
Dates: June 2023
Social Media Day Halifax is the premier yearly social media marketing conference of Atlantic Canada. During this one-day conference, attendees can learn new ways to tie their business goals to their social media marketing efforts and find out more about key trends and changes in the industry.
It's ideal for business owners, entrepreneurs, and professionals who are employed in social media roles. In short, anyone who wants to boost their social media communications and marketing will benefit. Beginners as well as advanced marketers will uncover new ideas and leave feeling inspired.
Attendees can look forward to learning how:
To get their posts seen by more customers

To incorporate brand storytelling and video marketing

To build an email list

To advertise on Facebook
---

Location: Naples, Florida, USA and Online
Dates: 7 June – 9 June 2023
Connect with peers from businesses large and small to expand your personal network at the ANA Masters of B2B Marketing Conference. Tap into the unique perspectives of industry leaders and engage in candid conversations with peers from around the world. Get inspired by cutting-edge case studies, innovative technologies, and emerging trends that are reshaping the B2B marketing landscape. Discover creative ideas, strategies, and tactics that can help you get ahead of the competition in a crowded marketplace.
Tickets start at $299 and you have the option to attend in person or virtually. Choosing to attend in person can also get you a discounted room rate at The Ritz Carlton Naples.
---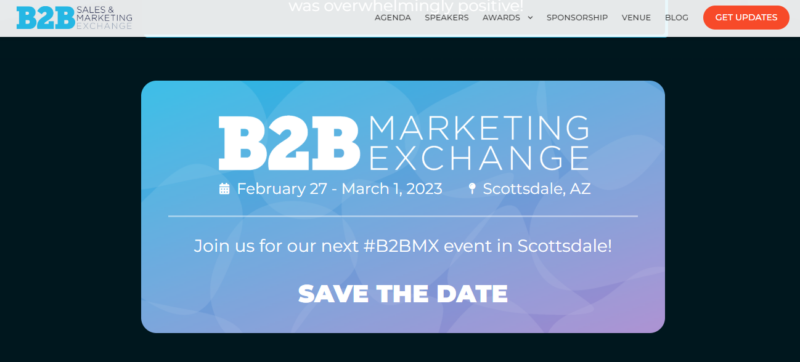 Location: Scottsdale, Arizona, USA
Dates: 27 February – 1 March 2023
Join the B2B Sales and Marketing Exchange and connect with industry practitioners and experts to discuss best practices for marketing, sales, and RevOps. You will get three full days with over 80 sessions within 5 tracks filled with learning from and engaging with thought leaders across multiple disciplines in order to foster brand, demand, or data-driven creativity.
Passes start at $1,495 but signing up as early as now will get you discounts, especially if you buy in groups.
---
Location: Online
Dates: 21 February – 24 February 2023
When you attend the Social Media Strategies Summit, you will get to experience the event as they will use the Google Ecosystem of Data Tools. This will help business managers and social media marketers understand how different components fit together. The whole event will be done virtually, which means you don't have to leave your home or office to attend. You can access the summit from anywhere, as long as you have an internet connection.
Tickets at the door are $749, but if you purchase ahead of time, you can save up to $300 on the ticket price. There is also a group discount if you are attending with friends or co-workers. Additionally, there is a bonus fourth day for all attendees that is dedicated to branding and analytics.
---

Location: Minneapolis, Minnesota, US
Date: 30 April – 3 May 2023
Confab debuted in 2011 and has since been holding the Content Strategy Conference. They have a way of seamlessly blending content strategy talks, workshops, and inspiring keynotes. This content strategy conference will offer attendees a chance to engage with industry leaders, network, and learn new skills. Speakers will cover topics such as content strategy best practices, digital marketing trends, technology-driven content creation, customer experience optimization and more. Additionally, attendees can connect with other professionals in the field through the talks and workshops. Unfortunately, the event in 2023 will be the last face-to-face conference they will hold. Now is your chance to attend a content strategy conference, whether you're a returning participant or new to the event.
---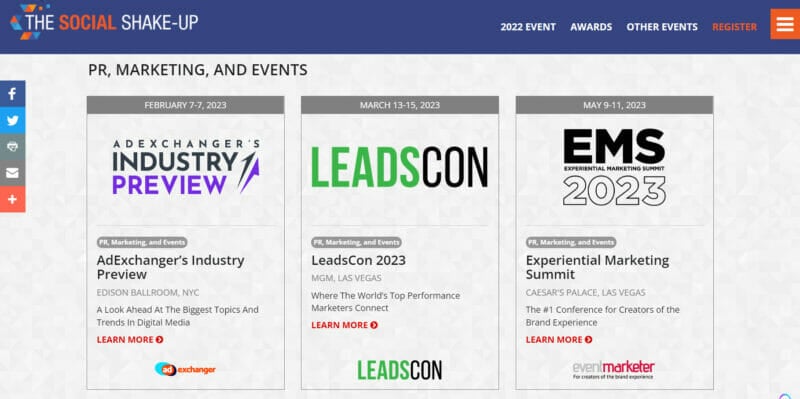 Location: New York and Las Vegas, USA
Dates: February, March, and May 2023
The Social Shake-up will hold three different events in 2023 for marketers, content creators, and social media practitioners alike. They are all in-person events that will get you to be in the same room as your peers, network with influencers and thought-leaders in the industry, and learn the latest trends and best practices. Attendees will have access to inspiring keynotes, engaging panels, hands-on workshops, exclusive networking opportunities, inspiring master classes, and more.
Whether you get a pass for just yourself or bring your entire team, the Social Shake-up will be sure to provide a unique experience that you won't forget.
---

Location: Tokyo, Japan and Online
Dates: 27 – 28 September 2023
The 5th annual DigiMarCon Asia will return to Japan for two days in July 2023. You can expect a jam-packed event with top speakers and plenty of networking opportunities. With a focus on the up-and-coming trends and challenges of social media and digital marketing, this is a worthwhile opportunity to learn more about the industry. You can attend the event at the onsite venue or from the comfort of your own home.
---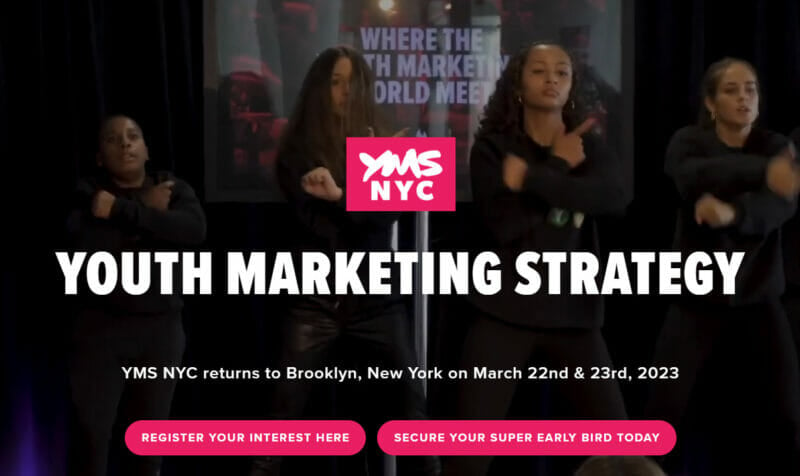 Location: Brooklyn, New York, USA
Dates: 22 March – 23 March 2023
Each year, Youth Marketing Strategy (YMS) conferences are held in cities around the world to inspire the next generation of marketing leaders. In March 2023, expect the Youth Marketing Strategy in New York to give future marketers of Gen Z intel on industry secrets and mentorship opportunities, to name a few.
Attendees onsite and online can look forward to hearing from some of the younger generation's most prominent marketing professionals. They can also look forward to hearing from speakers from disruptive and emerging brands catering to the current generation. Tickets begin at $325 and cover access to the two-day conference, sessions, workshops, and more.
---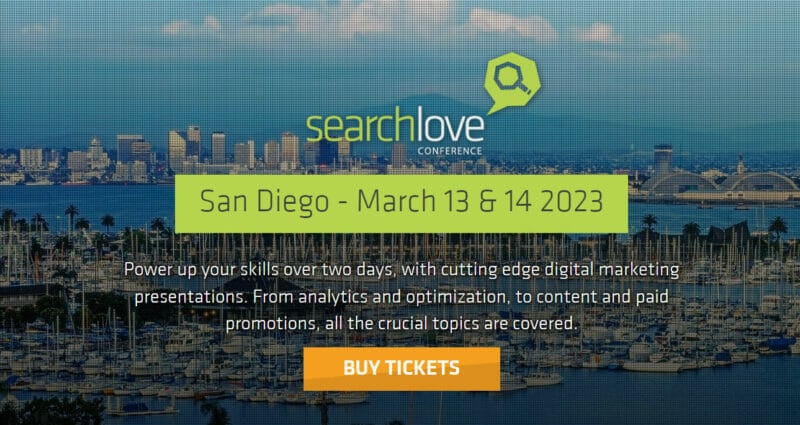 Location: San Diego, California, USA
Dates: 13 March – 14 March 2023
This year's Search Love Conference is focused on digital marketing trends and strategies. The two-day conference will provide you with the latest information on search engine optimization, social metrics, content promotion, and other marketing strategies. Our industry experts will answer your questions and help you build better marketing campaigns. Furthermore, you will have plenty of opportunities to network with other digital marketers.
As well as the sessions themselves, there are drinks receptions and lunches where you can network with other attendees. Group and early bird discounts are available, starting at $999.
---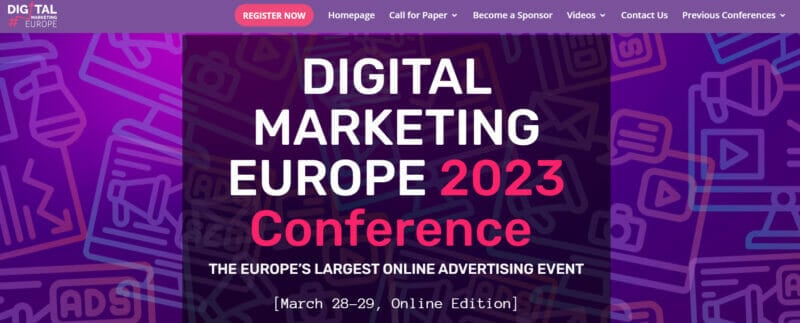 Location: Online
Dates: 28 March – 29 March 2023
The Digital Marketing Europe 2023 Conference is the biggest online advertising event in Europe. With 4 tracks available and over 40 speakers, this 2-day conference offers the most comprehensive and up-to-date information on SEO, brand strategy, social media marketing, and customer experience, to name a few. You will have a well-rounded view of the digital marketing landscape. The gathering will also feature informative debates, case studies, and panels to provide insight into some of the most pressing challenges faced by industry professionals today.
Discounts will be provided if you buy your pass early or purchase tickets for your whole team.
---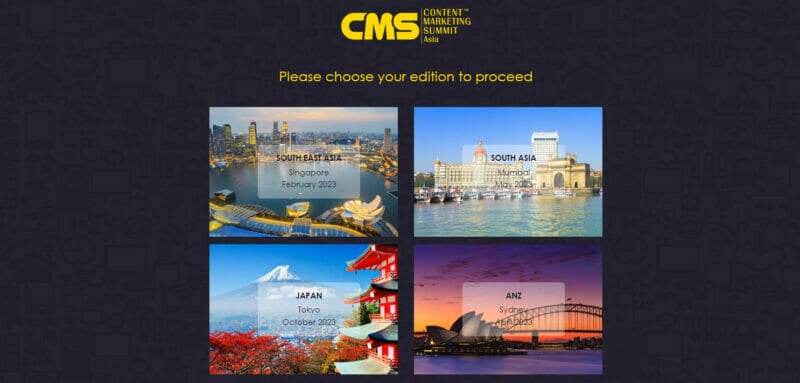 Location: Singapore, Australia, India, and Japan
Dates: February, April, May, and October 2023
The Content Marketing Summit (CMS Asia) brings some of the greatest marketing minds and practitioners, world-renowned publishers, and cutting-edge technology enablers to share their knowledge. With 4 conferences in 4 key locations scheduled in different months in 2023, the focus remains on a comprehensive understanding of content marketing. The conferences explainits impact on the industry as a whole.
Choose Singapore, India, Japan, or Australia, to gain insights from a global perspective and access tools to shape the future of content marketing. Early bird discounts are available for those who register in advance.