Since the COVID-19 pandemic hit us in 2020, virtual events have become a mainstay in our work and social lives. Even as we appear to be nearing the end of this pandemic, it seems as if virtual meetings, conferences, and other events will be a permanent fixture in the global events market. There are people who still feel uncomfortable with large gatherings and those who, for health reasons, truly can't attend in-person meetings yet.
Although COVID-19 limited us to virtual gatherings, we slowly realized that there are advantages to online meetings. With virtual events, no travel time is needed to get to the venue, saving us both time and money. We can invite friends and colleagues from all over the world to join. We could help our children with their homework and then five minutes later switch on the laptop for a virtual conference.
Because of the convenience of virtual events, there has been a surge in the popularity of so-called "hybrid events"—a mix of in-person and virtual events. It's just your standard physical event with the addition of technology that allows virtual attendance for those who can't make it. One study discovered that pre-pandemic hybrid or virtual gatherings accounted for only 18.9% of all events. After the pandemic, the numbers shifted, with 59.5% of event planners who were interviewed stating that they intend to hold hybrid events moving forward. Only 5.4% of the respondents had no intention to organize hybrid events, and 35.1% answered with maybe.
Necessity truly is the mother of invention, as we saw that the technologies for webinars have developed much more quickly than anticipated. Because everyone was meeting online, our collective experiences gave birth to tools and apps that made it easier and more enjoyable to attend and organize virtual events successfully.
---
Virtual Events Statistics You Need To Know:
---
Facts and Figures on Virtual Events
The market for virtual events is estimated to reach $366.5 billion by 2027.
In 2021, the global virtual events market was valued at $114 billion, and experts estimate that it will grow to approximately $366 billion by 2027. One major factor in its growth is the prevalence of Internet usage globally. With the Internet, more people around the world are able to connect and work with each other remotely. This naturally leads to an increased demand for online meetings and conferences to be able to work efficiently.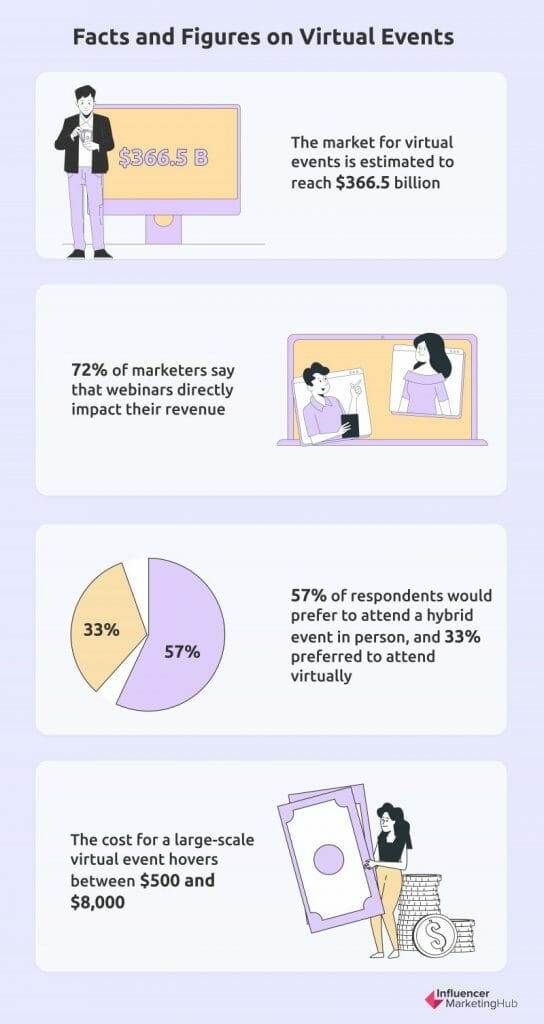 Webinars are the most popular form of virtual events.
Webinars topped Statista's poll of the most favorite digital activity in 2020. The ON24 Webinar Benchmarks Report 2021 reveals that 72% of marketers say that webinars directly impact their revenue and pipeline. Meanwhile, 99% of respondents from the small business and enterprise sector in a Statista survey say that webinars are a significant part of their marketing strategy. Webinars provide solid leads, much more than other channels, according to 89% of the respondents. In addition, 78% reported that webinars lower their cost per lead.
Check out our list of the top influencer marketing events and webinars for 2022-2023.
On-demand content is increasing in popularity.
Meanwhile, convenience seems to be the leading factor in the prevalence of webinars among participants, as on-demand content from these events is becoming more popular. Live webinars are still widely used, though the trend shows a decrease in attendance at live events while on-demand viewing has been increasing.
More people prefer to be physically present than be online during hybrid events.
A 2021 Statista survey indicated that 57% of respondents would prefer to attend a hybrid event in person, and 33% preferred to attend virtually. Though the majority of the respondents were inclined to attend physically, the numbers show that it is not an overwhelming majority, with a third of the respondents still partial to virtual attendance.
On average, the cost for a large-scale virtual event hovers between $500 and $8,000.
The most expensive cost for companies is the platform, which provides all the technology required to successfully host a large virtual event. The second most expensive cost is the speakers and moderators. But even if it can be a bit costly, it is still less expensive than an in-person event and more cost-effective. Organizers wouldn't need to book a venue, transportation, lodging, and catering for everyone. However, they'll need to ensure that the platform they use can handle all the requirements to make the event as smooth as possible and prevent video fatigue among the attendees during the event.
License fees for video conferencing tools and platforms are usually priced on a monthly or annual subscription. Small events can cost you approximately $50 a month, while bigger events can set you back as much as $8,000 a month. Some companies charge add-ons for premium services, such as branding and sponsorship booths, while others have most features built-in at a fixed monthly rate. They can also charge you per registrant depending on their pricing model.
Other costs that you may need to consider when organizing a virtual event include:
Virtual event venues

Virtual conference kits, gifts, or giveaways

Landing page for the event

Video editing for pre-recorded sessions

Technical support

Staff training

Branded backdrops or green screens

Dry runs or rehearsals

Security

Post-event editing (for on-demand viewing after the event)

In-depth analytics
Promoting a virtual event takes several weeks and different channels to drive registrations.
Most event organizers need 3 to 6 weeks to promote small virtual events, according to Markletic. Bigger events need more time, typically more than 6 weeks, to successfully reach the target number of registrants. And because the event is virtual, promotional channels are also largely confined online.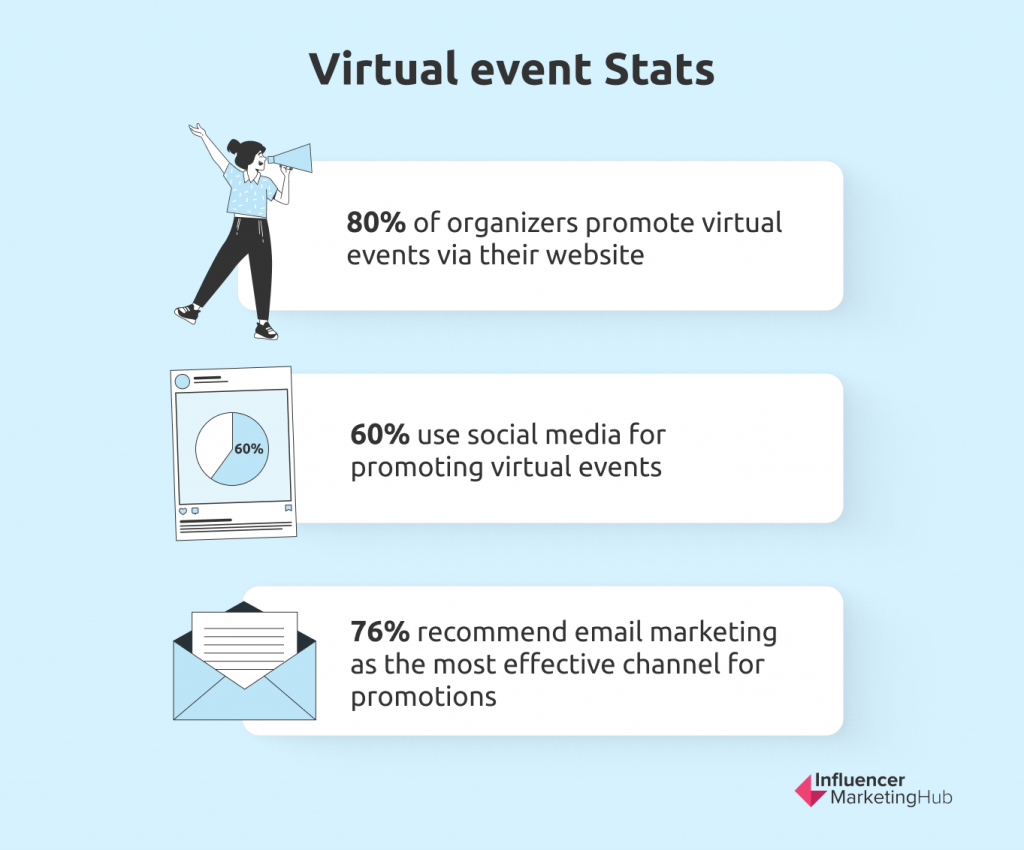 Markletic also reports that 80% of organizers promote virtual events via their website, and 60% use social media. Meanwhile, 76% recommend email marketing as the most effective channel for promotions.
B2B companies do it a little differently, as their main audience is not the general public. For their virtual events, they usually rely on their business partners to attract participants.
Around 74% of organizers report seeing a positive ROI six months after the event.
Even with a non-attendance rate of 35%—a figure somewhat higher than for in-person events—virtual events produce a positive ROI. To boost revenue from these types of events, organizers also accept sponsorships for individual sessions or for the entire function.
People are still inclined to attend virtual events even after the pandemic.
While opinions vary depending on the country, people are still willing to attend virtual events after COVID-19. European countries and Australia tend to favor in-person events. In the United Kingdom, for example, only 39% of respondents will do both video conferencing and in-person meetings, while 56% prefer to meet in person only. On the other hand, Asian and American countries are more flexible. 52% percent of US respondents report that they will attend both virtual and in-person events; in Japan, the number is higher at 65%. Across the world, however, the percentage of people who plan to attend only virtual events after the health crisis is low, typically below 10%.
These numbers imply that hybrid events will most likely be the norm for the foreseeable future.
---
Platforms for Virtual Events and Conferences
The demand for virtual conference tools and apps surged in 2020 thanks to the pandemic. Virtual events can be small or large, private or public, and they may require different tools like breakout rooms, live streaming solutions, or teaching tools like whiteboards.
Virtual Event Platform vs. Video Conferencing Tools
Strictly speaking, we differentiate between a virtual event platform and a video conferencing tool. Virtual event platforms are designed for large audiences and have features required for recreating physical events online, such as ticketing and backstage technology. They may also have more audience engagement features to make the user experience more dynamic and interactive.
On the other hand, video conferencing tools are used for smaller events like roundtable discussions, workshops, and office or one-on-one meetings. Audience engagement tools are limited to basic functions, such as polls, Q&A, and chat.
For the purpose of this list, "virtual events" include these small-scale gatherings. As such, the list contains tools and apps for both large-scale events and smaller meetings. Below are some of the most popular ones that companies and individuals use for their virtual events.
---
Popular Tools and Platforms for Hosting Virtual Events
The video conferencing app Zoom emerged as the frontrunner when the pandemic hit and offices were forced to communicate via video calls. In 2020, they issued 385,200 new licenses, a 470% increase. In the Asia-Pacific region alone, there were more than 129 million app downloads in the second quarter of 2020 and over 50 million in the third quarter of 2021. Its status as the preferred teleconferencing tool of businesses is highlighted by the fact that 89% of Zoom users utilize the app for business meetings.
This isn't to say that Zoom is only popular in offices. In fact, 64% of users utilize the app for social calls, having online meetups with friends and family during the pandemic. Zoom meetings typically range, on average, from 31 to 60 minutes. In terms of webinars, Zoom hosted more than 45 billion webinar minutes in 2020.
To compare usage statistics from pre-pandemic times, Zoom had 10 million daily meeting participants in 2019, and it grew a whopping 3,000% to 300 million in 2020.
---
Microsoft Teams is the second most used teleconferencing tool, with 12% of respondents naming it as their video conferencing platform of choice. Yet despite its position against Zoom, Teams actually registered higher growth than the latter in the second quarter of 2020. Microsoft Teams reported an 894% growth from March to June 2020. It had 20 million users in 2019, 115 million at the end of 2020, and 270 million users in 2022. Similar to Zoom, users of Microsoft Teams come from people aged 35-54. However, more educational institutions use Teams than Zoom.
Because it's part of the Microsoft family, Teams has a large global reach, available in 181 countries and 44 languages.
---
Airmeet is another virtual event platform that saw tremendous growth during the pandemic. In the latter part of 2020, the startup company doubled its value from March of the same year, hitting $50 million in September. Despite being in public beta mode during that period, Airmeet reported a 2,000% increase in usage in mid-2020 without any advertising investment.
The company, which focuses on large-scale virtual and hybrid events, continues its expansion in the global market. According to CEO and founder Lalit Mangal in a report from The Economic Times, Airmeet is expected to achieve an annual revenue run rate of $20 million in the next year, up from their current $5 million. Confidence in the future of virtual events seems to be going strong, as the company was able to raise $35 million early this year from investors.
According to the company, over 120,000 event organizers have used Airmeet to stream 150 million minutes of video around the world.
Aside from Zoom, Teams, and Airmeet, the Virtual Event Platform Global Market Report 2022 lists the other major virtual event platforms used globally:
6Connex

Cvent

Webex

vFairs

Hubilo

BigMarker

Hopin

Remo

Kestone

Accelevents

Whova

EventMobi

On24

Vconfex
We reviewed some of the top virtual event platforms. Check it out to see which one can best provide your online event needs.
---
The Future of Virtual Events
As we've seen from the statistics, it looks like virtual events—whether fully online or hybrid—may be here to stay. The convenience afforded by virtual events makes it difficult for a world connected by the Internet to let go of this technology.
Even if more and more people are able to attend events physically, data shows that there is still a sizeable chunk of the population who would prefer to attend online.
The technology for hybrid events is also evolving rapidly, so we can expect to have a better experience with virtual events. One example would be the use of virtual reality to give online attendees a more realistic and immersive experience. The VR/AR industry is growing, so it would not be far-fetched to assume that we can expect to see VR/AR components at hybrid events for virtual guests within the next few years.
Exciting times are ahead in the global virtual events market. It's time for us to embrace these advancements in technology and look forward to a more digital future.