Advertising Disclosure
Advertising disclosure:
Our partners compensate us. This may influence which products or services we review (also where and how those products appear on the site), this in no way affects our recommendations or the advice we offer. Our reviews are based on years of experience and countless hours of research. Our partners cannot pay us to guarantee favorable reviews of their products or services.
Social media channels have rapidly evolved into vital tools, rivaling traditional search engines, especially among younger users. With 4.8 billion social media users and the average daily time spent on these platforms being 2 hours and 31 minutes, it's no secret that businesses must pay more attention to their social media marketing efforts. Even more so, it facilitates a necessity to optimize social profiles to position brands front and center when consumers are actively seeking them.
However, it's not a clear sail. As platforms evolve and competition intensifies, a strategic approach is indispensable. This is where the expertise of a Social Media Optimization (SMO) Agency proves invaluable. In this article, we'll explain the role of SMO agencies and highlight ten standout companies. We'll detail their unique offerings, achievements, and factors that set them apart in the digital realm.
---
Top Social Media Optimization (SMO) Agency Reviews
Top
social media optimization agencies
2024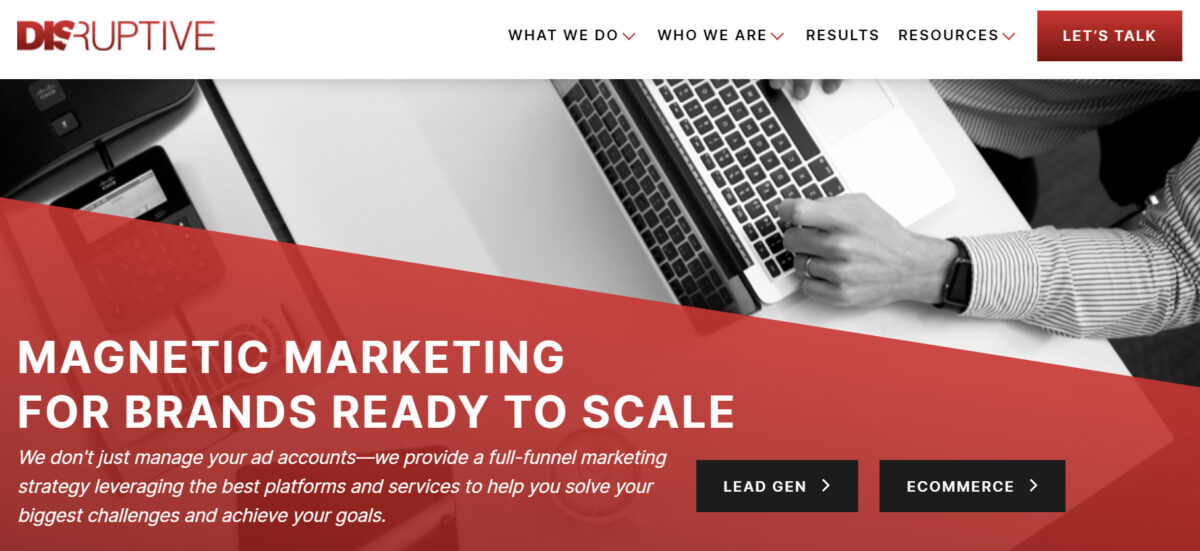 Disruptive positions itself as a full-service digital marketing agency with a specialized edge in social media advertising and optimization. Their commitment is evident, with a claim of managing over $1 billion in ad spend and consistently achieving staggering results, like the 10x and 20x ROAs celebrated by clients. Armed with a blend of strategy and adaptability, they navigate the perpetually shifting landscape of paid social media advertising, ensuring brands are both present and dominant amidst the digital chaos.
Beyond mere claims, Disruptive offers insights into the tangible results they've driven. In 2022, they highlighted a significant growth of 20.1% in social media video ad spending, hinting at the strategic advantage of integrating videos into one's marketing mix. Furthermore, their recognition of short-form video as a high ROI strategy and their emphasis on popular platforms like TikTok for influencer marketing showcases their finger-on-the-pulse approach. With a plethora of case studies, potential clients can witness the transformative impact Disruptive has had across various sectors, from eCommerce to non-profits.
Setting Disruptive apart is their proactive initiative to provide potential clients with actionable insights, even before any formal engagement. Their offering of a free audit not only speaks to their confidence in their expertise but also reflects their client-centric approach. Additionally, their promise of staying updated with rapid social media evolutions means that clients are always a step ahead. Whether it's Facebook & Instagram Ads, TikTok marketing strategies, or LinkedIn Ads for B2B approaches, Disruptive ensures a holistic, updated, and optimized presence for every brand they partner with.
---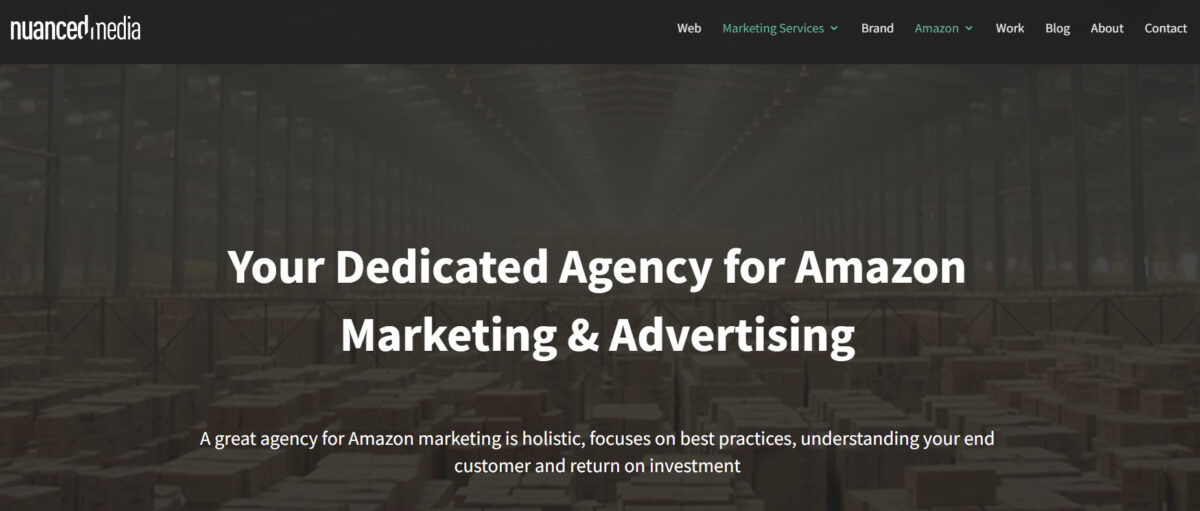 Renowned as the premier marketing agency for Amazon and eCommerce brands, Nuanced Media confidently stands at the forefront of the digital marketing domain. Specializing in Amazon, they harness this colossal platform's potential for their clientele. Beyond Amazon, Nuanced Media delves into comprehensive eCommerce strategies, encompassing influencer outreach, SEO, email marketing, and PPC. Their multifaceted approach also includes optimizing traditional distribution channels, aiding brands to maximize their impact across various platforms, including Etsy, eBay, Walmart, and Target.
This agency's offerings are vast, yet meticulously tailored. From keyword research, brand registry support, and A+ content development to PPC management, product launches, and storefront design for Amazon, Nuanced Media's bespoke services are designed to amplify brand visibility and sales. They extend their expertise into influencer marketing, affiliate marketing, social media promotions and optimizations, and website design, ensuring that brands capture audiences across all digital touchpoints. Moreover, with exclusive media buying exchanges such as Amazon DSP and advanced analytics reporting, brands receive holistic insights and competitive advantages.
Partnering with Nuanced Media translates to onboarding a team that markets and educates, strategizes, and grows with brands. Their U.S.-based team, with global reach, includes strategists, marketers, designers, developers, and innovators – each honed in eCommerce intricacies. Brands collaborate with experts dedicated to ensuring their digital footprint is not just expansive but profoundly impactful.
---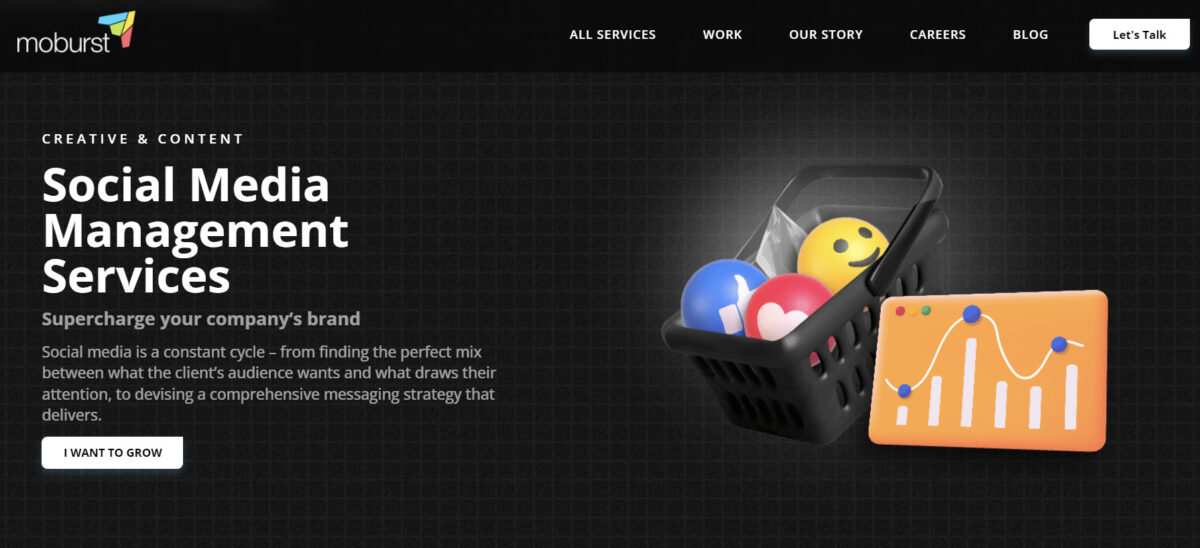 Moburst elevates brands in the digital sphere by mastering the intricate dance of organic and paid social media. With an unwavering commitment to achieving astronomical growth for companies, Moburst offers an all-encompassing package that covers every facet of social media optimization (SMO). From meticulous research to pinpoint the most relevant channels for a campaign to creating tailored content strategies and ensuring their flawless execution, the agency's approach is both comprehensive and adaptable.
Their expertise encompasses a wide variety of content types, including posts, videos, geo-specific targeted posts, infographics, carousels, reels, IGTV, native TikTok videos, influencer content, YouTube Shorts, and more. Additionally, their content strategy is methodical, involving market research, audience analysis, setting growth KPIs, creating visually captivating designs, maximizing platform-specific engagement features, and consistently analyzing audience insights.
At the heart of Moburst's operation is a performance-driven mindset. The agency's regular investigation into optimal posting times, frequency, and content type ensures they continually refine their approach. Through their diligent monitoring and analysis, they identify high-performing content and magnify its impact. This relentless pursuit of improvement is further evidenced in their results-driven process: researching, strategizing, executing, and reporting, ensuring continuous growth month after month.
---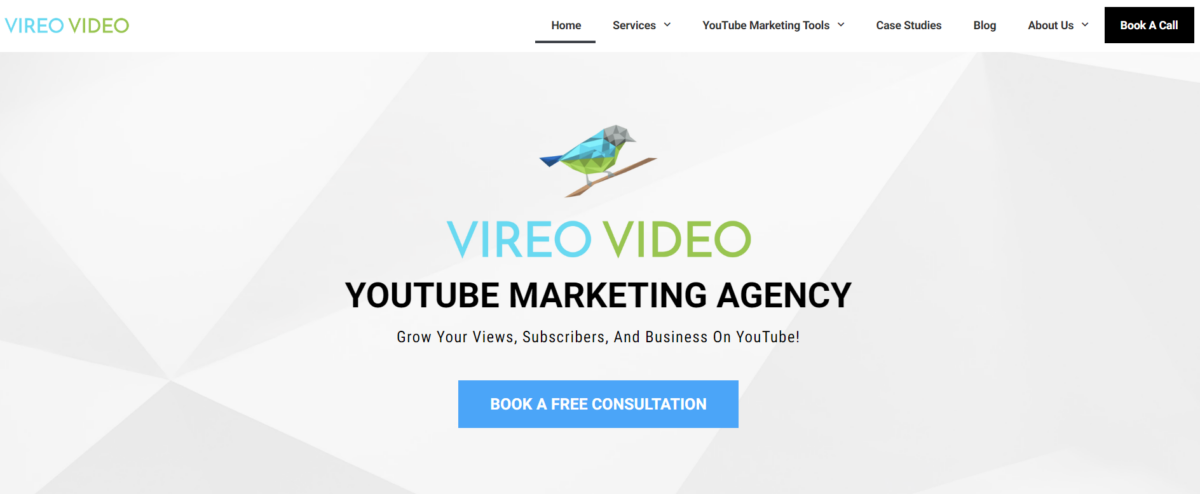 Vireo Video stands distinctively as a premier YouTube Marketing Agency, boasting an impressive repertoire of certifications as a YouTube Certified and Google Partner agency. With their specialization centred around YouTube marketing and advertisements, they provide an array of tailored services designed to augment business revenue, brand visibility, and return on investment. Their approach to YouTube optimization encapsulates comprehensive video and channel optimization (SMO), data-driven advertising strategies, and bespoke YouTube growth strategies that involve audits, research, and individualized tactics to suit specific business objectives.
Numerous businesses have witnessed transformative growth under Vireo Video's expert guidance. Testimonials from satisfied clients highlight achievements such as the amplification of channel subscribers by hundreds of thousands, exponential growth in views, and even a staggering 490% surge in YouTube revenue within a year. Such success stories emphasize the agency's dedication to implementing astute strategies from thumbnail aesthetics to video SEO optimization, all catered to maximize channel growth and client ROI.
Located in Vancouver, Vireo Video's team is experts at crafting and executing triumphant YouTube marketing campaigns from inception to completion.
---

NinjaPromo specializes in developing bespoke Social Media Marketing (SMM) strategies that truly resonate with target audiences, ensuring brands are not just visible but actively engaged in meaningful dialogues. With services ranging from platform selection to influencer marketing, the agency adeptly navigates the digital ecosystem, which has evolved beyond traditional one-way marketing channels. At its core, NinjaPromo believes in fostering authentic relationships with audiences, moving beyond mere likes and shares, to building genuine connections through strategic storytelling, community building, and content creation.
NinjaPromo is a results-driven agency, underpinned by a robust data-centric approach. Recognizing that the digital landscape is in perpetual flux, the agency employs cutting-edge social media tools and technologies, paired with the expertise of seasoned social media professionals, to tailor solutions to achieve tangible outcomes. Their four-phase approach—Discovery, Strategy, Execution, and Measurement—ensures that campaigns are not only innovative but effective, aligning with clients' desired outcomes, be it brand awareness, website traffic surge, or sales increments.
Supporting their prowess in SMO, NinjaPromo boasts impressive statistics: the backing of top ventures, 300+ satisfied customers, over 90k social posts published, and a staggering $380M+ generated in client revenue. Their credibility is further reinforced by their global presence, spanning New York to Singapore, and industry acknowledgments, such as being listed amongst the top social media agencies in multiple regions for 2023.
---

Socinova emerges as a forerunner in the realm of Social Media Optimization (SMO), offering services that extend far beyond the simplistic notion of brand promotion. Underpinning their approach is the profound understanding that SMO isn't confined to mere marketing or brand building. It's about intensively harnessing the dynamic channels of social media to project a brand, product, or event in its finest light. With a primary objective of showcasing brands positively on the internet, Socinova employs techniques such as bookmarking, social news, and the targeted use of platforms like Twitter, Facebook, YouTube, and RSS feeds.
By doing so, the optimize the content of a website across various social media platforms and ingeniously manage online reputation, ensuring negative feedback is overshadowed by a deluge of positive engagement. But what distinctly sets Socinova apart from its contemporaries is the array of accolades and achievements validating their expertise. With dozens of awards and certifications, the agency has judiciously managed over $100,000 in paid ad budgets for clients, leading to an enviable 15-40% average growth in engagement. Their 100+ glowing online client reviews underscore their commitment to excellence. Socinova's comprehensive services, tailored to the unique requirements of each business, encompass search engine optimization, social media, and online marketing.
For businesses aiming for a positive and robust online presence, Socinova's experienced team promises not just results but success stories. Their knowledge management strategy includes pivotal areas like employee engagement, customer satisfaction, product development, and business development. Backed by over five years of experience and having served over a thousand businesses across diverse industries, Socinova assures not only efficient, cost-effective, and time-bound services but also the safety and integrity of their client's digital domain.
---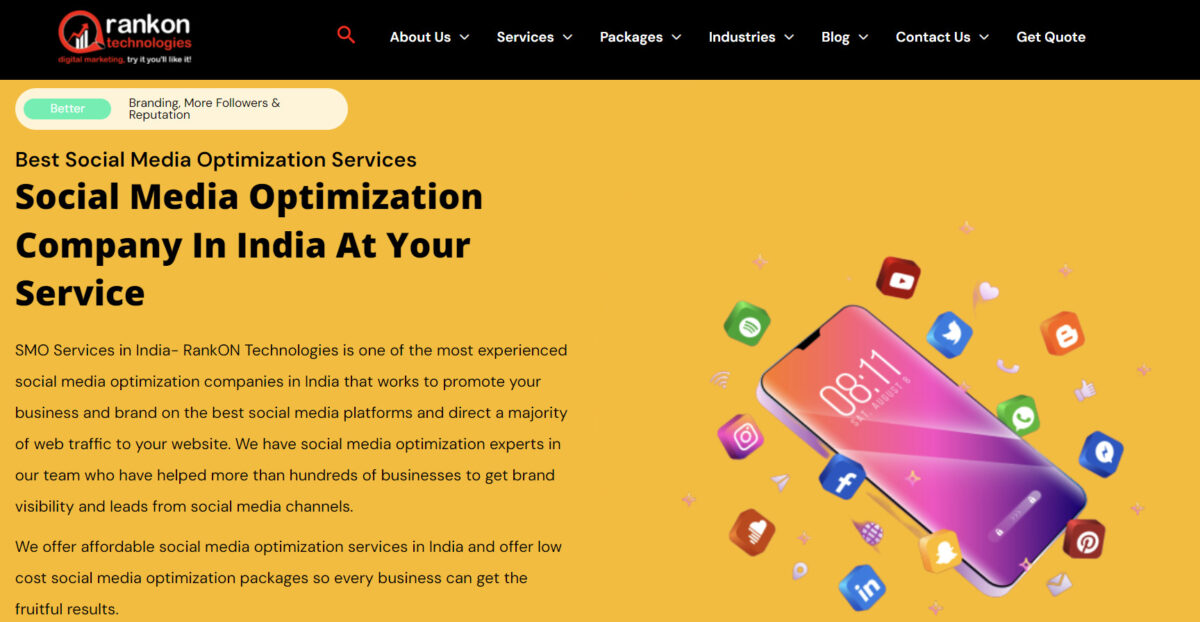 In the expansive arena of Social Media Optimization (SMO), Rankon Technologies shines as a paragon of proficiency and innovation. Based in India, this agency demonstrates an acute understanding of how pivotal online presence and branding are in today's digital epoch. Rankon Technologies doesn't merely ensure brand promotion; it channels the power of social media platforms to direct a lion's share of web traffic towards a client's website. With a repertoire of having assisted hundreds of businesses in enhancing their brand visibility and lead generation via social media, they have cemented their reputation as a trusted SMO partner.
The approach Rankon Technologies adopts is nuanced and customized, cognizant of the fact that each business has its distinct identity and objectives. At its core, the agency endeavors to build trust online for its clients, accentuating their brand's presence and credibility. Their comprehensive SMO services range from enhancing visibility on Facebook, Instagram, Twitter, LinkedIn, Pinterest, YouTube, Tumblr, and Snapchat. The diverse offerings aren't just limited to increasing followers or creating engaging content; it's about ensuring a robust online reputation and facilitating active communication with followers, thereby boosting brand loyalty and revenues from social channels. Rankon further stands out with its meticulous competitor analysis and strategy development, promising results-oriented actions without unnecessary experimentation.
What substantiates Rankon Technologies' claims of excellence are the words of appreciation and success stories shared by their myriad clients. Their consistent delivery of results, combined with a team of skilled professionals adept in graphic designing, content creation, and using advanced SMO tips cements them at the very top.
---

Radiansys boasts a comprehensive suite of social media optimization (SMO) services designed to empower businesses with a magnetic social media footprint. As the digital landscape evolves, a robust social media presence becomes imperative, and Radiansys has perfected the art of engagement, ensuring businesses resonate with their target audience. The initial stage involves a meticulous analysis of the client's current social media standing, pinpointing areas poised for improvement and growth. This groundwork paves the way for the creation of a tailored SMO strategy encompassing content, budget allocation, target audience insights, and reporting metrics for both organic and paid social campaigns.
Execution is at the heart of any strategy's success. Radiansys's adept marketing managers are equipped to either support or entirely manage the strategic execution, ensuring every facet from campaign optimization to analytical reporting is addressed. The agency's prowess extends beyond strategy; they excel in content production for a diverse range of social media platforms, including Facebook, Twitter, LinkedIn, Snapchat, Pinterest, Google+, YouTube, and more. This ensures clients benefit from versatile content, be it posts for social media marketing or tailored advertisements.
Post-project, Radiansys's commitment to their clients remains unwavering. They offer continuous SMO support, encompassing tasks such as social network monitoring, community management, and routinely updating strategies to mirror the latest industry insights and techniques. For businesses seeking an edge in the social media realm, Radiansys offers a holistic solution tailored to modern needs.
---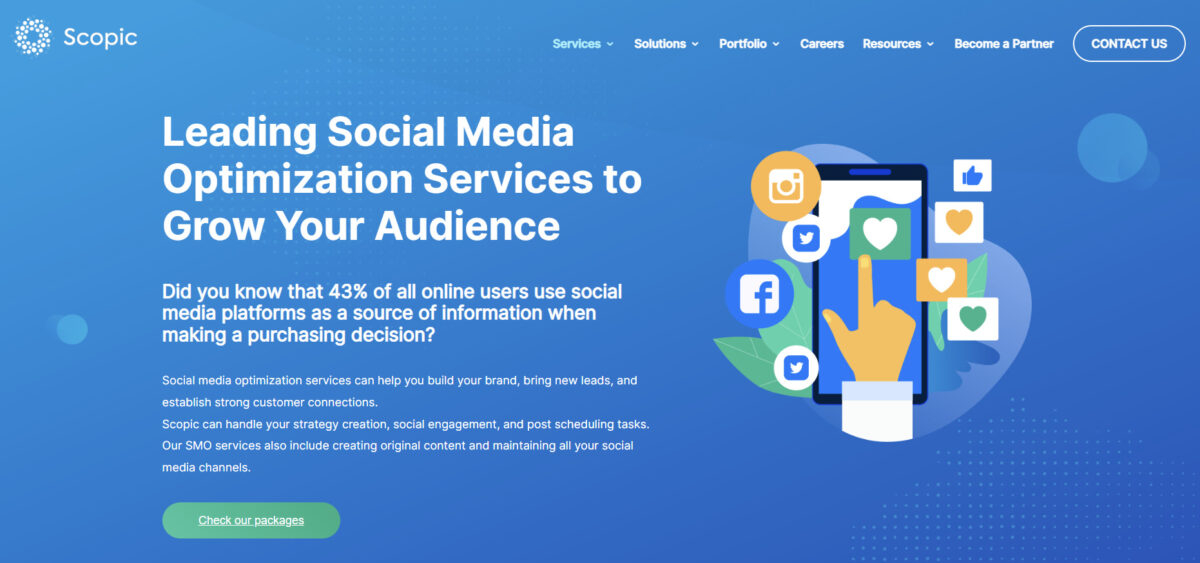 With the digital domain witnessing billions of users engrossed in various social media platforms, the potential for businesses to tap into this vast reservoir is evident. Scopic stands out as a powerhouse in social media optimization (SMO) services, committed to ensuring businesses harness the full might of social media.
The agency's offerings commence with a rigorous evaluation of a client's existing social media stance. Following this is the formulation of a strategic SMO blueprint that encapsulates content development, budgetary considerations, audience pinpointing, and metrics for both organic and sponsored social interactions. These strategies are not merely theoretical; Scopic takes charge of the full lifecycle, from ideation to strategy execution, covering pivotal arenas like content creation, audience engagement, and regular post scheduling across myriad platforms.
To decipher the best SMO strategies in the ever-evolving social media landscape can be daunting. Scopic, with its stellar reputation as a digital marketing leader, demystifies this challenge. The agency meticulously crafts high-caliber content tailored for the diverse spectrum of social platforms, from Facebook and Twitter to YouTube and Pinterest, ensuring that businesses resonate with their target audiences. Beyond just strategy and content, Scopic offers an array of services that extend to crucial daily tasks like performance metrics monitoring and adhering to a consistent posting calendar, ensuring that businesses always stay ahead in the social media game.
---

Emphasizing a tailored approach, LSEO underscores the transformative power of effective social media engagement. Recognizing the challenges businesses face in managing their social media channels while juggling their core operations, LSEO offers a solution designed for comprehensive online brand enhancement. They understand the multifaceted world of social networks such as Facebook, Twitter, Instagram, Pinterest, and LinkedIn and how these platforms can dramatically reshape the way businesses connect with potential customers. With billions of users globally, these platforms present near-limitless opportunities for brand exposure, which LSEO masterfully harnesses.
Delving into the mechanics of their strategy, three pivotal components emerge: Audience Growth, Content Marketing, and Engagement. LSEO's prowess lies in their ability to strategically grow a brand's audience across major social networks. But it isn't just about numbers. Their emphasis on value-added content ensures that audience growth is accompanied by meaningful interactions. The content is designed to educate, inform, and entertain, fostering an environment where audiences engage naturally. Furthermore, to enhance reach, LSEO promotes optimal content-sharing frequencies and leverages robust advertising methods, ensuring a message's widespread dissemination and engagement.
They seamlessly manage the intricate dance of social media optimization, allowing businesses to concentrate on their core offerings. Their SMO services go beyond mere presence, driving brand awareness, social visibility, and conversions. In a digital space where attention spans are fleeting, LSEO's strategic approach ensures businesse sustain the attention of their target audience, paving the way for lasting digital success.
---
How a Social Media Optimization Agency Elevates Business Presence
Firstly, social media agencies are equipped with expertise. While anyone can create a social media profile, building and maintaining a consistent, engaging, and brand-focused online presence requires skill. These agencies understand platform algorithms, and they know how to create content that not only garners likes but also drives engagement and sales.
Secondly, time is a precious resource, and maintaining an active social media presence is time-consuming. An agency handles everything from content creation to user engagement, freeing business owners to focus on what they do best—running their business.
Lastly, with their fingers constantly on the pulse of the digital world, these agencies are quick to adapt to trends. This means they can leverage popular movements, hashtags, or events to position your business at the forefront, ensuring you're always relevant in the fast-paced digital world.
---
Selecting the Ideal Social Media Optimization Agency for Your Needs
When it comes to choosing a social media agency, the stakes are high. A well-matched partnership can elevate your brand, while a mismatch can lead to wasted resources and lost opportunities. So, how does one navigate this selection process?
First, begin by defining your goals. Are you looking for brand awareness, increased sales, or customer engagement? Once you're clear on your objectives, search for agencies that specialize in achieving them.
Next, consider their track record. An agency's previous campaigns can give you insights into their creativity, effectiveness, and alignment with your brand's voice and values.
Lastly, communication is key. The best agencies prioritize client communication, ensuring they're always aligned with your vision and open to feedback. A transparent and open dialogue will be essential in achieving success.
---
Conclusion
As this comprehensive analysis of the top 10 Social Media Optimization (SMO) agencies reveals, there's a diverse array of expertise available to brands aiming to solidify their online presence. From leveraging the expansive reach of platforms like Facebook and YouTube to devising bespoke strategies that resonate with target audiences, these agencies have showcased their prowess in the SMO domain.
As consumers increasingly turn to social platforms to connect with brands, partnering with the right SMO agency can provide the competitive edge businesses need. Such collaborations not only enhance visibility but foster meaningful engagements, leading to lasting digital success.
Frequently Asked Questions
How Many Types of SMO Strategies Are There?
SMO isn't categorized into strict "types," but it involves multiple tactics. Key strategies include content creation, profile optimization, strategic hashtag use, and building social communities. Essentially, SMO is all about enhancing content visibility and engagement across social platforms.
What is the Difference Between SMO and SMM?
SMO (Social Media Optimization) focuses on optimizing content and profiles to increase visibility and engagement organically. SMM (Social Media Marketing), on the other hand, emphasizes paid advertising and campaigns on social platforms. Both aim to boost online presence, but they use different methods.
Which is Better, SEO or SMO?
Neither SEO (Search Engine Optimization) nor SMO (Social Media Optimization) is universally "better." SEO enhances website visibility on search engines, driving organic traffic. SMO improves social media presence and engagement. Depending on business goals, one may prioritize one over the other. Often, a balanced approach is recommended.