Threads by Meta is the latest social media app to appear and attempt to build an audience. And at the rate it collected users in its first week, it certainly made itself known, even though it's lost much of that audience since. Of course, being "by Meta" helped it attract attention. Technically it's part of market social heavyweight Instagram, and Meta made it easy to download the Threads app and log in using your Instagram credentials.
Perhaps Threads' greatest claim (apart from those astounding early download numbers) is its similarity to X (the social network previously known as Twitter). Threads does look very much like Twitter (although arguably with graphical enhancements, like carousels and longer videos), but at the moment it would be more accurate to call it Twitter Lite. For example, search is extremely basic, and there is no allowance for hashtags, yet, a feature much loved by users of both Twitter and Instagram.
We do not doubt that Threads will improve its features over time, however. Its development team is releasing regular updates, and those who abandoned the app after a week or two would probably already discover a noticeable improvement in its capabilities.
Threads is still in its early days, still a comparative infant in terms of social media apps. But that hasn't stopped us from finding an interesting collection of Threads App stats to have marketers thinking before they plan a strategy to master the platform.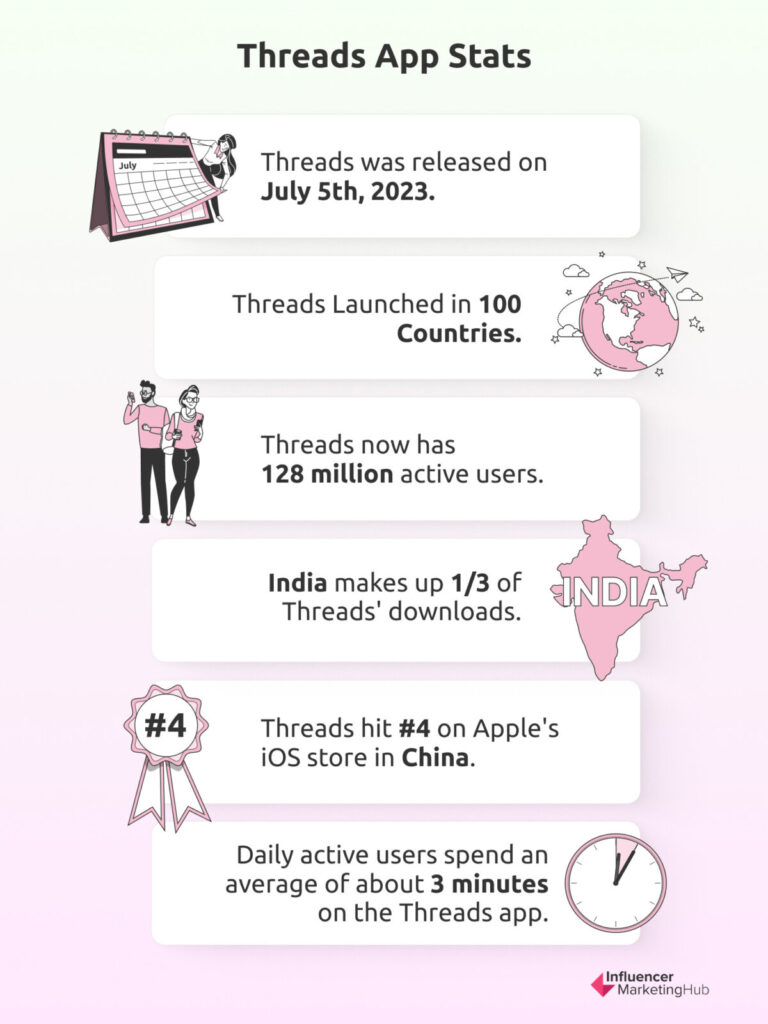 ---
Top Threads App Stats to Have Marketers Thinking in 2023:
---
1. Threads was Released on Wednesday 5th July 2023
Threads was actually released a day before its scheduled release. It may have been made public at a time of year when many potential users were on holiday, but that didn't stop them from downloading it in record numbers.
Its release was good for Meta's shareholders. On launch day, Meta experienced an increase in share price, closing at its highest point since the start of 2022 with a price of $294.37 and a trading volume more than three times higher than on July 3rd.
---
2. Threads Launched in 100 Countries – None of Which Are in the European Union
Although a stand-alone app, Meta considers Threads part of Instagram. This provided a huge base of potential users. Therefore, it isn't surprising that Meta chose to make Threads available to as many people as possible from Day One.
Meta struck a problem when trying to release the app in the European Union, however. According to Head of Instagram, Adam Mosseri, this omission is due to "the complexities with complying with some of the laws coming into effect next year." The main law is Europe's Digital Markets Act, which will impose new legal obligations on 'gatekeeper' platforms like Meta.
---
3. Threads Attracted 30 Million Users in Less Than a Day
Mark Zuckerberg posted on 6th July 2023 (in Threads of course) that the app had reached 30 million sign-ups by that morning (18 hours after the app's release). Although it has met some resistance since Threads certainly made a powerful start.
Post by @zuck

View on Threads
---
4. There Were 100 Million Threads Users Within a Week
Threads started quickly and continued to grow in popularity – at least in its first week. By the 8th of July, Mark Zuckerburg was boasting 70 million sign ups for his newest baby.
Post by @zuck

View on Threads
By the end of that first week, Threads had exceeded 100 million users, breaking a record previously held by the generative AI app, ChatGPT. In comparison, TikTok, the social darling of the last few years, took nine months to reach 100 million users, and "big brother" Instagram took two and a half years to reach that milestone.
Threads' rapid uptake was probably helped by the ease with which Instagram's 1.6 billion users could opt to download it.
---
5. Threads Reached 150 Million Users Within Two Weeks
Threads continued to grow in popularity over its second week and reached 150 million downloads within its second week in the app stores. By that point, it exceeded one-quarter of Twitter's users.
According to Data.ai, Threads reached this milestone 5.5 times more quickly than the second-fasted app to do so (Niantic's Pokémon GO).
---
6. Threads currently Has 128 Million Active Users
Meta stopped disclosing user count numbers on July 11, 2023, however, Quiver Quantitative calculates user numbers using an approximation method based on a sampling of follower counts. They found that Threads has 128 million active users as of early September 2023.
---
7. Threads Had More Users Than Donald Trump's Truth Social by its Second Week
An early milestone for Threads' success was when it overtook Donald Trump's Truth Social in terms of downloads during its second week.
---
8. India Accounts For 1/3 of Threads' Downloads
According to Data.ai, Threads has had the most downloads in India, which has a 33% share of Threads' downloads. It has also been particularly popular in Brazil (22% of downloads), the United States (16%), Mexico (8%), and Japan (5%). As with all Meta apps, Threads is not legally available in China, although that hasn't stopped people from using the app.
---
9. Threads Reached #4 in China on Apple's iOS store Despite Being Illegal There
South China Morning Post reported that Threads topped China's iOS app charts in the app's early days, despite Western social media apps like Instagram and Facebook being banned in the country by its "Great Firewall", which regulates the domestic internet.
It was the fourth most popular app downloaded in China on Wednesday 5th July, although it had fallen to just outside the Top 50 apps by the following Friday.
---
10. Threads Briefly held the Top Spot in Both the Apple App Store and Google Play
Unsurprisingly, considering the initial uptake of Threads, the app held the top position in both major app stores for a while. However, by July 10, 2023, another highflyer, Remini, had overtaken its holding of the No. 1 position on the U.S. Apple App Store.
At the time of writing, the online shopping app, Temu, currently holds the top position in both stores in the US, with Threads in 5th place in the iOS store, and eighth on Google Play. Notably, parent app, Instagram, has jumped two places above it on Google Play to #6 but is much lower in the Apple App Store (#14).
---
11. Threads App Usage Fell 85% After a Month
After reporting the quick rise in Threads' interest, we would be remiss not to refer to what happened when Threads' honeymoon period was over. According to Similarweb, time spent with the app fell 85% from the initial buzz of the launch.
The Threads' Android app peaked at 49.3 million daily active users worldwide on July 7, but by August 7, the app was down to 10.3 million daily active users. In the United States, peak usage for Threads was 2.3 million daily active users on July 7, compared with about 576,000 as of August 7.
---
12. The Average Amount of Time Daily Active Users Spend with the Threads app is About 3 Minutes
Similarweb also reports that the average amount of time daily active users spent with the app started at about 14 minutes, worldwide, although significantly higher in the US at nearly 21 minutes. However, a month later (Aug 7) both figures had dropped to nearer 3 minutes.
In comparison, X users typically spend 25 minutes a day on their app.
Clearly, Threads needs to keep working on adding features, to give its users a reason to spend time in the app.
---
13. Threads Was Mobile-Only for 8 Weeks Before Introducing a Web Version
Perhaps imitating parent app Instagram's inherently mobile nature, Threads was launched in early July 2023 as mobile only. It had a website (threads.net NOT Threads.com), but it told you that you had to download an app for Android or iOS to use the platform. For approximately eight weeks, Threads was a totally mobile experience.
However, on August 22, Mark Zuckerberg announced that they were rolling out a web experience for Threads over the coming days. You could now post a Thread, view your feed, and interact with other people's Threads while using your computer.
---
14. So Far, The Web Version Hasn't Increased Overall Threads Users
It's still very early days for Threads' web version (it had only been operational for just over a week at the time of writing), but Similarweb suggests that it might be cannibalizing Threads' mobile users. In its first week (as an active platform) traffic to the threads.net website grew by just 3% globally (20% in the USA, 23% in the UK) compared to when the site simply showed a QR code and asked you to download the mobile app.
In the United States, unique visitors to the website rose by more than 133,000, or 13%, over that first week. But daily active users of the Threads Android app dropped by nearly the same amount to balance this (Similarweb didn't yet have access to Apple data for the same period).
---
15. You Can Use 500 Characters (As Well as Multimedia) in a Threads Post or Comment. Videos Can be up to 5 Minutes in Length
Threads posts can be up to 500 characters long and include links, photos, and videos up to 5 minutes in length. Although a Threads feed looks very much like an X (Twitter) one, posts can be nearly twice as long as X's 280 characters. You can include up to 10 images in a post, placing them in a carousel if you wish.
---
16. Mark Zuckerberg has 3.4 Million Followers on Threads
I suppose it was inevitable that many Threads' users chose to follow its greatest champion, Mark Zuckerberg. In early September 2023, he had 3.4 million followers on Threads (compared to 12.5 million on Instagram).
---
17. This is the 2nd Time That Instagram has Launched an App Called Threads
If you're having a case of déjà vu over the release of Threads, then don't worry. You're not going mad. Instagram launched an app called Threads back in 2019. It was a camera-first messaging app to help you stay connected to your close friends. Threads was a standalone app that you could use to share photos, videos, messages, Stories, and more with your Instagram close friends list.
Obviously, it wasn't a great success, disappearing two years later, however, after four years a new Threads was born, with a similar, yet different, premise.
---
18. Neymar Jr. has the Most Popular Threads Account
It's still early days for Threads, but at the time of writing, the most popular account on Threads (apart from Instagram's own account) belongs to Brazilian footballer and businessman Neymar Jr, with 9.0 million followers.
This may have already altered by the time you read this post, however, with the top positions changing almost daily. Other high-profile accounts to have topped Threads for a while, by follower numbers, include Selena Gomez (currently 8.5 million followers), and MrBeast (5.4 million).
Many celebrities have been slow in transitioning over to Threads, but when they do open an account, their fan base seems to come with them.
The Kardashian/Jenner family seem to have decided to hedge their bets. For a while, Kim Kardashian was the most popular Threads account (currently 6.3 million followers), yet she has yet to create a post for a thread, make a reply, or even repost on the platform. Her sister, Kylie Jenner, has 7.2 million followers and likewise has no activity of any type on Threads to date. Mum, Kris Jenner, may "only" have 1.7 million Threads followers, but at least operates an active account, as does Kourtney Kardashian (3 million followers).
---
Wrapping Things Up
With the new app only being a couple of months old at the time of writing, there are only limited Thread stats as yet, with most of them relating to Thread's sensational first week. However, while interest has fallen somewhat as Threads' users found limitations, Meta is working hard to improve the app. If Meta can continue to add features, taking the best ideas from Twitter and adding in Instagram's strengths, then Threads has the potential to improve these stats and become much more than Twitter Lite.