Meta has been the master of taking competing social apps and adding a version containing the essential features to their products over the years. How many people remember that Meta (still known as Facebook Inc. back then) introduced Instagram Stories with their 24-hour lifespan to take on Snapchat? More recently Meta added Reels to Instagram, as their answer to TikTok's short videos.
Meta's latest product is Threads, a stand-alone app that runs alongside Instagram, although the two have many interconnections. Threads replicates many of the features that made Twitter a household name (before Elon Musk decided that "X" sounded better). Predominantly text-based threads, micro-blogs, and conversations may not seem to be particularly compatible with image-heavy Instagram. However, Meta clearly disagrees, and judging by the speed at which people added the Threads app to their phones, Meta may have a point.
In this guide to Threads, we take a close look at Meta's newest baby and examine what the app does, and how to make it work for your lifestyle.
---
A Guide to Threads: How to Use Instagram's Version of Twitter:
---
What is Threads?
Threads is Meta's new micro-blogging social network. Technically, it is a feature of Instagram, rather than a completely separate social network, but it comes as a stand-alone "Instagram app."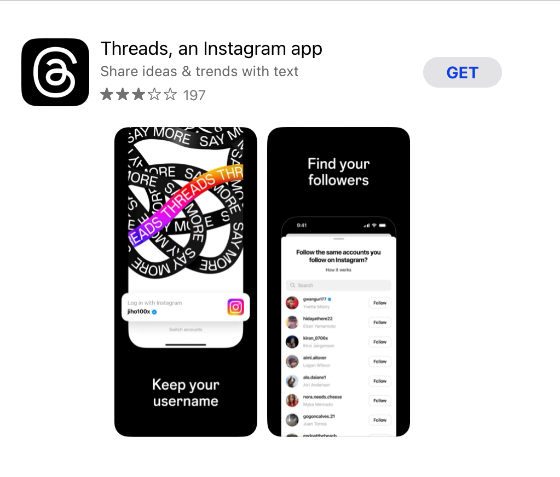 ---
What Does Threads Do?
Much like X/Twitter, you can post messages, and others can reply in a "thread". You can post longer messages on Threads, however, as it has set a 500-character length, compared to X's 280-character limit.
If you don't already use X (and haven't tweeted in the past), then you might think that this sounds a lot like Messenger or WhatsApp (but with restrictions on how much you can write), but it is really very different. For a start, micro-blogging conversations don't tend to be private conversations. As with full-scale blogging, you are writing for the world to see. Also, both Threads and X allow you to include photos, videos up to five minutes long, and web links in your messages. In that sense, Threads incorporates much of the best of Instagram (its parent app) and TikTok (although Instagram has Reels to more closely match this), as well as X.
---
What's the Difference Between Threads and X (Twitter)?
As we've stressed above, Meta developed Threads to bring the best of (the then) Twitter to Instagram. Both apps serve the same purpose, and Meta hopes that existing Instagram and Facebook users will opt for Threads and stay in the same ecosystem. And of course, Threads doesn't have Elon Musk changing things for everyday users at regular intervals, unlike its more established rival.
While Threads' development probably started before Elon Musk purchased Twitter, Meta undoubtedly spurred on its new app to take advantage of dissatisfaction felt by aggrieved Twitter users.
The demographics of X/Twitter and Instagram are relatively similar. Instagram's largest age group is 18-24-year-olds (30.8%), and the gender split is 48.2% female, and 51.8% male. The platform boasts a slightly larger percentage of Gen Z users versus Millennials. X's largest age group is 18-29-year-olds (42%), and the gender split is 34.1% female, 61.29% male. One-third of X users are college-educated and make more than $75K annually, emphasizing that the platform has a highly educated and high-earning base (although these stats reflect before the recent ructions, and it is not yet known whether the new X audience will differ from the previous Twitter audience.
A core difference between Threads and X (Twitter) is Threads' 500-character post limit, much more generous than the 280 permitted on X. If you exceed 500 characters in your post or reply, however, the additional text becomes red, and the Post button becomes inactive. As with X, however, this limit only applies to text in your message. You can still click on the Paper Clip icon to add pictures or videos to your post.
---
How to Set Threads Up
To set up Threads, you will need to download a separate Threads app from either Google Play or the Apple App Store. Meta finally made a desktop version available while we were writing this post. At the time of writing, the app only has an average rating of 3.1 in both app stores, indicating that Meta still has some work to do to keep its users happy. In the case of the Apple App Store, there are almost as many one-star ratings as there are five-star (with relatively few two, three, or four-star ratings.) Threads clearly polarizes its users.
You won't yet find the app if you live in Europe because of the EU Digital Markets Act (DMA). It apparently will still take Meta many months to meet all the requirements of that act.
You download Threads like any other app on your phone or tablet. It doesn't yet have a separate tablet version, although tablet users can download the phone version. When you open the app, it asks you to log in with your Instagram account.
Threads then takes you to your profile, taking your name (and @account name) from your Instagram account. It asks you to add an image representing yourself, write a bio, and add a link, although it gives you the chance to import your details from Instagram. You can also opt to skip this customization until later if you choose.
It also asks you to select a privacy option – one of:
Public Profile – Anyone on or off Threads can see, share, and interact with your content.

Private Profile – Only your approved followers can see and interact with your content.
Threads then asks you whether you want to follow the same accounts as you do on Instagram. You can either select each account one by one or opt to Follow All. You can add accounts to follow later, of course, and they don't have to be the same as your Instagram follows.
Finally, in the setting up phase, you are shown a screen that explains How Threads Works.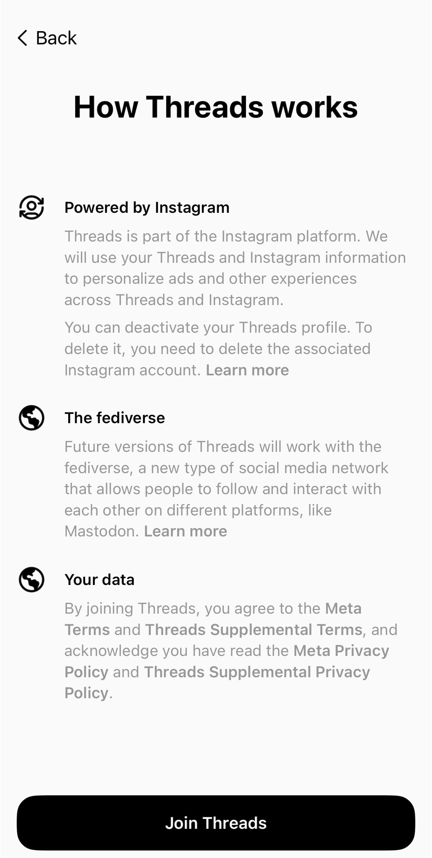 Perhaps the most interesting part of this statement is the mention that future versions of Threads will work with the fediverse – clearly, this is an insight into Meta's plans for the near future.
At this point, Threads is ready to go. It comes up with a "thread", i.e., a feed of posts that Threads believes will interest you, much as X does. As you would expect from an app connected to Instagram, virtually all the posts in the thread include an image or video.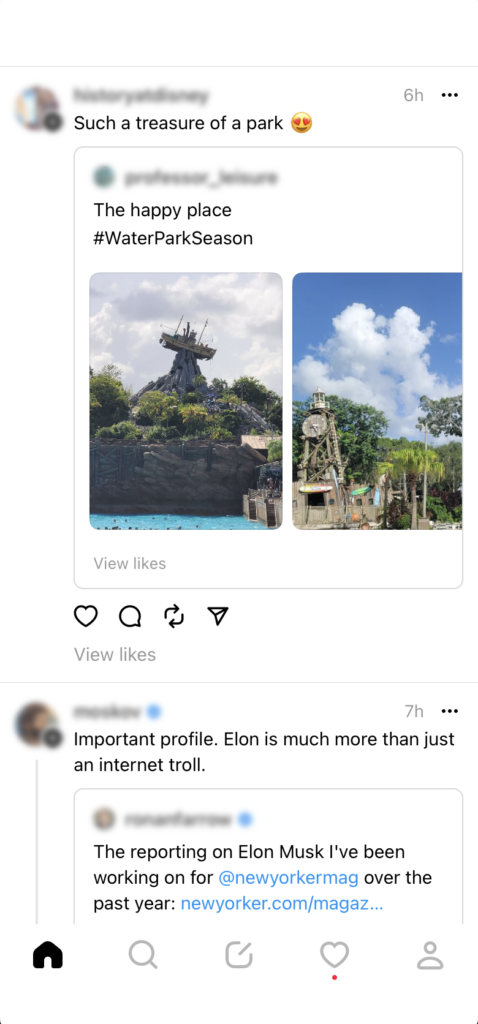 If you have a verified Instagram account, the verification will automatically carry over to Threads too.
---
The Threads Menu
You will find a graphical menu bar at the bottom of (mobile) Threads with five tabs.
The left-most tab is your Home screen, showing your Threads feed. You will notice its similarity to the X (Twitter) feed. It contains a series of posts from the accounts you follow intermingled with posts from accounts that Threads feels will interest you.
It may simply reflect Threads' view of my tastes, but in my thread, nearly every post seems to feature an image or video. Also, very few users seem to use their full 500-character quota.
Although not obvious in the mobile app, you can select from two types of threads. You will need to tap on the Threads icon at the top of your page when on the home screen to see the options, however. The default type of thread is headed "For You" and features content (predominantly from strangers) that Threads believes you will like. You can tap on the right-hand tab, Following, to instead view posts from the accounts you follow.
If you are in the "For You" mode, Threads will add new posts to the top of your thread each time you "pull down" the screen.
The second icon in the bottom menu is probably the most obvious – it is the near-universal symbol for search. This takes you to the page where you can search for and follow new Threads accounts.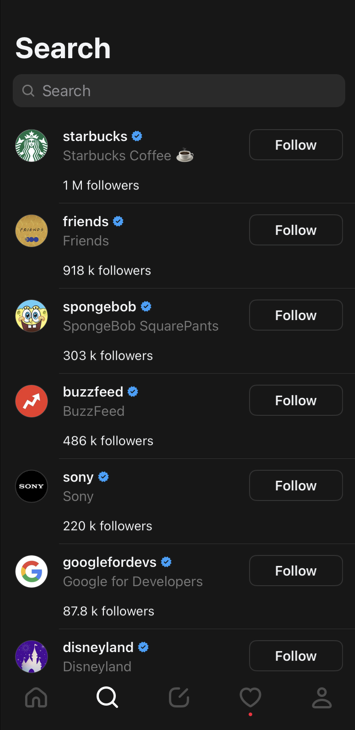 Threads lists a selection of accounts it thinks may interest you, or you could search for a specific account using the search bar at the top of the screen. Unfortunately, that is all the searching you can do in the app. You can't even search for topics by hashtag as yet.
The middle icon at the bottom of the screen is the Post icon. You tap on it whenever you want to create a new post.
The fourth icon at the bottom is a heart. This provides data relating to your social activity on Threads split into Follows, Replies, Mentions, Quotes, Reposts, Verified, or combined as "All".
The last icon across the bottom of your screen (depicting a stylized person) is your Profile tab. This shows your posts, replies, and reposts. It also has buttons enabling you to edit and share your profile. You will find three additional buttons at the top of your profile.
The icon in the upper left corner takes you to your Privacy settings. As you would expect, the icon that looks like the Instagram logo sends you to your Instagram app. The far-right logo (the long and short horizontal lines) takes you to a Settings page.
---
Interacting With Posts on Threads
If that was all there was to Threads, you would feel decidedly underwhelmed. The whole point of Threads, however, is to create "threads" of interaction – in much the same way that people tweet, retweet, and add value to their posts on Twitter (except they don't call it "tweeting" anymore, and there doesn't yet appear to be a new term.)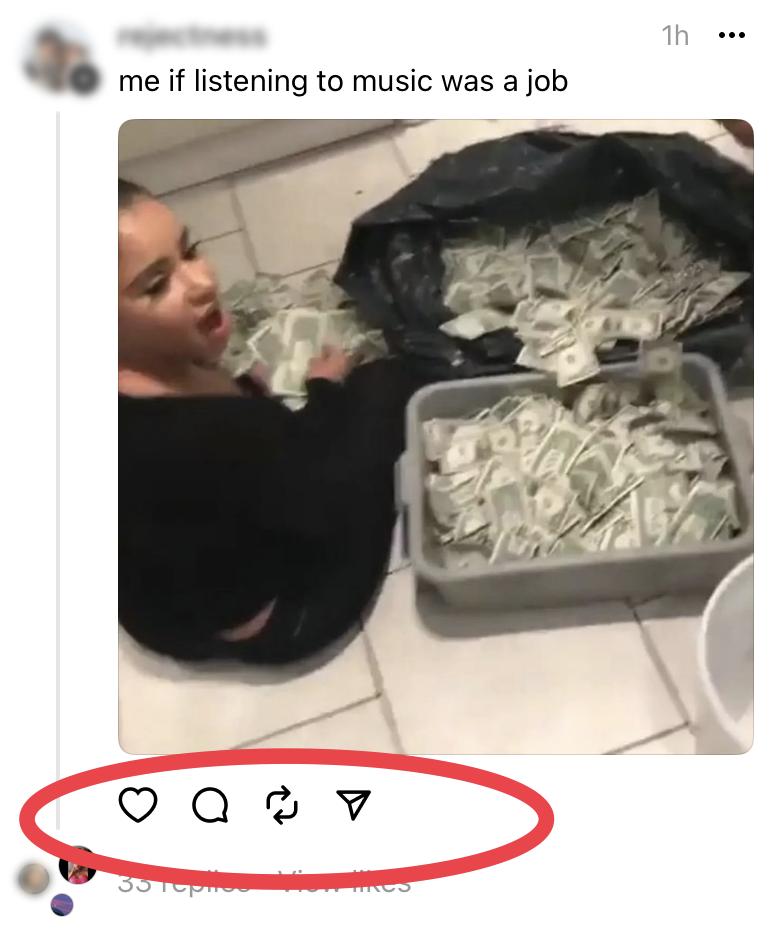 Every post has four "action" icons at the bottom. If you tap on the first icon (the heart) you Like the post (and the heart will turn red). You can reply to the post by clicking on the second icon (the speech bubble). As with a new post, your reply is limited to 500 characters, and you can add media by clicking on the paper clip icon.
The third icon (the double circling arrows) gives you two choices – to repost (Threads equivalent to retweet) or Quote.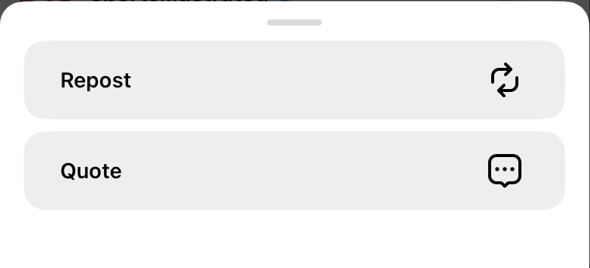 The final icon that appears on each post you view, the paper airplane, allows you to interact outside of Threads – either by sending on Instagram, adding to an Instagram Story, posting to your Instagram feed, or posting to X. You can also copy a link for the post and share via other apps you have on your device.
---
Consider How Much You Value Privacy
The iOS version of Threads includes detailed information about privacy in the Apple App Store.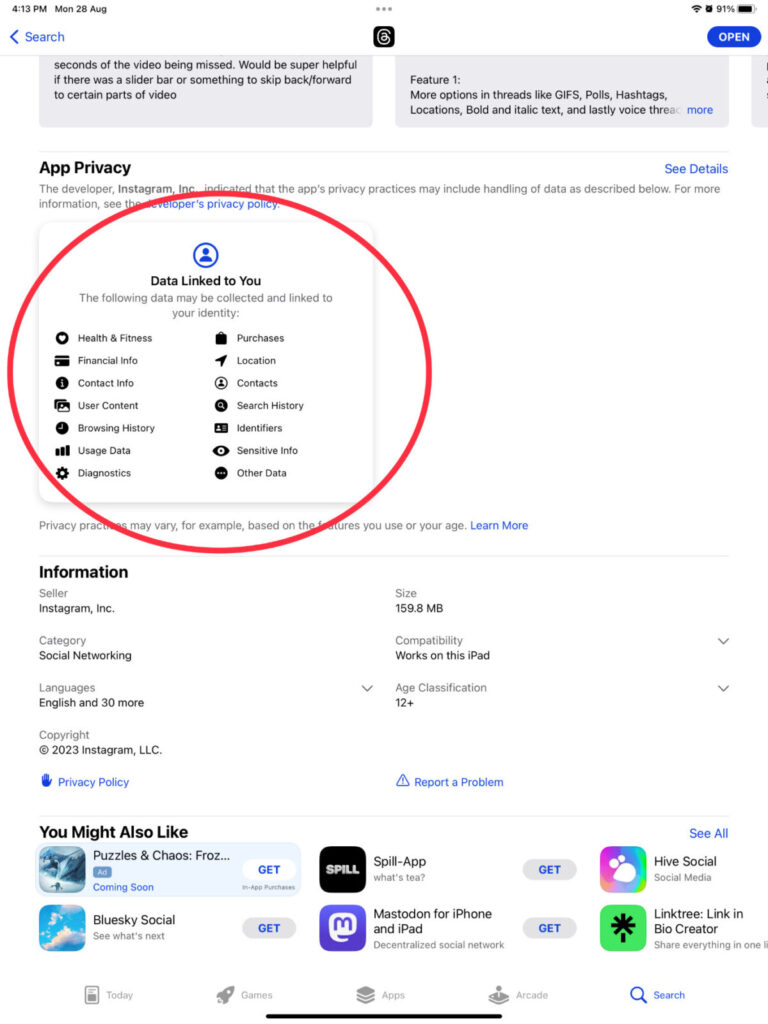 If the above image has you thinking, then wait until you click on "See Details" which displays pages of additional data that you are giving Instagram Inc. (as named in the App Privacy statement) permission to use. However, if you look at the Apple App Store's equivalent page for Instagram, you'll see that you have already permitted the company to take much the same data there.
Kaspersky has observed that much of Threads' (and presumably Instagram's) privacy data list is written by the developers, so is not necessarily accurate. In the case of Threads, it claims access to data in areas that the app doesn't even collect. Kaspersky gives an example, where the list claims access to location data, but Threads itself never asks for permission to access location data. They also observe that X says that it is collecting similar data on its Privacy statement.
---
Using Threads on the Web
Just as we were about to publish this article, Threads released an update that included their first web version of the app. Previously, if you tried to go to Threads from your computer, you saw a screen telling you to download the iOS or Android apps. Now Threads takes you to a log-in screen asking you to log in with Instagram.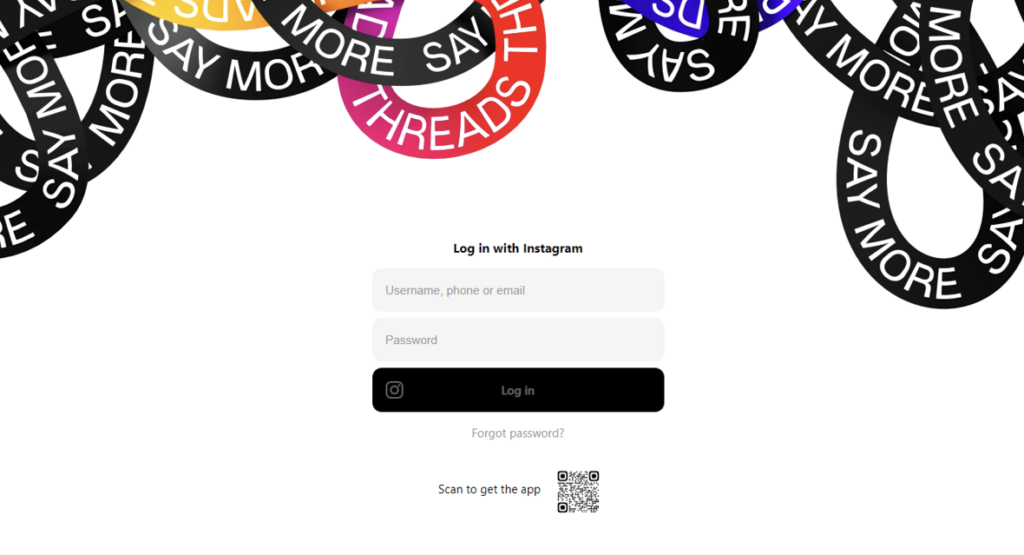 Once you log in, Threads shows you your stream much as in the mobile version (although notably the five main icons are at the top of the page on the desktop).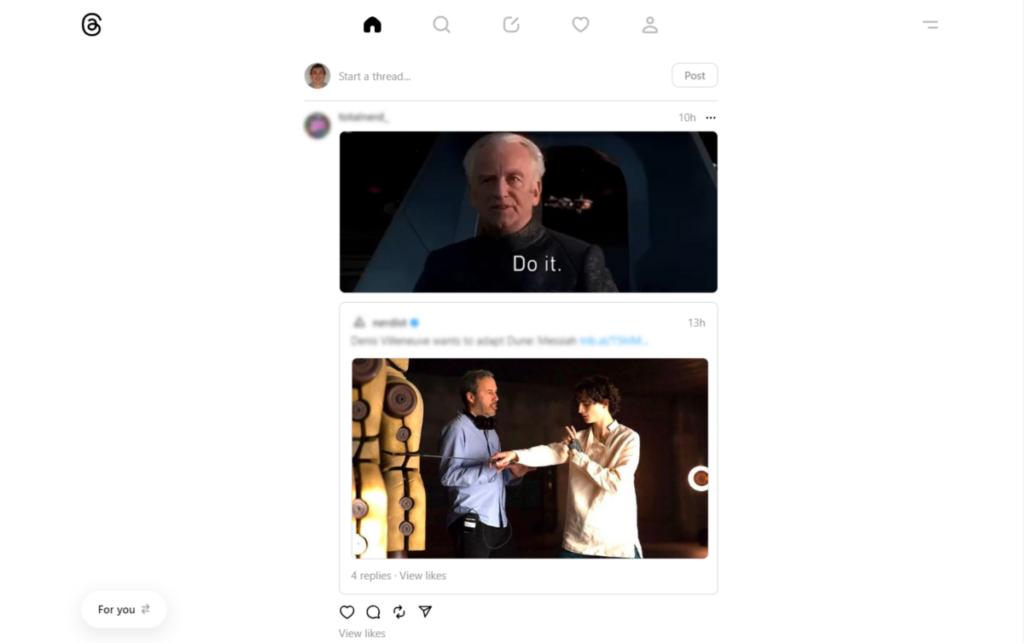 Rather than having separate tabs at the top for For You and Following (which you can see when you pull down the mobile app), the desktop version has a button in the bottom left corner which you can toggle between the two types of feeds.
It also has a menu button (two horizontal lines) in the top right corner, with options for Switch Appearance, About, Report a Problem, and Log Out. Clicking on Switch Appearance switches you between a light and a dark version (presumably depending on your browser settings).
---
Wrapping Things Up
So, is Threads any good? Well, that depends on your expectations for the app. It doesn't yet offer all the functions that Twitter did, but Elon Musk seems determined to remove many of these from current (free) X users, anyhow.
Threads certainly looks good, however. It's taken much of the functionality of X/Twitter and added the image handling you'd expect of an app interconnected with Instagram. Mark Zuckerburg freely admitted that the original release was relatively bare bones, and there have already been several feature-adding upgrades, including the addition of a web version of Threads while we were writing this article.
However, should Meta have released this app before all the key features were developed? Fast Company doesn't appear to believe so. "Mark Zuckerberg only had one job: Make Threads a viable alternative to Twitter from the beginning. It didn't need to be vastly superior. Or even a tiny bit better. It just needed to offer the minimum to give people incentive to finally leave the toxic wasteland of blue-checked trolls ASAP. For once, we were all rooting for Zuckerberg. Instead, we got a lamer Instagram without the photos."
While that judgment is perhaps harsh, particularly as photos and videos do stand out in Threads' feeds, Fast Company does have a point. How could Instagram, which lets you use up to 26 hashtags in an Instagram post, not even recognize a single hashtag in a Threads post? This makes searching for threads on a topic virtually impossible.
As Fast Company observes, Threads lacks the infrastructure for doing what X excels at: helping people discover news, live sports, and events. For Threads to remain a viable alternative to X, Zuckerburg needs to introduce the missing features ASAP.