Referral marketing involves promoting your products or services by using referrals from your existing customer base. This is usually done by word-of-mouth and can be a highly effective form of marketing. As with most types of marketing, you can simplify your workload by automating the process, using specialist referral marketing software tools.
With 2020 rapidly approaching, it seems an excellent time to consider your referral marketing options. We have looked at a selection of tools here to give you an idea of some of the referral marketing software now available.
---
Top 10 Referral Marketing Software Tools to Look at in 2020:
---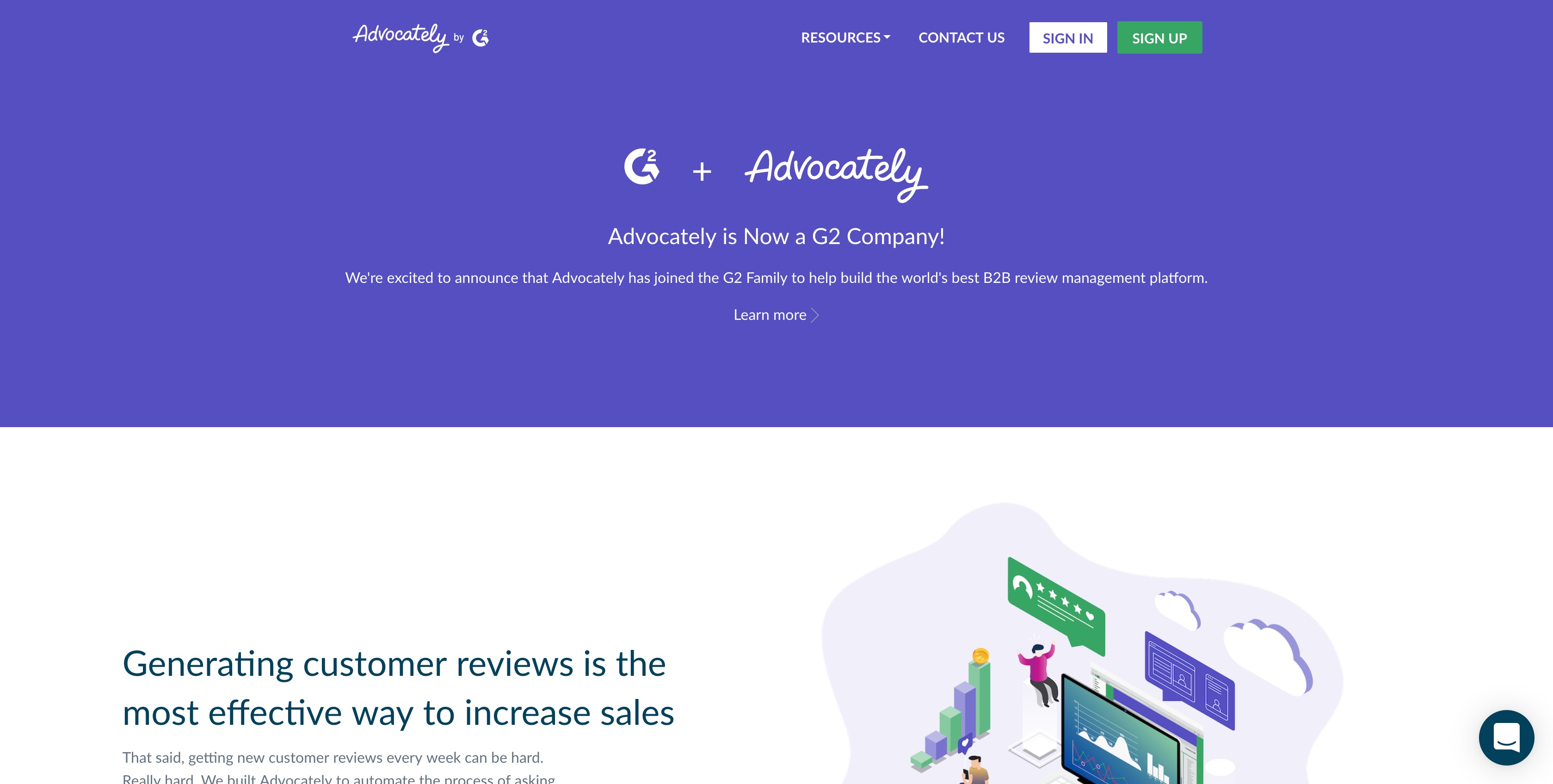 Advocately believes generating customer reviews is the most effective way to increase sales. Advocately automates the process of asking your happiest customers to write reviews.
It helps you automate review generation campaigns via email and print, increasing your review volumes on G2 Crowd, Capterra, Facebook, Google, and industry-specific review sites relevant to your business. You can even control your reputation with a process that will catch unhappy customers before they review.
Advocately collects reviews from all your listings into one central dashboard. It notifies your team of reviews via email, SMS, or Slack. You can respond to your reviews via email or directly on the review site.
It helps you automatically post positive reviews as compelling social media content. You post customer reviews in SEO-friendly markup on your website to drive search visibility.
---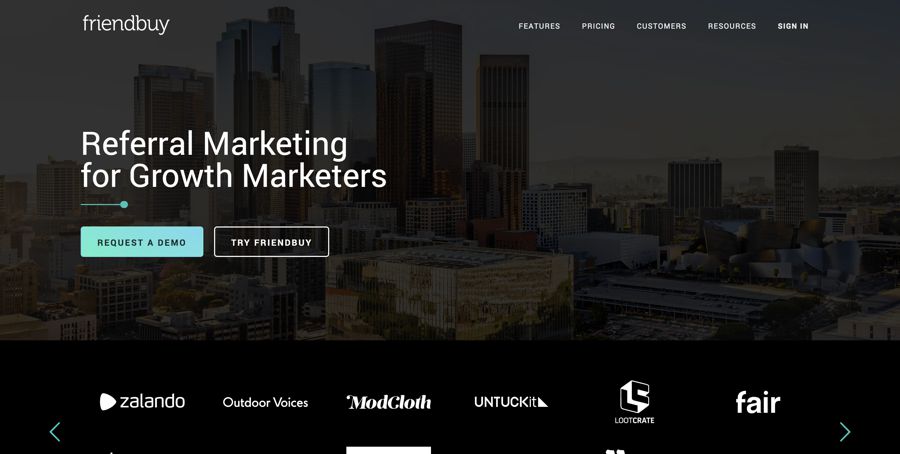 Friendbuy helps you launch your referral program quickly and easily with lightweight code snippets to get the program live.
Friendbuy widget templates are mobile-friendly and optimized for encouraging, easy sharing. You can activate referrals anywhere on your site or in your mobile app.
Friendbuy automates fulfillment for any reward type: coupon code, account credit, loyalty points, gift cards, and more. With robust algorithms for fraud detection and flexible reward criteria, it evaluates every purchase to ensure quality reward eligibility.
You can optimize user referral with easy A/B testing for every part of the referral funnel. Experiment with different offers, creative, and messaging, and discover what drives more sharing and conversions. Friendbuy makes it simple to create variants and measure gain for all your key performance indicators, and quickly pivot when you identify a champion.
Friendbuy equips you with email templates to maximize an automated program, plus the flexibility to design custom communications. You can easily set event-based triggers and reports to power more communications to customers and prospects.
You can track real-time performance through each step in the referral funnel.
---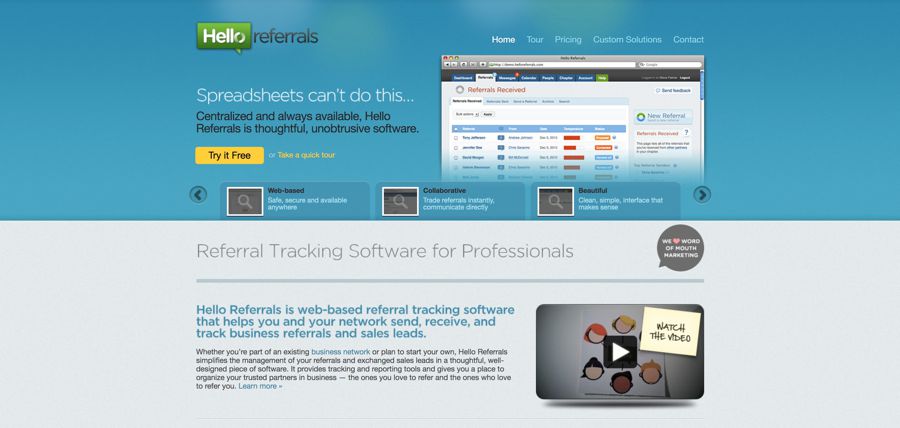 Hello Referrals is web-based referral tracking software that helps firms work with their network to send, receive, and track business referrals and sales leads. It provides tracking and reporting tools and gives you a place to organize your trusted partners in business.
Their website emphasizes the broad canvass of potential users for Hello Referrals, including:
Chambers of Commerce

Rotary Clubs

Small business associations

Trade associations

Business networking groups

Groups of friends
You can use Hello Referrals to send and receive business referrals and word-of-mouth leads. You can also track your referrals and manage your leads.
It provides centralized communication with your referral group that keeps your networking activity in one place and always up-to-date. The platform allows you to send messages to partners, stage meet-ups, and create events to help each other throughout the sales cycle.
You can pick from three pricing tiers (at $35, $50, or $75 per month) that vary according to the number of members in your group.
---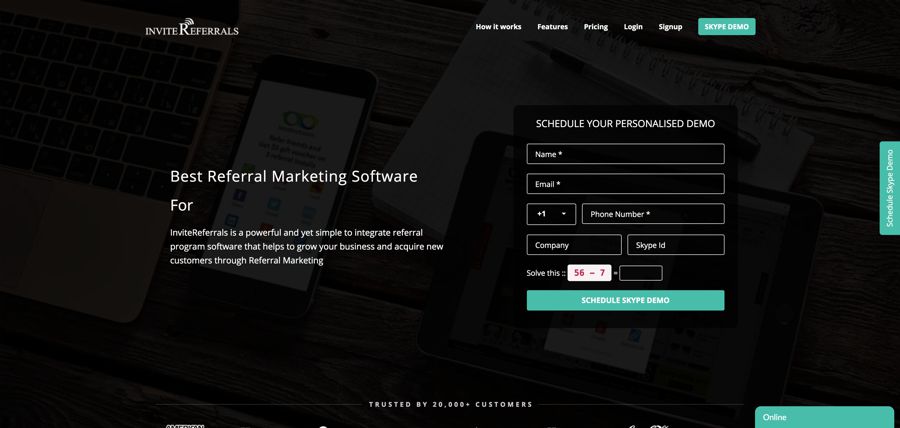 InviteReferrals is powerful, yet simple-to-integrate, referral program software that helps to grow your business and acquire new customers through referral marketing. It integrates with multiple eCommerce platforms, including WooCommerce, Shopify, Magento, MailChimp, and many more.
It works across all devices and platforms. Referral Program Widgets automatically adapt themselves according to the platform.
Customers can use the InviteReferrals mobile application to invite their friends through the referral program. Friends who accept the invite then install the mobile app. InviteReferrals then sends coupons to the referrer over email for driving a referral install.
InviteReferrals provides detailed customer referral program analytics, including invites filtered by referral channels. They track every step of the program, from shares to clicks to successful referral conversions (registrations, sales, mobile application installs). This helps you to identify your most influential referrers and track data to the individual customer level.
All campaigns are WYSIWYG, meaning you can design the complete campaign without the help of a designer or a coder.
---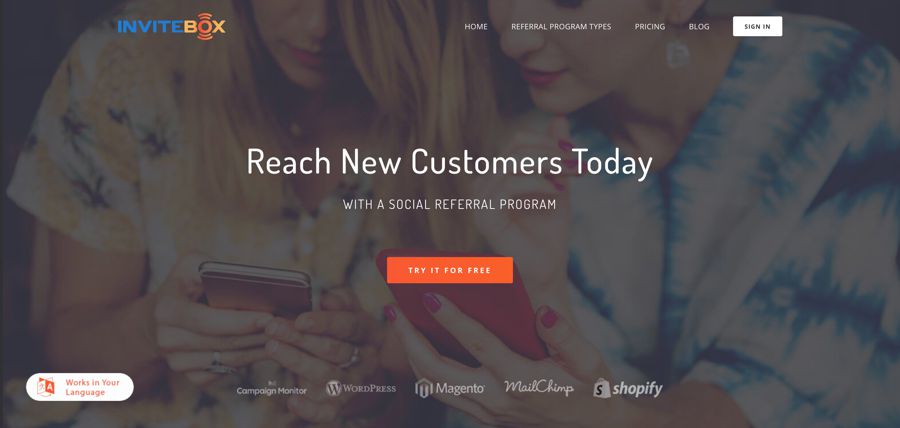 InviteBox enables you to add a referral program to your site in minutes. Their platform includes all the technology you need in one package. Just set the rules of your referral program and copy and paste your widget code into your website pages. Their software takes care of the rest.
InviteBox lets you reward users in multiple ways:
Instant Rewards referral program, where you reward your customers immediately as they share your link via their social channels

Goal-based rewards - gives you more control over ROI at the expense of putting a higher strain on participating customers. Best for referral programs with high-value bonuses

Referral contest - rewards the customers who bring the most referrals over a specified period

Sweepstakes and giveaways - rewards the customers randomly over a specified period. The customers' chances of winning are proportional to the number of entries they earn (for social posts, conversions, etc.)
---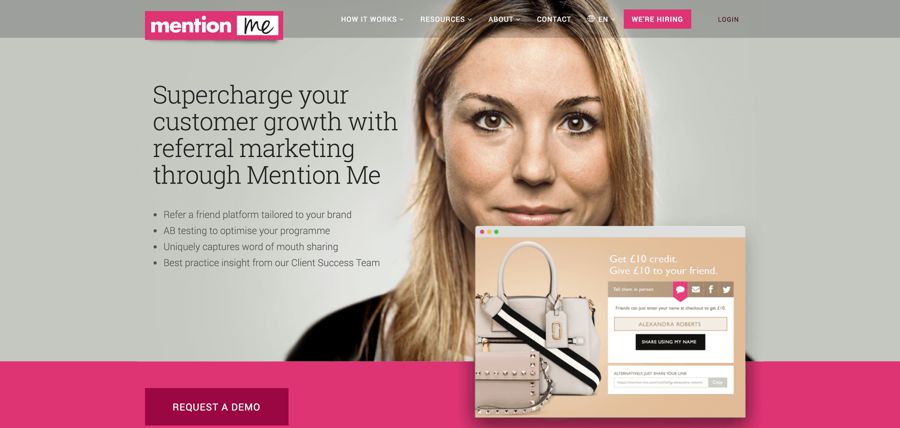 Mention Me provides a refer-a-friend platform tailored to your brand. It uniquely captures word of mouth sharing.
You can A/B test by cohort, testing all elements of your campaigns, typically resulting in an uplift of 3-7x during the first six months. The Mention Me platform offers "Name Sharing" to capture real-world conversations. Friends can access discounts just by entering the name of the friend who referred them.
Mention Me delivers rewards to new customers and the friend who introduced them. You have control over every element of your campaign and can see real-time results in your referral dashboard.
---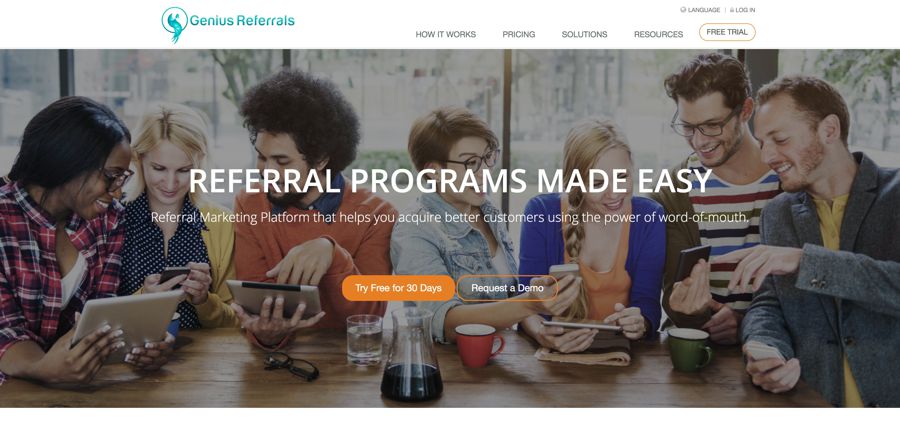 The Genius Referrals platform makes it easy to create and operate a referral program. They break their system into seven basic steps:
Sign up for a free program and get your program running in minutes. This mainly involves configuring the program to customize it for your business. You can create new referral campaigns with multiple restriction and tiers, choosing and designing templates using the Genius Referrals design center.

Create a program and campaign for your referral program. Indeed you can even run multiple marketing campaigns in parallel, configuring multiple tiers per campaigns

Define the default contents to be published on social media using a Wizard to create widget packages.

Choose and design the perfect template in the design center. They provide multiple options depending on the type of referral program you implement.

Install the referral program on your website. You use the codes snippets generated on the Design Center to install the referral program template.

Notify your prospects and customers via email and social media.

Monitor, manage and optimize your programs. Analyze and tweak your referral marketing program easily with the tools Genius Referrals provides.
---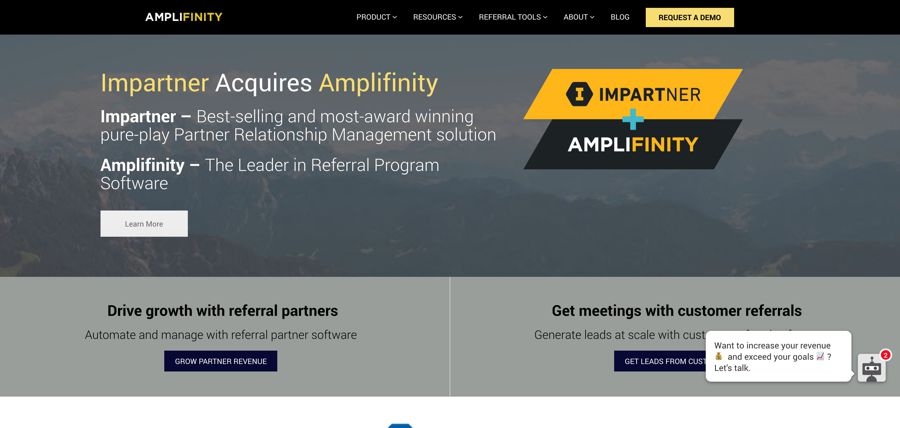 Amplifinity helps marketers to implement personalized lead generation at scale while putting sales at the center of the referral program by integrating referral program software data and functionality into Salesforce.
You can use Amplifinity to:
automate the referral process for 1-to-1 lead generation at scale

enable sales to engage with customers and nurture relationships

allow sales to involve referral sources and reduce the sales cycle

remove operational hassles and improve marketing productivity

provide holistic marketing data to optimize referral program performance
It offers an engaging white-labeled user experience. Referral sources have a wide selection of referral methods. You can fully integrate your brand's look and flow through design templates, branded URLs, and SSO.
You can select one of three Amplifinity program packages:
Partner Program Package – ideal for companies with a partner based referral program

Customer Program Package – designed for companies with a customer referral program

Employee Program Package – designed to help you create custom incentive and reward structures to encourage your employees to grow your lead generation.
---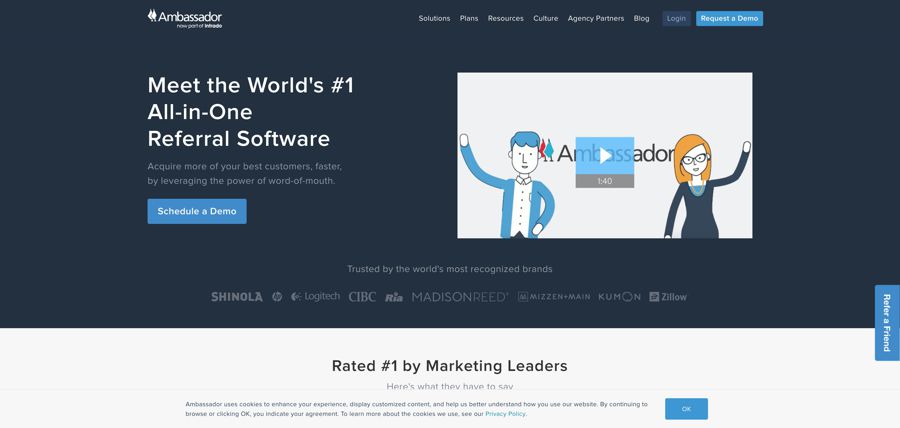 Ambassador's strength is that it is all-in-one referral software. You can use it to handle referral, affiliate, partner, influencer, and advocate programs on a single platform. All of these types of marketing follow a similar pattern:
Identify your ambassadors - customers, affiliates, influencers, partners, employees, and others

Enroll your ambassadors in targeted and personalized referral campaigns

Track your ambassadors and monitor their key performance indicators

Reward your ambassadors with customized incentives and automate the reward process
Ambassador offers multiple referral marketing opportunities. You can tailor specific referral programs based on customer type, deliver unique rewards and messaging while tracking and analyzing every segment and all activities. They provide out-of-the-box eCommerce, CRM, and billing integrations - plus JavaScript & Open API.
---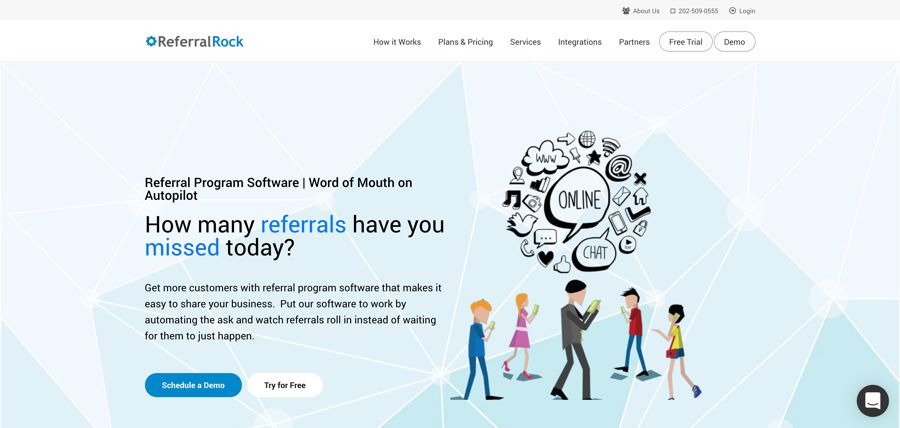 Referral Rock is referral program software, helping firms to set up word-of-mouth on autopilot. It enables you to customize the look and feel of your referral program to match your brand and customer experience. It provides your advocates and referrals a seamless experience so they'll want to engage and participate.
You can control the design, copy, creative, messaging, and more. You build the referral program directly into your customer interactions and marketing channels to provide a seamless experience across all touchpoints.
Referral Rock includes a dedicated advocate portal to easily share and track results, with pre-drafted messaging to make sharing easy and on-brand. Customization goes as far as providing personalized advocate codes and unique links.
You give your advocates multiple ways to join and share. These include integrating your email marketing tools to join with a single click, a website referral widget for easy access, automatic enrollment when behind a login page, and single sign-on via Facebook and Google. Advocates can share via email, social, SMS, unique links, and codes.
With Referral Rock, you can get set up in days, not weeks, with an iterative approach to quickly launch and optimize your referral program. They have personalized the onboarding to make it easy for you to get up and running without needing complicated integrations.