Like most other popular social networks and video streaming sites, Twitch suffers from its share of fake followers. Many of these accounts aren't even real people – they are bots designed to con and manipulate viewing and follower numbers. In some cases, these bots are installed by the streamers themselves, wanting to boost their apparent popularity.
While viewing numbers, likes, and subscription numbers are a useful guide to a Twitch channel's success, the true measure of success is the number of people who choose to follow the channel. And don't believe that you have to cheat to boost your follower numbers. You can do many things to legitimately grow your follower numbers without having to resort to underhand tactics. We examine some of these towards the end of this article.
---
How to Check Twitch Audience Quality:
---
Many Channels Suffer From Fake Twitch Engagement
You will find companies offering to sell Twitch followers if you do a Google search. These "followers" can be either real humans prepared to take money for their follower status or bots, completely artificial computer-based followers.
As with other networks, many of the companies selling these "followers" rely on Twitch streamers not knowing the implications of making a purchase.
People buy fake Twitch followers because they perceive it as being too challenging to build their Twitch following naturally. This can be particularly so for those who play the most popular games and find the sheer numbers offering competing streams overwhelming.
Ironically, many believe that Twitch's algorithm encourages people to buy fake followers, as it rewards those streamers with higher follower numbers. However, things are more complex than this, and merely increasing your follower numbers will not necessarily boost you up the page on Twitch, increasing your visibility. Twitch looks at multiple factors when it determines stream order on the screen, and artificially inflated follower numbers have little positive impact.
---
Types of Fake Twitch Engagement
Twitch has identified several types of fake engagement, often from fake followers. The problem with artificial engagement and botting is that they limit growth opportunities for legitimate broadcasters and damage the community as a whole. Fake followers don't contribute to a healthy, highly engaged community.
1. View-Botting
View-botting involves artificially inflating a live view count. Scammers use illegitimate scripts or tools to make the channel appear to have more concurrent viewers than it actually does. It is sometimes accompanied by chat activity bots, which attempt to imitate streamer/viewer interaction.
Twitch stresses that just because a channel has its view count artificially inflated, it does not necessarily mean the channel owner is behind it. If you report a channel for view-botting, make sure you have evidence.
2. Follow-Botting
With follow-botting, a channel is followed by multiple fake accounts, usually controlled by a computer or script. They attempt to look as 'real' as possible while following the target account en masse.
3. Real People Masquerading as Viewers
Sometimes the fake followers are real people who have willingly agreed to follow streams in return for payment. Often, they will work with companies specializing in selling fake followers who usually follow hundreds or even thousands of streams.
The main difference between a human fake follower and a genuine one is that the fake follower takes no interest in your streams. They simply lend their name in return for money. They will never make an audience, never chat in a channel, never subscribe, and indeed rarely, if ever, view the streams.
---
Twitch's Reactions to Fake Engagement
Twitch has been proactive in monitoring fake engagement. In April 2021, the official Twitch Support Twitter account tweeted, "We have been monitoring the rise of fake engagement on Twitch and have identified 7.5MM+ accounts that break our TOS by follow-botting and view-botting. We are taking action on these accounts and appreciate all of the reports about this issue. A majority of these accounts were detected through ongoing machine learning technology that will continue to improve, and we will continue to operate going forward. We engage in enforcement when necessary, including pursuing legal action. As a result of these removals, you may see sudden decreases in your follower and viewer count over the coming days."
Twitch found these accounts using AI and machine learning. However, they have stressed that if your channel isn't responsible for any bots that they discover there, you won't face any penalties.
Twitch recognizes that view-botting and follow-botting cheat the system. Advertisers waste millions on ads being served to non-existent people.
---
What Can You Do to Gain Real Twitch Followers?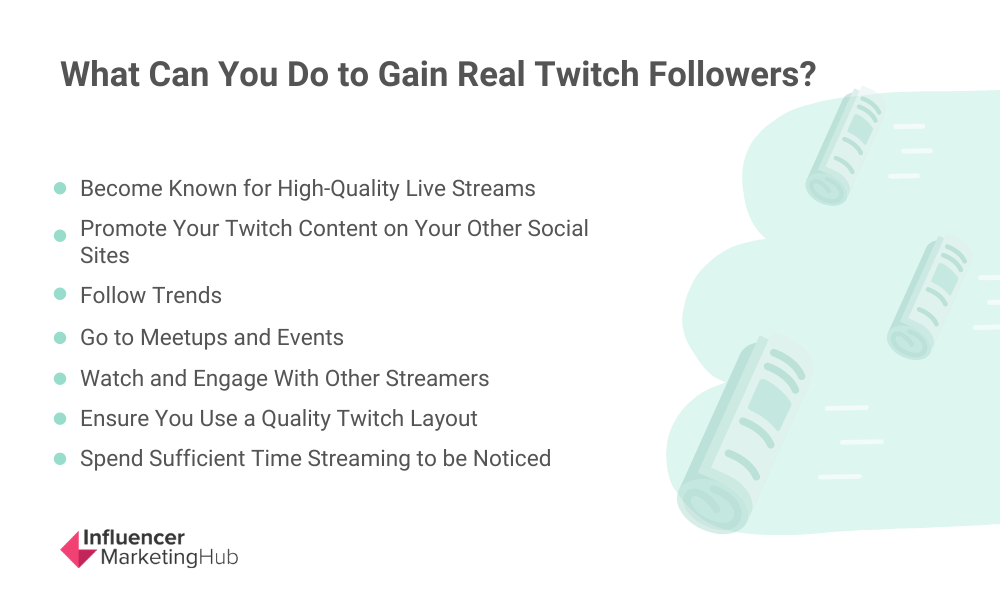 1. Become Known for High-Quality Live Streams
By far, the best way to build your follower numbers is to make high-quality, entertaining livestreams. If you provide viewers with valuable and consistent content, they will return, following and possibly even subscribing to your channel in appreciation. People are also far more likely to interact with channels that interest them.
---
2. Promote Your Twitch Content on Your Other Social Sites
If you have followers on your other social sites and channels, you should cross-promote your Twitch streams. That way, you can build a solid following who takes an interest in all you have to share.
If you have built a presence on Instagram, YouTube, TikTok, Facebook, or other social sites, you can use your overall reach to drive people to your Twitch channel.
Quite a few Twitch streamers make highlight videos of their streams, sharing them on YouTube and TikTok. For example, the top Twitch streamer, Ninja, enjoys an even larger following on YouTube, with 24.2 million subscribers. Although he is less renowned on TikTok, he still has 5.5 million followers on that short-video platform.
Make sure you use these other social sites authentically, however. Don't be tempted to use them to promote your streams solely. When you do mention your streams, make sure you make them interesting and explain what you'll be doing on your stream. Many of your other posts can be about your favorite games and what you do in your daily life.
---
3. Follow Trends
You are always likely to gain more viewers and followers if your streams and content follow current trends. So if you want to remain as relevant as possible, take notice of current trends. Ensure you know all the new features of the game you play and use the latest skins; indeed, make sure you select popular games to play. One counterargument is that you may find it easier to be noticed on a slightly less popular game, as you will have less competition fighting for the best places on the Twitch game page.
---
4. Go to Meetups and Events
In this COVID-era, you may have fewer in-person opportunities, but your fans will love it if you can meet up with them. There are still video games and streaming events held in many places. While events such as TwitchCon have temporarily gone virtual (as GlitchCon), they still allow you to meet up with your followers.
---
5. Watch and Engage With Other Streamers
If you want people to watch you on Twitch, you must make an effort to view them. If you participate in chats on other channels, particularly while you are still building your name, it helps you establish a reputation. Once again, the principal requirement is that you come across as genuine and authentic. You can't shamelessly plug your channel while conversing on other people's channels.
---
6. Ensure You Use a Quality Twitch Layout
You need your Twitch channel to be visually appealing to your viewers. Begin by ensuring that you are using quality streaming software. The most common streaming platform is the free OBS Studio.
However, there are many add-ons you can use to improve the visuals of your stream. We have written numerous articles on this, such as The Best Free and Premium Twitch Overlay Templates, The Best Twitch Offline Banner Templates, and Top Animated Twitch Overlays. The OWN3D Pro OBS Plugin gives you access to 575+ overlays and alerts to customize the appearance of your Twitch layout.
---
7. Spend Sufficient Time Streaming to be Noticed
If you want to build your Twitch audience, you need to spend sufficient time streaming for people to notice you. It would be best if you allocated several hours at a time for your streams, preferably several days per week. And once you have established a schedule, stick to it so that people know when to expect your streams.
The most successful streamers think of their Twitch streaming as being a full-time job and spend 40 hours or more a week streaming. Of course, you are unlikely to equal Ludwig Ahgren's dedication. He screamed non-stop for the month between March 14 and April 13, 2021. At one point, his channel was the most viewed channel on Twitch, despite the fact he was sleeping. Ahgren is unlikely to worry about having many fake followers, however. His dedication led to thousands of new followers and subscribers. It undoubtedly helped that he had set things up so that each additional subscriber lengthened his time broadcasting.