Advertising Disclosure
Advertising disclosure:
Our partners compensate us. This may influence which products or services we review (also where and how those products appear on the site), this in no way affects our recommendations or the advice we offer. Our reviews are based on years of experience and countless hours of research. Our partners cannot pay us to guarantee favorable reviews of their products or services.
Are you harnessing the full power of Twitter for your brand's advertising? With over 353.9 million monthly active users and a staggering $5 billion in ad revenue, Twitter stands as a social media juggernaut.
In an era where digital marketing reigns supreme, tapping into this vast audience is no longer optional—it's imperative. But with countless Twitter advertising agencies vying for your attention, how do you choose the right partner to skyrocket your brand's presence? In this article, we'll delve into the world of Twitter advertising agencies and present you with a carefully curated list of the top 10 contenders. Join us as we explore the industry's most innovative players and reveal the strategies they employ to drive success on this dynamic social media channel.
---
Top Twitter (X) Advertising Agencies
Top
twitter advertising agencies
2024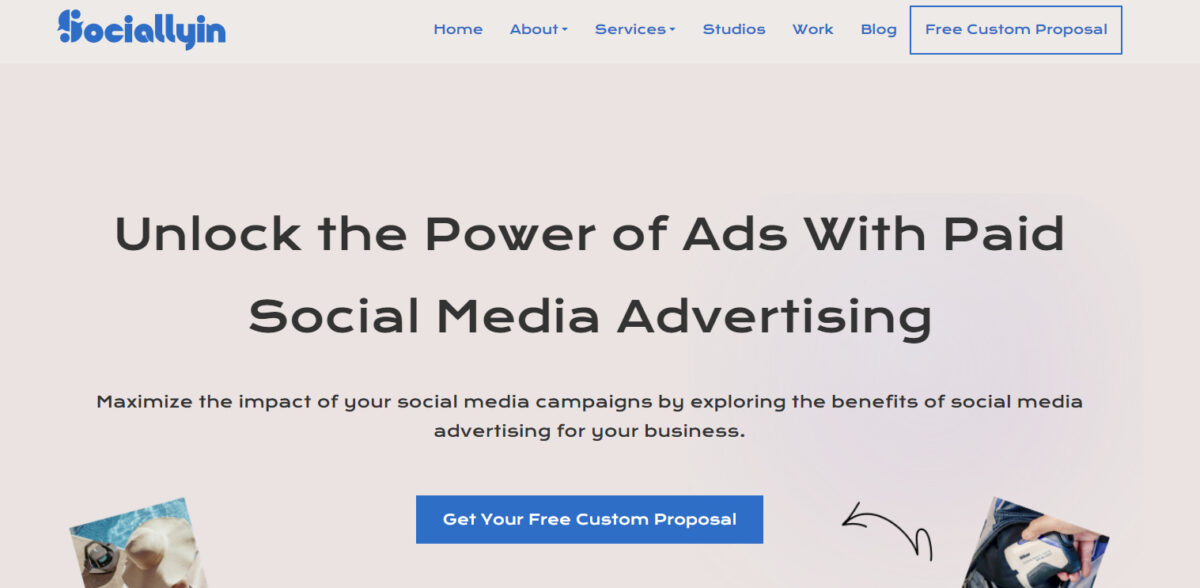 SociallyIn excels in the domain of Twitter (X) Advertising, positioning itself as a force of innovation and precision in the dynamic landscape of social media marketing. Boasting a meticulous approach, the agency transcends generic advertising practices, offering tailored solutions designed to maximize client ROI while minimizing expenditure. The team's forte lies in developing bespoke advertisements that are not just visually engaging but are strategically aligned with the brand's core objectives, ensuring each campaign resonates profoundly with the targeted audience and yields measurable results.
Ad targeting and demographic precision stand at the forefront of SociallyIn's service offerings. The agency has mastered the art of eliminating ad wastage by precisely targeting specific audience segments based on varied criteria, including age, gender, and location. Every Twitter ad campaign is a symphony of analytical precision and creative ingenuity, ensuring resources are allocated efficiently and messages reach those most likely to convert.
The agency's commitment to staying abreast of the ever-evolving social media trends positions client campaigns ahead of the curve. Every strategy is backed by a rich tapestry of data and analytics, so performance is not just tracked but optimized. Simply said, SociallyIn is not just an agency; it is a partner in navigating the multifaceted landscape of social media advertising, committed to turning each penny of ad spend into a stepping stone for the client's brand ascendancy.
---
Disruptive is a notable Twitter (X) advertising agency, underlined by a tactical, goal-oriented approach that sets it apart. The agency's prowess in amplifying website traffic is rooted in its bespoke marketing strategies tailored to echo the distinct business objectives of each client. With a keen emphasis on hard data and tangible impacts, Disruptive works relentlessly to transform marketing budgets into significant advancements towards core business goals. The agency's alignment with Twitter underscores its capability to harness digital platforms for optimal client benefit.
The agency's methodology is an intricate blend of innovation and precision aimed at connecting brands with Twitter's highly engaged audience base. Disruptive's advertising campaigns are characterized by meticulous execution, which drives enhancements across various funnel stages, from brand awareness to purchase intent. A holistic approach ensures brands not only gain visibility but also engender affinity and preference among target audiences. The agency's expertise is further accentuated by statistics that pinpoint Twitter as a high-ROI platform, a testimony to their strategic alignment with platforms that promise and deliver tangible business impacts.
With a dedicated focus on continuous optimization and refinement, Disruptive ensures Twitter advertising campaigns are not static but evolve in tandem with emerging trends and client requirements. Every aspect of the client's Twitter account is scrutinized and enhanced for seamless and effective campaigns. A diverse arsenal of strategies, including creative targeting and rich media incorporation, is employed to drive more engagement. Furthermore, continuous testing underlines the agency's commitment to innovation and excellence, ensuring that each campaign is not just a reflection of current best practices but a step ahead, marking Disruptive as a vanguard in the Twitter (X) advertising ecosystem.
---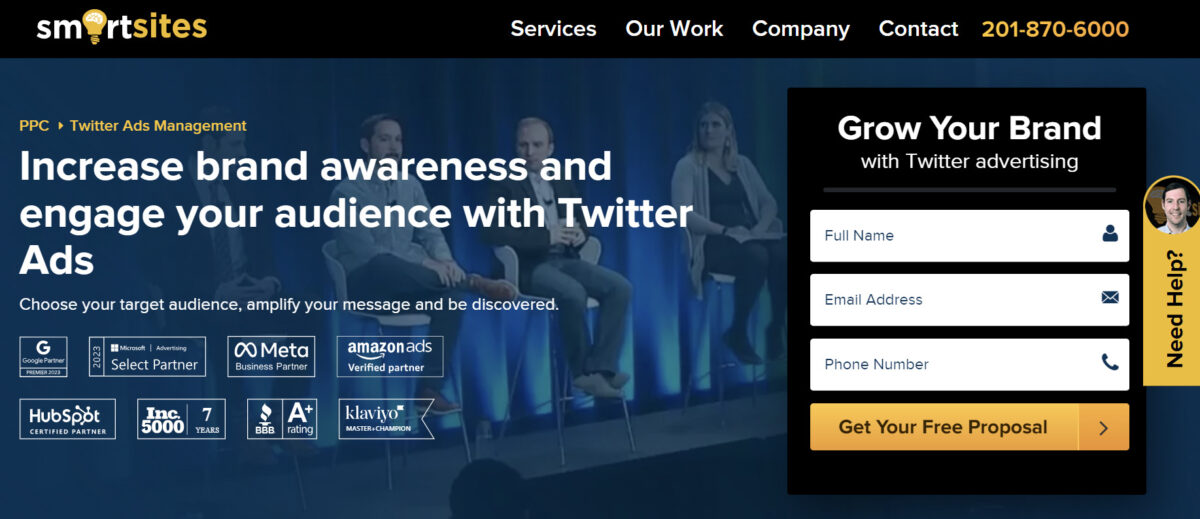 SmartSites has carved a niche in the competitive domain of Twitter (X) Advertising, manifesting a perfect synergy of creativity, strategy, and engagement. Accredited with prestigious affiliations, the agency asserts its authority and reliability in the digital marketing sphere. With Twitter, a platform renowned for brevity and speed, SmartSites navigates the 280-character landscape with finesse, crafting messages that are not only concise but also potent in engagement and brand propagation.
Engagement takes center stage in SmartSites' Twitter management strategy. Recognizing Twitter's dynamic and rapid-fire nature, the agency adopts an approach transcending conventional posting. The focus is holistically centered on real-time engagement, a strategy underpinned by consistent and informed interactions with the audience. The agency's all-encompassing social media management encapsulates planning, creating, scheduling, and a vigilant monitoring system that promptly and appropriately addresses every tweet, retweet, mention, or direct message. This vigilant approach ensures brands are not just visible but are active participants in the multifarious conversations that define the Twitter ecosystem.
Visual engagement is integral to SmartSites' Twitter strategy, rooted in the understanding that multimedia content amplifies engagement. The agency leverages the persuasive power of videos and GIFs, transforming every tweet into an interactive experience that resonates with the audience and induces engagement. Based on their claims that over 82% of users are inclined towards video content, SmartSites' multimedia-centric approach is not just strategic but is meticulously aligned with user preferences, ensuring every campaign yields optimal engagement, visibility, and brand amplification.
---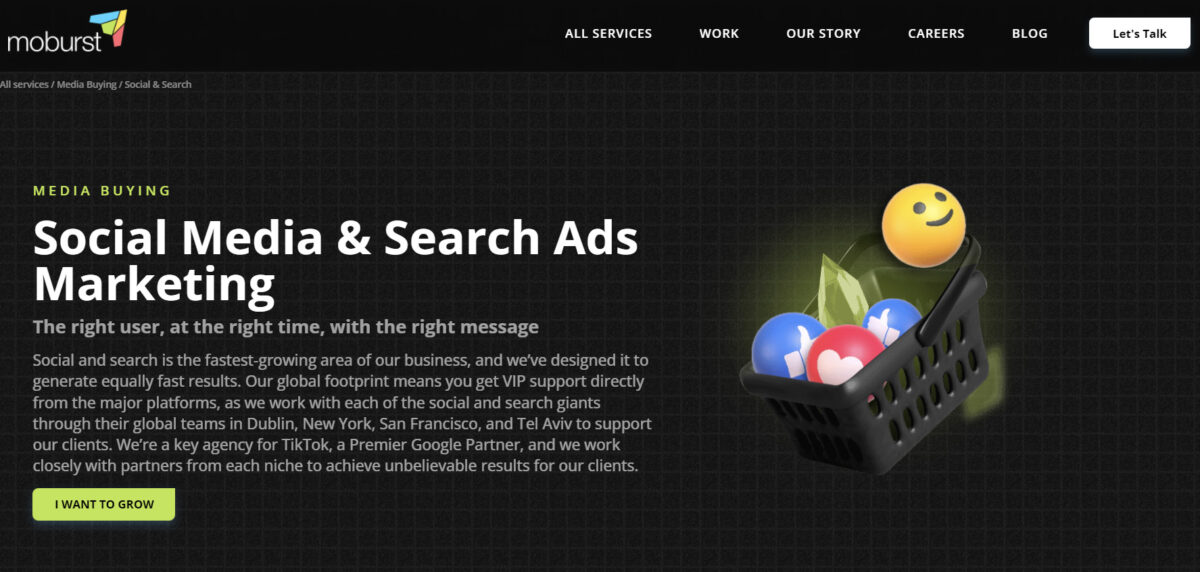 Moburst's multifaceted approach to Twitter advertising is distinctly characterized by strategic media buying, coupled with an unwavering commitment to delivering tailored messages to the right audience at opportune moments. The agency's adeptness in leveraging relationships with global teams in Dublin, New York, San Francisco, and Tel Aviv amplifies its ability to offer bespoke services to clients, attesting to its worldwide reach and expertise. Key partnerships with social media giants, including TikTok, Google, and niche players, underscore Moburst's prowess in executing integrated campaigns that transcend geographical and digital boundaries.
The agency adopts a meticulous process that begins with crafting a customized media plan deeply rooted in profound insights gleaned from competitive analysis, audience segmentation, and in-depth keyword research enabled by proprietary technology. Each campaign is a harmonious blend of strategic placements and optimized content, ensuring every brand not only garners visibility but resonates deeply with the target audience. Success stories highlighting substantial increases in KPIs, remarkable reductions in conversion costs, and exponential ROI amplify Moburst's narrative of effectiveness and efficiency in campaign execution.
The agency's nuanced understanding of the intricate dynamics of social media and search engine marketing is further exemplified by their impressive achievements – from scaling user acquisition and reducing CPI to enhancing organic download growth. Moburst's repertoire of delivering tailored, results-driven solutions underscores its position as a tough force in the Twitter (X) advertising landscape, marking it as the quintessential partner for brands poised for transformative growth and heightened visibility.
---

Thrive's foray into Twitter (X) advertising is markedly underscored by a systematic blend of strategic insight and dynamic engagement, curating brand narratives that resonate and ripple through the platform's diverse and engaged user base. The agency has distinguished itself by amplifying brand awareness and boosting website traffic through tailored strategies that leverage Twitter's multifaceted advertising ecosystem. With a user base that transcends geographical borders and demographical constraints, Thrive harnesses Twitter's distinct attributes to sculpt bespoke campaigns, echoing the uniqueness and authenticity of each brand it represents.
Utilizing an arsenal of tailored services, Thrive's approach to Twitter marketing converges around a comprehensive suite of offerings. From meticulous analytics that distill actionable insights to audience identification, leveraging Twitter's nuanced targeting capabilities, every strategy is meticulously crafted and executed. The agency's adeptness in real-time campaign monitoring and ad optimization is complemented by its prowess in paid ads management and strategic consulting. Thrive's holistic approach encapsulates the dynamism and fluidity of Twitter's fast-paced environment, ensuring brands not only maintain relevance but emerge as pivotal players in conversations that shape perceptions, drive engagement, and foster loyalty.
Each campaign is a testament to the agency's commitment to not just deliver results but to unravel the story behind the successes and the learning curves. Recognized as a top social media marketing agency, Thrive's legacy is enshrined in its ability to merge experience, innovation, and strategic insight, illuminating brand narratives on Twitter's global stage. Each strategy, campaign, and engagement is a meticulous orchestration of art and science, heralding an era where brands and audiences converge, converse, and connect, transforming the Twitter landscape into a vibrant ecosystem of shared stories, insights, and experiences.
---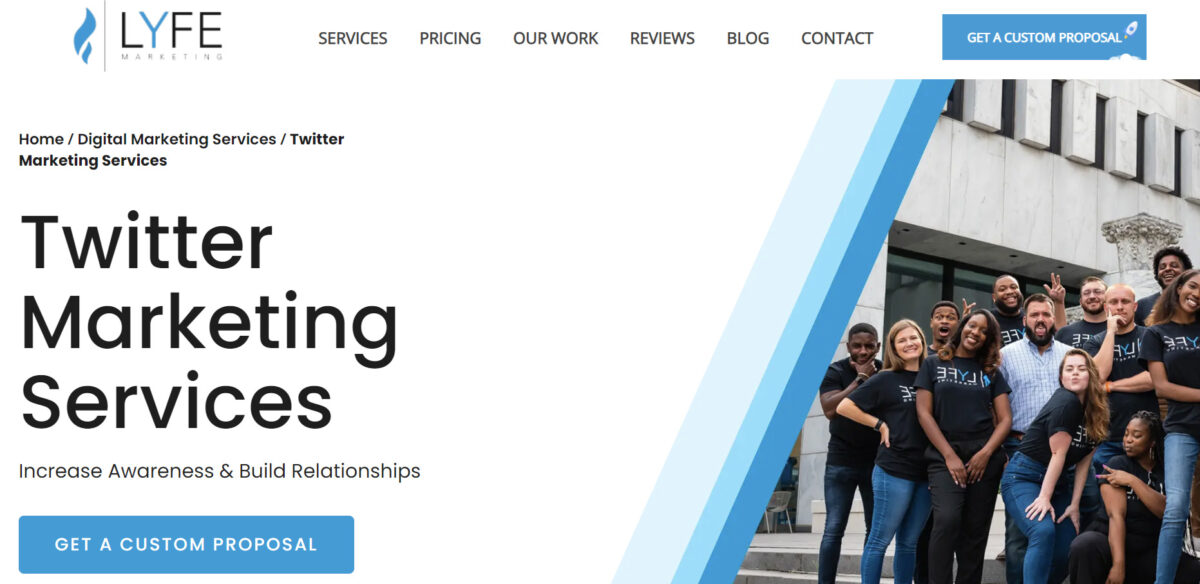 Lyfe Marketing is anchored on the pillars of increasing brand awareness, enhancing engagement, and refining brand perception, meticulously crafting strategies that resonate with the dynamic and diverse Twitter audience. With a focus on real-time account monitoring, audience growth, and content creation, Lyfe Marketing transforms Twitter (X)  profiles into powerful conduits of engagement and conversion, sculpting narratives that transcend traditional advertising paradigms.
One of the standout attributes of Lyfe Marketing is its adeptness in leveraging Twitter's unique landscape for targeted marketing. The agency's approach is quintessentially multifaceted, integrating Twitter Chat and hashtags to foster engagement while optimizing the cost-effectiveness of Twitter's platform to offer budget-friendly solutions for businesses of all sizes. The agency underscores the value of Twitter advertising by creating tailored campaigns that not only reach but resonate with a custom audience, elevating the probability of conversions and engendering a robust ROI.
Lyfe Marketing epitomizes efficacy and transparency. The agency's showcase of a case where over 10,000 organic Twitter followers were garnered for a client within 12 months epitomizes their mastery of organic growth strategies. Combining strategic outreach, relevant content, and audience engagement, the agency morphs Twitter profiles into vibrant ecosystems of interactive narratives. Every strategy, from advertising creation and growth monitoring to reporting, is infused with a bespoke touch, ensuring that each brand not only echoes its uniqueness but does so with resonating clarity and impactful precision on the global stage of Twitter.
---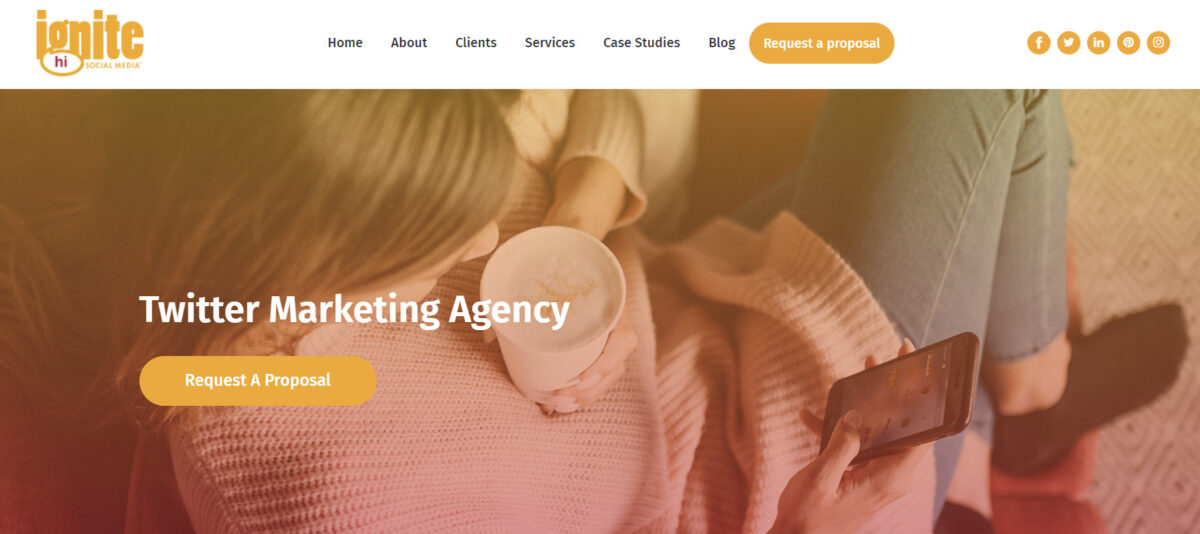 Ignite Social Media emerges as a hallmark of innovation and efficacy in the echelons of Twitter (X) Advertising. As a progenitor in the realm of social media marketing, established in 2007, Ignite melds a wealth of experience and cutting-edge strategies to curate customized Twitter marketing campaigns, epitomizing both engagement and conversions. The agency's adaptability to the dynamism of Twitter's fast-paced and short-form content environment underscores its proficiency in optimizing brand visibility and audience engagement, yielding tangible results that transcend conventional benchmarks.
The agency's core services are meticulously crafted, epitomizing a symbiosis of strategic precision and creative exuberance. Ignite Social Media specializes in tailored Twitter marketing strategies, unearthing the nuances of each brand and weaving them into the fabric of resonating narratives. The agency accentuates the power of high-visibility influencers and qualified prospects, transforming Twitter profiles into hubs of interaction and conversion. Their clientele, including globally recognized brands like Staples and Samsung, attests to the agency's competency in amplifying brand narratives amidst the bustling ecosystem of Twitter.
The agency is lauded for its collaborative approach, technical acumen, and the seamless execution of creative ideas. With a footprint in strategic locales in North Carolina and Michigan, Ignite Social Media stands as a beacon of reliability, innovation, and results-driven Twitter (X) advertising. Every campaign is infused with a touch of personalized ingenuity, ushering brands into the expansive horizons of audience engagement, brand loyalty, and optimized ROI on Twitter.
---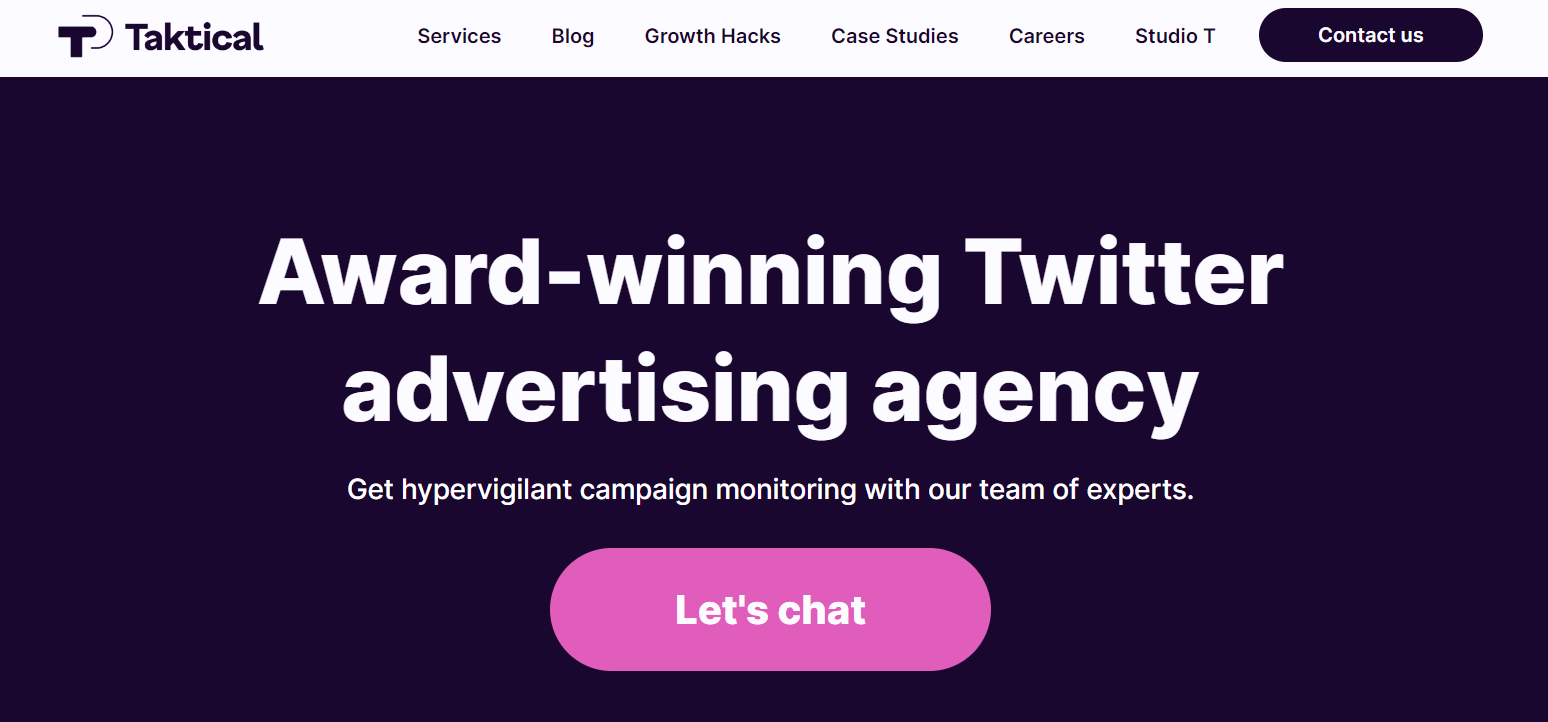 Taktical Digital solidifies its stature as an avant-garde entity in the Twitter advertising sphere, characterized by a synergetic blend of creativity and strategic insight. Nestled in the bustling epicenter of New York, this award-winning agency encapsulates a methodology that is both dynamic and results-oriented. The distinctiveness of Taktical Digital emanates from its in-house creative team, coupled with an official partnership with Twitter, which bestows a competitive edge that is quintessential for brand augmentation and audience engagement.
Central to Taktical's ethos is a data-driven approach, delineated by an initial phase of comprehensive discussions and meticulous research to unravel the intrinsic brand essence and objectives. The agency's developmental process is characterized by the implementation of bespoke strategies, precisely tailored to resonate with the brand's narrative and target audience. Campaign monitoring is not merely a procedural step but an intricate endeavor to optimize ROI, underscoring a commitment to perpetual enhancement and adaptability. The client is intricately woven into the narrative, empowered by transparent data reporting, instilling both clarity and confidence.
Case studies and testimonials illuminate Taktical's adeptness at transcending conventional boundaries, marked by impressive metrics in monthly revenue YoY, CPC, click-through rates, and monthly traffic YoY. International recognition is not an accolade but a testament to the agency's unwavering commitment to fostering brand growth amidst the intricate digital landscape. Each campaign is a symphony of creativity, strategic acumen, and data intelligence, rendering Taktical Digital not just a service provider but a strategic ally in the intricate journey of Twitter (X) Advertising.
---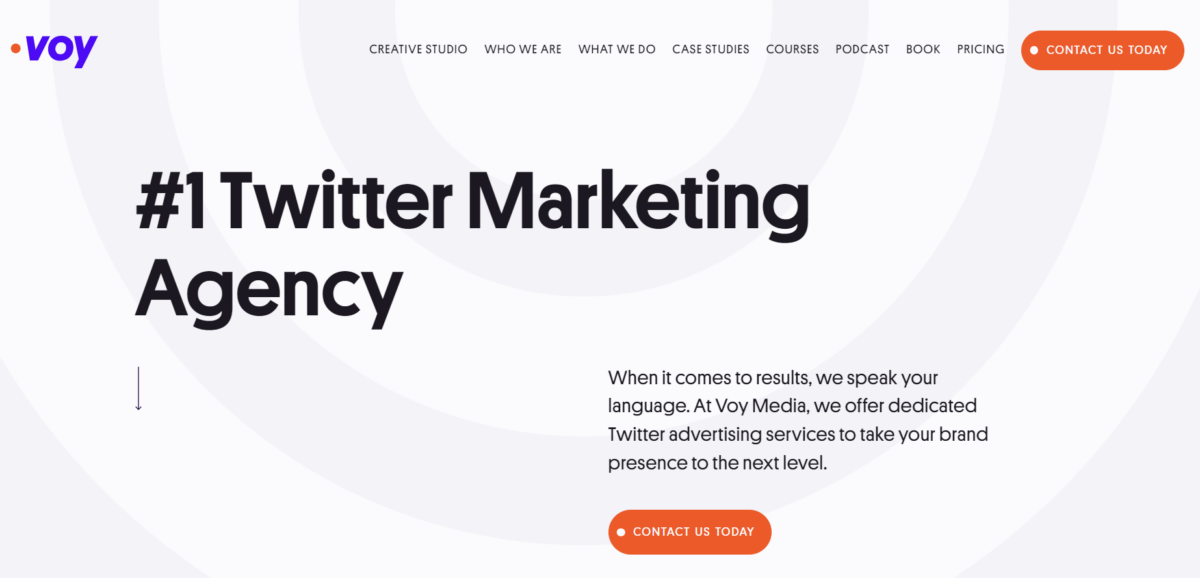 Voy Media, located in the heart of New York, has carved its niche by transcending the typical paradigms of digital advertising. Their creative studio is renowned for devising visual and textual content that arrests the scrolling eye, sparking not just views but engagements and conversions. Esteemed for their adeptness at maneuvering through the intricate tapestry of the internet, Voy Media has been the linchpin for businesses transitioning from six to eight figures a month in revenue.
Every Twitter campaign managed by Voy Media is a testament to its holistic approach, which is as diverse as it is targeted. Their dedicated account managers and lead strategists excel in a multilayered offering, including retargeting, custom audiences, dynamic product ads, and real-time Twitter analytics. Through the meticulous execution of data-driven strategies, they have demonstrated their expertise in harnessing the full potential of digital platforms, effectively navigating the 'digital abyss.' Collaborations with entities ranging from Fortune 500 magnates to innovative startups underscore the agency's adaptability and proficiency.
Testimonials and reviews weave a narrative of consistent success and tangible growth. The rapport between Voy Media and its partners is anchored in mutual respect, transparency, and an unwavering commitment to achieving predefined objectives. With a record of doubling revenues for 92% of their clients in the first year and delivering ads to 122 countries, the agency underscores its global reach and efficacy.
---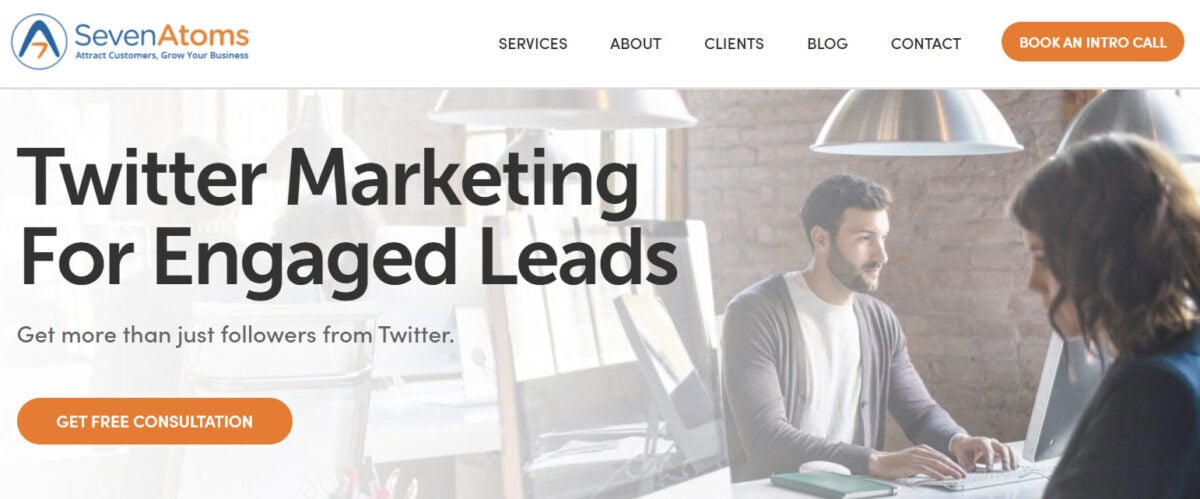 SevenAtoms has established a commendable position in the landscape of Twitter (X) Advertising, deploying strategies that extend beyond mere follower accumulation to foster meaningful engagements and conversions. The agency's acumen in balancing organic and paid Twitter marketing strategies has been foundational in amplifying brand visibility and engagement. They meticulously develop and execute tailored content strategies that resonate with the targeted audience, transforming followers into brand advocates. In an era where personalization is pivotal, SevenAtoms' adeptness at curating content that aligns with the intricate nuances of diverse audience segments underscores its distinction.
In the operational framework of SevenAtoms, every stage of Twitter marketing is executed with precision and strategic insight. The process initiates with an optimized profile setup, enhancing visibility and fostering audience engagement, while search engine optimization ensures the brand's prominent visibility in search results. The content strategy, deeply rooted in analytics, is tailored to incite clicks and engagements, enhancing brand presence and audience interaction.
Furthermore, SevenAtoms demonstrates unparalleled expertise in Twitter advertising, with strategies precisely tailored to infiltrate niche audiences, enhancing the conversion of visitors to leads and customers. The incorporation of Twitter Cards, another exemplification of their innovative approach, transforms Twitter shares into rich media experiences. Esteemed as a HubSpot Gold Partner and a Google Premier Partner, SevenAtoms doesn't just boast prestigious affiliations but validates them with a consistent record of driving engaged leads and conversions.
---
ROI Benchmarks - Unveiling the Twitter Advertising Success Rate
One of the pivotal factors in selecting the right Twitter advertising agency is understanding the potential return on investment (ROI). Twitter's advertising platform offers a unique space to engage with a vast and diverse audience. However, it's crucial to have a clear understanding of what ROI you can expect when investing in Twitter ads.
According to industry data, the average ROI for Twitter advertising campaigns can vary widely depending on various factors such as industry, ad type, targeting, and ad creative. On average, businesses can expect an ROI of around 40% higher on their Twitter ad spend than other channels.
To help you make an informed decision, consider expert opinions on ROI benchmarks. Seasoned marketers emphasize the importance of setting clear goals and objectives before running Twitter ads. Understanding your specific objectives, whether it's brand awareness, website traffic, or lead generation, can significantly impact your ROI.
Additionally, businesses that tailor their ad content to resonate with their target audience tend to see better results. Statistics show that tweets with images or videos receive 150% more retweets and 18% more clicks, leading to improved ROI.
Ultimately, the ROI you can expect from a Twitter advertising agency may vary, but by setting clear objectives, creating compelling ad content, and targeting the right audience, you can maximize your returns and make a sound agency selection based on your specific goals.
---
Conclusion
A spotlight has been cast on the tenacious efforts and innovative approaches employed by the top Twitter advertising agencies, each distinctive in their methodology yet unified in their pursuit of client success. These agencies have manifested adeptness in transforming the brevity and dynamism of Twitter into powerful avenues for brand storytelling, engagement, and conversion. 
Their mastery in weaving strategic insight, creative ingenuity, and data analytics into harmonious campaigns underlines their prominence in the industry. Their ability to navigate Twitter's rapid-fire environment, marked by real-time interactions and multimedia engagements, sets them apart as vanguards of innovation, strategy, and results.
Frequently Asked Questions
Do Twitter advertising agencies provide international targeting options for campaigns?
Yes, most Twitter advertising agencies offer international targeting options to help businesses reach their global audience effectively. They can assist in tailoring campaigns to specific regions, languages, and demographics.
How do Twitter advertising agencies handle crisis management for brands on the platform?
Twitter advertising agencies often have strategies in place to address potential crises on the platform. They may monitor mentions, respond swiftly to negative feedback, and provide guidance on crisis communication to protect a brand's reputation.
What is the typical timeframe for seeing results from a Twitter advertising campaign managed by an agency?
The timeline for results can vary depending on campaign objectives and the agency's strategies. However, businesses can typically expect to see initial engagement and performance data within the first few weeks, with more significant results emerging over several months.
Do Twitter advertising agencies offer ongoing monitoring and optimization of campaigns?
Yes, many agencies provide continuous monitoring and optimization services. They analyze campaign performance data, make adjustments to improve ROI, and ensure that the advertising strategy remains aligned with the business's goals.
Can Twitter advertising agencies help with influencer collaborations and partnerships on the platform?
Absolutely. Many Twitter advertising agencies have experience in identifying and collaborating with influencers relevant to your industry. They can facilitate partnerships that enhance brand visibility and engagement with your target audience.