Advertising Disclosure
Advertising disclosure:
Our partners compensate us. This may influence which products or services we review (also where and how those products appear on the site), this in no way affects our recommendations or the advice we offer. Our reviews are based on years of experience and countless hours of research. Our partners cannot pay us to guarantee favorable reviews of their products or services.
Have you ever wondered how significant the impact of Twitter can be on your brand's visibility and engagement? In a world where social media is a powerhouse for brand awareness, not leveraging Twitter is akin to leaving money on the table.
In this insightful article, we will embark on a journey to unveil the top 10 agencies that have mastered the art of Twitter marketing, turning tweets into engagements, followers, and, ultimately, increased revenue for businesses. Each agency's bespoke strategies, ranging from content creation to influencer marketing, are tailored to amplify a brand's voice amidst the noisy Twitter-verse.
Dive in and discover how these elite agencies can transform Twitter profiles into a potent marketing tool, leveraging cutting-edge strategies to connect with audiences, elevate brand awareness, and drive business growth.
---
Top Twitter (X) Marketing Services
Top
twitter x marketing services
2024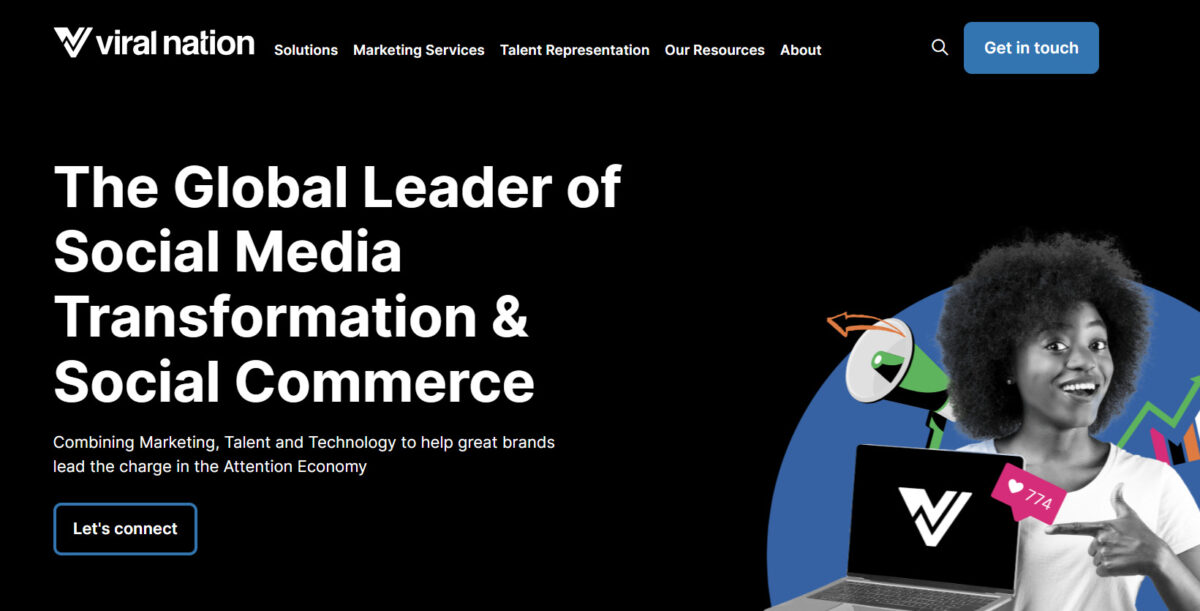 Viral Nation is a resourceful Twitter (X) marketing agency that amalgamates innovation and expertise to turn brands into social media powerhouses. With a steadfast commitment to innovation, Viral Nation employs an integrative approach combining Influencer Marketing, Paid Performance, Owned Social, and Creative Content services, ensuring a robust, social-first presence for brands. The agency boasts a staggering one billion+ engaged customers and an average 7x increase in ROAS, illustrating their adeptness at fostering social transformation and achieving unparalleled commerce outcomes.
What Sets this Agency Apart?
The agency's proficiencies are highlighted by its talent representation, boasting over 600 creators across 11 industry sectors, amplifying brand messages, and ensuring authentic, impactful engagements. Viral Nation's AI-powered social media software stands as a testament to their futuristic approach, enabling brands to safely and predictably transform into social-first entities. Moreover, it amplifies brand presence and ensures it is sculpted and optimized to resonate with the target audience, securing a competitive edge in the crowded digital landscape. Every service offered is a blend of innovation, expertise, and customized strategy, designed meticulously to align with the unique ethos and objectives of each brand they partner with.
---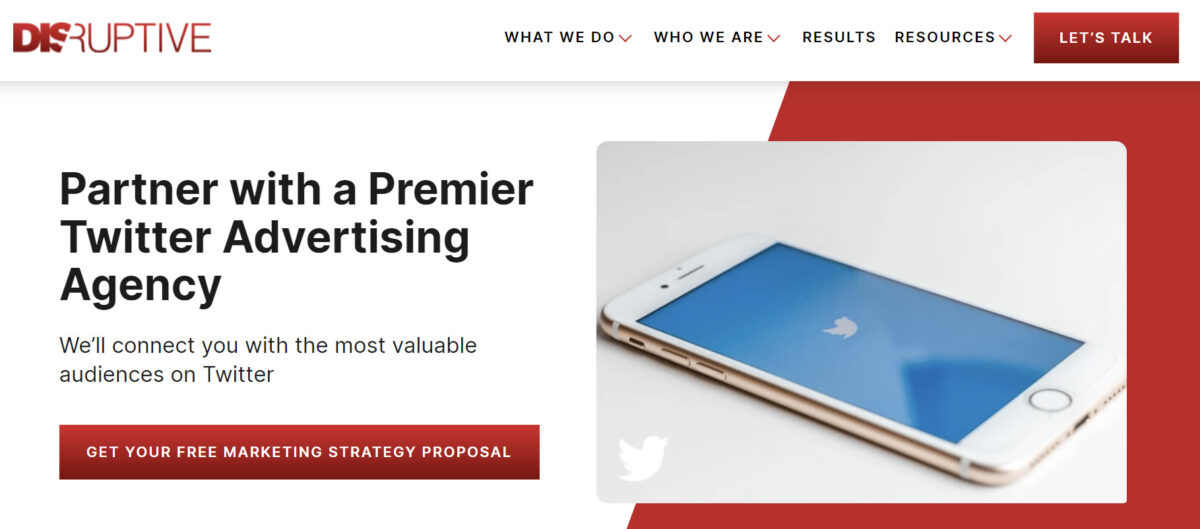 Disruptive holds the esteemed reputation of a premier social media advertising agency, underlined by its bespoke, goal-driven strategies meticulously designed to exponentially increase site traffic while optimizing marketing budgets. The agency accentuates hard data and tangible impacts, a testament to their unwavering commitment to driving significant advances toward clients' business goals. Each campaign is tailored to catapult brands into the hub of Twitter's most engaged and influential communities. The agency prides itself on elevating brands by connecting them with Twitter's dynamic environment, resulting in measurable lifts in message association, brand awareness, preference, and purchase intent.
What Sets this Agency Apart?
According to their claims, an impressive 63% of social media marketers attribute their highest ROI to Twitter, a statistic that the agency leverages with strategic precision. The agency also employs a comprehensive methodology encompassing creative targeting, the integration of rich media, and continuous testing and optimization to enhance campaign performance. Disruptive's adeptness in structuring and optimizing Twitter advertising campaigns is evident in its proven track record, making it a quintessential partner for brands aiming to harness Twitter's robust platform for maximal engagement and conversion outcomes.
---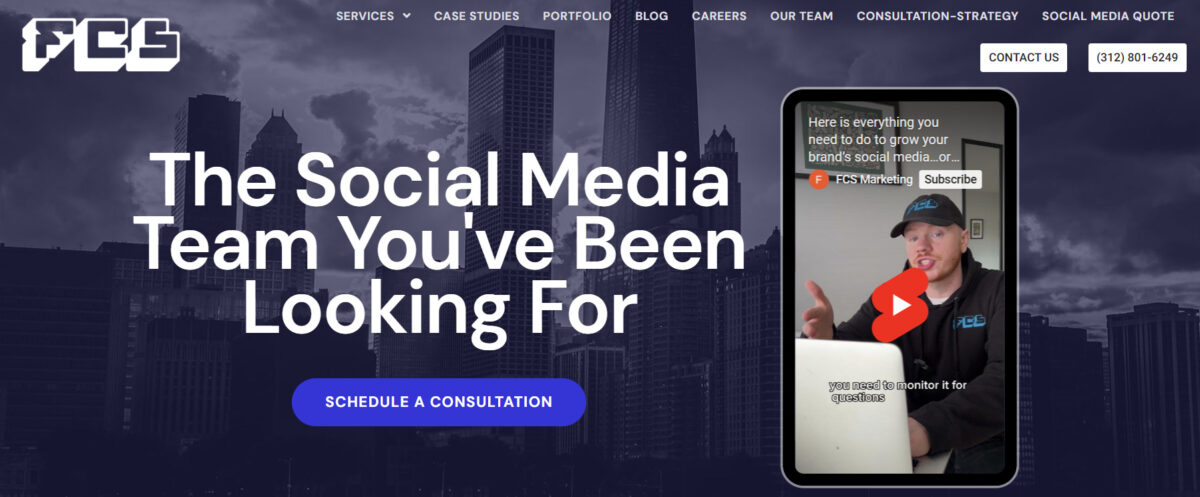 Fresh Content Society embodies a multifaceted approach to Twitter (X) marketing, characterized by its custom-tailored strategies rooted in a deep understanding of each client's unique business goals. The agency underscores the significance of organic social media community building, deploying methodologies that are as diverse as the brands they represent. With a suite of services, including content research, creative production, and community management, each campaign is meticulously designed to optimize brand visibility and engagement. Their analytics and insights are grounded in comprehensive channel data, ensuring decisions are informed, strategic, and aligned with enhancing performance metrics.
What Sets this Agency Apart?
The agency boasts a dedicated team focused on paid media management, ensuring ad campaigns are consistently monitored and optimized to offer the highest ROI. Their acumen extends to influencer management, identifying and leveraging strategic partnerships to maximize brand engagement. With proven successes, such as increasing Twitter sales by 1,500% for Manny's Deli and achieving over 6,000% engagement increase for True Value, Fresh Content Society exemplifies a confluence of creativity, strategy, and execution. Each campaign is a testament to their commitment to elevating brands to unprecedented heights in the social media landscape.
---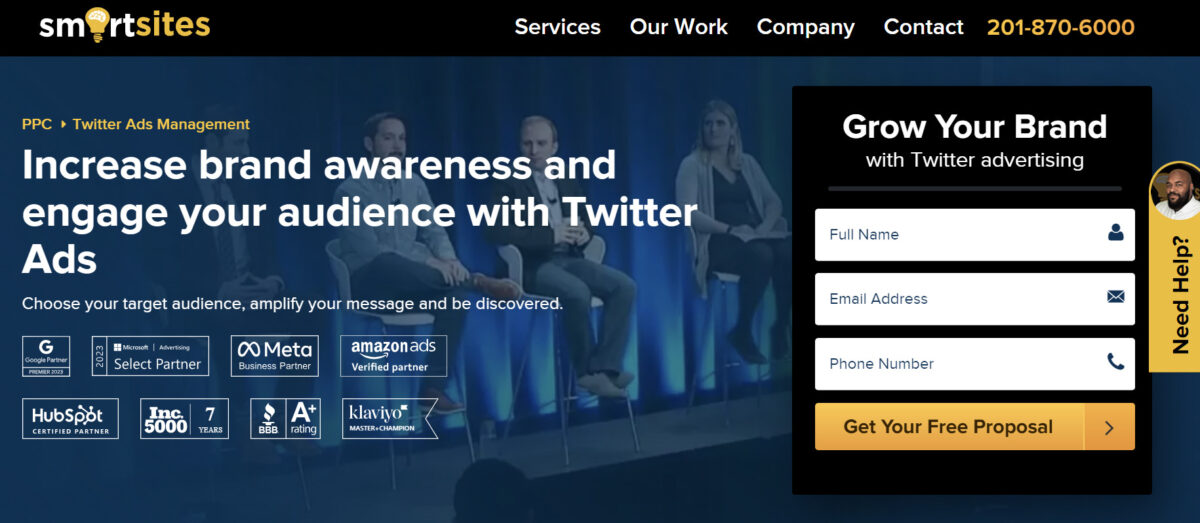 SmartSites, esteemed as a prominent Twitter management agency, seamlessly integrates efficacy and innovation, establishing a nuanced connection with active Twitter users. Recognized by platforms like G2 and GoodFirms, SmartSites underscores its expertise with a comprehensive approach to social media marketing specifically tailored to optimize engagement within Twitter's concise content landscape. The agency is adept at creating content that is both succinct and resonates, ensuring each tweet becomes a conduit for enhanced brand awareness.
What Sets this Agency Apart?
The agency accentuates engagement as a pivotal element of effective Twitter marketing. Beyond crafting and scheduling impactful tweets, SmartSites dedicates its expertise to real-time account monitoring and analytics, ensuring brands not only participate in but also shape conversations in the dynamic Twitter environment. Their adeptness in leveraging multimedia content amplifies this engagement. With insights showing that 82% of Twitter users view video content on the platform, SmartSites' integration of interactive posts is meticulously designed to optimize reach and growth.
---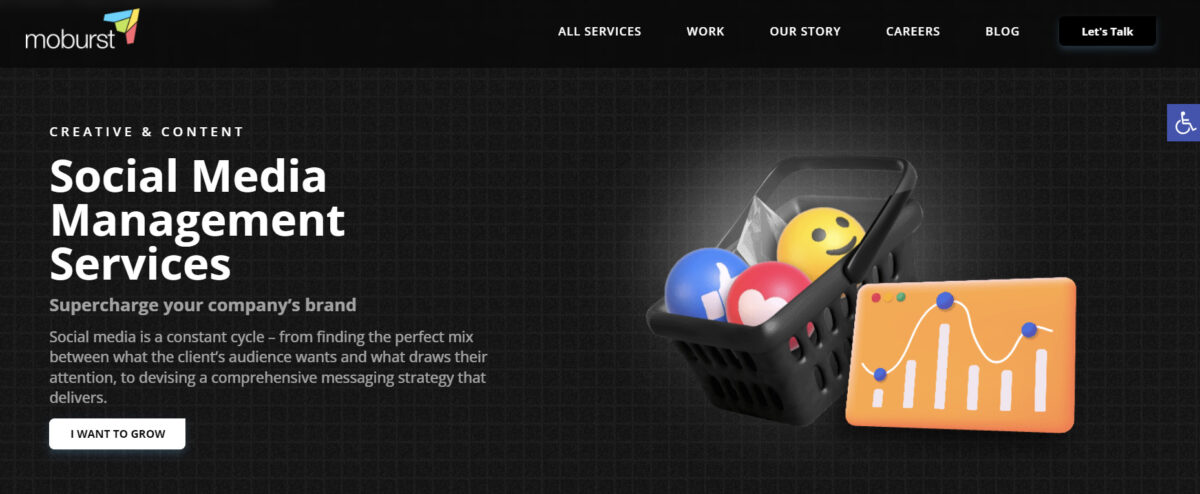 Moburst stands at a pinnacle in the domain of Twitter marketing, characterized by its globally recognized expertise in media buying and search engine marketing. With a unique global footprint, the agency boasts VIP support from major platforms, offering an unprecedented edge in campaign execution and results optimization. Moburst's prowess is underlined by its partnership statuses, including being a Premier Google Partner and a key marketing agency for TikTok. This global positioning allows them to streamline results-driven campaigns, ensuring each client's bespoke needs are met with precision and innovation.
What Sets this Agency Apart?
Moburst distinguishes itself through a meticulously crafted process that includes building custom media plans rooted in an in-depth understanding of each brand's ethos, target audience, and vertical. The agency's accolades and case studies, such as achieving a 1500% return on campaign investment and reducing cost per install by over 85%, are testaments to its ability to convert strategies into tangible outcomes. With a suite of services encompassing SEO, ASO, and digital transformation, Moburst transcends conventional boundaries, offering a holistic approach to Twitter marketing that synergizes creativity, technology, and strategic acumen to propel brands into new echelons of visibility, engagement, and ROI.
---

Thrive adeptly amalgamates dynamic strategies with real-time engagement to augment brand visibility and consumer interaction on Twitter. The agency illuminates a path to global brand awareness, amplifying engagements and boosting website traffic, all calibrated finely within the 280-character ecosystem of Twitter. With an explicit focus on harnessing the platform's robust and eclectic user base, Thrive moulds strategies that resonate with a global audience, 80% of whom are stationed outside the United States and are affluent, informed, and highly engaged.
What Sets this Agency Apart?
As ad engagements have soared by 69% since 2017 and the cost-effectiveness of campaigns has been enhanced, Thrive's tactical acumen is showcased through an eclectic mix of services. From real-time monitoring to campaign analytics and audience identification, each strategy is finely tuned and tailored to the brand's distinct objectives. Paid ads, a critical component of Thrive's arsenal, are maneuvered with precision to garner new followers and position valuable content squarely before the targeted audience. The agency's transparency and experience are foundational pillars, ensuring that clients are not just spectators but informed participants in the journey of their brand's Twitter ascendancy.
---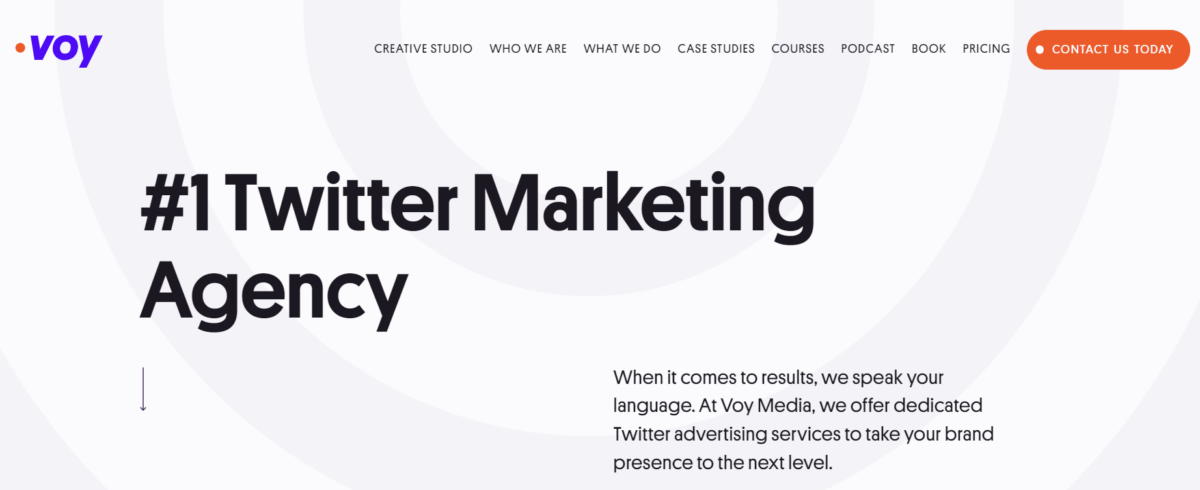 Voy Media distinguishes itself as a full-service agency that elevates Twitter advertising to art where creativity and data intertwine for optimal brand engagement. With a client roster spanning from Fortune 500 giants to innovative startups, Voy Media has carved a niche in crafting compelling narratives that capture attention and drive engagement and conversions. Their dedicated Twitter advertising services are anchored in holistic strategies that transcend typical sales and branding approaches; they are engineered for growth and impactful internet presence. Their services encapsulate a diverse array, including strategic retargeting, dedicated account management, and a creative studio equipped for custom photoshoots, ad video design, and real-time analytics.
What Sets this Agency Apart?
The ethos of the agency is deeply rooted in performance, and this is exemplified by a track record of helping businesses scale their revenue exponentially. Every strategy is meticulously crafted and executed, ensuring brands don't just exist but thrive amidst the digital clamor. The agency's unique approach combines data and creative elements, ensuring each campaign is both visually appealing and grounded in insights for maximum effectiveness. Voy Media's multidimensional approach, including high-volume creative testing and tailored customer acquisition strategies, results in optimized campaigns for maximal ROI, making it a trusted partner for entities aiming to solidify their digital footprint.
---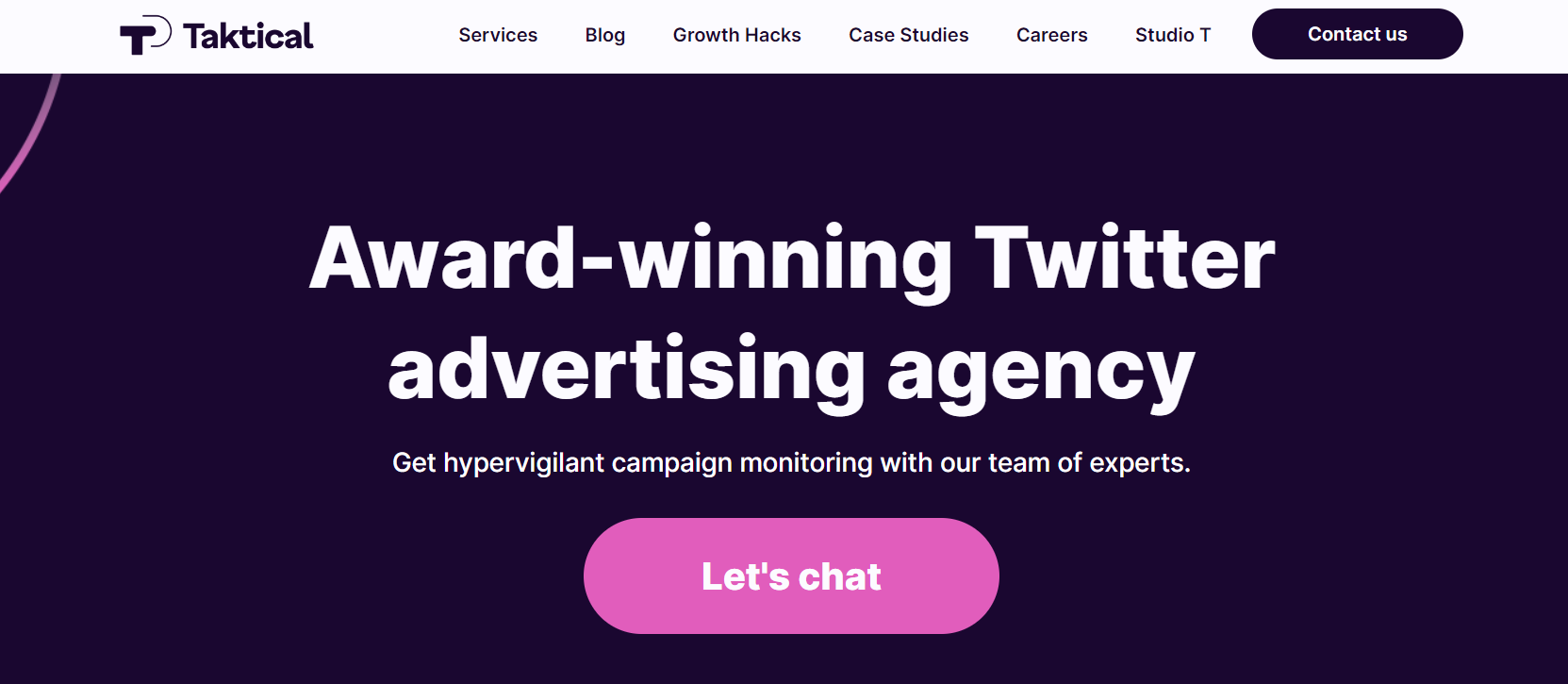 Taktical Digital is not just another marketing agency but an award-winning hub where creativity, strategy, and data converge to deliver compelling Twitter advertising campaigns. Renowned for its hypervigilant campaign monitoring, Taktical ensures every tweet and interaction is optimized for maximum engagement and reach. As an official Twitter partner, the agency boasts an unprecedented edge over the competition, powered by an in-house creative team that is as innovative as it is adept at tailoring unique, engaging content for diverse audiences.
What Sets this Agency Apart?
Taktical Digital transcends traditional marketing paradigms by integrating robust analytics and strategic insights into every campaign.  The agency's process is a harmonious blend of discussion, development, monitoring, and continuous refinement, underscored by transparent reporting that keeps clients informed and empowered.  Moreover, the agency's adeptness at harnessing Twitter's unique qualities—its spontaneity, open platform for brand-user interaction, and tolerance for constant content posting—marks it as a leader in the Twitter marketing space. The agency's case studies boast impressive metrics of increased monthly revenue and traffic, reduced CPC, and enhanced click-through rates, embodying a testament to its efficacy in navigating the Twitter advertising landscape.
---

Brafton's Twitter marketing services are a meticulously crafted blend of strategy, content creation, and engagement, driving brand elevation and digital connections. The agency's adept team of in-house strategists and content creators deploy both organic and paid Twitter campaigns, ensuring a balanced approach to foster brand visibility. Brafton treats this platform as a linchpin for amplifying brand narratives and aligning marketing initiatives with real-time industry trends and conversations. Every tweet, survey, and poll is engineered to garner actionable insights, making audience engagement a wellspring of strategic intelligence.
What Sets this Agency Apart?
Brafton offers à la carte or comprehensive social media management packages tailored to individual brand needs. Services encompass creating and optimizing business Twitter accounts, generating custom social posts, managing Twitter end-to-end, and executing social media ad budgets. Their approach is underpinned by flexibility, enabling on-the-fly optimization and tactical adjustments, ensuring strategies remain agile and responsive. With live tweeting, social listening tools, and interactive content creation, Brafton's services are holistic, aligning Twitter campaigns with overarching digital marketing objectives. Integrated social media marketing, sophisticated influencer outreach, and advanced analytics tracking culminate in a strategy that is as dynamic as it is results-driven.
---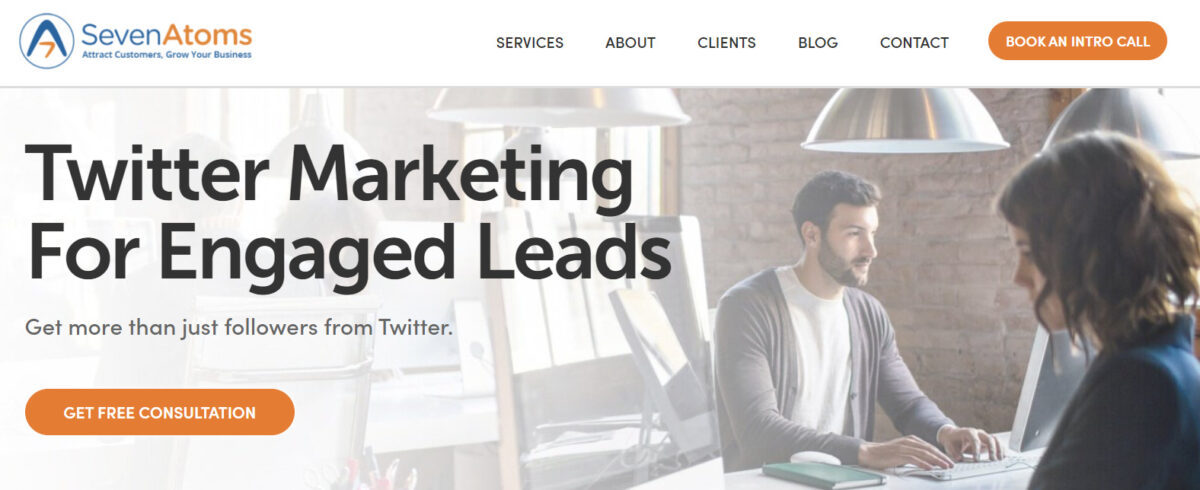 SevenAtoms capitalizes on the real-time dynamism of Twitter, leveraging both organic and paid strategies to augment brand presence and engagement. The agency underscores the colossal opportunity Twitter offers to businesses, particularly in the B2B sphere. The core offering pivots on the creation of content that's not just engaging but tailored to nurture relationships and convert followers into brand advocates. Strategic content scheduling and targeted paid advertisements form the trifold foundation of their Twitter marketing blueprint.
What Sets this Agency Apart?
The agency's service is stratified into quintessential segments – SEO-optimized profile setup ensuring enhanced visibility and follower attraction, a content strategy rooted in in-depth analytics and audience engagement metrics, strategic follower growth leveraging tailored content, and the setup of Twitter Cards to transform content shares into rich, engaging media experiences. The capstone is Twitter advertising – a realm where SevenAtoms demonstrates its acumen in audience targeting and campaign optimization. Each service is rendered with precision, backed by analytics, and aimed at not just meeting but exceeding social marketing goals. The agency's track record, evidenced by a repertoire of successful campaigns across diverse industries, underscores its proficiency and adaptability in the Twitter marketing arena.
---
Key Twitter Marketing Statistics to Consider
Twitter stands as a formidable platform for businesses aiming to enhance their online presence, engage with a wider audience, and augment brand loyalty. A detailed look into the crucial Twitter marketing statistics provides an in-depth insight into the platform's untapped potential and efficacy.
Twitter boasts over 528.3 million monthly active users, a figure that underscores its extensive reach. Brands have the opportunity to connect with a diverse audience, driving engagement and conversations around their products or services. A survey indicates that 67% of all B2B businesses are using Twitter as a digital marketing tool, exploiting the platform's capacity to reach a professional and influential audience.
Engagement on Twitter isn't just prolific; it's also potent. Tweets with images receive 150% more retweets than those without. It underscores the power of visual content in enhancing engagement and amplifying a brand's message. Furthermore, 93% of Twitter's video views are on mobile, indicating the platform's dominance in the mobile user demographic.
The right engagement strategy on Twitter can substantially increase a brand's visibility, customer base, and, ultimately, revenue. A nuanced understanding of these statistics is instrumental for businesses aiming to capitalize on Twitter, turning every tweet into an opportunity for brand enhancement and customer engagement.
---
How Twitter Marketing Services Propel Brands Forward?
In a world teeming with businesses vying for digital dominance, standing out becomes a complex challenge. Twitter marketing services have emerged as pivotal in carving a distinctive identity, giving brands the competitive edge they require to not just survive but thrive.
Businesses leveraging professional Twitter marketing services report a significant uptick in brand awareness. These services adeptly tailor content, hashtags, and engagement strategies to a brand's unique identity and objectives, ensuring every tweet resonates with the intended audience and amplifies the brand's voice.
Moreover, Twitter marketing isn't just about broadening reach; it's about reaching the right audience. With 63% of Twitter users worldwide being between the ages of 35-65, businesses have direct access to a demographic with considerable purchasing power. Professional services ensure this audience isn't just reached but is also engaged and converted.
Every retweet, reply, and like on Twitter amplifies a brand's presence, creating a ripple effect of visibility and engagement that's unattainable through traditional marketing means. In essence, Twitter marketing services aren't an option but a necessity for businesses aiming for exponential growth and market dominance.
---
ROI Amplified: The Financial Upside of Optimized Twitter Marketing
Return on Investment (ROI) is the yardstick by which businesses measure the efficacy of their marketing strategies. In the realm of Twitter marketing, the narrative of profitability is overwhelmingly positive, painting a picture of substantial financial gains and enhanced profitability.
Businesses investing in professional Twitter marketing services report an average increase of 20% in their ROI. These services, with their bespoke strategies, not only enhance brand visibility but also drive targeted traffic, augmenting both leads and conversions.
Furthermore, with the right targeting and hook, businesses get 25% cheaper cost-per-results compared to other ad platforms, a statistic that underscores the platform's capacity for cost-effective marketing. The ability to target ads with precision ensures that businesses reach audiences that are not just vast but also relevant, maximizing both engagement and conversions.
Additionally, 89% of users report using the platform to find new products, illuminating the platform's potential as a tool for brand discovery. In a nutshell, Twitter marketing, when optimized, isn't an expenditure but an investment, offering returns that are not just substantial but also sustainable.
The financial upside of optimized Twitter marketing is undeniable. With enhanced ROI, reduced costs, and augmented brand discovery, businesses find in Twitter a partner that propels them toward financial resilience and profitability. The narrative isn't just about tweets but about tangible financial gains, making Twitter marketing an indispensable tool in the modern digital marketing landscape.
---
Conclusion
The agencies reviewed in this article exemplify mastery in turning the platform's extensive reach and engagement potential into tangible business results. Their customized strategies, marked by a harmonious blend of innovation, data analytics, and creative content, are designed to not only elevate brand visibility but also foster authentic engagements and drive business growth. In an environment where every tweet, hashtag, and interaction can be pivotal, these agencies stand as indispensable partners, transforming Twitter profiles into potent marketing arsenals.
The exceptional ROI, amplified brand awareness, and enhanced audience engagement achieved through these agencies highlight the significant untapped potential of Twitter in the contemporary digital marketing landscape. For businesses aiming to not just navigate but also dominate the bustling Twitterverse, partnering with these adept agencies can be the catalyst for unprecedented digital success and market prominence. 
Frequently Asked Questions
How can small businesses effectively utilize Twitter for marketing?
Small businesses can leverage Twitter by engaging with their audience through regular, valuable content, using hashtags to increase visibility, participating in trending conversations, and utilizing Twitter Ads to reach a broader audience.
What are the best practices for content creation on Twitter?
Creating concise, engaging, and visually appealing content is key. Brands should focus on relevancy, utilize hashtags wisely, incorporate images or videos for higher engagement, and consider the optimal times to post for maximum reach.
How can analytics be used to enhance Twitter marketing strategies?
Analytics can provide insights on the best-performing content, audience demographics, and optimal posting times. Brands can analyze this data to refine their strategies, improve engagement, and increase their return on investment.
Is it beneficial to use automated tools for Twitter marketing?
Automated tools can help schedule posts, track mentions, and analyze results, but they should be used wisely. Authentic engagement, personalized responses, and real-time interactions are crucial for building relationships and trust.
How can a brand increase its followers on Twitter organically?
Brands can increase followers by consistently sharing valuable content, engaging with followers, participating in relevant conversations, using hashtags effectively, and collaborating with influencers or other brands for wider visibility.