Advertising Disclosure
Advertising disclosure:
Our partners compensate us. This may influence which products or services we review (also where and how those products appear on the site), this in no way affects our recommendations or the advice we offer. Our reviews are based on years of experience and countless hours of research. Our partners cannot pay us to guarantee favorable reviews of their products or services.
Increasing your productivity is about more than just planning out your day and managing your time well. Sure, that's important. But you'll get even better results when you can type with speed and accuracy. That's how you can zoom through your to-do list and accomplish more than you ever thought possible - or at least get things done faster and with better accuracy. But as anyone who's ever tried to increase their productivity can tell you, it isn't easy.
Sometimes you need an effective and simple tool to help you on your way. So here are 25 highly effective typing speed test tools that can fast-track your path to ridiculous levels of productivity. Check out our very own Typing Test Tool for FREE.
typing speed test
Test Your Typing Skills
Here you can find activities to practise your reading skills. Reading will help you to improve your understanding of the language and build your vocabulary.The self-study lessons in this section are written and organised according to the levels of the Common European Framework of Reference for languages. There are different types of texts and interactive exercises that practise the reading skills you need to do well in your studies, to get ahead at work and to communicate in English in your free time.Take our free online English test to find out which level to choose. Select your level, from beginner to advanced, and improve your reading skills at your own speed, whenever it's convenient for you.
You are fast as a cheetah!
You nailed it! Good job, fellah! You type with the speed of 99 WPM (95 CPM). Your accuracy was 82%. Well done!
---
What Is a Typing Speed Test Tool or Typing Tutor?
Typing speed test tools do exactly that: help you understand how fast and accurate your typing currently is. Some of the typing speed test tools on our list also include typing tutor features that can help you improve your accuracy and speed.
---
What Is WPM?
WPM is short for Words Per Minute. This is how many words you can type in a single minute. Some typing speed test tools adjust your WPM based on accuracy. So, if you're less accurate, your WPM will be lower than it would have been had your accuracy been higher.
---
What Are the Benefits of a Typing Speed Test or Typing Tutor?
If you're an influencer or marketing professional, you may be wondering why you'd even bother with a typing speed test tool or typing tutor. For starters, typing faster and with better accuracy is going to help you get those emails and blog posts written faster so you have more time to work on building your business. Plus, there are coordination and motor skills benefits that come with working on your typing speed and accuracy.
---
Best Typing Speed Test Tools (Plus Tutoring!)
The average person can type 38–40 WPM. But if you spend a lot of your time writing emails, blog posts, copy, and social media posts, typing speed and accuracy are critical skills to help you increase your productivity.
We've compiled a list of 25 of the best typing speed test tools (free and paid) you can use to find out where your typing skills currently fall. You'll also find several typing speed test tools that include tutoring to help you improve your skills to get more done in less time.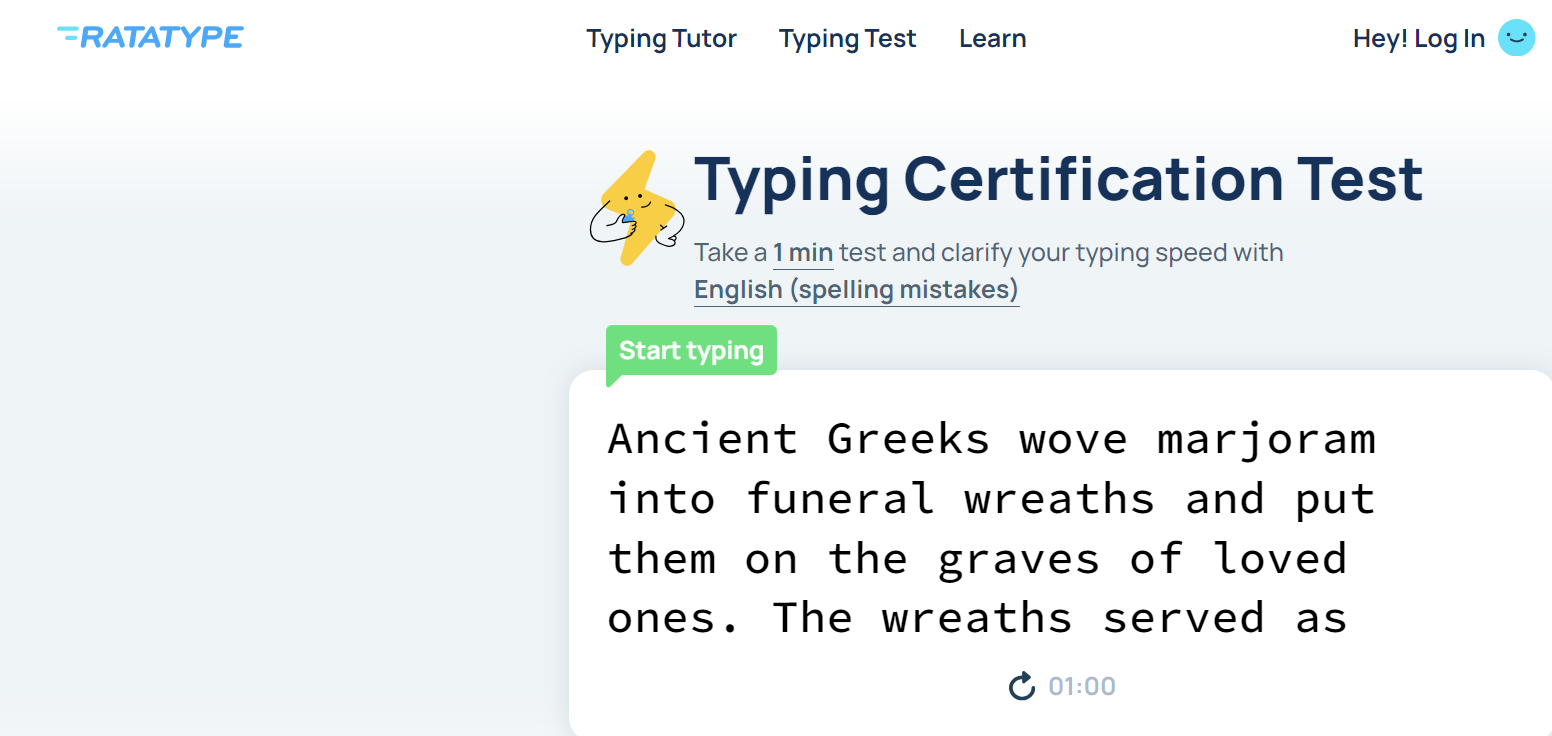 Price: Free
Ratatype is a simple online typing tutor and a free typing speed test tool. The typing speed test involves typing a short piece of text and you can test in English, Spanish, or French. Rataype offers a typing certificate that you can show off. The courses are free for any user in any language. It has an easy-to-use, simple interface and lets users complete courses on their own or compete against friends. In addition to different languages, Ratatype supports different keyboard layouts like QWERTY, AZERTY, and Dvorak. Each of the typing courses has up to 20 lessons with up to 25 exercises each.
---
---
---
---
---
---
---
---
---
---
---
---
---
---
---
---
---
---
---
---
---
---
---
---
---
Frequently Asked Questions
Are there any free typing speed test tools?
Yes, there are a few typing speed test tools that you can use free of charge. You can, for example, check out Ratatype, Speed Typing Online, Klavaro Touch Typing Tutor, 10FastFingers, Key Hero, GNU Typist, Rapid Typing and KTouch Typing Tutor. These are just a few of the best free tests available to help you improve your typing speed. For many of these, you don't even have to create an account, but if you want to track your progress you will need to sign up.
What does typing speed tests cost?
Some typing speed tests are available at a set monthly or yearly fee, while others charge a one-time fee for unlimited installs or a lifetime license. There are also quite a few typing speed tests available that you can actually use free of charge.
How can I learn to type faster?
You can use a typing speed test tool that includes typing tutor features. Not only will this type of tool help you to improve your speed, but it also teaches you to type more accurately. You can, for example, use Ratatype, Typing Cat, Typing Master or Speed Typing Online. These are some of the best typing speed test tools with a typing tutor included. For some you need to purchase a lifetime license or pay a monthly fee, but others are available for free.
What does WPM stand for?
WPM is short for words per minute. This refers to how many words a person can type in just one minute. The average person can type about 38 to 40 words per minute (WPM). You can find out your WPM by using a typing speed test tool. Some of these tools will adjust the words per minute you type by taking into account your accuracy as well. So, if you have made mistakes, your words per minute will be lower.
How can I learn to type faster in Spanish?
You can, for example, use Ratatype. It is a simple online typing tutor and typing speed test tool that you can use free of charge. For the typing speed test, you will have to type a short Spanish piece of text. Its interface is easy to use and understand and supports different keyboard layouts too. Each typing course has about 20 lessons with as many as 25 exercises per lesson.