Advertising Disclosure
Advertising disclosure:
Our partners compensate us. This may influence which products or services we review (also where and how those products appear on the site), this in no way affects our recommendations or the advice we offer. Our reviews are based on years of experience and countless hours of research. Our partners cannot pay us to guarantee favorable reviews of their products or services.
White-label software is a software you buy and use as your own. You don't keep anybody else's logo visible to outsiders, meaning you can provide a fully branded experience for your customers and any other external users. A typical example involves websites. Many firms, even large businesses, develop their website using the content management system (CMS) WordPress rather than building a custom HTML/CSS/JavaScript solution. Yet you usually don't see "Powered by WordPress" emblazoned over the resulting website. Instead, the site owner will use their own logo throughout the site. That doesn't mean that they are "stealing" the website from WordPress, taking all the credit and denying WordPress credit to their site. No, they are merely using a white-label solution. Providers of many affiliate marketing tools offer a similar solution.
Most software nowadays is sold as software-as-a-service (SaaS), with the main exception being that targeting enterprises (and some large institutions such as schools and universities). You are paying for the right to download and use software for an agreed period, with the knowledge that you will have to repay at the end to continue your usage. Most affiliate marketing platforms (including white-label affiliate marketing software and tools) follows this same business model. White-label SaaS products typically combine software and supporting services, rebranded for different companies. This can be achieved by the software supplier either adding each customer's brand elements to their copy of the software or by providing an unbranded platform that their customers can customize.
---
White Label Affiliate Marketing Software and Tools:
---
What is White Label Affiliate Marketing Software?
If you're a brand wanting to use affiliate marketing to promote your products, there are multiple ways you can run your affiliate program. We looked at a few of these in our Ultimate Guide to Building an Affiliate Marketing Program on Instagram. The two main courses of action you could take are:
Join an affiliate marketing network and leave it to them to act as the intermediary between applicable affiliates and yourself. In this case, the primary affiliate marketing software you will use will be their platform (usually emblazoned with their branding). Popular

affiliate marketing networks

include AWIN, C J Affiliate, and ShareASale. In this case, you won't use white-label affiliate marketing software – mainly because the affiliate networks have direct contact with the affiliates rather than you having to organize them. You will have to factor the cost of being a member of the affiliate marketing network into your budget. Still, in return, you can devote less time to managing your affiliate marketing.

Run your own branded affiliate marketing program, where you find suitable affiliates and manage their activities, often in defined affiliate marketing campaigns. This will typically involve more work than being part of an affiliate network, but the costs are likely lower. And you will find many affiliate marketing tools you can use to simplify the process and save yourself considerable time. This article will look at a selection of these you can use as a white-label affiliate marketing tool.
We saw in Best Affiliate Marketing Automation Software to Scale Your Marketing Strategy that you can use affiliate marketing automation software to:
Perform daily technical tasks such as campaign overview, data analysis, and reporting.

Optimize campaign strategy and affiliate performance.

Serve as a communication and resource channel for your affiliates.

Run data-backed advertising campaigns.

Save time and money for other business objectives or marketing tasks.
While you can achieve much of this without white-label affiliate marketing, it can come across as mass-market and cookie-cutter, particularly to outsiders (such as affiliates) using your resulting unbranded affiliate platform.
---
Why Use White Label Affiliate Marketing Software?
We've already seen how affiliate marketing software and tools can benefit brands using affiliate marketing as a channel to promote their products. And if you're a small business, you may be more concerned about paying the lowest cost to gain access to the tools rather than thinking about how the branding looks to users. But the larger you grow, the more you want to establish a professional presence.
Ideally, you want all traces of the affiliate marketing software's logo and branding removed from any software parts visible to external users. Instead, you want everything to appear integrated to them – they use "your" app (or go to "your" website) to manage and administer their affiliate marketing on your behalf.
---
White Label Affiliate Marketing Software and Tools

UpPromote is an automated all-in-one affiliate, referral, and influencer marketing solution. It sees affiliate marketing as a five-step process:
Set Up and Share – UpPromote provides a default Affiliate Program with an Affiliate registration form. The merchant can then edit the program, customize the affiliate registration form, and set up other details for the program. They then share the Affiliate Registration form to invite affiliates to join their affiliate program.

Get Affiliates – affiliates register to join the affiliate program. The merchant reviews and activates/deactivates each potential affiliate

Affiliate Promote – UpPromote generates an affiliate link for each affiliate, who then uses it to promote the merchant's shop

Earn – customers place orders via the affiliate link or coupon code, with UpPromote taking care of the recordkeeping. The merchant reviews the referral order

Pay – UpPromote calculates commission and guides the merchant to pay the affiliate (manually)
UpPromote offers white-label solutions in two ways. Firstly, if you have a Professional plan or higher, you can create a custom domain for the affiliate login page, affiliate registration form link, or network link instead of ones starting with af.uppromote.com. Secondly, at the Growth level and higher, there is a white-label email option, where merchants can use their email as the sender's email address when sending emails from the app. When you send emails to affiliates from the service at lower levels, they see a sender address of [email protected].
---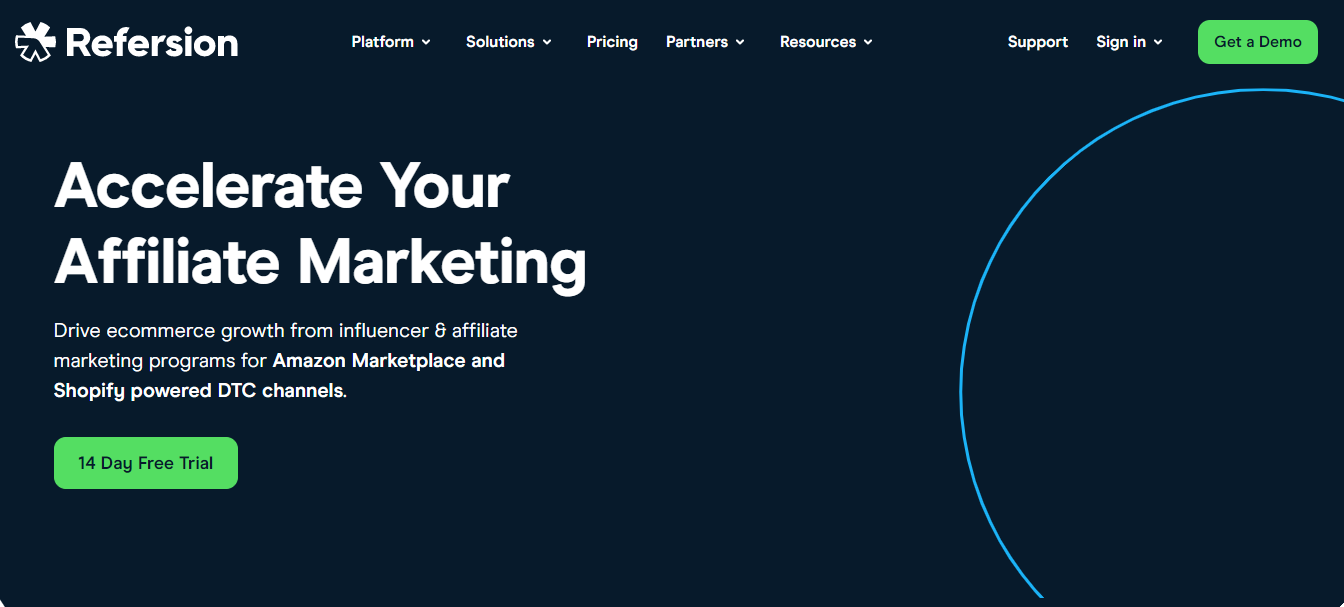 Refersion has recognized the similarities between influencer and affiliate marketing and created a platform that caters to both. It has also noticed the increased interest in eCommerce sites in recent years and includes direct integrations with Amazon, Shopify, and other major eCommerce platforms.
Refersion provides a white-label version of its affiliate marketing software to those who select the Enterprise or Enterprise Plus plans, both of which feature custom pricing. However, it isn't an option if you have gone for the cheaper Professional plan (which also has a limit of 50 monthly order conversions).
With Refersion, you can easily recruit affiliates through a branded self-registration page you add to your website. You can even convert customers to ambassadors with a post-purchase pop-up. You can quickly review affiliate applications and keep track of hundreds of potential affiliates. In addition, Refersion's new eCommerce Affiliate Discovery solution is perfect for eCommerce brands wanting to scale their eCommerce sales by quickly growing their affiliate networks
You can use their software to create custom campaigns, automate product feed data, and track key performance metrics. In addition, Refersion Pay offers automated conversion approvals, payment scheduling, and direct payments. Refersion prides itself on providing a seamless affiliate program to your affiliates.
---

Tapfiliate is affiliate tracking software for eCommerce and SaaS that integrates seamlessly with your site in minutes. It helps you create, track and optimize affiliate marketing programs. It integrates with WooCommerce, Shopify, WordPress, and 30 other platforms.
You can use Tapfiliate as white-label affiliate marketing software at all tiers except for the lowest (Starter) plan. You can create white-labeled affiliate pages that match your brand and domain. You can give affiliates a branded dashboard (in one of six possible languages) and add your brand to any links. You can also create custom sign-up fields and payout methods.
Easily integrate Tapfiliate in minutes using one of their modules or guides or installing manually if you prefer. You can add affiliates through an invite link, manually, SSO, or the API. Send emails from Tapfiliate or create email campaigns in your existing marketing tools. Add banners, text links, videos, and social posts for your affiliates, and wait for them to spread the word about your products.
---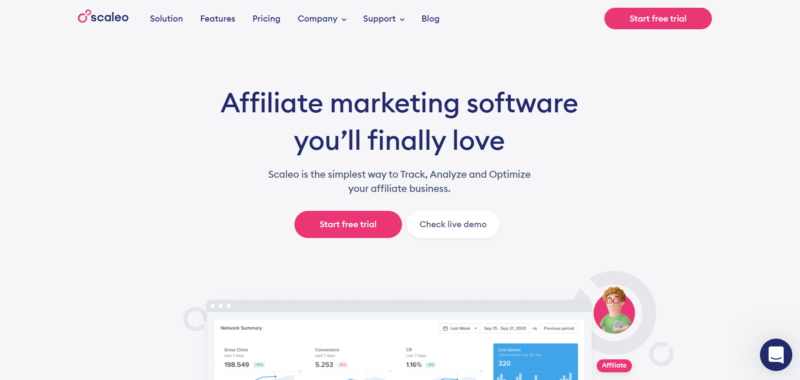 Scaleo provides affiliate marketing software to track, analyze, and optimize your affiliate business. It allows you to create a seamless customer experience that fits your brand perfectly. You can also optimize your campaign performance with their AI tools, monetizing every click using smart traffic redirection.
Scaleo is professional-level software, with plans starting at @299/mo. It offers a customizable white-label interface, where you can insert your logo and brand colors at all plan levels and run it on your domain. You can also customize your Admin and Affiliate dashboard. In addition, at the highest tier, Scaleo states that they can develop a branded mobile app for an additional fee.
---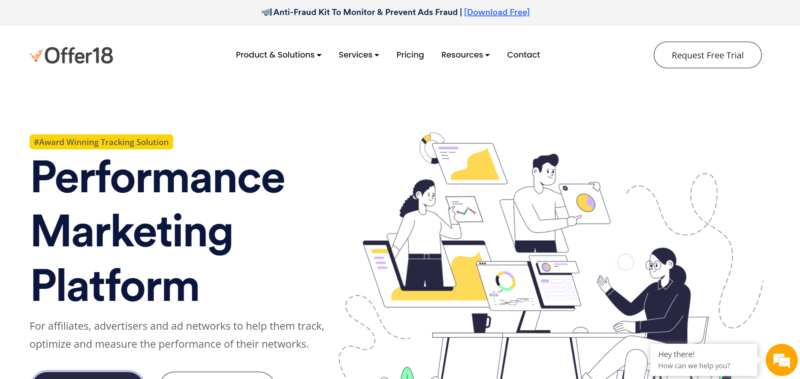 Offer18 describes itself as a performance marketing platform for affiliates, advertisers, and ad networks to help them track, optimize and measure the performance of their networks. It includes a complete white-label solution for managing your affiliate network, through which you can show their brands to your partners.
It provides a custom-designed interface with a walkthrough, tooltips, quick demonstrations, and documentation guides. You can host your partner network on a custom domain and configured email SMTP. Advertisers and affiliates can log in using customized hosted domains. In addition, your dashboard lets you use your own email address to send emails to custom addresses or partners.
You can use Offer18 to create, start, and manage your affiliate networks efficiently. In addition, you can enable scalable advertising across most channels with advertiser integration. It includes revenue and payout dashboards for affiliates and advertisers. You can also chat with your affiliates by integrating with most chat services.
---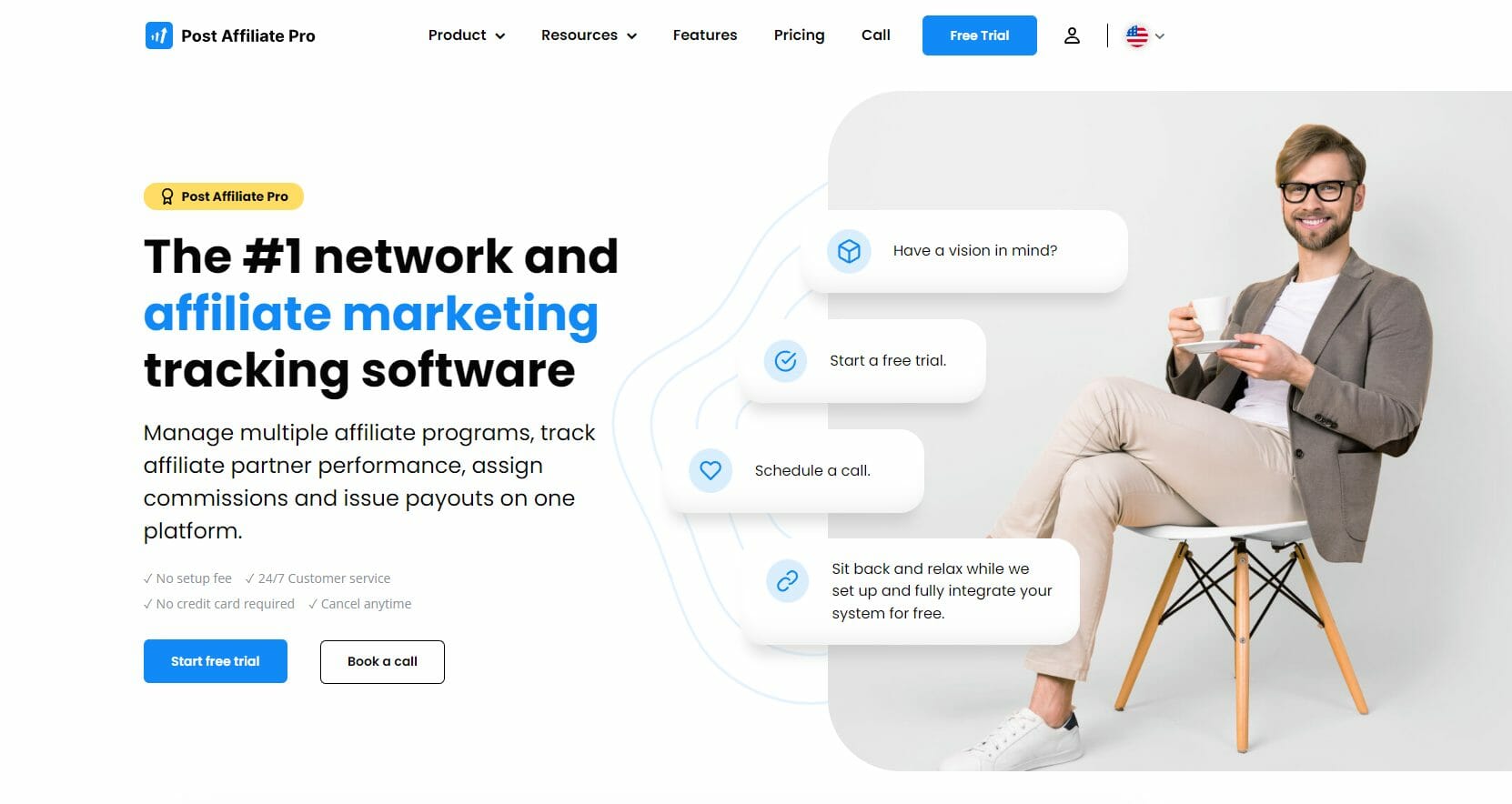 Post Affiliate Pro helps you manage multiple affiliate programs, track affiliate partner performance, assign commissions and issue payouts on one platform. You can use it to keep track of all affiliate partner performance, engagements, qualified leads, and conversion rates. It integrates with over 200 CMSs and payment gateways.
You can use Post Affiliate Pro as both affiliate network software and affiliate program software, either setting up your own affiliate network or creating and managing an affiliate program. As a result, it supports three types of users:
Network owners – merchants with complete control over all affiliates and merchant accounts

Merchants – affiliate program owners

Affiliates
Post Affiliate Pro provides a "Branding-free" option, where you can remove their branding from the affiliate program. However, you either need to purchase the Network Plan or pay an additional $27/mo on the Ultimate plan.
---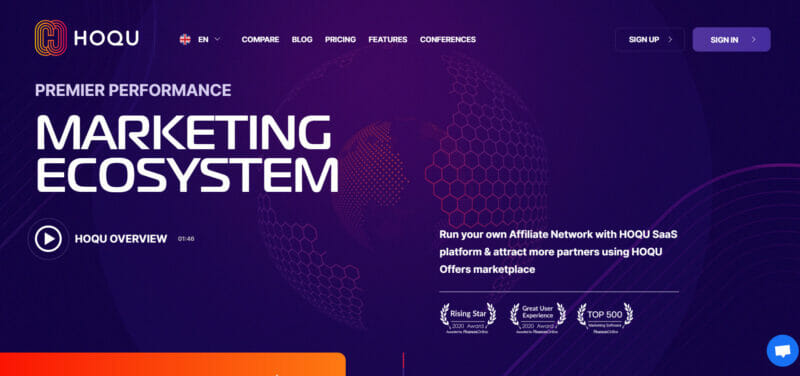 You can run an Affiliate Network with the HOQU SaaS platform and attract partners using the HOQU Offers marketplace. It helps you manage an unlimited number of partners and offers. Use invitation links to invite existing partners or user application forms to attract new affiliates and advertisers.
HOQU includes the ability to receive conversion vis S2S (server-to-server) integration. It also integrates with industry-leading fraud prevention tools to help you create a secure user experience.
You gain access to white-label affiliate marketing software on all paid plans. HOQU's white-label service permits you to set up a custom network, affiliate, advertiser, and email domain. You can use your company's logo and favicon, privacy policy and terms of use, color scheme, and a custom login page design.
---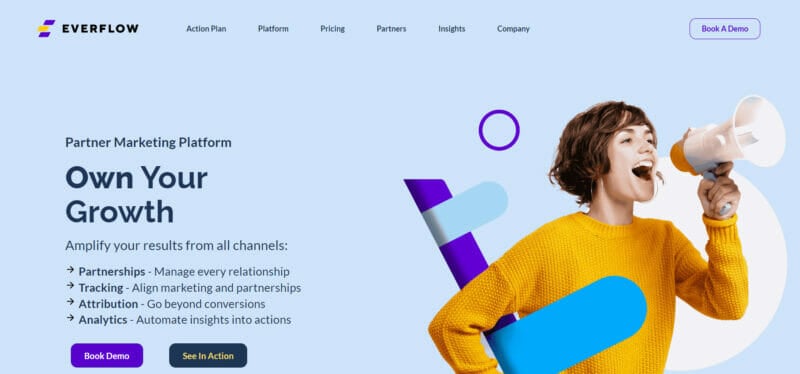 Everflow describes itself as a partner marketing system. You can partner with and manage every relationship, setting up tracking to align your marketing and partnerships. Their analytics automate insights into actions. You can track users from any channel when they reach your website using Direct Linking. Consolidate performance reporting from affiliates, influencers, emails, apps, referrals, and media buying.
Pave your path to a faster scale by building out your white-label platform to manage all types of advertiser campaigns, granular data analysis, partner recruitment, and fraud prevention. As a result, you can create a truly customized experience for your affiliates, advertisers, influencers, and all key partners. Create all necessary partner-facing materials, including branded sign-up pages, legal forms, and partner dashboards. In addition, on the backend, you can customize your dashboard to create time-saving structures for reporting, onboarding, and managing partners that work with your existing processes.
---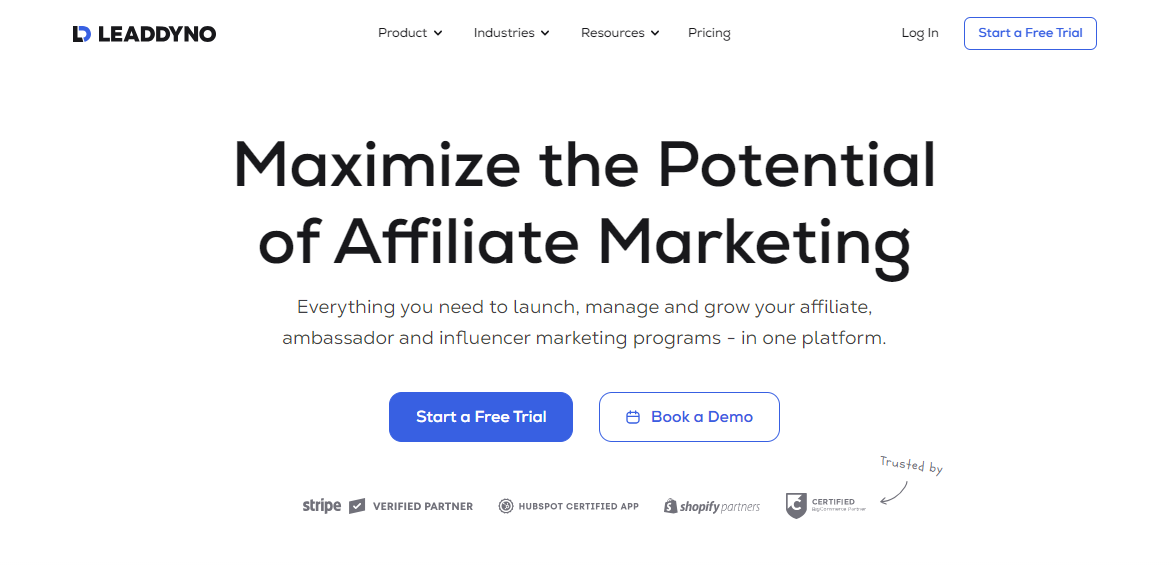 LeadDyno can provide everything you need to launch, manage, and grow your affiliate program. Get your affiliate program started in a few minutes, with no developers required. Then, use your LeadDyno dashboard
LeadDyno's affiliate software works for all sizes of businesses – simple tools for those getting started and more advanced options for enterprise businesses wanting to run a more complicated incentive or payment structure. You can set up emails to automate your marketing. Their affiliate software allows you to send emails to your affiliates and customers. Pay your affiliates with LeadDyno affiliate software and bulk pay affiliates using PayPal Mass Pay.
The platform believes the best way to avoid pitfalls with affiliate marketing is to operate as a White Label Affiliate Network, with your affiliates promoting products/services on their own websites instead of referring customers to the original service provider or seller. However, your interactions with affiliates can also be white-label. LeadDyno gives you an affiliate website you fully customize, brand, and even embed into your website. In addition, it includes a one-click plugin for eCommerce stores using Shopify, BigCommerce, Stripe, PayPal, Recurly, WooCommerce, Chargify, Squarespace, and more.
---