If you've thought of YouTube as only a place to share and watch videos, it's time to broaden your view of the platform. After all, YouTube is a search engine. As a matter of fact, according to YouTube statistics, it's the second-biggest search engine across the globe.
Considering its massive reach, creating a video marketing strategy can be a good idea to explore. If you're new to YouTube, here are the character limits that you'll need to remember moving forward. If it's not your first rodeo, it's a good idea to double-check these limits again. While you might be allowed to use as many as 10,000 characters in some instances, more is not always better.
Knowing how to make the most of these character limits can help you to rank higher, but that's just the tip of the iceberg. To make the most of YouTube's high authority in Google search, we also share other important SEO best practices that you can implement when publishing YouTube videos.
---
YouTube Character Limits:
---
How Does YouTube's Search Results Work?
There are several factors that impact YouTube's search results, but most of it remains to be a mystery. One thing that we do know is that how the content has performed does play a big role. In other words, did it receive a lot of comments and likes? These are the types of things that YouTube keeps in mind.
To put it in more technical terms, the platform uses artificial intelligence to keep track of the perceived satisfaction of viewers. It will then generate personalized future recommendations based on what viewers watched previously.
Considering this, it's crucial that you use the relevant keywords to attract the right target audience. As you'll see, many of the tips that we list all come back to keywords.
---
Understanding YouTube Character Limits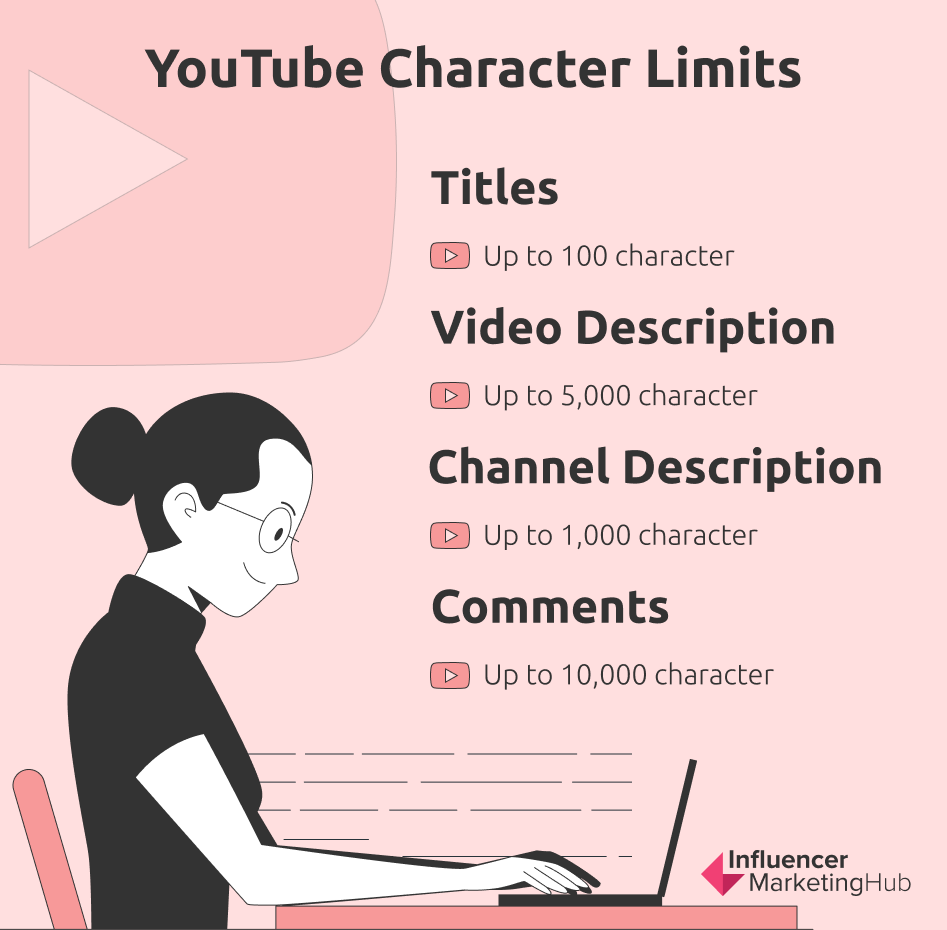 Titles
While you can use as many as 100 characters in your YouTube title, the optimal length is 70 characters (including spaces) as anything over that will in any case be shortened. In other words, only the first 70 characters will be visible to users. The rest will be replaced by the dreaded three dots and users will have to hover their mouse over the title or click on it to read the rest.
All things considered, YouTube video titles are most likely the most critical element to consider for SEO. The secret is to create an enticing title that incorporates the relevant keyword(s) (ideally, these keywords should be placed more towards the beginning of the title). However, the trick is that unlike with blog posts, you should use the exact keyword that you're trying to target. With YouTube titles, you have only one shot at this.
Also, the titles should sound completely natural and be relevant to the actual content. If a user clicks on your video only to find that it's not about what the title suggested, they'll only avoid your channel in the future.
In addition to using keywords, you can also try to include a number, if relevant. Just like listicles are popular blog post content, they make for interesting videos. All in all, video titles that are more specific work better. For example, "How I lost 20 pounds in 20 weeks" is much more attention-grabbing than "How I lost weight".
Err on the side of caution, though, as you don't want your title to come across as clickbait. For this reason, it's better not to include too many emotional words.
To help you with creating your title, you can check out our YouTube Title Generator. It's free and easy to use. Just enter the subject of your video and our tool will recommend a number of enticing titles that have been optimized. If you don't want to use it word for word, you can also adapt it. No offence will be taken.
Not only are titles important for SEO purposes, but without a great title your target audience will probably just scroll past it. Once this happens, YouTube could also start to avoid including them in their search results and list of video suggestions. If this happens, your rankings will be hurt once again.
---
Descriptions
You can also use the description as a chance to rank higher. Your description will also pop up as a rich snippet in the search results so be sure to make the most of this space to encourage people to click on your video.
Try to include the most important information and relevant keywords in the first 157 characters of your description. YouTube allows you to use up to 5,000 characters, but similarly to titles, it will shorten descriptions at about 100 characters.
So, that first sentence is crucial. It should include the main keyword (the same keywords that you've used in the title at least once) and offer a brief, accurate description of the content (without revealing everything as there should still be a reason for people to watch the actual video).
It's also a good idea to try and include long-tail keywords as users mostly search using natural, spoken language. These are best left for the second part of your description – the part that will appear when users click on "Show more". Though, guard against using too long sentences. As a bulk of users watch videos on a mobile device, you want to make sure that it's optimized for mobile and not just the web. To do this, keep your descriptions short and avoid big blocks of unstructured text.
Just like with other types of text, it's good practice to end the description with a call to action. You'll typically ask your viewers to subscribe to your channel, but in the case of product demos or unboxing videos, you can also include a website link where they can check out the product.
If you have a longer video, it can also be a good idea to add timestamps. The advantage of doing this extra effort is that it enables viewers to skip to a specific section that interests them.
Other details that you can include to help you rank higher are:
Links to social media

Affiliate links

Suggested resources

Links to other relevant videos
---
Channel Description
Your YouTube channel description appears on the About section of your YouTube channel. Here you can add a short description of what your channel is all about. You can use up to 1,000 characters.
In this section, you'll want to mention the types of topics and themes you'll cover. Also, make sure that you include what sets your content apart from similar channels? What makes you unique? Perhaps your videos will take a specific angle?
Not only can this section help to get more subscribers, but YouTube will also crawl this description. So, remember to add the relevant keywords (once again).
---
Comments
From time to time, it's also a good idea to write a comment. Not only will it help to build brand loyalty and drive engagement, but it's also the place where you can use the most characters. So, if you've been struggling to share everything that you want about your videos, use this space too. YouTube comments may be as long as 10,000 characters!
---
Other Elements That You Can Use to Optimize Videos
Thumbnails

A thumbnail is that small clickable image that you see next to the individual videos on YouTube. It's typically the first element that they see. Sure, titles are important, but users will take note of your thumbnail before they have a chance to read your title.
While they're small in size, they're massively important. Not only will they give users a glimpse into what they can expect from your videos, but they can also help you to build a consistent brand across YouTube. To do this, you'll need to create a signature style (in other words, specific fonts and color combos) that your audience will start to link with your channel. You can also use this as an opportunity to add a logo if your brand has one (you can look at how we've applied our branding to our thumbnails and copy our example).
Unlike titles and descriptions, there aren't any character limits per se. However, YouTube does offer guidelines for the ideal dimensions. These are: 1290 x 720 pixels. The aspect ratio should be 16:9, while the width shouldn't be more than 640 pixels.
Transcripts
Most of these optimization tips deal with on-page SEO, but when it comes to videos there's also in-video optimizing that you can explore. In short, it will help to offer a better overall experience which in return will help to keep viewers more engaged.
One of the ways is to add transcripts. As search engines also crawl transcripts, it's a key extra step. To do this, you can either use a transcription service or follow the DIY approach. However, the latter approach you'll probably just regret. It might be free, but it's a time-consuming process if you don't do it regularly and, to be blunt, just plain boring.
---
Should You Use Hashtags?
Hashtags can and should also be used when sharing videos on YouTube. Compared to Twitter and Instagram, it might not be used that commonly on YouTube, but you'll notice that creators often add them to the comments section (after all, YouTube comments can be up to 10,000 characters so you don't have to worry about taking up valuable space). That being said, it's best to include no more than five.
By adding a couple of relevant hashtags, people will find your content easier, ultimately making it more discoverable. Plus, it makes it easier to see what it's all about at a glance.
One great way to use hashtags on YouTube is to create a brand hashtag, in other words an original hashtag that's only linked with your content. The secret is not to make it too promotional. It should appeal to your target audience as the goal will be to get them to share this hashtag on other platforms like Instagram, Facebook, etc.
---
How to Use Analytics
While there are a number of YouTube tools that you can use (we cover a few in the next section), you can get a lot of valuable information by simply using YouTube analytics. You can use this data when you create new videos, but it can also be useful for updating older videos.
If you've already published a couple of videos to your YouTube channel, it's good practice to go back and check which ones don't have a good click-through rate. If they're still relevant and can offer value to your target audience, use these best practices to change the different elements so that they're better optimized for search engines.
Using your YouTube analytics dashboard, identify the videos that received the lowest number of views. Start by changing the titles (follow the guidelines explained earlier and/or our tool), select a new thumbnail to match the new title better, and focus your attention on marketing these videos again.
Sure, it requires some effort, but it's still much less work than creating new videos from scratch.
---
4 YouTube Tools to Help You Rank Better
---

For keyword research, SEMrush is one of the top tools. It offers intuitive keyword research tools that will help you to boost traffic to your YouTube channel so that you can outshine competitors. Not only are these keywords useful for optimizing titles and descriptions, but you can also use it to identify content ideas for new videos.
Key features:
---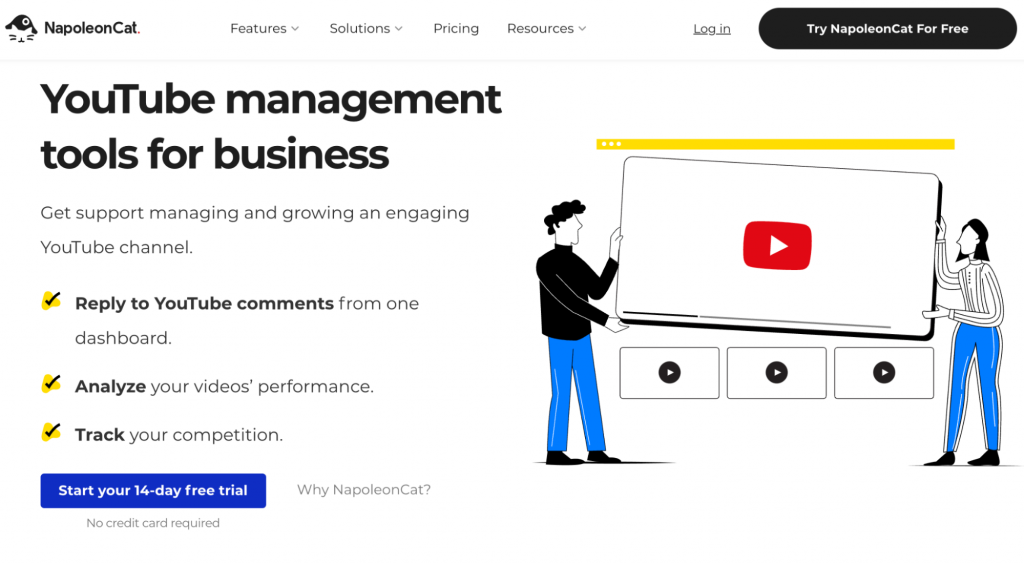 NapoleonCat can help you to manage and grow your YouTube channel. It's especially useful if you're searching for a tool that can help you to stay on top of your comments. As mentioned, replying to comments can help to keep current subscribers engaged and attract new ones, and with NapoleonCat you have no excuse as you can reply via a single dashboard. You can even use it to translate comments and replies automatically which can come in useful if you want to appeal to a global audience.
In addition to helping you manage comments, it also offers video stats to help you make sense of your channel's performance. From engagement rate to subscriber growth, you can use it to track all the most important KPIs.
Key features:
Competitor tracking

Video performance analysis

Translations

Social inbox
---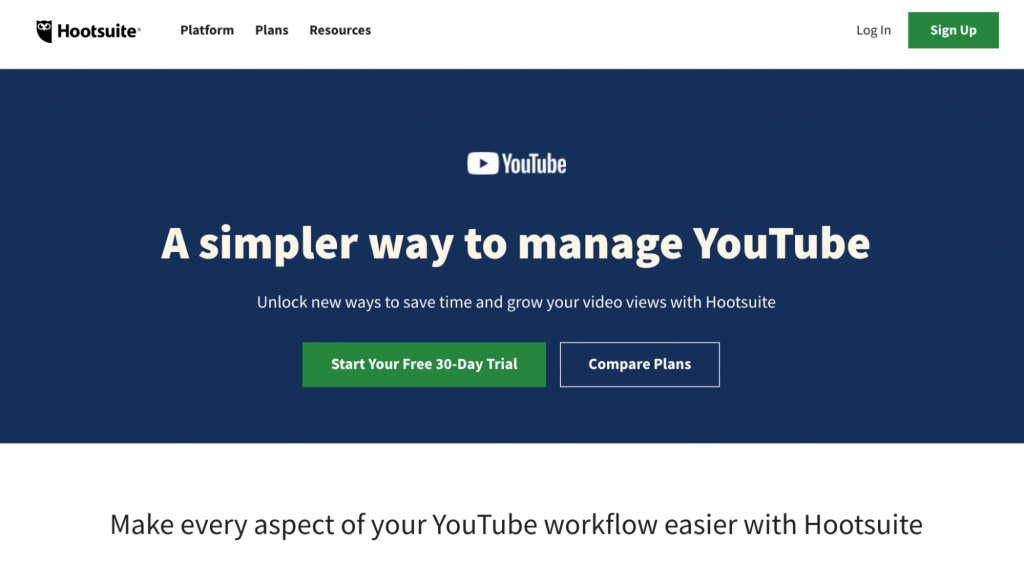 From simply scheduling videos to keeping track of important metrics, Hootsuite can help you to streamline each aspect of your YouTube workflow. It's especially useful if you're part of a bigger team as it lets you manage multiple YouTube accounts without the risk of sharing passwords.
Key features:
Channelview Insights for powerful YouTube analytics

Reports

Scheduling
---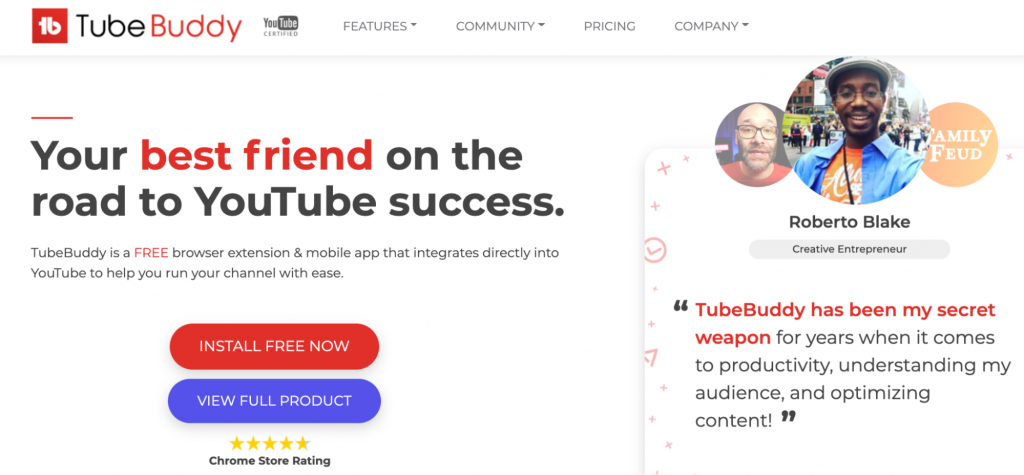 TubeBuddy can help you in various ways to manage your YouTube channel. Not only can it help you with creating and scheduling your videos, but it also offers a long list of SEO features to help you optimize your content. It, for example, performs automated checks to make sure that you're following all YouTube's recommendations (and after reading this article, you've probably realized that there are many small details like character limits that you need to pay attention to).
Key features:
Auto translator

Keyword explorer

Tag suggestions

Search rank tracking

Video A/B tests
---
Wrapping Things Up
YouTube might also be a search engine, but just like with any other social media platform, it also has character limits that apply to titles, descriptions, and comments. Though, it's not good enough simply to make sure that you don't exceed the maximum number of characters. Instead, if you want to rank higher, you'll need to know which number is the optimal length. While you might be allowed to use more, YouTube won't display all of it which defeats the purpose.
In addition to working smarter with the number of characters at your disposal, there are some other elements that you can also tweak to optimize your videos. From thumbnails to transcripts, it's worth it to put in extra effort to help get your videos in front of the right people.
Frequently Asked Questions
What is a good tool for YouTube analytics?
You can, for example, check out TubeBuddy, Hootsuite, and NapoleonCat. TubeBuddy's pricing starts at only $9 per month when billed annually and offers you analytics tools for both videos and channels. Hootsuite is slightly more expensive and starts at about $20 per month, while NapoleonCat's Standard plan costs $27 per month.
How does YouTube channel art work?
With YouTube channel art (aka the big banner), content creators can communicate key details about their channels like taglines, schedule, and other social media accounts. There are many free YouTube channel art makers that offer templates that you can use to create beautiful banners that will help to communicate these details. All in all, it will help you to attract more viewers, communicate your brand's personality better and display what your YouTube channel has to offer.
How do you identify content for your YouTube videos?
You can, for example, check out a tool like BuzzSumo or SEMrush. BuzzSumo has a social search feature that helps you to identify what's trending on YouTube. SEMrush offers intuitive keyword research tools that will help you to identify keywords which you can use as content ideas for new videos. Alternatively, you can simply use YouTube's auto-suggest feature. It's free and easy to use. Just type your topic or keyword into YouTube's search field and YouTube will automatically offer suggestions.
How can you boost your ranking on YouTube?
To boost your YouTube rankings, you need to pay attention to SEO. Firstly, get to know your target audience and their search habits better. Secondly, optimize your videos by using the right keywords in your title, channel description, and video descriptions. Other things that you can try are to engage more with your subscribers by replying to their comments, encourage people to subscribe, and create a unique thumbnail. These strategies are effective, but keep in mind that it takes time so you won't see results immediately.
How can you market your YouTube channel?
While it's important that you optimize your YouTube videos, you should also pay attention to promoting it actively. You can, for example:
Collaborate with other creators
Run a competition
Use social media
Include relevant hashtags
Share your videos by means of email
Use pop-ups
Become a guest contributor
Use a podcast