Finding the right niche is a must if you're starting a career in affiliate marketing and you'd like to thrive in this growing and highly competitive sector. Just like merchants and entrepreneurs, affiliate marketers should pick a profitable area of business besides working on something they're passionate about. It's necessary to choose a niche that will motivate you every day. But it should also provide you with a steady revenue stream, especially if you'd like to make affiliate marketing your bread and butter.

---
200+ Best Affiliate Marketing Niches and Sub-Niches to Try in 2024:
---
Benefits of Having a Niche
Defining your niche (also referred to as a "vertical")—or the particular segment of the market you want to reach—can benefit you in the following ways:
It narrows your focus to a specific audience.
Starting from a smaller target audience can help you foster relationships faster.
It can improve your sales pitch and profits.
When you're able to engage with followers more personally, you can discover their wants and needs as well as when and how they want these desires to be fulfilled. This knowledge will make it easier for you to determine what products or services to introduce and when to promote them.
It will establish you as an expert in your chosen field.
By specializing in a particular niche, you can build your reputation as the go-to person for anything about your field. Being a thought leader will build trust, which in turn, helps expand your following more easily.
---
What Makes a Profitable Niche?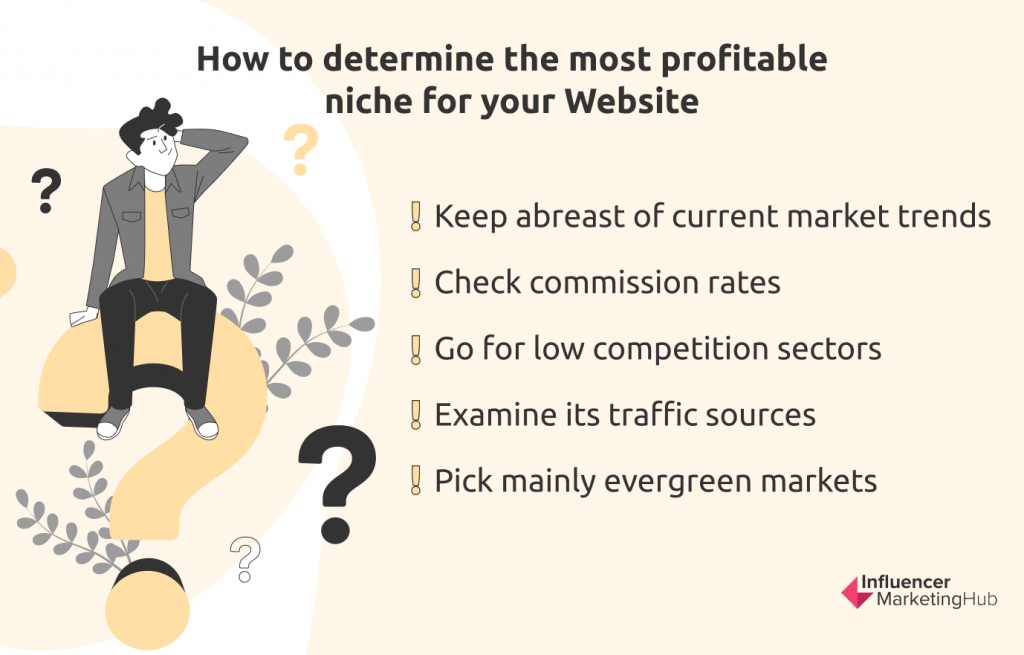 You can take the following steps to determine the most profitable niche that matches your interest:
Keep abreast of current market trends.
You can visit the blog and social media posts of reputable businesses or personalities in the sector of your choice to know what's trending in that industry. Google Trends and news media outlets are also good sources for research.
Study how much you'll earn for every sale you make on your website or social network. But also understand that affiliate programs with high commissions usually involve products that are tough to sell.
Also, find out whether there are other monetization opportunities in that niche besides commissions.
Go for low competition sectors.
Look for a niche that has some competition but isn't saturated. Conducting a keyword search can give you an idea of how competitive a niche is. A high cost-per-click means competition is high because people pay more to get their product or service noticed. Meanwhile, the keyword difficulty and search volume indicate the potential size of your market for that niche.
Examine its traffic sources.
Visit the leading websites and social media channels in the niche that you're eyeing. Then determine what sources generate visits—organic traffic, paid advertising, or social media posts (and on which social platforms)?
Pick mainly evergreen markets.
It's best to find a niche with a never-ending appeal and steady-buying market you can profit from all year round—referred to as evergreen—amid the change in consumer demands from one season to the other. For example, the demands of consumers in the fitness or home decor and furniture sectors vary depending on the season, but there are plenty of campaigns to try off-season. Meanwhile, affiliate marketers in gaming-related niches can ride on the release of new software and hardware, which are spread out throughout an entire year. Gamers are also drawn to related merchandise, from apparel to toys and jewelry.
---
16 Most Profitable Niches and 203 Sub-Niches
Technology
Sub-niches: Computers (desktop PCs, laptops, and tablets), VPN, TV sets and remote controls, digital notebooks, webcams, microphones, headphones and earphones, printers, projectors, software and apps, smartphones and peripherals (such as power banks and chargers), smart speakers, GPS for land vehicles, tracking devices (for luggage, keys, elderly patients), drones, photography and video equipment, web hosting, domain hosting, digital marketing software tools (such as SEO analysis, email management, competitor spying, webpage builders, forms, and plug-ins)
Popular affiliate sites: ShareASale, Microsoft, NordLayer, Rocketbook, Rakuten, Kinsta, GoPro, DJI, Garmin, SEMrush, ConvertKit, SpyFu
Technology is a broad niche that covers almost every facet of living. For the purpose of this list, the sub-categories for technology include mainly tools people use for business, home offices, entertainment, and education (The home security, kitchen, and cleaning appliances are under the Home and Garden niche).
American consumers make up 33% of the total global tech market, which is projected to be worth more than $4.6 trillion in 2024, according to CompTIA's research. This segment is expected to grow further with the rise of remote and hybrid working as well as the adoption of free and paid tools that aid new entrepreneurs with financials as well as client management and engagement.
---
Gaming and e-Sports
Sub-niches: Games, game rental service, game tutorials, streaming, tournaments for web and mobile, betting, game testing, in-game currencies, game codes and keys (for character upgrades and game boosters), hardware and accessories (desktop PCs, laptops, monitors, keyboards, mice, mousepads, graphic cards, consoles, headsets, joysticks, flight yokes, webcams, microphones, speakers, audio mixers, gaming chairs, and desks), related merchandise such as apparel, collectibles, and home decor
Popular affiliate sites: Alienware, Razer, Nvidia, Bose, Astro Gaming, Twitch, Green Man Gaming, GameFly, Zygor Guides, Leprestore, Kinguin, Into The AM, GG.bet
The gaming niche is soaring by leaps and bounds as the internet allows gamers from various locations worldwide to connect and play together in real-time. Statista pegged the worldwide gaming population at 3.26 billion. Meanwhile, the Entertainment Software Association said that there were 227 million gamers in America in 2021. Over 40% of people who play games do it to unwind and relax, and only around 12% are so-called "ultimate" gamers, according to stats from Newzoo.
---
Music
Sub-niches: Musical content, playlist apps, streaming services, physical or virtual instruments and related products (such as clip-on tuners, digital metronomes), studio equipment, soundproofing, recording software, DJ equipment, at-home karaoke systems and sing-along products, dancing (clothing, footwear, lessons), waterproof speakers, CDs and audio files, online classes (for voice and instruments), student scheduling and payment management, music events, promotional service, music-themed gift items (music boxes, shirts, magnets)
Popular affiliate sites: PremiumBeat, Comma Music, Prime Loops, Beat Brokerz, Tidal, Pandora, Sheet Music Plus, Guitar Center, Musician's Friend, Sam Ash, Audimute, Sweetwater, Playground Sessions, Music Teachers Helper, Singing Machine, Thalia Capos & Picks, Fiddlershop, Woodwind & Brasswind, Passion4dancing, TuneStub, Vivid Seats, Townsend Music, Ditto Music, Orion Promotion, The Music Stand
Acquiring and displaying musical skills will fuel the music niche as online tools are readily accessible for learning music (with some promising to make you play within a month) and getting heard. Allied Market Research predicts that the global music streaming market will increase to $24.71 billion by 2027.
The ever-expanding plethora of choices will continue to ramp up music consumption from every genre and crossovers amid various distribution channels. This includes social media (particularly TikTok and Instagram among the Gen Z and millennials) and video games (for today's teens). The commercial recorded music industry alone was worth $25.9 billion in 2021, according to the IFPI's Global Music Report.
Dance is also another sub-niche worth exploring, being a widely used mode of self-expression and even marketing in this age of TikTok. YouTube content points to the growing consumer demand for American hip-hop and K-pop.
---
Movies
Sub-niches: Movies (subscription and rentals) and pay TV shows (sports and non-sports), cinema tickets, DVDs, home theater appliances and furniture, collectibles
Popular affiliate sites: Amazon Prime Video, AMC Networks, Apple TV+, Hulu, Sling TV, CuriosityStream, Dealflicks, Fandango, Home Cinema Center, Samsung, Emotiva
Demand for streaming video-on-demand services is expected to reach $94 billion by 2025 as so-called OTT video (or over-the-top of a cable box) becomes available even on smartphones. Their high quality, the flexibility of viewing time as well as content and pricing options will keep movie fanatics coming back for more.
Meanwhile, film companies are optimistic that streaming and cinema viewing can co-exist. Comscor said that the North American box office earned $4.5 billion in 2021. However, theaters screening high-budget films featuring internationally beloved stars and special effects will have to top the experience offered to movie fans who have invested in large screens and good sound systems at home.
---
Medicine
Sub-niches: Telehealth services, over-the-counter medicine, blood testing, incontinence protection products, wound care supplies, diagnostic devices (stethoscope, blood pressure monitor, otoscopes), medical alert systems, mobility aids (wheelchairs, walkers, scooters), hospital equipment and furniture (stretchers, hospital beds, defibrillators, radiology equipment, respiratory equipment), hospital gear (lab coats, scrub caps, and masks), bedroom aids (for sleep apnea), bath safety, speech therapy, study aids for medical professionals, wellness vacations, wellness apps
Popular affiliate sites: Medical Supply Depot, 4MD Medical, Bay Alarm Medical, HDIS, Rose Medical, Med School Insiders
Medicine is a promising niche amid the rise of the elderly population and the pursuit of quality medical products and services to cure sickness, allergies, and other ailments. The U.S. Census Bureau says that all baby boomers in America will be older than 65 years by 2030. On a global scale, one in six people will be aged 60 years or older by that year (or 1.4 billion), according to the World Health Organization. Moreover, 90% of the $3.8 trillion annual healthcare expenditures in the U.S. go to people with chronic and mental conditions, data from the Centers for Disease Control and Prevention shows.
---
Fitness and Sports
Sub-niches: Gyms and gym equipment, home gym gear, personal and corporate workout programs, nutrition and supplements, hydration and recovery products, sporting goods (apparel, jerseys, footwear, and accessories), fitness tech and apps, running, golf, biking, tennis, football, basketball, baseball, football, soccer, bodybuilding, swimming, surfing, snow sports, hockey, live events, live sports streaming, fan memorabilia
Popular affiliate sites: Under Armour, Fitbit, Leather Head Sports, Muscle & Strength, Callaway Golf, Baseball Rampage, Soccer Garage, EVO, HockeyShot, Grass Racks, StubHub, FuboTV, SportsMemorabilia, Osmo Nutrition, iHerb
Fitness buffs make up a sizeable market as nearly half of the consumer segment desires to live healthier and longer lives, based on a 2021 Nielsen study. A 2022 Nasdaq report says that the health, gym, and fitness club sector in the U.S. alone is worth more than $32 billion. Moreover, the Bureau of Labor Statistics forecasts a 39% growth among fitness instructors and trainers until 2030 amid renewed enthusiasm for gym workouts.
Meanwhile, sporting venues are seeing the return of live audiences, with over 50% to 60% of fans saying they're comfortable with attending indoor and outdoor events, based on 2022 Morning Consult data.
---
Personal Finance
Sub-niches: Budget tracking and bill management, online banking and savings, financial education for kids and adults, financial data security, credit reporting and management, loan application and management, debt reduction, investment portfolio management and trading, insurance (health, life, disability, professional liability), money transfers, cryptocurrency trading, wills and estate planning
Popular affiliate sites: HoneyMoney, Trim, Experian, LifeLock, CIT Bank, Acorns, Diversyfund, Little Green Light, Wise, Coinbase, Complete Wills
People welcome all the help they need to improve their money management, from personal savings and inheritance to mortgages and credit. You can pick an affiliate program, so you can earn while offering specific financial assistance to others.
More and more investors prefer using apps and online solutions to get financial advice (89%) and digital access to accounts (40%), There's a growing appeal for robo-advisors as their yearly fees can range from only 0.25% to 0.50% of the amount managed, which is half to less than half of the 1% of the managed amount paid annually to human financial advisers.
---
Outdoor Activities
Sub-niches: Camping, terrain adventures (hiking, trekking, and mountaineering), hunting and shooting, fishing and boating, recreational vehicle driving and camper van rental, glamping
Popular affiliate sites: REI, Outdoor Vitals, Marmot, Patagonia, Outdoorsy, iKamper, Camp Chef, YETI, Bass Pro Shop, Cabela
The increasing awareness about the benefits of physical activity for longevity spills over to the outdoor niche, which has elements of travel, leisure, and sports. Figures from the U.S. Bureau of Economic Analysis (BEA) show that the outdoor recreation economy was worth $688 billion in 2020. It also employs 4.3 million Americans. More families are bringing along their children—as young as age six—to their camping trips, according to the latest BEA report. Just like in the U.S., running and hiking were the most popular outdoor activities in Europe, according to Deloitte's 2021 Outdoor Consumer Report.
---
Fashion and Beauty
Sub-niches: Clothing (men, women, teens, children), dresses, underwear, shoes, jewelry, watches, bags and purses, accessories, cosmetics, hair and skin care products
Popular affiliate sites: RewardStyle, ShopStyle Collective, Newchic, Zaful, Just My Size, Browns Fashion, Daem Watches, Gwynnie Bee, Thredup Inc.
Many beauty and fashion affiliate programs carry several brands—from several hundred to over a thousand. The rate of commissions can go up to 50% per sale. There are even some new clothing brands that offer "rental packages" to customers and affiliates. The popularity of slow fashion has also given birth to secondhand fashion for budget spenders. E-commerce is expected to drive the fashion industry's growth to $1 trillion by 2025, aided by augmented and virtual reality experiences that let you try on clothes, shoes, and accessories.
Meanwhile, beauty products continue to be relevant regardless of lifestyle changes. The U.S. corners $22 billion of the $511-billion global market, according to The NPD Market Research Group.
---
Travel
Sub-niches: Airline bookings, claims for delayed or canceled flights, accommodations (hotel, resort, or vacation home), cruises, travel insurance policies, car rentals, European train rides, restaurant bookings, online travel guides, guided tours, tickets to attractions and activities, luggage and travel essentials, house-sitting service
Popular affiliate sites: Travelpayouts, Expedia, Agoda, Booking.com, AirHelp, Cruise Direct, Interrail Pass, Viator, World Nomads, TrustedHousesitters
Domestic and international travel is on a rebound, with formerly cooped up travelers armed with research on the best deals collected during the lockdowns.
A 2022 American Express survey showed that travelers want more immersive experiences, including eating and shopping at small local businesses (55%) and visiting heritage sites or similar landmarks (42%). Moreover, 79% of respondents said they're planning to travel with their family. Meanwhile, 43% say they're gearing up to attend entertainment events.
---
Petcare
Sub-niches: Veterinary services, food and feeders, medicine, grooming and hygiene products (pee pads, litter boxes), obedience classes, cleaning products (for urine, poop, fur), furniture and carriers, safety products (collars, harnesses, doggy doors, kennels), tracking devices and services, pet sitting, insurance
Popular affiliate sites: Pet Pro Supply, Chewy, PetPlate, VetShopMax, Paw.com, Ruffwear, Rover, Petco, Brain Training for Dogs, Whistle, Pet Cube, Petplan
The demand for pet care products is expected to stay robust amid the increase in pet ownership during the months of sheltering in place. Today's pet parents can have more than one cat or dog in the house, plus other animals, including fish, birds, and small mammals. Pet spending in 2021 reached $109.6 billion among American households alone. The pet care market worldwide was worth $245 billion in the same year. Customized meals, homes, and gear for these animals—which owners essentially treat as life companions and family members—will fuel this sector's growth.
---
Home and Garden
Sub-niches: Interior design services, security devices, furniture (and their covers), decor (wall art, vases, mirrors), lighting, beddings (pillows and mattresses), floor treatments (including rugs and carpeting), DIY projects and tools, kitchen and cleaning appliances, HVAC, fragrances and cleaning products, gardening (furniture, tools, plants)
Popular affiliate sites: Side Door, Frontpoint Home Security, Wayfair, Belle & June, Home Depot, Heat and Cool, Keetsa Mattresses, MiracleSofa, Kitchen Universe, Nisbets, Homary, Canvas Vows, Curtain Wonderland, Rug Source, AromaTech, Hardware World, My Cleaning Products, Vacuum Cleaner Mart
Whether you live in an apartment, condo, or single detached home, you want your place to look invigorating for yourself, your family, or to the next homeowner if you're planning to sell. Homeowners who combined inspiration with resourcefulness during the lockdown months to become self-taught interior designers and remodelers will continue to spur sales in this niche.
U.S. households spent up to $10,300+ in home improvement in 2021 based on an Angi report. Interior painting, bathroom upgrades, and smart home device installation were the most common that year. Meanwhile, kitchen refurbishments and turning spare rooms into home offices or kids' study rooms top Renofi's survey of 2022 renovation trends.
---
Food and Drink
Sub-niches: Meal kits and subscription boxes, seasoning packs, snacks, broth, liquor, gourmet teas and accessories, breakfast cereal, fresh produce, cooking classes, recipes, grocery delivery service
Popular affiliate sites: Eat Better Meals, DirectEats, HelloFresh, ButcherBox, Vital Choice, MamaSezz, Veestro, Kettle & Fire, Universal Yums, The Fruit Company, Lifeboost Coffee, Art of Tea, Drizly, Peapod Groceries, Tasteaholics, Rouxbe
In the new normal, home cooking will stay convenient with plenty of suppliers ready to deliver either grocery items or ready-to-cook meal ingredients, which suit not only your budget but also your dietary preference or pleasure. The global packaged food market may hit $3.4 trillion by 2030, according to Valuates Reports. At the same time, 69% of restaurants said they will continue offering digital ordering options. Moreover, 75% of establishments that launched subscriptions and online sales during the pandemic said they'll keep these services in the long term.
---
Education and Self-improvement
Sub-niches: Pre-school learning, homeschooling, SAT preparation, courses with college credits, reviews (medical board exams, bar exam, certification for financial risk management and project management), code and software development, industry skills, hobbies, English and foreign languages, e-learning tools and course creators, physical classroom supplies and furniture, textbooks, price comparison for tertiary institutions
Popular affiliate sites: Princeton Review, Bionic Turtle, Rosetta Stone, Udemy, Coursera, Pluralsight, Udacity, Skillshare, Kaplan, MasterClass, LinkedIn Learning, Outschool, DIY.org, Kranse Institute, Textbooks.com, Thinkific, Teachable, Discount School Supply, AmONE
Online learning will continue to have a strong uptake across all age levels after many people have become comfortable with virtual classrooms. Moreover, many learning institutions are adopting hybrid teaching models. In fact, 73% of higher ed students want some classes to fully shift online under the new normal. Besides their customized and cost-effective nature, online education makes it easier for people to learn from world-class experts anywhere.
E-courses for re-skilling, up-skilling, and cross-skilling will support plans for new employment, promotion, or new career paths, including starting a business. Moreover, companies have expanded their learning and development budgets by 57% to enhance the competitive edge of their workforce.
---
Dating
Sub-niches: Partner search for all types of preferences (age, ethnicity, faith, hobby or passion, and other relationship goals), dating and relationship advice, flowers and gifts
Popular affiliate sites: eHarmony, Single Parent Meet, Meetup, OurTime, Military Cupid, ChristianCafe, Jdate, CatholicMatch, CountryMatch, Parship, Seeking, BBWDatefinder, GamerDating, Fitness Matchmaker, Commitment Connection, Double Your Dating, ProFlowers
While free dating websites are popular, some singles are willing to pay for a service to find a partner that will suit their lifestyle or background. Dating sites use the results of registered members' personality tests to recommend the best match, and the results are quite impressive: 62% of those who have pursued online dating are already in a serious relationship. With 54% of Americans going to dating websites to find an exclusive romantic partner, its affiliate marketers can expect to stay productive.
Subscribers can look for partners who share their professional or economic level, beliefs (Christian, Jewish, or Catholic), civil status (single parent, divorcee), ethnicity (European, Asian, Black), life passion or hobby, and sexual orientation. Some sites also cater to adults who prefer certain physical traits (such as BHM or big handsome men and BBW or big beautiful women).
---
Hobbies
Arts and Crafts Sub-niche: Paper (die-cutting, stamping, stenciling) and fabric crafts, scrapbooking, knitting, crochet, embroidery, quilting and sewing, candle-making, pottery and ceramics, woodworking, fonts, painting, model building, 3D printing, party organizing, online lessons, books on crafts
Popular affiliate websites: Ohuhu, Arteza, Spellbinders, Blick, Utrecht, HTVRont, Marker Universe, Annie's Kit Club, Fabricville, Sulky, Hobby Lobby, Sizzix, Woodcraft, Monotype, Papertrey Ink, My Paint by Numbers, Mechanical Models UK, Creality3D Printers, Oriental Trading, Tiny Prints, Craftsy, C&T Publishing
Artists and crafters will continue to inspire and sell online after widening their virtual followership and client base during the lockdown months. Their unique and personalized offerings pushed global handicrafts sales to $680 billion in 2021, according to ResearchAndMarkets.com data. Meanwhile, figures from the IMARC Group showed that the North American market was worth $270 billion in 2020.
Books (printed, electronic, and audio) Sub-niche: Fiction and non-fiction titles, children's books, textbooks, used books, rare titles (book with author's signature), photobooks
Popular affiliate websites: Indigo, Bookroo, Textbook Solutions, AudiobooksNow, Chronicle Books, Eagle Saver, Premier Collectibles, Biblio, BookPal, Blurb
Although a growing number of authors are selling directly to their readers from their websites, many bibliophiles are still after a good deal and will look to book-selling sites for better prices.
The results of a 2021 Pew Research Center poll showed that 65% of the American reading public still prefers printed books, while 30% read e-books. More than 825 million printed books were sold in 2021, the majority of which (31%) were young adult fiction. However, industry insiders predict that e-books, audiobooks, and second-hand book sales will rise in the coming years if supply chain problems persist.
Frequently Asked Questions
Can I have more than one niche?
Yes, but on certain conditions. The best scenario is to test one niche at a time if you're starting out. This will help you determine which target market clicks with your digital marketing strategy. Remember that tending to one niche involves setting up your platform, creating content, getting feedback, engaging and growing your community, sending emails, and running events. So you'll have to replicate all these efforts if you decide to cover two or three niches.
When testing one or three niches, you should give them your commitment, including monitoring your analytics, for six months to a year. Spending just one to two months testing a niche won't help you find out which of your efforts are delivering results.
Another possibility is to find two related sub or micro-niches belonging to the same broad niche. For instance, you can combine budget tracking with financial education. Or you may create content related to hotel accommodations and nearby restaurants.
When it comes to featuring different but related affiliate marketing products, you can distribute them across your various channels or through different campaigns. Choose which items to promote via social media, YouTube, blog, or e-book.
What are the advantages of choosing a micro-niche?
Selecting a micro-niche offers the following benefits:
You face less competition because you're targeting a smaller audience with more specific needs.

Fewer competitors mean easier marketability and a higher chance of profit.

You form a more loyal community, whose members are more passionate about topics revolving around your niche.
What are some micro-niches that I can try in 2024?
When picking a micro-niche, you can go over the sub-niches listed in this article and research specific trending items under it. Here are some examples, but you can think up your own. Then go back to the section "What Makes a Profitable Niche?" to gauge how profitable your choice is.
Technology: Body scanners, drones

Gaming: Customized controllers, Xbox repair tutorials

Music: Ukulele music, fitness music with Christian themes

Fitness and Sports: Weight loss for diabetics, thyroid gland health

Beauty: Haircare for men, nail art

Petcare: Dog anxiety jacket, adult wet dog food

Home and Garden: Doors, bidets, lamps

Food: Green tea brewing, honey