Digital marketing success depends on your content and the strategy you use that will prompt your target audience to take your desired action—whether it's to take your advice, buy your product, or contract your services. 23% of Content Marketing Institute poll respondents who were aware of their company's marketing budget said that half of their organization's total marketing funds go to content marketing.
To set yourself apart from the competition, a lot of planning must go into picking content that resonates with your target demographic. HubSpot's "The State of Media & Content Planning" 2022 Research Report states that of the marketers who prioritize content optimization and auditing, 34% dedicate time to identifying content that will perform well online and finding content gaps. These efforts were behind the 36% who focused on improving user experience. HubSpot also noted that 33% of survey respondents concentrated on SEO and SERP rankings.
Meanwhile, a Demand Sage report says that 62% of successful marketers follow a written content plan. Having a plan is crucial given the top 5 challenges of B2B marketers gathered by CMI:
Creating content that can attract customers in various stages of the buyer's journey (61%)

Aligning content efforts across sales and marketing (50%)

Developing consistency with measurement (43%)

Communicating among teams (41%), and

Differentiating products/services from competitors (38%)
---
AI-Assisted Content Marketing Strategy: 6 Use Cases:
---
AI for Consistent and Scalable Content Marketing
For content marketing to give you a sustainable competitive business advantage, you need more than high-quality content. Your business must have a strategic content operation that is repeatable, consistent, and scalable. With the volume and diversity of content produced daily, human content marketers have begun turning to AI for assistance in various tasks.
AI's natural language processing (NLP) and natural language generation (NLG) features allow this technology to perform many functions in digital marketing.
NLP
AI can understand and respond to human writing and speech through NLP. To accomplish this, NLP combines linguistics and computer science to analyze and extract meaning from written or verbal text. GPT-3 is the best-known NLP tool. It can predict the next word in a sentence based on preceding words, classify documents, and even analyze the sentiment in text blocks.
---
NLG
NLG allows AI to write in conversational language based on a given data set and after receiving human input or instructions. One of its most common uses is the creation of automated customer service responses, but it also includes creating speeches, news reports, and movie scripts.
How do these two aspects of AI help you achieve consistency and scalability? AI can work on large amounts of data using specific metrics fed to it. Later, AI can distribute content to recipients in various lengths and formats. An infinite number of people can receive your content, provided you supply the destination, channel, and schedule.
With such capabilities, AI can figure into your strategy for consistently high-quality and scalable content in the following ways: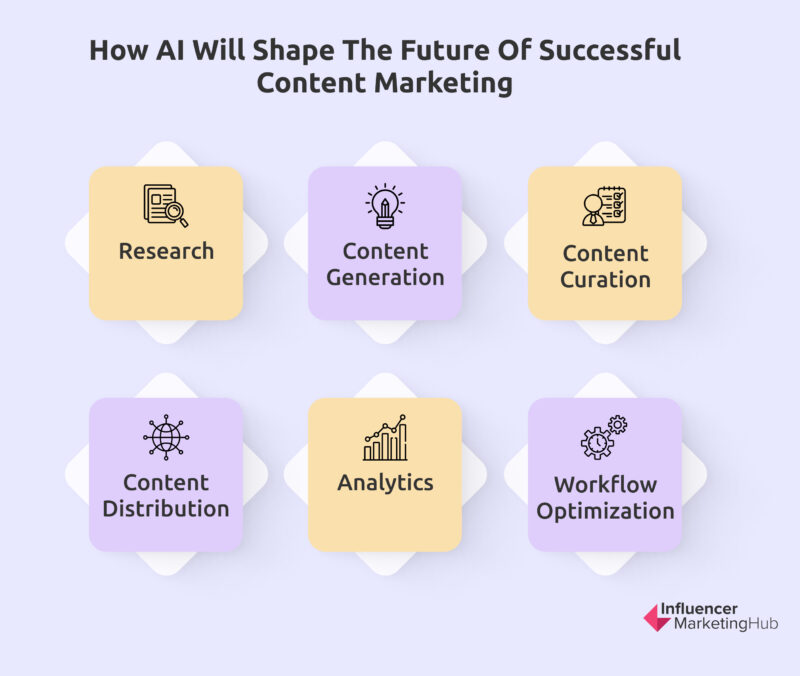 1. Research
AI will take a more extensive role in deepening knowledge about one's target public based on the results of a 2023 Gartner survey. The poll showed that 84% of customer service and service support leaders considered customer data and analytics "very or extremely" important for accomplishing this year's organizational goals.
AI tools can provide market intelligence to help brands uncover trends in customer location, demographics, and purchases through real-time and historical data from different sources, including social media, emails, and chatbots. AI solutions can also show how you fare with other players in your field. Competitor intelligence provides insights into your rivals' products and services, the strengths and weaknesses of their offers, and their clientele's behavior.
Meanwhile, the virtual listening feature of AI platforms provides another dimension to your customer understanding. AI can track your brand mentions in messages, reviews, and user-generated content, plus the emotions they convey (positive or negative feedback). AI also lets you discover the most highly searched and discussed topics, which can reveal people's search intent or purpose for going online to learn more about a subject.
Launching surveys is another traditional method of finding out more about your target audience. However, manually organizing and understanding answers, especially for open-ended items, is time-consuming. AI can accurately and quickly read, categorize, and produce insights from poll responses. Moreover, conventional polls are static—you have a set list of queries for people to answer. Meanwhile, you can customize AI surveys to display new questions, depending on your respondent's answers, to get more thorough information.
Example: L'Oréal

Using its TrendSpotter AI, the cosmetics brand could spot emerging trends before its competitors using online conversations, videos, and images from over 3,500 online sources. The brand culls text and hashtags from social posts and articles. TrendSpotter also scans for words embedded in YouTube and Facebook videos and online images. Collected data then goes to a social listening platform Synthesio to spot trends. Their in-house team then uses these insights in messaging and product innovation. In particular, insights led to the launch of virtual try-ons for more items.
---
2. Content generation
Marketers spend 50% to 70% of their workweek creating marketing content. However, only 33% of respondents are using AI to generate copy or content, according to a 2022 Capterra poll. Of the percentage that uses AI for this purpose, 63% said that they found it most helpful for email marketing (63%), followed by advertising (58%), data analysis (57%), personalization (49%), and audience targeting (45%).
AI platforms can aid marketers even before they start turning out a copy. Ideation features are among the top reasons why AI solutions attract marketers. For instance, Neuroflash can suggest campaign ideas, report headlines, titles for presentations and YouTube videos, and product names.
This tool and other AI-powered content generators can also help you create the body of your copy, from outlines and sections to whole press releases, blog posts, value propositions, and more.
Search engine optimization is another area where you can use AI for high-performing content. Platforms such as Clearscope can show you the top SERP results based on your keyword search and guidelines to rank high on search engines. After you produce your copy, you can run it through Clearscope, which grades your output based on the highest-ranking content in SERPs.
Example: Vanguard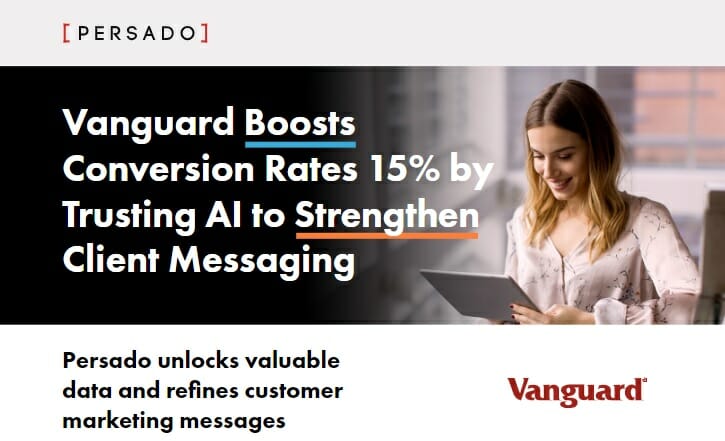 Pennsylvania-based Vanguard—the world's second-largest investment firm next to BlackRock—partnered with Persado to improve its engagement for Vanguard Institutional, which caters to retirement plan sponsors. Their marketing team conducted A/B testing for their messages on LinkedIn, the only social media platform that the division uses. However, their marketing team didn't have enough tools to determine the effectiveness of the results.
Vanguard Institutional used three of Persado's features to determine the best messages to post: its AI Experimentation Engine to produce combinations of content that will appeal to different customer needs, its Language Knowledgebase to detect emotion and learn from enterprise communications, and Insights into Audiences to discover what draws people to engage with specific language over others. In the end, Persado's output had a 16% higher click-through rate than the company's written content.
---
3. Content curation
You can use AI to automate customer segmentation based on hundreds of client data, which include their activities and preferences. Such information makes it easier to personalize content and offers. You can even focus content delivery only on individuals who interact with your brand.
Moreover, AI platforms can collect online content relevant to your product or service and curate them according to your specified topics and sources. You can then share this curated content with your subscribers and followers—based on their preferences. In a content-saturated world, consumers are more likely to read and engage with fresh content that matches their interests and buying habits. At the same time, when people get value from the best content you share regarding a topic, you emerge as a trusted source or thought leader in that field and increase your credibility.
Example: American Society of Civil Engineers (ASCE)
ASCE, America's oldest engineering society, turned to Rasa.io to help improve its online newsletter—Civil Engineering Source—for its over 150,000 members from 177 nations. ASCE's in-house team used to produce the weekly publication, which featured industry-related topics. Using Rasa.io allowed the organization to release the newsletter daily and see open rates grow by 50%. Since using AI, Source has begun featuring timely external content besides internally written ones. Analytics showed that ASCE's newsletter eventually became its main website traffic driver.
---
4. Content distribution
AI solutions can predict your content's performance and then distribute it to the right platform at the best time. They can even test elements (in the case of email newsletters: subject line, layout, content order, and more), identify trends, and implement improvements (on the look and posting times) based on test results.
Most platforms have a publisher or scheduling feature through which you can set when or how often to distribute, repost, or repurpose your content. You can determine and refine distribution rules after curating or clustering content.
Example: Sistema Brasileiro de Televisão (SBT)
Brazilian TV network SBT's content production team members—about 20 of them—used to individually and manually upload news updates on its official social pages, particularly Facebook, the content of which is behind up to 50% of its website traffic.
To streamline the process, the company tapped Echobox for automated content-posting and determining the optimal time to post. The AI tool syncs with Facebook's algorithms to ensure that SBT's social channels display the news with the highest engagement potential every time. After four months of using Echobox, its Facebook impressions rose 52% while page views from Twitter went up 63%. Moreover, staff saved 14 hours a day using the mix of AI and automation.
---
5. Analytics
You can use AI to discover your customers' expectations and perspectives and forecast their future behavior through various types of analytics. Descriptive analytics helps assess business performance and identifies current trends using existing data on past events. Meanwhile, diagnostic analytics or root-cause analysis explains why events happened.
AI also uses historical information for predictive analytics, which predicts future outcomes based on a deeper understanding of customer needs. Finally, prescriptive analytics suggests or guides you toward a specific action based on the three other analytics.
The practical application of analytics includes auditing content performance or identifying poor-performing content and the reasons for its failure to reach benchmarks. AI can finish in minutes what takes hours to do for human marketers in measuring results such as traffic, engagement (views, comments, likes, and more), and conversions. Moreover, these tools don't just offer insights into historical data—they can track these metrics in real time.
Example: Gousto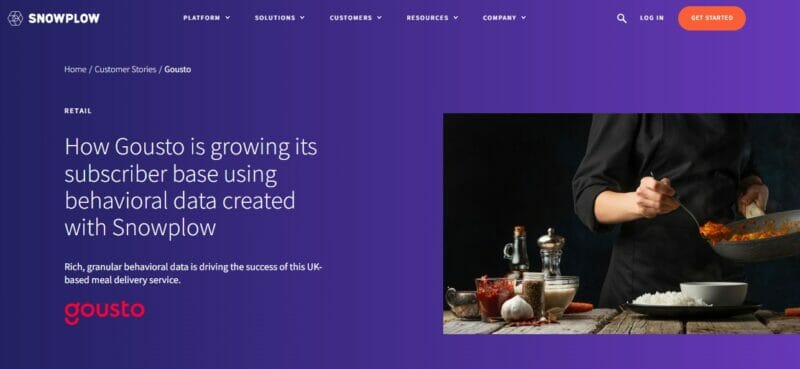 British meal kit retailer Gousto uses Snowplow to access behavioral data and insights about its customers from various channels and campaigns. The platform allows the subscription-based firm to bring all its analytics tasks under one roof instead of separately via Google Analytics and Mailchimp.
One of its top reasons for AI adoption is to calculate the real return on its ad spending on Instagram, Twitter, Google Ads, and Facebook and improve retention. Their data science team created a deep learning model with Snowplow to predict the likelihood of customers remaining with them in the short term. The company based its predictive analytics on data related to web behavior, engagement via email, mobile app usage, transaction history, and customer service conversations in Zendesk. Gousto then A/B tested different campaigns for subscribers according to their retention score to determine the most successful campaigns. The company was able to predict churn and perform timely interventions to retain those losing interest.
---
6. Workflow Optimization
AI tools are fast and centralized, enabling content marketing teams to streamline operations at scale, from planning to creation and distribution. Automation and intelligence features allow you to post or publish personalized content on regular dates and benchmark success in real time so you can adjust your strategy quickly. The consistency of these solutions allows you to standardize your brand identity and messaging across content formats. By offering unique content that matches or outdoes the competition, AI saves your team's time and effort and your company's resources.
An AI-aided content marketing workflow may look like this:
Example: Stick Shift Driving Academy
Florida-based Stick Shift Driving Academy wanted to hasten and increase web content publication and improve its search rankings. After all, the company couldn't just depend on inbound calls to promote its unique niche—learning how to drive manual transmission vehicles.
The driving school, which had instructors across America, chose MarketMuse to update its website's blog section, which at that time had not had a new article in over a year. The AI platform's algorithm showed Stick Shift Driving Academy where the business stood and data-driven topic recommendations. From publishing 30 new articles in the first few months, the company's marketing team could upload a new article daily. In half a year ending in June 2022, their website traffic rose 72% while form completions grew 110%. Moreover, inbound calls jumped to 120%.
---
Why You Should Use AI in Content Marketing
Below, we consolidate the list of benefits you can reap from incorporating AI in your content marketing strategy: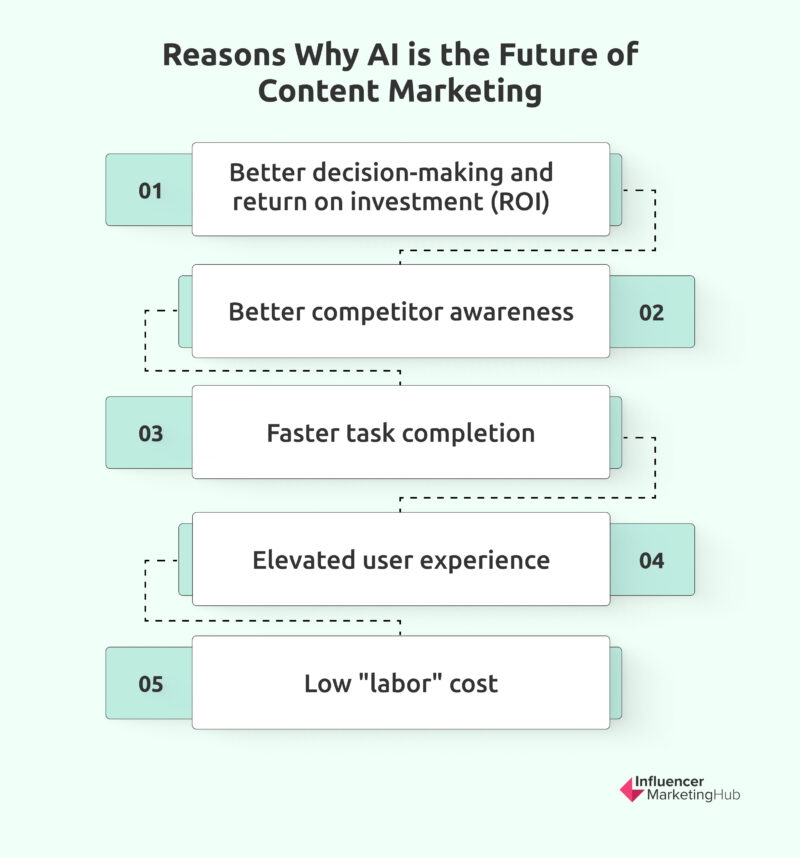 Better decision-making and return on investment (ROI)
AI's descriptive and predictive analytics sharpen how you evaluate current campaigns and plan for new ones so you can get your money's worth.
Better competitor awareness
With AI trend analysis and listening tools, you can keep in step with your industry, from pricing to offers and engagement.
Faster task completion
AI idea and content generators, content editors, and schedulers naturally work faster—and have a better memory—than human marketers.
Elevated user experience
Your consumers can enjoy a better experience with personalized content, especially when you offer seamless customer service across multiple touchpoints.
Low "labor" cost
Some AI writing tools are free or come at a monthly price tag that costs lower than hiring human content creators.
---
Discover More AI Tools for Your Marketing Processes
To start using AI for your content marketing strategy, you must build use cases, clarifying what you want to accomplish with AI tools and why. You may have to identify your marketing tasks that are manual but repetitive. Moreover, finding opportunities to get more out of your data is another worthwhile goal.
Check the AI capabilities of your existing marketing technology or explore the platforms we recommend in the article "Top 20 AI Marketing Tools to Grow Your Business in 2023." Meanwhile, discover the solutions your writers can use in "The 10 Leading AI Content Creation Software Tools (Writing Software)."