Advertising Disclosure
Advertising disclosure:
Our partners compensate us. This may influence which products or services we review (also where and how those products appear on the site), this in no way affects our recommendations or the advice we offer. Our reviews are based on years of experience and countless hours of research. Our partners cannot pay us to guarantee favorable reviews of their products or services.
With the rise of e-commerce and online shopping, businesses are looking for new and innovative ways to reach their target audiences. Enter Amazon advertising - a powerful platform that has become a game-changer in the world of online advertising. But with the growing number of businesses flocking to Amazon to sell their products, managing advertising campaigns for clients that sell on Amazon has become a challenge for advertising agencies. How can agencies efficiently manage campaigns for multiple clients on Amazon, a platform with its unique advertising rules and quirks?
Luckily, there is a solution - Amazon advertising software. To keep up with the competition, advertising agencies must stay ahead of the game and utilize Amazon advertising software solutions to manage their clients' campaigns.
Amazon advertising software solutions streamline the process of creating, managing, and optimizing campaigns for agencies. With access to real-time data and analytics, advertising agencies can optimize campaigns to deliver better results for their clients. In addition, Amazon advertising software provides insights into consumer behavior, allowing agencies to make data-driven decisions and improve campaign performance over time.
By using Amazon advertising software solutions, advertising agencies can save time, increase efficiency, and deliver better results for their clients. So why not take advantage of the power of Amazon advertising software to stay ahead of the game?
---
Top Amazon Advertising Software Solutions to Maximize ROI:
---
Top Amazon Advertising Software Solutions
There is a multitude of Amazon advertising software solutions available on the market that can help you streamline your campaigns, save time, and deliver better results. In this article, we will explore the top 11 Amazon advertising software solutions, their features, and their benefits to help you make an informed decision on which one to choose for your advertising needs.
Top
amazon advertising software
2024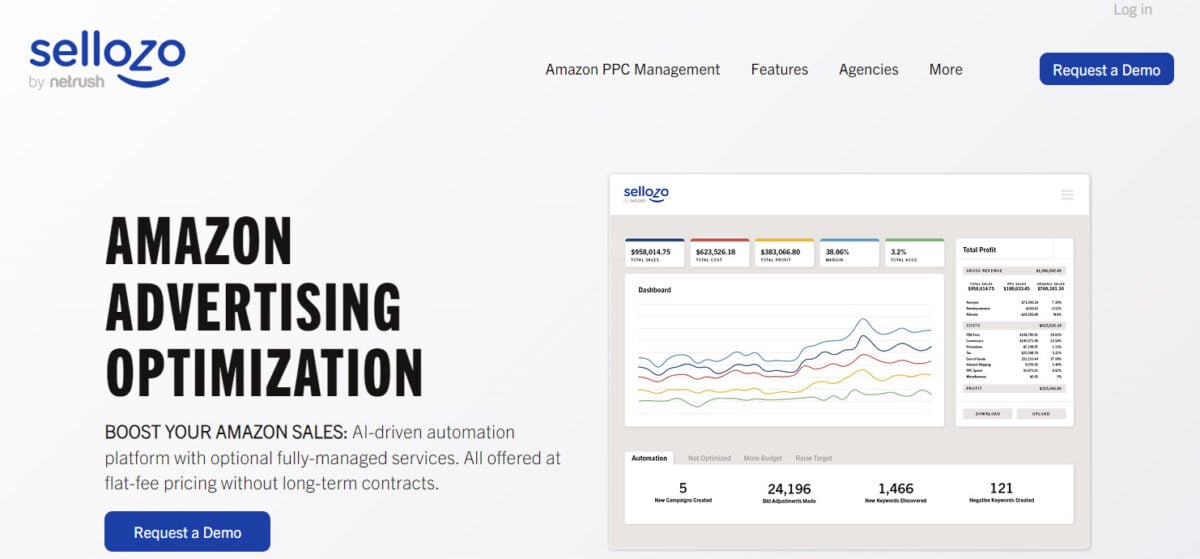 For businesses aiming to supercharge their Amazon advertising endeavors, Sellozo emerges as a formidable contender. As a sophisticated Amazon advertising optimization platform, Sellozo integrates AI-driven automation, ensuring that businesses can harness the power of data-driven strategies without the complexities. The platform's commitment to boosting Amazon sales is evident, with users witnessing an impressive 70% average increase in ad profit within just 8 weeks of its adoption.
What sets Sellozo apart is its unrivaled automation capabilities. The platform's AI-driven Amazon advertising growth suite is meticulously crafted to amplify sales, curtail unnecessary expenditure, and bolster profits. This state-of-the-art technology empowers businesses, allowing them to steer their advertising strategies with precision.
The "Campaign Studio" feature is a testament to Sellozo's user-centric approach. This all-encompassing PPC tool, equipped with a user-friendly drag-and-drop interface and automated keyword harvesting, simplifies the campaign creation process. Businesses can swiftly design, outline, and fine-tune their strategies, ensuring they capitalize on the most effective keywords.
Moreover, Sellozo's full PPC management service is a boon for businesses that prefer to delegate their Amazon advertising to seasoned professionals. With a team of US-based Amazon mavens and a robust in-house AI tool, Sellozo takes the reins of your advertising strategy, allowing businesses to channel their focus on other pivotal operations.
Key features:
AI-driven Amazon Advertising Optimization
Comprehensive Campaign Studio for PPC management
Full PPC management by US-based Amazon experts
Dayparting strategies with hourly ACOS data analysis
Comprehensive campaign management across various Amazon ad types
A harmonious blend of AI technology and human-driven strategy
---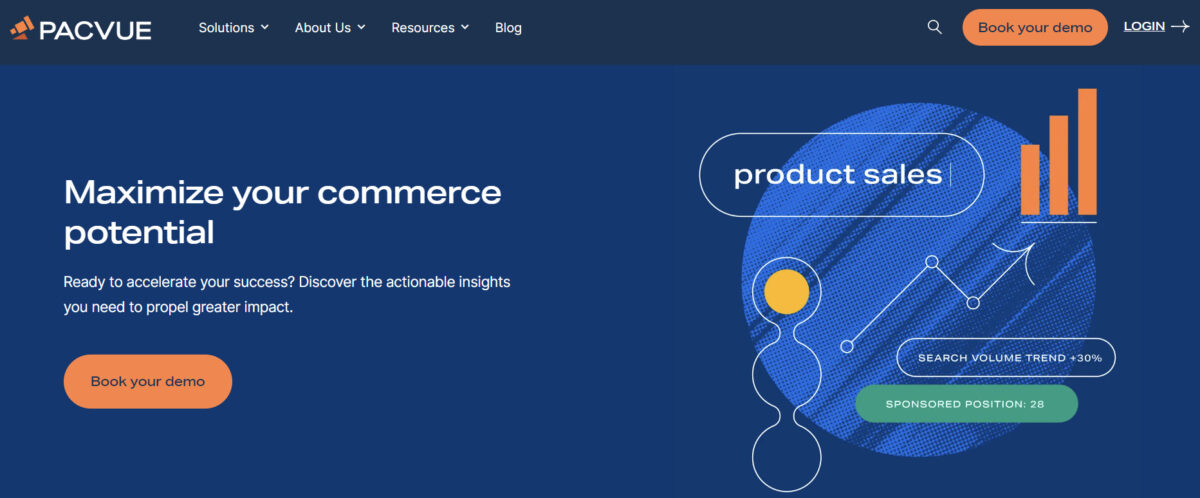 If you're an agency looking for a comprehensive solution to grow your clients' Amazon business, Pacvue could be the answer. As a leading enterprise service for online retail advertising, sales, and intelligence, Pacvue combines unified retail analytics with the tools needed to take recommended actions. With Pacvue, online selling teams can manage and optimize the performance of their media investments in Amazon's store and other retail environments.
One of the reasons why Pacvue stands out is its ability to leverage Amazon's Selling Partner API to provide predictive and prescriptive recommendations that help agencies address critical gaps in their clients' retail execution. For instance, you can use Pacvue to automatically pause campaigns when inventory dips below a threshold you specify, as well as automatically resume ads when inventory is replenished.
Additionally, Pacvue's platform offers end-to-end media planning and execution by enabling users to have a complete picture to inform their decisions. You can create rules and alerts as part of your advertising platform to manage your spend efficiently, while also prioritizing areas of your clients' businesses that will make the biggest impact. For example, you can use content audits to quickly see which detail pages are following best practices and optimized for advertising campaigns, while prioritizing the pages that need the most work.
Key features:
Predictive and prescriptive recommendations
End-to-end media planning and execution
Automated campaign creation and optimization
---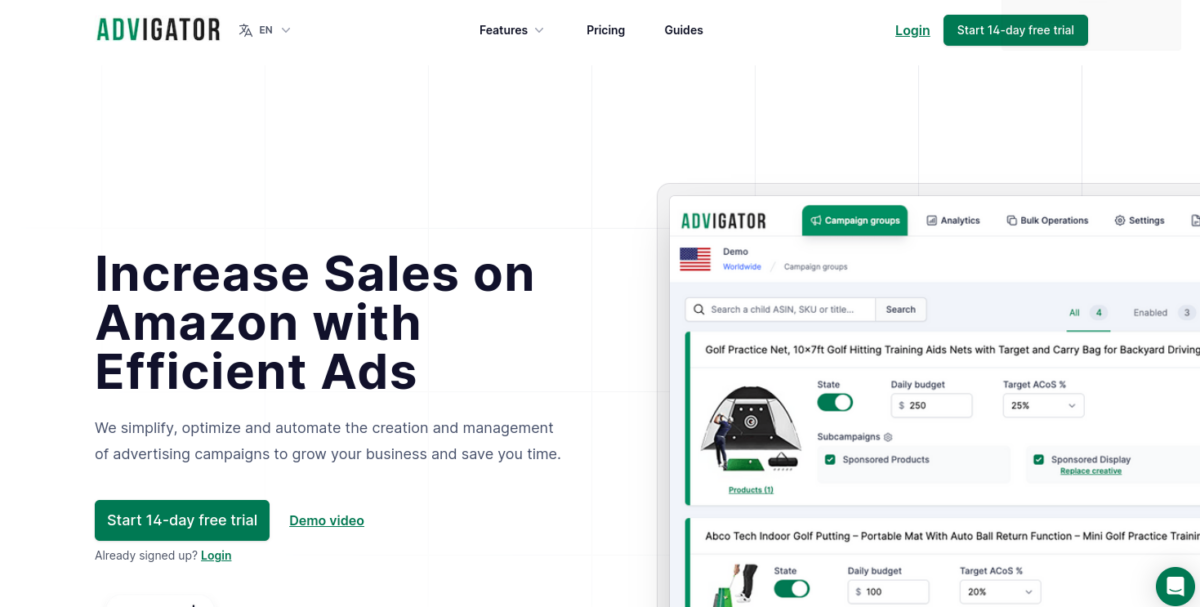 Advigator is a feature-rich Amazon advertising software solution that boasts an impressive array of tools and features designed to help businesses grow on the platform.
This platform have the ability to automate many of the more time-consuming and tedious tasks involved in Amazon advertising. With its automatic management of less performing campaigns, users can focus on more effective campaigns and save time. Furthermore, Advigator's intuitive interface makes it easy to create Sponsored products, Sponsored Display, and Sponsored Brand Video campaigns with just a few clicks.
One of the standout features of Advigator is its product-level management of advertising, which allows users to share targeting among campaigns. This not only streamlines the advertising process but also ensures that daily budgets are distributed evenly among campaigns, optimizing performance and reducing wastage.
Advigator's powerful keyword management system is another impressive feature that stood out. The system automatically finds the best-performing keywords for each product based on conversions and CTR, making it easy to create effective campaigns. The system filters the best-performing keywords from historical reports and sponsors the most relevant ones based on CTR and conversion rate, which helps to optimize campaigns and drive better results.
Finally, Advigator's automatic adjustment of bids per click is a standout feature that sets it apart from many other Amazon advertising software solutions. The system adjusts bids per click for each keyword based on selling price, conversion rates, and the user's ACoS target, ensuring that bids are set at the optimal point to maximize conversions while sticking close to the user's ACoS target. This feature is highly beneficial, as it allows users to switch from a visibility strategy to a profitability strategy by changing the ACoS target.
Key features:
Automatic identification of best-performing keywords
Automatic adjustment of bids per click based on selling price, conversion rates, and ACoS target
Product-level management of advertising
---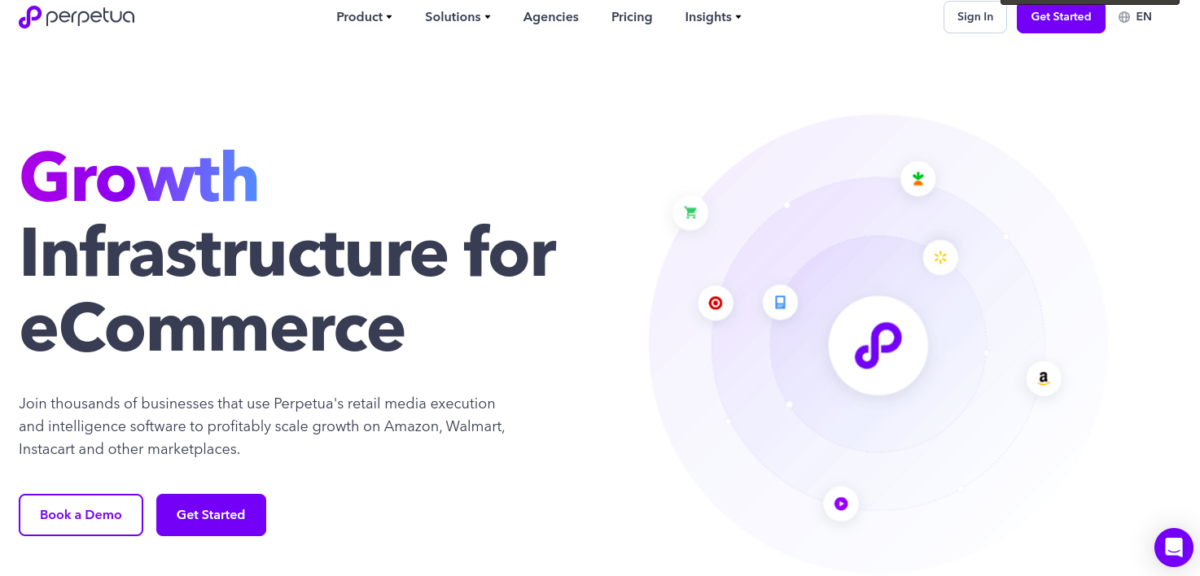 Perpetua is an Amazon PPC automation and intelligence solution that help advertisers maximize their Amazon advertising revenue. The software offers a range of features, from automated keyword discovery and migration to bidding automation, aimed at simplifying and optimizing the management of Amazon PPC campaigns.
A standout feature of Perpetua is its ability to automate keyword harvesting and bidding, which can save time and lead to a higher return on ad spend (ROAS). The software also allows users to track campaign performance and optimize results for profit by making the right bid at the right time on the most likely to convert keywords to meet their target ACOS.
Perpetua offers a range of tools and reports to help users track and analyze their Amazon PPC performance. The software's customizable, enterprise-level reporting allows users to understand, at a single glance, how their business and products are performing in their category. Its automation features, performance tracking, and insightful reports make it one of the best Amazon advertising solutions on the market.
Key features:
Quick access to essential information
Keyword harvesting
PPC automations
---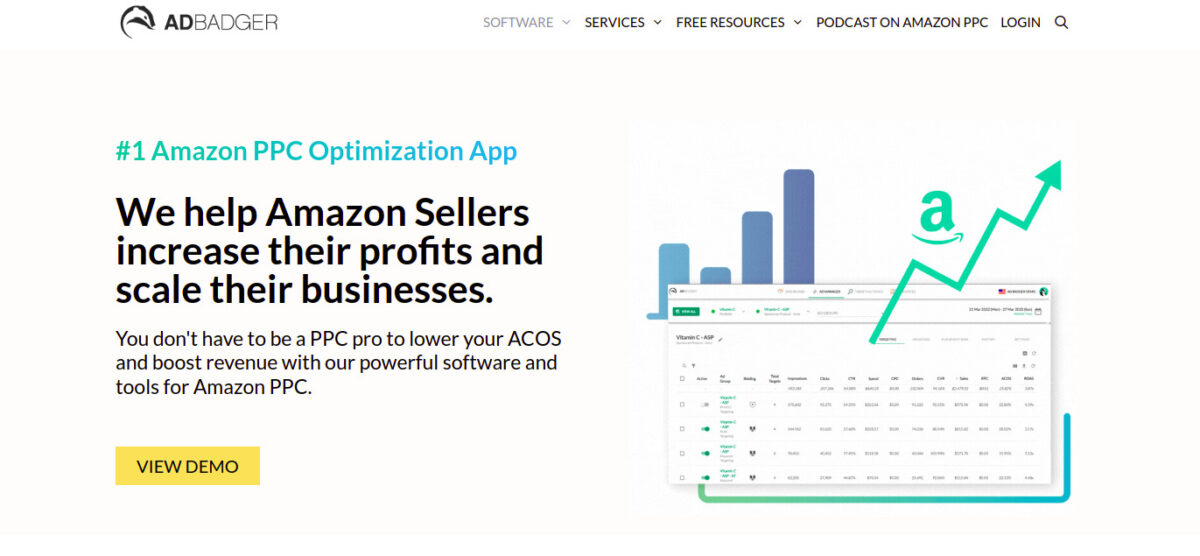 Ad Badger is an excellent tool for Amazon PPC campaign management that can significantly benefit businesses looking to grow their Amazon sales. With its user-friendly interface and powerful AI algorithms, Ad Badger makes campaign optimization and management a breeze.
One of Ad Badger's primary strengths is its ability to automate bid management, discover negative keywords, and monitor campaign performance using machine learning algorithms. This automation feature saves valuable time and resources while streamlining campaign efforts, allowing businesses to focus on their core competencies.
For advertising businesses that manage multiple Amazon accounts, Ad Badger's multi-account management feature is a game-changer. It enables agencies to quickly switch between clients' accounts and efficiently manage all campaigns on one platform.
Key features:
Campaign performance monitoring using machine learning algorithms
Multi-account management feature for agencies
User-friendly interface
---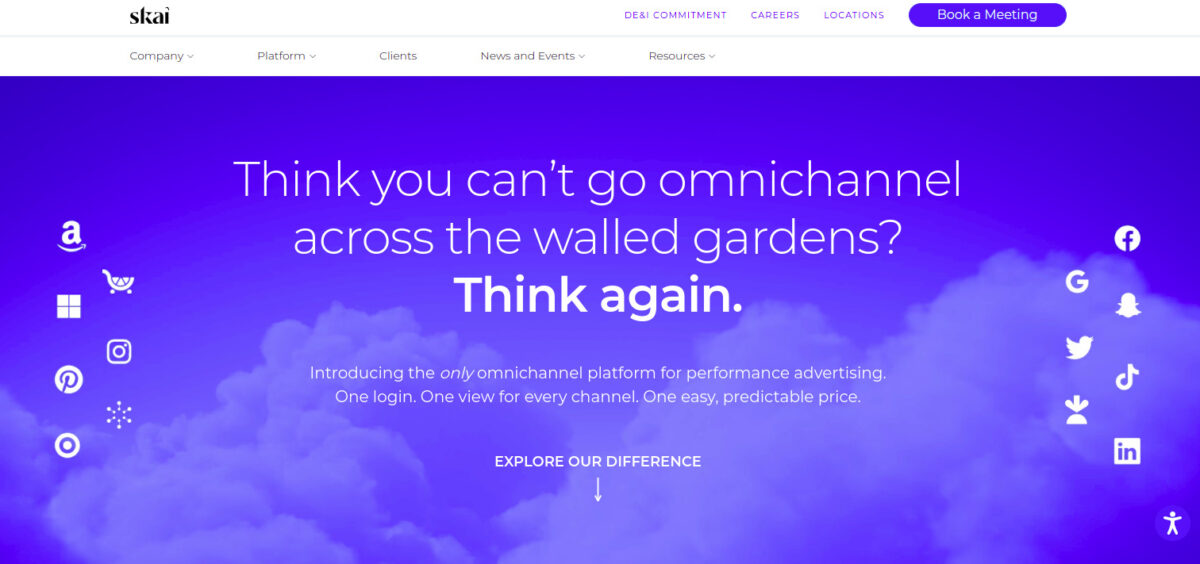 Skai™ is a comprehensive Amazon advertising software solution that provides advanced capabilities to help brands increase sales, grow market share, and drive ROI on Amazon. The platform offers a range of optimization, analytics, and automation solutions, allowing businesses to unlock data intelligence and grow their share of voice.
Skai™'s Retail Media solution offers a range of features to help brands win on Amazon, including automatic keyword harvesting to expand reach, dayparting to invest when ROAS is at its highest, and rules-based optimization to eliminate manual tasks. The platform also allows users to monitor and optimize paid and organic share of voice, analyze product-level performance across campaigns, and conduct real-time experiments with interactive dashboards and visualizations.
Furthermore, Skai™ offers support for Amazon International Marketplaces, algorithmic bid and budget optimization, Amazon Attribution automation for paid search and paid social campaigns, and advanced reporting and analytics. With Skai™, brands can manage their full-funnel Amazon Ads, including Amazon DSP, Amazon Sponsored Brand, Amazon Sponsored Display, and Amazon Sponsored Products, all in one platform.
Key features:
Unlocking data intelligence
Capturing demand with automatic keyword hardvesting
Rules-based optimization
---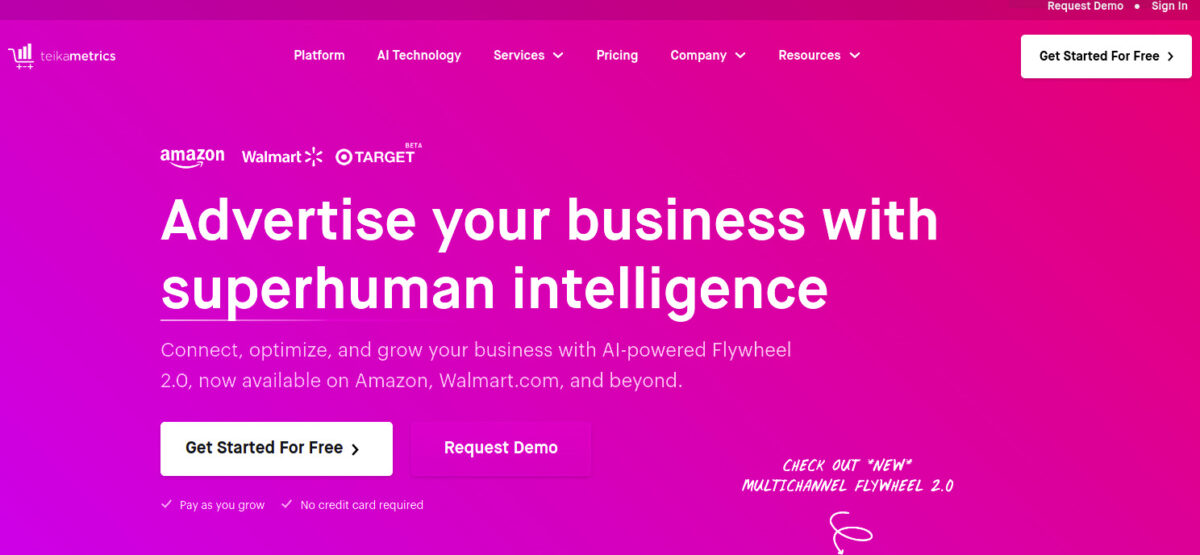 With the launch of its in-app agency partner directory, Teikametrics provides its 3,000 Amazon merchants with access to pre-verified ecommerce services providers with complementary areas of expertise like content management, technical support, and social media buying. The company has vetted digital marketing firms, solution integrators, and other agencies that have a broad range of ecommerce expertise and industry emphasis.
Teikametrics employs cutting-edge AI technology and unmatched access to data at scale to optimize over $7 billion in annual sales on Amazon and Walmart.com. The introduction of the trusted agency partner listing provides Teikametrics' clients with exclusive access to a vetted professional network of digital marketing firms, solution integrators, and other agencies with a broad range of ecommerce expertise and geographical and industry emphasis.
Partners that use the directory will gain access to Teikametrics' growing community of thousands of e-commerce sellers through a dedicated portal to track leads, manage client communications, and grow their businesses. This ensures that agencies that are approved to be included in the directory will gain access to Teikametrics' community of Amazon sellers.
Key features
Inventory management and forecasting
Advertising campaign automation and optimization
Product-level profitability analysis
Automated keyword bid management
---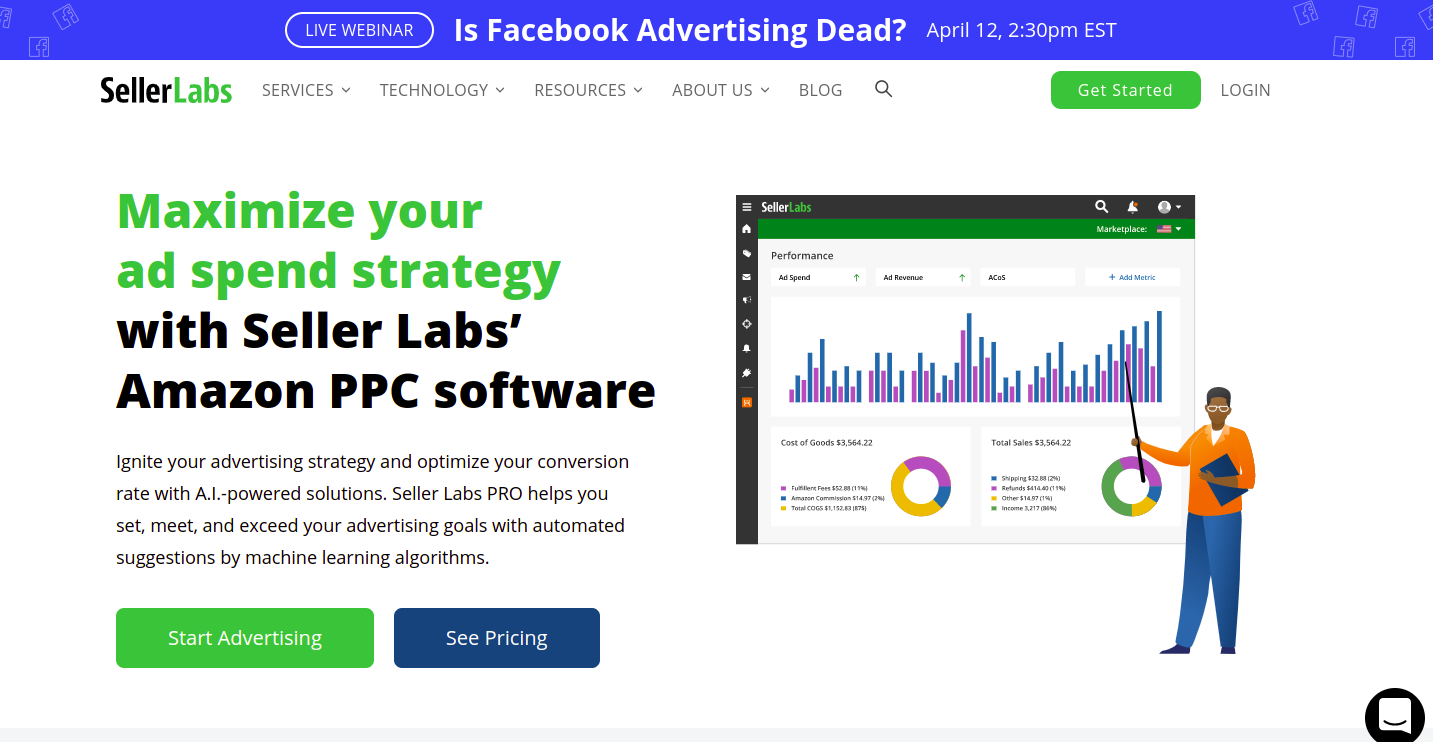 Ignite provides a robust platform for ad agencies and consultants who manage advertising for multiple clients.
One of the key strengths of Ignite is its advanced algorithmic technology, which allows sellers to make data-driven decisions about their advertising campaigns. The software's proprietary technology automatically analyzes advertising data to provide insights into which keywords, products, and campaigns are most effective, enabling users to optimize their ad spend for maximum ROI.
Ignite also offers a variety of tools for campaign management, including customizable dashboards, detailed reporting, and automated bidding. These features make it easy to monitor performance, track key metrics, and make adjustments as needed to achieve better results.
Another standout feature of Ignite is its ability to handle large volumes of data, making it an ideal solution for businesses with multiple SKUs and high-volume sales. The software's scalability and flexibility ensure that it can keep pace with the needs of growing businesses.
Finally, Ignite provides excellent customer support, with a team of experts available to help users get the most out of the software.
Key features:
Automated bulk operations and workflows
Inventory management and forecasting
Competitor benchmarking and analysis
Customizable campaign rules and alerts
---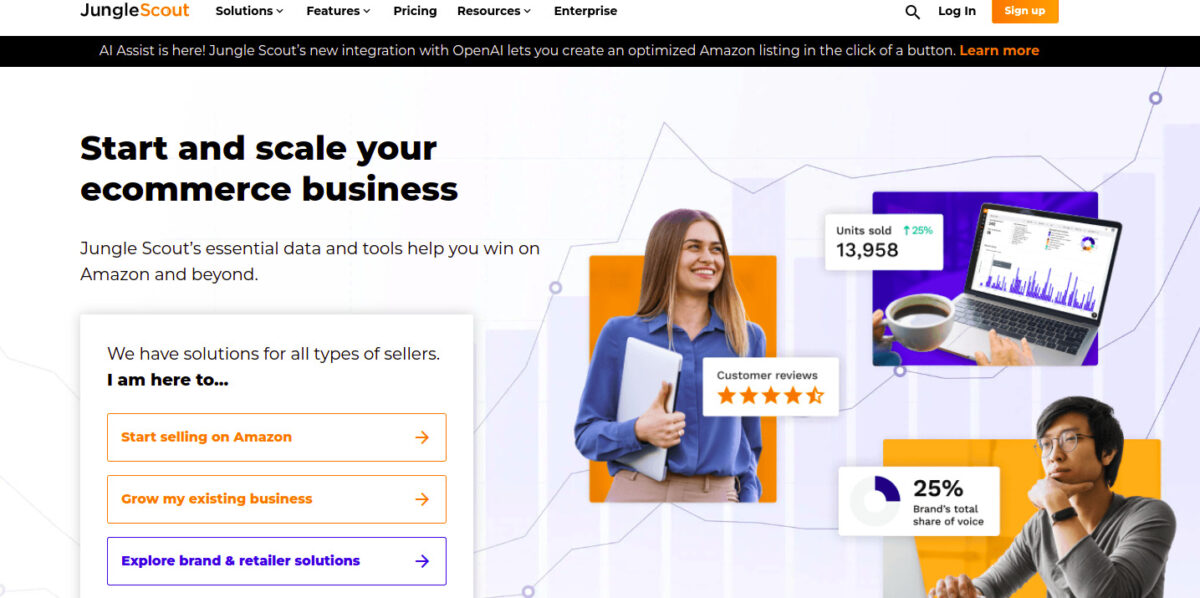 Jungle Scout is a comprehensive suite of Amazon seller tools that includes an advertising management platform designed to help agencies effectively manage their advertising campaigns on the e-commerce platform.
One of Jungle Scout's standout features is its powerful keyword research tool, which enables agencies to find high-performing keywords for their campaigns. This tool uses real Amazon search data to provide accurate and relevant results, and helps in creating highly targeted campaigns that drive traffic and sales.
In addition to its keyword research capabilities, Jungle Scout also offers advanced performance tracking features that allow agencies to monitor the success of their campaigns in real-time. These features include data on ad impressions, clicks, conversions, and other key metrics that help agencies optimize their campaigns and increase sales.
What sets Jungle Scout apart is its intuitive interface, which is easy to navigate and use. This makes it an excellent choice for agencies with varying levels of experience managing Amazon advertising campaigns, as it streamlines the process of campaign management and allows agencies to focus on driving results.
Key features:
Advanced performance tracking for real-time monitoring
Automated bidding and campaign optimization tools
Bulk editing capabilities
---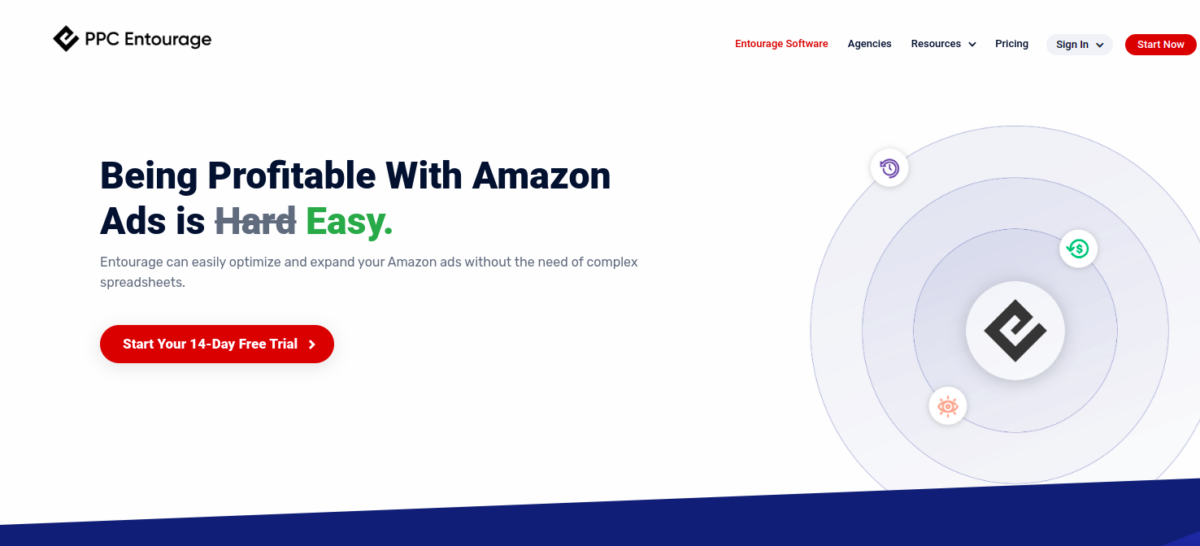 PPC Entourage helps in increasing sales and maximizing profits while lowering advertising cost of sales (ACOS). The software is loaded with comprehensive analytics and key performance metrics that provide users with actionable insights for better decision-making.
A significant highlight of PPC Entourage is its powerful sales-driven automation tools. The software helps eliminate guesswork by providing proven Amazon PPC strategies that help optimize ad campaigns, control bid prices, and remove search terms that waste ad spend. With this tool, sellers can save countless hours and manage all campaigns simultaneously with Bulk Engine, a feature that allows the optimization of multiple campaigns and ad groups with the click of a button.
PPC Entourage also features the All-New Smart Pilot that makes advertising optimization and expansion easy. The automation template can be applied across multiple campaigns in less than 15 seconds, and there is enhanced communication and automation between ad types that help scale faster.
The software helps reduce wasteful ad spend faster than ever before by providing deeper insights into metrics and enabling users to make quicker and better decisions. Each campaign and product has its dashboard, making campaign optimization effortless.
PPC Entourage also includes Margins Profit Maximizer, a tool that uncovers the hidden costs that eat into Amazon profits and provides actionable steps to reclaim the cash. The tool can easily spot and dig deeper into why some SKUs or campaigns are more or less profitable.
PPC Entourage has been tried and tested by numerous sellers who have experienced the software's benefits, including how it saves them time and optimizes their campaigns, even on the international front. The software also eliminates the headache of dealing with spreadsheets and provides exceptional customer support.
Key features:
Comprehensive analytics and key performance metrics
Smart Pilot tool for automations
Optimization of campaigns on an international level
---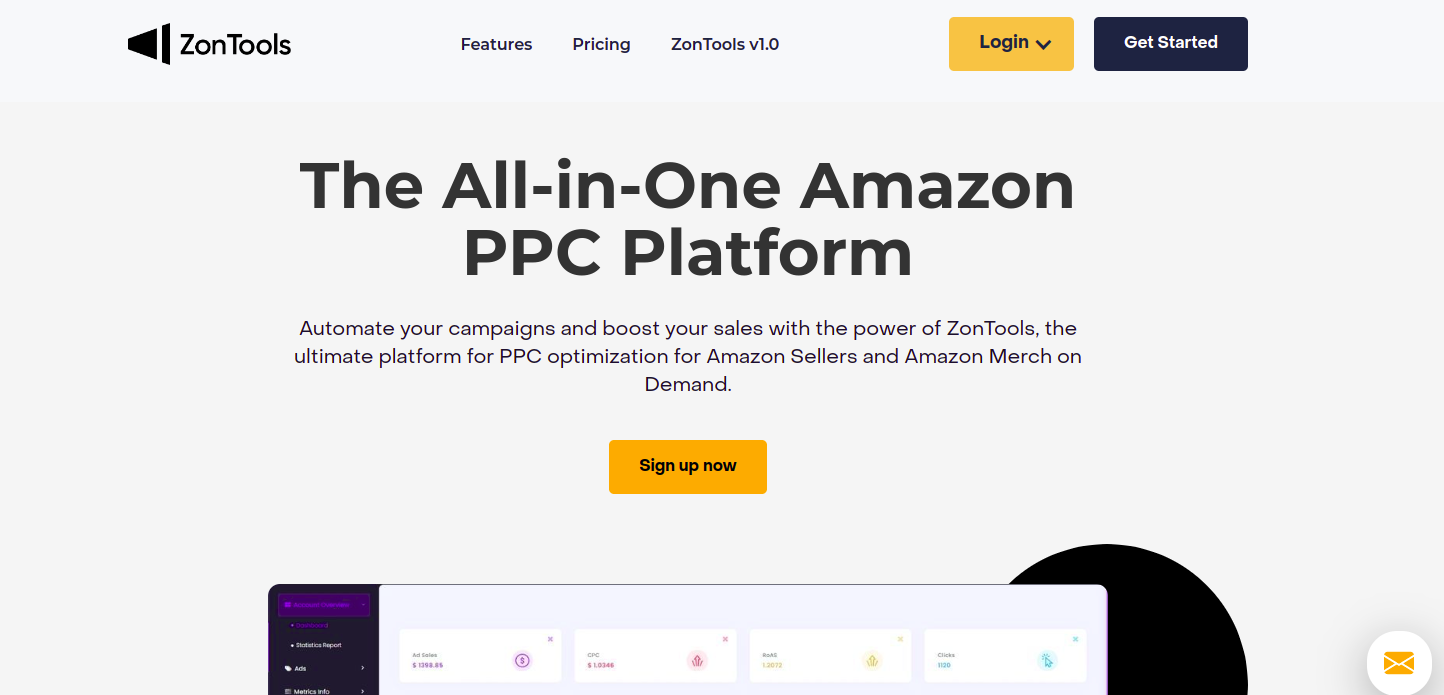 Zon.Tools is the last but not least Amazon advertising software solution that is suitable for all Amazon sellers, including Merch by Amazon. Powered by proprietary A.I. technology, Zon.Tools automates campaigns, saves you time, and helps boost sales and profitability. It offers various features related to Amazon advertising, such as the ability to launch and optimize PPC campaigns, in-listing advertising, and search results advertising. Zon.Tools also allows you to put your PPC on autopilot with smart automation and use its PPC AI engines to turn your best products into best sellers.
What sets Zon.Tools apart from other Amazon advertising tools is its ability to help you own the best real estate on Amazon by exposing your products to high-intent buyers with Sponsored Display, Sponsored Brand, and Sponsored Product Ads. It also helps you place ads for your products directly on competitor listings, protect your listings with defensive campaigns, and cross-promote your portfolio of products on your own listings.
Key features:
A.I. technology to automate and optimize campaigns
In-listing advertising for competitor listings
Autopilot with smart automation
PPC AI engines to turn best products into best sellers
---
Frequently Asked Questions
What is Amazon advertising software?
Amazon advertising software is a set of tools designed to help businesses and advertising agencies manage their advertising campaigns on Amazon. These tools provide features such as campaign creation, optimization, and reporting, as well as analytics to measure performance and improve results.
How does Amazon advertising software help businesses?
Amazon advertising software solutions simplify and streamline the management of advertising campaigns on Amazon. They enable businesses to create, manage, and optimize campaigns more efficiently, as well as provide insights into consumer behavior to make data-driven decisions and improve campaign performance over time.
What are the benefits of using Amazon advertising software?
The benefits of using Amazon advertising software solutions include saving time, increasing efficiency, and delivering better results for clients. These tools enable agencies to manage multiple campaigns and clients more efficiently, optimize campaigns based on real-time data, and gain valuable insights into consumer behavior.
What types of businesses can benefit from Amazon advertising software?
Any business that sells products on Amazon can benefit from using Amazon advertising software solutions. This includes both small and large businesses, as well as advertising agencies that manage campaigns for multiple clients. These tools are designed to simplify the management of advertising campaigns on Amazon, regardless of the size or complexity of the business.