Year after year it's the biggest week for consumer spending: Cyber Week!
With people racing to find the best deals to stock up on holiday gifts, Cyber Week is the most lucrative period for retailers and etailers on the marketing calendar. More than $33.9B was spent by consumers last year during this high-shopping period, and even in the midst of an economic downturn, there's a lot of money up for grabs this year. But how can your brand stand out when trying to gain a slice of the holiday shopping pie? Creator marketing can help do the trick.
Consumers are 71% more likely to buy products after seeing positive reviews on their social networks, so if creator marketing isn't in your marketing strategy for Black Friday-Cyber Monday (BFCM)–it should be. So how do you plan for a BFCM creator campaign? Whether you've taken on this strategy in the past or it's your first time, it's all about planning and setting achievable goals. Depending on your Black Friday and Cyber Monday campaign goals your approach to collaborating with creators might change. So here are a few campaign goals to consider as you set out:
Drive brand awareness
Target a new market
Change an audience's perception
Drive traffic to an event
Drive sales
Once you've got a clear idea of a campaign success metric, you can consider the best creative strategy for your campaign. Here are some examples of how different brands have been able to achieve different goals via creator campaigns.
---
Using influencers for Black Friday & Cyber Monday:

---
Driving Awareness
Looking to drive awareness? Take a page out of Walmart's playbook when they rolled out an #UnwrapTheDeals campaign in 2021 where they created a TikTok filter that uncovered different Black Friday deals. Collaborating with a diverse group of creators, this challenge received more than 6B views.
---
Target a new market
Mysa ran a Black Friday creator campaign to drive awareness of their smart thermostats and expand their market by selling to women and busy mothers. This campaign allowed them to test different messaging and reach a new audience through four different creators, while also repurposing the creator content on their own branded page. The Mysa Black Friday campaign led to a 419% increase in return on ad spend and a 215% higher conversion rate than the branded ads they previously ran. In addition, they were able to increase their sales to women by 50%.
---
Change brand perception
In 2021, Timberland announced two key objectives that would help the brand to produce a positive net environment impact by 2030. They committed to having 100% of their products based on circular design and 100% of natural materials obtained from regenerative agriculture. With this mission in mind, they launched a BFCM campaign featuring eco-conscious creators, which was a surefire way to shift perception with authentic human connection versus branded ads.
---
Drive traffic to an event
Amazon Fire TV partnered with influencers and creators to promote a five-day #FireTVPopUp event for BFCM at Century City Mall. The popup aimed to increase awareness of Amazon Fire TV and its accessories as great gift options for the holiday season. By partnering with a creator local to Los Angeles they were able to drive foot traffic to the event and get people involved in their on-site challenges and giveaways.
---
Drive Sales
Microbe Formulas recently ran a campaign for Black Friday partnering with creators who shared stories about their health journeys and experience taking the supplements. For brands in the pharmaceutical, health, or supplements space, partnering with creators is a great way to build trust quickly and activate bottom-of-funnel action. Partnering with creators allowed Microbe Formulas to connect with their target audience in an authentic way, allowing their most influential customers to share their stories and inform their own audiences of the upcoming promotions.
---
Are creator campaigns measurable?
Are creator campaigns measurable? Yes, yes, and yes again!
By implementing creator campaigns through partners like #paid, brands can capture meaningful campaign metrics, including traffic, brand and sales lift. You also can measure your brand's affinity against the category average. And brands that run their creator campaigns through #paid find that consumers believe those creator ads are twice as authentic, credible, relatable and realistic than branded ads, leading to a 64% increase in purchase intent. Furthermore, the viewership on platforms like TikTok, Instagram and YouTube can't be understated.
As Kaleigh Moore wrote for BANKNOTES:
TikTok has a reputation as a fun and casual social media platform, which is exactly why people love it.
But that's why brands love it, too. According to Bazaarvoice, people who shop on TikTok browse and buy goods more frequently than shoppers on other social platforms. More than one-fifth of TikTok shoppers worldwide said they bought goods on TikTok "all of the time," ahead of all other platforms. Even more astounding is that more than half of all TikTokers have purchased a product after seeing it on the app. Today TikTok is a source of shopping inspiration for 58% of customers, and nearly 48% use it to gather shopping information, as reported by eMarketer.
And then there's YouTube!
According to a recent study, 95% of kids ages 13 to 17 say they use YouTube, and 19% say they use YouTube almost constantly. The beauty of creator content across the likes of YouTube and TikTok is that businesses of all sizes can achieve huge success. To do so, you just need a finger on the pulse of what's trending and what's relevant within the current moment. In fact, according to a report released by Accenture, 59% of social buyers surveyed said "they are more likely to support small and medium-sized businesses through social commerce than when shopping through eCommerce websites. Furthermore, 63% said they are more likely to buy from the same seller again, showing the benefits of social commerce in building loyalty and driving repeat purchases."
Oliver Wright, global Consumer Goods and Services lead at Accenture, went on to say:
"Social commerce is a leveling force that is driven by the creativity, ingenuity and power of people. It empowers smaller brands and individuals and makes big brands reevaluate their relevance for a marketplace of millions of individuals."
---
Repurposing your creator campaigns
Once you have creator content in hand, what do you do with it? How often should a brand post? Should you post the same content twice? Should you post the same content in different places? If your brand is spending thousands on getting content from influencers, should you be looking for ways to repurpose that content? Yes. Especially with marketing budgets shrinking. Why pay your agency for more creative, when your expert influencers have already made it for you? You don't need to just rely on your agency or in-house team for fresh creative assets. Your influencers are content creators—work with them to reuse their incredible photos, videos, stories—and anything else they're creating for you. It's a great way to increase your asset library, without having to ask your CEO or CMO for more budget.
Some of the most creative ways brands are extending the life of their creator content is through the following: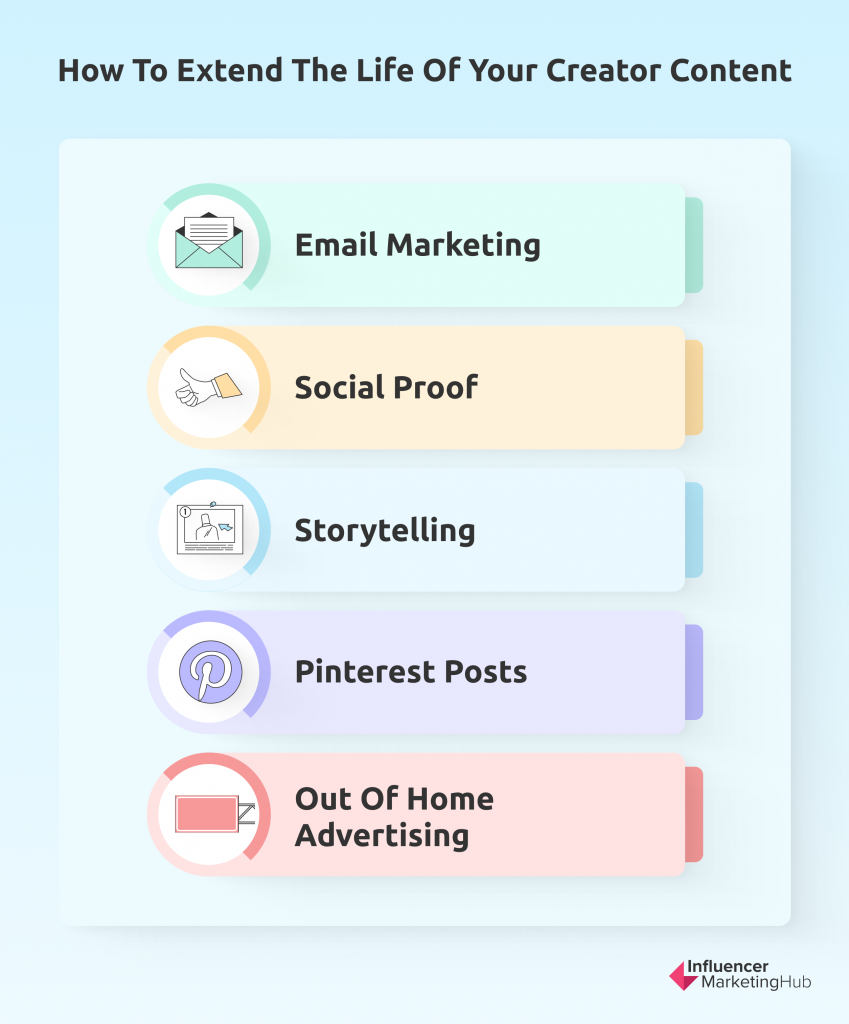 Email marketing
Using creator content in email marketing or a newsletter is a great way to develop trust over time with customers and high-intent buyers. Consumers love to gather opinions and reviews before making decisions, so if you can choose creators that align with your audience, consumers will develop an affinity for your brand and products.
Social proof
Sprinkling your creator content across your digital marketing initiatives as social proof can reinforce trust with your target audience. Your audience is looking to learn about your products by watching how they're used and hearing from your most influential customers so they can confidently make purchasing decisions. From customer stories to how-to videos to testimonials, your audience wants to feel inspired.
Storytelling
Telling compelling customer stories is a great way to capture your target audience's emotions and have them connect with your brand. Many DTC brands will do this by dedicating a page on their website to customer stories, where they share video testimonials, quotes of reviews, and short film campaigns. If you're already sharing customer stories on social media, it's also a good opportunity to distribute this content beyond your social channels.
Pinterest posts
Marketers are all about the organic reach of their creator content on Instagram, TikTok and Twitter, but often Pinterest gets overlooked.
Pinterest is primed for product discovery, making it a great channel for organic and sponsored creator content. The platform is great for highlighting product features, inspiring people with style guides, and introducing new products to people at all stages of the buyer journey.
Out-of-home advertising
Out-of-home (OOH) advertising is often an overlooked channel for distributing creator content, but it can add a lot of value to your marketing mix.
Brands spend a lot of time testing different types of content on Instagram to understand what type of content resonates with their target audience and then invest money into billboard ads with their top-performing content. This is a great way for brands to repurpose high-performing creator content in OOH channels like billboards, bus shelter ads, subway ads, and more.
---
Start preparing now!
2022 will be a big year for Black Friday and Cyber Monday shopping, and brands will continue to fight for consumers' attention. In 2021, US consumers spent $204 billion on holiday shopping, from November to December, with $100 billion of revenue generated by Nov. 29, according to Adobe. The month of November, leading up to the Thanksgiving weekend, drove nearly half of the total holiday season spending. Last year, 61% of shoppers had started buying holiday gifts before the Thanksgiving holiday, according to the National Retail Federation. For marketers looking to launch holiday creator campaigns, it's critical to launch before or during the month of November to make the most of consumer spending. In fact, spending between Nov. 1 and Nov. 24 grew by 19% last year—so the earlier you start the better.
While the economic downturn is a reality retailers and etailers must account for, a recent report from Salesforce predicts that BFCM sales will continue to grow, but the question is how will merchants attract sales while maintaining profitability. "The trillion-dollar question is how do brands and retailers maintain growth, but do it profitably with an omnichannel approach?" the Salesforce report states. Creator marketing is one of the best ways for your brand to stand out and really connect with consumers. Set clear holiday campaign goals, find the right creator, and start planning your launch today!
As Wright states,
"Getting social commerce right will require creators, resellers and brands to bring their products and services where the consumer is, and will be, rather than the other way around. It means working together within a dynamic ecosystem of platforms, marketplaces, social media and influencers to share data, insights and capabilities to deliver the right incentives and best consumer experience across an integrated digital marketplace."
Remember:
Launch early

: Nearly half of the holiday spending happens before the end of November.

Push promotions on Cyber Monday, Black Friday, and Thanksgiving

: These are the top 3 days for total consumer spending during Cyber Week.

Hire a diverse set of creators

for a broader audience reach and better representation

Get creative with your creator collaborations

: Involve them in a product launch, invite them to an event, or even create a custom social media filter
And don't forget how critical it is to find the right creator that wants to work with you, and is a trusted voice among the audience you're targeting. Finding a creator isn't always easy and takes more time than a TikTok or Instagram search. But partners like #paid can help you get your campaign brief in front of several top creators who will then raise their hand and tell you they want to work with you. Finding the right creator will go a long way toward ensuring your campaign's success!
Click here to arrange a free demo of influencer marketing platform #paid.