Chatbots are one of the most common types of artificial intelligence (AI) we interact with estimates saying that 91% of internet users interact with a chatbot on a daily basis. And, when you consider that 56% of people would rather send a message than call customer service, it just makes sense for businesses to jump on the chatbot trend. So, why aren't more businesses using them? Chances are because they don't know-how. Fortunately, that changes today. Keep reading for a complete guide to chatbot marketing that will get started with chatbots so you can reduce costs and boost business.
---
Chatbot Marketing: Your Complete Guide to Boosting Revenue and Engagement Automatically:
---
Your Complete Guide to Chatbot Marketing
In this guide, we'll cover everything you need to know about chatbot marketing—what is a chatbot, types of chatbots, chatbot marketing and its benefits, and even seven tips to help you hit the ground running. Let's dive in!
---
What Is a Chatbot?
A chatbot is a computer program designed to engage with users automatically. They can be programmed for just about anything, from handling customer service requests to helping users complete a sale. Many chatbots these days are programmed based on keywords and use AI to create a conversational flow. While they're not exactly human, they're getting closer and closer to feeling like it.
---
Types of Chatbots
Chatbots for conversational commerce and marketing generally fall under two categories: AI and rule-based. Let's take a look at what those two different categories mean.
AI Chatbots
AI chatbots use machine learning, sentiment analysis, and natural language processing (NLP) to communicate with users in a natural, humanistic and conversational way. Machine learning lets chatbots identify patterns in user input and use that data to "learn" how to respond in different situations while sentiment analysis helps chatbots understand what users are feeling on an emotional level. Natural language processing then allows chatbots to replicate human patterns of speech and understand context.
AI chatbots will need to be programmed with basic responses upfront, but as they are used they'll learn from the conversations they have with users and won't need to be continually updated with additional responses. Since they learn from the users they interact with, it's important to also put in place parameters that tell the chatbot what kind of language is and isn't acceptable.
Rule-Based Chatbots
Rule-based chatbots, unlike their AI counterparts, are dependent on a set script programmed into the chatbot platform. They provide answers to user inquiries based on conditional rules like "if/then" statements. These rules can range from very basic to complex, but it's important to remember that the rules are entirely written and implemented during the design of the chatbot. That means the rules and responses will need to be manually updated as you gather data on the way users are engaging with your chatbot.
These chatbots don't learn from their interactions with users which typically makes them more cost-effective for businesses to implement.
---
What Is Chatbot Marketing?
Now that you know more about what chatbots are, let's explore chatbot marketing and how you can use chatbots to engage potential customers, move prospects through your marketing funnel, and get more done in less time and with less money.
At its most basic, chatbot marketing is simply the process of promoting and selling products and services using chatbots. You can use chatbots to generate leads, increase sales, upsell or offer discounts, shorten response times, and handle other repetitive marketing tasks. Some companies even use chatbots to provide stellar customer service while freeing up their customer service agents to handle more complex matters. Some businesses also combine live chat and chatbots to create a robust solution.
---
Benefits of Chatbot Marketing
There are several benefits to chatbot marketing. Chatbots can help you automate certain processes, address customer questions and problems faster, and save valuable resources that you can then invest in other areas of your business. Plus, as technology continues to drive forward if you don't adopt chatbot marketing you might be left behind. Let's check out the top benefits of chatbot marketing.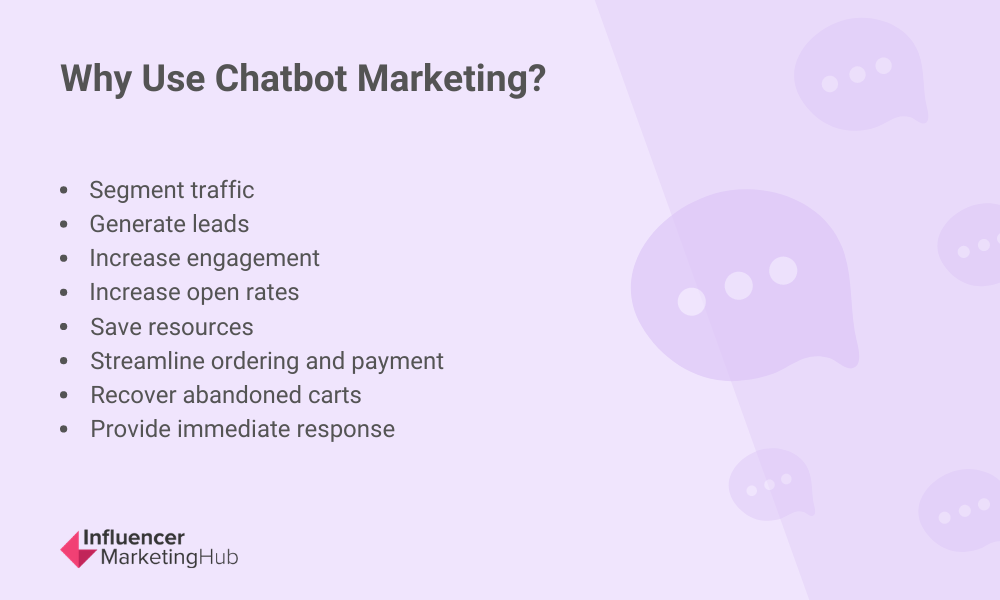 Segment Traffic
Chatbots can help you segment your traffic on the fly. Depending on the type of questions a user is asking, a chatbot can help you determine where they are in the customer journey and segment those contacts appropriately. This makes it a lot easier to follow up with warmer leads and users with higher intent so you can close more sales. It's also possible to set up your chatbot to let the user buy right away, so there's no back and forth—customers can get their questions answered and purchase right there.
Generate Leads
Chatbots are also a great way to generate more leads. You can collect contact information in a low-risk way, engage with shoppers who are leaving your store, offer discounts to returning (or abandoning) shoppers, or even qualify leads.
Increase Engagement
Another area where chatbots shine is in engagement. Chatbots can be used in tons of messaging apps from Facebook Messenger to WeChat to WhatsApp, and more, so no matter where your customers want to talk to you, your chatbots can be there.
Increase Open Rates
When you consider chatbots have an average open rate between 70% and 90%, that puts chatbots in the lead when it comes to getting your message in front of your target audience. Compare that open rate to email's average open rates (15%–25%) and chatbots are the clear winner.
Save Resources
How many agents would you have to hire to answer customer inquiries 24/7? Probably more than you have the budget for, right? Chatbots can help you save both time and money by automating conversations and removing the need for a human to answer every single question. That means you can save time and money while still serving more clients and free your agents up for the more complex problems.
Streamline Ordering and Payment
Chatbots can speed up the entire purchasing timeline—especially for eCommerce businesses. You can use chatbots to complete orders, integrating your payment gateway so customers don't even have to leave the chatbot to complete their purchase. Anything you can do to reduce friction is going to increase sales and this is a huge benefit for eCommerce.
Recover Abandoned Carts
As we've touched on briefly already, chatbots can help recover abandoned carts. There are a number of reasons why a shopper might abandon their cart. Having a chatbot available to reconnect, dig deeper to find out why the shopper abandoned their cart, answer questions, and maybe even offer up a discount can help win back some potentially lost sales.
Provide Immediate Response
The reason consumers and businesses love chatbots is that they offer a fast response to inquiries. When you consider that the average response time for customer support via email is about 10 hours, it's no wonder that chatbots are often lauded for their ability to handle basic to complex questions quickly. Faster response to customer questions can lead to increased sales, improved affinity, and increased trust.
---
7 Chatbot Marketing Tips to Get You Started
So, you're ready to jump into the wonderful world of chatbot marketing. Great! It's actually pretty easy to get started. There are several chatbot marketing tools on the market these days that can walk you through creating a rule-based or AI chatbot, depending on the complexity of your needs and desires. In addition to choosing the right chatbot marketing tool, we'll be covering seven other chatbot marketing tips to help you level up your chatbot marketing strategy.
1. Choose a Chatbot Marketing Tool
If you don't already have a team of developers on your payroll, it's likely that you'll want to look into a chatbot marketing tool that can help you create a chatbot without any coding skills. Here are some of the things you'll want to consider when comparing chatbot platforms:
Able to deploy on multiple marketing channels

Product integration

Link and goal tracking

AI or the rule-based options you need
---
Here are a few of the chatbot marketing platforms we love:
EBI.AI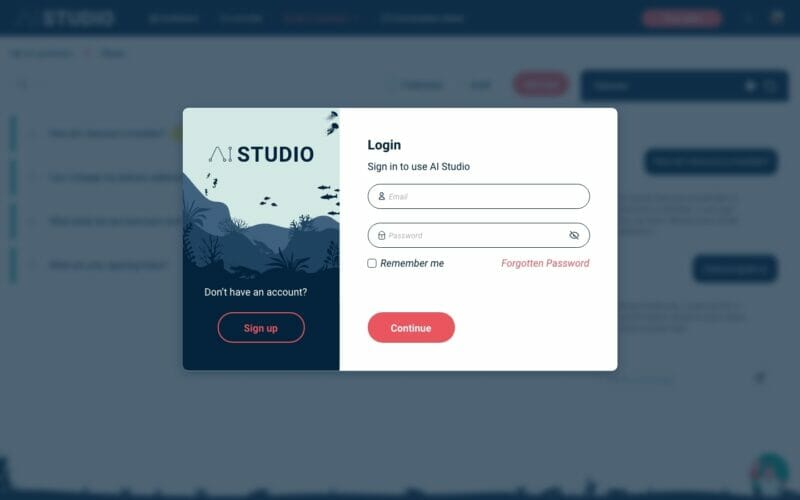 EBI.AI's SaaS solution for creating and managing AI assistants has been approved for use in regulated industries. With this platform, you can launch an AI assistant in minutes online, or ask them to do it for you.
Why EBI.AI?
Includes NLP for all AI assistants

Builds machine learning models where better ones don't exist

Supports multiple channels and languages

Provides enterprise standard security and accountability

Hands off complex issues to the best available agent via live chat

Integrates with virtually any business system

Remembers customer details and preferences

Pre-built reporting dashboards

In-built response store

Supports video, photos, carousels, emojis, links, and more

Has a free tier you can join without giving credit card details and use for an unlimited amount of time
---
Chatfuel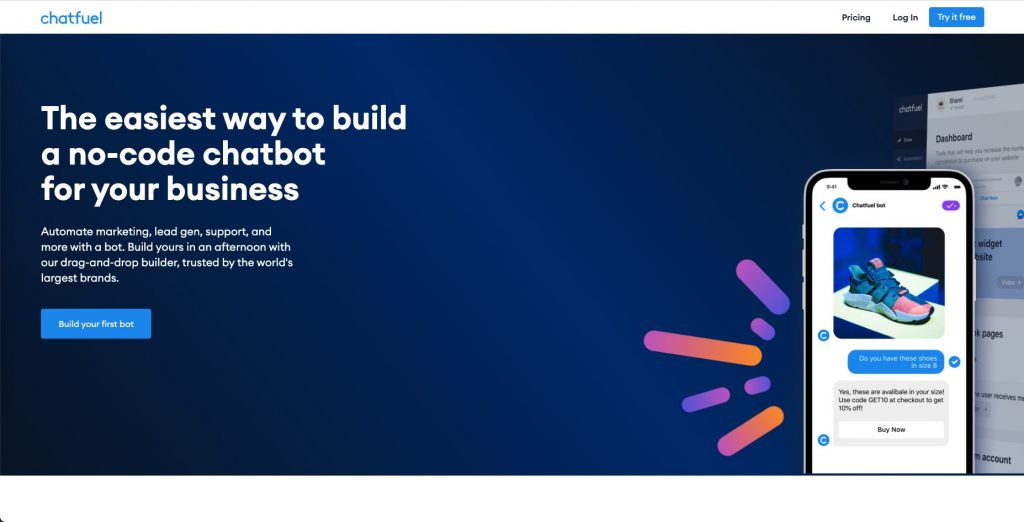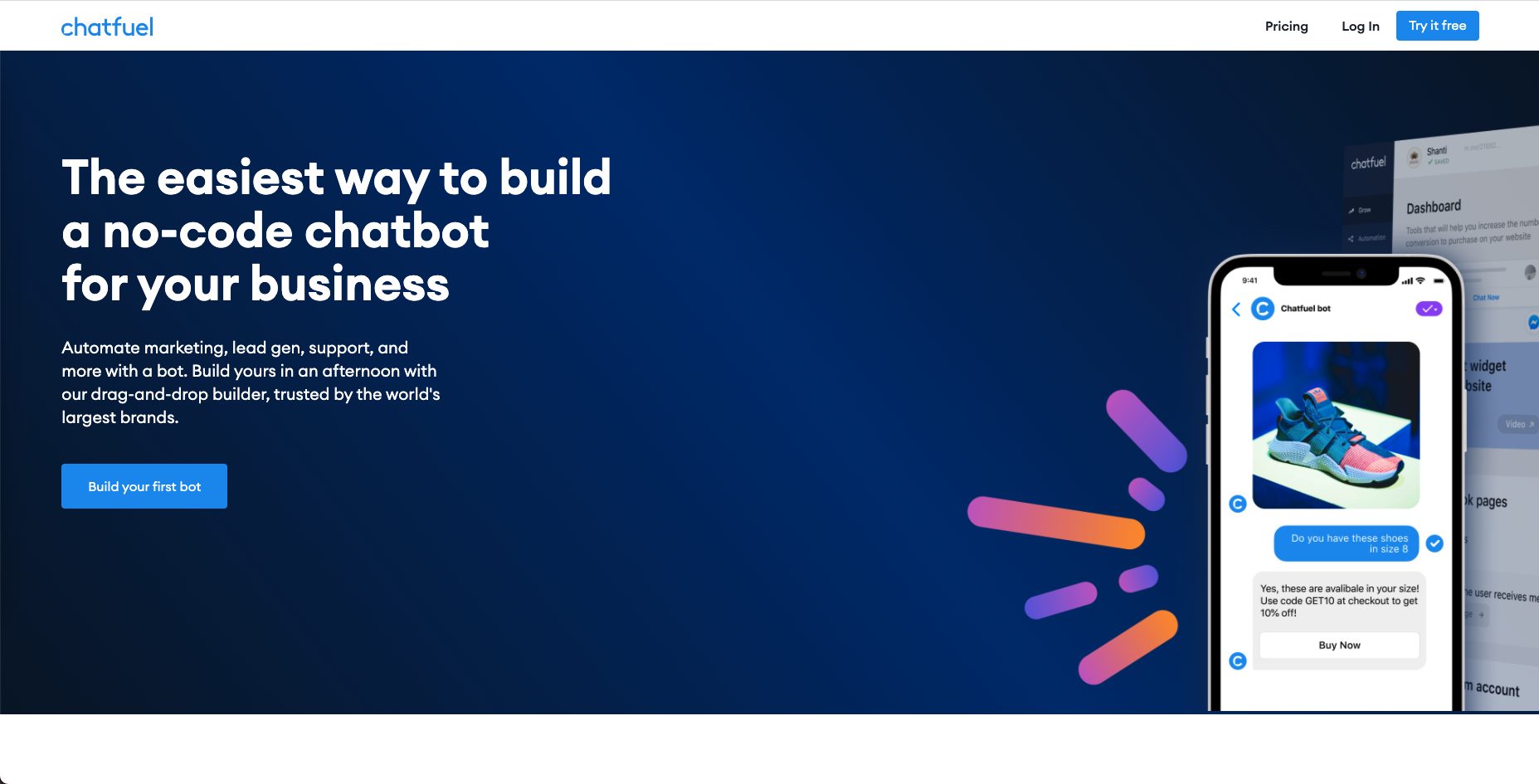 Chatfuel uses NLP to understand and recognize key phrases and will send predefined answers. You can use Chatfuel to build a chatbot for multiple needs—customer service advisors, event assistants, personal avatars, and more.
Why Chatfuel?
Drip sequences and triggered messages

AI capabilities for responding to FAQs

Attributes for segmenting your audience

Custom integrations with Shopify, Facebook Shops, and Google Sheets

Library of free chatbot templates to help you get started
---
MobileMonkey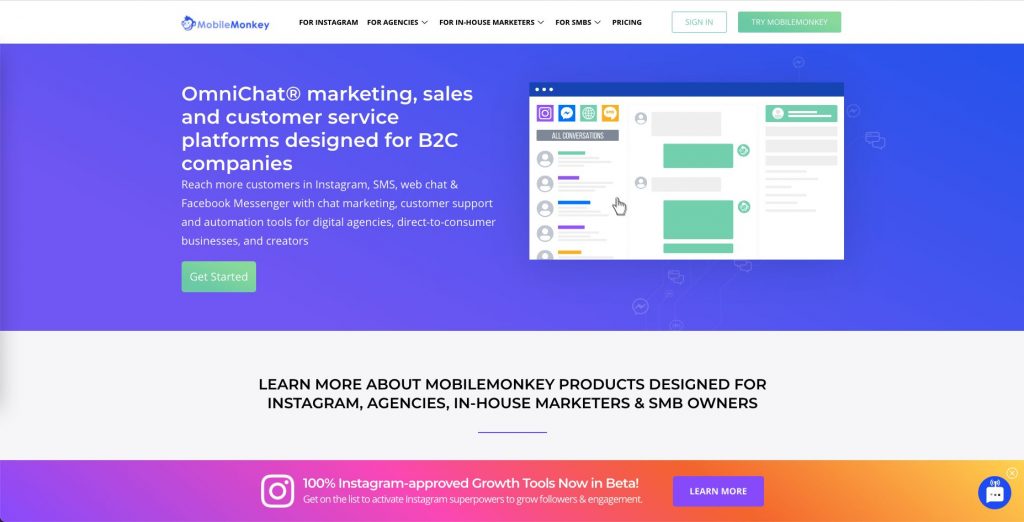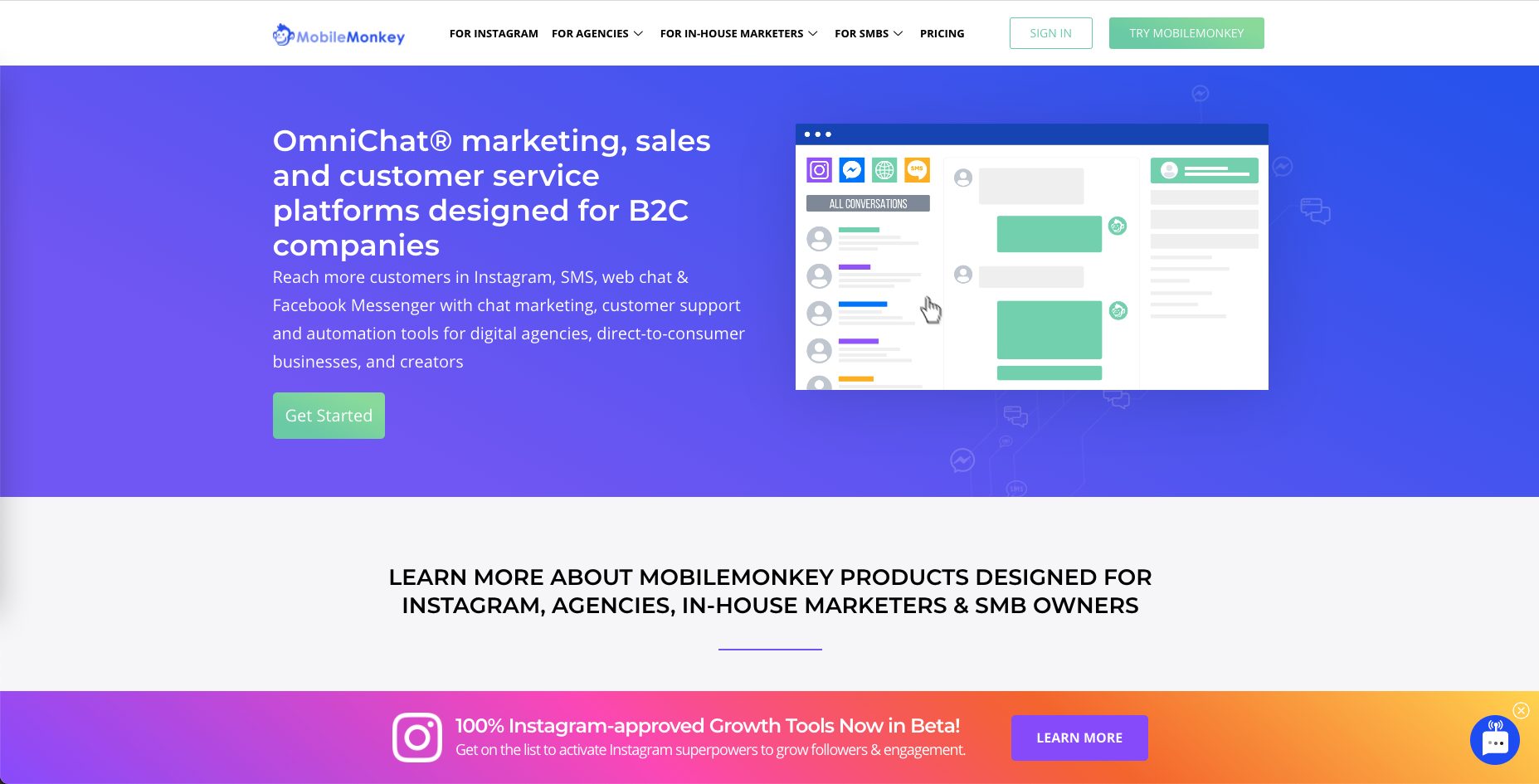 MobileMonkey lets you build Facebook Messenger chatbots and engage lead generation tools like broadcast messages, drip campaigns, chat blasts, and list building. Plus, automation tools!
Why MobileMonkey?
Supports multiple platforms

Includes a unified chat inbox

Automated customer satisfaction surveys
---
2. Start Small
Once you have a chatbot marketing tool, you might be tempted to create a chatbot to handle every single thing you can think of. Take a breath and start small instead. You're less likely to get overwhelmed that way or end up disappointed when your chatbot doesn't perform the way you want it to. Start with a simple chatbot that just welcomes visitors to your site. Sure, it's not flashy, but it adds an element of personalization and friendliness so your website doesn't feel like a static thing.
---
3. Tackle Your FAQs
If you've been in business for any amount of time, you probably have a list of the questions you get asked all the time. Why not save yourself some emails and build a chatbot to handle those FAQs for you? You can collect questions from every department in your company (sales, marketing, customer support, etc.) and build out a chatbot that answers those questions. Think of how much time you could save if you didn't have to answer the same question over and over!
---
4. Create a Discount Chatbot
Everyone loves a discount, right? Setting up a chatbot to offer users a discount based on certain behaviors (abandoned carts, anyone?) is a great way to recover potentially lost sales and increase your revenue. Some studies indicate that chatbots can help reduce abandoned carts by 20%–30%. What could you do with that increase in revenue?
---
5. Grab the Low-Hanging Fruit
Spend some time analyzing your site's traffic to discover when they leave or when they fall out of your sales funnel. Once you know when you're losing people, you can create a chatbot to engage visitors at those high-risk moments. This might mean having a chatbot show up on your pricing page to answer questions (and prove the value of the investment) or on a feature page to ask visitors what functionality they're looking for. You can even ask visitors what solution they're currently using and offer up a comparison of your product with theirs.
---
6. Humanize and Personalize Your Chatbot
One of the quickest ways to turn off your chatbot users is to have it speak in a stilted and robotic voice (unless that's a fun thing you're going for and works for your target audience). While you don't want to present your chatbot to your visitors as though it's an actual human, you'll want to make sure that your chatbot's "voice" is humanistic. It's also a great practice to personalize chatbot interactions whenever possible. This might mean integrating your chatbot with your email marketing platform to pull basic information about your subscribers and make the chatbot experience more personal. This leads us to...
---
7. Integrate With Email Marketing
Email marketing has an absolutely staggering ROI with reports putting it anywhere between 3500%–4400%. That means for every $1 you spend on email marketing, you have the potential to get back $35–$44 in revenue. So, integrate your chatbot marketing and email marketing efforts to streamline and automate your process.
---
Use Chatbot Marketing to Delight and Engage Your Audience
Chatbot marketing might not be right for all businesses, but there are so many chatbot builders out there that offer free trials or free plans that it's worth giving it a try. If your audience doesn't like it, stop using it. If they do enjoy engaging with your chatbots, though, you'll be on your way to reducing your sales timeline, increasing lead generation, building trust and brand affinity, and boosting your revenue.
Frequently Asked Questions
How do I build my own chatbot?
Your best option is to choose one of the chatbot platforms on the market, such as:
EBI.AI
Chatfuel
MobileMonkey
Aivo
ItsAlive
Imperson
Pandorabots
Bold360
Meya AI
ManyChat
Botsify
Live Chat
Botscrew
Zendesk
Olark
Userlike
Pure Chat
Jivochat
Freshchat
Tawk
Intercom
What is a chatbot?
A bot is simply a computer program that automates certain tasks.
What are the benefits of chatbots?
Chatbots can help you:
Segment traffic
Generate leads
Increase engagement
Increase open rates
Save resources
Streamline ordering and payment
Recover abandoned carts
Provide immediate responses
What content should I include in my chatbot?
Start with just a welcome chatbot to greet site visitors. From there, you can add in answers to questions you get asked frequently, offer discounts to exiting shoppers, help users understand your products or services, and more.