Advertising Disclosure
Advertising disclosure:
Our partners compensate us. This may influence which products or services we review (also where and how those products appear on the site), this in no way affects our recommendations or the advice we offer. Our reviews are based on years of experience and countless hours of research. Our partners cannot pay us to guarantee favorable reviews of their products or services.
Marketing executives understand the importance of relevancy, especially as new market trends emerge and competitors try to seize them. But as marketplaces become more dynamic, so do the channels by which customers discover products and services. This paves the way for new challenges and opportunities. One way to address these challenges is through Consumer Research Software.
Consumer Research Software can be broadly understood as a comprehensive set of digital solutions widely used by market research agencies. The software platform is designed to facilitate the collection, analysis, and interpretation of data relating to market trends, customer behaviors, competitive landscapes, product or service demand, and feedback.
The objective of these platforms is to furnish marketing executives with the insights necessary to make informed decisions, optimize strategies, and, most crucially, address the ever-evolving needs and preferences of the consumer base.
This guide will outline the 10 Best Consumer Research Software Solutions for 2024, giving marketing executives the knowledge and nuance to remain ahead of the pack.
---
Top Consumer Research Software
Top
consumer research software
2024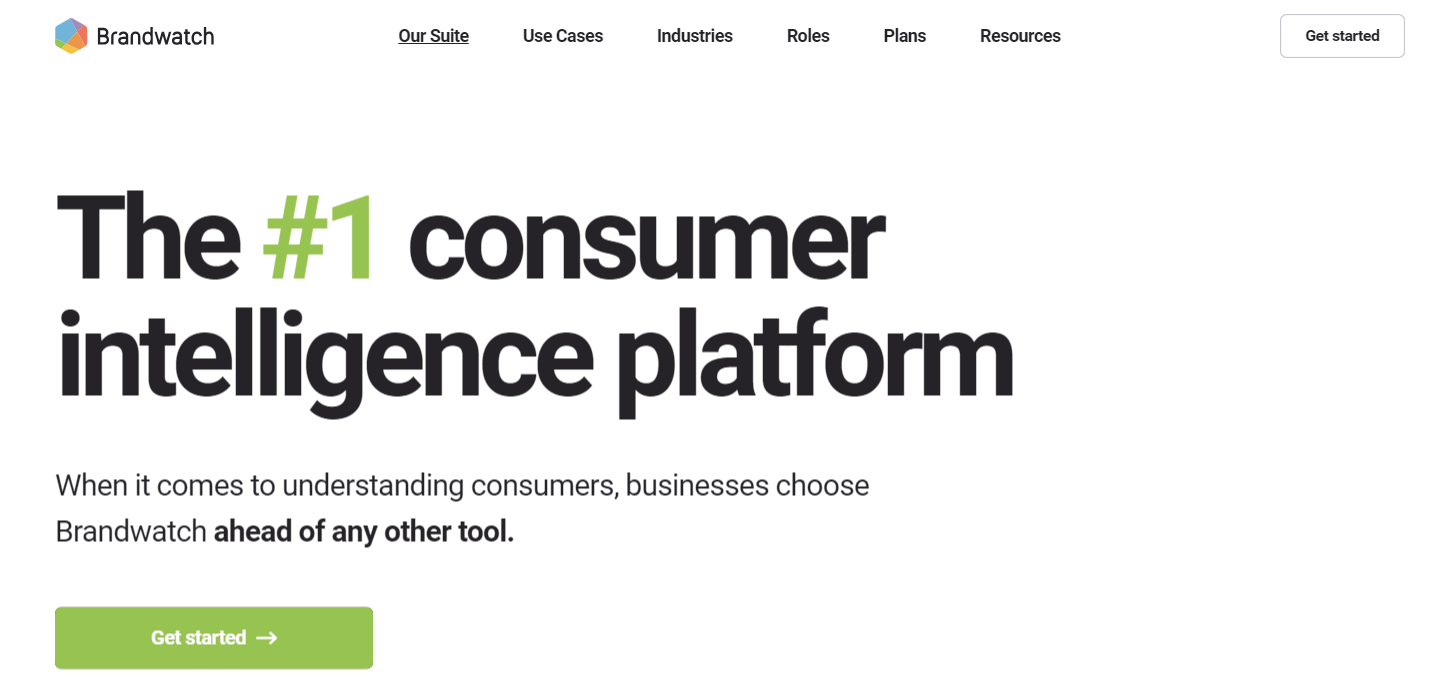 Brandwatch has emerged as one of the most influential tools for businesses aiming to achieve a nuanced understanding of consumer behavior. Touted as the world's most formidable consumer research software, it plunges into the vast realm of online spaces, tapping into over 1.4 trillion posts across 100 million sources to procure deep consumer insights.
Standout features:
Unparalleled Data Access: Brandwatch boasts the world's largest archive of consumer opinions, allowing businesses to contextualize and make real-time decisions by accessing posts dating back to 2008. With a daily addition of approximately 496 million new posts, it stands unrivaled in its breadth of data capture.
Cutting-edge AI Technology: Fifteen years of developmental understanding has resulted in the creation of their superior AI, designed to process vast quantities of data and surface insights that might easily be overlooked. Coupled with their AI Analyst, Iris, businesses can spot trends instantly and effortlessly.
Image Analysis: Utilizing the strengths of neural networks and deep learning, Brandwatch's image analysis tool has been trained on billions of images, facilitating profound image-driven insights.
Custom Classifiers: The system integrates machine learning powered by Brightview, allowing users to train the software in categorizing data based on unique needs.
AI-Powered Search: Ensures instantaneous data retrieval, simplifying navigation and enhancing efficiency.
1st Party Data Integration: Brandwatch leverages external data but also allows companies to upload and analyze their own enterprise-held data in conjunction with online data for a holistic view.
Software strengths:
Analytics & Insights: Brandwatch offers an extremely flexible UI that includes over 50 live visualizations, empowering businesses with dynamic ways to view and understand their data.
Integration & Compatibility: With proprietary data crawlers, Brandwatch can quickly incorporate new data sources. It also supports integrations with a full suite of intelligence products, scaling with business needs.
Stakeholder Engagement: Insights can be disseminated to stakeholders with tools ranging from proactive alerts to intelligent reporting.
Customer Success & Global Presence: Backed by a 99% customer satisfaction score, Brandwatch provides extensive services and a global team of experts to elevate market research strategies.
Price: Brandwatch offers three different plans, with specific pricing details available upon request.
---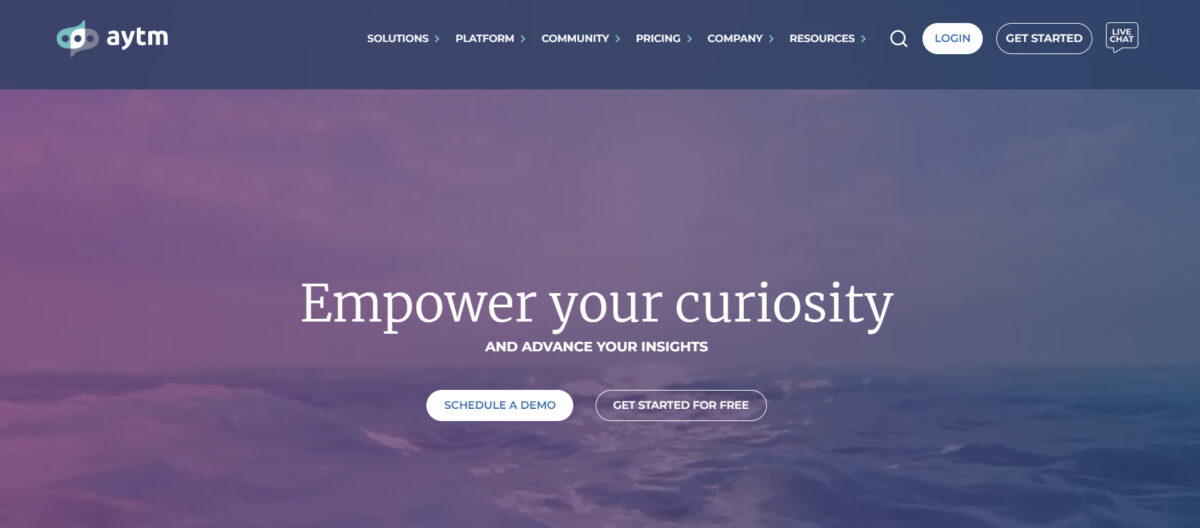 Aytm positions itself as both a technological platform and an experienced ally for businesses wanting to amplify their insights. With the promise to empower curiosity and transform research initiatives, aytm presents a comprehensive suite of tools designed for actionable consumer insights.
Standout features:
Comprehensive Consumer Insights Platform: Aytm provides a comprehensive consumer insights platform that empowers the continuous development of ideas. The platform includes access to a vast network of over 100 million respondents, a sample engine capable of future predictions, a flexible authoring tool for survey analysis, and a real-time reporting and analysis dashboard.
Predictive Sample Engine: Tailored to segment data and audience insights with pinpoint accuracy, ensuring the right demographic is reached.
Survey Tool: Designing surveys becomes a streamlined process with aytm. The suite allows businesses the freedom to customize research tools based on unique parameters.
Dashboard for Insights & Analysis: Real-time insights are crucial for fast-paced business environments, and aytm's dashboard provides a consolidated view of all collected data.
PaidViewpoint: Apart from typical respondent panels, aytm's proprietary panel values respondent quality, ensuring top-notch data collection.
Custom Solutions for Research: Aytm understands that a one-size-fits-all approach is limiting and offers solutions tailor-made for specific research needs.
Software strengths:
Industry Expertise: AYTM isn't just a tool; it's a partner. Their experts understand various industries, ensuring businesses don't start from scratch.
Consultative Service: Beyond just offering a platform, AYTM provides full service and support. Their approach is geared towards fostering agility and iterative processes in consumer research.
Training & Enablement: Recognizing the importance of upskilling, AYTM offers a plethora of resources, courses, and learning paths to ensure businesses can harness the full power of the platform.
Price: AYTM offers three pricing options, both free and paid. Exact pricing can be accessed upon signing up.
---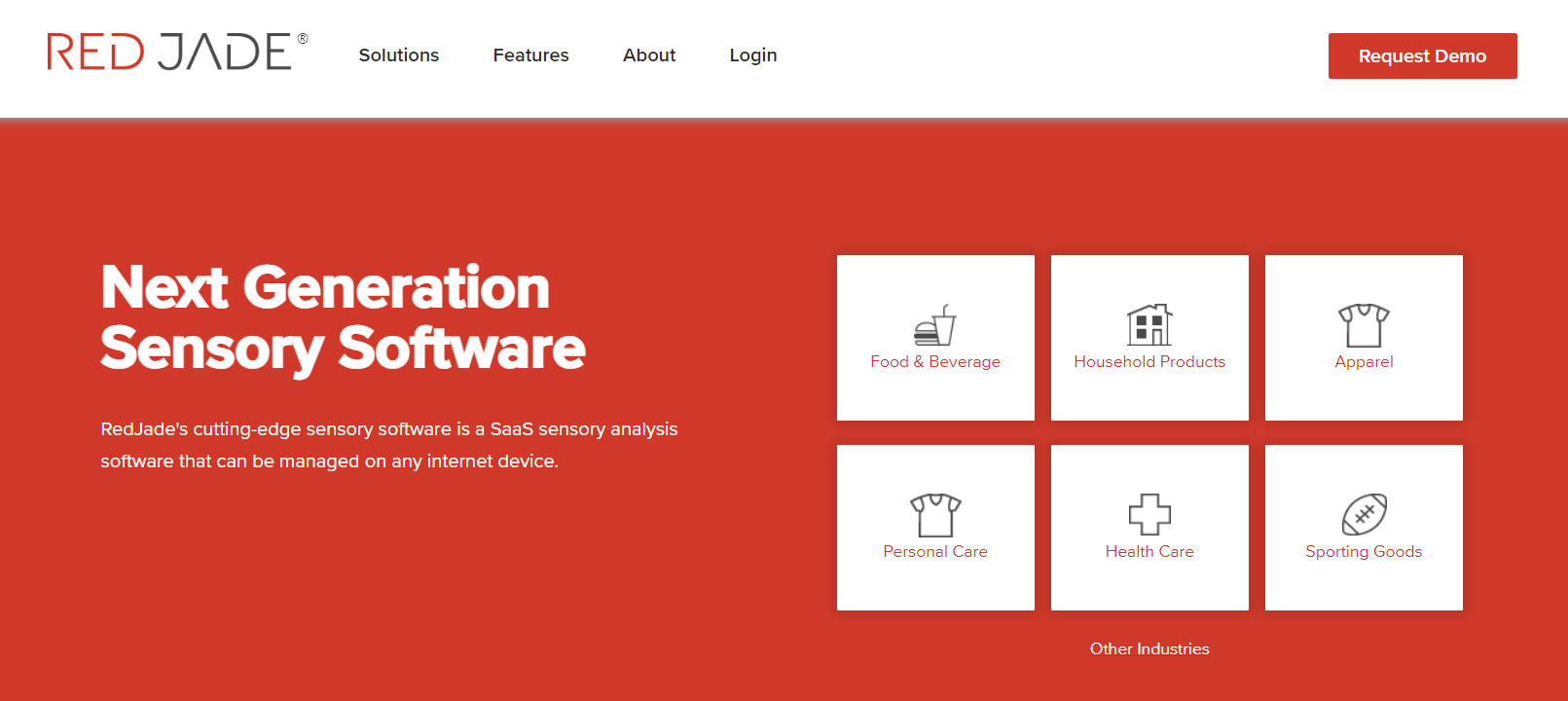 RedJade has been crafted with sensory and consumer research principles, enabling brands and companies to delve deep into what consumers like and why they like it. Using an application designed by sensory experts, RedJade caters to the necessities of modern-day consumer research, from recruitment to data analysis.
Standout features:
Expert-Crafted Design: Developed by leading professionals in the sensory science field, previously associated with Tragon Corporation, the software integrates pioneering sensory methodologies like QDA® and PROP®. 
Top-tier Technological Foundation: Rooted in Silicon Valley, the technological bedrock of world-leading software, RedJade's sensory software integrates today's top-tier and advanced technology, ensuring a robust and modern platform.
User-Centric Interface: RedJade offers an intuitive web app that functions like popular mobile applications, ensuring ease of use for anyone familiar with basic smartphone or tablet operations. From complex design to data analysis, everything is designed to look seamless.
Software strengths:
Web-Based Functionality: Operate the software from any browser, offering flexibility and accessibility without the need for dedicated installations.
High-Efficiency Operations: Instantly create balanced design blocks, conduct penalty analysis, and more without compromising data integrity.
Price: Request a software demo to get a comprehensive pricing structure.
---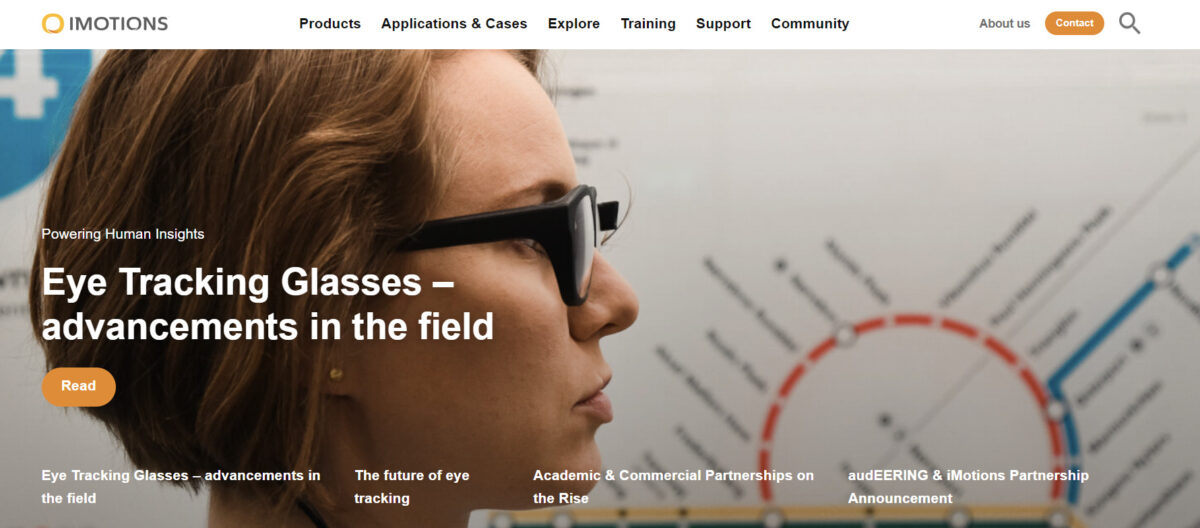 iMotions revolutionizes consumer testing by delving into neuroscience, accessing the nonconscious driving forces behind consumer decisions. With a focus on biosensor technology, iMotions provides insights into human emotions, mental states, and behavior that are not consciously perceivable but influence decision-making.
Standout features:
Biosensor Integration: iMotions offers a software suite to synchronize and access various biosensor technologies, capturing valuable psycho-physiological responses and biofeedback.
iMotions Online & Mobile: Deploy global studies rapidly using Webcam Eye Tracking and Facial Expression Analysis with iMotions Online. Additionally, iMotions Mobile (BETA) offers an innovative approach to studying human behavior in real-life scenarios, leveraging smart devices and wearables.
Versatile Research Suite: With iMotions Lab, researchers can trustfully collect and analyze data from biosensors and formulate studies employing any stimuli.
Software strengths:
Global Scalability: The Online and Mobile solutions are designed to conduct studies on participants from any part of the world at any time, ensuring extensive and diverse data sets.
Holistic Consumer Understanding: The software provides a comprehensive perspective on consumer behavior, capturing not just conscious but also nonconscious driving factors, offering a complete understanding of decision-making processes.
Price: Request a demo to get a detailed understanding of their pricing structure.
---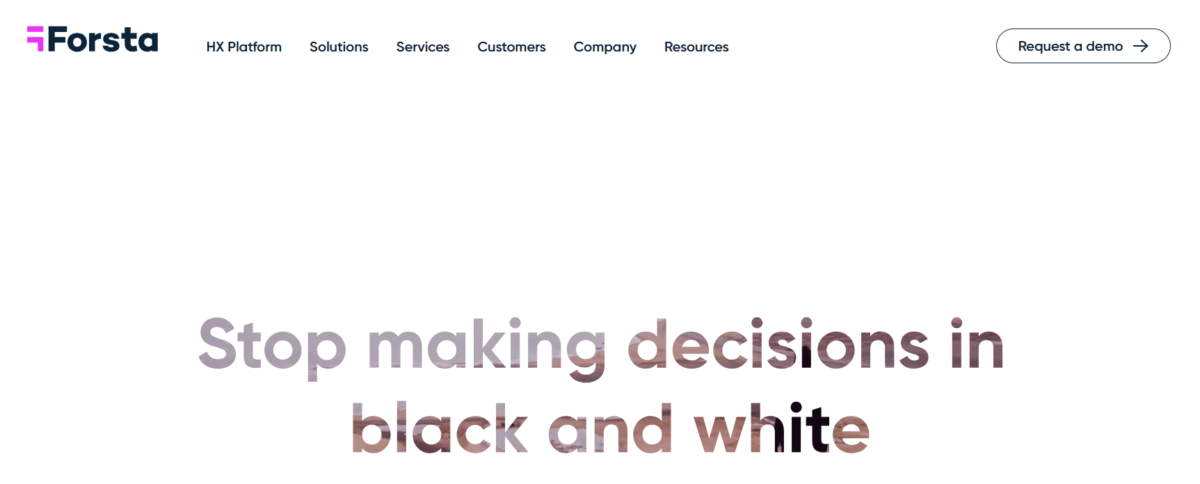 Forsta guides brands in uncovering the mysteries of the market landscape. Through their vast array of research tools, they bring clarity to the unknown, allowing businesses to map and strategize according to market insights. Whether you're entering an unfamiliar market or seeking in-depth data on competitors and target audiences, Forsta's suite helps uncover golden opportunities.
Standout features:
Multifaceted Investigative Tools: From video surveys and social media monitoring to on-the-ground probes and comprehensive desk research, Forsta employs a tailored blend of tools to provide a well-rounded market view.
In-depth Analysis: Dive deep into data, extract crystal-clear stories, and unveil gem-like insights from feedback to transform business strategies.
Expert Guidance: Beyond gathering information, Forsta aids in comprehending its implications for businesses, helping them convert insights into actionable strategies.
Software strengths:
Customizable Research Approach: The software is flexible in its use of tools, ensuring that businesses get the right mix according to their unique research needs.
Holistic Understanding: Beyond just data gathering, Forsta's approach ensures businesses understand the market landscape, facilitating informed decisions.
Price: Request a demo to receive a detailed pricing structure.
---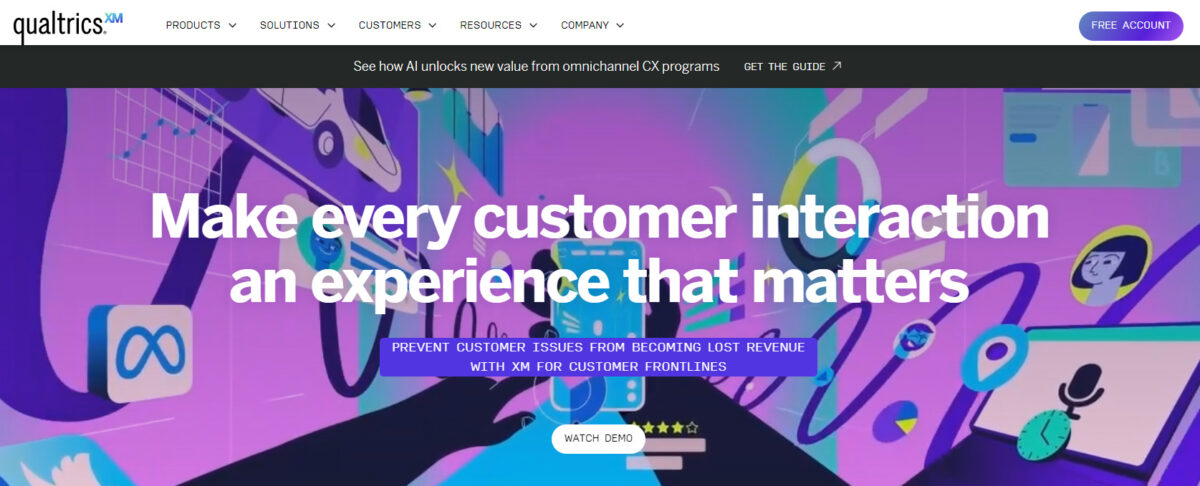 Qualtrics is the epitome of modern market research tools, offering a unified platform for all of an organization's research requirements. Powered by AI and automation, the software simplifies tasks from study design to insight revelation. With a plethora of additional tools, it provides businesses with faster, superior-quality market research, ensuring they stay ahead in the competitive landscape.
Standout features:
Comprehensive AI Tools Suite: With functionalities like Text iQ, Driver iQ, and Stats iQ, Qualtrics employs advanced statistical tests and AI to automatically analyze feedback, identify key drivers, and spot market trends.
ExpertReview: An AI-driven research assistant, ExpertReview ensures top-notch research quality by detecting and rectifying quality gaps throughout the insights lifecycle. This includes flagging issues such as broken question logic, mobile incompatibility, and compliance issues.
Automated Research Projects: XM Solutions offers pre-designed, automated research projects for swift launches. Developed by Qualtrics XM scientists, these solutions streamline data collection and maximize insight outputs.
Software strengths:
All-in-One Platform: Qualtrics consolidates all research needs into one modern platform, reducing redundancies and cutting costs.
Vast Expert Network: Access to a wide network of experts, including XM scientists and research managers, ensures businesses always have the expertise they need to excel.
Price: Request a demo to secure the most appropriate price.
---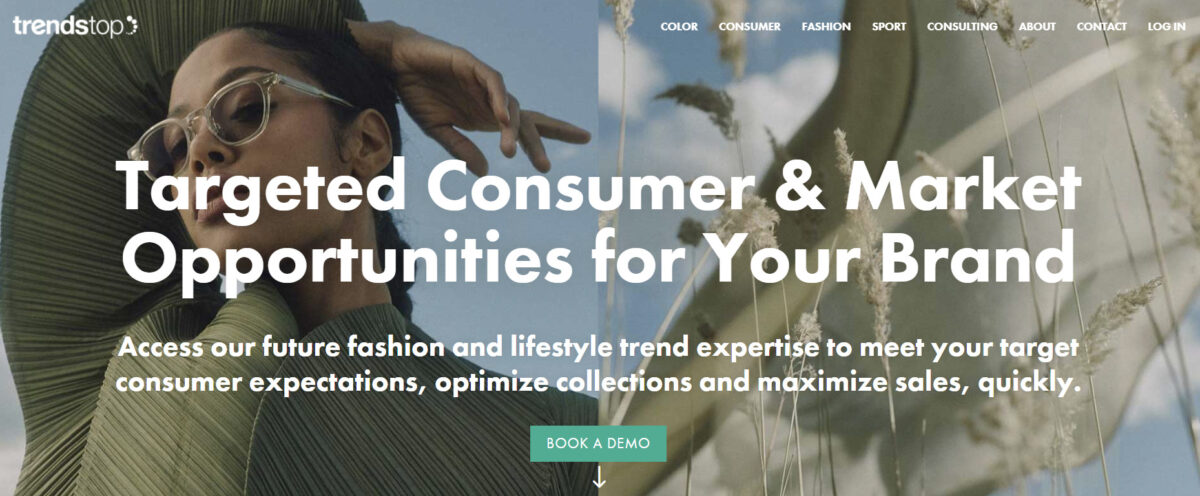 Trendstop offers consumer-centric trend forecasting explicitly tailored for your brand, paving the way for growth, amplified impact, and a quick profit boost. With a focus on the intersection of consumer, brand, product, and marketing, this software connects the dots to offer deeply insightful and actionable forecasts.
Standout features:
Accurate Fashion Predictions: Trendstop boasts an impressive 97.2% accuracy in predicting fashion trends two years ahead of time, ensuring businesses stay ahead of the curve and ready for the future.
Gorgeous Color Forecasting: With a detailed approach to color, the software forecasts market-specific colors, Pantone® swatches, consumer color psychology, and even specific shades for different usages.
Sustainable Material Forecasts: In an age of conscious consumption, Trendstop keeps you updated on the latest sustainable materials and trims that align with style and are commercially viable.
Software strengths:
Comprehensive expertise areas: From consumer insights and seasonal themes to footwear and accessories forecasts, Trendstop provides a well-rounded view of trends.
Actionable Insights: With features like early market signals and monthly live events, businesses can identify opportunities timely and understand precisely what fashion consumers desire next.
Price: Pricing details are provided upon booking a demo.
---

WGSN thrives on its proprietary forecasting data derived from diverse sources like social media, e-commerce, and search, combined with expert opinions, to deliver highly accurate consumer trend forecasts. Tracking consumer search data across platforms and surveying a massive number of consumers monthly, WGSN provides unparalleled insights into consumer behavior, sentiments, and preferences.
Standout features:
Consumer Sentiment Dashboard: WGSN's 'Barometer' uses data from daily surveys to measure brand sentiments, giving businesses a clear picture of how they stand in consumers' eyes.
Detailed Consumer Behavior Forecasts: WGSN assists in visualizing the future by offering insights into how consumers' behaviors, tastes, and lifestyles will evolve, helping businesses stay one step ahead.
Case Studies: By demonstrating real-life applications, such as how they assisted a cosmetics brand in China, WGSN proves its capability to provide actionable, consumer-first solutions for various challenges.
Software strengths:
Versatility Across Industries: From fashion and beauty to consumer electronics and finance, WGSN supports a vast range of sectors, making it a one-size-fits-all solution.
Tailored Consultancy Services: Apart from its subscription services, WGSN offers bespoke consultancy, ensuring businesses get precise insights tailored to their unique needs.
Price: Detailed pricing is available upon requesting a demo.
---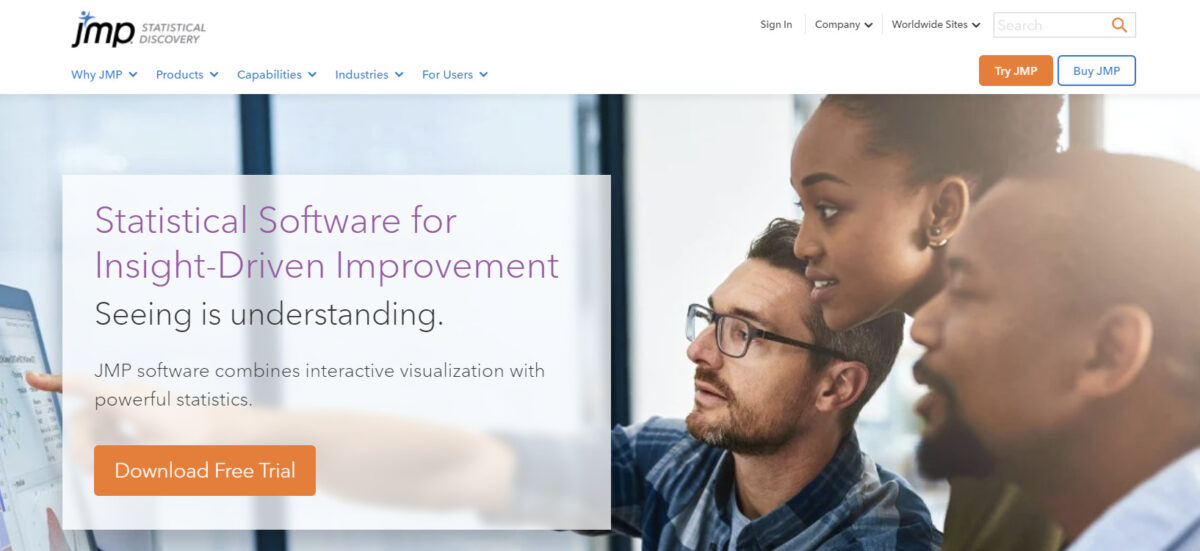 JMP is an analytical tool tailored for consumer and market research, enabling companies to delve deeper into consumer insights and drive product and service improvement. It offers an integrated set of tools designed to analyze consumer and market feedback not based on opinions or anecdotal evidence but through empirical data. This approach ensures companies can respond to market trends, amplify profitability, and build a competitive edge by genuinely understanding the consumer's voice.
Standout features:
Segmentation and Clustering Tools: With a variety of clustering techniques such as Hierarchical, K-means, and Self-organizing maps (SOM), JMP provides fine-tuned data segmentation to better target and understand customer groups.
Text Analysis Capabilities: Through sentiment analysis, topic analysis, and latent semantic analysis, JMP lets businesses extract essential insights from vast volumes of unstructured data, like survey text or social media feedback.
Advanced Statistical Solutions: Dive into detailed analysis with tools such as ANOVA, Regression, Latent Class Analysis, and Structural equation modeling (SEM). It ensures data-driven decisions backed by comprehensive statistical insights.
Software strengths:
Data Visualization: JMP provides compelling data visualization tools, like bubble plot, allowing for a clear understanding and representation of complex datasets.
Comprehensive Analytic Capabilities: From data access and cleaning to exploration, visualization, and result communication, JMP offers a holistic approach to data analytics.
Price: JMP operates on a user license model with tiered pricing. Specific details can be obtained upon requesting a quote.
---
Hailed as the world's leading consumer research software & tool, QuestionPro facilitates deep consumer understanding through its robust analytics. The software is designed to provide businesses with actionable insights from online surveys, diving into qualitative and quantitative research dimensions. An emphasis on easy-to-understand visual infographic reports helps brands understand their customers' voices.
Standout features:
Advanced Analytics and Reports: Power your decisions with techniques like Conjoint, TURF, GAP, and Comparative NPS analytics. This gives a deep understanding of market trends and consumer sentiment.
Audience Organization Capability: With access to over 22 million panelists across 32 countries, you can fine-tune your research to cater to specific demographics, ensuring more accurate and actionable insights.
Smart Survey Logic and Branching: This feature ensures respondent-centric business surveys, utilizing advanced survey logic like branching, skip logic, and survey looping. It ensures every survey experience is tailored to the respondent.
Software strengths:
Mobile Integration: QuestionPro's platform is optimized for both online and offline market surveys across all mobile devices, ensuring data collection and analysis anywhere, anytime.
Dedicated 24/7 Global Support: Round-the-clock support ensures businesses can resolve queries and get assistance whenever required, enhancing user and customer experience.
Price: The platform offers various pricing plans. The "Advanced" plan, suitable for businesses, is priced at $99/mo. For more comprehensive features, the "Research Edition" pricing is available upon request.
---
The Role of Consumer Research Software
The role of Consumer Research Software in today's marketing realm is both transformative and foundational. Historically, businesses would rely on rudimentary methodologies for consumer research – manual surveys, focus groups, or isolated feedback channels. While these methods are not obsolete, their scope and scale are often restrictive, especially when juxtaposed with the capabilities of contemporary digital solutions.
Today's leading Consumer Research Software harnesses the power of artificial intelligence, machine learning, big data analytics, and advanced visualization tools to deliver a granular, real-time understanding of the market. As such, its importance is multifaceted:
Strategic Advantage: Consumer insights derived from these platforms empower businesses to foresee market shifts, anticipate emerging trends, and develop proactive strategies, ensuring they remain ahead of competitors.
Tailored Offerings: Understanding customer behavior and preferences with precision allows for the development of hyper-personalized products, services, and campaigns, thus enhancing customer satisfaction and loyalty.
Risk Mitigation: By assessing market demand and competition rigorously, businesses can mitigate potential risks, ensuring resource allocation is optimized and wastages minimized.
Feedback Integration: Real-time feedback mechanisms embedded within these platforms allow for immediate course corrections, ensuring strategies and offerings are continually refined and resonated.
---
What to Consider When Choosing a Consumer Research Software?
Selecting the right Consumer Research Software is far from straightforward. But we'll give you a checklist to go by.
Firstly, we must discuss the important factor of scalability. The chosen software should be capable of handling varying degrees of data influx as businesses expand and diversify. Additionally, integration capabilities with other enterprise systems, such as CRM or ERP solutions, will ensure seamless data exchange and a holistic view of the consumer.
The software's analytical capabilities play a pivotal role too. The ability to dissect complex data sets and draw actionable insights is vital. Here, features like predictive analytics, sentiment analysis, and trend forecasting will prove invaluable. Lastly, but by no means least, user-friendliness and intuitive interfaces are crucial. After all, the true value of any software lies in its usability and the actionable insights it delivers.
---
Conclusion
Consumer Research Software emerges as the compass guiding marketing executives toward strategic excellence. It transcends the conventional data collection and analysis boundaries, offering a comprehensive view of the market ecosystem. 
As businesses endeavor to remain relevant and competitive, the investment in the right Consumer Research Software becomes not just advisable but indispensable. This guide aims to demystify the domain, offering an informed perspective on its significance and the considerations for optimal selection.
Frequently Asked Questions
Do I need a dedicated team to manage and interpret the data?
While having a dedicated team can be beneficial, especially for larger businesses with vast amounts of data, many software platforms come with user-friendly reporting tools. These tools can help even those with limited experience to make sense of the data. However, for deeper insights and strategic planning, having expertise in data analytics can be advantageous.
Is training provided with the purchase of consumer research software?
Many software providers offer training sessions, tutorial videos, and dedicated customer support to assist users in getting started and maximizing the tool's potential. Before making a purchase, it's wise to inquire about the level of training and support included.
How does consumer research software handle feedback from various channels?
Most platforms are equipped to aggregate and analyze feedback from multiple channels, such as social media, emails, surveys, and focus groups. This multi-channel approach ensures a holistic understanding of consumer sentiment and behavior.
Can the software predict market trends?
Some advanced consumer research software solutions come with predictive customer journey analytics capabilities. This feature uses historical data to forecast future market trends, helping businesses to stay ahead of the curve. However, it's essential to note that predictions are based on past and current data, and external factors can sometimes introduce unforeseen changes.