Content collaboration is becoming increasingly important for both brands and influencers. While it's possible to create content entirely on your own, it's a lot more fun (and many times more effective), to find the right partners to join you in your content marketing efforts. But if you're used to going it alone, you might be wondering how to get started with content collaboration—you may even be wondering, "what IS content collaboration, really?" Keep reading! We'll be answering all of your questions about content collabs and the benefits of content collaboration. We'll also share some great content collaboration ideas, how to find the right collaboration partners, and a step-by-step approach to successful collaboration. We'll even share some great content collaboration tools that will make the entire process easier.
Sounds good, right? Let's dive in!
---
Content Collaboration Guide:
---
What Is Content Collaboration?
Content collaboration is when two or more people come together to produce content. The content might be a single piece, a large content project, or even a series of content. We're going to talk about some types of content you can produce collaboratively in a bit, but there's really no hard, fast rule that says you can only collaborate on certain types of content. If you want to produce an eBook, a blog post, a video—anything—do it!
And, it doesn't have to mean collaborating with people outside of your own company. Your marketing team could work with your development team to create a tutorial or explainer video for your product, for example. Of course, many content collabs do happen between a company and influencers or partners outside of their brand, too.
Either way, content collaboration can give a brand a different way to present information to its target audience or even, in the case of content collabs with an influencer, can help brands get in front of a new segment or larger segment they want to reach. This flexibility is what makes content collaboration such a powerful marketing tool.
---
Benefits of Content Collaboration
You might be thinking that content collaboration sounds a lot like the dreaded group projects you used to get in school. You know the ones. You'd get paired with a handful of your classmates and somehow end up being the only one doing any of the work. Team dynamics can be hard to navigate, it's true. But, if you find the right people to work with, content collaboration has several benefits.
For starters, there are more people to share in the work. Plus, the people you bring into your project will all come into the collab with fresh eyes, unique life experiences, and their own ideas. This opens up the creative potential exponentially. Not only that, but content collaborations can help expand your customer base and give you more visibility than content produced on your own.
Of course, an effective and successful content collab relies on finding collaboration partners who are ready, willing, and able to commit. Not like Jimmy who asked you to partner on a project in fourth grade and was never heard from again.
---
Find the Right Collaboration Partners
There are a few important things you can do to ensure that you're on the right track when it comes to finding partners for your content.
Goal Setting
Before you run out and start asking people if they want to work with you on a project, really think about what you want to get out of the collaboration. What do you hope to accomplish with your content? These goals will give you an excellent reference point for finding the best collaborators for your project.
Make a List
Once you've established your goals, you can start thinking about who might be a good option for partnership on your specific project. This might be people within your organization, influencers, subject matter experts (inside or outside your company), or another brand or company.
Reach Out to Potential Partners
Now that you have your list of potential partners, you're ready to reach out to them. Lay out your goals and talk with them about what they can contribute or if they're interested in your project. You'll be able to shorten your list quite a bit throughout this process. From there it's just a matter of choosing the one that feels right.
---
Content Collabs: Great Ways to Work With Other Creators
As we mentioned earlier, you can collaborate on any type of content you'd like. Here are seven types of content that are particularly great for content collabs.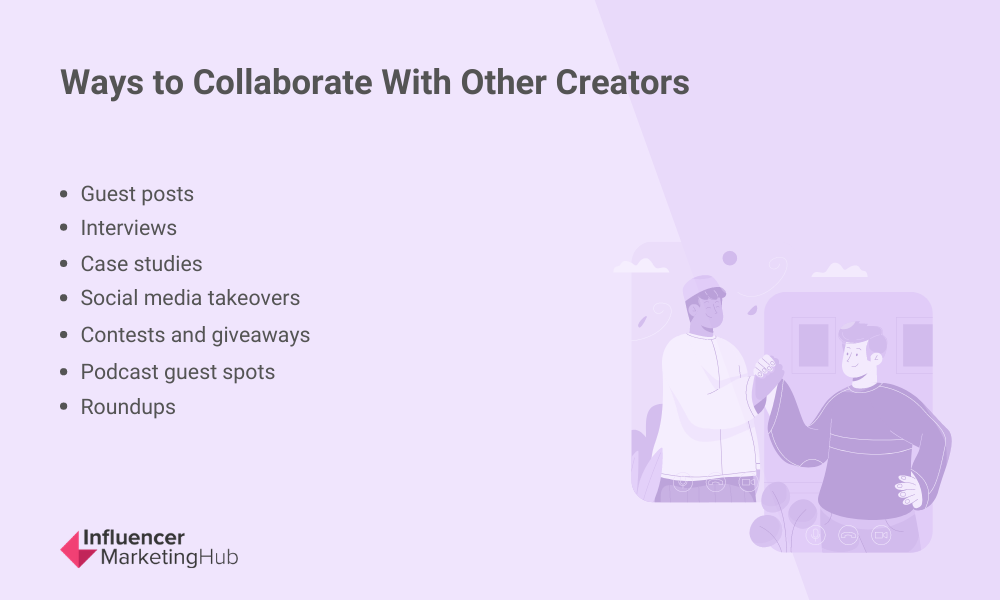 1. Guest Posts
Guest posts and guest blogging are one of the more common types of collaborative content. They're great for folks who run a blog because, let's be real, coming up with enough new content ideas to keep your blog updated frequently is hard. Inviting a guest writer to post on your blog can not only help you get fresh content on your blog but can also bring traffic from the guest writer's audience. This type of content is a great choice no matter if you're the one writing or publishing the guest content.
---
2. Interviews
Interviews are an easy way to get the benefits of collaboration without spending too much of your own time or taking up too much of someone else's time. You can ask more prominent leaders in your industry for just 30–60 minutes of time and then use the content as you'd like. If you're on the receiving end of an interview request, consider taking it. You get to spend under an hour to get your name and brand attached to someone else's content.
---
3. Case Studies
If you have customers that have gotten great results with your brand, why not leverage that in a case study? You can even create a case study form or interview process to make getting the information as quick and easy as possible. From there, you'll be able to create a case study that offers up your solution for others who have the same problem you solved for your client. If you have some big-name clients, this can be an even bigger selling point for your brand.
---
4. Social Media Takeovers
If your target audience is on social media, you need to be using social media marketing. This might include a social media takeover. A social media takeover is exactly what it sounds like: you surrender control of your account on one of your social media platforms to another company or influencer who then posts from your account for however long you've chosen. This brings their audience over to your account.
---
5. Giveaways
Giveaways and contests are a sure-fire way to get engagement for your brand. They're also a great opportunity for content collaboration. You can do this in a number of ways like co-hosting a contest or just asking for donations.
---
6. Podcast Guest Spots
Podcasts have grown in popularity over the past few years alone. In fact, 2021 is on track to hit 15 billion hours spent listening to podcasts compared to 12 billion in 2019 (Statista). And, 20% of the people who listen to podcasts have actually bought a product or service after hearing about it on a podcast (SEMrush). Your best bet is to find podcasters with small but growing audiences and set up appearances on each other's podcasts.
---
7. Roundups
Similar to interviews, roundups are a great way to collaborate without asking for an enormous commitment from the people you want to collaborate with. Roundups give you the chance to source high-quality information from thought leaders in your industry and share that information with your audience. The experts will draw interest since most people in your industry will want to hear from those they see as having authority on a topic.
---
How to Successfully Collaborate on Content
Now you know how to find the right partners and have several awesome types of content that are perfect for collaboration. Next, we're going to walk you step-by-step through the collaborative process.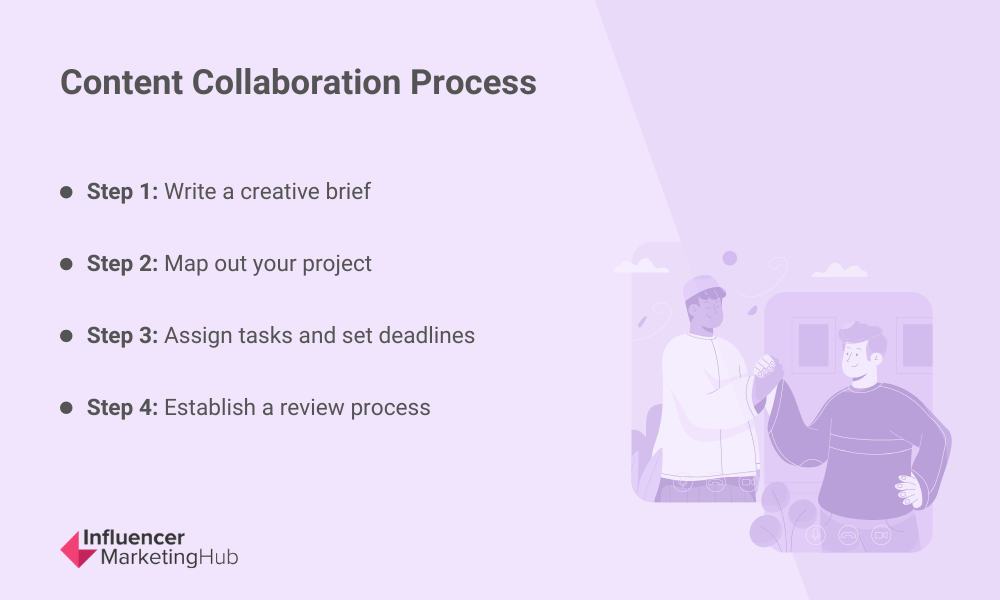 ---
Write a Creative Brief
Before you do anything, write a creative brief. This helps outline the scope of your project, what you're looking for, what you want to achieve, and more. Having all of that information documented makes it a lot easier to keep everyone on target.
---
Map Out Your Project
If you use a collaboration tool, which we recommend, you can work from your creative brief to list out the tasks that must be completed in order to successfully execute your content collaboration. Don't be afraid to get really granular on the detail. It will help you stay on task and minimize the likelihood of missing something.
---
Assign Tasks and Set Deadlines
Once you have your collaboration project mapped out, you can assign out tasks and set deadlines. It's really beneficial to start from your launch and work backward to set due dates for your tasks. If you have a lot of people involved in your content collaboration, you'll want to create a process to move everything forward as elements are completed. Having a documented process means that you're less likely to miss something and helps ensure a streamlined collaboration.
---
Establish a Review Process
To ensure that you're meeting your goals, you'll want to set up a review and approval process. This is vital to creating content that's going to meet your goals, match up with your creative brief, and offer up a consistent and valuable experience to your audience.
---
5 Collaboration Tools to Streamline Your Content Collabs
While you can successfully execute content collabs without a collaboration tool, they really make it a lot easier. Here are 5 collaboration tools that can help you manage your content collaboration projects.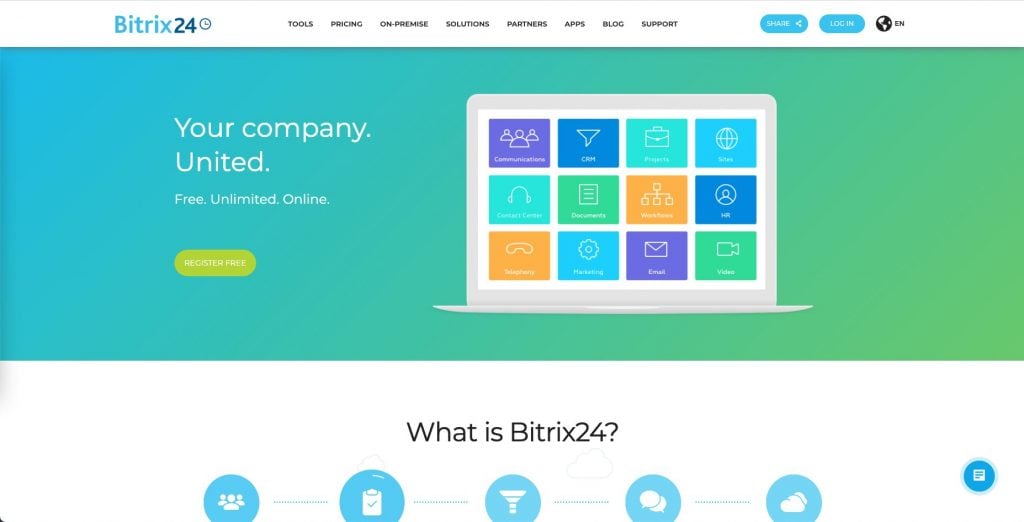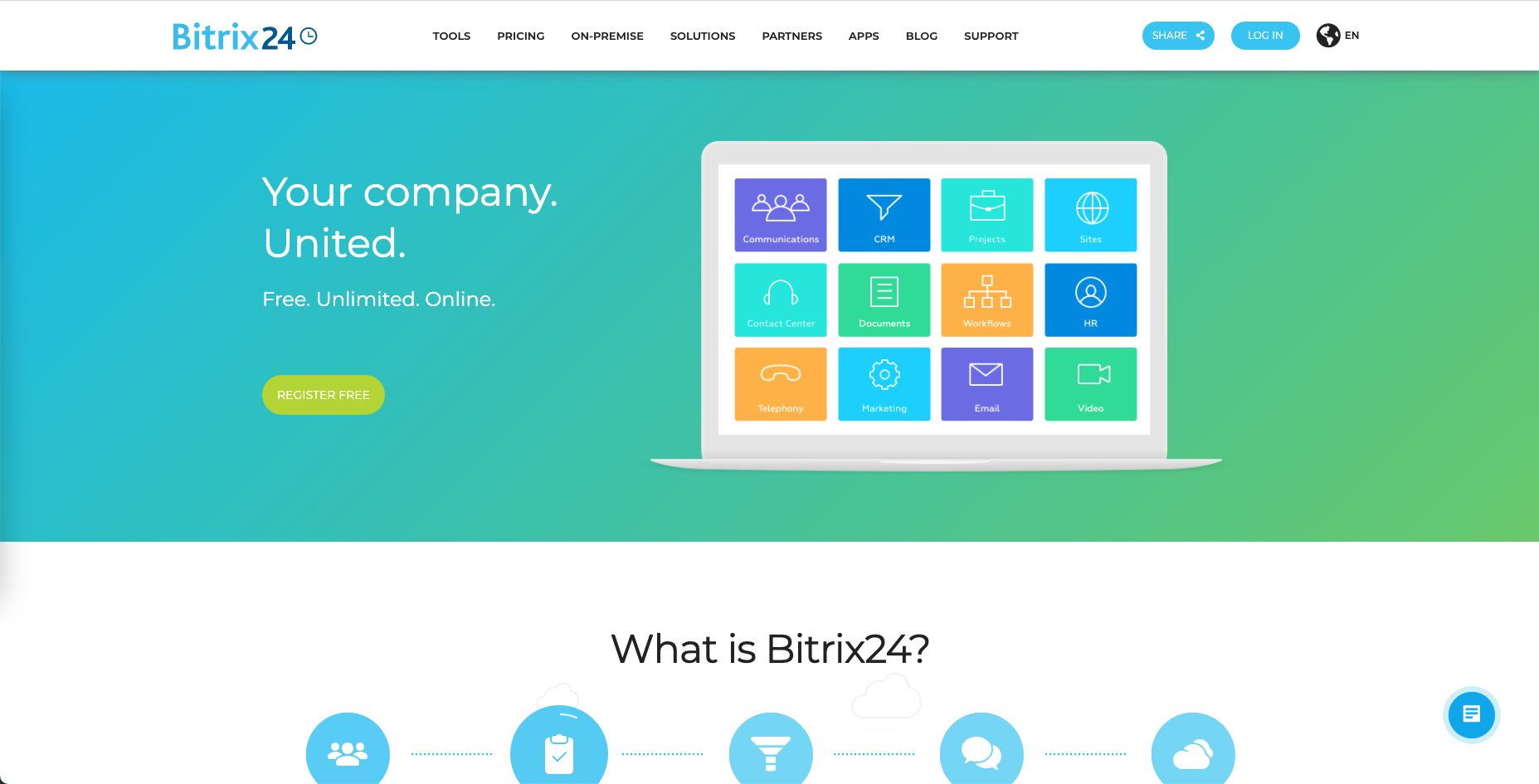 Bitrix24 is a collaboration and communication platform with document sharing, lead capture, email automation, task and project management, workflow management, time tracking, and more. The platform has more than 35 tools for team collaboration and allows you to assign tasks, control deadlines, and track KPIs, among other great features. Bitrix24 also lets you create projects on an "Extranet" so you can invite collaborators who are outside of your company to join you on projects.
Pricing
Bitrix offers a limited free plan and five paid plans:
Start+:

$19/month

CRM+:

$55/month

Project+:

$55/month

Standard:

$79/month

Professional:

$159/month
---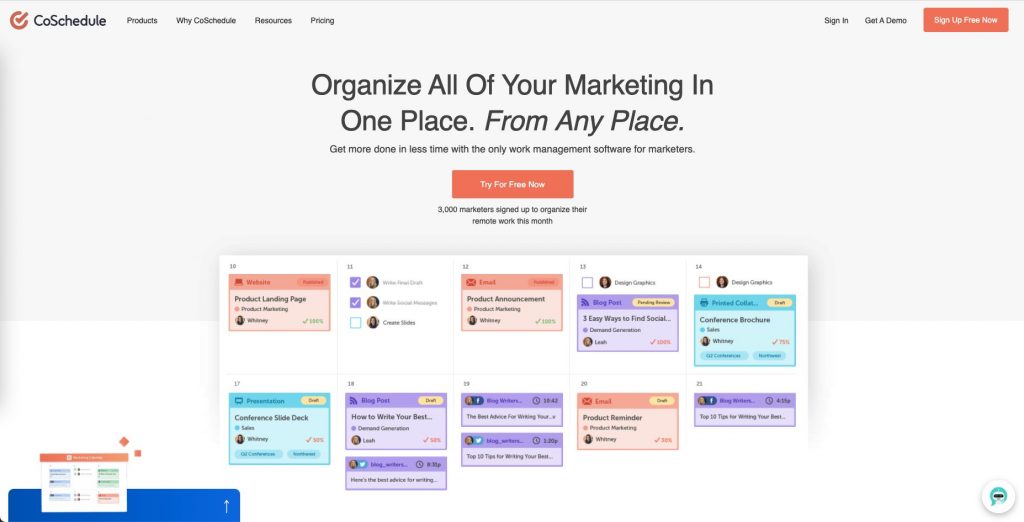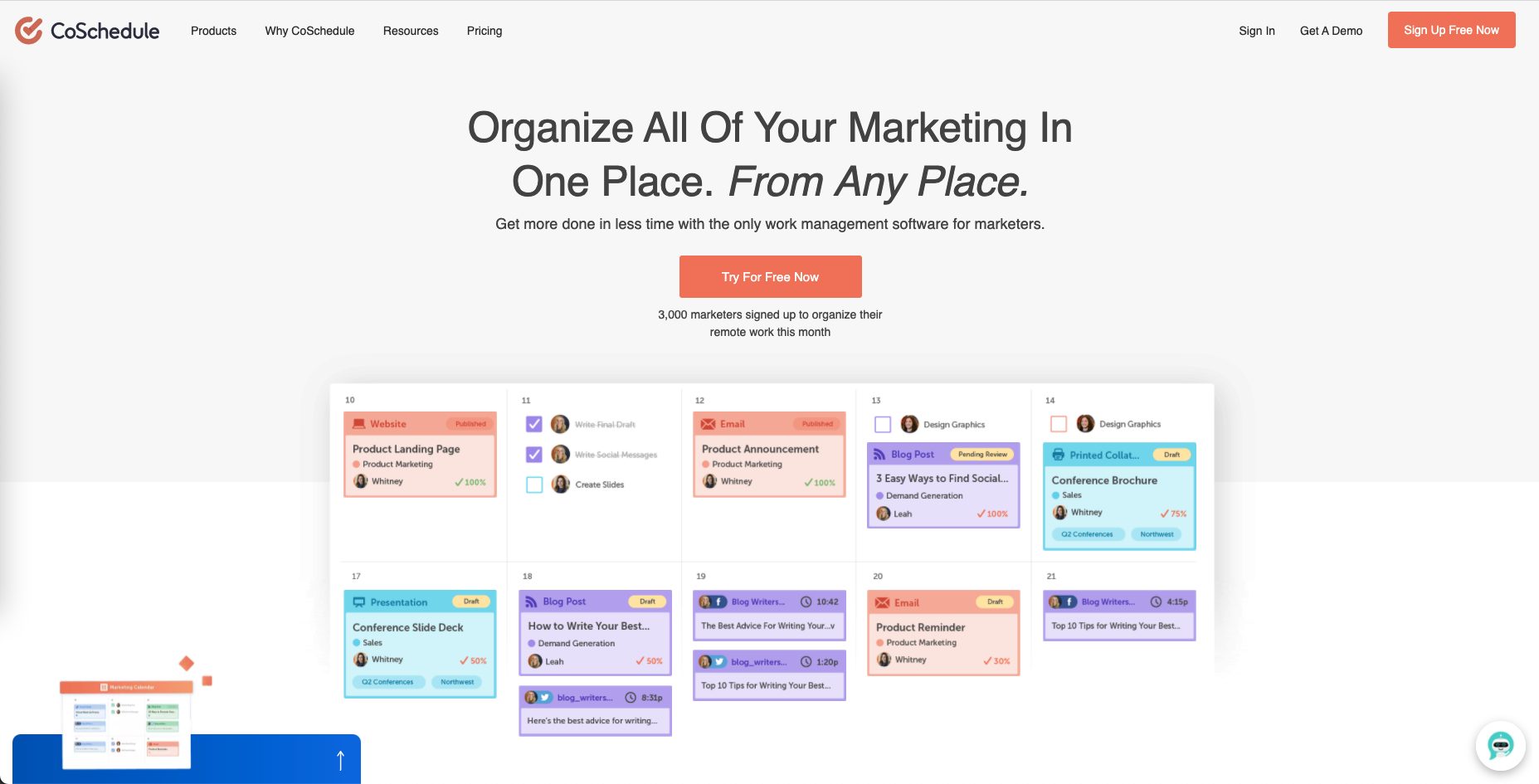 CoSchedule was built specifically for marketing and content, so it's no surprise that it has a great selection of tools to make content collaboration easy. It offers a real-time marketing calendar where you can see all of your projects at once—from email marketing to website content to events and more. CoSchedule also includes social publishing and automation, custom calendar views, read-only calendars, and lets you reschedule projects in a snap.
Pricing
CoSchedule's Marketing Calendar starts at $29/month. For the Marketing Suite, you'll need to contact their sales team.
---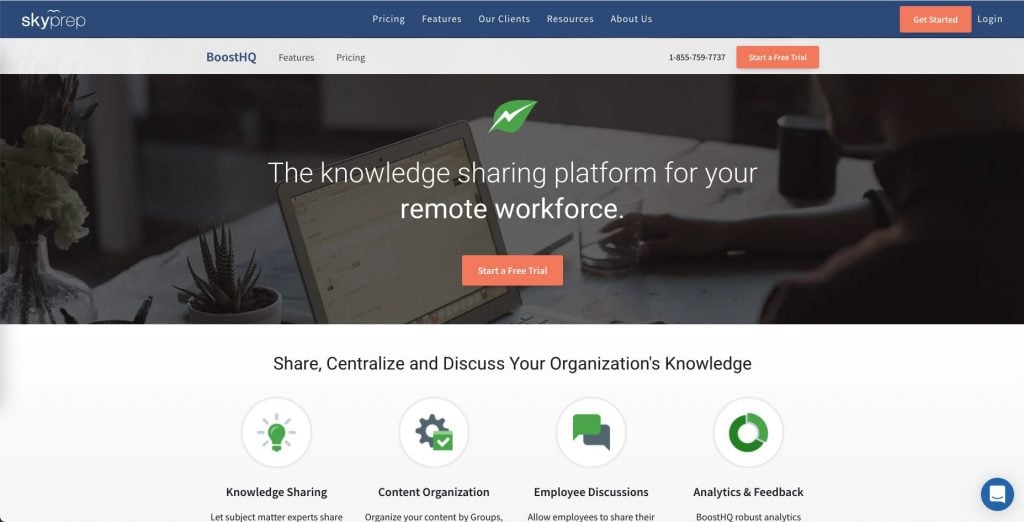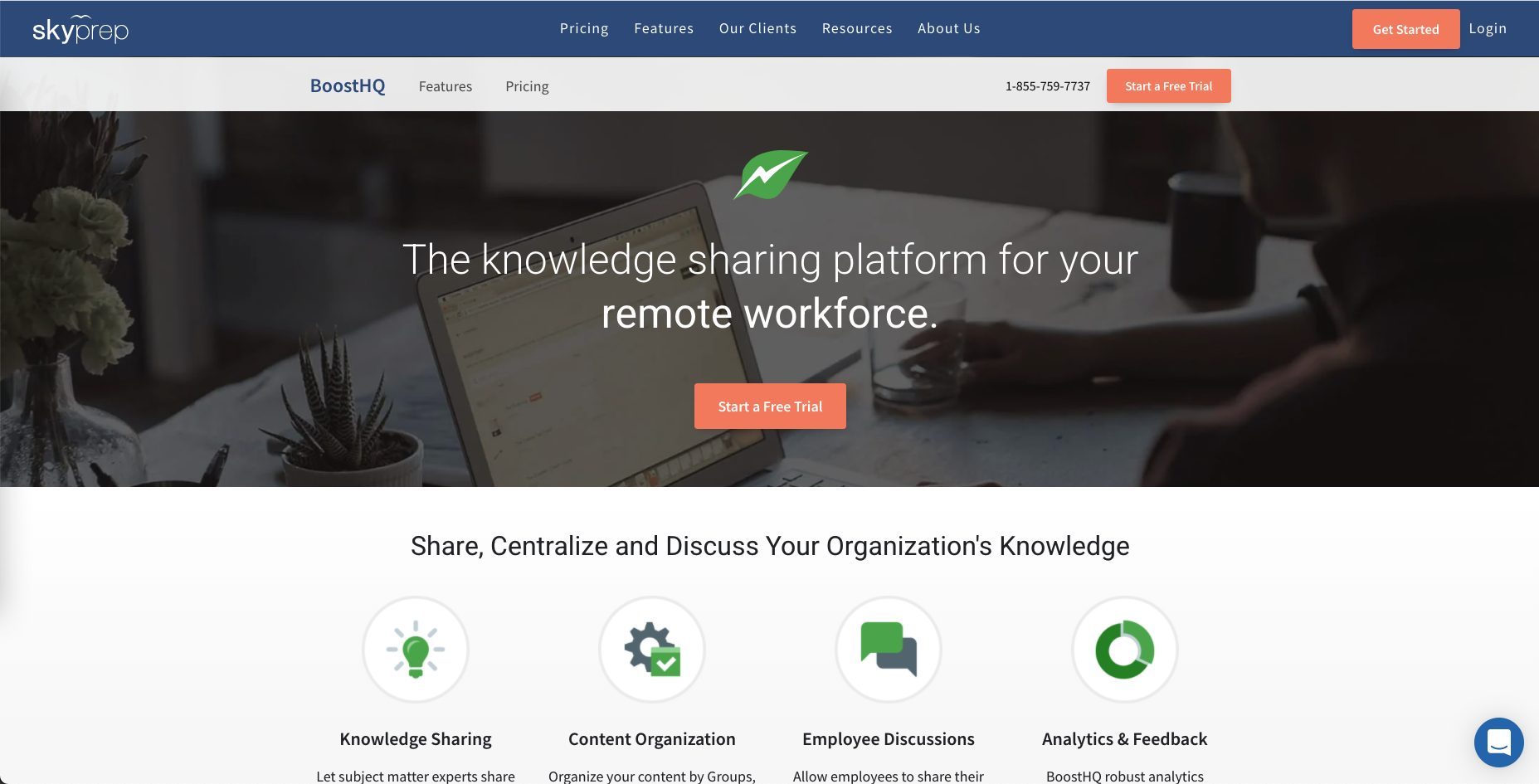 BoostHQ helps you share and centralize your content. The platform includes knowledge sharing, content organization, employee discussions, and analytics and feedback. You can make your content searchable, assign groups, tag and categorize your content, and more. It's a powerful platform that's best suited for teams that create a lot of content.
Pricing
BoostHQ has four paid plans:
Starter:

$239/month

Advanced:

$399/month

Premium:

$559/month

Enterprise:

Contact their sales team
---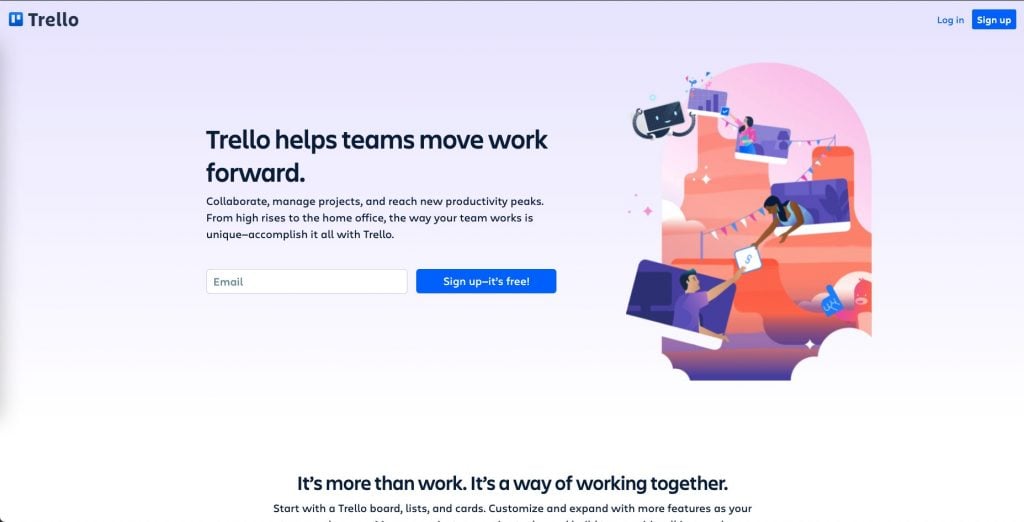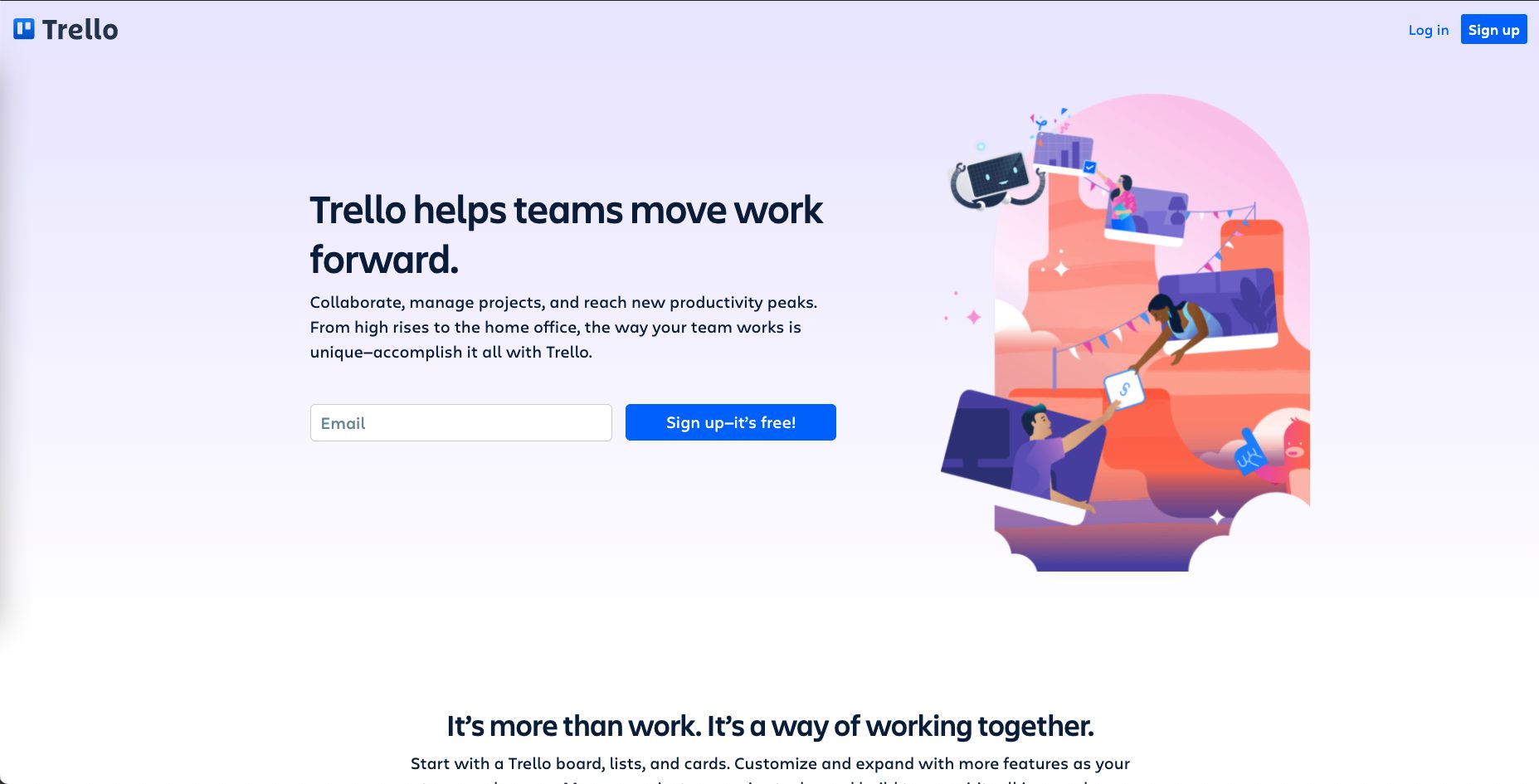 Trello is a Kanban-style project management tool that's very simple and easy to use. Trello uses a system of boards, lists, and cards to keep your smaller or simpler projects organized. Trello has an automation feature called Butler that can help you automate common actions, build processes quickly with custom buttons, share upcoming deadlines with your team, schedule teammate assignments, and more.
Pricing
Trello has a free plan and two paid plans:
Business Class:

$10/month

Enterprise:

Contact sales
---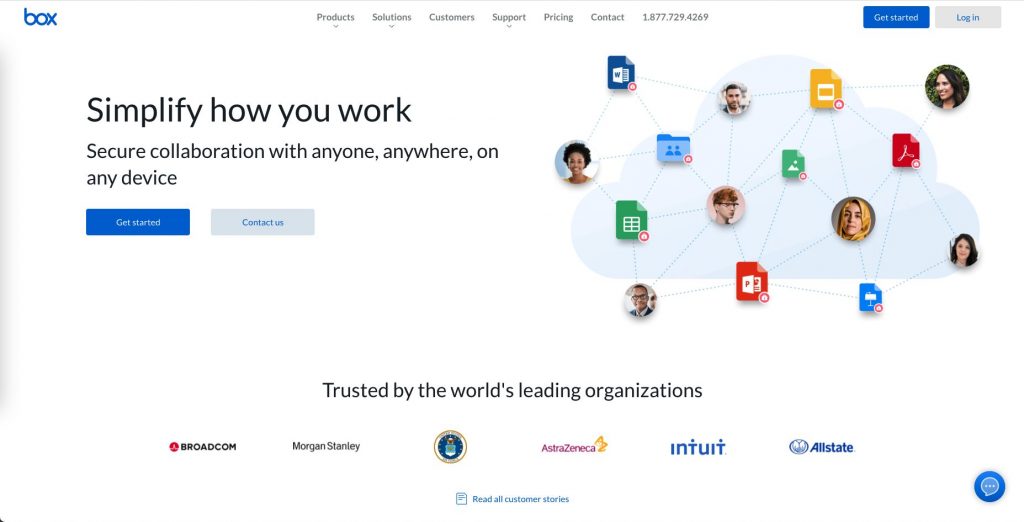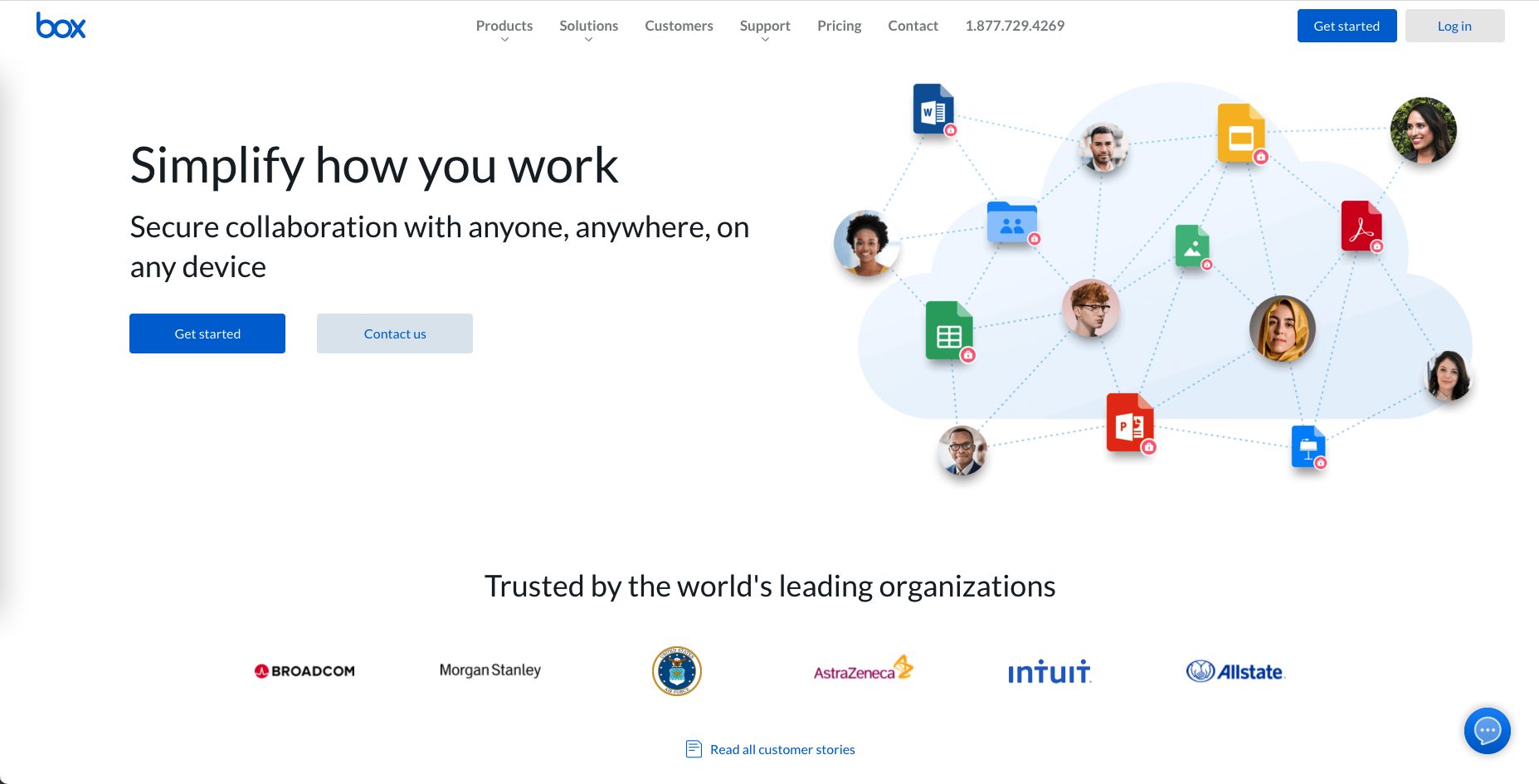 Box is another cloud-based collaboration tool. You can view, share, edit, and upload files from anywhere and share them with anyone. It includes automation features that let you automate repeatable workflows that are key to your business. Box is a truly digital workplace that improves productivity and unites all your content, people, and applications on a single platform.
Pricing
Box has several pricing options including a free individual plan.
Personal Pro:

$10/month

Starter:

$5/month

Business:

$15/month

Business Plus:

$25/month

Enterprise:

$35/month
---
Expand Your Reach With Content Collabs
There are a lot of moving pieces involved in creating content. When you add collaborators into the mix it can become overwhelming. Fortunately, the information we've included here can help you eliminate the overwhelm. Just follow the tips and content collaboration process outlined here and it will be smooth sailing. To make things even easier, choose one of the content collaboration tools from our list!