Advertising Disclosure
Advertising disclosure:
Our partners compensate us. This may influence which products or services we review (also where and how those products appear on the site), this in no way affects our recommendations or the advice we offer. Our reviews are based on years of experience and countless hours of research. Our partners cannot pay us to guarantee favorable reviews of their products or services.
For the risk of stating the obvious, customers expect first-class customer service. Why mention it? Because in 2023, it will become one of their biggest expectations.
Providing a flawless customer experience is already challenging. Add to that the need to be active on various online channels and all of a sudden the already challenging task has just become a whole lot harder.
You see, nowadays consumers expect the same experience, whether they're browsing the web via their desktop or scrolling down a social media site via a smartphone. A possible solution is to add a digital experience platform to your tech stack. Basically, it will make it a whole lot easier to manage the different touch points.
If it's all new to you, here's a quick look at what a digital experience platform is, why it's a worthwhile investment, and which platforms to trial.
---
Top Digital Experience Platforms to Demo in 2023:
---
What's a Digital Experience Platform?
In short, a digital experience platform (aka DXP) is a software solution that helps you to create a first-class digital experience that users can enjoy across all the different touch points such as your business website and official Facebook business page. Though, it shouldn't get confused with a content management system (CMS).
Content management systems typically concentrate more on websites, whether it's simply a blog or a site with eCommerce functionality. On the other hand, a DXP works across all digital channels. Let's call a spade a spade, compared to a CMS, a DXP offers more functionality.
When you use a digital experience platform, you'll get access to tools and detailed insights that make it much easier not only to manage the digital experience, but also to optimize it. For instance, armed with a better understanding of who your users are, you can make changes to your content strategy. This way, the content that you end up churning out will be more relevant to your actual users.
In addition to improving the experience for customers, it can also help your business to fast-track its processes by digitizing operations.
---
Three Advantages Offered by DXPs
As touched upon briefly in the previous section, DXPs have benefits in store for both your business and its customers. Here's how: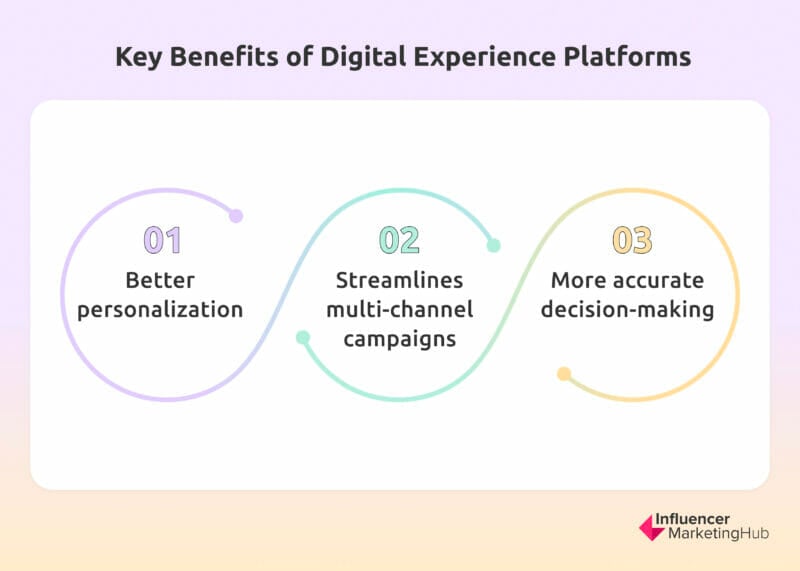 Better personalization
If you're a regular reader of Influencer Marketing Hub or any decent blog about marketing, you would know that personalization is key. From stronger lead nurturing to increased customer loyalty, just by personalizing your website, you can already reap many rewards. With the help of a solid DXP, it becomes a whole lot easier to create personalized content, not just for your business websites but all your channels (which brings us to the next benefit).
---
Streamlines multi-channel campaigns
While your website remains a critical tool, you'll need more than that to grow your business. The challenge, though, is to implement your marketing campaigns across multiple channels. With the help of a DXP, it becomes much easier to create and maintain an online presence across different channels.
Plus, you don't have to worry that your brand won't be portrayed consistently. As it helps with content management, it's much easier for your marketing team to ensure that critical elements like tone and color schemes have been used correctly on different channels.
---
More accurate decision-making
Software tools and marketing agencies like to use the phrase "data-driven decision-making". It has become somewhat of a clichéd buzzword. However, with the right DXP in your tech stack, this truly becomes the case.
A solid DXP will be able to track key KPIs automatically. Armed with this data, you'll be able to access customer data that can give you much better insight into their customer journey. What's more, your different teams will also be able to coordinate their data more efficiently in real time.
---
Top Digital Experience Platforms to Demo:
---
---
---
---
---
---
---
---
---
Wrapping Things Up
If you've been struggling to deliver memorable digital experiences to your entire target audience consistently until now, it will probably become only more difficult, at least if you want to grow your presence online. Expectations of users continuously change. To put it more bluntly — their needs become more demanding.
The reality is that you won't be able to keep up with the changing demands and trends, without the help of some automation. A digital experience platform isn't the cheapest software solution, but considering the functionality that it brings to the table, it can make financially sense for bigger businesses. Not only will your customers benefit, but various different teams across your business too. Basically, it's a great tool to keep both customers and employees (the parties upon which your business depends) happy.