Whether you're a seasoned digital marketer or a novice in the field, digital marketing conferences and events can result in significant career advancement. Not only do they help you learn new things and tap into the minds of top experts, but they also give you the opportunity to build valuable connections.
Fortunately for you, there's an abundance of digital marketing events to attend each year — whether you prefer in-person or virtually.
Even in 2023, you can expect a ton of important digital marketing events coming up. Here's a look at some of the top upcoming digital marketing events for 2023.
---
Top 15 Digital Marketing Events for 2023:
---

When: February 22, 2023
Where: Virtual
The Global Virtual MarTech Summit is a one-day event where top talents in the industry will share insights on data and consumer and digital experience. The event is expected to attract more than 35 thought leaders and experts and over 600 attendees.
While the speakers for next year's event still needs to be revealed, previous speakers featured:
Alice Wei, Head of Partnerships, Creative and Messaging at Meta

Yasir Chowdhrey, Head of Digital Marketing at DHL Express Malaysia

Dean Gould, CMO at Southern Cross University

Meera Jane Navaratnam, Director of Strategy and Consulting at Accenture
---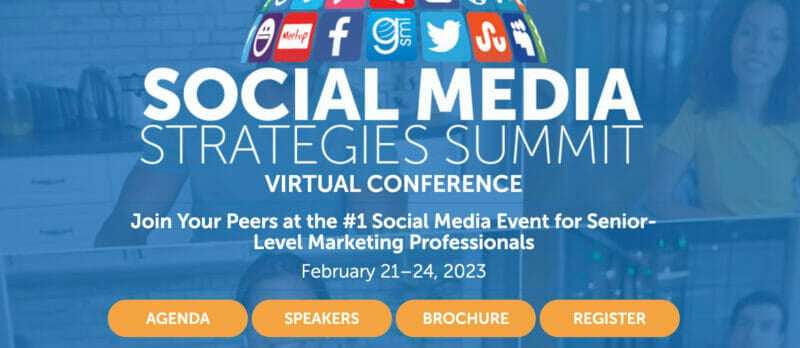 When: February 21-24, 2023
Where: Virtual
If you need help specifically with social media marketing, there's the Social Media Strategies Summit. It's one of the leading events aimed at senior-level social media marketers that will help them to craft winning social media strategies.
If you already have a solid social media community strategy, you'll still find this summit useful. The summit will also help you to audit your current social media initiatives' effectiveness and revitalize it, where needed, to improve brand awareness and loyalty.
Next year's event also includes a few new experiences. These include:
Small-group, speaker-led video roundtables

A bonus day dedicated to launching and growing your brand's online community

A small-group, hands-on workshop before the summit
During the summit, there will also be a diverse mix of thought leaders who will share their proven social media strategies to inspire your own. The lineup currently includes names such as:
Mackenzie Perna, Social Media Manager at Red Bull

Karla Hernandez Zaldivar, Global Social Media Insights Manager at Booking.com

Kate Winick, Director of Social Media at Peloton

Kayla Schmidt, Senior Social Media Specialist at Zendesk
---

When: March 13-15, 2023
Where: San Diego, CA
Here's another event for those who specifically want to hone their social media marketing skills. Thousands of marketers and influencers will get together to share business-building ideas at 2023's Social Media Marketing World event. In fact, next year will be the 10th Social Media Marketing World!
The three-day event will concentrate on four main areas:
Organic social marketing

Paid social

Content marketing
Speakers confirmed for the event include:
Michael Stelzner, founder of Social Media Examiner

Derral Eves, advisor to Mr Beast, one of

YouTube's highest paid stars

Sean Cannell, an influencer coach

Vanessa Lau, an Instagram marketing pro

Mark Schaefer, a strategist and social futurist
---

When: March 21-23, 2023
Where: Las Vegas and Virtual
According to the event's landing page, the Adobe Summit will grow your set of skills, evoke inspiration, and build connections that will help you to make the digital economy personal. There will be over 200 in-person sessions that will explore topics like:
Analytics for customer journeys

Personalized omnichannel engagement

Trends and inspiration

Customer data management
To give you an idea of the quality of speakers that you can expect, previous speakers included:
Shantanu Narayen, CEO of Adobe Systems

John Donahoe, CEO of Nike

Deborah Wahl, Global CMO at General Motors
Plus, if your schedule allows it, there's also pre-conference training that will take place two days before the actual event. Those that can attend will learn more about Adobe Experience Cloud solutions and uncover best practices and other tips.
---

When: May 9-10, 2023
Where: London, UK
If you specifically want to learn more about lead generation, this event is for you. Aimed at lead generators and performance marketers, the main goal of Lead Generation World London (aka LGWL) is to help advertisers and lead buyers use highly targeted and insightful content.
To give you a glimpse into what you can expect, last year's agenda included topics like:
Creating loyalty

The secrets of successful lead buyers

Shopping trends

Balancing cost, lead quality, and expectations

The role of lead generation in marketing

The building blocks of effective landing pages
---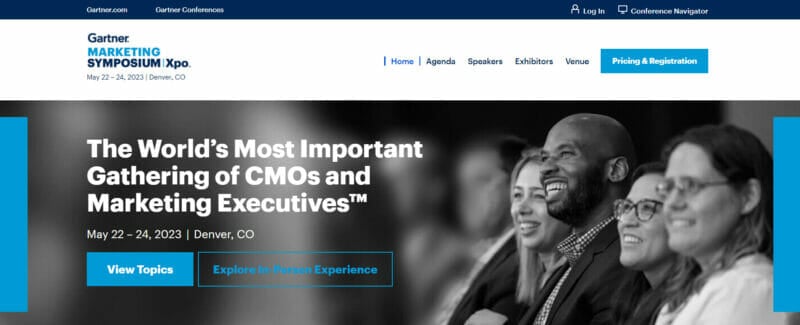 When: May 22-24, 2023
Where: Denver, CO
Aimed at marketing execs and CMOs, the Gartner Marketing Symposium will return again in 2023 as an in-person experience. The agenda and speaker lineup for next year's event are still being finalized, but if it's anything like 2022's event, attendees will be treated to independent and impartial experts sharing unbiased advice.
Some of last year's track highlights were:
The relevancy of your marketing

Multichannel marketing to support the customer journey

The impact of your

MarTech

ecosystem

Communicating internal/external change
From case studies to thought leadership presentations, there will be many interactive sessions. There will also be an opportunity to meet tech vendors during which you can evaluate their offering and find out more about how they can best serve your needs.
---

When: June 1-2, 2023
Where: San Diego, CA
DigiMarCon features some of the most thought-provoking leaders in the media and digital marketing industry. From the latest tech to promising strategies to best practices, here you'll gather more than you need to take your business to the next level. In addition to receiving practical solutions, attendees will also walk away with new connections.
Topics that will be explored include:
Account-based marketing

Conversational marketing

Conversion rate optimization (CRO)

Growth hacking

Mobile marketing

Cause marketing

Social commerce

Visual and voice search
---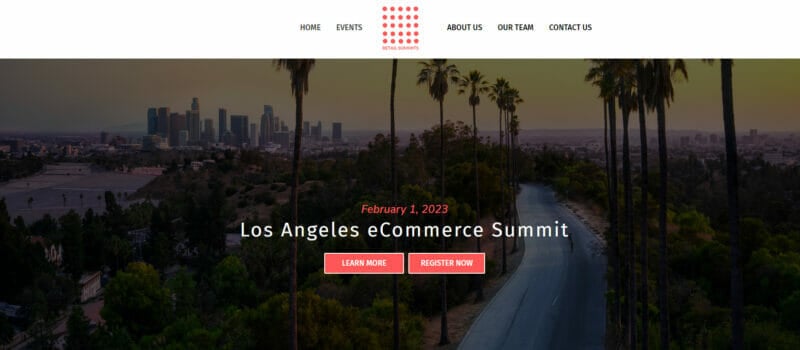 When: June 7-8, 2023
Where: Atlanta, GA
Digital Summit offers in-person workshops and sessions that will cover practical and tactical ideas from top marketers. Over the course of two days, there will be three in-depth masterclasses and over 30 actionable sessions. In addition to digital marketers, the event is also popular among email marketers, product marketers, UX/UI designers, creative directors, and social media marketers.
The speakers for 2023's summit still needs to be announced, but last year's event featured:
Greg Weingarden of TikTok

Jim Tobin of Ignite Social Media

Ann Handley of MarketingProfs
It has also attracted leading global brands like:
Coca-Cola

Delta

Google

Salesforce

Microsoft
---

When: June 21-22, 2023
Where: London, UK
Digital Marketing World Forum (aka DMWF) is a leading digital marketing conference that attracts thousands of attendees, mostly directors and other more senior positions, and over 100 speakers. The 2023 in-person event will explore the future of digital marketing technologies, while addressing the challenges that the industry's future brings.
Over the span of two days, digital marketing insights and strategic content will be shared. Some of the top global brands will also share their thoughts, while attendees will be given ample opportunity to network and digest the information shared together.
Topics that will be covered include:
Virtual reality (VR)

Artificial intelligence (AI)

Influencer marketing

User experience (UX)

Customer experience (CX)

eCommerce

Content marketing

Data and analytics
---

When: June 22, 2023
Where: Frankfurt, Germany
The Growth Marketing Summit is an elite conference that focuses on digital growth.
The lineup for 2023's event include:
Hazjier Pourkhalkhali, Global Vice President of Strategy and Value at Optimizely

Morgan Brown, VP of Growth at Shopify

Steven Van Belleghem, a global keynote speaker and renowned author

Daphne Tideman, a growth coach and consultant

Simone Neeling, senior CRO specialist and analyst at Vodafone
---

When: August 7-9, 2023
Where: Seattle, WA
Moz has created one of the best digital eCommerce marketing tools and is basically synonymous with search engine optimization. Now, they're also bringing to you one of the most exciting digital marketing events and biggest conferences focusing on SEO and its subfields.
The three-day event will combine casual networking with expert sessions. In fact, on the event's landing page, they describe MozCon as a "summer camp for marketers". There will be lively discussions over a meal, unstructured discussion groups, and a closing night party.
The speaker lineup for 2023's event still needs to be revealed, but past speakers included industry leaders in conversion optimization, search marketing, and, of course SEO.
---

When: September 5-8, 2023
Where: Boston, MA
Powered by HubSpot, INBOUND is a leading marketing event that promises to deliver an immersive and interactive experience. Its goal is to unite pros with thought leaders in the industry, whether that's by means of an educational session or network opportunity.
To give you an idea of what you can expect, past speakers included the likes of:
Barack Obama, former president of the USA

Yamini Rangan, CEO of HubSpot

Dharmesh Shah, co-founder and CTO of HubSpot

Kudzi Chikumbu, Global Head of Creator Marketing at TikTok
---

When: September 13-14, 2023
Where: Dubai, UAE
In 2023, the Vibe MarTech Fest (VMF) will return for its sixth year. Regarded as the first and biggest marketing technology summit in the Middle East, it has helped to increase the adoption of marketing technology by informing chief marketing officers about all its benefits. Examples of technologies that will be explored are:
Social media analytics

Marketing automation

Customer relationship management (CRM)

Machine learning (ML)
Aimed at senior marketing and IT professionals, the event will concentrate on customer experience, marketing, and advertising technology. It's anticipated that next year's two-day event will attract more than 250 marketing experts. As for keynote speakers, the lineup includes speakers from Amazon Web Services, Whirlpool, and Meta.
---
When: September 26-29, 2023
Where: Washington, D.C.
At Content Marketing World's conference and expo, leading figures in the content marketing industry will come together and share their experiences over four days. Every aspect about content marketing will be explored — everything you need to know to develop, manage, and optimize your content. It's ideal for brand and agency content marketing leaders.
Attendees can look forward to more than 100 sessions and keynotes. Last year's event included an impressive lineup that included names like:
Jessica Bergmann, VP of Content Marketing at Salesforce

Robert Rose, co-author of

Killing Marketing

Amanda Todorovich, Director of Content Marketing at Cleveland Clinic

Mike Allton, Head of Strategic Partnerships at Agorapulse
---

When: October 14-17, 2023
Where: San Diego, CA
While LavaCon started in Hawaii (the inspiration behind the name), it has been held in various other cities including New Orleans. And, in 2023 it is set to come to San Diego. The goal of the conference is to empower businesses to take advantage of sophisticated content technologies and meet other content professionals.
To give you an idea of what you can expect at 2023's event, last year's event that attracted more than 600 speakers, attendees, and sponsors, included speakers from:
Microsoft

Google

Amazon

Netflix

Pinterest

Mozilla
The program also included a number of workshops that covered topics like design thinking, content modeling, and information architecture.
---
Ready for the Best Digital Marketing Events?
Whether you're ready to travel to attend in-person events or you want to tune into live virtual sessions, there are plenty of opportunities to expand your knowledge and learn from industry leaders worldwide. Check out the top 15 options listed above and register for a digital marketing event that you want to attend.