Whether you're a seasoned digital marketer or a novice in the field, digital marketing conferences and events can result in significant career advancement. Not only do they help you learn new things and tap into the minds of top experts, but they also give you the opportunity to build valuable connections. Fortunately for you, there's an abundance of digital marketing events to attend each year–whether in-person or virtually.
Even in 2022, you can expect a ton of important digital marketing events coming up globally and nationally as well as virtually. Here's a look at some of the top upcoming digital marketing events for 2022.
---
Top Digital Marketing Events for 2022:
---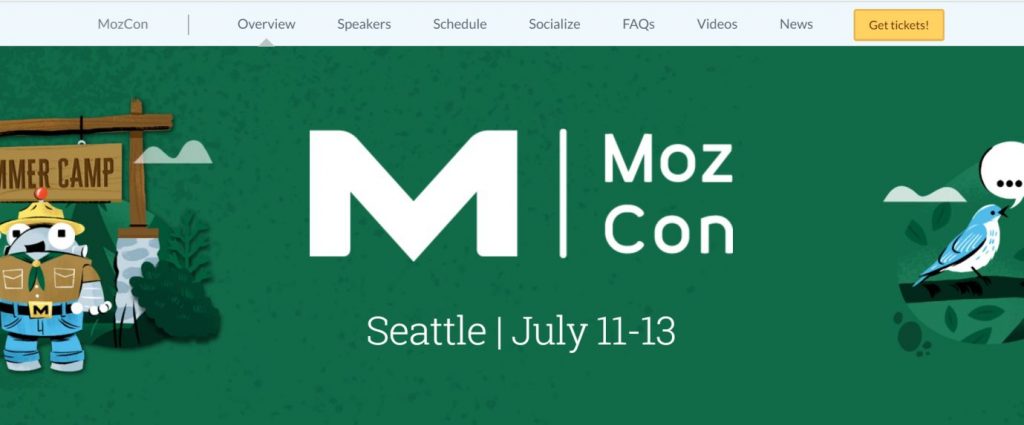 When: July 11-13, 2022
Where: Seattle, WA
Coming from the world's leaders in SEO tools, MozCon is one of the biggest conferences focusing on SEO and its subfields. The 3-day event is set to take place between 11 and 13 July in Seattle. It will feature expert sessions on SEO, search marketing, local search, conversion optimization, mobile, and many more.
MozCon boasts a hand-curated lineup of speakers including Amalia Fowler, founder of Good AF Consulting; Andy Crestodina, co-founder and CMO of Orbit Media Studios; Jackie Chu, SEO lead for Uber; and Moz's own marketing scientist, Dr. Pete Meyers. The event will provide a bunch of opportunities to socialize and build connections through table discussions and parties.
---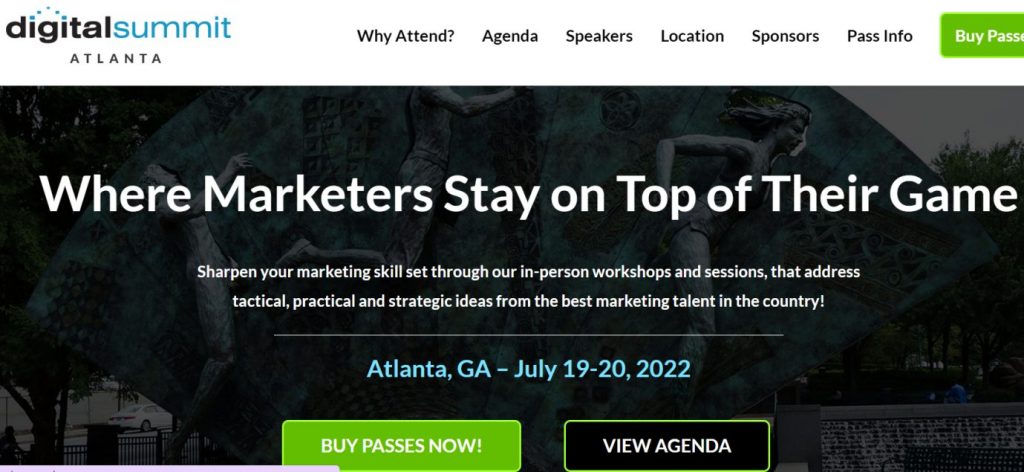 When: July 19-20, 2022
Where: Atlanta, GA
Digital Summit is one of the nation's largest conference series on digital marketing, with events spread across 16 different cities. The Digital Summit Atlanta is scheduled for June 19-20 and will feature actionable sessions, in-depth masterclasses, and in-person workshops.
The summit boasts a lineup of expert speakers including Ann Handley of MarketingProfs, Greg Weingarden of TikTok, Kate James of The Coca-Cola Company, and Sharanya Ravichandran of JPMorgan Chase. During this 2-day session, these experts will share cutting-edge marketing tactics around content, SEO, social media, email, analytics, and lead generation.
---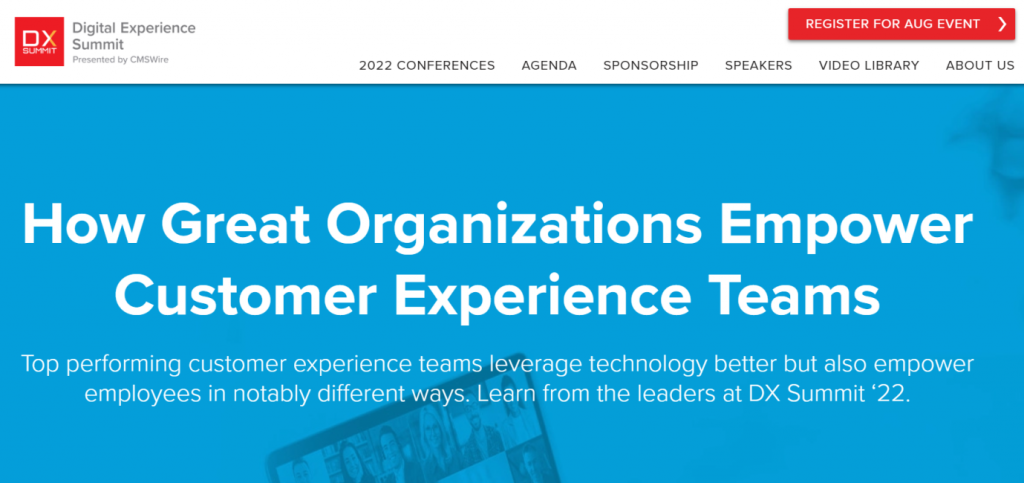 When: August 17-18, 2022
Where: Virtual
Digital Experience Summit hosts a series of global events throughout the year dedicated to customer experience. Presented by CMSWire, the summit is set to take place virtually from August 17. It will feature top experts in the fields of content management, personalization, voice of the customer, artificial intelligence, and more. The speaker lineup includes names such as Radhika Dirks, CEO and founder of Ribo AI; Markus Giesler, professor of marketing at York University; and Camille Stewart, global head of product security strategy at Google.
The August virtual conference will focus on "How Great Organizations Empower Customer Experience Teams." It will explore topics such as cultivating operational agility, modern customer journey tools, customer data management, operationalizing voice of the customer, and more.
---

When: September 6-7, 2022
Where: Dubai, UAE
The Vibe MarTech Fest is the first and largest marketing technology summit in the Middle East. Designed for senior marketing and IT professionals, the event is scheduled to take place on September 6 and 7 in Dubai. Over the years, the summit has attracted thousands of attendees and features 100+ expert speakers for 150+ sessions.
This year's summit will introduce attendees to the latest and most innovative digital marketing technology solutions. It will also guide them on how to seamlessly integrate new technologies into their organization. Featured speakers for the 2022 event include Ula Bieganska of LEGO Middle East Africa, Ahmed Hatem of KFC MENA, Afreen Aslam of Julius Baer (Middle East), and Matt Horobin of Bond.
---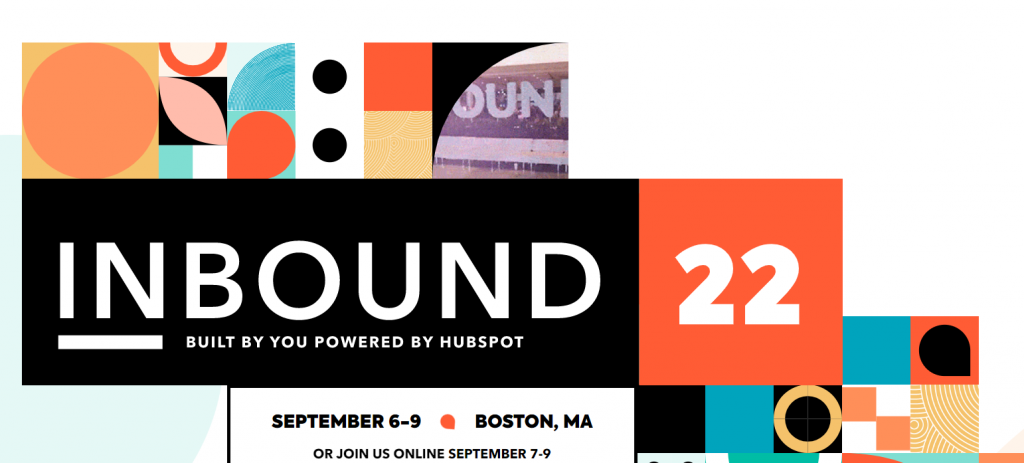 When: September 6-9, 2022
Where: Boston, MA
INBOUND is a leading marketing event powered by HubSpot aimed at bringing together thought leaders from 161+ countries. For 2022, the event will take place both virtually and in-person, with the in-person event hosted in Boston and scheduled for September 6-9.
The event will feature reputable industry leaders including Dharmesh Shah, co-founder and CTO of HubSpot and Kudzi Chikumbu, Director of Creator Community at TikTok. INBOUND 2022 will also feature publicly-acclaimed speakers such as Dr. Jane Goodall and Viola Davis.
---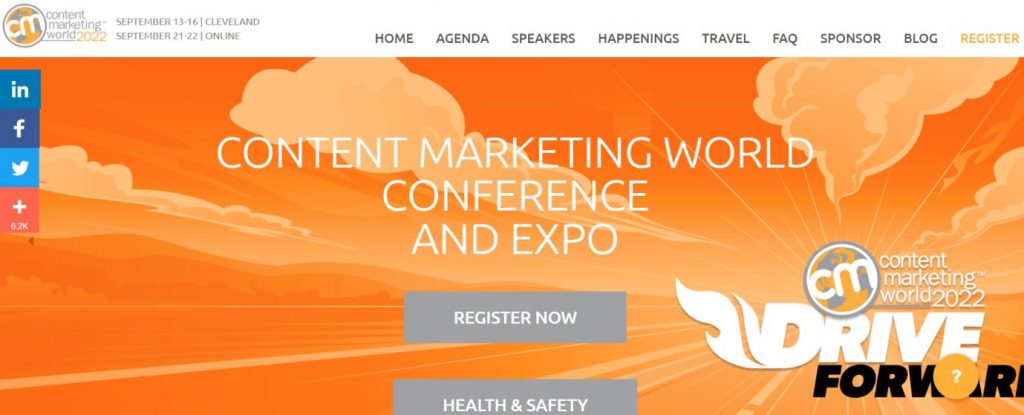 When: September 13-16, 2022
Where: Cleveland, OH
One of the biggest events for content marketers, Content Marketing World 2022 is scheduled to take place in Cleveland between September 13 and 16. Those who are unable to attend the in-person event can also tune in virtually between September 21 and 22. The event will be all about content–from creating epic content marketing strategies to exploring the latest innovations and opportunities in the industry.
For the 2022 event, the featured speakers include names such as Alison Jarris, global demand content marketing lead for Google Cloud; Monica Norton, head of content marketing at Yelp; and Ravi Theja Yada, principal program manager for Microsoft. These speakers will share actionable insights and creative ideas surrounding brand strategies, content innovation, visual storytelling, and much more.
---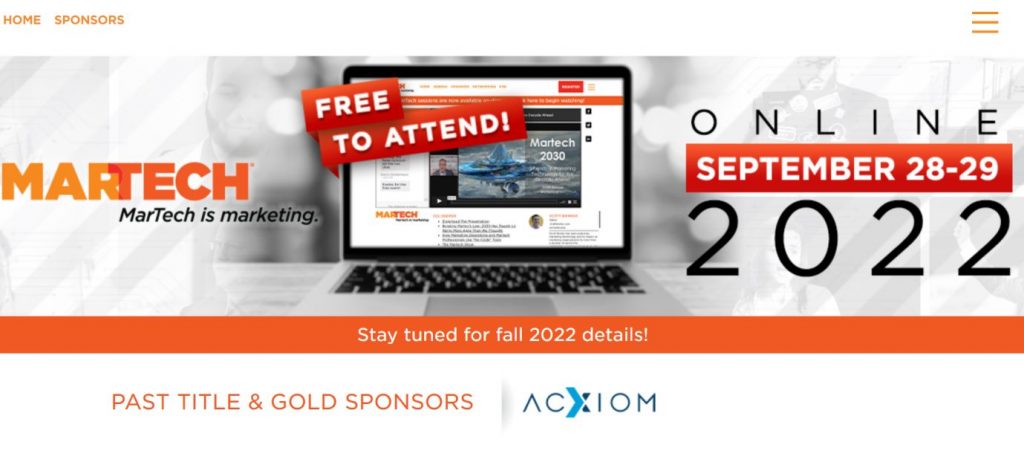 When: September 28-29, 2022
Where: Virtual
For those who are unable to travel to another state for an in-person event, the MarTech Conference 2022 will take place virtually between September 28 and 29. The conference is 100% free to attend and is available both live and on-demand. This provides an excellent opportunity for those who need an affordable way to grow their knowledge of marketing technology.
The MarTech Conference brings together forward-thinking marketers who are interested in transforming and retooling their organizations. It aims to connect them with some of the most innovative technology companies that have the solutions that marketers need.
---

When: October 5-6, 2022
Where: Santa Clara, CA
If you're interested in the Digital Marketing World Forum but don't have the time to travel to another country, the event is coming to North America in the fall. The Digital Marketing World Forum North America will take place on October 5-6 in Santa Clara and will attract hundreds of attendees from across the nation.
The event will explore the latest trends and strategies in the field and cover topics such as content marketing, digital marketing technologies, artificial intelligence, virtual reality, and data analytics. Although the lineup of speakers hasn't been finalized for this event, past events have featured speakers from leading companies such as TikTok, LinkedIn, Western Union, Google, Netflix, and Cisco.
---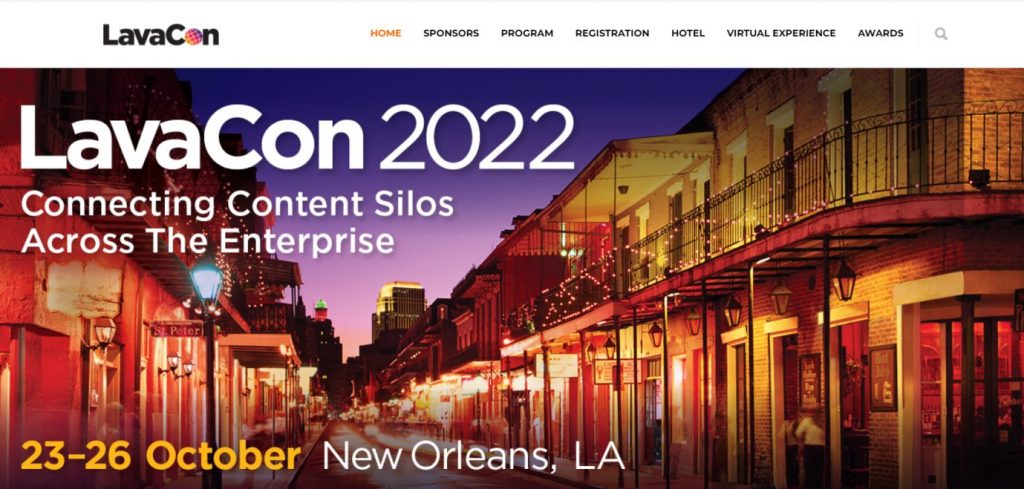 When: October 23-26, 2022
Where: New Orleans, LA
LavaCon Content Strategy Conference is an event focusing on content strategy, content technologies, and user experience. The conference is scheduled for October 23-26 and will take place in New Orleans–right in time for the famous Krewe of Boo Halloween parade on October 22. The event will kick off with pre-conference workshops to get attendees all hyped up for the rest of the conference.
This year's LavaCon will feature speakers from reputable global brands such as Sheila O'Hara from Microsoft, Stacey Gordon from Google, Kathleen Gavenman from Amazon, and Karen Brothers from 3M. These speakers will explore different aspects of content strategy–from data visualization and content creation to developing content ecosystems and scaling your content operations.
---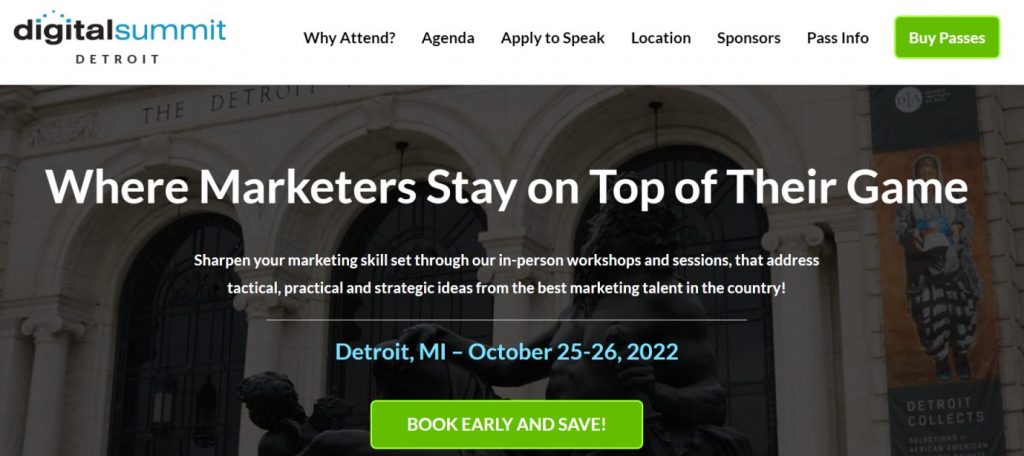 When: October 25-26, 2022
Where: Detroit, MI
If attending the Digital Summit Atlanta isn't an ideal option for you, there are plenty of other Digital Summits happening across the nation. The Digital Summit Detroit, for example, is scheduled for October 25-26 in Detroit. Featuring expert-led sessions and in-person workshops, this event will help you sharpen your marketing skills and set you up for a successful career in the field.
The 2-day event consists of 30+ actionable sessions, three in-depth masterclasses, and 1000+ minutes of content. Throughout the summit, a lineup of industry experts will explore key topics such as SEO, analytics, content, social media, lead generation, and email. Although speakers for the Detroit event haven't been finalized yet, previous summits have featured leading experts from top global companies such as Microsoft, Foundry, Royal Caribbean, Marketing Insider Group, and SiriusXM.
---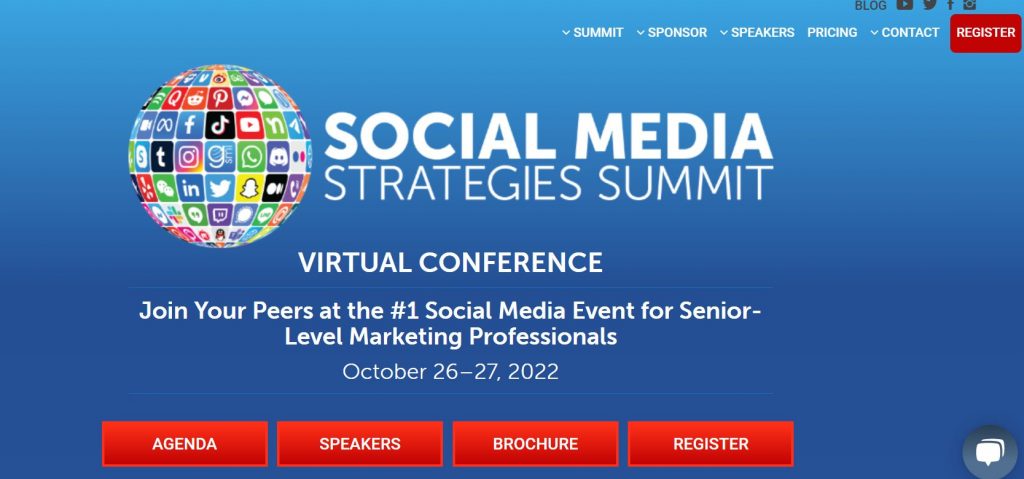 When: October 26-27, 2022
Where: Virtual
One of the top events for senior-level social media marketers, the Social Media Strategies Summit will help you develop the skills and knowledge to transform your social media marketing. The event is scheduled to take place virtually between October 26 and 27 and will dive deep into the nuts and bolts of social media. The agenda includes topics such as content strategy, social personalization, social advertising, influencer strategy, social listening, brand communities, and much more.
During the summit, a robust mix of thought leaders will share their proven social media strategies to inspire your own. The current lineup of speakers includes names such as Chelsea St. Clair from NBCUniversal–Peacock, Matthew Slater from CVS Health, and Ashley Carufel from Shutterstock.
---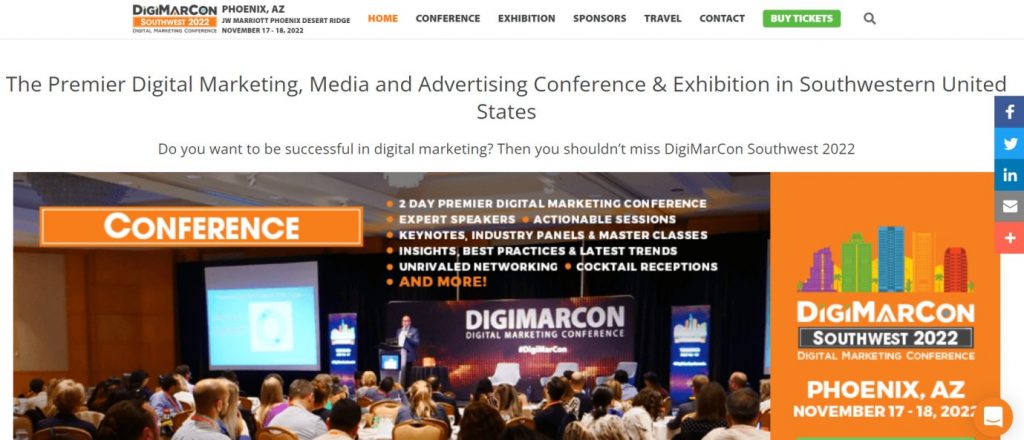 When: November 17-18, 2022
Where: Phoenix, AZ
If you're looking to attend an event in the Southwest, you can't miss the DigiMarCon Southwest conference. Set to take place in Phoenix between November 17 and 18, the 2-day event will be jam-packed with digital marketing strategy, best practices, practical solutions, and trends. It also offers a ton of networking opportunities for new and seasoned marketers alike. However, if you're unable to make it to the in-person event, you can also choose to tune in live or watch the on-demand videos later.
The 2022 edition of DigiMarCon will feature a vast array of digital marketing topics such as account-based marketing, conversion rate optimization, geo-targeting and proximity targeting, growth hacking, omnichannel marketing, and much more. Although speakers for the event haven't been finalized yet, you can expect to hear from an impressive lineup considering DigiMarCon's speaker community.
Below are some of the past digital marketing events that are still worth checking out. Note that many of these events take place annually or at least several times a year.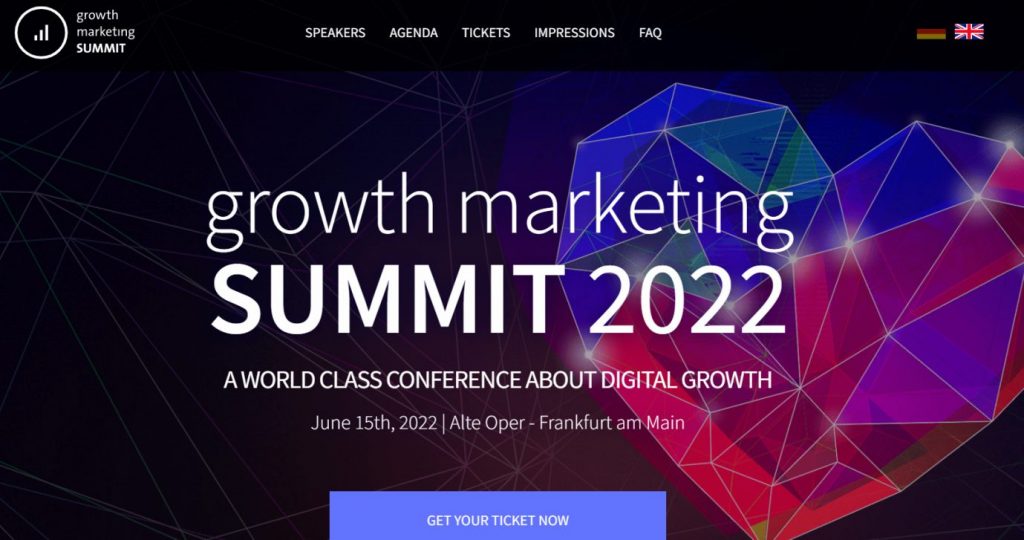 When: June 15, 2022
Where: Frankfurt, DE
The Growth Marketing Summit is a global event that focuses on digital growth. It's one of Europe's biggest digital marketing events and is set to take place in Frankfurt on June 15, 2022. The summit will guide digital marketers to take an agile, data-driven, and customer-oriented approach to scale businesses sustainably.
At this summit, 12 leading experts from reputable companies will take the stage and deliver TED-style talks focusing on their areas of expertise. You'll be able to gain meaningful insights from speakers such as Dan Ariely, bestselling author and behavioral economist; Talia Wolf, founder and chief optimizer at GetUplift; and Simon Dahlia; global head of activation and conversion programs at Spotify.
---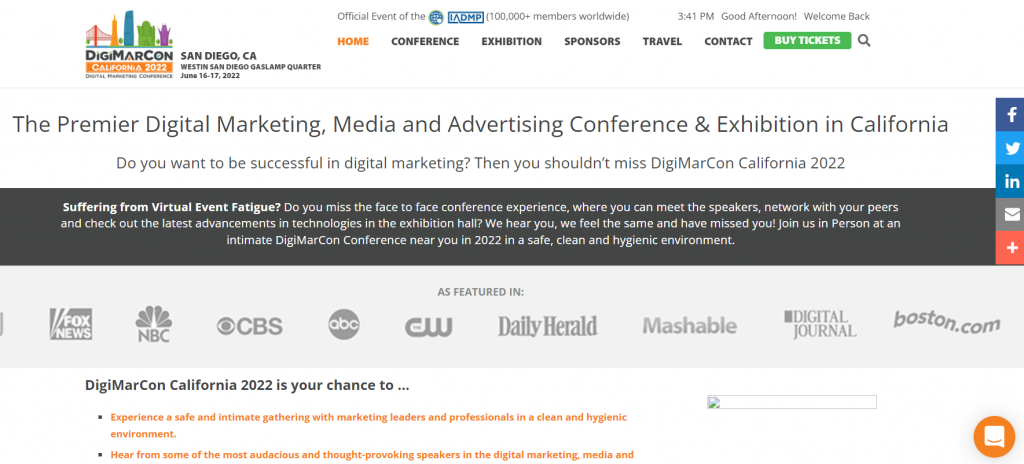 When: June 16-17, 2022
Where: San Diego, CA
DigiMarCon is the largest conference and exhibition series for digital marketing, with 40 conferences held each year across the globe. The conference is set to come to San Diego, CA in June for a 2-day event covering a comprehensive list of digital marketing topics. If you're unable to attend the event in person, you can also join the sessions live or access on-demand videos later.
At this conference, you'll get to explore topics like account-based marketing, behavioral and neuromarketing, conversational marketing, data science and big data, and predictive analytics and attribution among many others. DigiMarCon California will have an impressive lineup of experts who will present data-driven knowledge and actionable insights along with innovative ideas.
---

When: 23-24 June, 2022
Where: London, UK
Digital Marketing World Forum or DMWF is a leading digital marketing conference that takes place all over the world with thousands of attendees and 100+ speakers. The 2022 global in-person event is set to take place on June 23-24 in London and will explore the future of digital marketing technologies while the virtual event will take place on June 29.
The conference will focus on the latest trends and strategies in the field of digital marketing, covering topics such as virtual reality, influencer marketing, artificial intelligence, and data analytics. Digital Marketing World Forum boasts an impressive speaker community from world-renowned companies such as HP, American Express, Conde Nast, Google, Meta, and Reddit.
---
Ready for the Best Digital Marketing Events?
Whether you're ready to travel to attend in-person events or you want to tune into live virtual sessions, there are plenty of opportunities to expand your knowledge and learn from industry leaders worldwide. Check out the top 15 options listed above and register for a digital marketing event that you want to attend.