Content marketing for eCommerce is about creating and distributing creative and relevant content to draw ideal customers to your brand. This strategy is the opposite of the product-focused hard-sell approach. Instead, the customer and their wants are central to content marketing. The tactic involves providing something valuable to your target audience from the time they acknowledge a problem that needs addressing until they decide to choose your product or service to address their situation.
---
5 eCommerce Content Marketing Strategies to Top Your Targets:
---
Underlying Factor Behind Top Content Marketing Challenges
Developing content that appeals to different target audiences emerged as the top challenge among marketers (57%) in Content Marketing Institute (CMI) and MarketingProfs' B2C Content Marketing-Insights for 2023 report. Establishing consistency with measurement and differentiating products and services from rivals complete the top three challenges.
CMI chief strategy advisor Robert Rose calls for a mind shift, viewing content marketing as a consistent, repeatable, and scalable process instead of a mere project. Healthy content marketing teams should allow fluidity in their campaigns, abandoning those that no longer work and reconfiguring activities so they fuel better experiences.
---
5 Content Marketing Tactics to Expand Online Presence and Sales
eCommerce content marketing aims to move prospects along the sales funnel through ideas—answers to their questions, tips, and other feel-good pieces about your brand—instead of directly promoting your products.
What content and content-driven activities will drive eCommerce businesses this year? Here are five owned and earned media to invest in and highlight for strategic content operation. Owned media refers to resources your brand owns, while earned media covers output you didn't create or pay for that mentions your brand.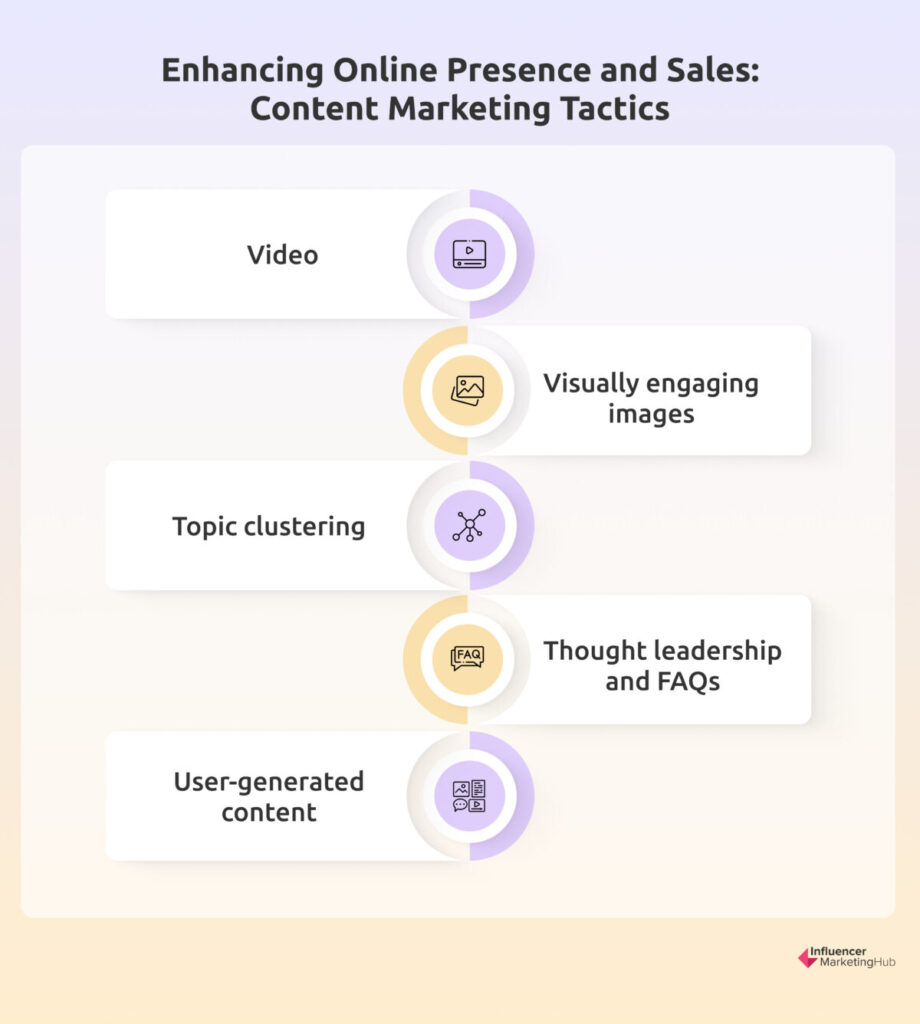 Video
Over three-quarters of marketers surveyed by CMI and MarketingProfs for their report said their companies plan to invest or will continue investing in video for their 2023 content marketing program.
Videos of any format and length were the third most popular content assets for interacting with audiences behind in-person events and short (below 1,500 words) articles or posts.
However, the majority of viewers (36%) favored shorter videos lasting one to three minutes.
Most of the footage produced in 2022 was social media videos (71%) and explainer videos (70%).
Videos were also the content type that produced the third best results (views and engagement) after in-person events and short articles or posts.
92% of respondents to HubSpot and Wyzowl's 2023 State of Video Marketing report said that video marketing gave them a good return. In particular, videos helped improve lead generation (90%) and sales (87%) due to better user understanding of one's product or service (96%).
---
Visually engaging images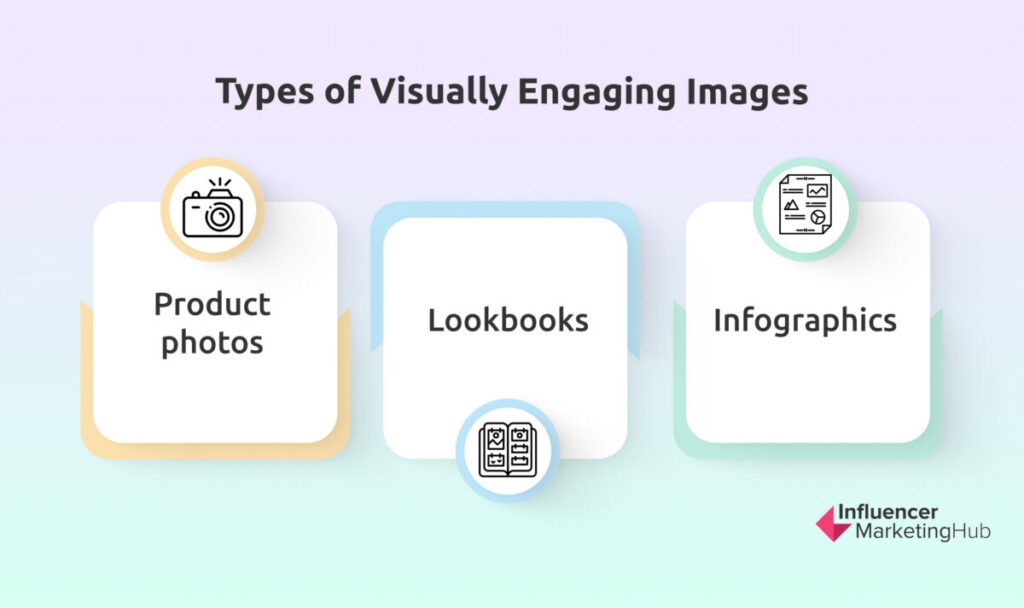 Product photos
Viewing your product images is the closest that online shoppers can get to "touching" your products, especially if you don't have a physical store. Thus, you must post original, high-quality photos with pertinent information, including keywords targeting your audience. Doing so will increase your chances of landing on top of the search engine results of your ideal shoppers.
Lookbooks
Lookbooks are digital versions of catalogs, showing products in action and allowing customers to envision how items will fit their lifestyles. Their edge over traditional, printed counterparts is their interactive features, including linking out to product pages, zooming in to product details, seeing the items on different outfits or settings, and more. Your brand is a good candidate for this content type if you sell clothes, skin care products, sporting goods, home decor, and children's products. Lookbooks are a cost-effective, editorial-style asset as you can create a QR code to allow users to view them as part of product launches and other events.
Infographics
Infographics are an attractive way to explain ideas, such as describing a product's features or comparing them with those of other related items and explaining complex processes. You can also repurpose blogs by presenting the key points via infographics. A/B testing colors and layouts will help you determine the appropriate data visualization for your campaign.
---
Topic clustering
If you run a blog, subcategorize or build topic clusters by grouping related topics (or products and services) under a specific keyword relevant to your business and industry.
Topic clusters make your website easier to navigate and rank higher in search engine results pages because web crawlers find information matching a query faster through optimized web pages with well-selected terms. Clusters help search engines recognize the primary purpose of your site and the relationship between the topics and subtopics within it.
The secret to topic clustering is to ensure that your articles or written posts build upon each other. If you wrote several related short articles throughout the year, you could assemble them into a long-form content piece with updates.
---
Thought leadership and FAQs
You can be the brand that people turn to, not just for your products or services but also for publishing content related to them and your target market's interests.
Producing themed articles, white papers, and product demos or video tutorials with subtitles can make you an online hub and elevate your website as an authority in your field. Such diverse resources also increase engagement.
A dedicated FAQ page is another self-help tool that customers appreciate. They can visit this webpage for common queries and troubleshooting tips before sending a social message or placing a customer service call. FAQs also promote transparency; ensuring prospects can discover all they need to know about your company and product before ordering an item. Include explanations of topics that only a few people may know, such as buy-now-pay-later options.
---
User-generated content (UGC)
Turning to earned media, UGC is any content type—social media post, review, rating, video, or gif—your consumers create to share their experience with your brand. These examples also refer to social proof or evidence that others have tried your product and found it valuable.
Unlike influencer marketing, UGC is free and organic. Regular people share them, so their appearance may not look professional.
87% of consumers polled by Emplifi consider reviews and ratings from "real-life customers" than what influencers or celebrities say when deciding to buy something. Moreover, 58% of respondents who research products value the pictures and videos posted by these "real-life" clients.
In Bazaar Voice's latest Shopper Experience Index, 53% of buyers said that UGC gives them confidence in selecting what to buy.
To leverage UGC for your eCommerce business, encourage consumers to share their content through hashtag contests and other games, mixing them with professional photos and repurposing top-performing UGCs on your landing pages or for your cart abandonment emails.
Reviews
98% of shoppers check reviews before buying something, especially if they're expensive (78%) and if they're buying the item for the first time (98%).
45% won't proceed with a purchase if it doesn't have any reviews. Meanwhile, 58% of consumers are willing to pay more for a product with good reviews.
Testimonials
Testimonials aim to show that the public can trust the quality of your products through the stories of customers discussing how the product or service addressed their pain points. Like reviews, you can take screenshots of testimonials and include them in your blog or website. You can send your best customers a survey or questionnaire and use their answers to promote your business.
However, the popular trend now is video testimonials. Instead of following a script, use the interview format so customers can speak candidly. You can share the question list with them before filming.
Collaborations
You can work with others in your industry to widen exposure for your product or service. One way to do it is through guest blogging. You can increase traffic to your blog and e-store after being a guest contributor on a high-authority site with content written by experts. Getting featured in buying guides or product comparison articles (a type of review) can also build brand awareness.
Search for reputable websites in your sector and connect with them to determine how your brand can be a part of the "best of" listicles they publish.
---
Top eCommerce Content Marketing Mistakes to Avoid
Owning a well-laid-out eCommerce website with plenty of functionality and crisp visuals isn't enough to grow your business. You can learn from the following mistakes of those who have gone ahead of you in the business to avoid misplaced efforts and expenses: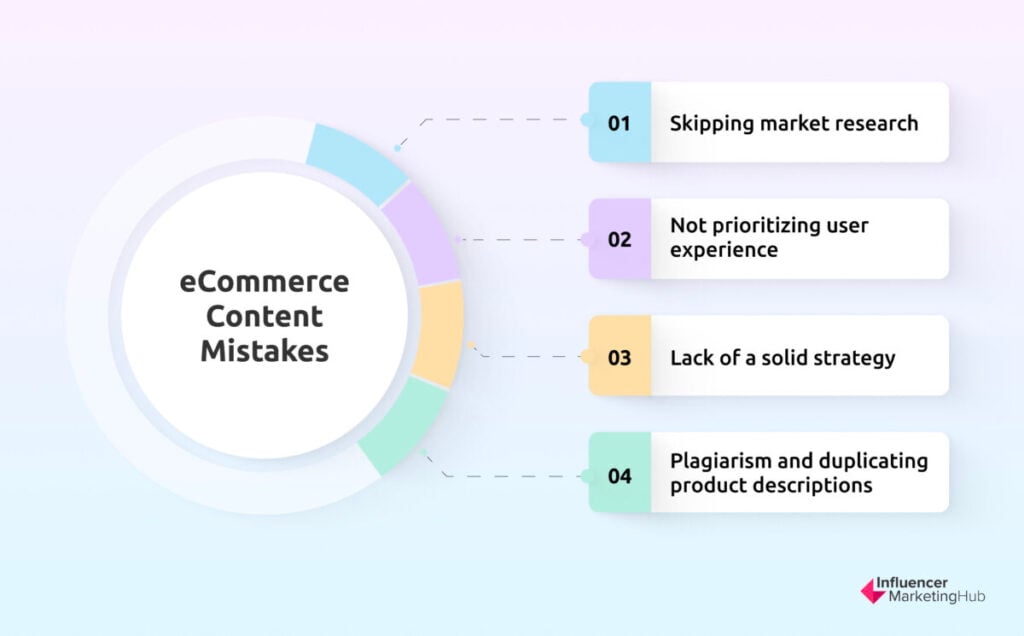 Understanding the traits of your target market can allow you to craft messages and other content that will convince them to choose your brand to address their needs. Market research findings will also give you spot-on topics for blogs and other engagement pieces.
Ask questions via email, bot, or over the phone to know the preconceived notions about your brand from the public and their concerns including reasons for the reluctance behind not buying or signing up. Make polls answerable by yes or no, multiple choice, or ratings.
Besides having in-depth knowledge about your ideal customers, get to know your product or service's strengths and weaknesses. Be open to feedback so you can modify and improve.
Also, remember to include competitive analysis in your research to find out what's new or trending among other players in your field.
---
Not prioritizing user experience
User experience covers online and offline touchpoints. In the digital space, you must verify whether your shoppers find your chosen eCommerce platform's features user-friendly enough and whether it works well on various devices, especially mobile phones. Our guide lists tips for choosing the right CMS software for your company.
Moreover, optimize your website or blog for fast loading time and easy navigation. To help shoppers find items that fit their specifications, offer advanced search options that will allow them to look for products based on their preferred size, color, price range, and others.
If you run a physical store and get negative feedback due to your sales staff there, you must make things right with the client quickly and retrain staff if necessary to ensure similar incidents won't be repeated.
---
Staying competitive requires a strategy, and achieving results in eCommerce content marketing takes hard work and time. Avoid these pitfalls to thrive in the long haul:
Disregarding data for campaign decisions
Your content creation process can start with a hunch. However, your strong gut feeling can't accurately indicate whether your idea will produce high engagement. You must use data-driven tools, such as social listening platforms, to check whether your topic has relevance in current online discussions. If not, that's all right—these solutions, as well as media monitoring, will help you discover themes and trends worth your time and resources.
Targeting unrealistic goals
Content marketing is a long-term investment. Avoid aiming to go viral through force-fitting humor or ranking on the first search engine results pages by obsessing over SEO alone. The ROI comes when you skillfully combine it with email, social, and influencer marketing. You need these other marketing forms to promote the content you made. Moreover, traffic growth via SEO typically takes six months to a year.
Emphasis on vanity metrics
You must go beyond page views and conversion rates to include your average order value (AVO), monthly recurring revenue from SEO, and how long or the time a customer takes to convert for SEO-influenced shopping journeys.
You should also check your best-performing pages and keywords and the metrics for tracking their performance.
Lack of call to action (CTA)
After working hard to bring leads to your site, avoid content "dead ends" through CTAs that will nudge your visitors to take the next step. Use the right words and position your CTAs within your content where it makes sense so you won't appear pushy.
One HubSpot study showed that personalized, "smart" CTAs customized to visitors according to their location or stage in the buyer's journey are 202% better than basic ones.
Moreover, button-type CTAs are better than those in image format.
---
Plagiarism and duplicating product descriptions
Borrowing heavily from manufacturers' web pages for product descriptions is plagiarism. Meanwhile, copy-pasting captions or product details across your eCommerce site or blog may lower your
Google ranking as the search engine prioritizes distinct information throughout your official portals.
Most importantly, win trust for your business by using original content explaining why you established your brand on the About Us page.
Frequently Asked Questions
How do I decide which of the content strategies discussed above I should use?
You can connect with buyers and maximize your investment by:
Considering your audience preferences (consider their demographics, the platforms they use to view and share content)
Picking the format that suits the platform where it will appear
Matching the content to where a customer is in the buyer's journey
Researching your competitors so you can find ways to improve on what they currently produce
What other eCommerce content marketing metrics must I track to help improve my business?
The following may sound like vanity metrics, but you can use them for measuring keyword and webpage performance. Besides the conversion rate and AVO, monitor your:
Discovering how consumers landed on a specific page (through a search engine, a paid ad, or social media?) lets you learn how effective your content is on each platform.
Bounce rate refers to the number of shoppers who left your site after visiting one page.
You can check Google Analytics to determine how your visitors behave while on your site. Find out the page where they stayed the longest, where they bounced off, and the page they viewed before bouncing off.
CTR is the number of shoppers who click a link on any of your webpages or ads. It indicates the image, copy, or offer details your consumers find most interesting.
What agencies can help me with my eCommerce content management strategy?
You can visit our eCommerce Agencies webpage to find detailed descriptions of our following partners:
Moburst
SociallyIn
Thrive
Disruptive Advertising
Nuanced Media
Emplicit
Favoured
Vertical Rail
NEWMEDIA
Enventys Partners
Digital Operative
eAccountable
What are the top goals that marketers were able to achieve through eCommerce content marketing?
Marketers surveyed for CMI's B2C Content Marketing report said that content marketing helped them:
Create brand awareness (81%)
Increase credibility (77%)
Educate audiences (71%)
Strengthen customer loyalty (63%)
Generate leads/demand (63%)