Email marketing is one of the oldest strategies. The fact that it managed to remain so popular over the years can be attributed to its simplicity. It's one of the easiest and most effective ways to connect with your leads. More than 70% of global marketers view email marketing as an excellent marketing channel. In fact, according to email marketing statistics, email marketers claim that email marketing can give them a return on investment of as high as $44 for every dollar that you spend on it.
However, not everyone who starts using email marketing can hope to achieve those numbers right away. You first need to fine tune your email marketing strategy and processes to reach a point where you start getting a good ROI. That's why we've come up with this ultimate email marketing guide for beginners to help you get started on your path to email marketing success.
---
The Ultimate Step-by-step Guide to Email Marketing:
---
What is Email Marketing?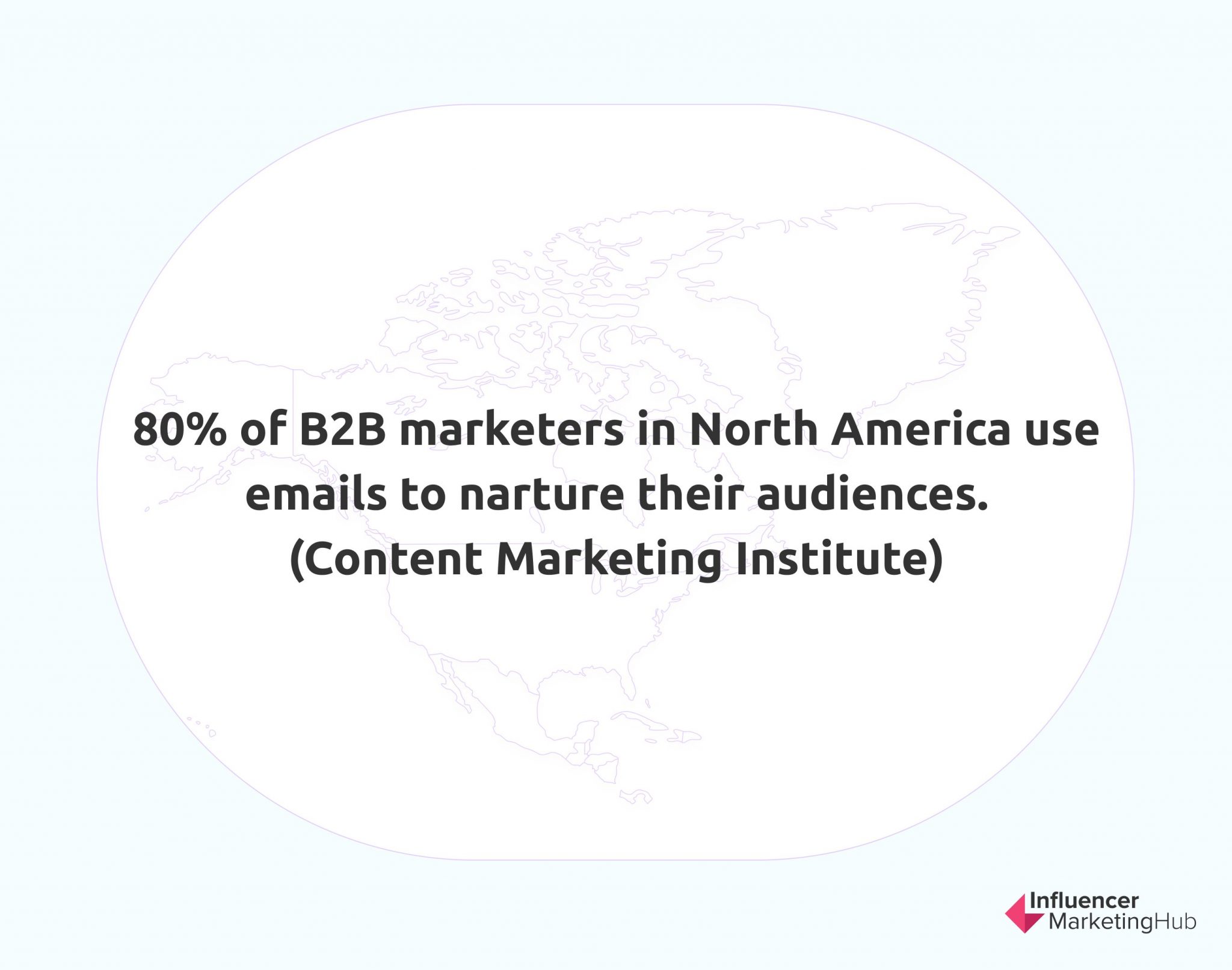 Email marketing is a very cost-effective digital marketing strategy of sending emails to your existing customers and prospects to get more conversions. When implemented correctly, it can convert one-time buyers into repeat customers and get prospects to make their first purchase.
---
Why Email Marketing Works
It's anticipated that by 2023, there'll be more than 4 billion email users across the globe. To put this in context, it's predicted that Instagram will have only 1.2 billion users by 2023. It's clear – email remains one of the biggest communication channels, regardless of the upsurge in social media.
In a nutshell, email is a direct, cost-effective way that you can connect with your leads and, more importantly, nurture them. If you're still not completely convinced whether you should invest in email marketing, here are two reasons that will change your mind.
You control who you target
Email marketing is the most direct form of marketing and gives you a lot of control over to whom you want to send your marketing communications too. As these people chose to sign up for your emails, they're already interested in your brand. That's why, with email marketing, you can target only relevant leads.
What's more, you own your list of subscribers. Relying only on social media gives you a lot less control over your leads. For example, if you're found guilty of trend abuse on a social media platform like Instagram or Twitter, your account can get suspended and with that you'll lose access to all those leads.
On the other hand, with email marketing, you'll always have your list of subscribers at hand. Yes, sure, some will unsubscribe from time to time (just like followers will unfollow you on social media) and your emails could be marked as spam, but if you simply stick to the basics email deliverability and unsubscribe rates shouldn't be an issue.
It gets more conversions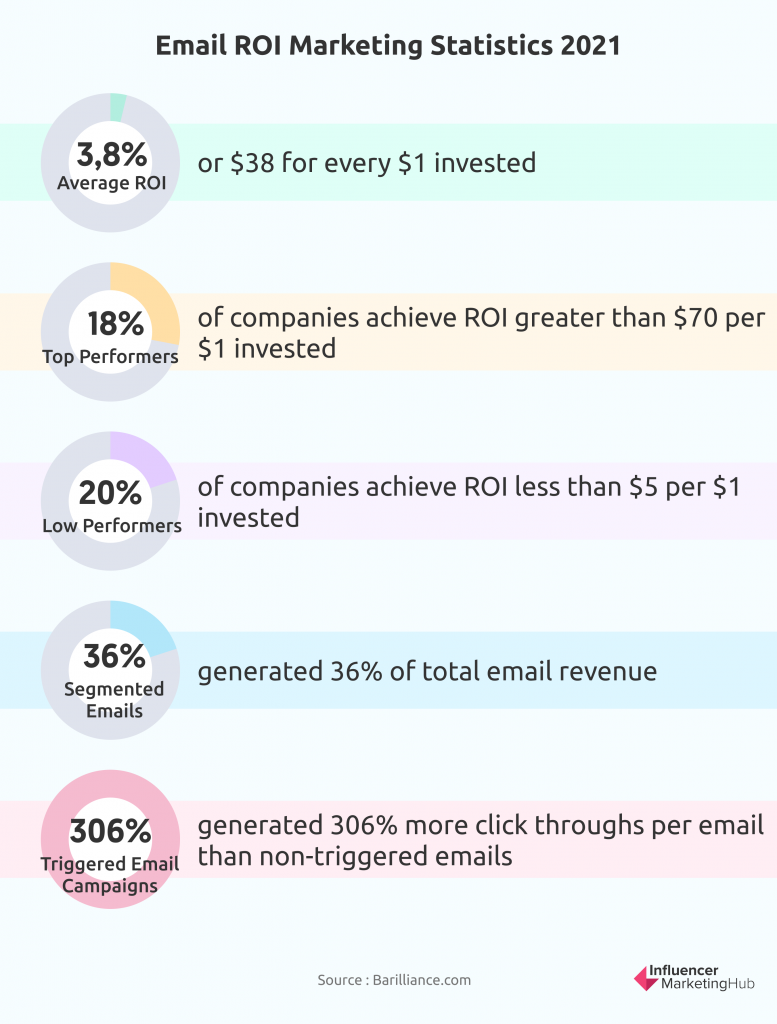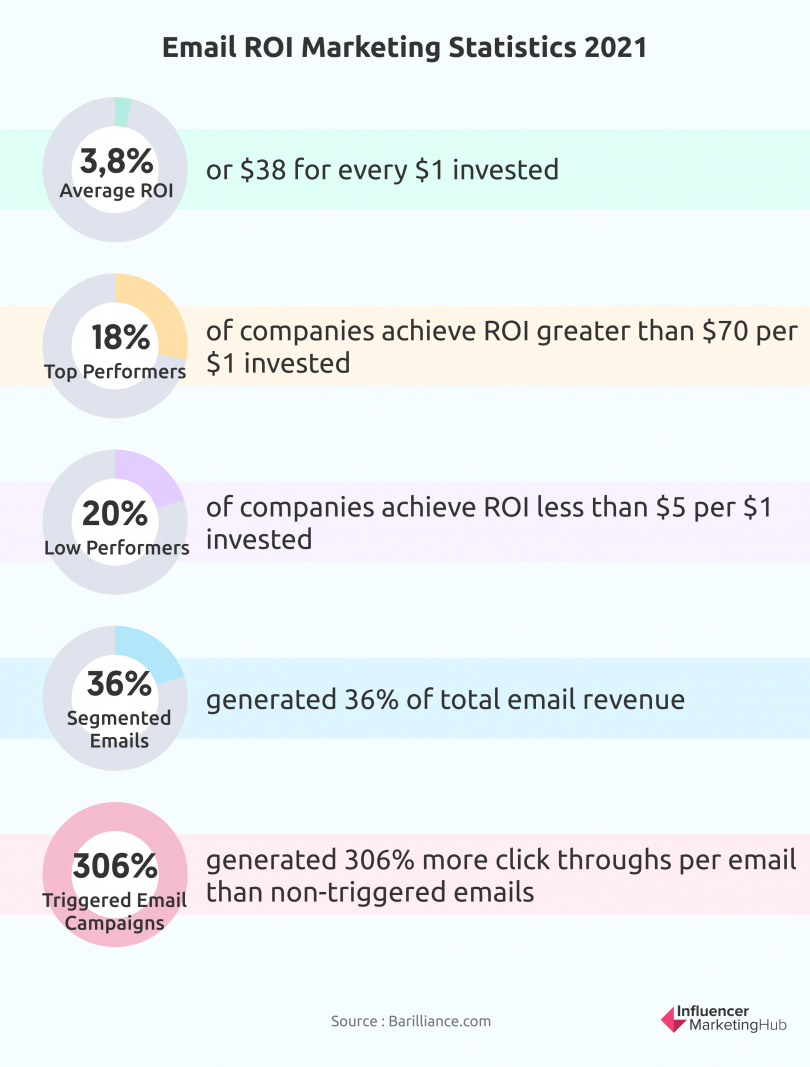 As mentioned earlier, email marketing gets quite a high ROI, much better than most forms of marketing. According to an Google Economic Impact Report, a business makes an average of only $2 in revenue for every $1 they spend on Google Ads. While SEO ($22.24) is 10 times higher than Google Ads, it still doesn't come close to email's ROI of more than $40 for every dollar that you spend on it.
This is, in part, due to the fact that you send emails to people who've already subscribed to your emails. These people are easier to convert because they're already interested in your brand and its offerings.
---
How to Succeed in Email Marketing
Now that you know the benefits of email marketing and how it surpasses other strategies in certain areas, let's discuss some of the ways to get the best results. From building your email list to creating campaigns to some of the most popular email marketing software solutions, here are all the most important aspects for creating a successful email marketing strategy.
Build your email list
The very first step in running a successful email marketing campaign is to build your email list. That being said, you need to consider who your target audience is when you grow your email subscriber list so that you can effectively target the right people with your marketing communications.
Truth be told, it takes time, effort and patience. It's best to use a number of processes to collect email addresses from different sources.
Your website is the best place to get people to sign up for your emails and build your email list. Add an email sign-up form on your "About us" page and all of your most-visited landing pages. When creating the email sign-up form, ensure that it's short and don't have too many fields. A lot of people might just leave without signing up just because it looks like too much effort to fill in the form. So, keep your forms short and simple by including important fields only. As a matter of fact, many businesses actually just limit it to one field, which is the email address.
You should also place call-to-action buttons at strategic locations on your website that prompt your website visitors to provide their email information. These locations include headers, footers, and your sidebar. In addition to static call-to-action buttons, you can also use pop-ups that ask website visitors for their email address.
In addition to using your website, you can also use the checkout process as an opportunity to ask customers to subscribe to your promotional emails. Alternatively, you can also include a sign-up button in a transactional email like an order and shipping confirmation.
Another great way to get people to sign up for your emails is to use lead magnets or gated content. This essentially means giving people valuable content for free in exchange for sharing their email address. Lead magnets are generally digital materials that cost you nothing or very little to create. This could be anything from an eBook to a resource guide, but has to be something relevant to your target audience.
Not only should it be relevant, but it should also be something that subscribers will be able to get right away and digest easily. While you want to include useful information, writing a mini-dissertation is no way to go about it.
At Influencer Marketing Hub, we, for example, use our Marketing Benchmark Report as a lead magnet. More than 103,000 creators have signed up for our weekly newsletter to date, proving that lead magnets, when done right, work like magic.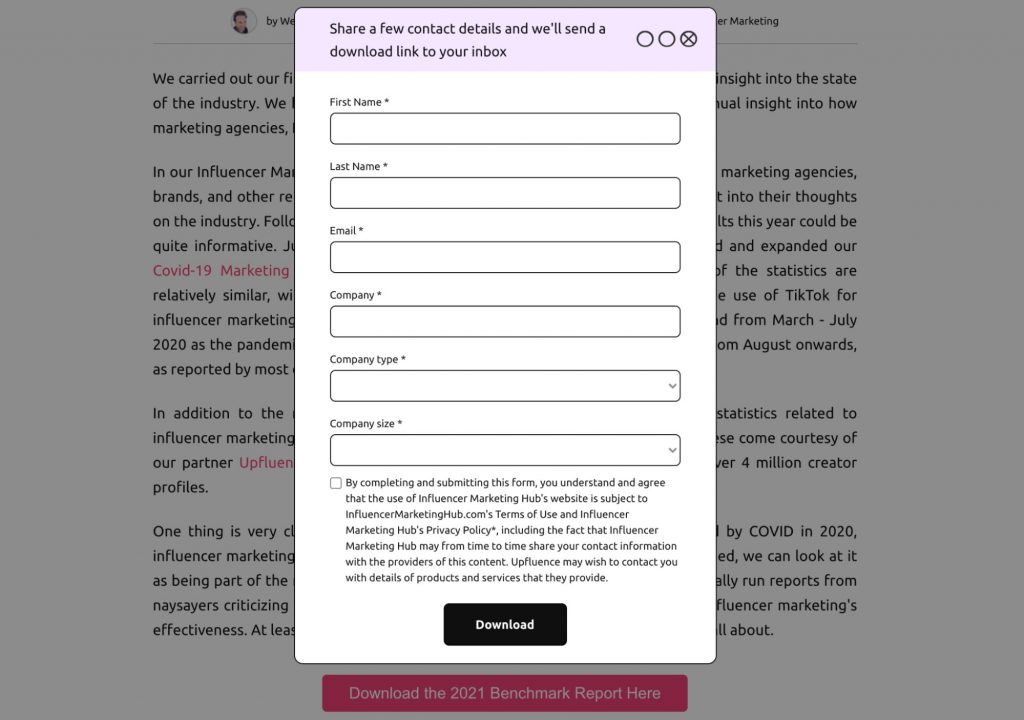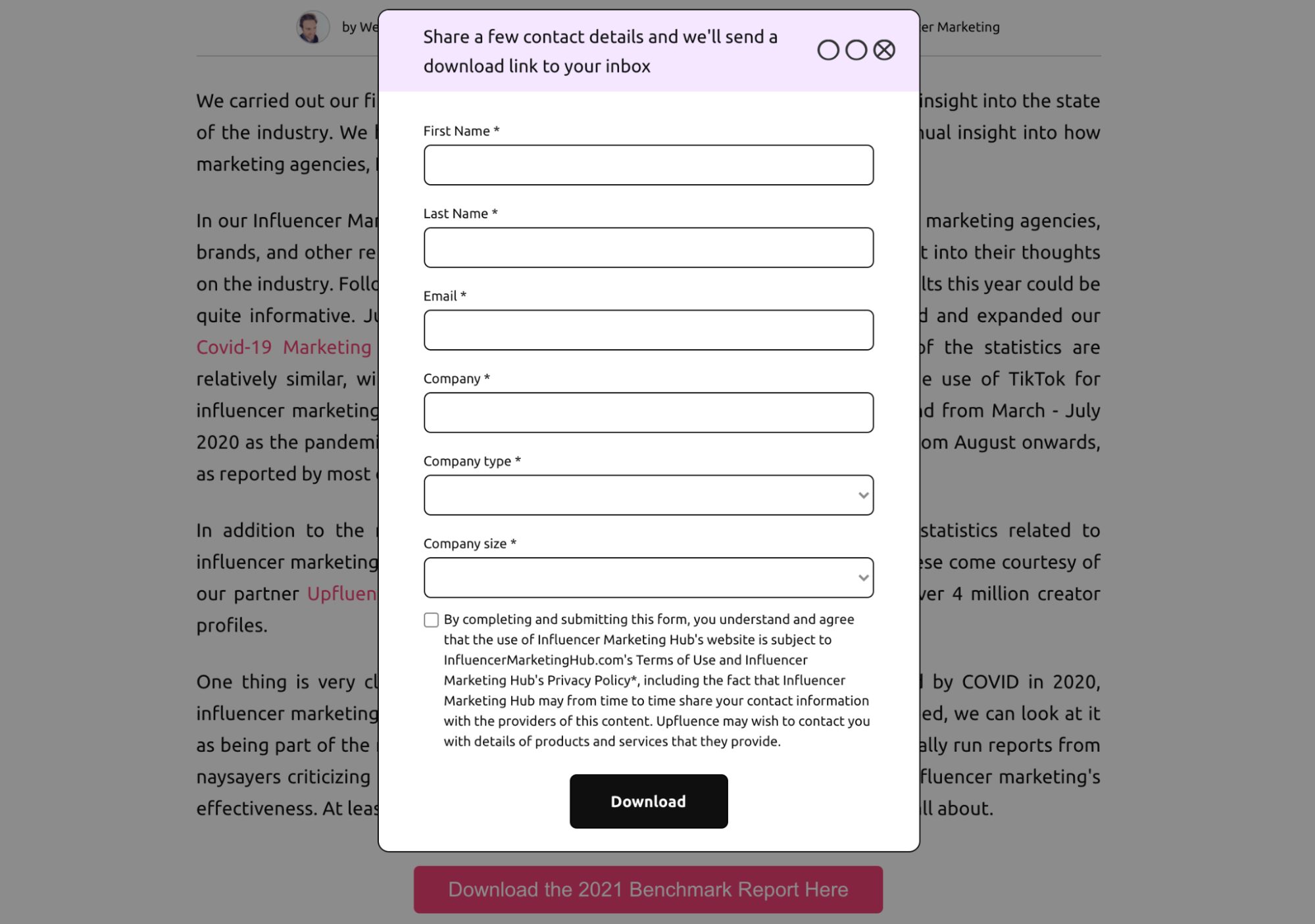 💡 Other popular types of lead magnets are:
Bonus packs

Free trials

Calendar

Case study

Webinar

Cheat sheet
---
Segment your list
Now that you've patiently grown your email subscriber list, you'll want to use that list as effectively as possible. This is where email list segmentation enters into the picture. According to Campaign Monitor, marketers who use segmented campaigns enjoyed as much as a 760% increase in revenue.
In short, it refers to the process of dividing your email subscribers into smaller groups by using specific criteria. This way, you'll be able to email them content that's personalized, and which they'll find more interesting.
As a matter of fact, it will make it a lot easier when it's time to craft the subject line and body of the email. For example, you can use location as a criteria and use an email to inform subscribers from that specific area about a new store opening up.
Though, it's easy to go overboard. So, rather stick to broader criteria that will help you to create targeted, relevant emails. In addition to location, you can also use interests and gender to segment your list.
---
Use email templates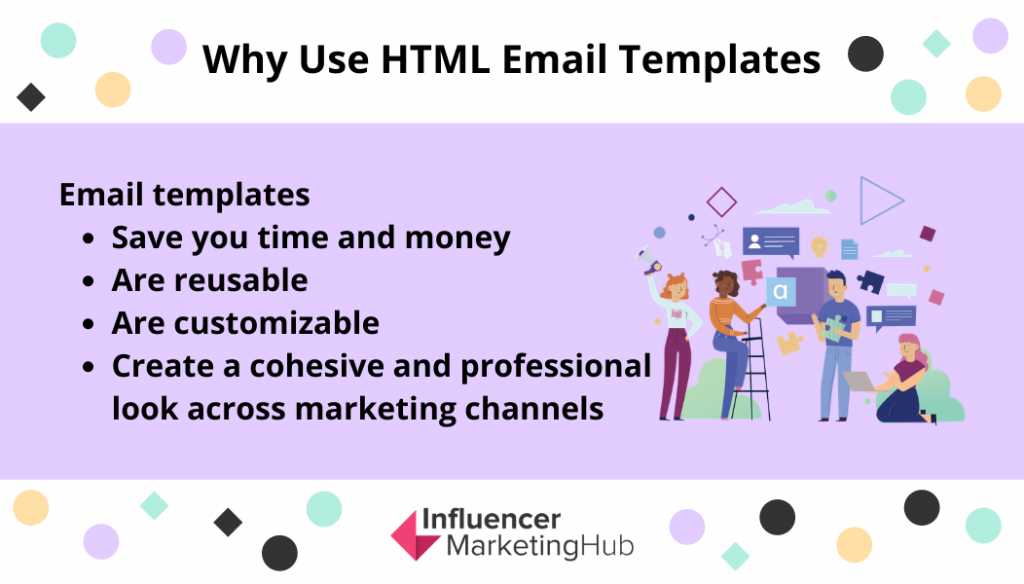 The next step is to design and send emails to your subscribers. This is probably the most important part of the entire email marketing process. The more engaging your emails are, the higher the ROI that you'll get.
However, creating emails from scratch is not the smartest way to get things done. It takes more time, effort, and money to do that. The best alternative to that is either to create your own email templates or get them from third-party websites. Whichever approach you decide on, you want to ensure that your email templates capture the personality of your brand and make it easy for your subscribers to read. So, pay attention to components like payout, typography, color, visual media, and calls to action.
Luckily, there are several sites that provide free email templates that you can simply customize and use. You can find templates for different kinds of emails that you might need to send to your subscribers as a business.
You can, for example, check out Pixelbuddha's Green Village HTML email template. As it's super minimalistic, it's quite versatile making it easy to customize it for various types of emails.
HTML email templates, like this one, can really save you loads of time and money (as a matter of fact, many of these are available free of charge). As HTML email templates can be customized and reused, you can include your own images, effects, and links to ensure that your brand's personality doesn't get lost in the process.
As a matter of fact, this consistency that you'll only get when you use templates will help you to look professional. It will reassure your recipients and help to portray you as a trustworthy brand.
---
Create an email drip campaign
All your efforts of building a substantial subscriber list and choosing a set of templates will all be in vain, if your content doesn't live up to the expectations. Your content matters a lot. It's through sharing valuable information that your subscribers will find relevant that you can nurture your leads. Let's be fair, you can't expect your readers to remain active subscribers if you don't share great content regularly.
Luckily, email marketers have a very powerful ace up their sleeves – email drip campaigns. In short, it refers to a sequence of emails that will be emailed automatically to a segmented group of subscribers. You create the content in advance and then you'll use an email marketing software (more about that later) to send it at the right time. Often, specific events, like shopping cart abandonment, will act as a trigger.
---
Popular types of email drip campaigns
There are many objectives you can have when you create an email drip campaign, here are a few of the most common examples.
💡 A welcome sequence
Every brand needs to create a welcome sequence. You'll send this type of drip campaign to subscribers just after they've joined your mailing list and you would typically start this sequence by thanking them for signing up.
It's also a good idea to ask them to confirm their email address. This additional step can help you to increase your delivery rate and reduce the likelihood of inactive subscribers who you'll in any case have to remove a couple of months later.
After thanking them and confirming their email address, you can, for example, send an email with a call-to-action prompt to read your latest blog post. You basically want to use this as an opportunity to impress your new subscribers and turn them into paying customers.
💡 A mini-course
While there are many types of lead magnets that are in the form of a one-off digital download like a cheat sheet or checklist, you can also opt to spread out your lead magnets over the course of a couple of emails to create a type of drip campaign. With this approach, you'll send a series of emails with valuable information over the span of a few days or even weeks.
You can also use this type of structure when you're offering a webinar as a lead magnet. You'll send an email with an invite to sign up and then you can send them a reminder and follow-up email after the event to summarize some key takeaways (in other words, share more valuable content).
💡 Shopping cart abandonment
Abandoned cart recovery emails are crucial for eCommerce businesses. With the help of an automated abandoned cart recovery email series, online stores can win back some of those lost sales.
With such a campaign, you'll typically send the first email within a matter of hours to remind them of their items waiting in their cart and to keep your brand on their mind. Depending on the outcome, you can then follow up that email with an email thanking them for their purchase or another reminder with possibly a discount code that can encourage customers to complete the transaction.
Grammarly, for example, offers a whopping $75 off its annual premium plans. While you don't have to offer such a big discount, it should be attractive enough for it to be effective. It's highly unlikely that a 5% off will do the trick.
If you're going to offer some type of incentive, you should also include a clear cut-off time like Grammarly has done. This way, you create a sense of urgency so that they convert quickly.
While most email marketing tools should offer a feature to help with shopping cart abandonment, there are also abandoned cart plugins that you can use. In fact, some of them are even available free of charge, so there's no excuse for not following up on abandoned carts.
💡 Upselling or cross-selling
After a customer has purchased an item, it doesn't have to be the end of the road. You can also create an email drip campaign to encourage upselling or cross-selling. This way, you can turn customers into repeat customers.
To do this, you'll, for example, recommend relevant accessories before their order gets shipped. Alternatively, if it's something consumable like dog food, you can send them offers for new products when you know it's about time for a new order.
---
Planning your email sequence
For email drip campaigns to work, you need to decide on how many emails you want to send and the interval between each email. There are no hard and fast rules about the length of an email sequence. Basically, you want to send just enough emails to reach your goal.
With regards to the frequency, educational emails can be sent once every two days. If you're promoting a big sale, you can even send as many as four emails in a span of 24 hours. The secret is to find the sweet spot between salesy emails and those that offer value. The majority of your emails should offer value, while only about 20% of your emails should focus on clinching that sale.
Not only should you identify the topics for the individual emails, but you should also plan your calls to action for the different emails. Each email should have at least one call-to-action prompt such as sharing your latest blog post, signing up for a webinar, rating your service, or buying a product.
---
Monitoring the performance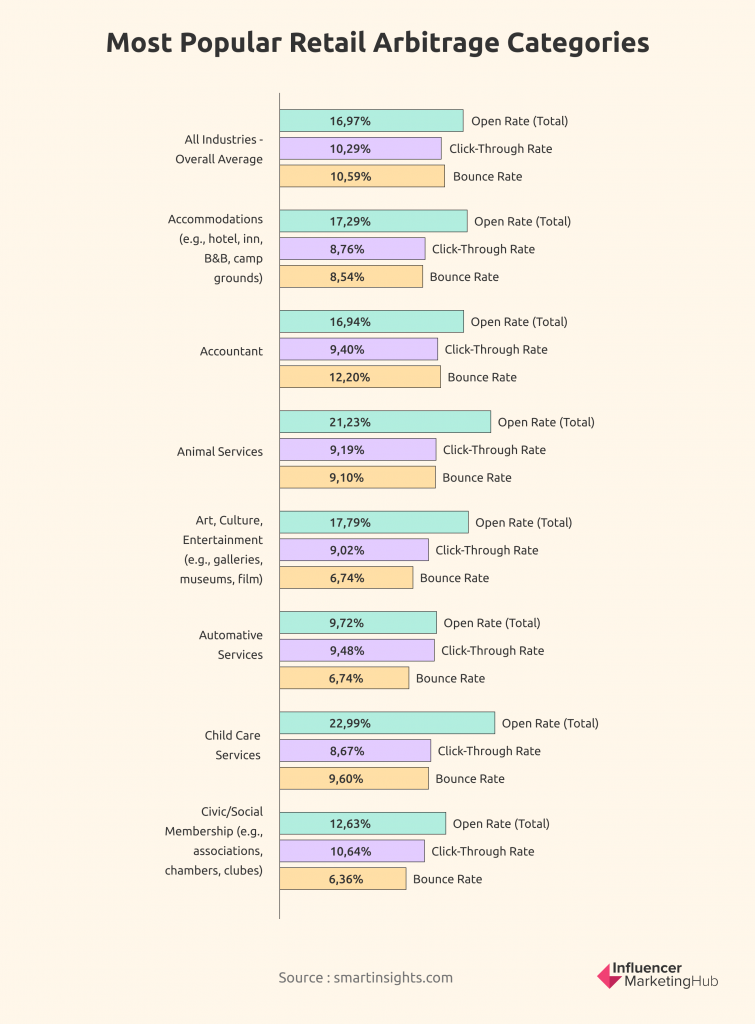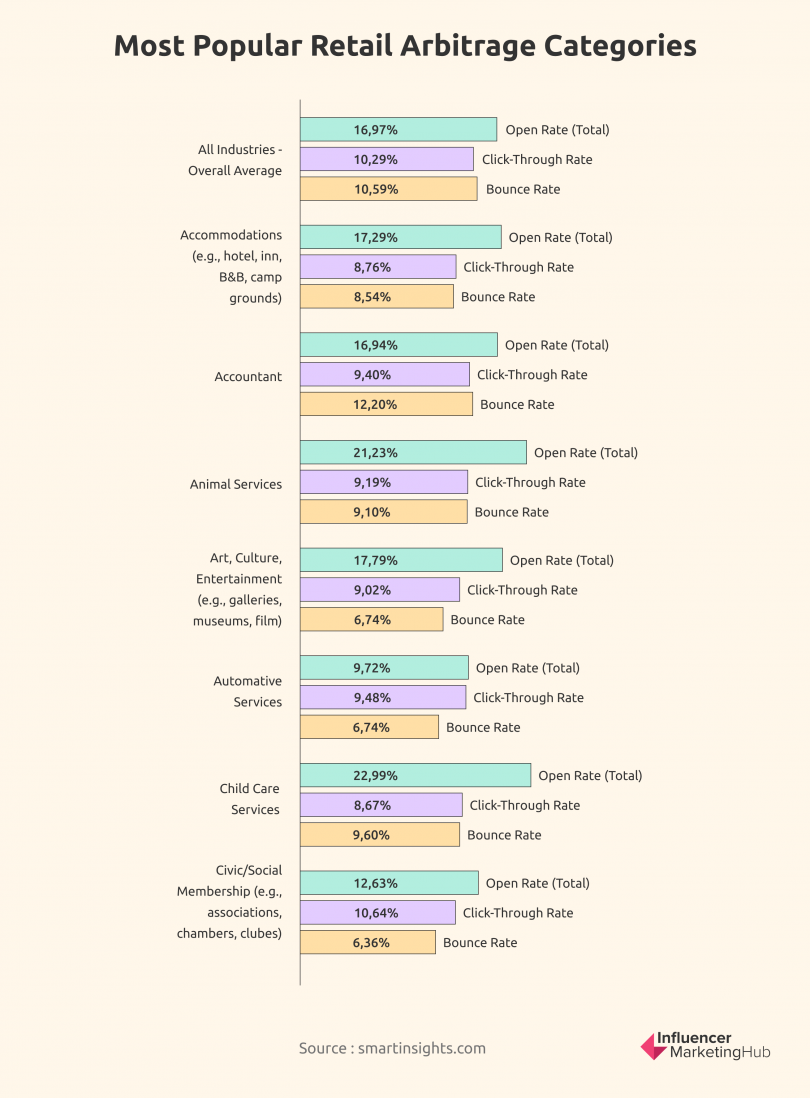 Email marketing is not a create-it-and-forget-it strategy. You also need to keep tabs on how your emails are performing to get the best results. Armed with this knowledge, you can then do A/B testing to improve your email marketing campaigns.
When analyzing your campaigns, you'll want to measure a few important email metrics like open rate (more about this later), click-through rate, and unsubscribe rate.
You'll always get people who choose to unsubscribe from your email list. Luckily, this will be less than 1% on average. If your unsubscribe rate is higher, it's a sign that what you're doing currently isn't working.
The click-through rate refers to how many of the subscribers actually clicked on a call-to-action button or an image. Measuring this percentage will give you a better idea of if you're getting enough conversions by means of email. Campaign Monitor measures the average click-through rate at about 3%, while according to Smart Insights it can be as high as 10%. So, you'll want to ensure that your click-through rate at least never drops below 3%.
While both these rates are important, your open rate is crucial. Your open rate is so important that we're dedicating an entire section to how you can improve your open rates. In short, email open rate refers to the percentage of email recipients that opened an email after they've received it.
Your open rate is a reliable indication of how engaging your emails are and the overall success of your campaigns. If your open rate is lower than the average open rates for your industry, it can be a sign that you're not targeting the right type of people, your content is not up to par, or worse, both.
A good open rate to chase is about 17% (that's the overall average for all industries). That being said, the average open rate can differ quite significantly from one industry to the next. For example, religious organizations enjoy an average open rate of almost 30%, while retail barely gets 11%. So, it's best that you first check to see what your specific industry's open rate is.
---
Improving Your Open Rates
To put it bluntly, all your work till now will be in vain if you don't pay just as much attention to improving your email open rates. After all, what's the use if no one reads your emails, right? From your subject lines to timing, here are some techniques to get higher open rates for your emails:
Use catchy subject lines
According to OptinMonster, 47% of people judge emails purely by their subject lines. So, while they're much shorter than the body of your email message, it doesn't mean that you should spend less time on them.
Effective subject lines spark curiosity. They use action words and strong verbs that encourage recipients to take action. While tempting, it's sometimes better to avoid using overly promotional words such as "deal" or "free" as these types of words might trigger the spam filter.
💡 Other actionable tips for crafting captivating subject lines are:
Add a number or stat that adds credibility to your subject line and generates curiosity.

Add an emoji to your subject lines to make it light and creative, a quality that people usually tend to like.

Personalize your email subject lines, if possible, to immediately grab your target's attention.

Create a sense of urgency or scarcity by including warnings about deals that will expire soon. This is especially effective when your subscribers are mainly Gen Z or millennial.
---
Time it right
The time at which you send your emails can have a significant impact on your open rate. To identify the best time to send your emails, you should complete some A/B tests. Though, this will take time.
In the meantime, you can refer to data collected by Campaign Monitor, Omnisend, and Klaviyo. Depending on which email marketing metrics you want to measure, they've found the best day to send an email is a Tuesday or a Thursday.
With regards to time, generally speaking, the best time to send marketing emails is when your subscribers will typically take a break. Omnisend and HubSpot have identified 1 p.m. as one of the best times, while Omnisend has also listed 8 a.m. and 4 p.m. as optimal times.
---
Remove inactive subscribers
We know that one of our very first tips was to build your subscriber list. So, what we're recommending now will most likely confuse you a lot. Though, by removing inactive recipients from your subscriber list you can reduce the chances that your emails will be flagged as spam. After all, if they haven't opened one of your emails for a while, what use are they serving you? The answer – none.
According to a report by Litmus, the majority of marketers remove inactive subscribers after a maximum inactivity period of 15 months. By inactive, it's generally any subscriber who hasn't engaged with any email in the past 6 months at least.
If it will make you feel better, you can send them one more email before removing them altogether. This email might re-engage them, but don't get your hopes up.
As it can be a painful exercise to delete subscribers who you've worked hard to add to your list, it's a good exercise to send your subscribers a quick email every now and again just to double-check that their information is still correct. You wouldn't want to lose out on a subscriber who's still interested in your brand because they've changed their email address.
---
Avoid the Spam folder
We've already mentioned two ways, updating your list and avoiding spammy words, that can lower the chances of ending up in the place where emails go to die. Here are some other ways that can help you to avoid spam filters:
Ensure that everyone on your list has actually signed up to join your subscriber list. As we've explained, it doesn't call for rocket science to grow your subscriber list and so there's no reason why you should buy an email list. Sure, it will take time to grow your list of subscribers, but it's worth it.

Use a good IP address and verified domains when you send your email campaign.

Add a simple way for subscribers to unsubscribe if they choose to do so.
---
Keep it personal
Personal subject lines and messages work much better. This can be challenging when you're actually writing to (hopefully) thousands of subscribers.
To make it easier, imagine that you're writing to a friend. This will help you to create content that's more personal and less detached. Speaking of which, to create subject lines that will encourage recipients to read further, you need to know who your buyers are in the first place.
What are their pain points? What do they value? What gets them excited. An email subject line that offers to solve their most pressing issues is bound to get opened.
---
Optimize for mobile devices
According to Email Monday, 7 out of 10 mobile email users delete a badly formatted email in just three seconds. Considering that the mobile is the most widely used device to open promotional emails in the US (desktop accounted for only 17% of email opens), you have to ensure that your emails are easy to read and attractive to mobile users.
To help you optimize your emails for mobile devices, here are some practical tips:
Use shorter subject lines (in fact, irrespective of the device, shorter subject lines just perform better).

Avoid small fonts that can be harder to read when using a mobile device.

To ensure the email can load quickly, use small images.

Add at least one call-to-action in your emails that's clearly visible and large enough so that it's easy to tap. If you're planning on using multiple CTAs, don't place these too close to each other otherwise it's easy for the user to click on the wrong button.
---
Use Email Marketing Platforms for Email Automation and More
After all is said and done, you have to understand that running an email marketing campaign for tens of thousands of subscribers isn't a straightforward job. It takes time and effort to manage the whole process. Therefore, it's a good idea to use an email marketing platform to help you manage the process better. Most of these platforms provide an email automation feature that allows you to send bulk emails automatically.
Here are some of the best email marketing tools that you can use:


Trusted by more than 28,000 customers, EngageBay was named as one of the top 10 fastest-growing marketing automation solutions in 2019. It offers all the email marketing features that you need. You can use it to build an email list by means of its intuitive web forms that use drag-and-drop functionality. In addition, it also has a drag-and-drop landing page builder, if you prefer to grow your subscriber list with the help of landing pages.
Once you have a sizable list of email subscribers, it lets you nurture those leads by segmenting your audience and adding personalized fields to emails. With the help of its workflows features, you can also create email sequences that can be managed by triggers or time delays. The best part is that just like its web forms and landing pages, this also works by means of drag and drop.
While its free plan doesn't offer as much functionality as that of EmailOctopus, its other plans are just as cost-effective. For only $30 per user per month, you'll be able to send 25,000 branded emails to 50,000 contacts.
---


Founded in 2014, EmailOctopus offers intuitive email marketing services and has helped more than 68,000 organizations. The major advantage of signing up for one of its plans is the simplicity of how it approaches everything. For example, if you want to customize one of its templates, it offers a drag-and-drop editor to streamline this process. You can basically set your email campaigns on autopilot.
Not only is it great for email campaigns, but it can also help you to grow your subscriber list. Its app has a landing page builder that comes in handy if you want to create sign-up forms to attract more leads. Alternatively, you can simply use it to import existing subscribers easily.
With regards to its pricing, it's one of the most cost-effective solutions. It offers a free plan for up to 2,500 subscribers and 10,000 monthly emails. If you have more than 2,500 subscribers, you'll need to sign up for its Pro plan that starts at $24 per month.
---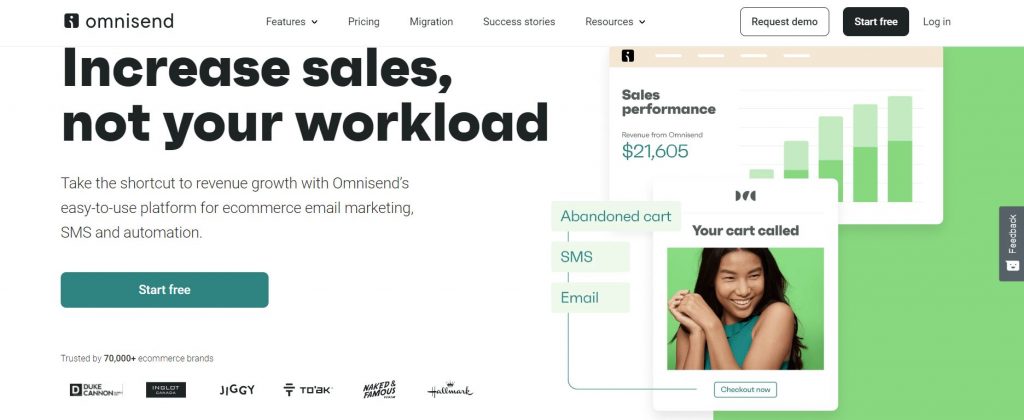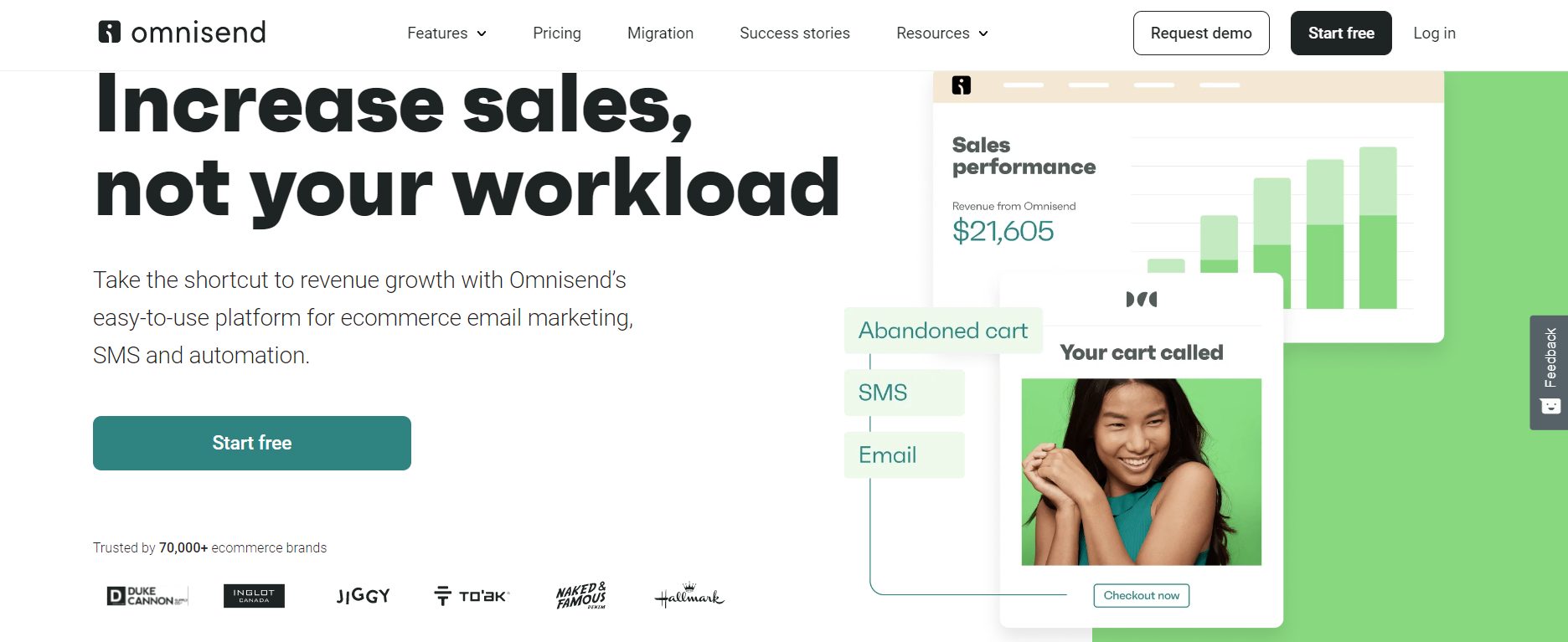 This is a tool that combines sales, email marketing, and SMS marketing all in one. You can integrate different business functions with email marketing and run sophisticated email campaigns.
It has a simple-to-use, drag-and-drop builder that makes it fun to design your emails. It's also very good for running drip email campaigns because of its campaign booster feature. This sends the same email to a subscriber again if they didn't open it the first time which helps you to get higher open rates.
On top of that, Omnisend doesn't just help you to manage your campaign but also builds your email lists. You can create optimized email sign-up forms to get your website visitors to share their email information.
---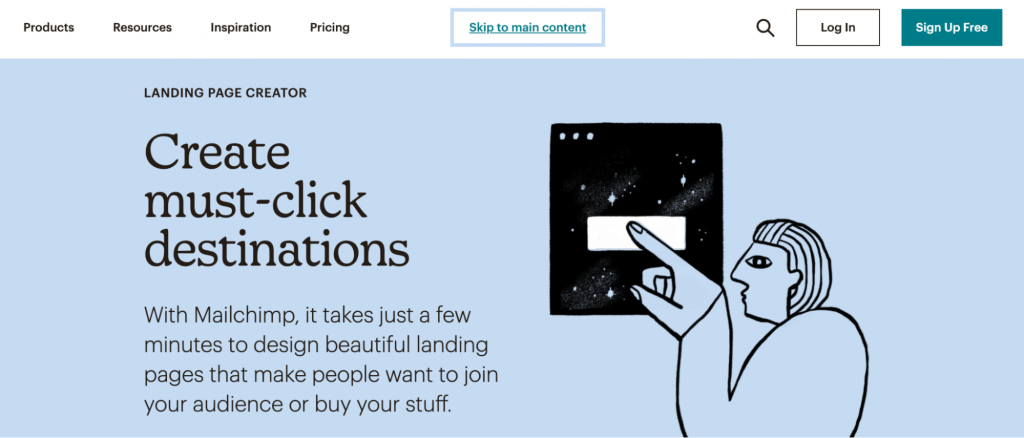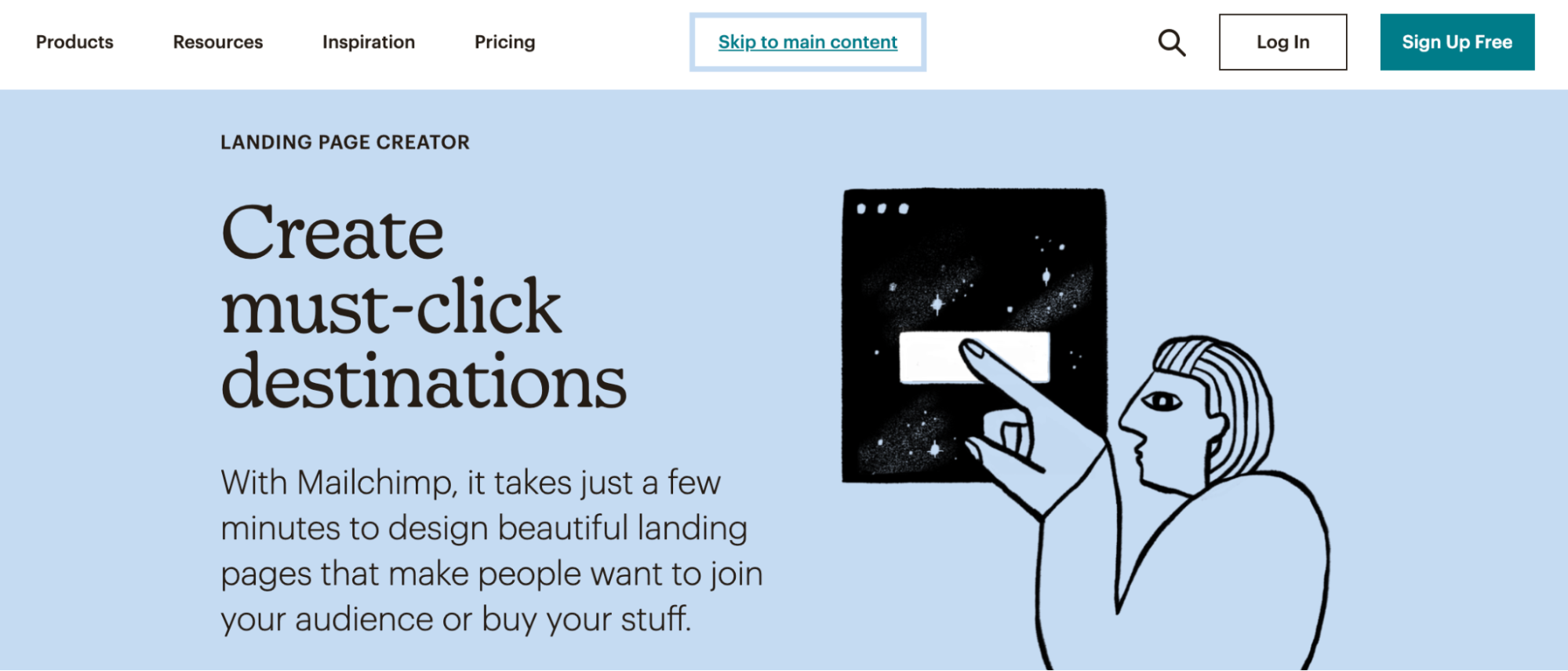 This is the most popular email marketing platform trusted by brands and marketers worldwide. It's an all-in-one platform that can help you to manage all aspects of your email marketing campaign.
It has email templates that you can use to create different kinds of business emails, while its Content Studio is a designer tool that helps you to create engaging emails from scratch. What's more, you can store your own branded images and other visual elements to ensure that your emails follow all brand guidelines.
It also has a brilliant email automation feature that you can use to send bulk emails at the right times to the right people. For example, when a user first signs up for your emails, you can send an automated welcome email using this tool.
Mailchimp also has built-in analytics that provides useful insights into your campaign's performance and ways to improve it. It also includes A/B testing that will help you to test different subject lines and content. With this information at your fingertips, it becomes much easier to adapt your campaigns to get better results.
---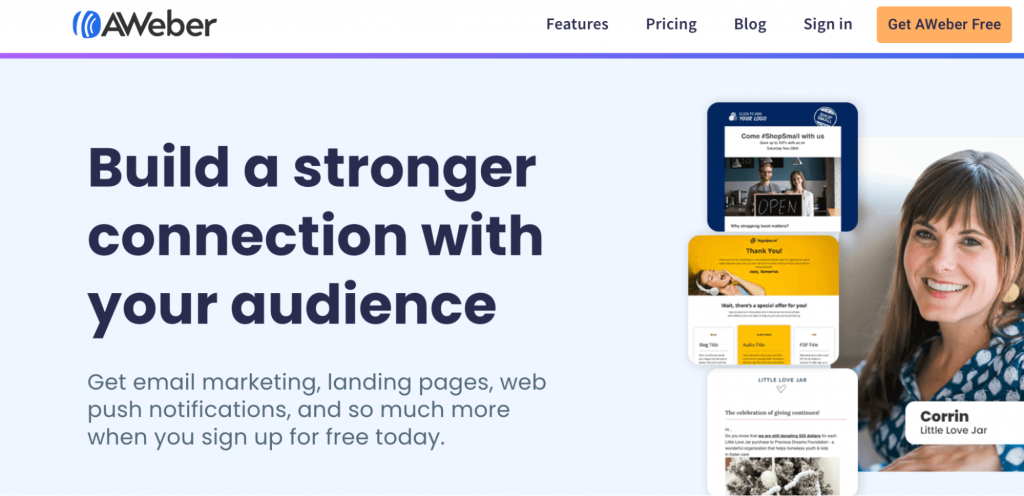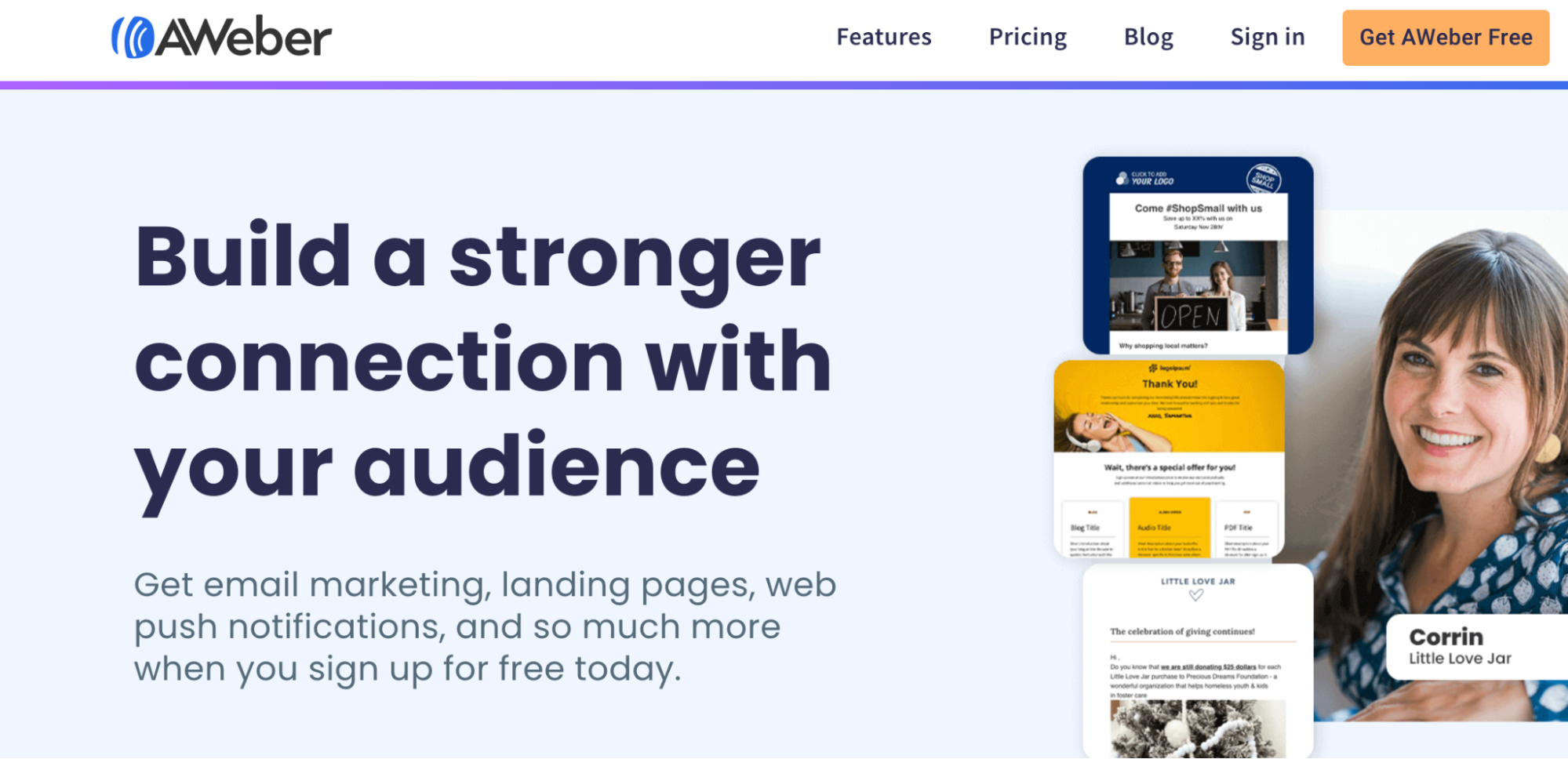 This is one of the top email automation tools and comes equipped with lots of useful features. You can build and save your email lists, design engaging emails, send automated emails, and a lot more with the help of this tool.
It also provides email templates and design tools that you can use to customize your emails. Alternatively, if you prefer to create your own emails from scratch, you can skip the templates and use its smart designer tool.
What's more, it also comes with a built-in analytics tool that can help you to identify areas of improvement and optimize your future campaigns. You can then use the analytics to improve your email segmentation.
---
Wrapping Things Up
Email marketing is a traditional marketing technique that's still hugely relevant in today's marketing landscape. As a matter of fact, according to research completed by the Content Marketing Institute (CMI) almost 90% of B2B marketers in North America use emails as their main way to nurture their lead. What's more, it's also one of the most cost-effective marketing techniques that can help you get more conversions for less.
While there are many cogs in the process, this post covered all the most important basics of email marketing and how to get started with it. From how to build a sizable list of subscribers to subject lines to software, you should feel comfortable to start investing in email marketing right now or have discovered golden nuggets to help improve your current campaigns.
It takes time. You won't see the results you were expecting the first time. You'll need to monitor, make a couple of changes, test again, and monitor some more. So, it's best to use templates and embrace email marketing automation. After all, you don't want to be up at wee hours in the morning just to send an email manually.
Frequently Asked Questions
Is email marketing still relevant?
Email marketing remains extremely important. For starters, it can get you a ROI of over $40 for every dollar that you spend on it. That's much higher than the ROI of other popular marketing strategies like SEO. Marketers simply can't afford to ignore email marketing as it's just too big of a platform. It's expected that by 2023 there'll be 4.3 billion email users! All in all, it's an excellent way to build a community and engage with your audience on a more direct level.
Are there any good email marketing platforms that are free?
Yes, as a matter of fact, there are a number of good email marketing platforms that you can use free of charge. These include Mailchimp, MailerLite, AWeber, and ConvertKit. All these email marketing platforms offer some type of free plan, but limit the number of contacts you may add. Mailchimp is probably the most popular and lets you add up to 2,000 contacts with its free plan. It's especially well-suited for startups and beginners and includes features like email automation, data segmentation, templates, and forms.
What are email drip campaigns?
In a nutshell, an email drip campaign is a type of email marketing campaign that consists of a few emails that are automatically emailed to your email subscriber list on specific dates using a preset schedule. As these emails are timed, they are much more effective than single-send emails that are sent out at random times. From welcoming subscribers to onboarding customers to tackling shopping cart abandonment, there are many types of email drip campaigns that you can create.
What is email segmentation and should you use it?
In short, email segmentation is when you divide your email subscriber list into smaller groups by using criteria like location, gender, purchase history, and interests to categorize your subscribers. The benefit of using email segmentation is that it helps you to send them personalized emails that they will find more relevant, valuable, and interesting. From the subject line to the content, there are various elements that you can personalize. All things considered, personalization is absolutely key to increasing your open rates.
What is an abandoned cart email?
Abandoned cart emails are emails that are sent to customers who added items to their cart, but then never completed the checkout process. It's used by businesses to convert prospects into paying customers. When creating such an email, you'll usually include a catchy subject line, introduction, list of the items that are waiting in the cart, and a call-to-action prompt. If you want to, you can also include a discount or offer as an extra incentive or just social proof, like a product review, for encouragement.