If you're wondering why your Facebook reach and engagement is down, you're not alone. In late 2019, the average reach for Facebook posts dropped by 2.2%. For brands, this meant that posts were only being seen by 5.5% of their followers. Larger brands with bigger follower counts saw averages even lower. Why?
The Facebook algorithm.
While Facebook's algorithm isn't the only factor that impacts reach, it's definitely one of the stronger factors. If you're not keeping up with changes to the Facebook algorithm you're going to have a much harder time getting your posts seen by the people who matter most to your business. In 2019, Facebook made a big change to its algorithm by giving users more control over what they see on their news feed, even giving users an option to find out why a certain post is showing up on their feed. Fortunately, there's a lot that brands can do to make sure that users are seeing their posts—even without the help of paid ads.
In this article, we're going to share a quick overview of how the Facebook algorithm works and how you can make it work for you.
---
The Facebook Algorithm: How It Works and How to Make It Work for You:
---
How the Facebook Algorithm Works
The Facebook algorithm, like search engine algorithms, ranks all the posts that have the possibility of being shown on a user's news feed based on how likely a user will have a positive reaction to that content. Facebook prioritizes posts from friends over brands, emphasizing "meaningful interactions."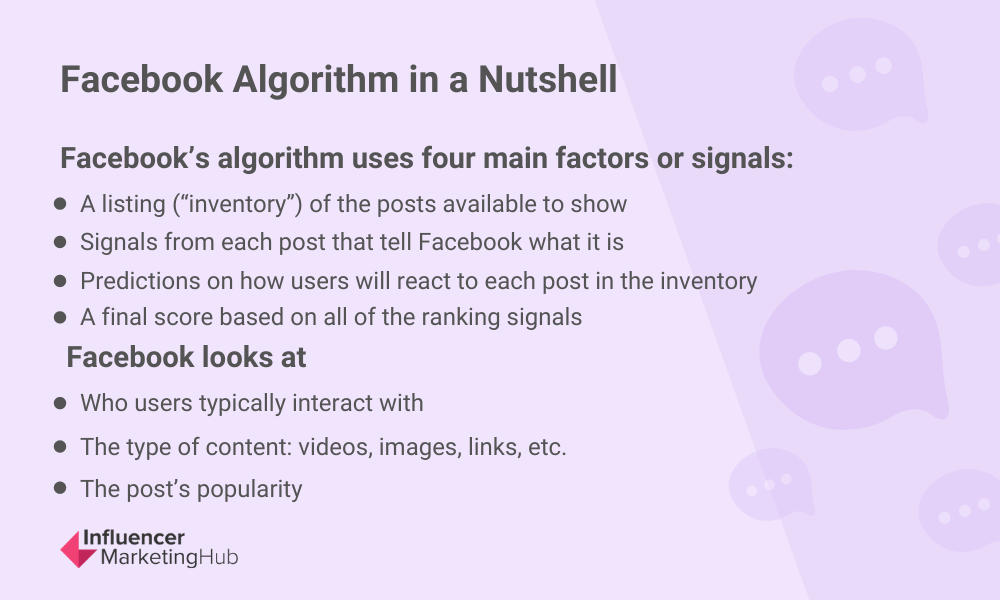 Facebook's algorithm uses four main factors or signals:
A listing ("inventory") of the posts available to show

Signals from each post that tell Facebook what it is

Predictions on how users will react to each post in the inventory

A final score based on all of the ranking signals
Facebook's ranking factors are based on data about user behavior and also take into account the behavior of everyone on the platform. There are three major categories that Facebook looks at:
Who users typically interact with

The

type of content

: videos, images, links, etc.

The post's popularity
As of May 2019, Facebook started directly surveying users to better understand the content they want to see. Facebook asked users things like:
Who are your close friends?

What posts do you find valuable?

How important is this Facebook Group to you?

How interested are you in seeing content from this Page you follow?
Based on those responses, Facebook updated its algorithm to make the news feed better for users. This included showing users more content from Groups and Pages that they've been following the longest or engaging with the most. Other content would then get pushed lower in the news feed.
---
How to Use the Facebook Algorithm Effectively
It might feel like Facebook's algorithm changes were designed to make it harder for your brand's posts to get seen without running ads. And, maybe that's part of it. Facebook makes its money from ads, after all, so it makes sense that they would want to push brands in that direction.
But the powers behind Facebook also know that showing users content they don't really want to see is a surefire way to get them to leave the platform. That means brands will be less likely to pay for ads since Facebook's audience would be smaller. So, let's just assume that it's a combination of things: Facebook wants users to be happy with what they're seeing in their news feeds while pushing brands to create better, more relevant content if they want to reach users without turning every post into a paid ad.
Since Facebook's algorithm focuses on building more authentic or meaningful interactions, your brand will need to create better content with the intent of driving real interactions. How, though?
Glad you asked! Here are 11 ways you can make the Facebook algorithm work for you.
1. Post Content at the Right Time
The Facebook algorithm prioritizes posts with more engagement, so it's important to understand when your audience is online and most active so you can post during those peak times. To get you started, check out our article about the best times to post on Facebook. That will give you a starting point as you work through your Facebook metrics to find more information about your specific audience so you can fine-tune your posting time.
---
2. Post Often and Regularly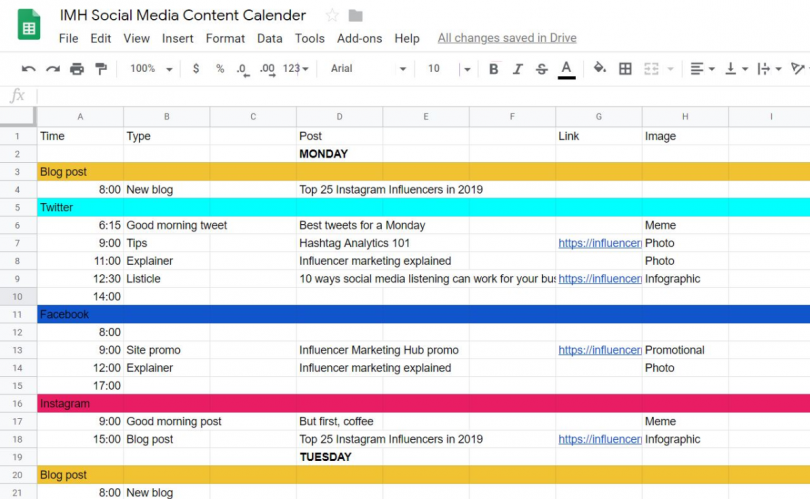 Brands that post consistently are more likely to get better engagement. Facebook's algorithm rewards recency, so aim to publish high-quality content frequently. We strongly recommend creating a content calendar for Facebook so you have content ready to go.
---
3. Focus on Video Content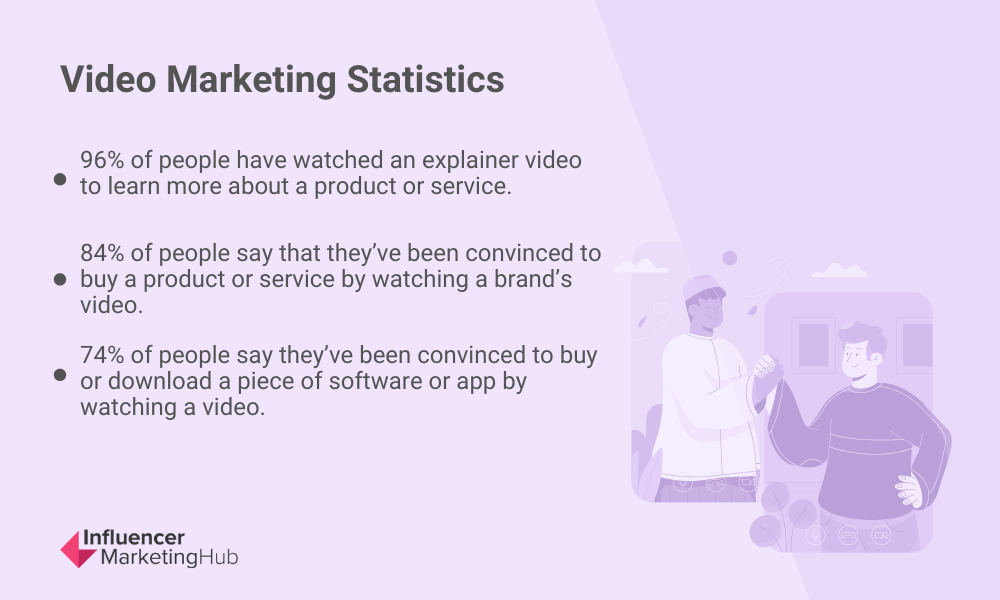 Over the past several years, video content has become more and more popular. If you haven't started using video marketing, stop waiting. According to a survey by Wyzowl (2020):
96% of people have watched an explainer video to learn more about a product or service.

84% of people say that they've been convinced to buy a product or service by watching a brand's video.

74% of people say they've been convinced to buy or download a piece of software or app by watching a video.
And, starting in May 2019, Facebook tweaked its algorithm to show more original, high-quality videos in users' news feeds. There are three ranking factors to consider when creating video content for Facebook:
Intent and loyalty:

create videos that will bring users back again and again.

Length and duration:

your video needs to be engaging enough to get viewers to watch at least one minute, but you can likely skip creating videos longer than three minutes.

Originality:

Like all social media platforms, Facebook prefers original content that isn't repurposed from other platforms.
Also, don't shy away from Facebook Live. When you go live, your followers are notified which is sure to increase engagement.
---
4. Drive Discussion Instead of Fishing for Engagement
You know those posts that your younger cousins used to share all the time: "like if you remember this" or "comment a number and I'll do this?" Well, Facebook is now penalizing brands using those same tactics to get comments, tags, and likes. While that doesn't mean you should never use posts like that (they can be an engaging way to poll your followers), Facebook wants to encourage creators to drive discussions instead of simply asking followers to "like" something.
To drive conversation, use questions and encourage debate. While you don't want to post content that's too controversial, there are ways to encourage debate on topics related to your brand. For example, if you're an email marketing service provider, you might ask your followers' opinions on cold emailing.
---
5. Say "No" to Clickbait and Low-quality Content

In addition to the engagement bait posts we just mentioned, Facebook also actively discourages clickbait. Clickbait uses links and thumbnails that are solely designed to attract attention and get clicks. Most of the time, clickbait is deceptive, sensationalized, or misleading.
Aside from clickbait, there are a few other types of content that Facebook frowns upon:
Misinformation and fake news

Content that's offensive but doesn't meet the threshold for prohibited content

Links to sites that don't add value or that contain stolen or scraped content

Misleading health information

Faked videos that have been flagged by third-party fact-checkers
---
6. Encourage Employees and Partners to Share and Engage
If you have employees or use Facebook influencers, you have a built-in way to use the Facebook algorithm to your advantage. Ask your employees and partners to share and engage with your content to help you stand out on other users' news feeds.
Why does this work?
Facebook prioritizes content from people you know personally, so you're more likely to see content from friends and family than posts from businesses you follow on the platform. By asking your employees and partners to share your posts with their networks, your content will have a greater reach. Plus, people are 16X more likely to read content from friends and family instead of your brand (Survata, 2016). For some great ways to increase the reach of your content, check out these Facebook post-boosting tips.
If you don't already have an employee advocacy program, now's a great time to start one.
---
7. Focus on Images and Tags Instead of External Links
It's no secret that Facebook wants to keep users on its platform instead of sending them to external sites. To that end, Facebook deemphasizes posts with external links, instead prioritizing content that's native to the platform. That doesn't mean your posts with external links are never going to be seen but it does mean that you should have a mix of content with an emphasis on content that's native to Facebook and keeps users on the platform.
Along with using native content, Facebook loves visual content. So do your followers. In fact, BuzzSumo found that Facebook posts with images get 3.2X more engagement than posts without images. Be sure to include a visual (GIF, image, video, infographic, etc.) with every post.
---
8. Create Facebook-specific Content
We briefly covered this in the previous tip but we'll go into a bit more detail here since Facebook-specific content is so important to making the Facebook algorithm happy.
Start by writing unique and engaging descriptions for your posts—even if you repurpose content you've shared on Facebook before. Don't just share the exact same thing. Switch it up a bit to avoid becoming repetitive. This doesn't just apply to your post captions; you can use an image editing tool to turn posts into eye-catching images or turn posts into video content using a video editing tool.
---
9. Leverage Facebook Groups
Facebook Groups are one of the best ways to make sure that your followers are seeing your content at the top of their news feeds more often. You can leverage the power of Facebook Groups by creating a new group for your brand. This group is a place to encourage discussion, provide product education, entertainment, solutions to user problems, and other content that provides value to your followers.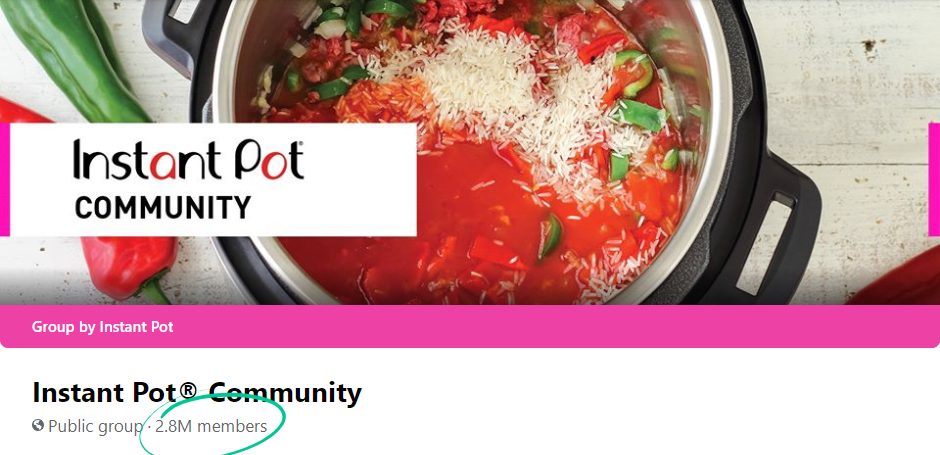 Check out our guide to Facebook Group marketing for an in-depth look at how you can use Groups to connect with your followers and build engaged communities.
---
10. Focus on the Right (Narrow) Audience
Facebook provides excellent audience targeting tools that you can use to fine-tune who sees your content. While it may seem counterintuitive to narrow your audience, you'll see engagement increase as a result. Increased engagement, in turn, means that your content will be rewarded by the Facebook algorithm and rank higher on users' news feeds.
---
11. Run Facebook Ads
Your organic (non-paid) content is going to do a lot to create and nurture relationships with your audience but we would be remiss if we didn't include Facebook advertising as the best and fastest way to boost brand awareness on the platform. With Facebook's audience targeting, you can reach exactly who you need to reach to grow your audience. From there, you'll be able to better understand the type of content that works for the type of people you want to reach.
Facebook ads have a great ROI which is why 93% of online marketers already use Facebook advertising. When you combine Facebook advertising with the 10 tips that we've already covered, you'll get even more out of your advertising efforts. Using organic and paid efforts together is the best way to get your content in front of as many of your target audience as possible while still pushing your organic content to nurture the relationships that you're starting.
If you're new to paid ads on Facebook, be sure to check out our guide to Facebook advertising. If you're ready to jump right into Facebook Ads, here's our step-by-step guide to creating Facebook ads. Already familiar with Facebook Ads but ready to step up your advertising efforts? Here are Facebook advertising tips to make your ads more effective.
---
Make the Facebook Algorithm Work for You
The Facebook algorithm is getting better and better at showing Facebook users only what they want to see. That's why it's so important for you to create high-quality Facebook content that will delight and engage your target audience. Using the tips above, you'll be able to use the Facebook algorithm to your advantage, earning new followers, improving your brand visibility, and boosting your brand on the platform.