Facebook events is one of the social media giant's older products. Launched in 2005, events are the perfect addition to Facebook. They help you find fun things to do, and for event organisers, it's the perfect solution to support your event marketing strategy and for reaching more people fast!
But a lot has changed since 2005. As brand evolution goes, Facebook has taken events to the next level.
---
Facebook Event Photo Size Guide for 2019:
---
Facebook Events Updates
Here's a breakdown of some of the most important features Facebook added to elevate their events product:
RSVP List and Notification
Facebook events provides an "RSVP" list. It displays lists of invitees grouped by their response type ("attending," "not attending," "may be attending," or "hasn't responded").
In addition, another feature that makes events almost magnetic is the way Facebook keeps all information connected is the notifications it provides.
For example, when an invitee accepts an invite, a notification appears in their news feed to notify their friends. This helps events generate the kind of viral marketing traction they need to draw large crowds and be successful.
Reminders for Attendees
Another equally handy feature is event reminders. These appear in an attendee's home page as the event date approaches.
Events App
In 2016, Facebook took a bold step. With the traction events gathered, it became obvious that events was a winner. This lead to the creation of a standalone events app. In 2016, Events was launched.
But like most really great ideas, Events had to evolve. In 2017, Facebook rebranded the app as Facebook Local. They found that events were more than just occasions, they happened at places of interest. So, to create a stronger value proposition for the app, Facebook rolled-in the ability to view shows nearby along with restaurants, cafes, attractions, and drinking spots.
The changes didn't stop at the introduction of a new app. Facebook has also tweaked various elements of how it presents events, specifically, event photo sizes.
They've changed over the years, making it slightly challenging to present a well-designed graphic for your event.
For example, in 2018, we saw Facebook event photo sizes vary across devices and when viewed in Facebook groups and on event pages. Here's what they were then:
On iPad
Event page: 1210 x 632 pixels

Group page: 1128 x 590 pixels
On iPhone
Group and event pages both appeared as 1242 x 650 pixels
On desktop
Event: 1250 x 656 pixels

Group: 1190 x 624 pixels
Fast-forward to 2019 and there have been a few changes to Facebook event photo sizes. These include dimensions and aspect ratios that you need to abide by to ensure that your Facebook event photo renders clearly on various devices.
---
Facebook Event Image Sizes
The official Facebook event photo size for 2019 is 1920 x 1080 pixels with a 16:9 ratio. And while these specs are confirmed, there are a few details you should be aware of.
For example, Facebook event photo sizes should be unique when used in different areas of Facebook. When you're marketing (using paid media) your event, you'll need to create images for ads that will appear on different devices.
Here's a look at what those dimensions should be for the advertising options available:
Facebook event photo size: 1920 x 1080 pixels
Desktop newsfeed display size: 470 x 174 pixels
Mobile newsfeed display size: 560 x 208 pixels
Right column display size: 254 x 133 pixels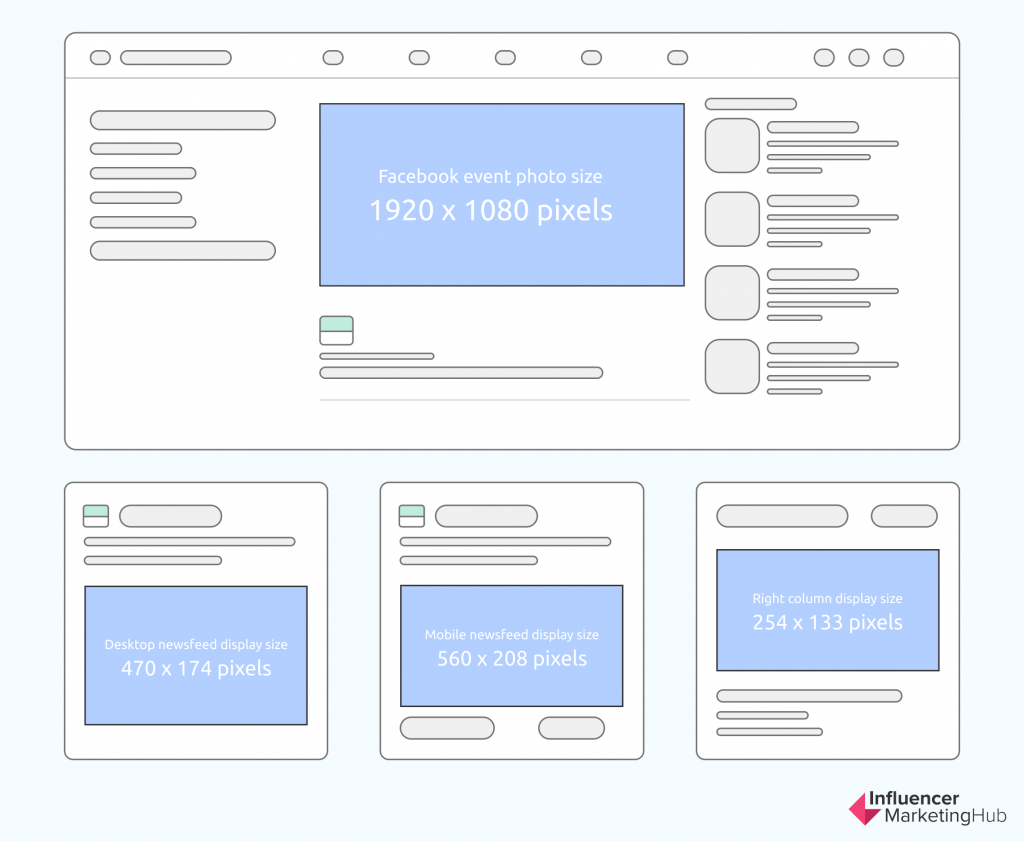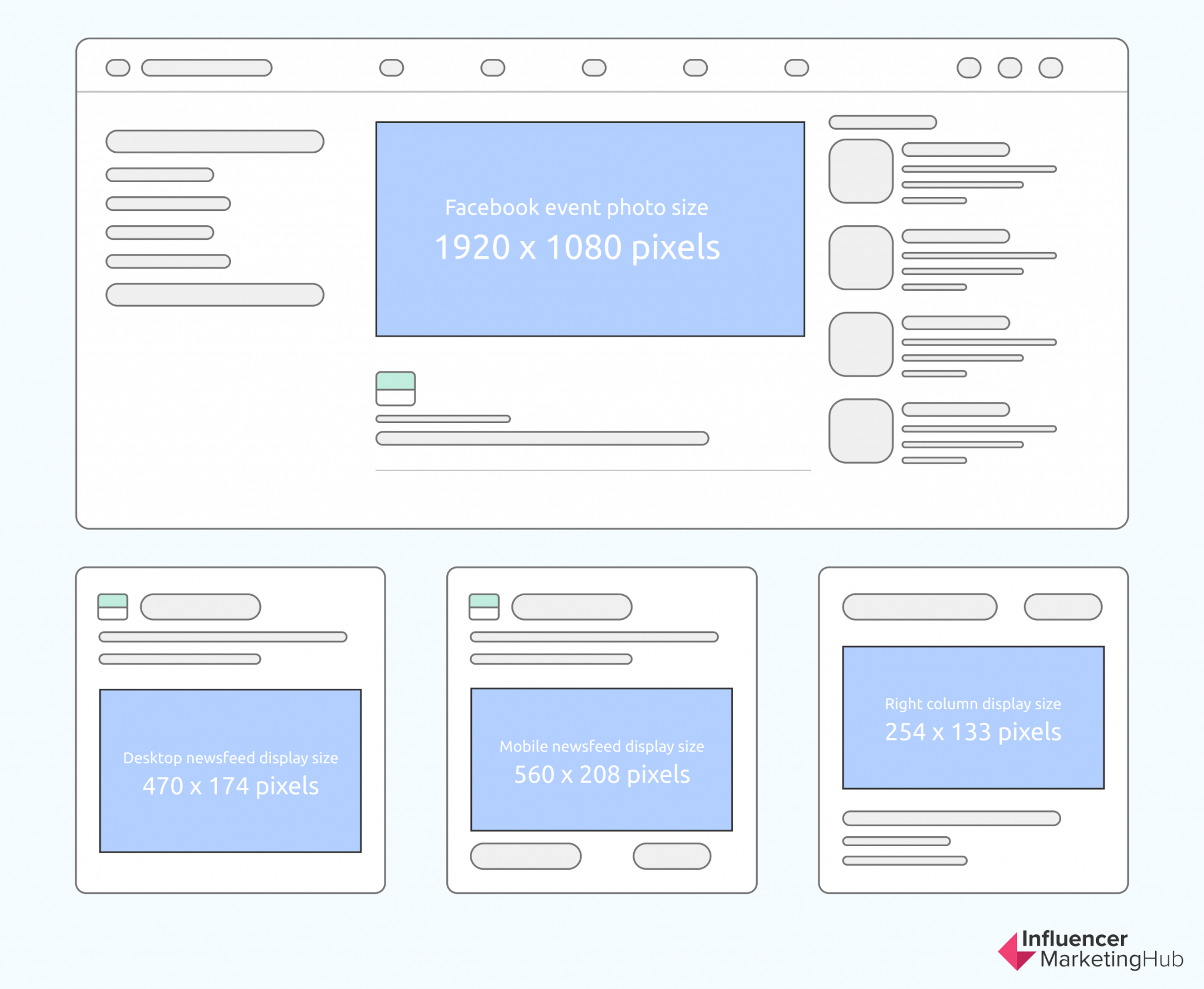 When creating your event, you'll need to provide copy that includes event details. Here's a breakdown on the three display formats and how many characters you'll be able to see:
Desktop newsfeeds display 500 characters

Mobile newsfeeds display 110 characters

The right column ad section displays 90 characters
It's also worth noting that Facebook alters your images slightly. Larger images tend to be cropped at the top, bottom, left and right. This may seem a little challenging at first, but with a little design practice, you'll be able to easily create Facebook event photos sized for optimal viewing pleasure.
---
Free Design Tools to Create Amazing Event Photos
Creating social media images can be a little challenging.
How do you incorporate all the right elements for your design?
Where do you find the right royalty-free images? And what about using clip art, shapes and text?
We've created a list of three easy-to-use and free tools. They come with the above features and a host of others, all geared towards helping you create really engaging images for your Facebook event.
Canva
Canva's been around for a while. They're the go-to solution for marketing teams that need to produce tons of visual content quickly and easily. Canva also comes in mobile app format. You can download Canva on your Android or iPhone and take your creative designs on the road if need be.
Accessing Canvas is easy. You can sign up with a Google or Facebook account. Once in your account, you'll be able to start designing your Facebook event photo.
You can create a new design or use the search box to find templates.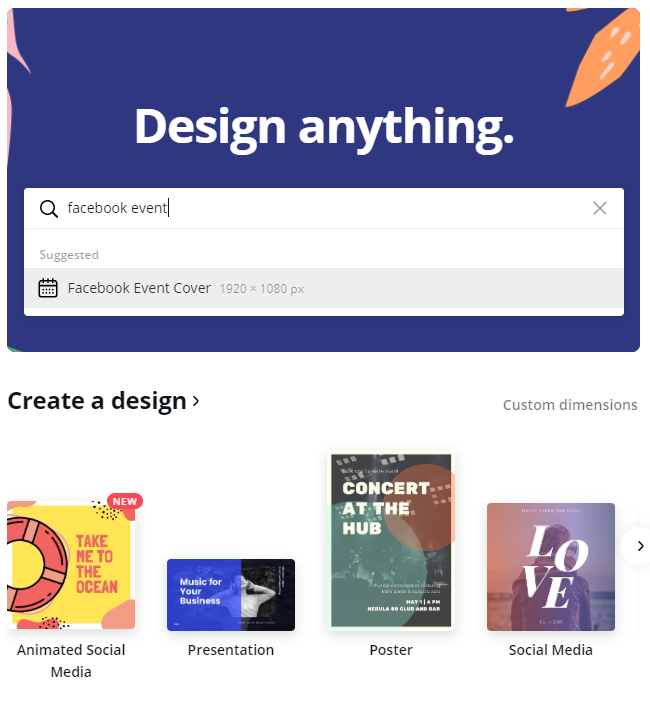 If you're in a hurry, we recommend trying out Canva's template options. They're filled with design inspiration and will help you make light work of what could otherwise be a long and gruelling creative process.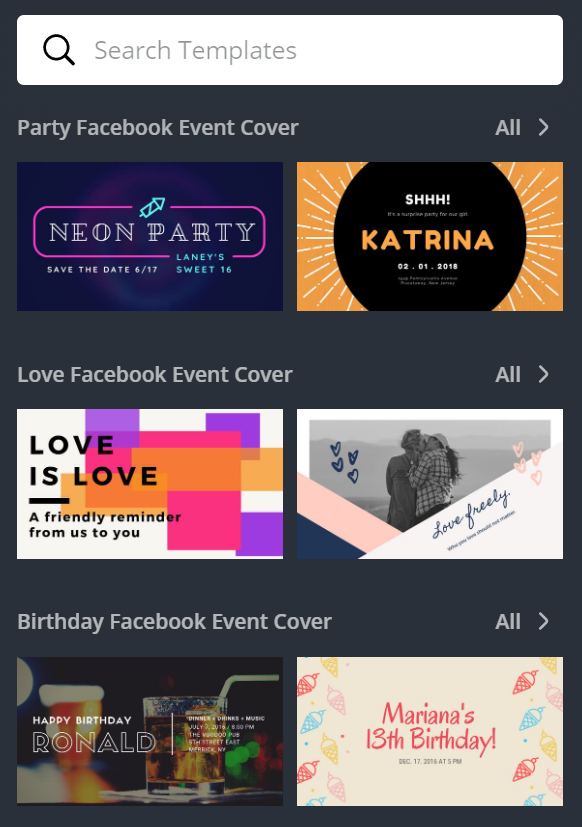 Once you've selected a template you'd like to use, you can begin changing, adding and removing any element of the design.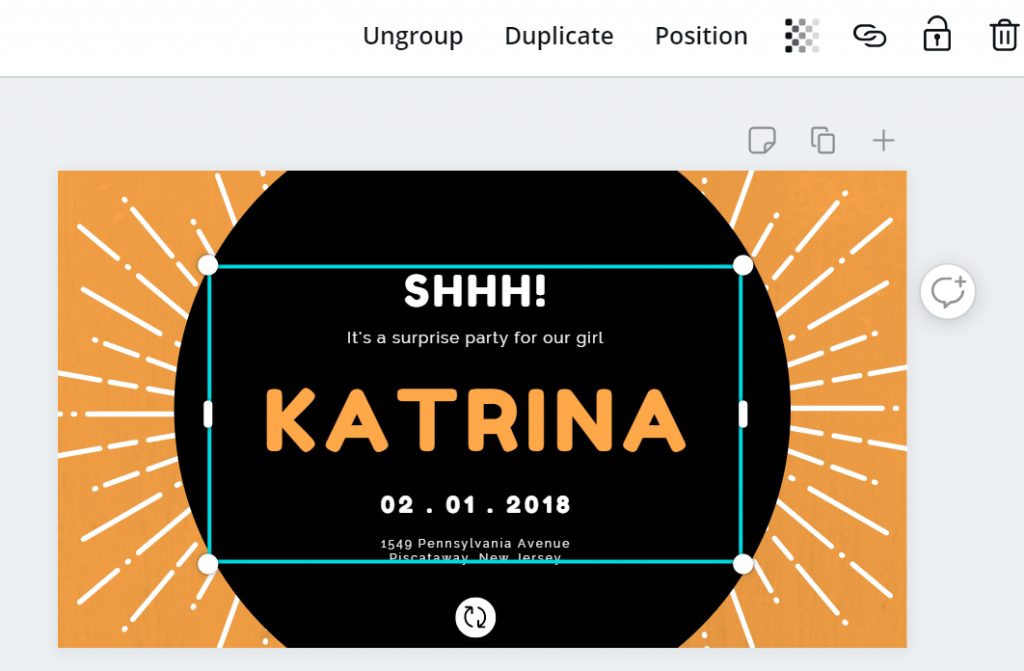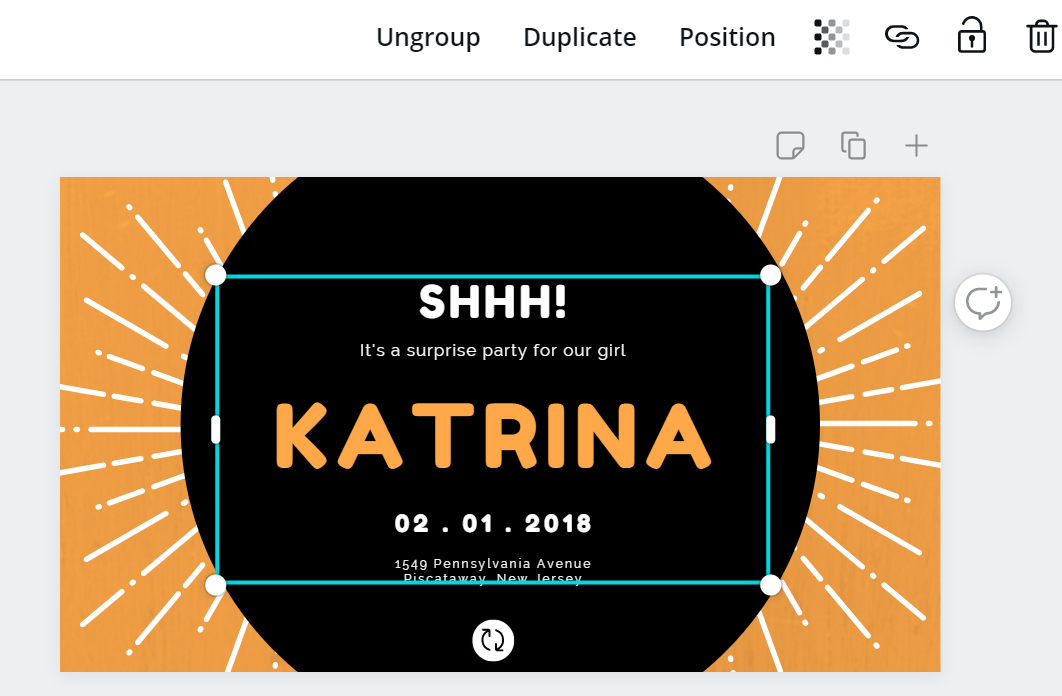 ---
Snappa
Snappa was founded in 2015. Like Canva, they want to help businesses easily create quality online graphics. Their user interface is clean and easy-to-use, making the design of graphics really simple.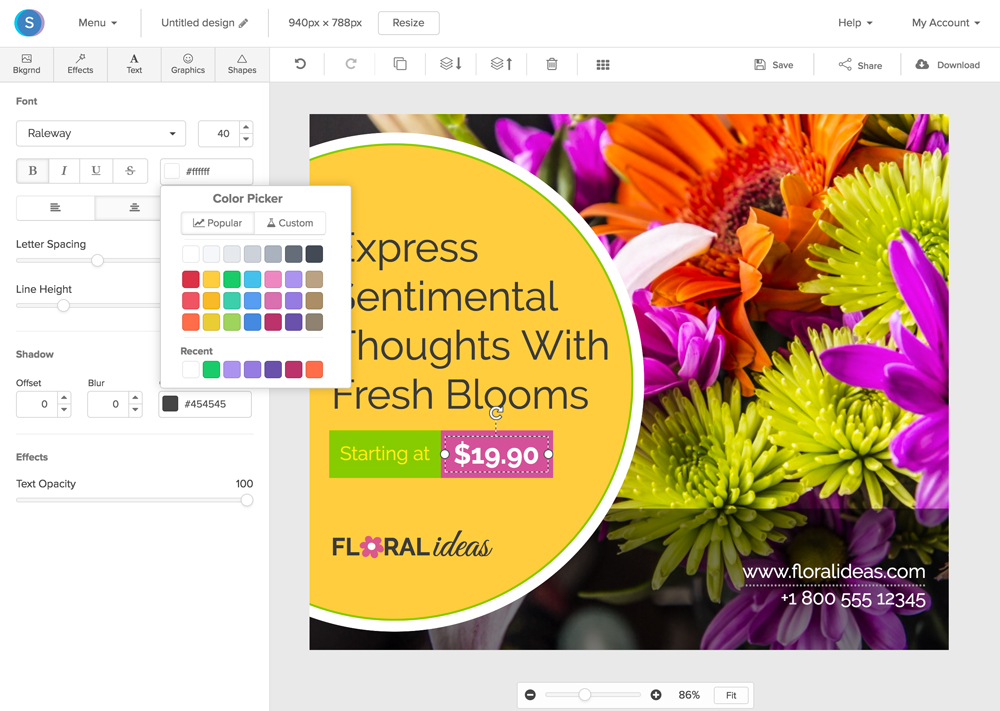 To get started, you'll need to sign up for an account. Unlike Canva, Snappa doesn't offer account creation with your Google or Facebook account, but don't let that deter you from using the platform.
All you'll need to create an account is your name, email address and a password.
If you're new to Snappa, the first thing you'll see when logging into your new account is a quick tutorial on how to create an image in less than a minute. We recommend that you watch it. It's filled with useful tips that will help save you time when creating your graphics.
The tutorial runs you through finding a template and focuses on helping you quickly become familiar with the various features. You'll learn how to where to find graphic elements (images, icons etc) and how to add them to your design.
To design your Facebook event photo size, you can create one using the custom graphic size section at the top of your dashboard.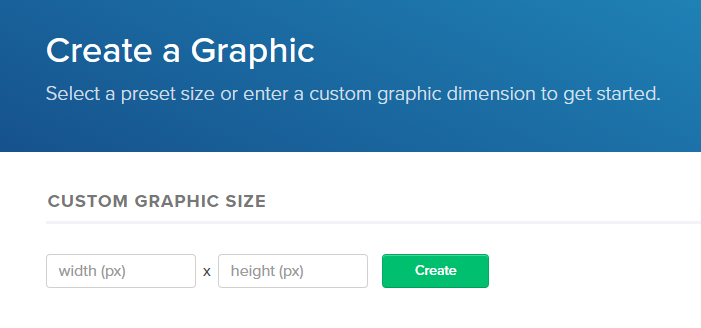 If you'd rather find a template, scroll down a little further to the Headers section and click on the Facebook Event Cover template thumbnail.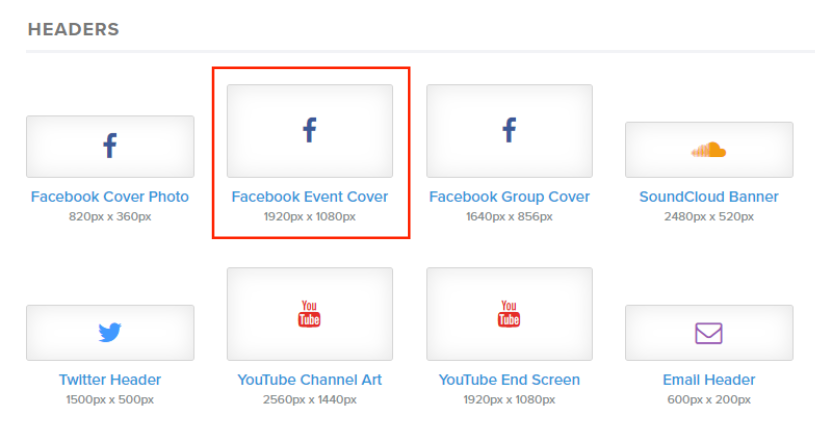 ---
Bannersnack
Bannersnack is fast becoming the favourite for many brands. Their customers include Moz and Neil Patel, Google, AirBnB and Citibank.
As for their design tool, it's every bit as easy to use as you'd imagine. You can make any change you can think of and add text, shapes and all the colour you need for your design.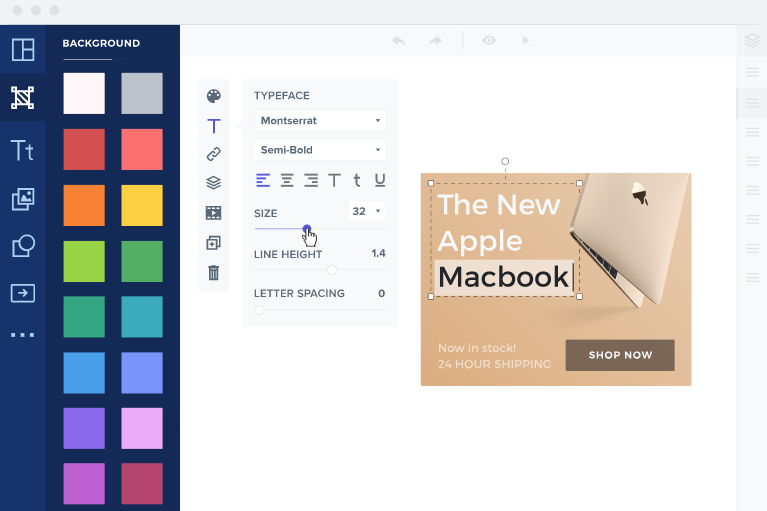 Sign up is possible with a Facebook or Google account. You're also able to create a new account with your name, email address and password if you choose.
To create a Facebook event photo, click on Create New from your dashboard. Next, click on Make a banner.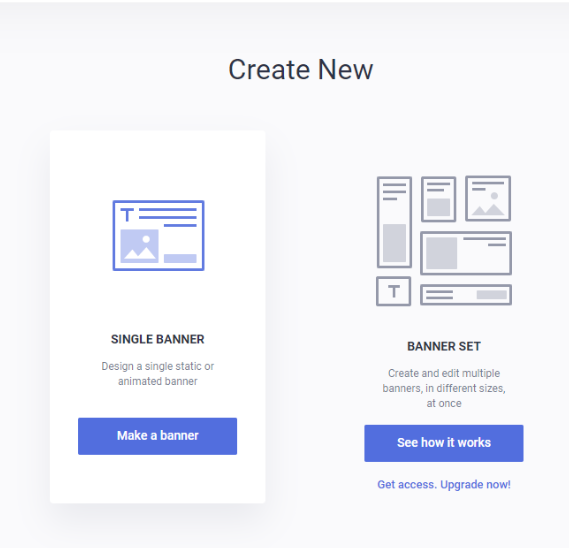 You'll be presented with a collection of predefined template sizes. When we walked through the process of creating a Facebook event photo, we didn't see a template for events but spotted the Custom size option.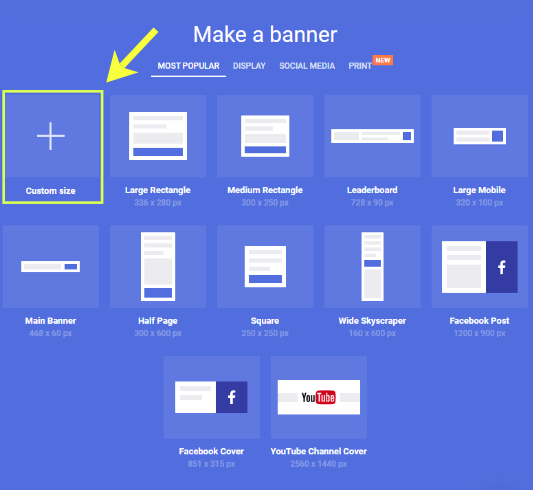 Clicking on it will enable you to manually specify the Facebook event photo size dimensions.
---
Design Tips for Creating Engaging Facebook Event Photos
Making your event stand out requires a little creativity. As people scroll through their feeds, your event photo must be captivating enough to stop them in their tracks and make them want to learn more.
To create an attractive Facebook event photo, you need to understand a few graphic design concepts. With these, you'll be able to design more than event photos. You can take and apply the same concepts to all graphics you need to produce and do so with ease.
Create Contrast
Contrast can be established in different ways. It's used to draw attention to one or a collection of elements or show a difference between elements in a design.
You can create contrast using colour, shapes or patterns.
For example, the story swap Facebook event photo from Canva's template collection (below) uses colours that stand out.
This effect is achieved by using colours further from each other on the colour wheel (seen below).
Colour contract based on colours further away on the colour wheel are referred to as complementary colours. They produce the highest contrast. Colour combinations including those close to each other on the colour wheel are analogous and offer less contrast.
Here's an example of a pattern being used along with a shape to draw attention to the event copy:
As you can tell, patterns are ideally used as backgrounds to draw attention to more important elements of your design.
You can also use shapes and different sizes for design elements. The larger an element, the more important it appears. When it comes to shapes and contrast, they can be used to draw attention to an important design element, as in the example below.
Note how the circle around the woman's face is superimposed on what appears to be two rectangles (one black and one red). Also, see how the words "take action" are enclosed in what appears to be the shape of a megaphone.
---
Wrapping this up...
Facebook events are a smart way to market your event. They offer tons of coverage and the ability to reach a large audience quickly. To make your event as appealing as possible, design an image with the correct Facebook event photo size and include the right colour combinations, and design elements. This way, your event will stand out and get the attention it needs.