You're probably more familiar with Amazon's marketplace than Walmart's Marketplace or many others out there. And that's because Amazon is gargantuan. With tons of categories and products, it's easy to understand why Amazon is so popular. But don't discount Walmart Marketplace. It's growing and offers a tremendous opportunity for anyone in the e-commerce space.
If you sell products on Amazon and are looking for an opportunity to expand your reach, selling on Walmart's marketplace is a smart idea. It's teeming with customers and the platform offers tons of features that make it the perfect fit for savvy retailers.
In this blog post, we are going to look at all Walmart's marketplace has to offer. We'll dive into how to best position your products to take advantage of the large amount of traffic that Walmart sees every day. We'll also look at the application process, how to get registered and what you need, and how to list your products.
Once you're set-up, you'll need a way to leapfrog your competition for better visibility and more sales. To help, we've added a collection of 6 powerful tips. You'll find everything on how to improve your listings, optimize shipping, win Pro Seller status, how to use sponsored ads to generate sales, and more.
But first, here are four reasons why you should be thinking about selling your product on Walmart's marketplace.
---
How to Sell on Walmart Marketplace: The Ultimate Guide:
---
1. Tons of visitors
Walmart gets tons of visitors to its website. On average, walmart.com received over 400 million searches between April and September of 2021. These were searches conducted by people looking for products to buy and this is an awesome opportunity for you. With 400 million visitors, you have the opportunity of getting your brand and your product in front of ready-to-buy customers.
2. No registration |Fee Only Referral Fees
Walmart doesn't charge a registration or monthly fee for access to its marketplace. If you're an Amazon seller, this sounds attractive. Amazon sellers are charged a fee of $39 per month. Instead, Walmart marketplace sellers pay a referral fee for each product sold. Referral fees range between 8% and 15% of your product fee and are based on product categories.
3. Smart and Effective Fulfillment
You'll love the idea that you can transfer all the hassle of managing the fulfillment of orders to Walmart. Like Amazon, you can send all your product to a Walmart fulfillment warehouse to be stored. When a customer places an order from Walmart.com, Walmart Fulfillment will handle packaging, labeling, and shipping. Pretty neat, right?
4. Free Customer Support
And if you love the fact that Walmart takes care of your fulfillment, you'll really appreciate that they also handle customer support. This means far less work for you on the operational side of your business, freeing you up to focus on other important aspects like marketing or optimizing your listing for greater visibility and more sales.
---
How to Sell Products on Walmart Marketplace
Walmart, like Amazon, has specific criteria you must meet to be able to join its marketplace. In short, you need to have a registered business and be based in the United States. Let's get into the details of the application process.
Completing Your Application
Unlike Amazon, to be eligible to sell on Walmart's marketplace, you need to create a request. Your request includes an application process where you'll be required to enter specific information about your business. This information includes details like your tax ID, where your business is located, and information about your products.
Here's a complete list of requirements:
While the application is considered a request, it can be approved in as little as 10 to 15 minutes. This is all dependent on you getting the right information to Walmart as they need to approve your application. So be sure to complete your application with all the information required to move things along quickly.
---
Registration
Application out of the way, it's time to register for your actual Walmart marketplace account. This happens in a few steps. First, lookout for an email with your registration link. Next, complete the registration process which includes 6 steps. Here's a look at each step:
---
Create your account
Create a username and password for your Walmart Marketplace seller account.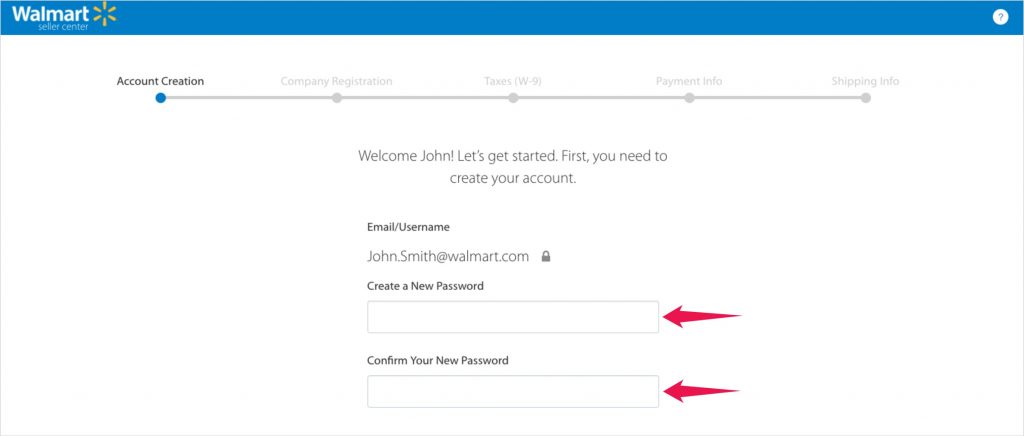 Note: You'll use these credentials to log in to Seller Center. This is where you'll manage your seller account, so keep your credentials in a safe place.
---
Accept the Walmart retailer agreement
Next, review and accept the Walmart retailer agreement. This is a legal agreement, so be sure to read it thoroughly before accepting it.
---
Register your company
Enter your company name and corporate address.
Note: Your "display name" is the name that will appear when people view products and your brand on Walmart.com. Your corporate address won't be published on Walmart.com but used for internal purposes.
---
Complete tax forms
Fill out a W-9 form for tax purposes. You must include your name, address, and TIN (Taxpayer Identification Number).
---
Add Payment information
Walmart has partnered with Payoneer (Payoneer.com) and Hyperwallet (Hyperwallet.com). You have the option of selecting either as your method for receiving payment for all sales.
Note: You must have a registered and active account with either payment provider to link it to your seller account. These are generally easy to create and should take no more than 10 minutes to set up an account. If you have a W-8ECI tax classification, you can only use a Payoneer account for your Walmart Marketplace registration.
---
Enter Shipping info
Select your shipping pricing model, shipping methods, choosing between Value, Standard, Expedited, and Next Day. Include the regions you're able to ship to.
The shipping module of your account includes other features such as shipping templates (more on those later). After initial setup, you'll be able to dig deeper into your shipping strategy and create unique shipping templates.
---
Listing Products and Going Live
You're in the final stretch. Before you can go ahead and actually activate your account, upload a few products and test them. Uploading and testing your products is essential. It helps you identify any hiccups in naming conventions or product listings and pricing that could lead to negative experiences for your customers.
Set up your top-selling product as part of your test phase and be sure to create complete listings with accurate information and pricing. These listings will be used for testing purposes but will also be the listings that go live immediately once your account is activated. Be sure to include a couple of categories and link them to the appropriate product.
Having set up your test products, all listings with accurate information will be assigned 'stage' status, meaning they will go live as soon as your account goes live.
Your testing phase involves completing a few test orders. Place a couple of orders and complete:
Order acknowledgment

Perform an order cancellation

Select your shipping

Complete an order refund
With these tests out of the way, you're ready to go live. Walmart will need to complete its final review process before activating your account and allowing customers to purchase products. Once your account goes live, it will take 24 to 48 hours before your products appear in search results.
---
Select an Integration Method
Integration is about managing your inventory. This includes creating product listings, including images and other media, having accurate pricing, managing orders, fulfillment, and more.
Integration is something that that you can perform on you can do this by using Walmart's API, Bulk Upload, or a combination of both. If you're not comfortable with the idea of handling your own integration, we recommend looking into working with an integration partner, and Walmart has a list of integration solution specialists.
Integration partners are solutions providers that offer specific services or a combination of eCommerce services. They are capable of handling everything from setting up products, managing inventory and order fulfillment, managing pricing, and much more.
There are different kinds of integrators, too. They include:
Full-Service Solution Providers
These integrators cover the entire spectrum of services you would need to run a successful marketplace account. They can help with item setup, inventory, order fulfillment, pricing, and office support for any questions or issues you might have with your account.
Specialty Solution Providers
This kind of provider specializes in one or two specific functionalities. Marketplace sellers can choose between item setup, pricing, inventory management, order management, shipping and fulfillment, payments, and more.
Connected Content solution providers
Connected content solution providers specialized in optimizing product listings and content. This includes everything from producing high-quality images and rich media, to managing syndication and tracking analytics for your product listings.
Agency Solution Providers
Agency Solution Providers act as advisers. Their goal is to help you improve specific aspects of your business to help you generate the most ROI possible.
DIY or Select a Solutions Provider?
If you're a little lost about which type of integration partner to use, here's a checklist with some of the most common yet integral questions to ask:
What capabilities do you not have in-house?

What capabilities can I afford to outsource?

What are my expectations of the provider and the service I require (think support availability, dedicated help from an account manager)?
If you know that you must outsource integration, here's a list of 9 questions to ask prospective solution providers:
Do you perform item integration and offer variation and swatch support?

Is order integration available, including order cancellation, refunds, and shipment services?

Do they offer price integration, including price promotion and dynamic product repricing services?

Is inventory integration available?

Are they able to synchronize eCommerce data across multiple marketplace platforms?

What are their prices (including launch fees, setup fees, and monthly support fees)?

What kind of support do they offer (e.g., phone, email, chat) and what are their office hours?

What is their response or SLA time?

Do they provide dedicated agents or account managers)?
---
Tips for Crushing it on Walmart's Marketplace
Congrats! Your Walmart Marketplace seller account is officially live. Walmart is like any other marketplace and will only become more competitive over time. To ensure that you stay ahead of the curve, here are 6 tips on how to make your store the most successful version it can possibly be.
1. Perform Regular Health Checks
Walmart's Unpublished Items Dashboard is one of the platform's best-kept secrets. It's filled with tons of valuable information that when used can propel your seller success. The Unpublished Items Dashboard is where you'll be able to perform health checks on your listings. You can ensure they are published and ready for customers to purchase, and identify any listing that suddenly becomes unpublished (which can happen for any number of reasons).
If you've never used the Unpublished Items Dashboard, or aren't as familiar with it as you want to be, here's a helpful video that will help. It will show you how to find and navigate your way two the Unpublished Items Dashboard, quickly troubleshoot unpublished items and listings and appeal and publish items with trust and safety, and business issues.
---
2. Improve Your Listings Walmart's Listing Quality Dashboard
The listing quality dashboard is where you'll find intelligence on how customers experience your products, and offers the opportunity to optimize your listings for better performance. To access your listing quality dashboard, head over to analytics and reports and click on growth opportunities. You'll be able to filter products by those that are trending or by Walmart fulfilled products. On your dashboard, you have access to a wealth of information.
This includes:
A Listing Quality Score
Criteria include content and discoverability, the quality of the offer, as well as ratings and reviews.
Post-Purchase Quality
Post-Purchase quality represents a percentage of the number of issues raised or products you have sold.
Pro Seller Badge
You'll be able to review the status of your performance towards receiving your pro seller badge.
Once logged in to view your Listing Quality Score, you'll be able to examine the issues associated with your current score. To view a list of all products that have issues, you can search by title, SKU, or item ID, or you can filter by score ranges. Once you've found an item you'd like to examine, click on Details to get a good look at an item's sales rank, listing quality stats, rating and reviews, content issues, offers, and post-purchase feedback.
To improve your Listing Quality Score, click on the Issues tab for a look at what is adversely affecting your score. Be sure to also click on the Offer tab for a closer look at what you can do to improve your score.
Work with Integration Solution Providers
If you find that certain aspects of running your marketplace account are just beyond your reach, you should consider hiring a solution provider. They are effective because they offer systems designed to improve specific or all aspects of your business, giving you more time to focus on your strengths.
---
Attract More Customers With Free, Expedited Shipping
Shipping is a big deal. From your shipping options to how efficient you're shipping and performing is, the better you can perform, the greater chance you have of running a wildly successful Walmart seller business.
How do you take advantage of more effective shipping? Let's start with…
Free Expedited Shipping
As more people go online to purchase products, free shipping and handling fees are promoted by eCommerce websites in a bid to attract more customers. After all, who wouldn't want free shipping? Walmart has come out with free shipping as an attractive option for customers with some product placements getting more attention from website visitors. Research shows that products with TwoDay shipping tags received up to 75% more impressions and sellers who enabled TwoDay delivery enjoyed a 40% increase in GMW.
How can you use expedited shipping services? Walmart has done a great job of presenting its marketplace sellers with two options to get their goods to customers. Today you have the option of choosing from their TwoDay and TwoDay and ThreeDay shipping options.
Both shipping options are free to customers and available to you at an affordable fee that you absorb. The upside is that using either shipping program makes it easier to get products out to customers. You no longer have to stress about finding the cheapest provider or managing relationships with multiple courier services. Here's a look at both shipping programs:
---
Walmart's TwoDay Shipping Program
Walmart's TwoDay shipping program is managed through Walmart Fulfillment Services. This means all you need to do is get your stock over to the warehouse and they'll take care of the rest. You'll be able to offer your clients 2-day delivery, have nationwide coverage, enjoy inventory management, have access to customer services, work with an account manager, and also benefit from their easy returns service.
The cost structure is based on a fixed monthly storage and a fulfillment price. Your fulfillment price is based on the shipping weight of whatever you ship to a customer.
---
Walmart's ThreeDay Shipping Program
Walmart's ThreeDay shipping program is a cheaper alternative to Walmart's TwoDay shipping program. The ThreeDay Program may be cheaper, however, all sellers still benefit. Products with two- and three-day delivery options received 30% to 50% more conversions on average.
ThreeDay shipping can be handled directly from Walmart's fulfillment center or by you. The ThreeDay option comes with Buy Box prominence, a fast delivery promise, and regional settings. The TwoDay option comes with the above and a fast delivery tag, filter inclusion, improved search rankings, and smart tags.
---
Optimize Deliveries With Shipping Templates
A shipping template is a way to streamline your shipping operation. It's a basic framework that allows you to optimize how your products are delivered based on which fulfillment centers you use, your fulfillment network, and your product assortment needs.
How do shipping templates work?
Shipping templates can be used to establish the most direct path for the delivery of products. And you'll appreciate that you can leverage Walmart's fulfillment network for the fastest delivery to customers across the country. Walmart offers over 140 granular delivery regions with flexible delivery times. You'll never have to worry about getting your product to a customer on time.
Shipping templates also work with two- and three-day delivery options, and this makes it more affordable, especially for deliveries to further destinations. Shipping templates can also be applied to specific products.
---
Offer Enhanced Returns
Returns for online goods are never an easy process. They always feel like an inconvenience. To help, Walmart has created Enhanced Returns. It's a way for you to elevate your brand's customer experience, serve more customers, and make it easier for returns to be processed.
Enhanced Returns allows your customers to return products to any Walmart store or designated carrier. As you'd imagine, this simplifies the return process considerably. Walmart has 4743 stores across the United States, making it easy for customers anywhere to show up at a store and complete a return. Not only do you get access to over 4000 stores to handle your returns, but you also benefit from Walmart's free shipping service if the item returned meets specific criteria.
---
Stand Out From the Competition with a Pro Seller Badge
Proving your status as a trusted retailer isn't always easy online, even in marketplaces. There are customers with horror stories to tell about how bad service was or about the poor quality of a product received.
Walmart's found a way for customers to experience fewer headaches. It's called the Pro Seller badge. Pro Sellers get to display it with products they sell. The Pro Seller Badge represents quality customer service, consistent on-time delivery, and free online and in-store returns. While not the most prominent feature, it offers a pop-up when moused over. Customers will see, "Sold & shipped by [Your Seller Name]".
Qualifying for your badge isn't a one-time thing. Criteria are refreshed twice every month, and Listing Quality is linked to eligibility. You must reach and maintain a score of at least 50% for 60% or more of sellers' trending items. Walmart Marketplace automatically grants (revokes) Pro Seller Badges according to the criteria.
Here are the qualification criteria for a Pro Seller Badge:
Delivery Defects Rate: < 10%

Cancellations: < 2%

Listing Quality Score: 70% of a seller's trending catalog must be above 60%

Orders: more than 100 in the last 90 days

No Trust & Safety or Performance Standards violations

Seller is active for at least 90 days
To see if you qualify for one, or how far you are from qualifying, head to your marketplace account. Under Analytics & Reports, select Growth Opportunities. Next, navigate to the Listing Quality Dashboard and view the Pro Seller Badge section.
---
Leverage Sponsored Ads
Paid advertising is a quick way to get in front of ready-to-buy customers. For a small fee, you're able to promote products in any category. And the great news is that Walmart offers sponsored ads to help marketplace sellers reach a wider audience and make more sales.
What do you get with Walmart's sponsored ads? Your ads are displayed throughout Walmart's marketplace. You only pay for the ads that customers click on and you get to choose your budget, keywords, target audience, and place bids manually.
Like most ad platforms, Walmart offers manual and automatic ads campaign management. You have the option to manage your ads manually but many sellers have found that opting to have automatic campaigns is better. This is because, like many other AI-driven platforms, Walmart's algorithm can figure out what's working immediately to position your ads more effectively. Put another way, while you may want to check your ads daily, it'll be hard to optimize them as effectively as an AI that doesn't need to sleep or eat.
You should also know that Walmart has a minimum daily bid and total campaign value. To be able to set up an ad you need to have a minimum of $100 for your campaign and dedicate $50 for daily ad spend.
Sponsored Ad Types
Walmart currently offers four different types of ad placements. These include:
Search In-grid Placement
These are CPC ads that appear on the first three pages of search results, occupying positions 1 to 12. Based on the positioning you can tell that this is valuable ad placement. To be eligible for Search In-grid placement your product must meet the following criteria:
Products must organically appear within the top 128 search results

Products must win the Buy Box products must rank higher than or equal current organic search ranking

Your product must appear in the same category as its search query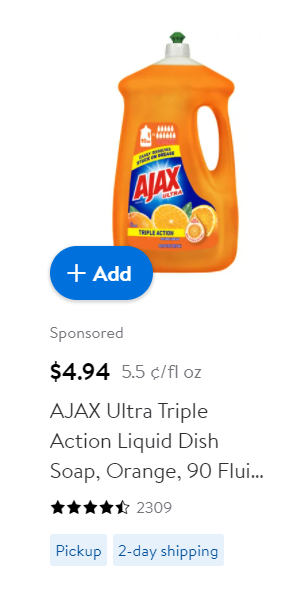 ---
Product Carousel Placement
Carousel ads appear at the bottom of search page results (including the relevant category and products pages, considered, viewed, and bought by other customers' results pages). Unlike Search in-grid placement ads, the only criteria for product Carousel placement is that your ads are managed automatically by Walmart.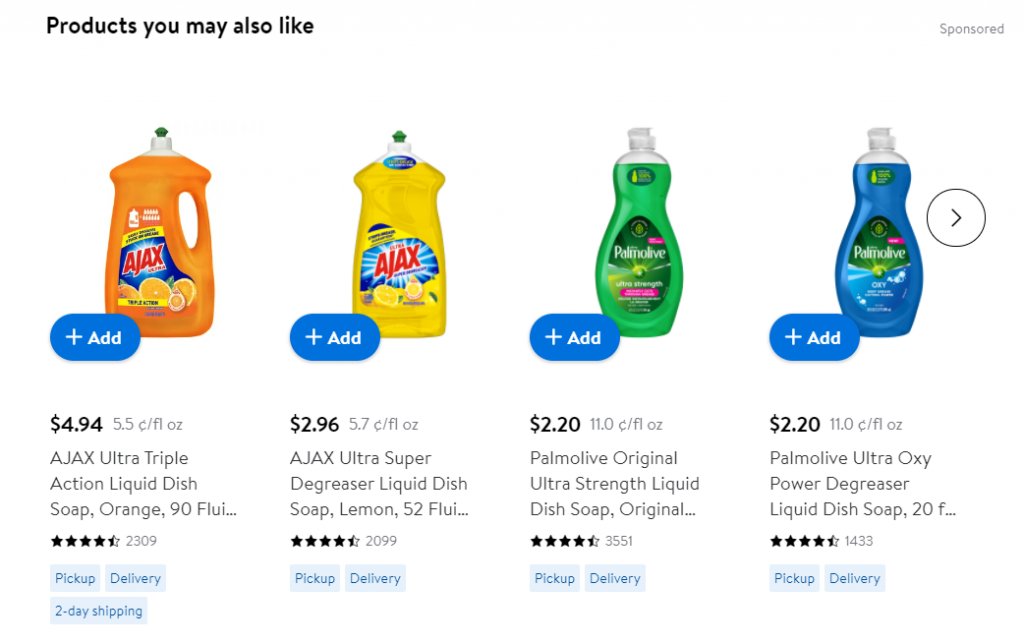 ---
Buy Box Placement
The Walmart Buy Box is found on the product detail page for products they relate to or complement. As imagined, this is another hot spot on Walmart's website. Customers often opt for upsells and your ad will appear right as they are about to make their purchase. As with product Carousel placement ads, Buy Box placement ads are only available through automatic campaigns.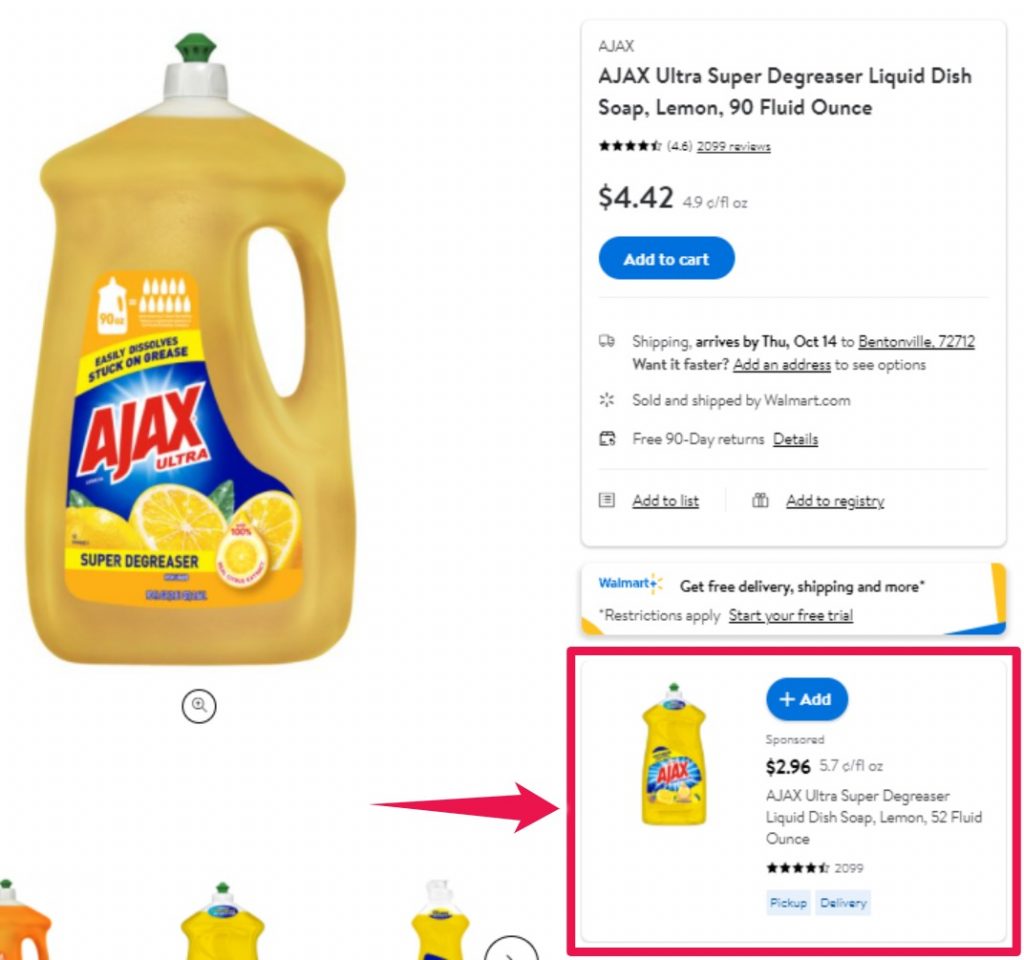 ---
Search Brand Amplifier
Search Brand Amplifier ads are a powerful branding and sales opportunity. They appear towards the bottom of the page and include your logo along with products that are related to a user's search. The only criteria here is that search Brand Amplifier ads are available to first-party sellers and not third-party sellers.

---
Wrapping Up
And there you have it, all you need to know about crushing it on Walmart's marketplace. As you can tell, there's tons of information that will help you establish your business and brand and position it as effectively as possible. If this is the start of your Walmart marketplace journey, take your time to ensure that you execute on the details. Success on marketplaces is greatly impacted by the tiniest elements. For example, forgetting to provide one document during your application process can lead to unnecessary delays in your account setup.
If you're an existing Walmart marketplace seller, be sure to use our tips for crushing it on Walmart's marketplace. These are publicly available, but as with most things in life, not completely explored by thousands of Walmart sellers. You may be excited and want to execute all of them at once but take your time.
Start with one tip, implement it, and see how it works for your business. Gaining access to features like a Pro Seller Badge will require a proven track record, but it's not out of reach. Lastly, remember that your business is all about your customers. Make sure you're not the bottleneck in your enterprise. Deal with customer queries and issues as soon as possible and give your brand and business the best chance at success.