Podcasting is all the rage these days with a growing adoption among consumers. In fact, the latest podcast stats report that 62% of U.S. consumers listen to podcasts. This makes it one of the most popular channels for brands and influencers alike to connect with their audience. And what better place to start a podcast than through Spotify, which is currently the leading podcast platform globally?
In this guide, we explore the essential steps to start a podcast on Spotify. You'll get to learn all about how to meet Spotify's requirements and how you can promote your podcast. Let's get started.
---
How to Start a Podcast on Spotify:
---
Understanding Podcasting on Spotify
According to the podcast stats mentioned above, Spotify is the top audio podcast platform globally. The platform boasts 100 million podcast listeners and continues to see consistent growth in this number. Podcast consumption on the platform has seen a growth rate of 1400%. Moreover, Spotify now has more than 5 million shows to cater to its podcast listeners.
Judging from these numbers alone, it's clear that Spotify has a lot of potential for those who wish to start a podcast. The platform already has a massive and established user base, which means you can tap into its existing listenership to grow your own audience.
That said, the platform also attracts a huge number of podcast creators due to its solid standing in the podcasting space, which means competition is tough. So you'll need some effective podcast marketing tactics to make it as a Spotify podcaster.
---
Steps to Start a Podcast on Spotify
With that out of the way, it's time to look into the process of starting a podcast on Spotify. Take a look at the following key steps.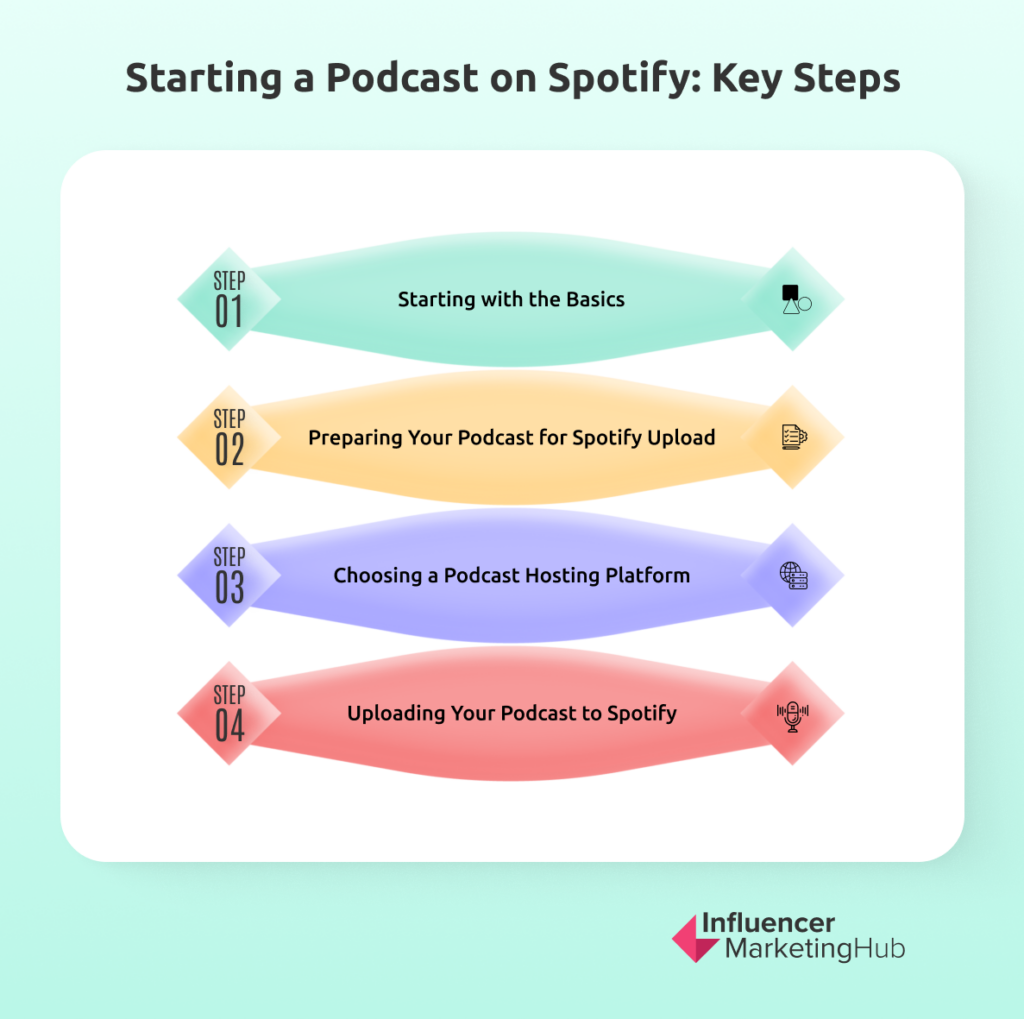 Step 1: Starting with the Basics
Before you can even think about getting your podcast on Spotify, make sure you get the basics sorted out. It's important that you get the foundational elements right so you can have a strong start in the podcasting scene. Here are a few essential steps that you need to take before starting a podcast.
Decide on your podcast topic
First, think of what your podcast will be about. This is as simple as asking the question – What do you want to talk about? For individual creators, the answer may be a lot easier since you can focus on your interests or areas of expertise. Brands and groups may find it a little more complex to decide on the right podcast topic.
Whatever topic you decide on, make sure it's something that you're interested in and can offer value to your audience. You should be able to talk at length about the topic so as to provide your listeners with in-depth information. Moreover, there should be an opportunity to break up the topic into several sub-topics so you don't run out of podcast ideas.
---
Determine the right format
Format is an important aspect of your podcast that will influence its success. Will you be doing it solo? Or will you invite guests and interview them? Perhaps you might have a roundtable-style podcast instead with multiple speakers or co-hosts joining in on the conversation.
The format that works for you really depends on what you're most comfortable with. Keep in mind that the format may also have an influence on the duration of each episode. When you have multiple people discussing the topic, for instance, you're more likely to have podcasts that run on for longer.
You can even experiment with different formats based on the subject of each episode. This is a great way to see what works well for your channel and what your audience prefers.
For its TRAINED podcast, Nike follows an interview podcast format. In each episode, a host interviews the world's leading athletes and experts to talk about physical and mental wellness. The casual, conversational style allows them to keep things interesting while still providing listeners with valuable insights and takeaways.
---
Understand your audience
Having a distinct idea of your audience is an essential step to building a loyal and engaged listenership. When you know the type of people who will be listening to your podcast, you can align your voice and approach to better resonate with them.
To define your ideal audience, start by defining your niche and then think of the types of people who will be interested in the topic. Then try to get a better understanding of this audience. Think of their interests and values as well as what moves them and motivates them. This will give you a better idea of how to best reach them through your podcast.
---
Develop your podcast branding
Once you have the topic, format, and target audience figured out, it's time to get to the branding aspect of your podcast. This is the factor that will decide just how memorable and appealing your podcast will be, so it's important to be very strategic.
Come up with a catchy name that would instantly captivate your target audience. If possible, try to include your main focus area as a way to incorporate keywords into your podcast name. This could improve the chances of your podcast showing up in relevant searches.
For example, Eric Siu and Neil Patel have a podcast called "Marketing School – Digital Marketing and Online Marketing Tips." This is an excellent example of a podcast name that's catchy and incorporates keywords. Naturally, it's also one of the first podcasts that shows up in the search results for "marketing."
Going beyond the podcast name, your branding should also extend to the visual presentation of your podcast. Keep in mind that there will be a unique artwork assigned to your podcast and all its episodes. So try to develop podcast visuals that are distinct and in alignment with your overall brand identity.
Having a signature intro and outro also helps you to further strengthen your podcast branding. These allow you to really make the podcast yours by infusing them with your identity and personality. A strong intro is the key to hooking your listeners and enticing them to keep listening. Meanwhile, a memorable outro gives you the chance to keep your audience engaged and encourage them to keep coming back.
---
Step 2: Preparing Your Podcast for Spotify Upload
Now that you've sorted out the basics, it's time to get into action and start developing your podcast. Start with a strategic pre-production process so you can maintain a consistent standard for all the episodes you're producing.
Make a list of the topics you want to discuss for each episode. Then map out how to further break down each topic to entertain, engage, and inform your audience. Think about what potential listeners would want to learn about with each topic so you can decide on your approach. Depending on your podcast format, you'll also want to plan ahead for the guests and co-hosts you want to invite.
It's important to decide on a schedule for publishing your podcast. Do you want to publish on a daily basis? Or will a weekly upload be better for you? Having a proper schedule in place will help you manage your time and follow a specific production timeline for each episode.
After planning these details, you can get started with your podcast recording and editing process. Before recording, keep in mind the strict guidelines that Spotify has in place for all the podcasts submitted to the platform. If your podcast doesn't adhere to these guidelines, there's a high chance that it'll be removed or rejected. Here are a few ways to prepare your podcast for Spotify upload.
Audio files should be uploaded in any one of the supported formats. Spotify supports MP3, M4A, and WAV files. Bitrates should be between 96 and 320 kbps.

When uploading MP3 files, make sure to keep the metadata as small as possible. This includes embedded artwork and ID3v2 tags.

Ensure good quality audio with minimal background noise. Keep the dialog clear and audible so your listeners can easily make out what's being said.

Cover art should be in JPEG, PNG, or TIFF format. It should be a high-resolution image in a 1:1 ratio.
---
Step 3: Choosing a Podcast Hosting Platform
One of the most crucial steps is deciding on which podcast hosting platform to choose as this will determine storage capacity, user experience, load times, and more. Some podcast hosting platforms even come with distribution capabilities to get your podcast in front of as many people as possible. So you need to be strategic with your decision.
Spotify for Podcasters lets you host your podcast right within the platform. This is a straightforward option since you can record and upload your podcast in one place. When you host your podcast with Spotify, it will automatically appear on the platform without you having to upload it separately.
Plus, you also get access to several features that are extremely useful for podcasters. For example, you can use an episode builder to easily create episodes. This lets you combine pre-recorded segments with your in-platform recording and even include music and sounds from Spotify's catalog. You can even add interactive elements such as polls and Q&A to engage your audience.
Alternatively, you can also host your podcast with one of Spotify's many aggregator partners. This may be a good option if you're already using one of these podcast hosting platforms to host your existing podcasts and simply want to use Spotify as an additional distribution channel. Some may also prefer using these platforms to access unique features that might not be available on Spotify.
---
Step 4: Uploading Your Podcast to Spotify
If you're using Spotify to host your podcast, you can record your episodes directly on the platform. On the web, you can do this by clicking on the "New Episode" button, which is located on the top right-hand corner of the navigation bar. Then select the option to "Record or edit" your episode. Hitting the record button will let you instantly start your recording.
On the mobile app, go to "Tools" and select the + button. Then tap "Record" to start recording your podcast episode.
If you want to upload a pre-recorded audio file, there are two options. On the web, you can follow the steps below to start your upload:
Click on the "New Episode" button, which is located in the top right-hand corner of the navigation bar.

At the "Upload" step, choose the audio file you want to upload.

While your audio file is uploading, you can add more details about the episode. Make sure to include the episode title, description, and publishing date. Don't forget to include relevant keywords in your podcast description if you want to improve search visibility.

Once the upload is complete, add any optional interactive elements. Currently, Spotify offers Polls and Q&A to engage your audience.

On the next screen, those who have signed up for monetization features can manage ad breaks. You'll even have the option to set it as a subscriber-only episode.

Review the episode to make sure it's ready for publishing. You can publish it right away or schedule it so that it's automatically published at a later date.
For those who want to upload an episode through the mobile app, here's what you need to do:
Go to "Tools" and select the + button.

Navigate to your Library and tap the option to "Import."

Select the audio file you want to upload.

Once the file is uploaded, hit "Publish" to publish your podcast episode.
If you're using a third-party podcast hosting platform, you just need to link your RSS feed to Spotify. The team will then review your info and publish your podcast to listeners on the platform.
---
Growing Your Spotify Podcast
Starting a podcast on Spotify is the easy part. You also need to promote it effectively to attract more listeners to your podcast. Make sure to leverage your presence on other social media platforms and regularly promote your latest podcast episodes. Consistent promotions will help you to grow your audience and eventually build your presence on the platform.
Frequently Asked Questions
Is it free to start a podcast on Spotify?
Yes, Spotify lets you start a podcast for free using the Spotify for Podcasters service.
How do I start a podcast on Spotify?
You can start a podcast on Spotify using the Spotify for Podcasters service and uploading your podcast episode.
Do Spotify podcasters make money?
Spotify doesn't pay podcasters directly but offers several monetization options to eligible podcasters.
Does it cost to podcast on Spotify?
You don't have to pay a fee to publish a podcast on Spotify.
Do listeners have to pay for podcasts?
Most podcasts are free for listeners, although some episodes may be accessible only on a subscription basis.