As a business, you're always looking for ways to get more leads through the door, more people interested in what you have to sell. One such tactic is inbound marketing.
Inbound marketing is a marketing tactic that draws people into your business by offering valuable information and experiences. By sharing free value with your customers, you start to prove the additional value your business could offer if they pay you.
To help you get started with your own inbound marketing strategy, we have 10 inbound marketing examples to walk you through. Learn more about each example, see it in action, and discover how to implement it on your own.
---
10 Inbound Marketing Examples That Generate Sales:
---
What is Inbound Marketing?
Inbound marketing is a marketing tactic that focuses on bringing leads naturally into your business. This is the opposite of the tactic outbound marketing, which typically relies on a sales team doing outreach to find new leads.
Inbound marketing can be an extremely successful method for drumming up new business—as long as you implement the right tactics for your brand and industry.
Read on to learn more about 10 different strategies and examples you can use to generate inbound leads for your business.
---
10 Inbound Marketing Examples to Get More Customers
As mentioned, inbound marketing is all about showcasing free value in order to increase brand awareness and generate interest in your business. There are many different ways that you can do this—but we're going to focus on 10 examples from well-known brands.
1. Blog content
The first type of inbound marketing that we're going to focus on is a company blog. Many companies will create blogs that become a sort of educational resource hub for their target audience to discover more information about topics related to their industry.
Let's use social media management tool Later's blog as an example. Below, you can get an example of what the blog's homepage looks like: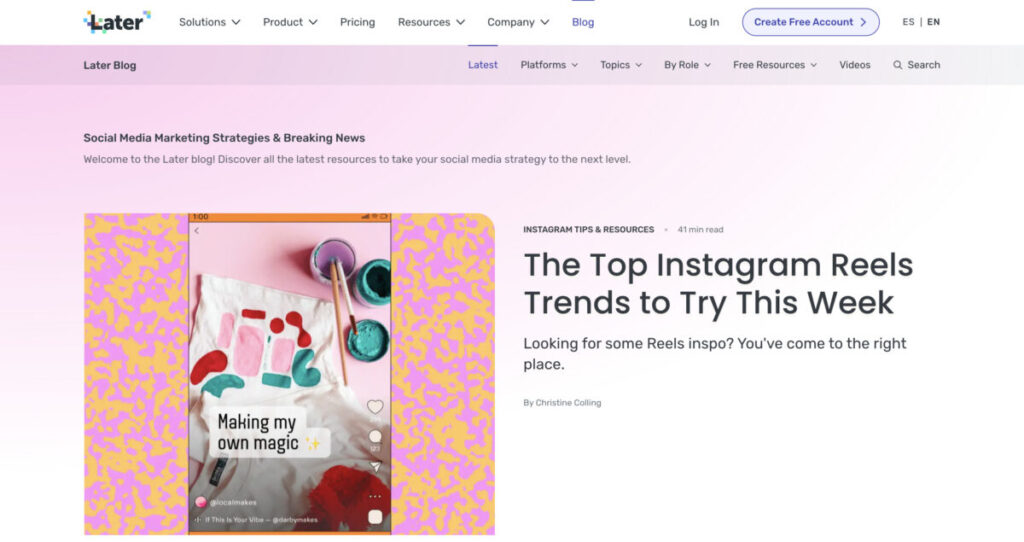 The blog covers topics like:
Social Media News

Social Commerce

Design

Video Strategy

Analytics & Reporting

Influencer Marketing

Later Tools & Features
Each of these categories helps answer questions that Later's target audience might have about social media management. Blog content is meant to inform—but not promote. However, throwing in little calls-to-action where your tool, product, or service can help get something done is always a good idea.
Blog content is a strong inbound marketing tactic, especially if you ensure your blog content is always informational and actionable. This will keep people coming back to read more—and be much more likely to choose your company over others due to how helpful you've been.
---
2. YouTube videos
Creating YouTube videos is another great inbound marketing tactic. Your video options are so versatile, giving you a ton of material to work with.
For example, you could create:
A video series

Tutorials for how to get the most out of your product

Behind-the-scenes vlogs

Short-form video sketches for

YouTube shorts

Educational and informational videos
Take a look at Grammarly's YouTube channel below. Grammarly is a browser extension that helps proofread anything you type on your computer—so of course it makes sense that the company's YouTube channel would feature videos helping its users write different things, like a job description, social media posts, a cover letter, and more.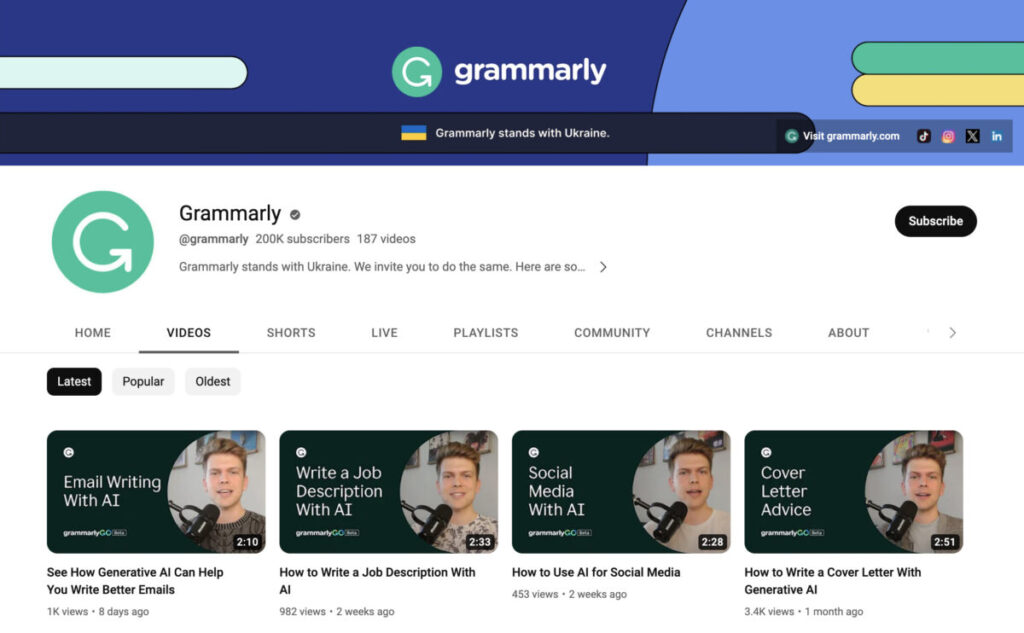 Your YouTube channel might essentially be like your company blog—just in video form. Many companies will simply repurpose blog content into a video format to make the content creation process easier, while also meeting customers in the way they prefer to consume content.
---
3. Lead magnets
A lead magnet is the first example on our list that does require some sort of transaction from your customers—an email address.
Lead magnets are any type of valuable asset given in exchange for contact information for sales and marketing purposes. A few popular lead magnet ideas include:
Ebooks

Checklists

Workbooks

Guides

Templates
Here's an example from Toggl below—a benchmarks report filled with data and statistics that are relevant to the company's industry.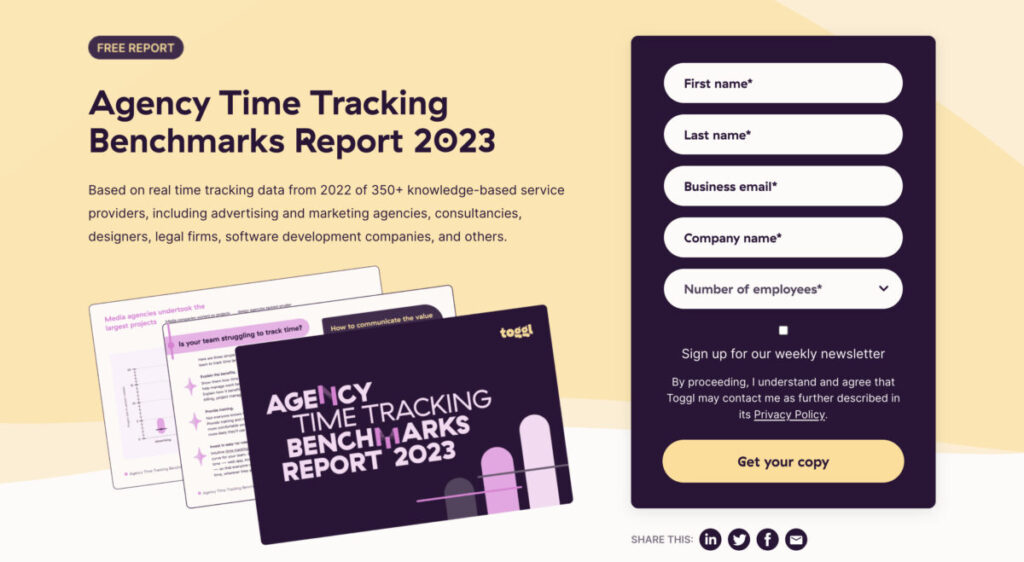 Lead magnets can be a great way to build up your email list and start nurturing potential leads and customers. You can have a single lead magnet that you promote throughout your website, or you can create multiple options and promote them on related pages.
---
4. Case studies
Case studies, or customer success stories, can be another valuable inbound marketing tactic. If you have happy customers, see if you can interview them about their experience—or better yet, their results—with your product or service.
You can then do a write-up based on that interview and turn it into a case study. People interested in buying a product or signing up for a service want to see that it can actually resolve their pain points, and case studies are the perfect way to instill that confidence.
Take a look at Sprout Social's case studies below. The company has created an entire page on its website fully dedicated to customer success stories.
---
5. Infographics
An infographic—short for informational graphic—is a great accompaniment for educational content that can also be used for inbound marketing. Infographics can be created using templates from graphic design tools like Visme or Infogram, or you can hire a graphic designer.
These can then be used within blog posts to visualize data and statistics with an embed code below them, enticing others to share your (branded) infographic within their blog content. Or, they can be shared on social media sites (Pinterest is perfect for infographics) to spread the word.
Here's an example of an infographic from Statusbrew's blog: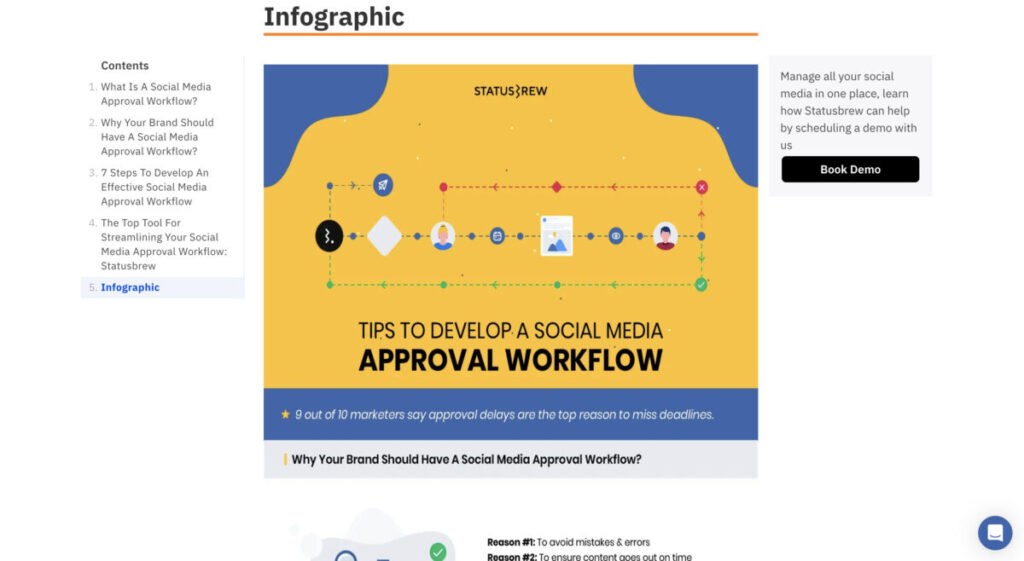 Statusbrew uses this strategy on a lot of its blog posts, providing a way to share valuable information that leads back to its company.
---
6. Email newsletters
An email newsletter is another great inbound marketing strategy and a lead nurturing strategy all in one. This is another more transactional tactic as you'll need to get members of your target audience to sign up for your newsletter.
Here's an example of Visme's email newsletter signup box to give you an idea of how you could do this:

But essentially, an email newsletter can help inform potential customers in the same way as a blog can—but by handing over their email address, they're showcasing even more interest in your product or service than a blog reader is.
Just make sure your email newsletter truly is valuable. You may even come up with a theme as a way to promote it even more. For example, weekly journaling prompts or weekly industry updates are both great topics that will keep your target audience's interest.
---
7. Webinars
A webinar is an online seminar of sorts. They can be used in a number of different ways, like showcasing new product features, collaborating with other brands with an informational session, or teaching something in-depth.
Because webinars are often registration-based, this is the perfect inbound marketing strategy. It's transactional in a way, but feels more like users are making a reservation rather than handing over their contact information.
Clearscope's webinars, seen below, are always well-done, in-depth, educational experiences.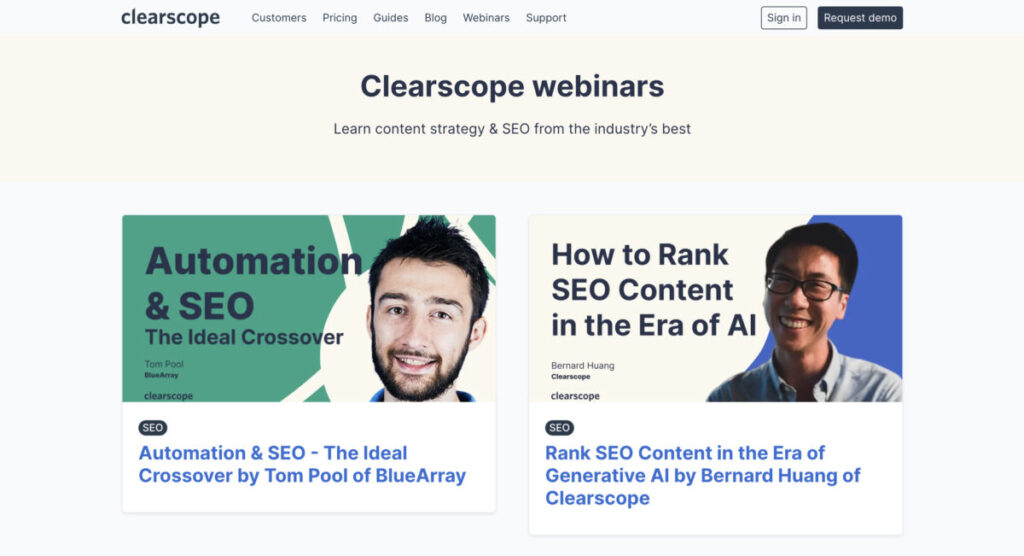 Consider holding webinars at least monthly, or as often as you're able to. These are live, virtual events, so you need someone on your team that is comfortable speaking to a live audience. The plus side is that they don't see the audience—but it is a live recording, so going back and editing out stutters isn't possible.
---
8. Podcasts
Podcasts are more known for being a creative outlet rather than a business outlet—but brands can see just as much success with an industry-related podcast.
Take Buffer's podcast for example—one of them, at least. The social media management tool has a podcast called Small Business, Big Lessons that talks about small businesses that are making big changes.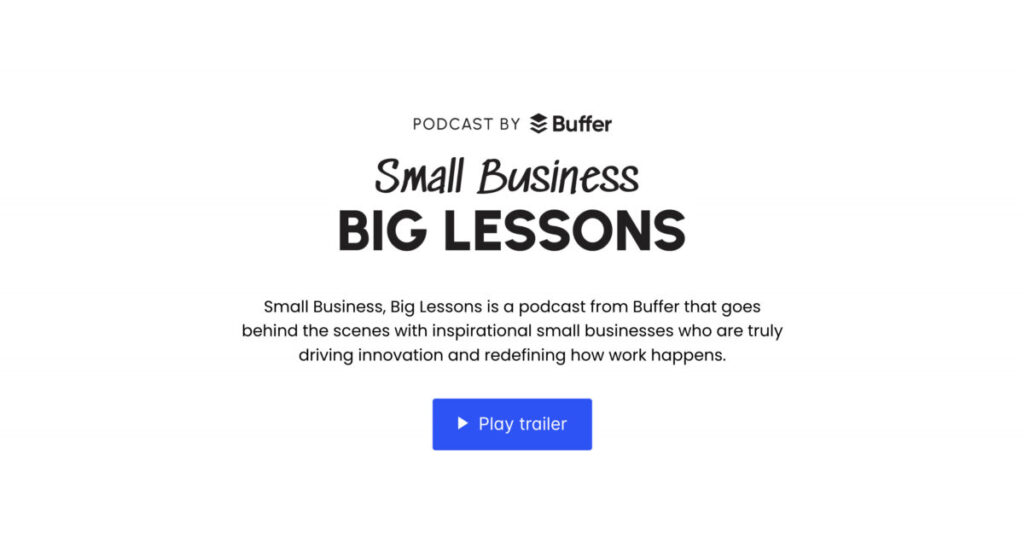 Even though it's only slightly related to the work Buffer does, this podcast does an amazing job of helping Buffer make a name in the industry. This puts Buffer at the forefront of business owner's minds—especially when they look towards a software to help them manage their social media presences.
You can create a podcast to help your business do the same. Look at existing podcasts in your industry and see if there's any room for your specific experience or expertise to step in with a new podcast offering.
---
9. Social media content
Social media content is, of course, a fantastic inbound marketing strategy. When you're creating and promoting various types of content on social media, you're working to build an audience. They may not all be customers—but the goal is to convert as many of them as possible.
So social media content, whether humorous, educational, what have you, can be a great way to do this. Let's go over a few examples from different platforms.
First, this tweet from software company Animalz. It's a Twitter thread—a succession of a number of posts that discuss the same topic—sharing information about content strategy for horizontal SaaS.
Content marketing is baked into the DNA of most successful horizontal SaaS companies

Here's why: pic.twitter.com/rqSp51xJiG

— Animalz (@AnimalzCo) February 23, 2023
Twitter threads are a fantastic inbound marketing strategy. They both inform and entertain and are a solid Twitter strategy in general.
Below, we have an example of a TikTok video. Software company tl;dv creates skits like the example you see here.
The intent behind these is simply to entertain and to build a TikTok audience. It's all about brand awareness—even though the skits don't at all mention the product. Browse TikTok to see how other companies are creating content and to get ideas for your own strategy.
And finally, we have this Instagram post from online course hosting platform Teachable. It's almost like a mini infographic, with an explanatory caption.
Instagram is a visual platform, but can be used for photos or graphics—whatever makes more sense for your business.
Build up your own social media presence on the platforms that make the most sense for your business. The more you build your following and increase your overall reach, the more likely you are to turn those viewers into customers.
---
10. Free tools
The last example on our list includes free tools. Many software companies offer free, mini tools that people can use without even signing up for their service.
And one great example of this is Ahrefs' free SEO tools. Ahrefs is an SEO and keyword research platform, but it offers a number of tools available completely for free. The tools are built into the website and aren't gated at all.
By offering a small sample of what users can get from Ahrefs' paid service for free—without even needing an account—the brand is proving it knows its value and that it trusts people will eventually come to sign up for a subscription based off of those tools alone.
---
Use These Inbound Marketing Examples for Inspiration
Put together your own inbound marketing strategy and start generating new leads. To increase your chances of success, consider working with an inbound marketing agency that can create and implement such a strategy for your business.
Frequently Asked Questions
What is inbound marketing vs. outbound marketing?
Inbound marketing is a marketing method that focuses on creating content and other valuable resources that bring new leads to your business. Outbound marketing focuses on outreach and networking in order to find new leads that your team manually brings in.
How is inbound marketing used?
Inbound marketing is used by creating different types of content—like blog content, podcast episodes, videos, and more—that help your target audience and build awareness and recognition around your company. This helps position your brand as the first option people familiar with your content would want to work with.
What is an example of outbound marketing?
Cold calling and emailing is one major example of outbound marketing. Outreach meant specifically to find and bring new leads into the business.
What are the four stages of inbound marketing?
The four stages of inbound marketing are:
Attract

Convert

Close

Delight
They create a funnel of inbound marketing leads discovering your business through your marketing tactics and eventually becoming a happy customer.
Why is inbound marketing successful?
Inbound marketing is so successful because it's all about helping and providing value to your target audience. Inbound marketing isn't about your business—it's about what you can give to those you want to help for free, before they even become customers.
Because you're not expecting anything in exchange for this content, this value that you're providing, you're positioning your business as a kind and trustworthy resource. And that's before someone has even become a paying customer. This is why inbound marketing is successful.