Black Friday and Cyber Monday (BFCM) are possibly the two most important days for brands and shoppers. With people anticipating the best deals on clothing, electronics, gifts, and other product categories, physical and online stores are bound to experience a massive traffic bump.
Partnering with influencers is one way to drive sales for these events. With TikTok, Instagram Reels, and YouTube Shorts dominating social media, influencer marketing has grown into a $21.1 billion industry, up from $16.4 billion in 2022. Its increasing popularity is due primarily to over 80% of marketers dedicating an influencer marketing budget. To make the most of this trend, we'll show you the top strategies to help your brand engage in influencer marketing for BFCM.
---
Effective Influencer Marketing Strategies to Use for Black Friday and Cyber Monday 2023:
---
Partnering with Influencers for Black Friday and Cyber Monday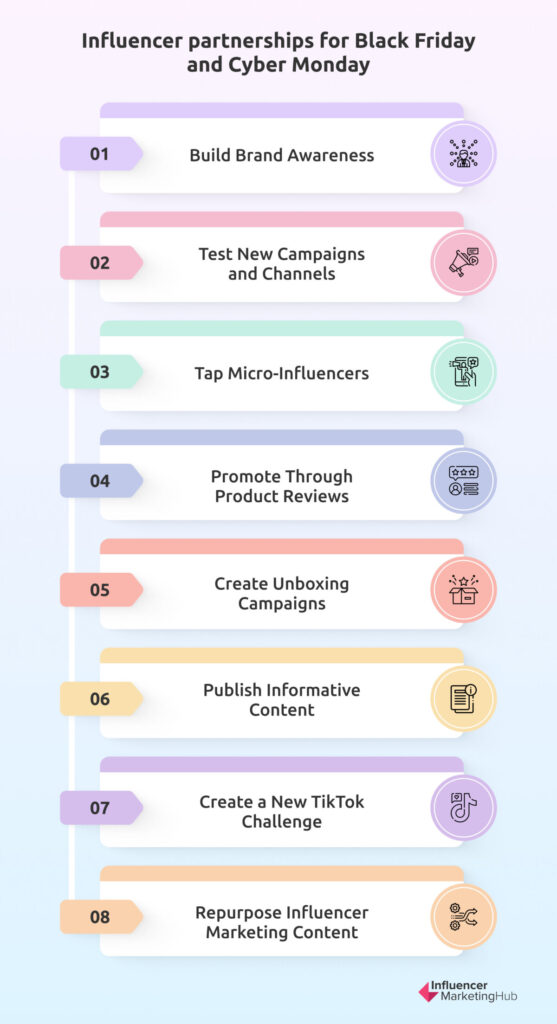 Influencers help build brand awareness by posting about their favorite products from your brand—and they can give you a huge boost by doing so ahead of BFCM. Beauty brands often employ this strategy, collaborating with beauty gurus like NikkieTutorials, James Charles, Jackie Aina, and many more. The influencers often create a "Get Ready with Me" video using the products, promoting the brand's deals for BFCM.
This influencer marketing strategy doesn't just build brand awareness—it can also re-engage inactive customers with new releases. Moreover, influencers can spark conversations about your other items on their platforms instead of simply featuring a single product, potentially increasing the number of items that get to shine under a spotlight. HubSpot's research also found that 50% of Millennials and 33% of Gen Z-ers trust influencer product recommendations, potentially letting your brand tap these markets through influencer partnerships.
---
Test New Campaigns and Channels
While it makes sense to focus on past strategies that worked, testing new campaigns and channels allows your brand to find opportunities in additional traffic sources and customer segments, helping you keep up in a highly competitive, constantly evolving landscape.
One way to do this is by tapping influencers in industries that are a little further from but still connected to your brand. Consider high-engagement social media content creators with versatile content, like Safiya Nygaard. With nearly 10 million subscribers, she's most known for her product trial videos, but she also posts beauty, fashion, and travel content.
One of her viral videos, "Mixing Every Lip-gloss from Sephora Together," was a partnership with CASETiFY, despite being about makeup. Her video is a great example of how you can collaborate with influencers who aren't strictly in your brand category. Safiya has a vast and diverse audience intrigued by the products she tries, so brands can still gain great publicity from her videos.
Another prime example of this influencer marketing approach is NordVPN's partnership with PewDiePie. Software as a service (SaaS) products are typically within the niche of tech reviewers, but PewDiePie focuses on gaming, humor, and lifestyle vlogs. NordVPN found a market in PewDiePie's subscribers because the product bypasses censorship and unlocks website restrictions, something gamers and even general internet users can benefit from.
---
Don't let their smaller follower count fool you—according to HubSpot, micro-influencers can generate up to 60% more engagement than popular content creators. You can reap this benefit without the hefty costs of working with celebrities and macro-influencers. Micro-influencers also make up almost half of all influencers, so finding one who fits your niche should be fairly easy.
Shopify revealed that micro-influencers charge between $75 and $318 per social media post. If you want to focus on Instagram, expect to spend around $170 for a post, $200 for a video, and $73 for a Story. Facebook and YouTube posts are significantly more expensive at $318 and $908, respectively.
---
Promote Through Product Reviews
Influencers provide social proof, which helps persuade customers to buy a product. Consider collaborating with influencers through product review videos or posts to provide social proof for your BFCM campaigns.
Reviews encourage word-of-mouth marketing and help customers learn about the problems your product can solve from a user's point of view. By having an influencer review your product, the item and its benefits can easily reach a captured audience who can spread the word to their peers before BCFM.
If your product has received some negative reviews, you can still turn the situation to your advantage by responding to them quickly and with empathy. This demonstrates that your business cares for its customers and your dedication to great service. Influencers can also talk about your dedication, especially if they have something constructive to critique about your product, further encouraging their followers to buy from your brand on BCFM.
---
Create Unboxing Campaigns
Unboxing videos spark excitement for the gift-giving season. Influencers have been doing unboxing videos for a long time, and their popularity stays strong. The top unboxing channel on YouTube, Unbox Therapy, has over 18 million subscribers and 8 billion+ views. Tech gadgets are usually the focus of unboxing videos, but they also showcase toys and luxury products.
With most consumers researching online before buying a product, unboxing videos give your business and influencers a great way to build brand awareness from the point a product arrives at a customer's doorstep. Unboxing videos can also be accompanied by try-ons and reviews, allowing viewers to get a more in-depth look at your product, especially if they're planning to buy it for the first time.
---
Publish Informative Content
Focusing only on promotional content can make your brand too salesy, which can put off customers. Balance out your BFCM campaigns by publishing informative content, such as blogs, articles, infographics, or educational videos.
Strive to create articles with videos since this particular content type drives 70% more traffic than text-only versions. Videos can better explain complex concepts, tell stories, and teach people specific tasks than articles alone, giving potential customers another option to consume your content if they prefer listening or watching over reading. However, your videos should be high-quality to capture your audience's attention successfully.
Such videos are right up an influencer's alley, and you collaborate and brainstorm ideas with them about informative topics and delivery. For example, you can choose a pain point related to the holidays, like the stress of thinking about what gifts to buy, decorating your home for winter, or how to save money while Christmas shopping. You can also share BFCM shopping tips for customers seeking money-saving hacks. Highlight your BFCM deals to draw the audience to your brand.
---
Create a New TikTok Challenge
TikTok challenges give influencers new content ideas to work with, but what's fantastic about TikTok challenges is that even ordinary users can participate for added brand awareness.
However, creating a new TikTok challenge requires paying influencers to start the trend by coming up with challenge ideas, like a dance challenge, selfie challenge, or others. You can also have influencers reach out to you instead through the TikTok Creative Challenge. This new in-app feature lets creators submit video ads to brand challenges and be rewarded based on their video's performance. Influencers, especially micro-influencers, can enjoy immense creative freedom over their ads, while your brand can leverage original content with minimal effort, making it a win-win for both parties. If you want to take this approach, start early to gather as many participants as possible before the BCFM rush.
---
Repurpose Influencer Marketing Content
You can maximize your influencer budget spend by repurposing the content they've created for your campaigns in other channels. For example, Instagram posts or videos can be embedded in email marketing campaigns, product reviews can be repurposed as social media posts, and Reels can be turned into a PPC ad.
Using influencer content for email campaigns can also develop trust with high-intent customers. This type of customer values the opinions and reviews of other users before spending their money, so if an influencer in their niche is featured on your email campaign, high-intent customers are more likely to remember your brand on BCFM.
Because product reviews pose as social proof, repurposing them as social media posts allows customers who want to learn more about your products to check out reviews without having to visit review sites or search for them online. They can conveniently get what they need from their feeds.
Lastly, Reels-turned-PPC-ads can make your boosted content more engaging, as Reels can be infused with storytelling elements through editing. They're also a win-win for your brand and influencers since you can both reach new audiences without creating ads from scratch.
---
How Much Did Black Friday and Cyber Monday Make Last Year?
Higher prices and economic downturns may have seemed like obstacles brands and customers had to face during last year's Black Friday, but surprisingly, many customers weren't deterred by these at all. Shoppers spent a record $9.12 billion on online purchases, surpassing the Black Friday online sales record from 2020, which reached $9.03 billion.
On the other hand, Cyber Monday 2022 was deemed the largest retail eCommerce sales day in the history of America. Shoppers spent even more money than they did on Black Friday, reaching $11.3 billion. It was a notable 5.8% increase from 2021.
"Buy Now, Pay Later" services drove many customers, including budget-conscious ones, to shop plenty during last year's Black Friday. Vivek Pandya, Adobe Digital Insights' lead analyst, said shoppers embraced the Buy Now, Pay Later service more in 2022 to buy gifts for their family and friends.
---
Most Popular Black Friday and Cyber Monday Products
Nearly half (48%) of Black Friday purchases were made for smartphones, up from 2021's 44%. Electronics were the most popular category, with purchases 221% higher than the previous month. Toys were also shoppers' top choice (285%), followed by smart home items (271%), exercise equipment (218%), and audio devices (230%).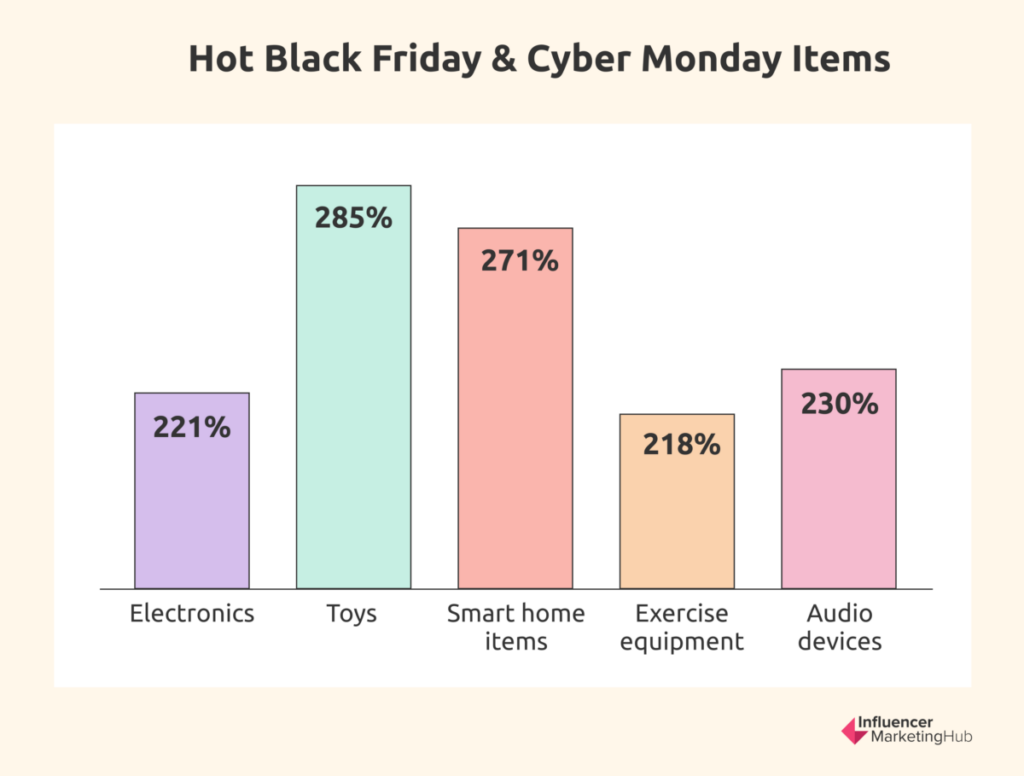 Some specific bestsellers included drones, MacBooks, Dyson Airwraps, and vacuums. For toys, Funko Pop! figures, Fortnite, Roblox, and Disney's Encanto toys dominated shopping carts. Many shoppers also bought video game consoles, especially the Microsoft Xbox Series X and Sony PlayStation 5.
If your brand's category didn't make it to the bestsellers list, don't worry—consumers still eagerly await deals on apparel, sporting goods, and other categories for this year's BCFM. Choose the right influencers to promote your products with potential BFCM deals to attract more customers and raise your conversions.
---
Plan Your BFCM Influencer Marketing Strategies Now
BFCM will always be iconic days for U.S. consumers, and it's even rising in popularity in the UK. Though price increases may affect customer spending habits this year, you can still make the most of the biggest sales of the year by planning your BFCM influencer marketing strategies now.
Partner with influencers whose audience meets the qualities of your target customer. Ensure that your chosen influencer can benefit from your brand and share its vision. They can market your products and deals more authentically if they're already fans or become fans of your brand.
Launch your campaigns early since the holiday shopping rush begins before the actual holidays, but focus your promotions on Cyber Week (Thanksgiving, Black Friday, and Cyber Monday). Consumers spend the most during this period, making it the ideal time to offer your best deals.
Remember to collaborate with a diverse set of influencers to take advantage of more opportunities and reach new audiences. Make sure to pay attention to micro-influencers because they can potentially drive more engagement than well-known, more expensive content creators.
Last but not least, get creative with your influencer marketing campaigns. Brainstorm with your influencer partners to make their branded content stand out through more personal touches to the usual unboxing videos, TikTok challenges, and try-on videos. Repurpose product reviews and previously published influencer content into new marketing assets to spread brand awareness without breaking the bank.
Frequently Asked Questions
What are the best ways to partner with influencers for BFCM?
There are various ways to use influencer partnerships for your BFCM campaigns, such as:
Building brand awareness through social media posts

Testing new campaigns and channels to reach new audiences

Tapping micro-influencers to drive more engagement

Promoting through product reviews to provide social proof

Creating unboxing campaigns to build excitement

Publishing informative content to educate shoppers

Creating a new TikTok challenge to spread brand awareness across online communities

Repurposing influencer content to gain new marketing assets without spending as much
What are the types of content influencers can create for my BFCM campaigns?
Influencers can create Instagram posts, Stories, Reels, or even YouTube videos. They can post a video talking about their favorite products from your brand, unboxing items, or reviewing your products. They can also contribute to informative content pieces like articles and long-form videos.
Should I focus on macro and mega-influencers?
While big-name influencers can easily create hype about your brand, micro-influencers, who have 5,000 to 20,000 followers, can drive more engagement than popular content creators. They also charge less, allowing you to implement a BFCM influencer marketing campaign at a lower cost.