Need a way to give your Instagram marketing an instant boost? Then it's time to start advertising on Instagram. While this requires some financial investment, the pay-off can be invaluable as it brings you more brand visibility and revenue.
But getting good returns from your Instagram advertising efforts is easier said than done. You can't just run a random campaign and expect it to work. From setting clear goals to finding the right ad type – there are many steps involved in creating Instagram ads.
This post gives you a detailed guide on what Instagram advertising is, why you should use it, and how you can start your own campaign. Let's get started.
---
Step-by-Step Guide to Advertising on Instagram:
---
What Is Instagram Advertising?
Instagram advertising is a way for brands to get their business in front of the right people using paid ad spots. Managed within the Facebook Ads Manager, these Instagram ads can be placed throughout the app such as the feed, Stories, and Explore pages. These ads will typically have a CTA button and a "sponsored" label to differentiate them from organic Instagram posts.
---
Why Advertise on Instagram?
With a billion monthly active users, Instagram is one of the most popular social media platforms out there. So there's a good chance you'll find the right audience among these users. In fact, Facebook reports that Instagram ads have the potential to reach 1.22 billion people. And the platform's advertising reach continues to grow, with a 5.4% quarter-on-quarter increase.
Ad reach aside, Instagram is also a place that inspires purchase decisions. According to a Facebook study, 83% of respondents used Instagram to discover new products and services. And 80% said that Instagram helps them with their purchase decisions. Moreover, 54% of people had made a purchase because they saw the product or service on Instagram.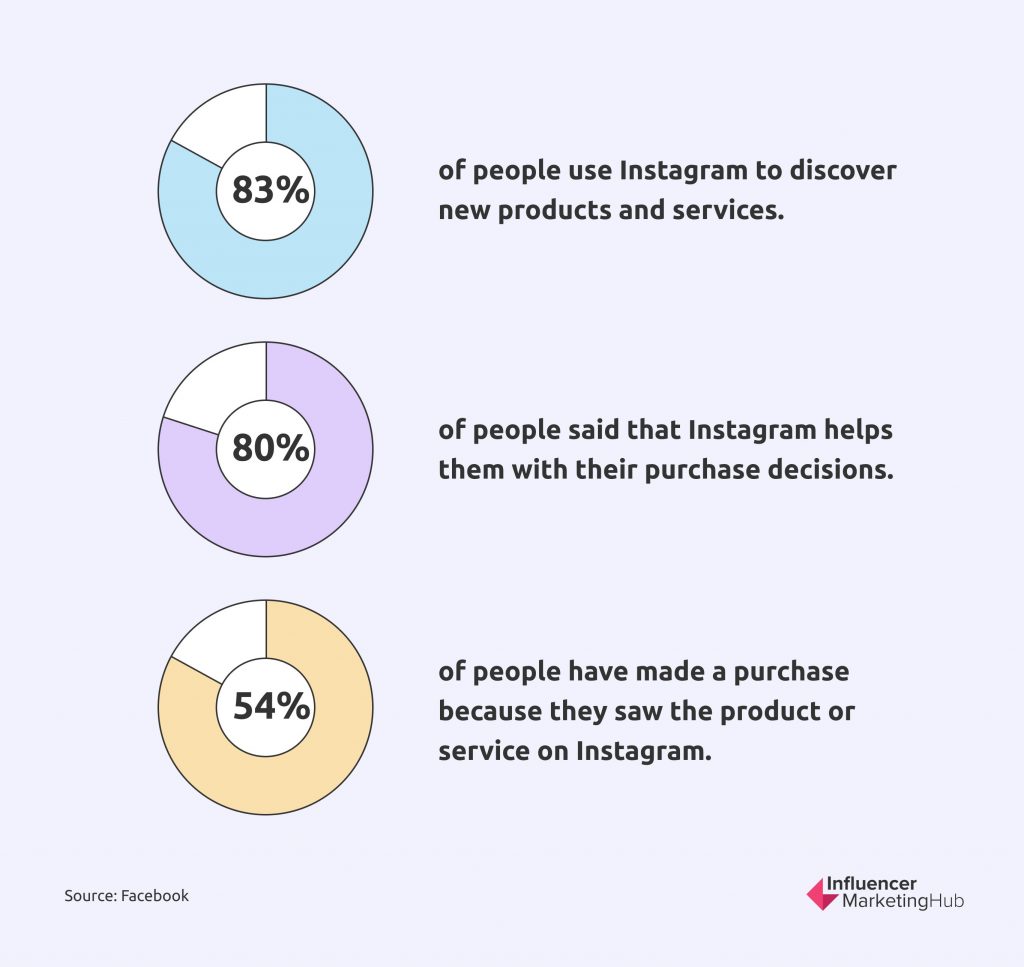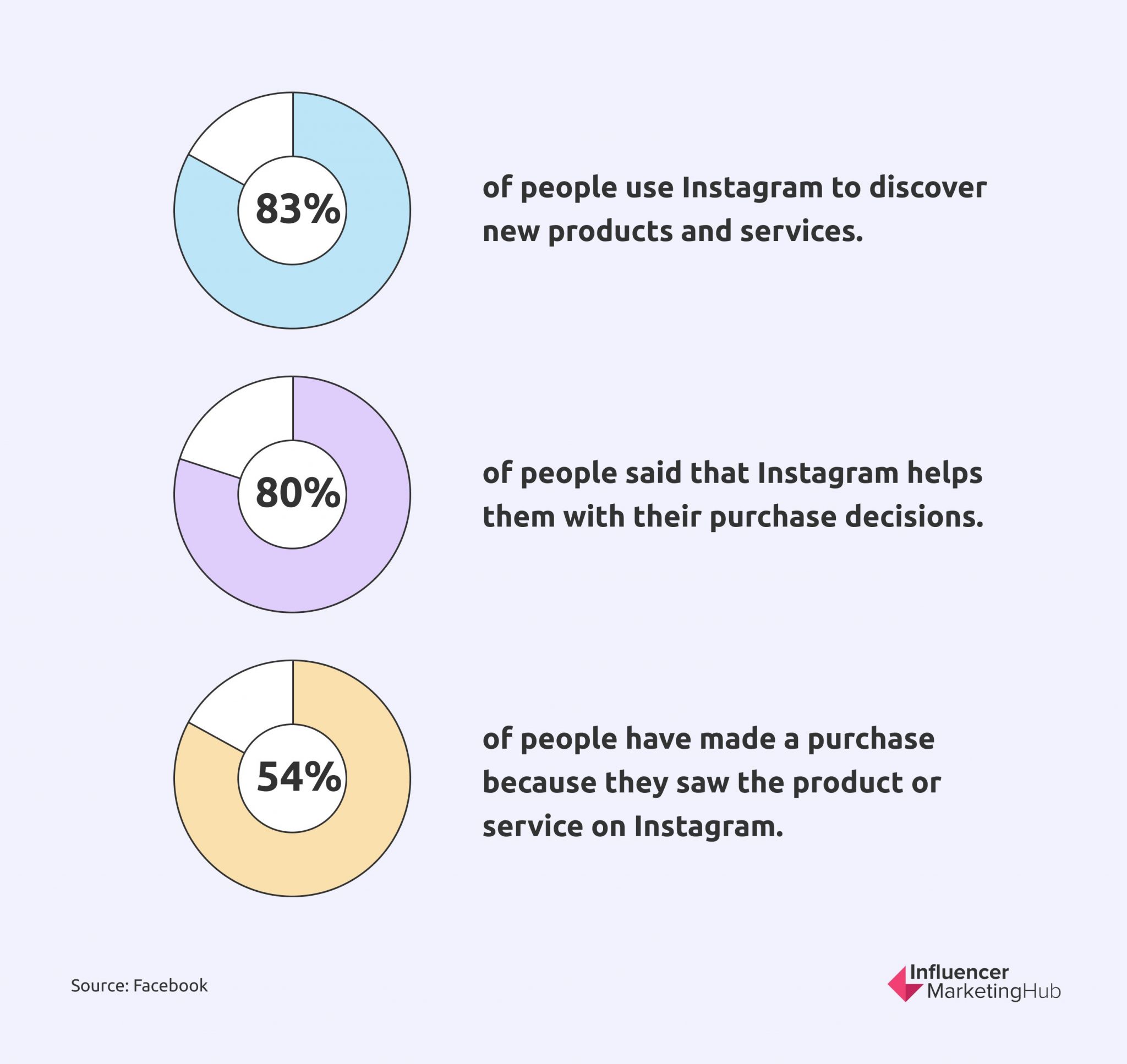 What's even more interesting is that people also take purchase actions right there on the platform. Instagram reports that 44% of the people surveyed used the platform to shop on a weekly basis, using the Shop tab and shopping tags. With its ability to inspire purchase decisions and support direct purchase actions, Instagram is the perfect platform to run your paid advertising campaigns.
---
How Much Does It Cost to Advertise on Instagram?
The cost of your Instagram advertising campaign depends on a number of factors including your placement, targeting, and competition. Having multiple competitors bidding for the same target audience will naturally bring up the cost, for example. That said, the cost per click (CPC) on Instagram typically ranges between $0.02 and $2.
---
Steps to Start Advertising on Instagram
Now that the value of Instagram ads has been established, let's dive into the most important part – how to start advertising on the platform. Running an Instagram ad campaign, like any other advertising campaign, requires a lot of planning before you can execute it. Here are the essential steps to advertise on Instagram:
Step 1. Understand Your Goal
What do you want to achieve with your campaign? This is the first question you should ask as it can shape the rest of your campaign – from budget and placement to message and ad creative. Do you want to get more sales? Or do you just want people to learn about your brand? Perhaps you want to drive app installs. Or maybe you want to promote a new product.
Be specific about the goal you want to achieve through your campaign. This will serve as the foundation for all other aspects of your campaign. It will also define how you measure the success of your advertising efforts.
---
Step 2. Define Your Target Audience
The people you want to target can make all the difference in the types of ad that work for your campaign. Have a clear idea of who your target audience is so you can choose ad placements and ad types that resonate with them.
Are they more likely to respond to videos? Are they less likely to scroll through their feed than their Explore page? Do they tend to shop directly on the platform? What kind of messaging will get their attention? These are some of the biggest questions you should ask about your target audience.
---
Step 3. Decide on an Ad Type
Instagram offers plenty of advertising formats and placements to choose from. This gives you the freedom to experiment with different ad types and choose ones that have the most impact. It's important to decide on the best ad type to use for your campaign based on what your goal is and who you're trying to reach.
Image Ads
These single-image ads are ideal for campaigns in which you have compelling visual content since you have to convey your message in a single image. You can also add text overlay to get your message across more clearly. But remember to not overdo it since it can negatively impact how your ad looks.
---
Video Ads
Video ads are a powerful way to engage your target audience in an audio-visual format. They tend to yield higher return on investment compared to other ad formats. In fact, videos can even boost your ad engagement by 22%.
---
Carousel Ads
These multi-image ads are a great way to show off your product in different angles or showcase the range of products available at your store. You can update the captions to reflect the product or message in the coordinating image.
---
Shoppable/Shopping Ads
Instagram Shopping ads allow brands to tag the products featured in the ads. When users click on these product tags, they're taken to a page that provides more info about the product without making them leave the platform. These are great for driving in-the-moment purchases and boosting your sales.
---
Collection Ads
Collection ads feature a cover image or video with three smaller product images underneath. When users click on the ad, they can browse through the products featured in the ad and then reach a landing page if they click on any of the products. This is a great way for ecommerce businesses to showcase their product collections, drive engagement, and nurture customer interest.
You can also choose the placement of these different ad types depending on the behavior of your target audience. Instagram lets you display ads in the feed, Explore page, Stories, and even Reels. Ads on Reels and Stories will typically be videos and image ads.
If you're using more than three cards for your Stories ad, Instagram will give users the option to "Expand Story" at the top of the screen. Users can click on this button to open up more sponsored cards and learn more.
---
Step 4. Design Your Ad
Once you've decided on the ad format(s) you want to use for your campaign, it's time to start designing your ad creative. Here are a few best practices to follow when designing an ad for Instagram:
Make it mobile first –

Since the app is mobile-based, you have to consider how the ad will look on mobile. Make sure your ad aligns with the

Instagram ad size recommendations

for best results. In addition, try to film

vertical videos

so it's easier to crop. And if you're using text overlay, use larger fonts without overloading the photo or video with text.

Keep your messaging prominent –

Your ads should be compelling and interesting enough to make people stop their scrolling. So in addition to eye-catching visuals, create messaging that's instantly visible within the first few seconds.
Design videos for sound-off consumption –

92% of U.S consumers

watch videos with the sound off. So although sound may be effective for delivering impact, you should always design for sound-off consumption. Try to deliver your main message using the visual elements of your video. If you're including voiceover or scripted audio, make sure to include captions. This also helps to make your video ads more accessible to all types of users.

Keep your videos short and to-the-point –

Your video ads can be

up to 60 minutes

. But considering the short attention spans of social media users, aim for crisp, succinct videos that can instantly engage the user. Keep it about 15 seconds long and try to get their attention within the first 2-3 seconds of the video.

Leverage user-generated content –

Instagram ads are the perfect place to make use of UGC to display social proof. Consider reworking reviews, customer testimonials, and photos from real people to win the trust of prospective customers. This is a powerful way to inspire their curiosity in your brand and products.
After designing your ad, use our Instagram Ads Mockup tool to see what it'll look like. This will help you adjust and refine your ads to get them ready for your campaign.
---
Step 5. Create Your Campaign
Now that you have everything planned, it's time to start creating your Instagram advertising campaign. There are two ways to run Instagram ads – boosting an existing post and creating ads using the Facebook Ads Manager.
Boosting an Existing Post
Instagram gives you the option to boost any post from your business account. This allows you to instantly run ads without going through the trouble of creating new visual elements.
You can also select a post to boost from your Ad Tools. This will give you the option to either promote your top post or choose a post to boost. And depending on what will resonate with your audience the most, you can turn the post into a regular ad or a Stories ad.
Creating Ads Using the Facebook Ads Manager
The other option is to create ads from the Facebook Ads Manager. This grants you more freedom over where to place your ads, so it's the best option if you want more control over the entire campaign. To set up a campaign from scratch, you'll need to:
Set your campaign objectives –

You can choose from a number of objectives including Reach, Traffic, Brand Awareness, Engagement, App Installs, Conversions, Catalog Sales, and Video Views.
Set your budget and schedule –

How much are you willing to spend on this campaign? And for how long do you plan to run your ads? For your budget, you can either set a limit for daily ad spend or set a limit for the entire campaign. As for your schedule, you can either choose to run your ads continuously or only during certain times of day.
Define your audience –

In the next step, you can either use a Saved Audience or Create a New Audience. This step will also give you the option to run ads using Dynamic Creative, which authorizes Facebook to automatically use different combinations of visual assets and copy that are optimized for your target audience.
Choose your ad placements –

Next, you can choose Automatic Placements so your ads are shown at optimal locations across the Facebook group of apps. But if you want to display your ads only on Instagram, make sure you choose the Manual Placements option. You can further customize where you want to display your ads within Instagram.
For a more detailed explanation on how to create your ads, check out our previous guide on how to advertise on Instagram.
---
Step 6. Measure and Optimize
This is one of the most important steps for effective Instagram advertising. You can't just blindly run ads and expect them to work at one go. You need to closely monitor how your ads are performing to understand what's working and what's not. This will help you gauge:
The kind of placements that offer the most reach and impressions

The kind of messaging that resonates best with your audience

The calls-to-action that get the most clicks

The ad formats that deliver the most impact
The Ads Manager provides you with detailed ad metrics to keep track of how your campaign is performing. While the specific metrics vary depending on your campaign objective, you should be able to see details such as total amount spent and cost per result. In addition, you can see how each placement is performing, which is a great way to identify the best placement options for your brand.
---
Give Your Marketing a Boost with Instagram Ads
With the potential to reach millions of people, Instagram advertising is an effective way to take your marketing to another level. Make the most of the tips and steps given above to start creating powerful ads on the platform.
Frequently Asked Questions
How much does it cost to advertise on Instagram?
The cost to advertise on Instagram varies based on factors like competition and campaign objectives. But you can expect to spend anywhere between $0.02 and $2 per click.
How do you advertise on Instagram?
You can advertise on Instagram by boosting an existing post or creating ads from the Facebook Ads Manager.
Does advertising on Instagram really work?
Advertising on Instagram can work if you're targeting the right people with the right messaging. So planning your campaign and designing powerful ad creative are essential to run successful ads on Instagram.
Can you advertise on Instagram for free?
While there are plenty of free ways to promote your brand on Instagram, you have to pay in order to boost your posts or run advertising campaigns on the platform.
How do I target ads on Instagram?
The Facebook Ads Manager will let you target a Saved Audience or Create a New Audience to target your ads on Instagram.