Do you want to monetize your Instagram account? Boost your sales? Become an influencer?
No matter what your goals for Instagram are, there's no denying that organic Instagram growth is gradually getting more and more difficult. Growing on Instagram without having to spend money on ads doesn't seem that common anymore thanks to the platform's ever-changing algorithm.
Despite that, making money, generating leads, increasing brand awareness, and other goals can be accomplished through Instagram. Just because growth is hard doesn't mean it's impossible. You just have to work hard, be consistent, and deliver the best strategies for long-term growth.
So why online courses? Online courses are convenient, less intense, and make it easier to learn new ideas from anywhere in the world. They are reliable and helpful for anybody in any industry.
So if you want to make the most of your Instagram strategy, get more followers, or just learn everything you can about the social network, these are the top Instagram marketing courses we recommend for you.
---
Instagram Marketing courses online:
---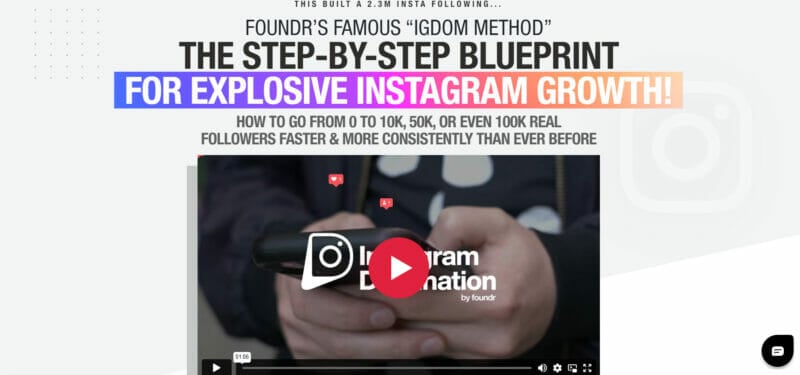 Do you want to dominate Instagram and learn how to grow your Instagram from 0 - 500k followers in 12 months?
If so, then this is the course for you! Led by Nathan Chan, CEO of Foundr, you will learn Foundr's proven method for generating a predictable flow of highly engaged, motivated followers and customers for your business! You will also learn the exact strategies and tactics Foundr themselves used to generate over 3m followers for @foundr on Instagram in a few short years!
On this FREE Masterclass Webinar, you will learn:

The Instagram Domination Method - The secret method that enabled Foundr to generate 500k followers in 12 months & 1m+ in 2 years.

"The Bio Formula" How to generate over 20,000+ clicks to your website in 1 month using just Instagram.

How to know what content to create that attracts your target audience to follow your page, like your content, share with their friends and buy your products and services.

How to create content the RIGHT WAY that gets an insane amount of engagement.

How to create 'Money Posts' that effortlessly turn your fans into customers WITHOUT being 'salesy' or spammy.

A case study on how we built a FRESH new 6 figure e-commerce business in 6 months using ONLY Instagram and how in it's most recent month generated $45K+ and over 1000+ new customers spending $0 in acquisition on Instagram
Once you complete this course you will be well on your way increasing your business and improving your revenue.
---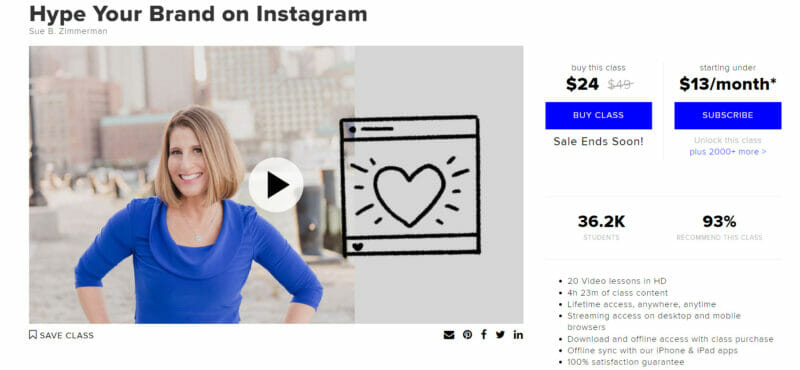 Don't you want to capitalize on the power and passion Instagram has in the world? This is just the course you need.
Created and taught by Sue B. Zimmerman, the "Hype Your Brand on Instagram" course will teach you everything you need to know about leveraging the power of Instagram. Sue is a popular social media marketing educator, speaker, and business coach who specializes in teaching entrepreneurs, executives and marketing professionals how to use Instagram to boost their brand and drive their business forward. There's no shadow of a doubt that Sue is the best person for this job of teaching Instagram mastery.
Some of the material you'll be learning about in this extensive course include:
How to work with, not against, the Instagram algorithm

How to craft an eye-catching, engaging feed aesthetic and feel that's consistent and memorable

How to conduct extensive keyword research that helps put your Instagram content in front of new audiences
If you're tired of not getting anywhere with Instagram, definitely give this course a chance.
---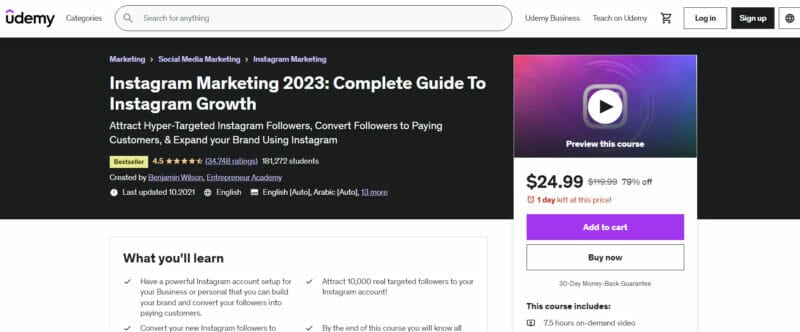 There are so many Instagram marketing courses, how do you know which ones are actually worth taking?
This one by social media master Benjamin Wilson is worth looking into. The Udemy course contains over 50 lectures that make up the 4.5 hour long course.
The 45 lectures are broken down into seven sections:
A Complete Introduction to Instagram Marketing

Setting Up Your Optimized Power Account on Instagram

Creating the Ultimate Instagram Content Game Plan

Creating the Ultimate Instagram Marketing Game Plan

Creating Business & Making Money from Your Instagram Account

The Top 5 Apps, Tricks, and Strategies for increasing your results

Instagram for Business Course Resources (PPT Slides)
This course will give you:
Advice on how to set up an Instagram account for your brand.

Tips on attracting 10,000 real followers.

Learn how to convert your followers to paying customers
---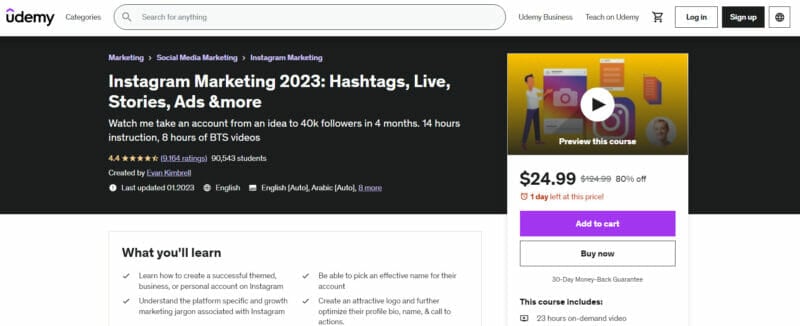 Looking for an A-Z guide on creating and curating Instagram content? Instructor Evan Kimbrell has designed this online course rich in valuable information that will help you grow your Instagram account strategically. Evan knows that you can't just post on social media and expect people to find you. Especially on Instagram— the platform doesn't work like that! You have to get down to the nitty-gritty.
Students of this course will understand everything that goes into Instagram marketing, including the mind-blowing techniques for creating viral content. Students will also learn how to use the growth tools to automate the process of scheduling posts, how to engage with other accounts through comments, the correct use of right hashtags, how to set up money-making Instagram ads, and much more. Learn how to leverage Instagram Live, stories, and shoutouts to increase your account reach and gain followers.
This course will help you:
Formulate a catchy account name and prepare a theme for your Instagram.

Learn the algorithms of this platform and get acquainted with what works where and when.

Learn about the Instagram marketing tools that can help you implement your content plans.

Observe your competitors account to check what's working for them.

Get insights into post promotions to improve your reach and engagement.
---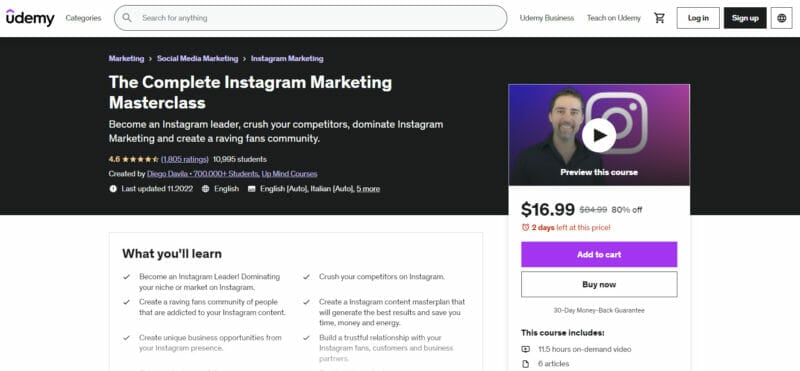 Building a community and tribe for your Instagram account is far from easy. Finding the people you want to target and work with seems like something only wizards could do. Wizards may be magical, but online courses are the next best thing.
This Instagram Marketing Masterclass on Udemy, taught by Diego Davila, helps you figure out and execute a solid strategy for your Instagram marketing efforts. You'll learn how to create and consistently deliver a strong visual presence and aesthetic through theme-based layout and how to generate ideas for viral posts. You will also learn the best methods of communication with your followers through tools that will help you build brand loyalty.
The Complete Instagram Marketing Masterclass will teach you:
How to create Instagram content that represents your brand and also resonates with your target audience.

How to use Instagram stories to appear in the feed of your followers.

How to use Instagram live sessions to build rapport with your audience through appearance.

How to watch over your competitors to see what's bringing them results and what's failing to improve your strategies.
Once you complete this course, there are no limits to what you can do with your Instagram marketing efforts.
---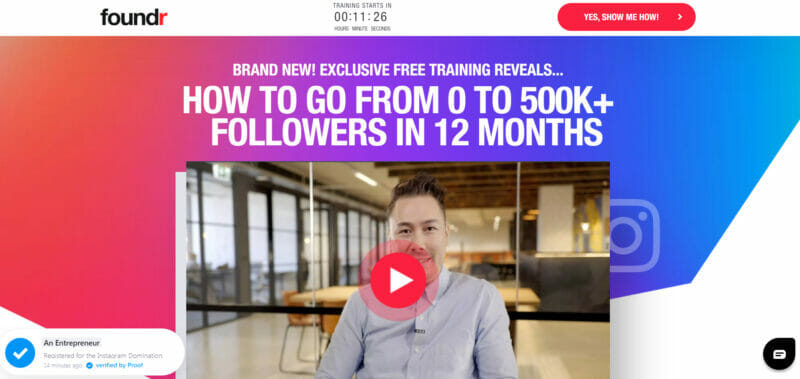 Let's say you already have an existing Instagram account. You know the basics, but you still want to achieve more. How can this be done? If you're interested in enhancing your follower count on instagram, this course by Nathan Chan of Foundr Magazine will teach you new tips and tricks on Instagram marketing and growth you won't find anywhere else.
This webinar will help you:
Get knowledge about how to generate followers in your Instagram profile and create attractive contents

Learn to choose the right content that attracts your audience to follow your page, like and share your content, and buy your products

Understand to create 'Money Posts' that turns your fan into your customer without being spammy

Learn from a variety of informative case studies about how to build a 6-figure e-commerce business by using Instagram
This (free!) webinar is so popular and packed with valuable information aspiring Instagram marketers can benefit from, it's no surprise entrepreneurial giants including Gary Vee of VaynerMedia and Ryan Deiss of Digital Marketer highly recommend it.
---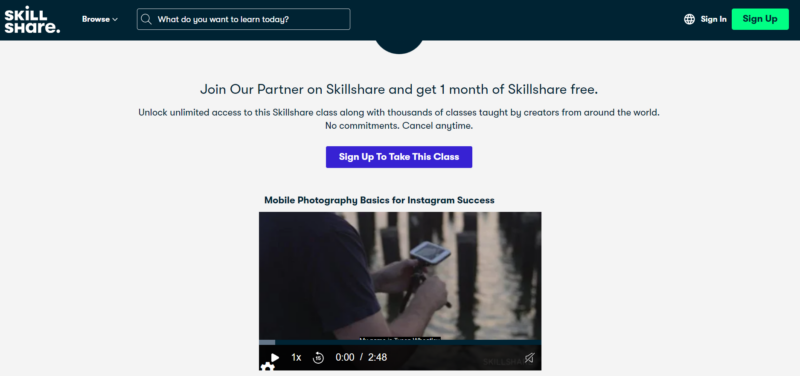 Not everybody is a fantastic photographer. You know that. You want to get better at taking pictures on your smartphone, but it's like rocket science. None of it makes any sense. This course offered by Tyson Wheatley simplifies the practice of mobile photography.
Tyson designed this course to teach aspiring photographers and budding artists how to capture gorgeous, Insta-worthy photos using a smartphone. You will:
Know about the accessories and techniques that can help you click better

Learn how to take street photography, portraits, landscape, etc. through your mobile, followed by the editing process

Build your Instagram community and share your world vision through photos. Through practical projects, you will showcase your work to fellow participants

Tell your perspective with a story of your own and portray your personality online

Learn about various types of phone photography and the respective camera settings

Edit your images through mobile apps for posting on Instagram

Learn the Instagram filters that can be used to add effects to your photos.
---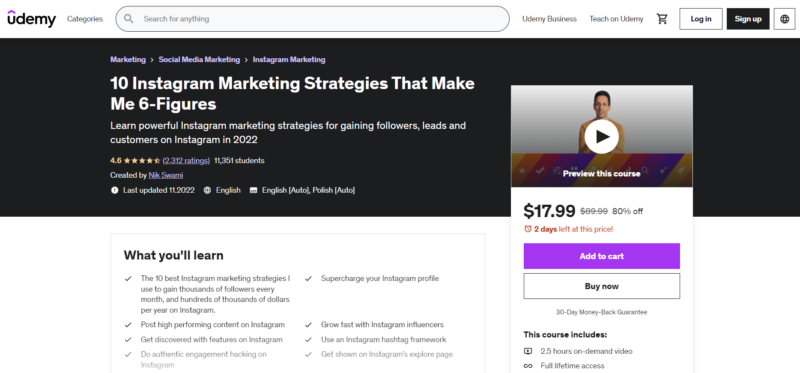 Starting any new social media platform is a pain at first. Instagram is actually one of the tougher social networks to really get comfortable and grow in.
Instructor Nik Swami laid out the strategies he uses to get thousands of followers on his Instagram business accounts that channel his 6-figure earnings. You will learn how to apply his strategies to develop action plans for your account. With the knowledge of post promotions and using Instagram features the right way, you can climb up the success ladder to grow your account.
10 Instagram Marketing Strategies That Make Me 6-Figures can help you:
Learn Instagram marketing strategies that bring results

Filter and

optimize your account

along with bio

Leverage the power of hashtags and better your chances of appearing in the explore tab

Get strategies to buy Instagram accounts

Organize shoutouts and contests to get better reach.
---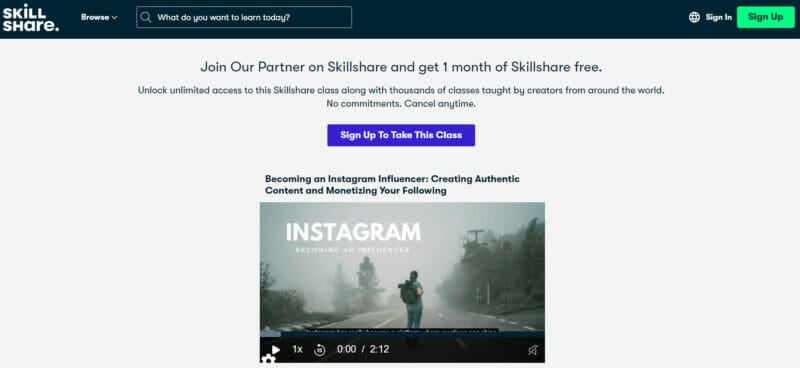 Are you wondering how there are people who are getting so many followers and engagement on their Instagram posts?
Well, you can, too, with simple steps illustrated by Sean Dalton in this Skillshare course. Sean is a lifestyle and travel photographer who has mastered the Instagram algorithms and will be sharing those tips with the students who enroll. You will get insights into building a theme for your Instagram account that is alluring to your audience.
With ideas for creating and posting quality photos consistently, you will learn and implement how to get engagement on your posts. Learn the usage of hashtags to get further reach and improve your chances of becoming an Instagram influencer.
"Becoming an Instagram Influencer" will help you:
Learn how to develop a theme that reflects your personality on Instagram

Engage with your existing followers to build a community

Curate hashtags for your posts to improve your impressions

Get insights through data analytics tools to plan your posts and campaigns

Learn how to approach brands for collaborations to earn from Instagram
---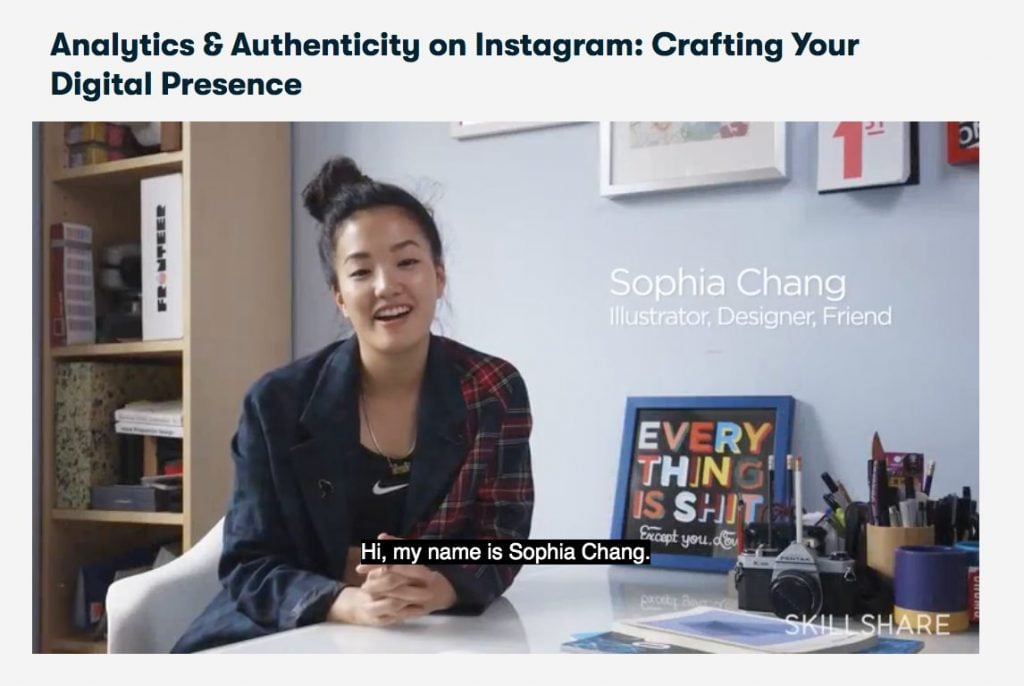 Sophia Chang, a notable designer, and illustrator will walk you through best practices to build your personal brand on Instagram as an authentic creator.
You will learn through her techniques of how to interact with your followers through your art form. Further, you will also learn to view and use analytics of your post to develop your future content the way your followers like to consume.
Develop your presence online and showcase your creative work on Instagram through this course, which is more focused on genuine community interactions.
"Analytics & Authenticity on Instagram" is designed to teach you:
Set realistic goals for your Instagram growth and track them regularly

Get ideas for building your feed such that it entices attention

Build a hashtag strategy to use in your posts to maximize your reach

Use data analytics to prepare a strategy for posting

Develop your personal brand on Instagram without compromising on your authenticity.
---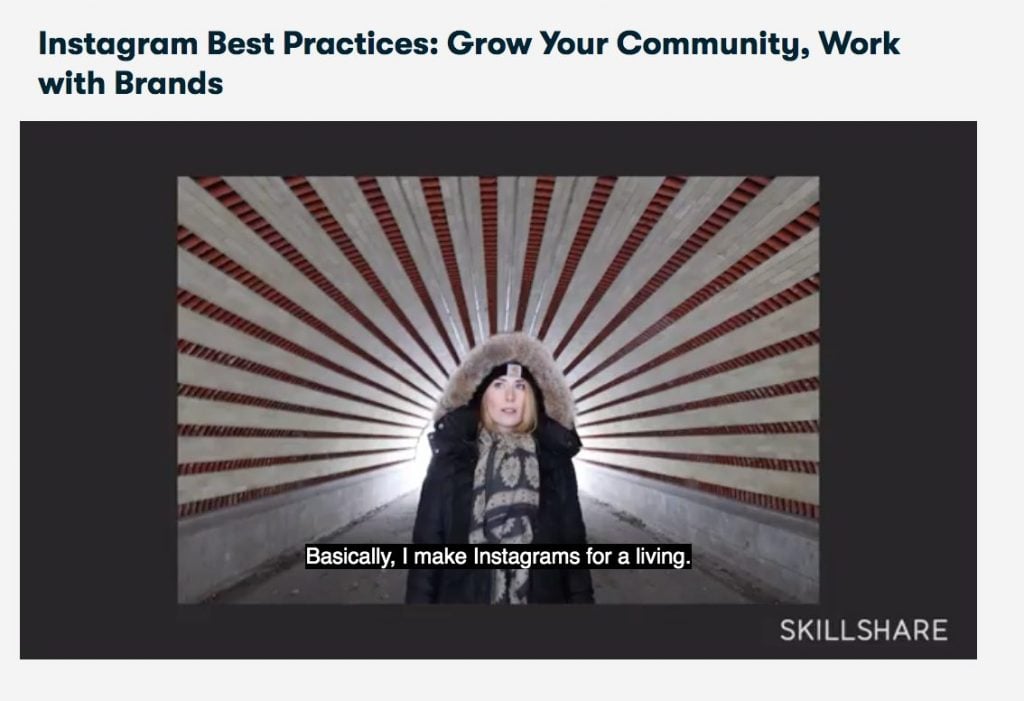 If you are someone who is a full-time social media enthusiast, take this course to convert this hobby into a full-time profession.
In this course by photographer Tyson Wheatley, you will understand how to craft engaging stories to gather a following on social media. You will be able to learn about the tactics associated with growing your online presence and build your personal brand through authentic interactions. Apart from that, you'll also get insights into marketing tools to build your Instagram along with the apps to improve your posts. You can also work with clients, managing their social media presence after learning how to hack the algorithms of various platforms.
The "Instagram Best Practices" online course will help you:
Create Instagram posting strategy to develop a solid profile

Get tips to enhance your online presence through community interactions

Tell your story through Instagram images

Perform cross-platform branding to grow outside Instagram

Learn how to approach brands for work collaboration
Course topic
Speaker
Price
---
Conclusion
Many of the top brands are on Instagram, sharing photos and engaging with their audience on a daily basis. You can do that too! Now that you've got this list of valuable Instagram marketing courses, there is nothing left to do but get started.
Frequently Asked Questions
What are the best referral marketing tools?
In this post, we have given you an idea of some of the referral marketing software now available. Examine the features and benefits of these products to find one suitable for your needs. The tools we have analyzed are:
Advocately
Friendbuy
Hello Referrals
InviteReferrals
InviteBox
Mention Me
Genius Referrals
Amplifinity
Ambassador
Referral Rock
Referral SaaSquatch
Revetize
What are the best referral programs?
Referral marketing involves promoting your products or services by using referrals from your existing customer base, usually by word of mouth. But how should your referral program look? One idea is to look at some of the best referral programs other businesses operate. Some of the better known high performing referral programs are:
PayPal – gives cash for referrals
Dropbox – gives free storage for referring friends
Airbnb – gives cash for referring people (and more when they rent out their places)
How do you market a referral program?
Most of the referral marketing software tools we have looked at in this post could help you market your referral program. Some other methods you can use to market your referral program include:
- Promote your referral program with email marketing
- Share your customer reviews
- Make sure you have social share buttons
- Include your referral program on the homepage of your website as well as a dedicated landing page
- Include in your customer accounts
- Find a brand ambassador
How do you reward clients for referrals?
You can automate many of the tasks involved in rewarding your clients for referrals by using one of the referral marketing tools that we have covered in this post. For example, some tools automate your rewards, whether they be coupon code, account credit, loyalty points, gift cards, or something else. Some of the most common rewards for referrals are:
- Discounts
- Cash/cash back
- Store credit
- Swag
- Gift cards
- Free subscription period
- Donations
What makes a good referral?
You can determine how good a referral is by whether it meets the CARE elements of a good referral. These are:
C (Consent) – although many referrals are given blindly, they are only useful if everyone involved does it willingly. In some cases, referrals can lead to inappropriate connections
A (Actual) – a real opportunity must exist
R (Relevant) – a connection must be relevant for all parties
E (Exit and Evaluate) – the referrer will disappear from the transaction once the connection is made
How do you create an effective referral program?
The referral marketing software we have covered here will help you create an effective referral program. Some other important considerations include:
Provide exceptional products
Put your customers first
Make sure you have clear marketing goals
Keep your referral messaging clear and easy to understand
Make it easy for people to refer
Figure out who to reward
Determine what reward to offer
Decide on a reward structure
Use reviews to boost your referral marketing
Implement analytics and tracking