Need a quick way to boost your Instagram engagement? Instagram polls are the answer. These offer a fun way to interact with your audience and drive more engagement for your brand. Moreover, they're perfect for gauging their thoughts and opinions to inform your decisions.
Not sure how to create an Instagram poll? In this guide, we walk you through the entire process of using Instagram poll stickers. We also give you a few great ideas on how to use them to boost your engagement. Let's jump right in.
---
Instagram Polls: Your Answer to an Instant Engagement Boost on Instagram:
---
What Are Instagram Polls/Instagram Poll Stickers?
Instagram polls are an interactive feature that lets you ask questions in your Stories and get people to vote for up to four answers. They come in the form of stickers, which you can add to your Story. An Instagram poll sticker will let you add a question along with 2-4 answers or options for your followers to choose from. You can view the percentage of responses for each option and even share the results in your Stories.
These polls offer a fun way to drive more interactions with your audience. You can quickly get them to engage before skipping to the next Story since it only takes a tap. Not only does this boost your engagement but it also helps you get a better understanding of what your audience likes. As such, polls on Instagram can also be used to survey your followers and inform your business decisions.
Previously, the poll sticker only allowed users to choose between two answers. While this was fun and engaging too, it was a little restrictive. Now the ability to add more options gives brands the necessary tools to truly engage their audience.
---
Why Use Instagram Polls?
First off, why should you be creating Instagram polls anyway? Is it even something that brands should be doing? Let's answer those questions by looking at the key benefits of using Instagram polls.
Drive Interaction and Engagement
Polls give your followers the opportunity to engage by voting on something. They may be excited to share their opinions or give their input, which is easy enough to do with just a simple tap. This increases their likelihood of interacting with the Story instead of just skipping through it. As such, Instagram polls are a great way to drive more interactions and boost your engagement.
---
Get Real-Time Feedback
Surveys are great to collect feedback, but they can also be time-consuming to conduct. In situations where you need instant feedback, polls are a great way to collect it. Instagram polls allow you to get real-time feedback on any topic–whether it's to help you choose a new profile picture or decide on a time for your upcoming live broadcast.
---
Get to Know Your Audience
Polls are also a great way to understand what your audience likes, what their interests are, and what they expect from you. This is particularly helpful when you're planning something important. For example, you could ask for their opinions before launching a new product or service or deciding on whom to invite as a speaker at an upcoming event.
---
Steps to Create an Instagram Poll
If you're new to the platform or to the poll feature, do not fret. It's super easy to create an Instagram Story poll. Follow the steps below to get started.
Step One: Open your Instagram Feed and swipe right or tap on your profile icon to start a new Story. Alternatively, you can also go to your profile page and tap on the profile icon from there.
Step Two: Tap on the Create button from the left-hand panel if you want to create a poll without a picture in the background. To add a picture background, you can either take a photo using the built-in Stories camera or swipe up to upload one from your gallery.
Step Three: Next, tap on the stickers icon from the top panel and choose "Poll."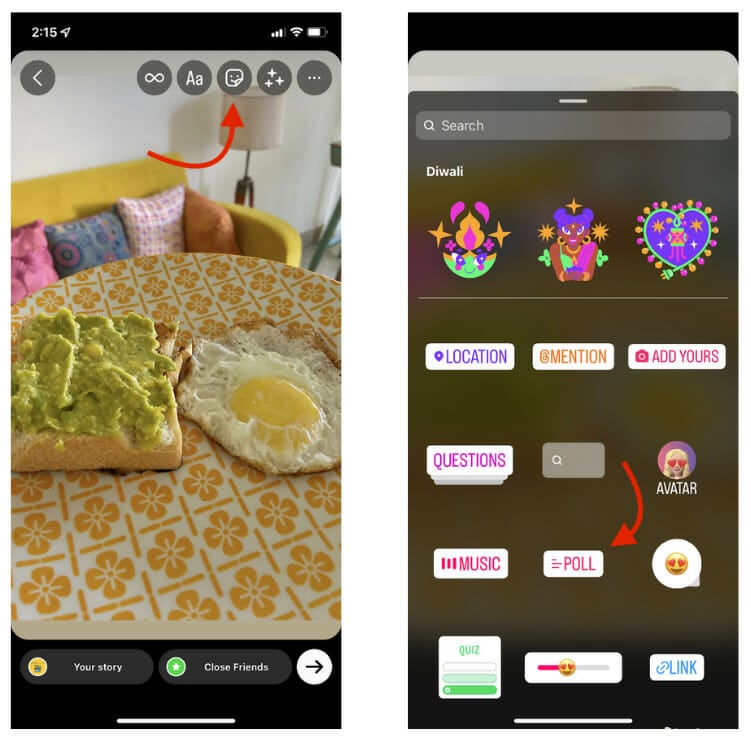 Step Four: In the question field, type in the question you want to ask. Then add the answers in the fields below.
Depending on the nature of the poll, this can be as simple as yes or no. Or it can be more detailed, with people getting to choose between four different options. If you want to add more than two options, tap on the "Add another option" field at the bottom and input the answer.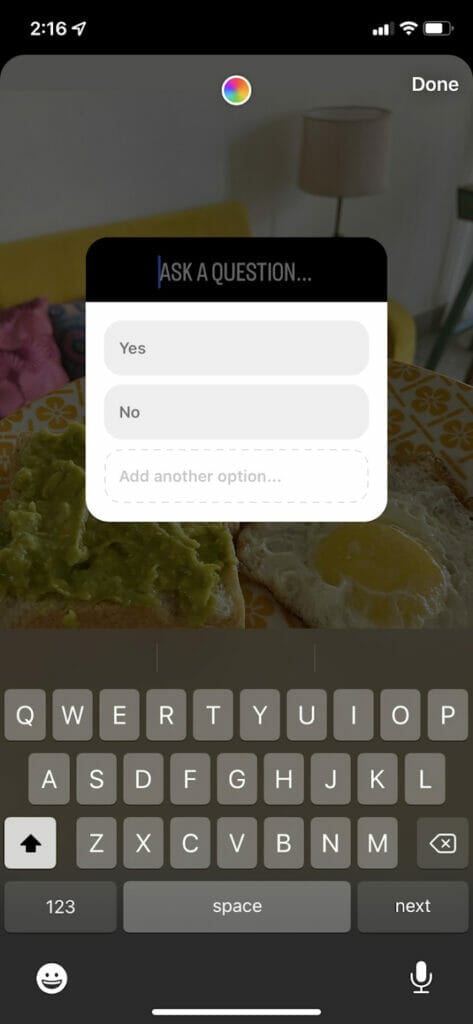 Step Five: Tap on "Done" to finish creating your poll. And that's it. Now tap on the arrow button at the bottom of the screen to share the poll to your Stories so people can start voting.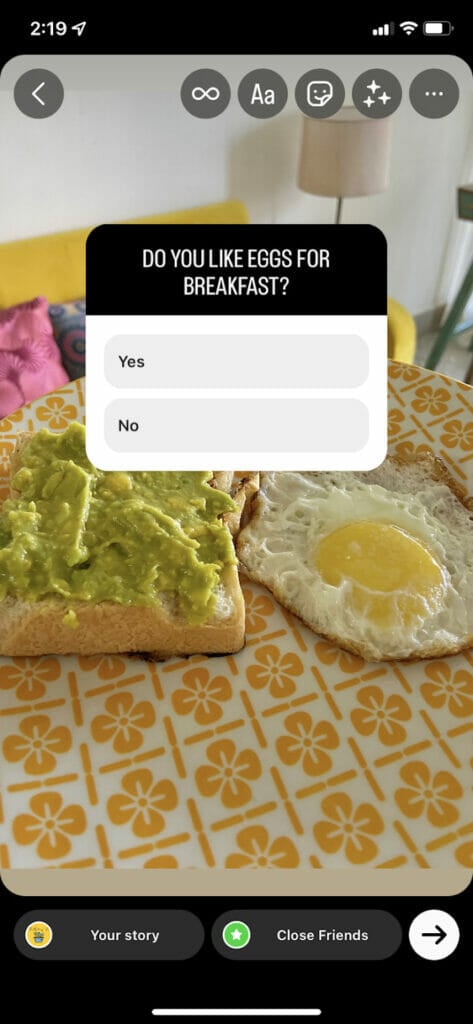 ---
7 Instagram Poll Ideas to Inspire You
Now that you know how to create polls on Instagram, you may be interested to learn how to make use of them. Here are a few awesome poll ideas to inspire your Instagram marketing strategy.
1. Turn It into a Guessing Game
Guessing games are a fun way to entertain your audience. This would involve asking people to take a guess by choosing any of the options provided. You can then reveal the answer in the next Story or the next day. The chance to challenge themselves and make a correct guess could entice many followers to join in on the fun.
You can make this Story game about anything. For example, you could ask them to guess what your upcoming product will be. Or you could share some themes for a new campaign and ask them to guess which one you'll pick.
For example, the following artist asked fans to guess the theme for her 2023 calendar. Since she'd included some ideas in the options, it leaves people guessing while simultaneously building anticipation.
Pro tip: The game doesn't necessarily have to involve a contest where they win something. But the opportunity to win something could encourage many of them to vote in your poll.
---
2. Build Anticipation for an Upcoming Event
With the power of polls to engage your audience, you could leverage them to build anticipation for an upcoming event such as a live broadcast, a summit, a concert, a product launch, or even a party. This may involve creating a series of polls on the days leading up to the event. The idea is to get the audience to focus on the event by sharing content they can engage with that's relevant to the event.
You could ask questions about what they expect from the event. For example, you might want to ask them questions about whether they'd want to see an ice sculpture or a champagne tower. Or it could be something related to the product you're revealing. For example, you could get them to guess one key product feature that will be announced on the day of the launch.
In the case of Cult Beauty, Instagram polls served as an effective tool to engage followers for their Up Close on Skincare summit featuring talks from leading influencers in the industry. Before the event, the brand shared a series of polls to gauge people's thoughts and experiences related to beauty.
---
3. Show Off Your Product Variety
Sometimes, you just want to show off your products. But perhaps you're afraid it might come off as too promotional. Instagram poll stickers can help add an interactive element to your product posts. You could show off a variety of products and get people to vote between the different options.
This is a simple yet effective way to bring in some interactive element to your product promotions. That way, your followers could also focus more on the products you're showing because they're engaging with the content.
Pottery Barn, for instance, shared a series of polls where they asked people to choose between different Christmas décor items. See how they've included hand emojis pointing to each item to ensure that the poll is easily noticeable amid the product photos.
---
4. Collect Votes for a Contest
If you're running a contest that involves voting for a winner, Instagram polls are an excellent tool. You could share the different entries or candidates through your Stories and add the poll sticker so people can cast their votes. This keeps things fair while ensuring that your audience is involved in the winner selection process.
When Aday launched a dog Halloween costume contest, they used Instagram polls to get people to vote between shortlisted candidates. They broke down the contest into different categories to make voting easier.
---
5. Generate Ideas for New Content
Polls can help you get your audience involved in your content creation process. Provide a list of ideas that you've narrowed down on and ask them to choose which idea they're most interested in. This is a great way to understand what your audience wants to see from you, which can also inform your content production in the future.
You could share topic ideas or see which content formats they're most interested in. In some cases, this type of poll may even be able to help you gauge your audience's biggest pain points. This should be able to help you craft content that better addresses their pain points and solves their problems.
Katrin Berndt, aka the Grumpy Girlfriend Coach, shared an Instagram poll asking her followers what they want her upcoming podcast episode to be about. She provided a list of the most popular suggestions and asked them to pick their favorite.
---
6. Understand Your Audience's Priorities
One of the main uses of Instagram polls is to get a better understanding of your audience. This can be in the form of polls to understand their preferences, which will subsequently reveal their priorities. In other words, you can get a sense of what matters to them.
Based on these insights, you can better plan your campaigns and offers according to your audience's values. For example, A&Be Bridal Shop created a series of polls to understand what parts of the wedding their audience is willing to splurge on. This helped them to understand whether most of their followers would be willing to splurge on dresses, which they sell.
---
7. Don't Be Afraid of General Interactions
Sometimes, your Instagram poll doesn't necessarily have to have a purpose other than to engage your audience. In that tune, you could share polls that simply get people to vote between two (or more) different options. Those choices don't always have to inform you or help you make a decision. They could simply be there just for the sake of driving interactions.
That's exactly what Asos did when they shared a series of makeup looks. They asked people to choose between two options using up or down arrow buttons. The polls didn't really have another purpose for existing other than to engage their audience.
---
How to View the Results of an Instagram Poll
If you want to see how well people engaged with your poll, all you have to do is swipe up on the Story containing the poll. You'll then be able to see the percentage of votes that each option received, making it easy to see which option won. You can also see all the people who added their votes.
---
How to Share Your Poll Results
From the poll results page, tap on the "Share results" button. This will automatically turn the results into a graph. You can then add a quick message before sharing it to your Stories. Consider doing this to maintain transparency with your audience. It's ideal for polls that involve contests or idea votes so you can show your followers that everything was done fairly.
---
Get Ready to Poll Your Audience
Polls are fun, interactive, and engaging. They can also be used to inform your decisions and strategies. Use the ideas shared above to make the most of this useful Instagram feature.
Frequently Asked Questions
What are good Instagram polls?
Yes or no polls, this or that polls, guessing games, and idea generation polls are some good Instagram polls.
Did Instagram change the poll?
Yes, Instagram changed the poll to allow users to add up to four different options.
Are Instagram polls anonymous?
No, Instagram polls are not anonymous. Users can see who voted on their Instagram polls.
Do Instagram polls boost engagement?
Yes, Instagram polls are a great way to boost engagement as users can engage with a simple tap.
Can people see how many people voted on an Insta poll?
Users can see the percentage of votes for each answer. They can also see who voted on their Insta poll.