Looking for a way to show up prominently at the top of Instagram search? Or perhaps you're planning to use the search feature to find pages and creators to partner with. Either way, knowing how Instagram search works can help you achieve your goals.
In this post, we take a closer look at the Instagram search feature and how it works. We also provide you with free tools to find profiles on Instagram if you find the native search feature a bit limiting. Let's get started.
---
Instagram Search Explained:
---
How Search Works on Instagram
Instagram is constantly evolving, with new features introduced and new updates to existing features. For instance, the search feature has undergone significant improvements over the years. Previously, searching by keywords alone would only bring up results for usernames and hashtags containing those exact keywords. Now the feature has evolved to show you content related to the topic being searched as well.
For example, if you search for the keyword "crochet," you'll see photos and videos related to crocheting even if the post doesn't necessarily include the hashtag #crochet. This is a super helpful update if you're looking to discover content related to a topic even if you don't have a specific hashtag or username in mind.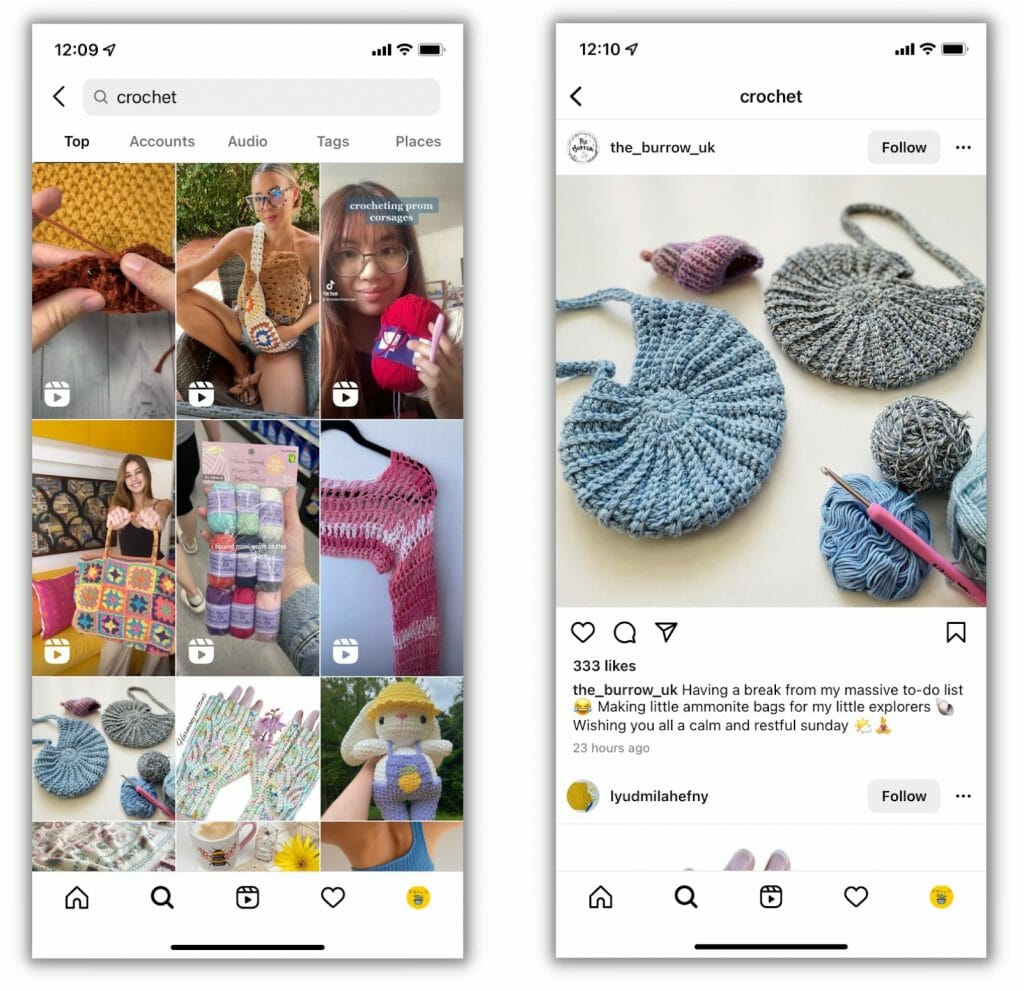 Similarly, this update makes it easier for your content to get discovered in relevant search results. Even if you're not using exact hashtags, Instagram can still show your posts to users who are searching for topics related to your area of expertise.
Instagram has also made further updates to allow users to sort their search results by category. The main search results page will show you the top posts related to the keyword. You can also sort the results to only look for accounts related to the keyword. So, in the above example, these could be accounts with "crochet" in their profile name, username, or bio.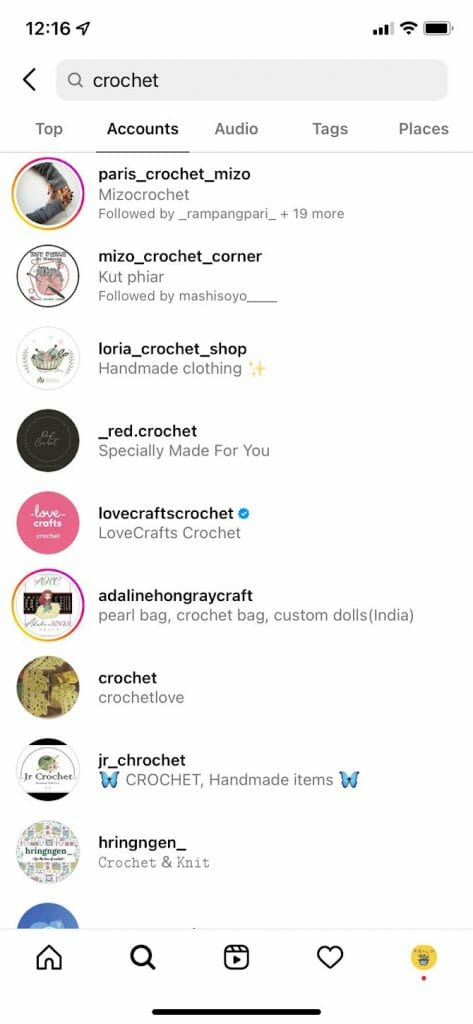 Additionally, you have the option to search for "Audio" related to the keyword. This is a very useful feature to have if you're looking for popular songs or audio tracks to add to your reels. Especially since people can click on each song and discover the top reels using the audio. That means you stand a chance of getting discovered through relevant audio searches if you make use of highly popular sounds in your reels.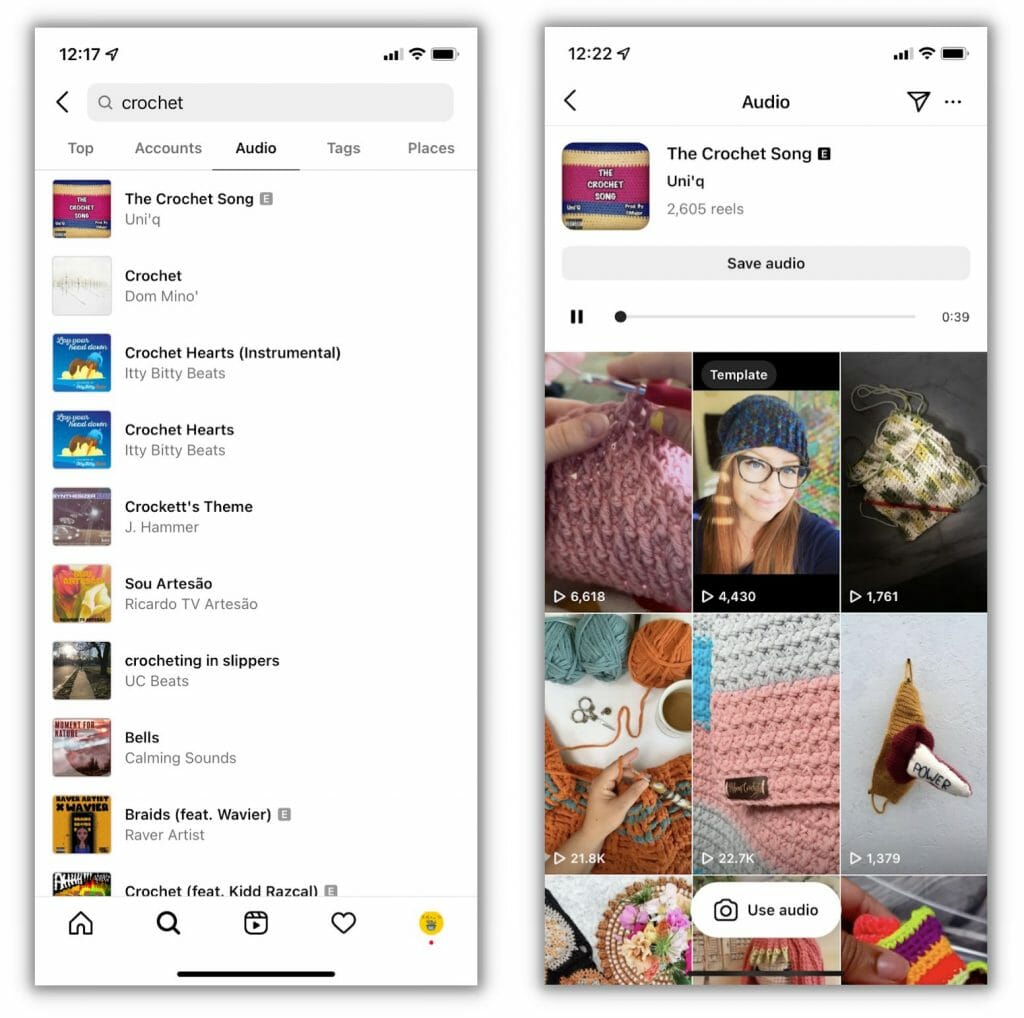 When you go to the "Tags" tab, you'll get to see some of the top hashtags that contain the keyword. For each hashtag, Instagram will display the number of posts that use the tag. The more the hashtag is used; the more popular it is. This is extremely useful if you're looking for popular hashtags to include in your posts.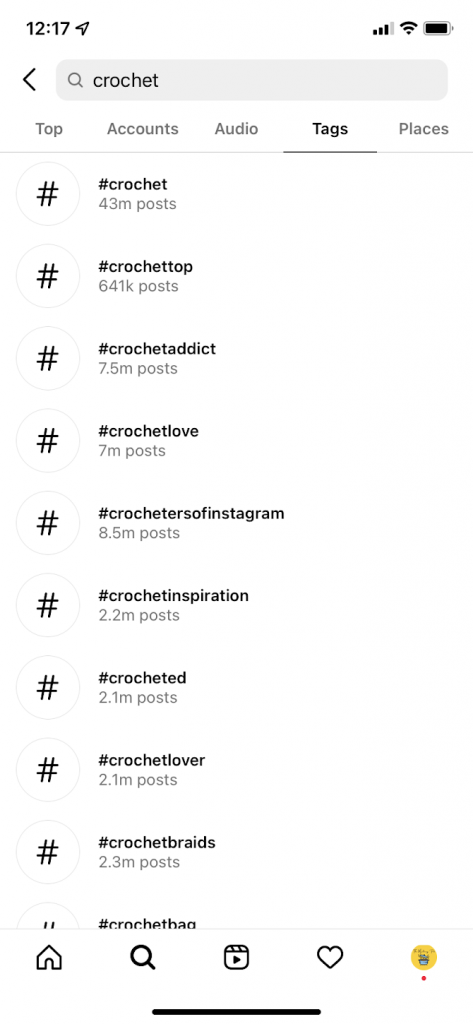 The "Places" tab will let you search for places related to the keyword you've entered. By clicking on each location tag, you can discover the top posts that have been tagged at that location. This is why it helps to add location tags to your posts whenever relevant as they can improve your chances of getting discovered by the right people.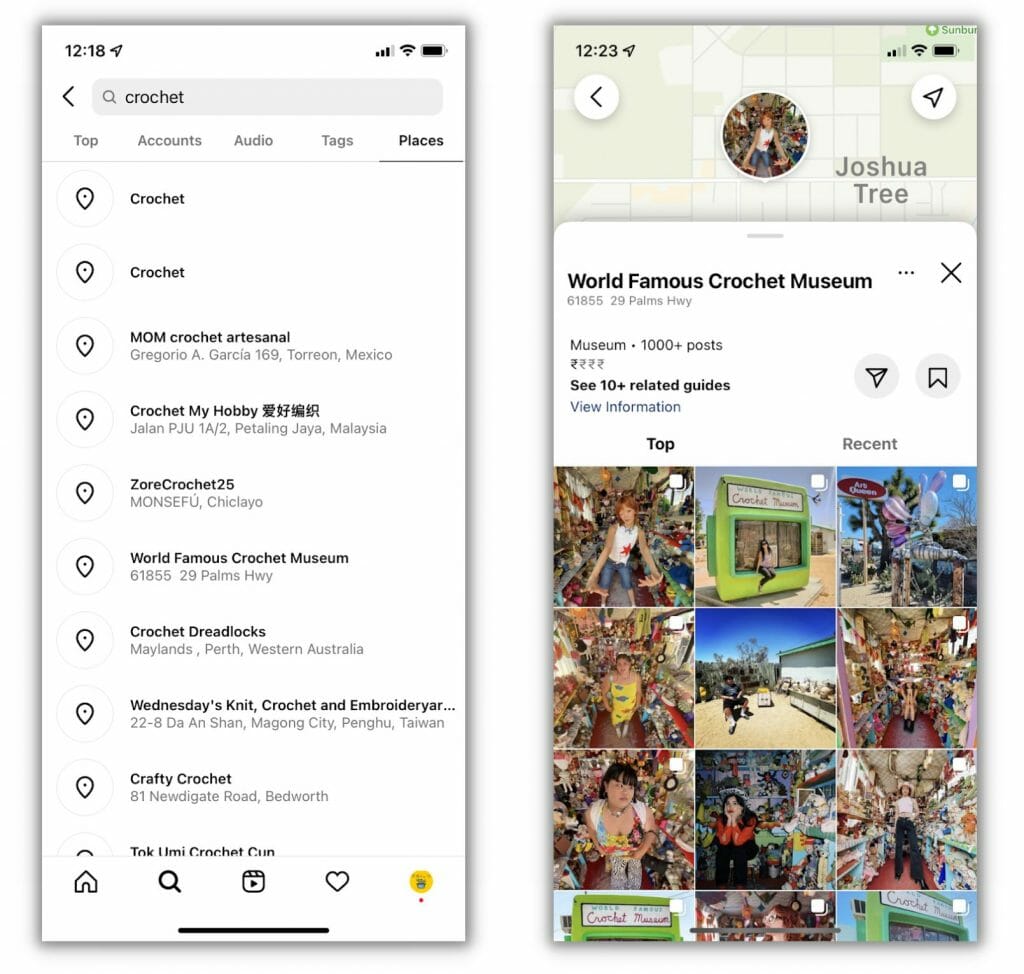 ---
How Does Instagram Rank Search Results?
Now you may be wondering: How does Instagram even rank search results at all? This is an excellent question if you're planning to master Instagram SEO and get to the top of relevant search results on the platform.
The main goal of Instagram search is to help you find accounts and content that would be of interest to you. As such, the algorithm tries to arrange the search results based on what's most relevant to you. This means it will look at signals based on your activity and then prioritize content and accounts relevant to those signals. For instance, it's much more likely to display accounts you follow related to the keyword vs. accounts you haven't interacted with at all.
So, in addition to the keywords you type into the search, those signals play a crucial role in Instagram SEO. Here are the most important signals that Instagram uses to rank search:
Text in search
The most important signal is the text you've entered in the search bar. Instagram looks at the text to match it with relevant usernames, captions, bios, hashtags, and places. That way, it can show you results that are most relevant to what you're searching for.
For example, if you're searching for something related to "crafts," it will show you accounts containing "crafts" in the username or profile name. Or in the case of posts, it will display content that has the keyword in the caption or hashtag.
Your activity
Next, it looks at signals related to your activity to make the results more personalized to your interests and preferences. Instagram will consider the accounts you follow and the posts you've viewed as well as the way you've interacted with accounts in the past. As such, it typically prioritizes the accounts and hashtags you follow or have interacted with compared to ones that you don't.
In the above example, it will display crafting-related accounts that you follow at the top of the search results. Or if you don't follow any, it will show you accounts that are followed by the people you follow.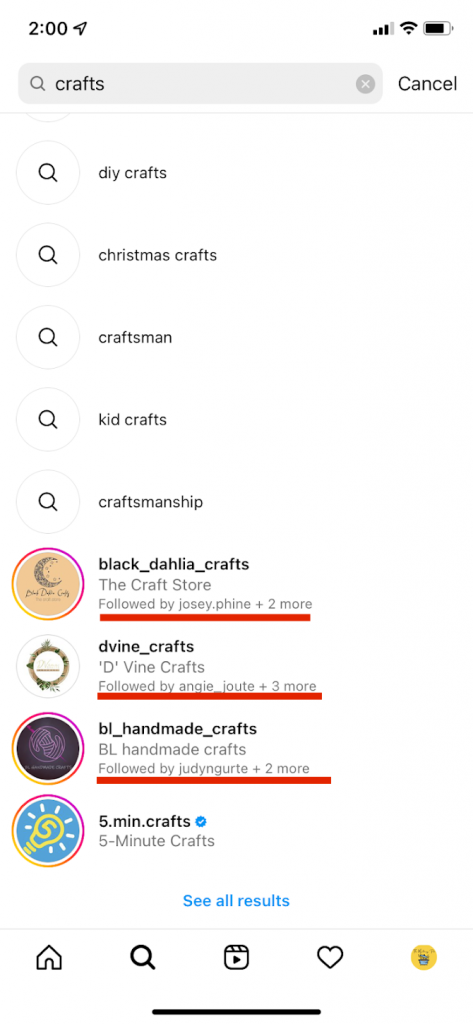 Popularity
Finally, it also looks at the popularity signals to rank searches when there are a lot of potential results. These popularity signals include the number of likes, views, clicks, shares, and follows that a particular account, place, or hashtag has. So, the more engagements a post receives; the higher up Instagram will rank it in relevant search results.
In the above example, it will also prioritize verified crafting accounts and related accounts with millions of followers. This is because Instagram deems those accounts as popular based on their follower count and their engagements.
---
Improving Your Ranking in Instagram Search
If you want to grow your Instagram account, one of the first things you need to do is increase your visibility. That means you should also work toward improving your ranking in relevant Instagram searches. Here are a few tips that will help you rank prominently in the right search results on Instagram.
1. Optimize your profile
With Instagram matching search terms with usernames and bios, this is the first place you need to start. Look at your current profile to see if there's an opportunity to optimize it with relevant keywords.
Start with your username and profile name–is there a way you could incorporate relevant keywords into your name? This might be a bit easier for creators as you have plenty of freedom to experiment.
For brands, it's a different story as you need to align your username and profile name with your actual brand name. However, you might still be able to incorporate those keywords depending on what you do and what products you sell. For example, CeraVe keeps their username simple with just the brand name. But if you look at their profile name, they've included "Skincare" to target the keyword while still keeping it on-brand.
Even if it's not possible to include keywords in your username and profile name, you could still get creative with your Instagram bio. This is where you can include multiple keywords while describing what you do or what products and services you sell.
For example, see how Hannah of The Aesthetics Studio includes keywords like stickers, washi tapes, and stationery to describe the list of products she sells. In addition, keywords like "eco-friendly packaging" could attract a different segment of users.
---
2. Optimize your captions
Remember that Instagram matches search terms with posts based on what's written in the caption. That means you need to create captions that align with the keywords you're targeting. As such, make sure your captions are descriptive enough to give the audience context while also containing the keywords you want to rank for–whether it's within the caption copy itself or as hashtags.
Make the most of the Instagram hashtag search feature to discover some of the most popular hashtags relevant to your content. Alternatively, you can also use our very own Hashtag Generator Tool for a more comprehensive hashtag research strategy. This will let you upload the photo you're posting to Instagram and automatically suggest keywords based on the content of the photo.
Choose the keywords that best match the photo you want to post. Our tool will then suggest popular hashtags related to the keyword. It also shows you the popularity based on usage for each of the hashtags.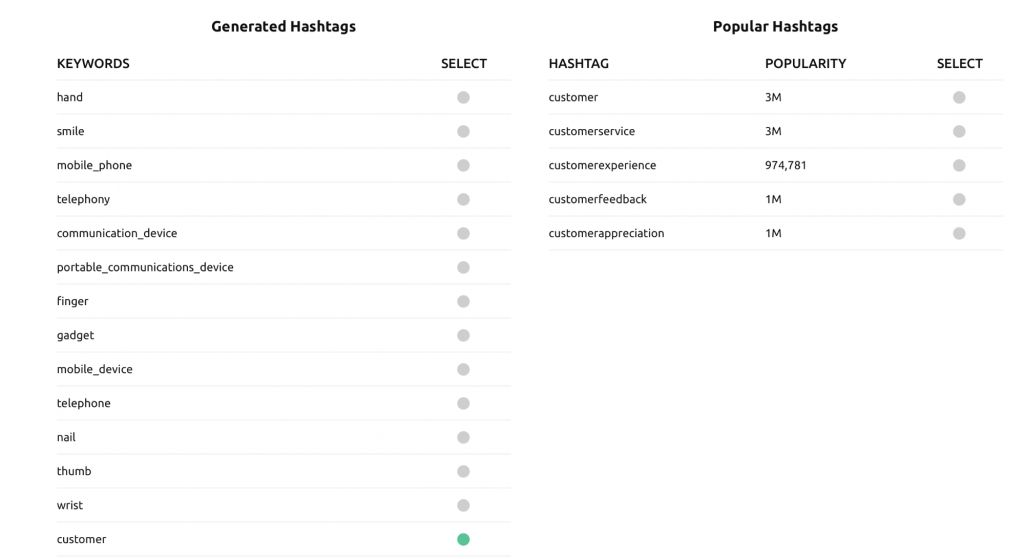 ---
3. Post at the right time
Remember how Instagram looks at popularity signals to rank content for search? One of the best ways to boost those signals is by driving tons of engagement for your posts. But for that, you need to get your timing right.
Unless your post gets a lot of likes and comments within the first few minutes, it tends to get buried under newer, more popular content. So, the key is to immediately drive engagements as soon as your post goes live. As such, you need to publish your posts when your audience is active and most likely to engage.
The best time to post on Instagram varies for each account. However, research suggests that Thursday is the best day to post in general, with the ideal time being between 2 PM and 3 PM. Alternatively, 11 AM on a Wednesday and 10 AM on a Friday are other good days to post if you want to drive more engagement.
Keep in mind that every audience is different. So, the best thing you can do is experiment with different post timings to see what works best to engage your audience. You can also check out your Instagram Insights and see the Most Active Times for your audience. This will give you an idea of which days and times to target when publishing a new post.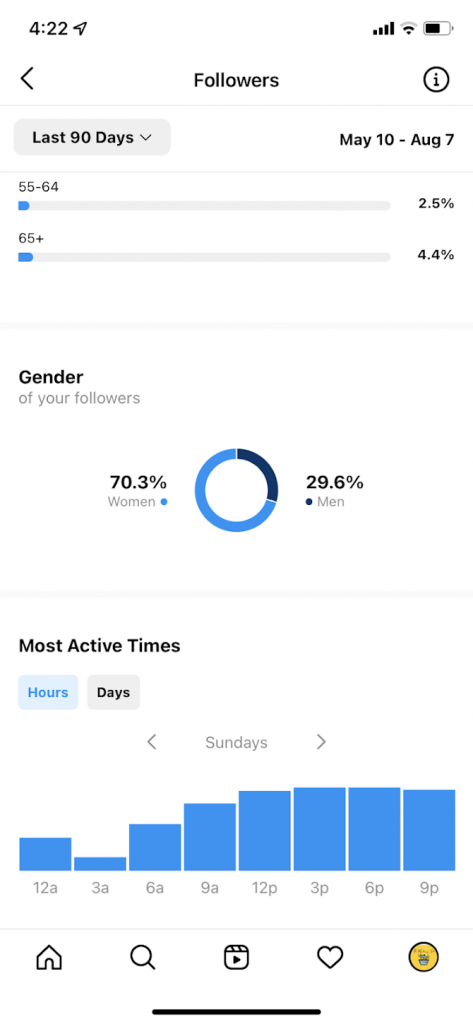 ---
4. Look for other ways to drive engagement
Besides your post timing, you should also look for other ways to boost your Instagram engagement and increase your popularity signals. This may involve interacting with your followers by responding to their comments in your posts. It may also involve including a CTA or prompt in your caption to encourage more people to leave a comment.
Another effective way to boost your engagement rate is by creating an Instagram Collabs post. This involves adding another account (such as a brand, influencer, or relevant content creator) as a collaborator in your post. With this feature, the new post will show up in the Feeds of both your audiences, allowing you to maximize your reach and improve the chances of engaging more people.
This is a great way for brands to collaborate with influencers in their niche. Alternatively, it provides an opportunity for creators to collaborate and tap into each other's audience base. In the following Collabs post, you can see a collaboration between influencer, Haley Sacks and Birdies, the shoe brand. The post shows up in both of their pages and has managed to collectively garner over 2,000 likes–a much higher engagement rate than their usual posts.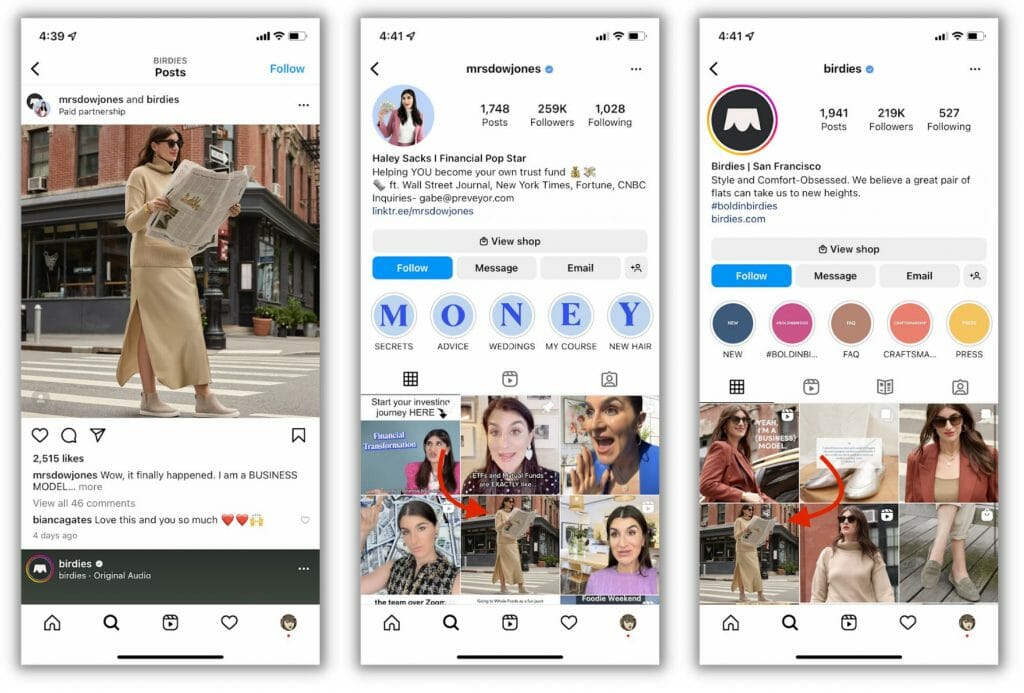 ---
Free Tools to Find Profiles on Instagram
If you're launching an influencer marketing campaign or you want to collaborate with other creators on Instagram, you'd want to get as specific as possible with your search. As such, you'd need a comprehensive Instagram search tool that lets you filter your searches better than the native search function.
Tools like Toolzu and Inflact are a couple of free Instagram search tools to find profiles on the platform. These will let you conduct profile searches using keywords and you can further filter the results using criteria such as follower count, categories, gender, etc. You can even use our latest Instagram search tool for free to find the profiles you want to connect with.
---
Fine-Tune Your Instagram Search
Now that you know how Instagram search works in 2022, you should have some idea of how to improve your search visibility on the platform. Plus, you can use some of the free tools above to perform more advanced searches and narrow down the most relevant accounts you want to reach.
Frequently Asked Questions
How can I search Instagram without an account?
You can use third-party tools like Toolzu and Inflact to perform an Instagram search without an account.
How do I search for an Instagram user?
You can search for an Instagram user by entering their name or username in the search field.
Is there a search feature on Instagram?
Yes, Instagram has a search feature that allows people to search for content, places, hashtags, audios, and accounts related to specific keywords.
How do I find someone on Instagram without their username?
If you don't know someone's username, you can perform a search using their full name within the Instagram platform. Alternatively, use a third-party tool like Inflact to find someone on Instagram using their phone number.
How do you find someone on Instagram by phone number?
Third-party tools like Inflact let you find someone on Instagram by phone number.