If you want to make it big on Instagram, you need to gain visibility on the platform. People should be able to discover your content in order to engage with it and discover your brand or creator account. This is why Instagram SEO is such a vital part of your social media toolkit–whether you're marketing your brand or you're building your influence as a content creator.
So how exactly do you use Instagram SEO to your advantage? Keep reading to find out how Instagram SEO works, what makes it different, and how you can leverage it.
---
Instagram SEO:
---
Understanding How Instagram SEO Works
Instagram SEO allows you to optimize your profile and content to improve visibility on the platform. It leverages the Instagram algorithm to improve your chances of showing up in searches for relevant hashtags and keywords. So at the most basic level, it may involve optimizing your profile with keywords or adding popular and niche-specific hashtags in your captions.
An Instagram SEO strategy involves tapping into the key ranking factors when developing your content and marketing plan. These factors include relevance to the search query, user activity, and popularity signals.
The Instagram algorithm first looks at whether the username, bio, caption, hashtag, and location match the query that a user enters into the search bar. So if you search for the term "watercolor," some of the top account suggestions will have "watercolor" in their username, profile name, and/or bio.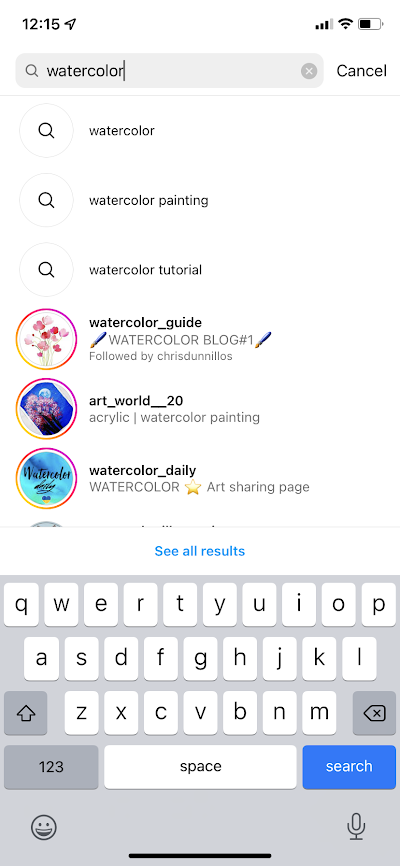 Additionally, it also considers the individual user activity such as the accounts, posts, and hashtags that the user has interacted with or even viewed previously. Finally, it considers the popularity of the account or post based on likes, shares, and follows to decide which ones to rank first.
---
What Makes Instagram SEO Different?
With the Instagram algorithm functioning differently from popular search engine algorithms like Google, SEO also works differently on the platform. One of the major differences is that hashtags play a key role in search and discoverability on Instagram–even more so than keywords.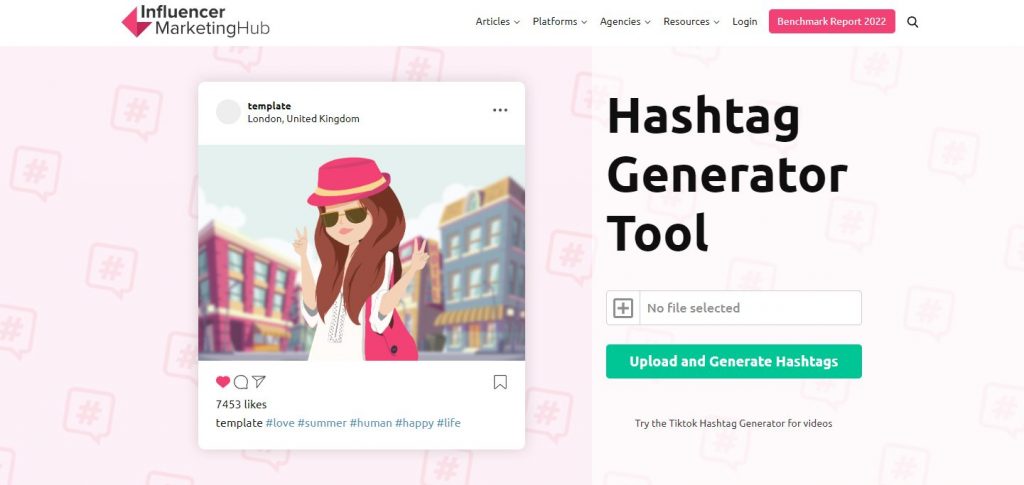 While Instagram has started factoring in keywords to rank content, hashtags are still central to the algorithm. Besides conducting searches for those hashtags from the search bar, users can even click on hashtags to search for content related to those hashtags. Moreover, the keywords in your username and bio weigh more heavily than the keywords in your captions.
And with the algorithm counting popularity signals and user activity, timing and engagement are also crucial for Instagram SEO. Your posts should garner tons of likes, comments, and shares to rank more prominently in relevant searches or show up in the Explore pages of relevant users.
---
How to Leverage Instagram SEO for More Visibility
Now that you have a fair idea of how Instagram SEO works and what makes it different, it's time to get to the interesting part. Here are some of the best ways you can leverage Instagram SEO to boost visibility for your account and content.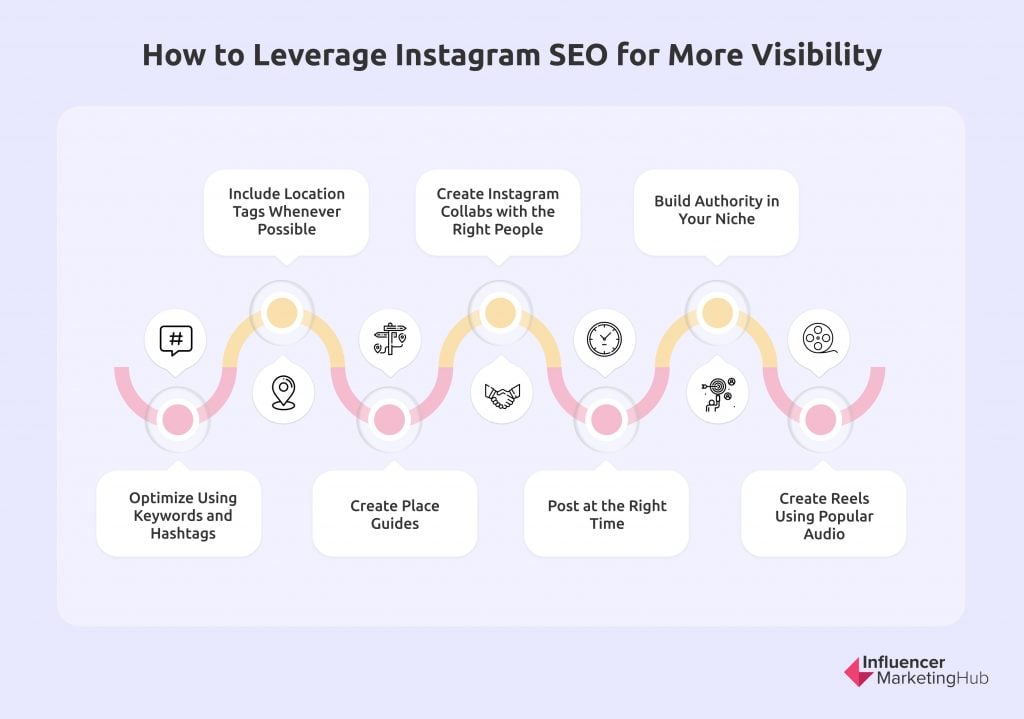 Optimize Using Keywords and Hashtags
As mentioned above, keywords and hashtags are important for gaining visibility on Instagram. So they should be the first thing to consider in your Instagram SEO strategy. This would involve optimizing your profile and your posts using the right keywords, and using the right mixture of hashtags in your content.
Start by optimizing your profile with keywords that are relevant to your niche. You could use a primary keyword in your name and username. This is much easier for content creators as they have the freedom to play around with their Instagram handle. For example, the following content creator uses @organicbeautylover as her username and includes "Organic Beauty Blogger" in her profile name, incorporating the keyword "organic beauty" in both instances.
If it's not possible to change your Instagram username for brand reasons, you can still find a way to use the primary keyword in your profile name. See for instance, how Pai Skincare uses keywords like "vegan" and "organic" in their profile name.
Additionally, you can make the most of your bio to incorporate the primary keyword and a few secondary keywords. In the Pai Skincare example above, you can see how they've used keywords like "organic skincare" and "natural ingredients" in their bio.
Aside from your profile, your content should also be optimized using the right keywords and hashtags. Write keyword-rich and descriptive captions that are relevant to the content to improve the chances of showing up in relevant search results.
More importantly, include the right mix of hashtags to improve your content discoverability. Although you can use up to 30 hashtags per post, Instagram recommends using 3-5 hashtags for optimal results. Ideally, there should be a good balance of popular and trending hashtags, niche-specific hashtags, and branded hashtags.
Here's an example from The Nature Conservancy, where they use three hashtags that are highly relevant to the post and the account. In addition to two content-specific hashtags, they use the hashtag #PlanetTogether, which is a brand-specific hashtag they created on the occasion of Earth Day.
---
Include Location Tags Whenever Possible
Instagram gives users the option to search for content from a specific location. Under the "Places" tab, people can find content tagged using the geotag for that location. That means using location tags in your posts is a great way to get your content discovered on Instagram. It allows people searching for content around the location to find your post and engage with it.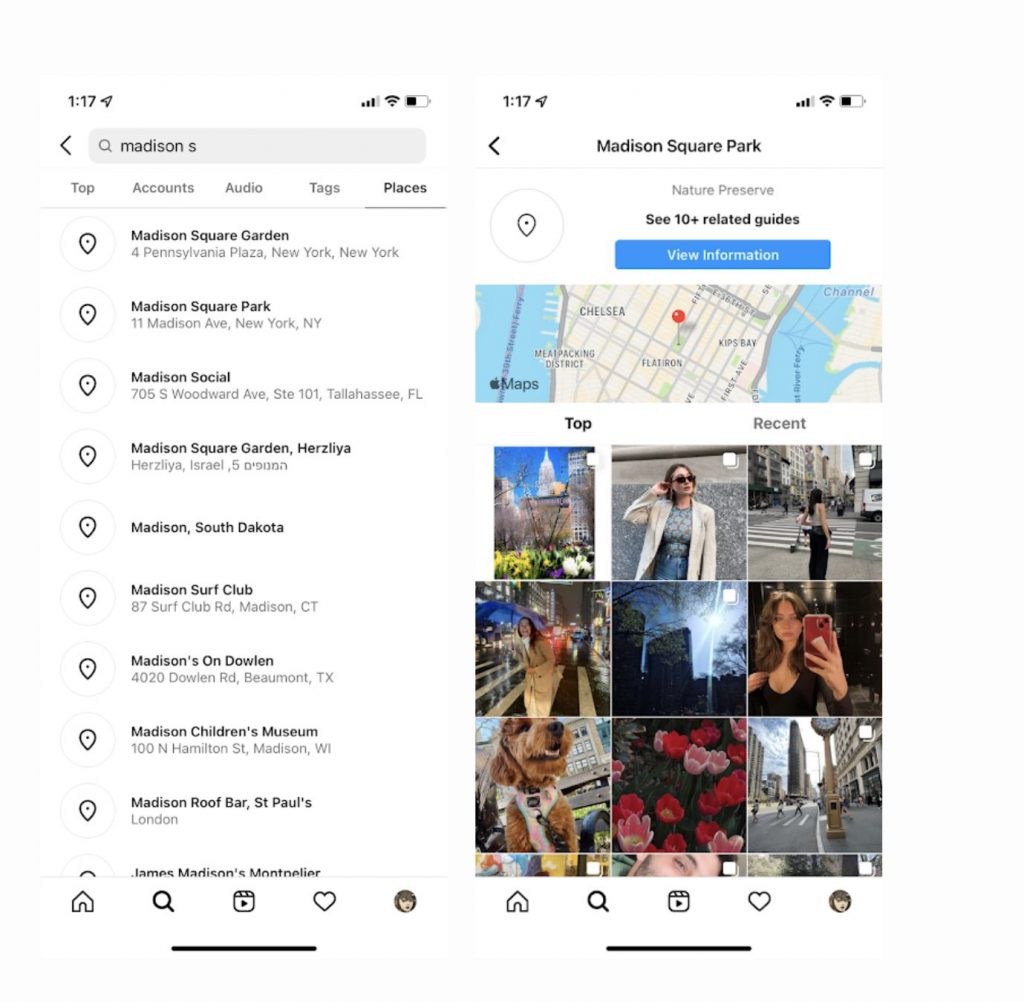 Additionally, Instagram also considers proximity when delivering search results to users. That means when someone searches for a "hairstylist" in the search bar, it'll pull up results of places that are closest to the user. Adding location tags allows Instagram to understand where your business is located so it can display your content in searches conducted by users located nearby. An additional bonus is that you get to attract local patrons and drive foot traffic to your business.
---
Create Place Guides
Another way to make use of location tags for Instagram SEO is by creating an Instagram Place Guide. Place Guides show up at the top of the search results when users search for certain location tags on the platform. When users click on the option to "See related guides," they can come across the Guide that you've created for that particular location.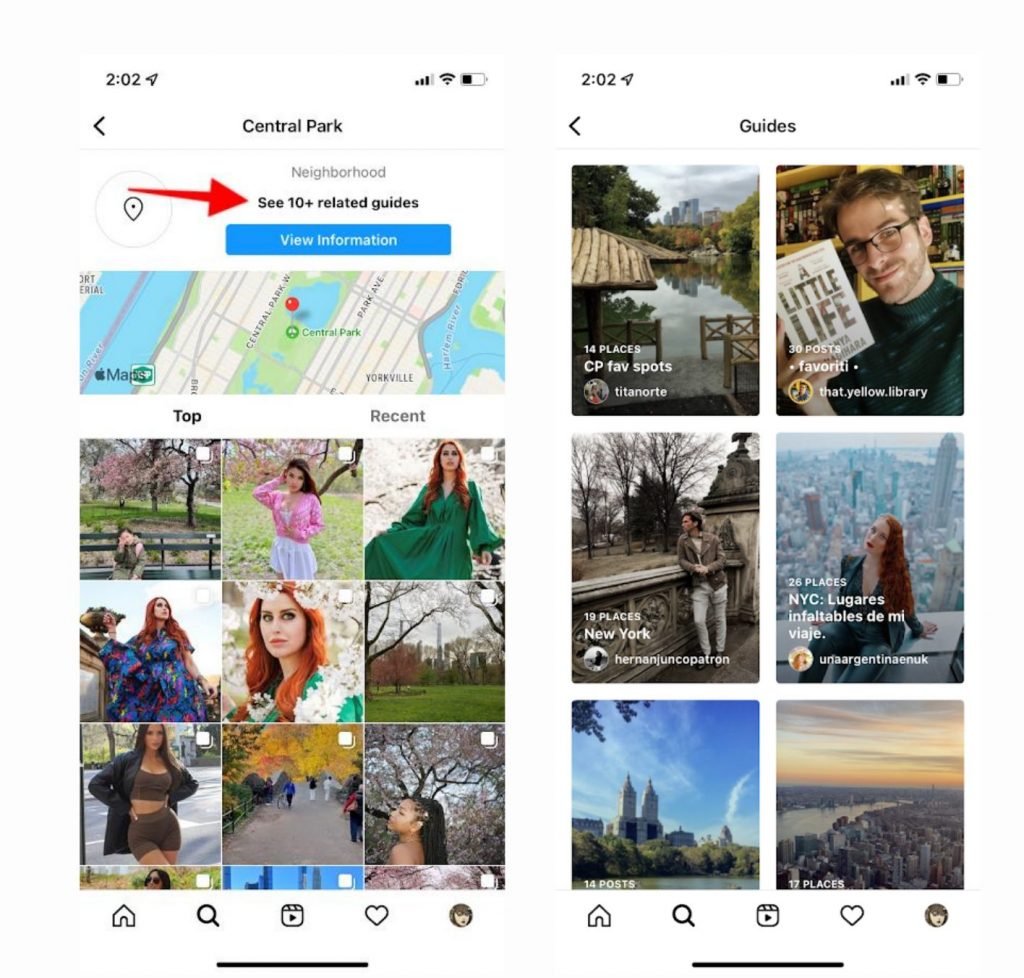 This is a great way to attract people to your content and possibly get them to engage. And the more they engage with your content, the more you gain in terms of popularity signals. So consider creating Place Guides to share travel recommendations, local guides, city guides, travel round-ups, and more.
---
Create Instagram Collabs with the Right People
If you're not leveraging Instagram Collabs yet, you're missing out especially when it comes to Instagram SEO. When you create an Instagram Collab post with another creator, the post shows up on the Feeds of both your followers. That means the same post will be displayed to your followers and the other creator's followers, which also means you can garner their collective engagement.
In other words, the likes and comments coming from your followers and the other creator's followers will collect under the same post. With Instagram considering popularity signals to rank content in search results, this amplified visibility and engagement will help you boost your content visibility in relevant searches.
Consider working with popular content creators in the right niche to create an Instagram Collab post. You could also use these posts when working with relevant brands and organizations for a campaign.
For example, see how the following Instagram Collab post by Japan Explores and Snack Feels show up in the Feeds of both accounts. The post managed to garner over 4,000 likes, reaching a collective audience of about 900,000.
---
Post at the Right Time
With millions of posts created on Instagram each day, it's easy for content to get buried to the bottom of the Feed. That means people won't get to see your content to engage with it. And with low engagement rates, your content won't get much visibility on the platform. This makes it crucial to get your timing right so that lots of people get to see and engage with your content immediately after you post it.
Time your Instagram posts so you can catch your audience when they're the most active and therefore, most likely to engage with your content. The best times to post on Instagram are between 2 PM and 3 PM on Thursdays, 11 AM on Wednesdays, and 10 AM on Fridays. However, every audience is different so these timings might not necessarily work best for you.
Experiment with different timings and use your Instagram Insights to discover the most active times for your audience in particular. This shows you the days and hours that your followers are the most active, so you can determine the best times to reach them. Make the most of these insights to schedule your Instagram posts to go out at a time when your followers are most likely to see and engage with them.
---
Build Authority in Your Niche
Instagram places great weight on popularity signals when ranking content for search. That means even among content that is about the same topic, it's likely to prioritize ones that come from reputable and popular accounts in a particular niche. These are accounts that have earned a name in the given niche and have received tons of engagement for the post.
This is why it's crucial to build authority in your niche so that Instagram can learn what your account is all about and what types of content you offer. Not only that, once you gain authority in your niche, you'll have built a significant audience that's interested in your content and wants to engage with it. The engagement you get from this audience also signals to the Instagram algorithm that your content should rank prominently in relevant search results.
One of the best ways to build authority in a specific niche is by creating posts consistently about related topics. This is also why many Instagram influencers focus on a couple of niches at a time–whether it's home décor, makeup and skincare, or nutrition and fitness. For brands, this is a lot easier since all they have to do is create content related to their industry and products.
With Pai Skincare, their post ranks prominently on the Explore page for the search term "organic skincare." This is because the brand consistently creates content related to organic skincare products.
---
Create Reels Using Popular Audio
Instagram Reels are a great way to gain visibility even for new accounts since the platform doesn't consider account size when suggesting Reels to users. That means with the right content, even new creators can instantly gain Instagram fame. So Reels are an essential tool for your Instagram SEO strategy.
Additionally, Instagram allows you to conduct a search for audio tracks and discover Reels made using those tracks. This gives you the opportunity to get your content in front of users who are searching for certain audio tracks on the platform. Ideally, make the most of trending sounds and popular songs in your Reels so that you can tap into the high search volumes for those audio files and improve your chances of attracting more viewers for your Reels.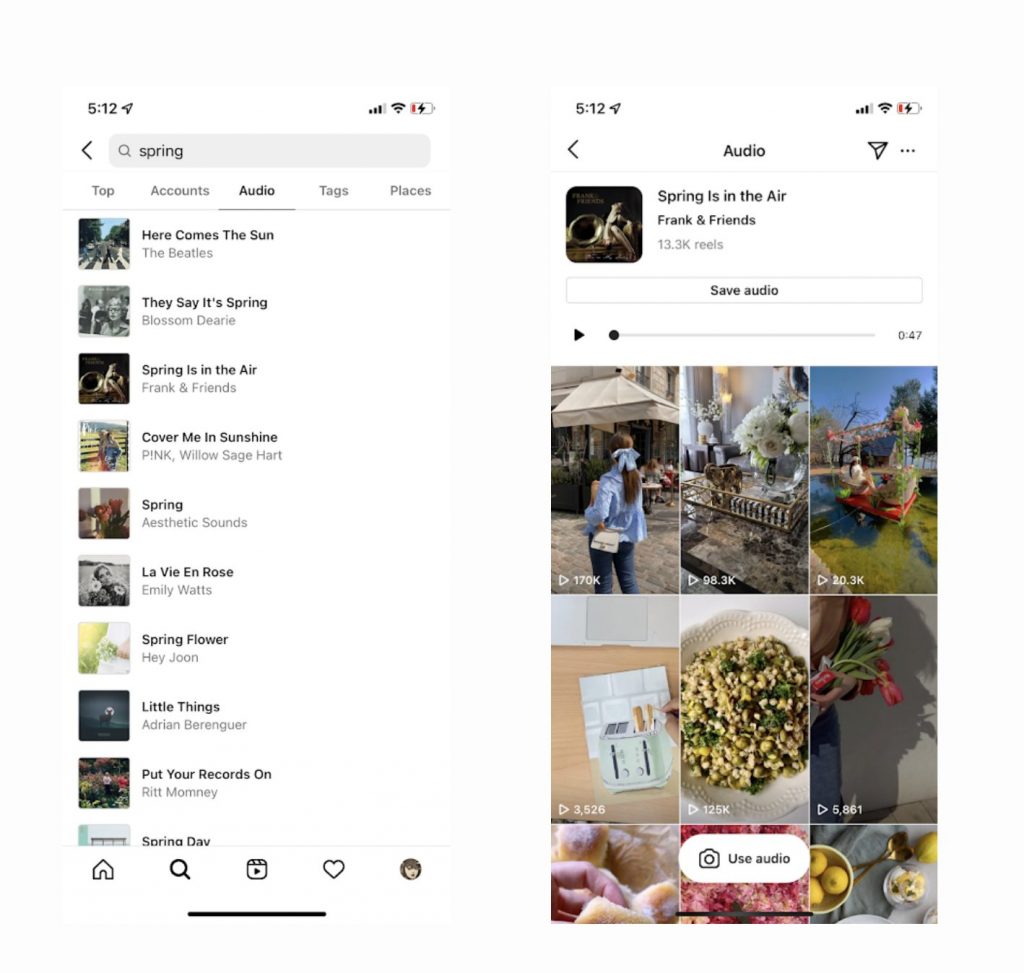 ---
Become an Instagram SEO Pro
There you have it–some of the best and most practical ways to get your account and content in front of the right audience on Instagram. Make the most of the Instagram SEO tips given above to boost your visibility and grow your account.
Frequently Asked Questions
What is SEO on Instagram?
SEO on Instagram refers to the process of optimizing your profile and content to make them more visible across the platform–whether it's in the Explore pages of users or in relevant searches.
Why is my Instagram reach so low?
Your Instagram reach may be low for a number of reasons, but the most likely reason is that you're not optimizing your content with hashtags and keywords.
How can I increase my followers on Instagram for SEO?
You can increase your followers on Instagram by creating great content consistently and optimizing it with keywords and hashtags to make sure they show up in relevant searches and Explore pages.
Why is Instagram profile optimization important?
Instagram profile optimization is important because the algorithm considers keywords in usernames, profile names, and bios to deliver relevant search results to users.
How do I grow my Instagram in 2022?
You can grow your Instagram in 2022 by creating great content consistently and using Instagram SEO to ensure that your account and posts show up in front of the right users.