Advertising Disclosure
Advertising disclosure:
Our partners compensate us. This may influence which products or services we review (also where and how those products appear on the site), this in no way affects our recommendations or the advice we offer. Our reviews are based on years of experience and countless hours of research. Our partners cannot pay us to guarantee favorable reviews of their products or services.
Your business loses substantial money if your inventory system still suffers from duplicate entries and human errors. As technological advances flood the business landscape, some would think inventory issues are a thing of the past. Yet, this couldn't be farther from the truth.
According to statistics on supply chain technology adoption, only 40% of companies currently use inventory and network optimization technologies. Since many businesses have yet to adopt inventory management systems, stock control is inefficient.
As you scale your business into new sales channels, your order volume increases, and so will the complexities of filling orders from various marketing channels. If you are still managing your inventory manually, there will come a time when it becomes overwhelming and unsustainable. This is where inventory management software comes into play. This inventory system is essential for creating a process for tracking and managing your inventory, especially as your business grows.
---
A Comprehensive Guide to Inventory Management Software:

---
Inventory Management Software: An Overview
Any business that keeps products or raw materials on hand must keep track of its stock. Traditional inventory management is a laborious, time-consuming manual process susceptible to errors. Today, you can use inventory management software to speed up the process, reduce mistakes, and make tracking and ordering the products you sell easier. Besides facilitating increased orderliness and productivity, inventory management systems are often straightforward and intuitive.
Inventory management is an integral aspect of your supply chain because it lets you keep track of when you buy, store, and sell your goods. When you know each product's location, you can check your inventory levels at a micro level. Once accurate inventory records are kept across all sales channels, you can use this data to prepare for inventory and automate reordering, making your stock management system even more efficient.
When you can automatically track how much stock you have and where it is, inventory management goes from being a time-consuming, manual task to a critical part of your business's growth strategy.
---
Inventory Management Software: Nuts and Bolts
Most inventory management systems today are cloud-based, providing users numerous benefits. A cloud-based system eliminates the need for servers, an IT team, and creating your cybersecurity plans. Instead, the software company oversees the inventory system, so choosing a provider with high-quality service is imperative. Investment management software is often available as a monthly subscription, and if you partner with a good vendor, it can simplify managing the system.
Pricing for the inventory management software typically varies from $99 per month for basic plans to $3000 per month for premium services. The company's size primarily determines the rate. Variables like the number of locations the system must service, the volume of orders received, and the number of items in stock also affect the cost of the software.
Inventory management software offers a variety of features. One of the essential features is inventory control, which allows you to monitor your goods as they arrive and leave your shop and storage. Some automated inventory systems also allow you to record and keep the right amount of merchandise on hand. Others have integrations that track items in real time and update the accounting system as needed.
Inventory systems also tell you how many parts or components you'll need to make or build your final product. If you don't have this data, you might end up with too much stock which will affect your bottom line, or insufficient supply to meet customer needs.
---
Inventory Management Software: The Benefits
Using inventory software has various benefits, including: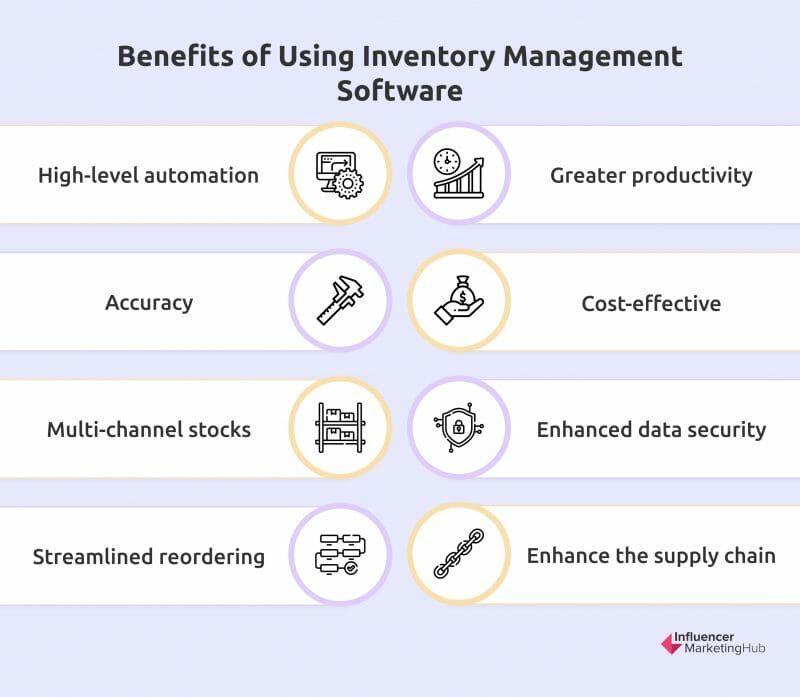 High-level automation
Arguably the most important benefit of using inventory management software is automation. When your inventory system is automated, human errors are less likely to happen, which saves you time and money. Once the guidelines for the system are set, the system can do repetitive tasks with little manual assistance. This gives you real-time insight into your stock levels as your stock count updates instantly after a sale.
This feature is also vital for accurate forecasting and ensuring a positive customer experience by avoiding overselling.
Accuracy
Inventory software tracks every item that arrives and departs throughout manufacturing, warehousing, and sales. Most systems also include a point of sale (POS) system for handling transactions and payments. If you already have a POS system, you can integrate it with the inventory software. This means that the inventory is more accurate, resulting in improved budgeting and better relationships with customers and partners.
Multi-channel stocks
Overselling on multiple channels can be an issue for any business, especially for eCommerce. If you don't have an accurate merchandise audit, it's easy to run out of supplies without notice, leading to stockouts. When this happens, you lose potential clients and will have difficulty retaining repeat customers. Some marketplaces can also prohibit your store when you oversell. An inventory software tracks orders and inventory across your sales channels simultaneously, letting you know when to restock.
Streamlined reordering
Effective inventory software will not only give you a detailed list of everything you have in stock, but it can streamline reordering essential items, so you never run out. You can also configure it to help you order sufficient items to keep filling orders without keeping "dead stock," which is a product that goes bad or sits on your shelves for a long time.
Greater productivity
Inventory management software can help businesses boost overall production rates. If you have little or no inventory issues to fix, you can concentrate on manufacturing high-quality products at a quicker pace. You can also reallocate labor hours to other tasks to increase production efficiency.
Cost-effective
Comprehensive stock control reports tell you what you have in storage, so your staff doesn't waste time searching for items that aren't there. This makes picking, packing, and shipping more straightforward so that you can complete more orders as quickly as possible. Inventory software also reduces costs by not ordering excessive quantities of a product with low sales volume. If you have accurate data and insights reports, you know which products need constant restocking and which don't.
Enhanced data security
Only essential personnel have access to the system with automated inventory, which helps minimize data breaches. Inventory software also aids in keeping the company's internal operations private, which can function as a barrier against cyberattacks.
Enhance the supply chain
Even as efficient as you can, problems still arise with supply chains. You can minimize potential issues with a supply chain diversification strategy if you have inventory software. With your stock data, you can plan ahead for peak seasons. You can approximate the number of items you need to order from your suppliers.
---
Inventory Management Software: Top Vendors in 2022
Here are five of the most used inventory management software for different businesses today. The best system for your company relies on its specific stock requirements.
---
---
---
---
---
---
Inventory Management Software: The Takeaway
Inventory management software can assist you in optimizing the way you track products as they flow through your ecosystem. It can also improve order management by automatically replenishing stock without overordering. Inventory management software is vital for minimizing human error and sustainable business growth.
When purchasing inventory management software, it's crucial to consider your industry and how your business works. For instance, some inventory management software is made for retailers only and doesn't have the essential features of manufacturing businesses. Others are designed for startups and small businesses with more compact features that are not enough for large enterprises.
Once you better understand what tools and features you need, you can make a sound business decision. Research and check which reputable inventory management software can offer you the best features for your needs.