Advertising Disclosure
Advertising disclosure:
Our partners compensate us. This may influence which products or services we review (also where and how those products appear on the site), this in no way affects our recommendations or the advice we offer. Our reviews are based on years of experience and countless hours of research. Our partners cannot pay us to guarantee favorable reviews of their products or services.
From laptop skins to face masks for glowing skin, you can sell virtually anything on Amazon and be profitable. The challenge, though, is managing your inventory levels.
According to Amazon stats, it has about 310 million customers. While you have a massive global audience that you can potentially reach, ensuring you have excess stock isn't the way to go. It's bad for cash flow and risky.
Any one of the following 10 inventory tools will see to it that your current stock levels meet the customer demand. Aside from the basics like monitoring the quantity of items in stock, many of these tools can also share accurate forecasts, helping you to be prepared for any season.
---
Leading Amazon Inventory Management Software:
Top
amazon inventory management tools
2024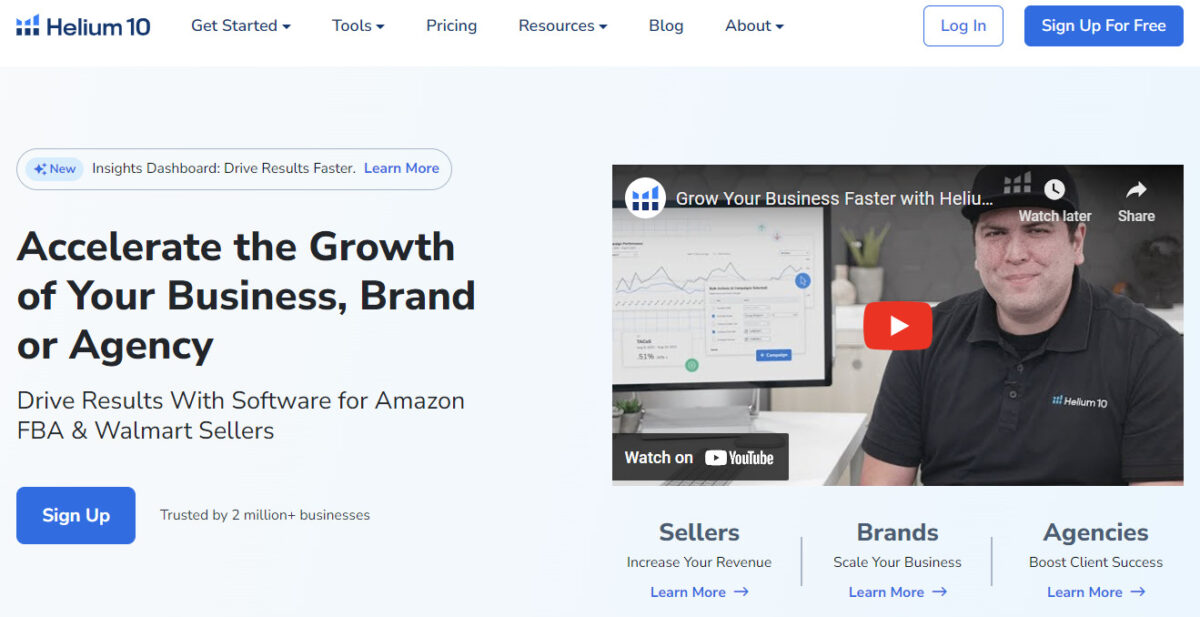 Helium 10 is one of the best tools created for Amazon sellers, whether you're an experienced entrepreneur or a busy enterprise. To quote Helium 10, you can think of it as a "trusted sensei".
It's an all-in-one Amazon sales software solution that offers various features to help you grow your eCommerce business. It initially began as an innovative listing optimization tool, but expanded its focus to include tools to help with research, inventory management, and marketing among other things.
If you're specifically searching for a tool to manage your inventory, you can use it to predict trends and avoid having too much or little stock at any given time. It also includes features like automatic quantity updates, restock recommendations, and custom presets for better control. 
Key Features
An insights dashboard
Multi-user login
Product and keyword research
Analytics
Pricing
Pricing starts at $29 per month when billed annually and includes limited inventory management.
---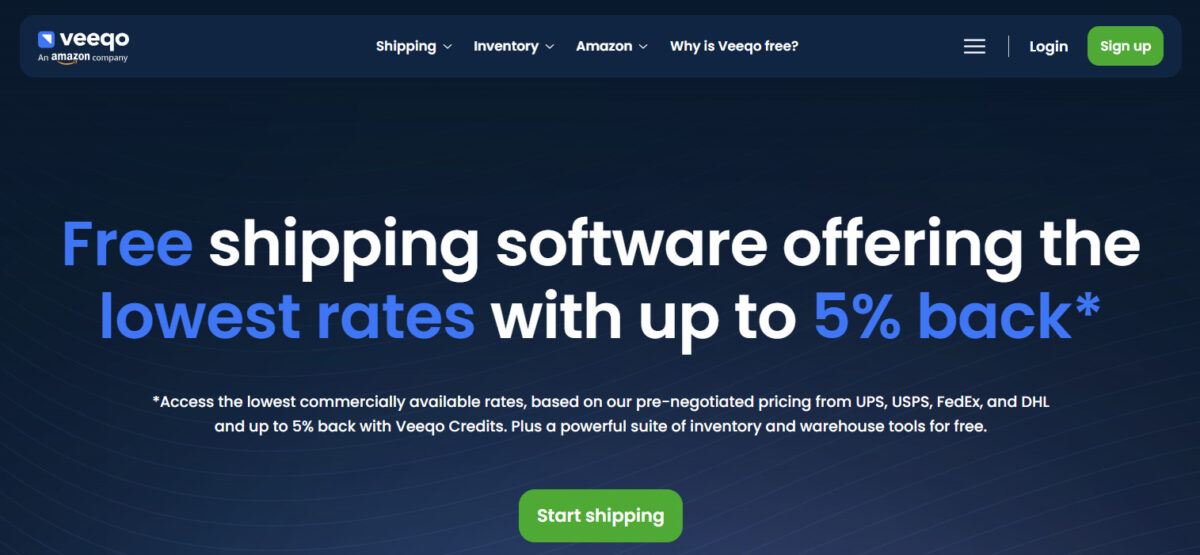 There are several reasonably priced inventory management tools on the market and some of them are even available for free. Veeqo is one such tool, making it one of the popular tools for eCommerce startups in particular. There's one condition, though, you'll need to buy most of your shipping labels in Veeqo.
Its selection of integrations is rated as one of its best features. Aside from its Amazon support, it also integrates with other popular eCommerce platforms like Shopify, Walmart, and eBay. What makes it such a great tool for Amazon sellers is that it's an Amazon company. It's completely integrated with Amazon's Buy Shipping. For example, if you shipped on time but the delivery was late, Amazon will suppress negative feedback linked to that sale.
As for its inventory management capabilities, Veeqo will automatically monitor all stock items in a centralized place, making it effortless to stay on top of movements. If you're using Amazon FBA, it will track stock levels at each location allowing you to spot quickly as soon as it's time to send more stock.
Key Features
Customizable warehouse workflows
Inventory rules to automate routine tasks
The ability to edit bundling components
Adjustable account permissions using preset user roles
Reporting
Pricing
Veeqo is available for free.
---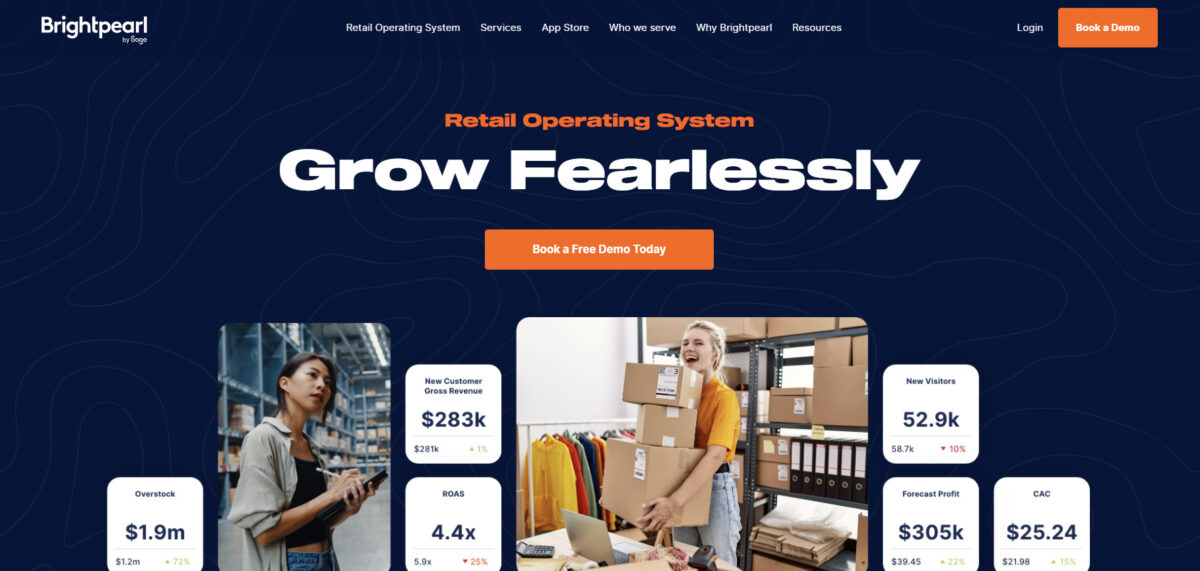 Brought to you by Sage, Brightpearl is one of the leading retail operating systems aimed at eCommerce brands, wholesalers as well as multichannel retail brands. Aside from inventory and sales order management, it can also be used for financial management, fulfillment, and logistics, among other things.
For those selling on Amazon, it offers a complete digital operations platform thanks to its out-of-the-box, plug-and-play integration. You can use it to manage orders for multiple channels and leverage Amazon FBA. Its enhanced inventory management features let you sync all your stock, orders, shipping, and payments automatically.
Is your stock located at multiple warehouses or other locations? No problem. Brightpearl is bright enough to deal with that too.
It has helped a brand like FringeSport to save about 40 hours per month. As they sell via Amazon, eBay, Shopify Plus and a couple of retail locations, inventory tracking was one tough task and they needed a tool to streamline everything. Aside from saving them time and minimizing human error, it has also allowed them to focus on rolling out more showrooms.
Key Features
Customizable rules to automate workflows
Inventory forecasting based on historical data from all your sales channels
Real-time reporting
Pricing
The pricing is customized based on your needs and designed to scale with your business. You can request a quote via its website.
---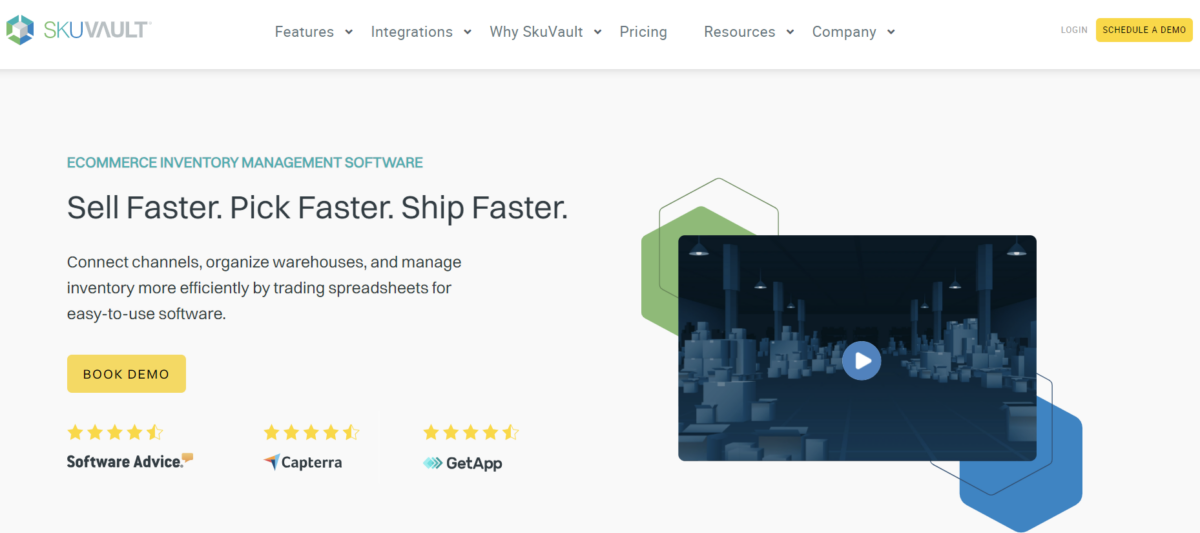 Unlike some of the other tools that offer a number of other related services, SkuVault chooses to focus on eCommerce inventory management. While it's more limited in terms of scope, it offers a long list of integrations, including with Amazon and Walmart, and is also rated as one of the best inventory software for Walmart.
With this integration, inventory quantity will get updated in real time, including inventory in FBA. It works by pulling product and order info from the marketplace and creating pick lists with direct routes. Aside from saving you time, it can also optimize space usage by offering dynamic locations.
Happy SkuVault users include Happy Feet, a family-owned business that sells specialty slippers. Their challenge was finding an intuitive tool that their small staff could use to manage various sales channels. It's SkuVault's flexibility, user-friendliness, and client support that they've highlighted as standout features. These features have reduced the time spent on fulfillment, leaving them with more time to put up their own feet. 
Key Features
Simple workflows
Barcode scanning
Next-gen forecasting reports
Barcode scanning
Stock forecasting
Kitting and bundling
Pricing
Pricing starts at $449 per month for a maximum of 2,000 orders. Custom pricing is also available for brands generating more than 10,000 orders per month.
---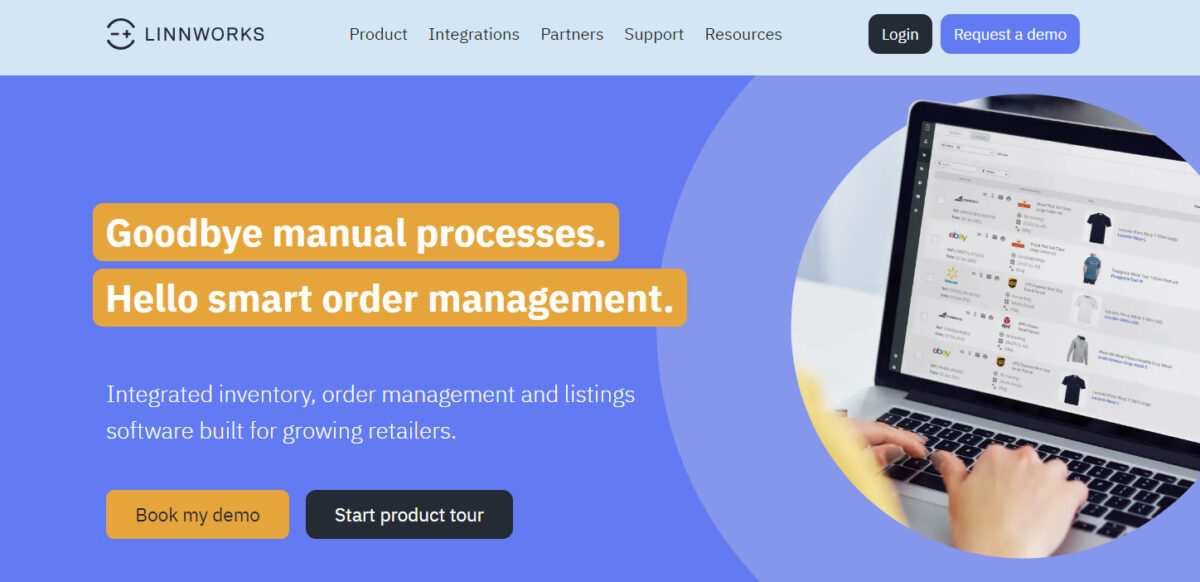 Linnworks is an award-winning, SaaS commerce platform that links business systems helping its users to increase their revenue via multiple channels. It's trusted by thousands of customers and offers over a hundred integrations, including all the big names like Amazon, Walmart, and BigCommerce.
It's a great option for B2B brands. Aside from letting you set B2B prices or discounts, you can also identify business orders and use its automation features to prioritize those. Then, once an order is dispatched, it will automatically recalculate your stock levels.
In addition to B2B businesses, it has also helped online businesses like JAF Comics to sell across multiple marketplaces. They've been using Linnworks for a decade, during which they've managed to expand their product range as well as their physical presence to a new retail store that's 10 times bigger than their previous premise. This was made possible by the fact they no longer had to worry about missed orders or waste time updating listings individually.
Key Features
Listing management
Automatic synchronization of price updates
Automated workflows
Payment mapping to track how customers pay for their orders
Rule-based assignment of fulfillment and shipping partners
Stock forecasting
Insights
Pricing
For more information about its pricing plans, you'll need to book a demo.
---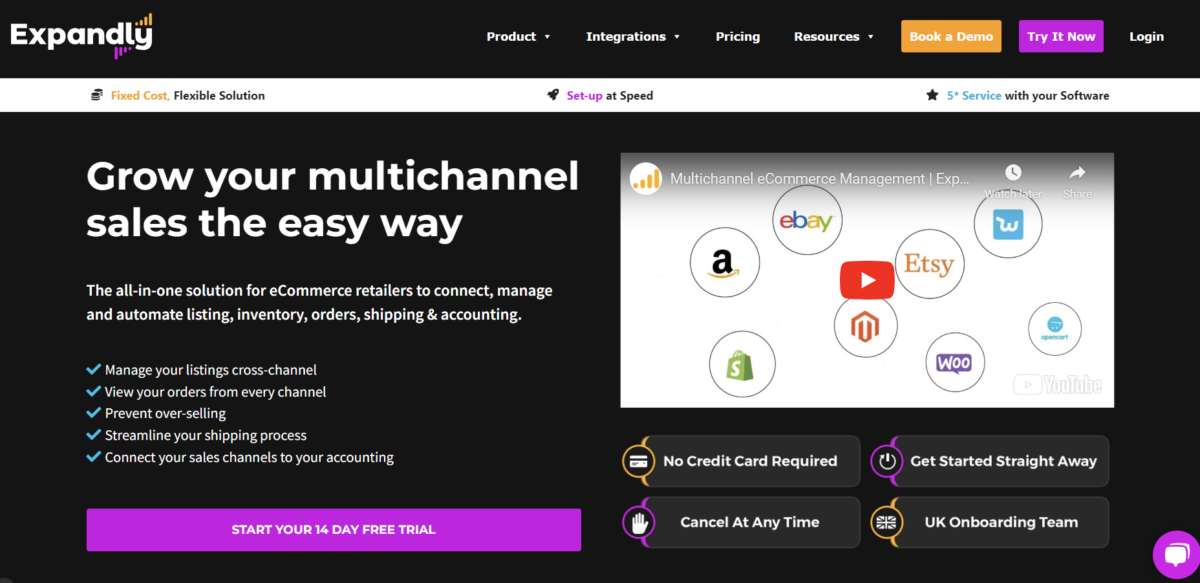 For those looking to leverage multi-channel selling, there's Expandly. As its name suggests, it shines in the integrations department. In addition to Amazon, it also integrates with three of the other biggest marketplaces – eBay, Etsy, and Wish. Then, aside from these marketplaces, it also integrates with dozens of shopping carts, shipping carriers, accounting software, and 3PL companies.
To keep track of all your activity, it offers a central interface. Here, you can manage orders, inventory, and listings. It also supports FBA listings and orders as well as services specific to the marketplace like gift wrapping.
Not only is it a great tool if you plan on pushing sales via multiple channels, but also if you're targeting a global audience. It currently supports a number of Amazon regions, including the US, Canada, UK, and other parts in Europe. Adding more Amazon regions is also included in its development roadmap.
Key Features
The ability to set reorder levels
Returns management
Kitting and bundling
Reporting
Pricing
Pricing starts at $510 per month when billed monthly. However, if you sign up for a yearly contract and choose to pay annually, you can save about 10%.
---

Zoho is much more than simply an email app. From email to customer relationship management to inventory tracking, it offers a number of comprehensive solutions.
It currently offers inventory and order management for Amazon, Shopify, Etsy, and eBay and is rated as one of the best eCommerce inventory management platforms along with Linnworks, Veeqo, and SkuVault. Whether you're a retailer, wholesaler, or product-based business, Zoho can be used for several use cases.
All in all, it's pretty simple to integrate your Amazon Seller Central account with Zoho. If you want to use FBA, you can also designate a warehouse to monitor your products and orders. For this, they also share easy, step-by-step instructions.
After you've successfully integrated your accounts, you're ready to start tracking. As Zoho uses an automated sync cycle that you can set for every 30 minutes, you can basically sit back knowing that everything will be kept up to date automatically.
Key Features
Low stock alerts
A built-in client database
A batch lot tracking feature
Accounting integrations
Pricing
After a free 14-day trial, pricing starts at about $40 per business per month when billed monthly. It also offers a limited free plan for small businesses with a maximum of 50 monthly orders.
---

Ordoro was recently named by Forbes as the top inventory management software for multichannel sellers. Aside from integrating with several shopping carts and marketplaces like Shopify, BigCommerce, and Amazon, it also has integrations with accounting tools, suppliers, and shipping carriers.
On top of its versatility, users have also praised its intuitiveness and customer support team. Its app tracks product quantities whenever you restock or there's an outgoing shipment. Then, when you're running low on certain SKUs, it will notify you.
For example, when Brute Force Training needed to find a single platform that could take care of both inventory and shipping management, they turned to Ordoro. Everything was set up in a matter of days, with Brute Force Training describing switching to Ordoro as their single most impactful move.
Key Features
Automated low-stock alerts
Kitting and bundling
Multi-warehouse management
FBA inventory sync
Bulk inventory uploads
Sales and operation analytics
Reporting
Pricing
Ordoro offers a free plan, two subscription plans, and an enterprise solution for sellers that ship over 7,500 orders per month. Pricing starts at $59 per month.
---

If you plan to sell only on Amazon, you'll be stoked with SoStocked. It's a completely customizable inventory management and forecasting software.
Created by dozens of Amazon sellers for thousands of Amazon sellers, it can solve many common pain points like managing bundles and warehouse recounts. It's especially useful for forecasting. Instead of relying on a one-size-fits-all algorithm, it lets you customize your forecast modeling around your unique business.
Key Features
Reorder alerts
Multichannel fulfillment through Amazon
Inventory dashboards
Pricing
After a free trial of a month, pricing starts at $158 per month for up to 1,000 monthly orders. Custom pricing is also available for enterprise clients managing multiple brands with different account owners.
---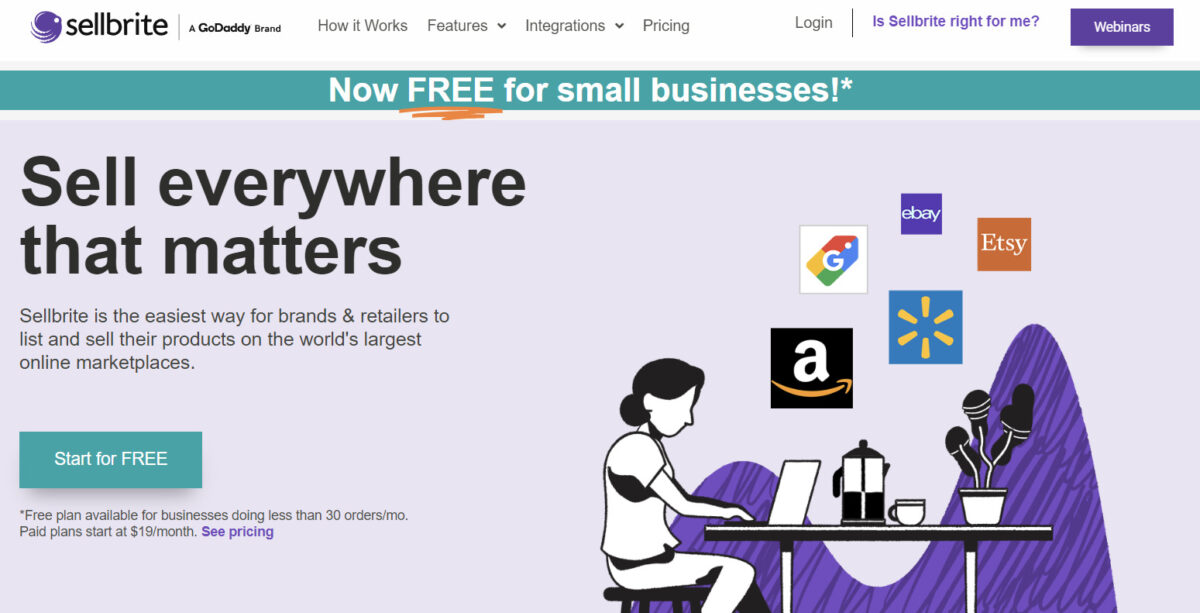 Sellbrite is another software that eCommerce brands can use for inventory optimization and offers a free plan for small businesses. Aside from its pricing, it's also easy to use thanks to its one-click integrations with Amazon and several other platforms.
From listing management to inventory control to fulfillment to reporting, it can be applied for various use cases. Its automatic inventory sync will ensure that you have the right amount of stock, while its bulk editor will cut down on manual work. You can also get a quick overview of your stock levels via a centralized, user-friendly interface to double-check that everything is still on the right track.
Key Features
FBA inventory management
Multi-warehouse automation
Listing management
Reports
Pricing
After a free 30-day trial, pricing starts at $19 per month. Aside from the generous trial, Sellbrite also has a free plan for businesses with a maximum of 30 orders per month.
---
Wrapping Things Up
Make no mistake, Amazon attracts more than enough customers. If you know how to market to your target audience and have a system in place for deciding which popular products to sell, it's half the battle won. Then, you'll need to ensure that you have enough products to meet the demand that your clever marketing strategies generated.
Whether you plan on sticking solely to Amazon or plan to expand your presence to other platforms like Walmart too at a later stage, it's highly recommended that you add one of these inventory software solutions to your tech stack. Switching between spreadsheets will never give you the complete picture like these inventory systems will.
Frequently Asked Questions
What is inventory management?
Inventory management is a part of a series of activities that help businesses to keep optimal levels of inventory items, both raw materials and finished goods. It enables them to forecast stock levels more accurately, avoid having too much or little stock, and prevent problems with shipping.
How do you know which products to sell on Amazon?
There are a number of tools that you can use to discover opportunities on Amazon and predict sales. You can, for example, check out the following Amazon sales forecasting software solutions:
Pacvue Commerce

Jungle Scout

AMZScout

SoStocked

PrettyMerch

Unicorn Smasher

Amazon Forecast
Which products are currently trending on Amazon?
With millions of products available on Amazon, it can be challenging to figure out what to sell. Here are some of the top trending products on Amazon that you can add to your product range:
Hair products

Yoga mats

Water bottles

Games and puzzles

Board games

Pet supplies 

Books
What are some tips for launching a product on Amazon?
To launch a new product successfully, you'll need to monitor the competition on the platform closely and be able to spot gaps in the market. This will help you to create a very competitive offer. Once you have your offer, turn your attention to Amazon reviews. You'll need to find a way to convince customers to review the product that they've recently bought. Then, you'll also need leverage pay-per-click (PPC) and try to bid more aggressively at the beginning.
Are there any good marketing agencies that specialize in Amazon?
There are dozens of great marketing agencies that include Amazon marketing in their list of services. You can, for example, check out:
Disruptive Advertising

Thrive Internet Marketing Agency

Nuanced Media

Rise Interactive

Digital Operative

Vertical Rail