Advertising Disclosure
Advertising disclosure:
Our partners compensate us. This may influence which products or services we review (also where and how those products appear on the site), this in no way affects our recommendations or the advice we offer. Our reviews are based on years of experience and countless hours of research. Our partners cannot pay us to guarantee favorable reviews of their products or services.
Kroger, the beloved supermarket chain that's been a staple of American life for over a century, is not just a destination for grocery shopping. It's also a powerful advertising platform that connects brands with millions of consumers every day.
But advertising on Kroger's platform isn't just about placing an ad and hoping for the best. To get the most out of this marketing channel, advertisers need to understand the intricacies of the Kroger ecosystem and leverage the right tools and technologies. That's where Kroger's advertising software comes in. A software that utilizes advertising on Kroger is a suite of tools and services designed to help advertisers optimize their campaigns on the Kroger platform. From targeting the right audience to measuring the impact of their ads, advertisers can use this software to get the most out of their advertising budget and achieve their marketing goals.
The company also partners with third-party software providers to offer even more advanced capabilities. This includes features like real-time bidding, cross-device targeting, and data management, all of which can help brand advertisers deliver more personalized and effective ads to Kroger shoppers.
Before going into more specific matters, let's see why Kroger advertising software is needed and how it is enabled.
---
Top Kroger Advertising Software Solution to Supercharge Your Advertising Campaigns:
---
What Software Solutions Are Available for Kroger advertising?
We'll take a closer look at the best available options for Kroger advertising, their key features, and how you can use it to supercharge your advertising efforts on the Kroger platform.
Top
kroger advertising software
2024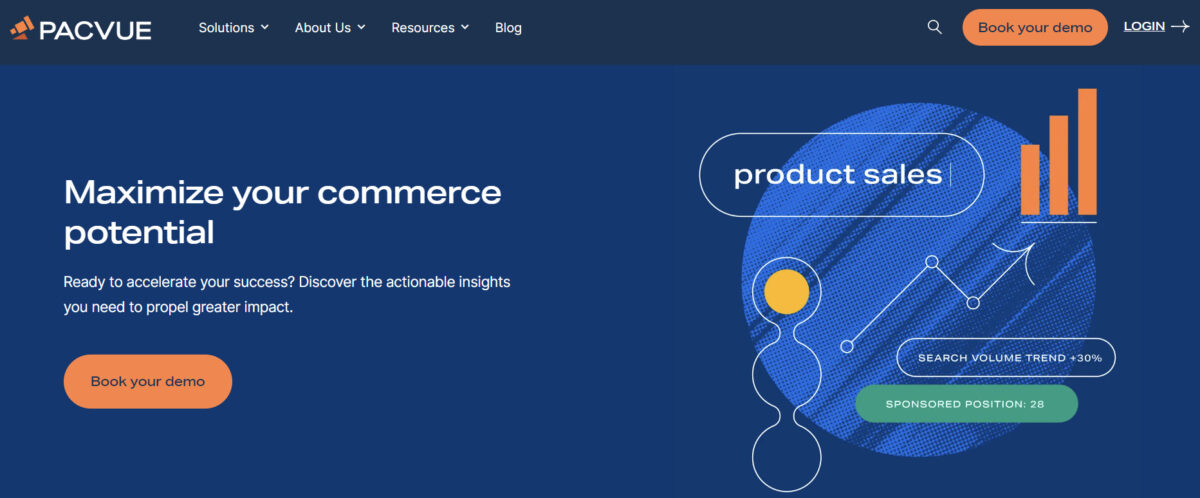 Pacvue is an enterprise software suite for brands looking to automate their Kroger Advertising campaigns while gaining valuable insights into their performance.
One of the key features of Pacvue is its campaign automation capabilities, which allow advertisers to optimize campaign budgets, products, and targeting using rule-based optimization. This means that brands can work more efficiently by letting the software do the heavy lifting.
Pacvue's AI-based optimization tool is particularly impressive, as it autonomously adjusts when and where ads are shown based on performance. Agencies can monitor critical performance indicators, including return on ad sales, cost-per-click, and product-level tracking, as well as insights on paid and organic visibility.
Another valuable feature of Pacvue is its Share of Voice reporting, which provides valuable insights into regional availability and allows advertisers to identify when a new competitor enters their category. This helps brands invest their advertising dollars where they will have the greatest impact.
Users can also experience the advantage of dayparting, which allows them to strategically schedule ads during peak times for maximum impact, while taking full control of campaign management with the flexibility to pause, enable, or adjust bids as needed.
Equally important, Pacvue provides In-Store Insights that capture customer behavior across their grocery shopping experience, enabling advertisers to identify SKU sales by region and secure their spot in the basket. This data is derived from Kroger's in-store sales dataset, providing valuable insights into campaigns by volume of in-store versus online sales, SKU sales broken out by region, and total sales by region by banner for store sub-brands.
Kroger's loyalty shopper program, connected to 96% of sales, is a significant point of differentiation, and Pacvue's integration with KPM offers an additional layer of convenience to advertisers seeking to leverage Kroger's audience data.
Pros
Access to Kroger's large customer base
Ability to leverage Kroger's customer data for targeted advertising
Real-time campaign performance tracking
Efficient campaign management
Integration with other advertising platforms
Opportunity to maximize advertising ROI
Cons
Integration may require additional resources
May require additional training for users
Additional costs for using Pacvue
---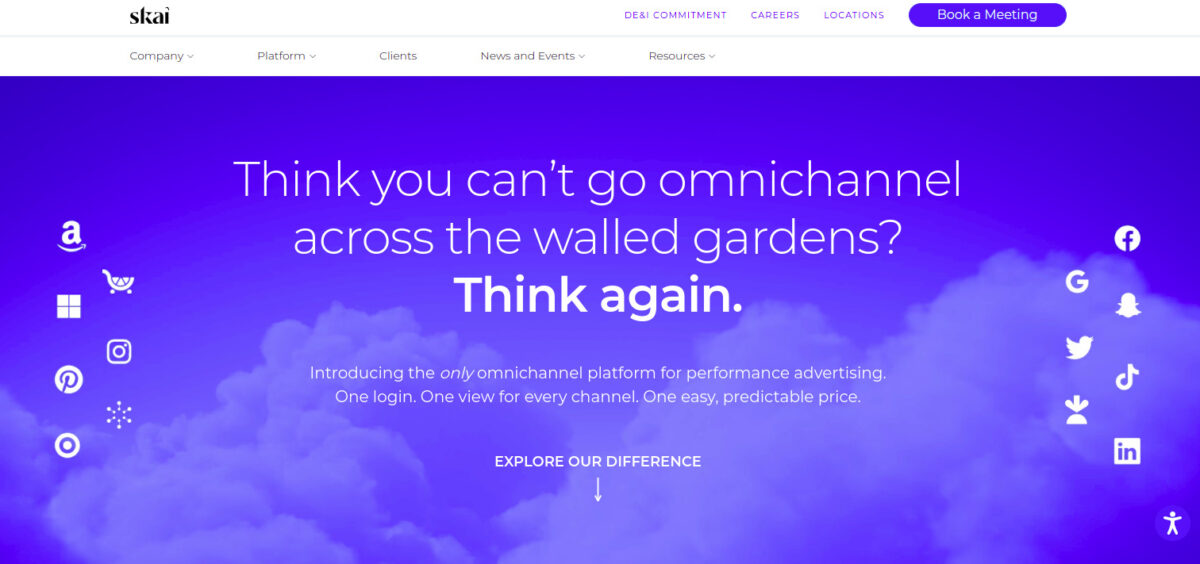 Skai™ (formerly Kenshoo) is a powerful advertising management platform that offers API access to buy product listing ads on Kroger ecommerce sites.
With Skai™'s unified platform, advertisers are empowered with a wide range of powerful tools that enable them to access cross-channel insights, streamline workflows, automate actions, and benefit from enhanced reporting capabilities fueled by comprehensive commerce intelligence using near-real-time data. By harnessing the power of this platform, advertisers can gain a deeper understanding of their customers' behavior and preferences, and use this knowledge to optimize their campaigns for maximum impact.
In addition to its cutting-edge technology, Skai™ also provides in-house experts who are dedicated to helping advertisers achieve their goals. These experts offer guidance, advice, and best practices tailored to each advertiser's unique needs, ensuring that they are able to make the most of their investment in advertising.
One of the significant advantages of getting started early with Kroger ads is that the channel is not yet oversaturated, so marketers can still have a first-mover's advantage in a lot of categories. This takes the pressure off, allowing advertisers to experiment and test & learn.
One case study highlights how Vishvos, an independent ecommerce firm, partnered with Happy Egg, a premium organic egg company, to drive performance and increase revenue by 30% on Kroger via Skai™. Vishvos consolidated all of Happy Egg's retail media into Skai™, resulting in a 5% decrease in CPAs and a 10% increase in ROAS. Furthermore, they cut meeting times and reports by more than half, showcasing the platform's efficiency and optimization capabilities.
Pros
Powerful targeting capabilities that can help agencies to reach specific segments of the Kroger audience.
Access to a large and diverse audience.
In-house expert support.
Connection with loyalty program data.
Cons
Limited to advertising within the Kroger ecosystem.
Reporting features may be limited.
---
Flywheel is an innovative platform that assists advertisers in effectively reaching their target audiences while shopping on Kroger. One of the platform's standout features is its capability to create and oversee product listing ads (PLAs) on Kroger.com, allowing brands to advertise their SKUs and increase consumption. By implementing and tracking advertising campaigns against brand goals, Flywheel provides brands with valuable insights into how their campaigns are performing, making it easier for them to optimize their advertising efforts.
With Flywheel's robust reporting and analytics capabilities, brands can make data-driven decisions about their advertising campaigns. The platform provides real-time data on ad performance, clicks, conversions, and other important metrics, giving brands the information they need to adjust their campaigns on the fly to maximize their return on investment (ROI).
Flywheel's user-friendly interface and streamlined workflows simplify the process of creating and managing advertising campaigns on Kroger.com. Brands can quickly launch new campaigns, track their progress, and adjust their strategies as needed to achieve their goals. Flywheel's powerful reporting and analytics capabilities allows to confidently make informed decisions that lead to successful advertising campaigns.
By leveraging this platform, businesses can showcase their products and increase consumption on Kroger with ease. Its user-friendly interface and streamlined workflows make it simple to launch new campaigns, tracks progress, and adjust strategies as needed.
Pros
Advanced targeting capabilities.
Detailed reporting.
Cons
May be more expensive than other advertising platforms.
Learning curve.
---
---
Why Kroger advertising software?
Kroger Precision Marketing (KPM) by 84.51° is the retail media unit of the Kroger Company. KPM focuses on providing flexibility and transparency to advertisers, enhancing their ability to reach and engage with consumers.
To streamline the process of managing on-site Kroger campaigns, KPM has opened its ad inventory to third-party platforms. The reason behind KPM offering its data to third-party platforms is to facilitate the discovery and management of campaigns for brands and agencies that are already familiar with these popular platforms. Advertisers use these technologies to streamline their campaign management for multiple clients across the board.
By expanding API access to ad-management platforms, KPM aims to foster greater discovery, help brands measure the impact of their advertising, and ultimately enhance consumer engagement with the brands.
With the large customer base that Kroger have, promoting product listing ads is an effective way for brands to reach new consumers in the crowded digital space.
KPM's "closed-loop" measurement capabilities allow them to match household ad exposure to actual purchases made in their stores.
As KPM continues to expand its retail media network, it demonstrates a commitment to providing a more flexible, transparent, and accountable advertising experience for brands and marketers.
---
What to consider when searching for Kroger advertising software?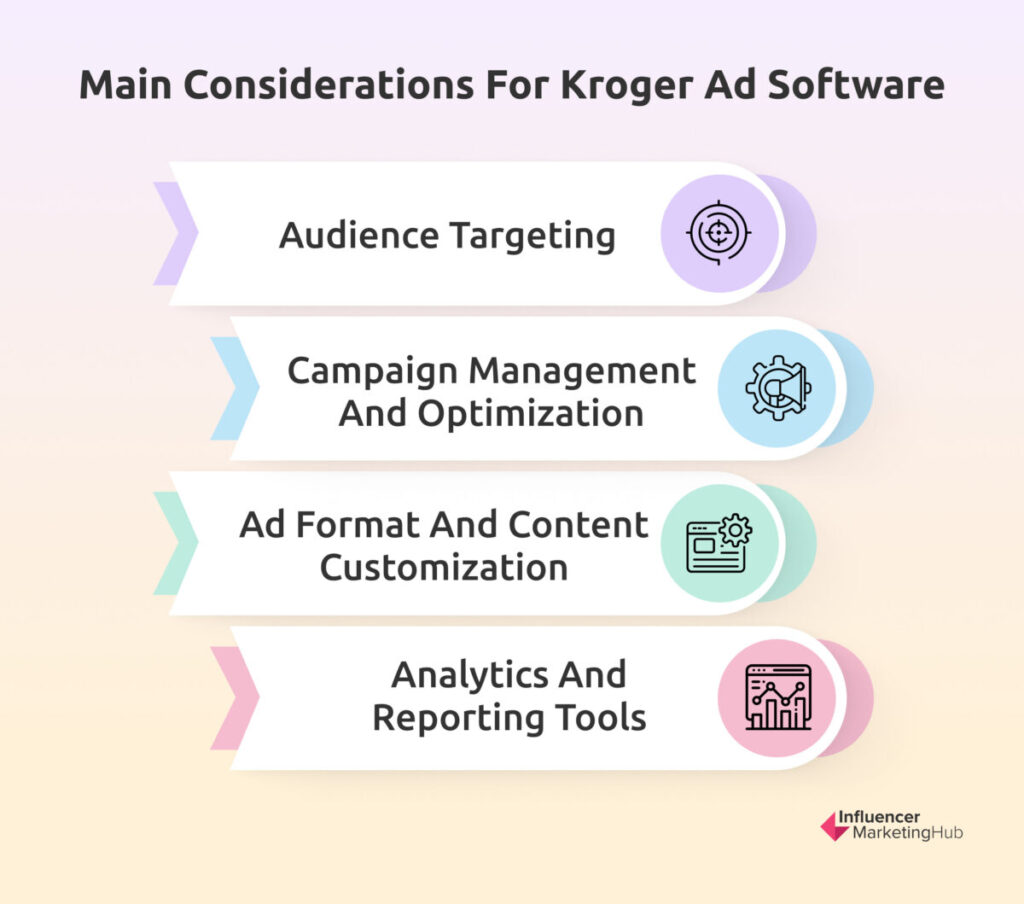 Reliable and effective software or advertising on Kroger should have several essential features to enable effective advertising campaigns.
One of the primary features is audience targeting, which allows agencies and advertisers to reach specific audience segments on Kroger's platform. The software should provide advanced targeting options that enable brand advertisers to identify and target their ideal audiences based on demographic, behavioral, and contextual factors.
Another essential characteristic is campaign management and optimization, which involves creating, managing, and optimizing ad campaigns to achieve the best possible outcomes. The software should provide a user-friendly interface that enables advertisers to easily manage their campaigns, set budgets, adjust bids, and optimize campaigns for better performance. Preferably, the software should leverage machine learning algorithms and other optimization tools to help advertisers automate and optimize campaigns for better results.
Ad format and content customization is other essential feature that enables advertisers to create and deliver ads that resonate with their target audiences. The software should provide a range of ad formats, including display, video, and mobile formats, and allow advertisers to customize ad content, design, and messaging to align with their brand messaging and advertising objectives.
Analytics and reporting tools are also important features that enable advertisers to track and measure the effectiveness of their ad campaigns. The software should provide real-time analytics and reporting capabilities that allow advertisers to monitor key performance indicators, such as impressions, clicks, conversions, and return on investment (ROI). This information enables advertisers to optimize campaigns and adjust their advertising strategies to achieve better results.
By leveraging these features, advertisers can create and deliver effective ad campaigns on Kroger's platform that achieve their advertising objectives and drive business results.
Advertisers should ensure that the software they choose is fully compliant with Kroger's policies to avoid ad disapproval or other issues that could impact campaign performance.
Frequently Asked Questions
What is Kroger's first-party data?
Kroger's first-party data consists of customer information collected through their ecosystem, such as purchase history, demographics, and loyalty program interactions. This data helps Kroger create personalized experiences and targeted advertising, while enabling advertisers to improve ad targeting and measure campaign effectiveness.
What is the benefit of using a software platform for advertising on Kroger?
Using advertising software can provide several benefits for advertising on Kroger, including advanced targeting capabilities, access to detailed performance data, and streamlined campaign management. Software platforms can also offer integrated solutions for managing advertising campaigns across multiple channels, which can save time and effort for advertisers.
Can I use multiple third-party Kroger advertising software solutions at the same time?
Yes, you can use multiple third-party Kroger advertising software solutions at the same time to manage different aspects of your advertising campaigns. However, it's important to ensure that the different solutions are compatible and can work together seamlessly to avoid any conflicts or inefficiencies in your campaigns.
Is it necessary to use third-party Kroger advertising software to advertise on Kroger's platform?
No, it's not necessary to use third-party Kroger advertising software to advertise on Kroger's platform. Brands can use Kroger's native advertising tools to manage their campaigns. However, using third-party software can offer additional benefits such as advanced features and expertise that can help brands achieve better results and maximize their ROI on Kroger's platform.
How can I measure the success of my Kroger advertising campaigns when using a software platform?
Most software platforms for Kroger advertising provide detailed performance data, including metrics like impressions, clicks, and conversion rates. Advertisers can use this data to measure the success of their campaigns and make optimizations as needed. Some solutions may also offer advanced reporting and analysis tools to help advertisers gain deeper insights into their campaign performance.