Advertising Disclosure
Advertising disclosure:
Our partners compensate us. This may influence which products or services we review (also where and how those products appear on the site), this in no way affects our recommendations or the advice we offer. Our reviews are based on years of experience and countless hours of research. Our partners cannot pay us to guarantee favorable reviews of their products or services.
Businesses rely on effective sales trajectory management to close deals. The first step in this process is lead generation, which is considered one of the most critical aspects in business development. Lead generation is the backbone of all sales. It is a way of producing prospective clients for your business and capturing their interest and loyalty to convert them into paying customers. This isn't an easy process. In fact, 61% of marketers view lead generation as their toughest task. Fortunately, there are lead generation platforms and tools that can help streamline the process and make it easier.
---
Maximize Your Audience Reach With These 13 Lead Generation Platforms:
---
What Are Lead Generation Platforms?
Instead of assigning employees to do tedious and time-consuming tasks, like the manual identification and qualification of potential customers, a lead generation platform can streamline and automate the process. Successful marketing teams apply a systematic approach to track their leads with the aid of lead generation tools. These platforms are efficient marketing and sales systems that generate more leads and direct them to the appropriate teams instantaneously, increasing brand visibility, attracting more qualified leads, and facilitating more sales agreements.
Lead generation systems can also reduce the time your company spends on finding prospects by automatically updating customer contact information. They can also provide resources to identify the most suitable leads, including those who are genuinely interested in your product or service, have the financial means to invest in it, or have a problem that your product or service can solve.
It's important to note that lead generation is not a one-size-fits-all strategy. Some platforms work well with B2B enterprises, while others are more suited for B2C eCommerce. Some tools are designed to boost customer interaction, while others are built to accelerate the sales call process. Regardless of which platform and approach is ideal for your company, the principle is the same: put your business at the forefront of consumer leads and draw them in before they move to the competition.
---
Top 13 Lead Generation Platforms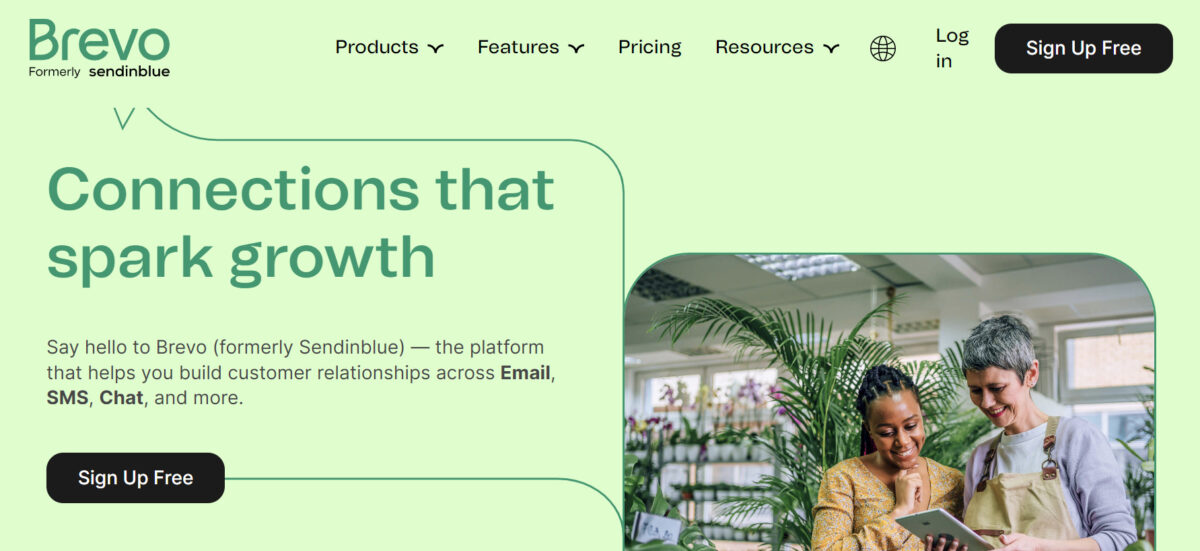 Brevo is a marketing and sales platform that enables businesses to interact with and retain their customers. The key components of this all-encompassing marketing automation software include chat, sales, customer relationship management (CRM), and transactional email.
By automating your segmentation and marketing messaging, the platform can help you minimize the time you spend on these tedious tasks and maximize your brand's performance. Brevo's automated email service helps create and deliver a personalized email to your target audience. It uses machine learning for send time optimization, which includes A/B testing to determine the best time to send your email.
Brevo also provides a drag-and-drop builder to draft interactive emails, establish automatic processes, and group people into certain categories. All your leads' and customers' information can also be stored in one place with its unlimited contacts feature.
Pricing: Free, Starter ($25/month), Business ($65/month), Enterprise (custom price)
---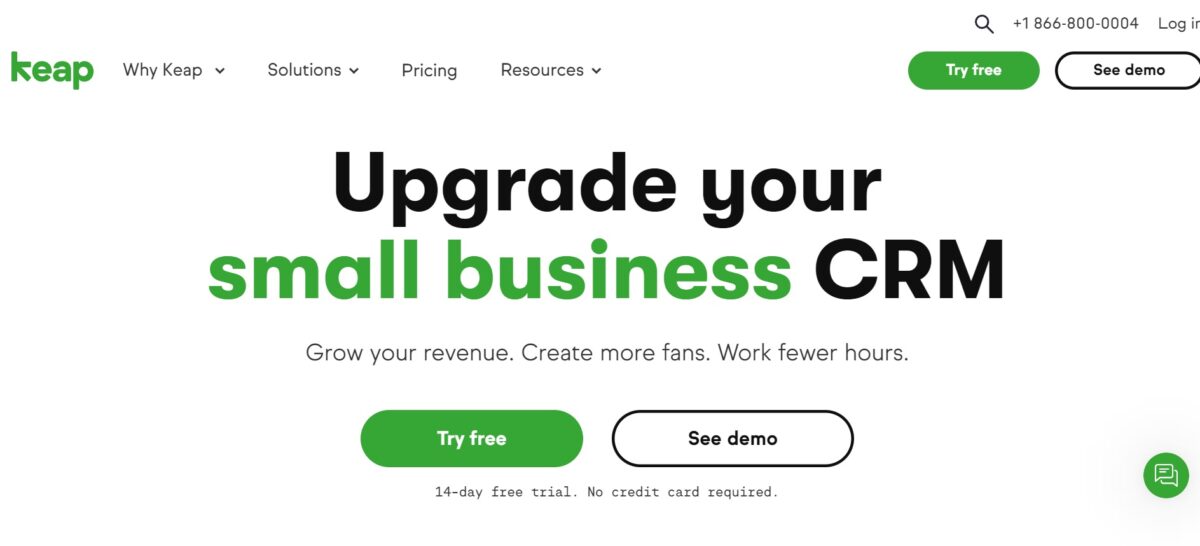 Keap is a CRM platform designed to help small businesses grow financially and attract new and repeat clients. Keap's lead management platform has a number of tools that can help you consistently capture quality leads, such as blueprints for lead magnets, landing pages, sales funnels, internal forms, and appointment scheduling for consultations.
Not only does the platform facilitate lead collection, it also enables lead data enhancement, ensuring that all new client records are up-to-date. Real-time monitoring can help you keep track of the development of each lead. You can further streamline and improve productivity using its features like tags, prospect scoring, and automated sales funnels.
Pricing: Pro ($149/month), Max ($199/month), Max Classic (upon request)
---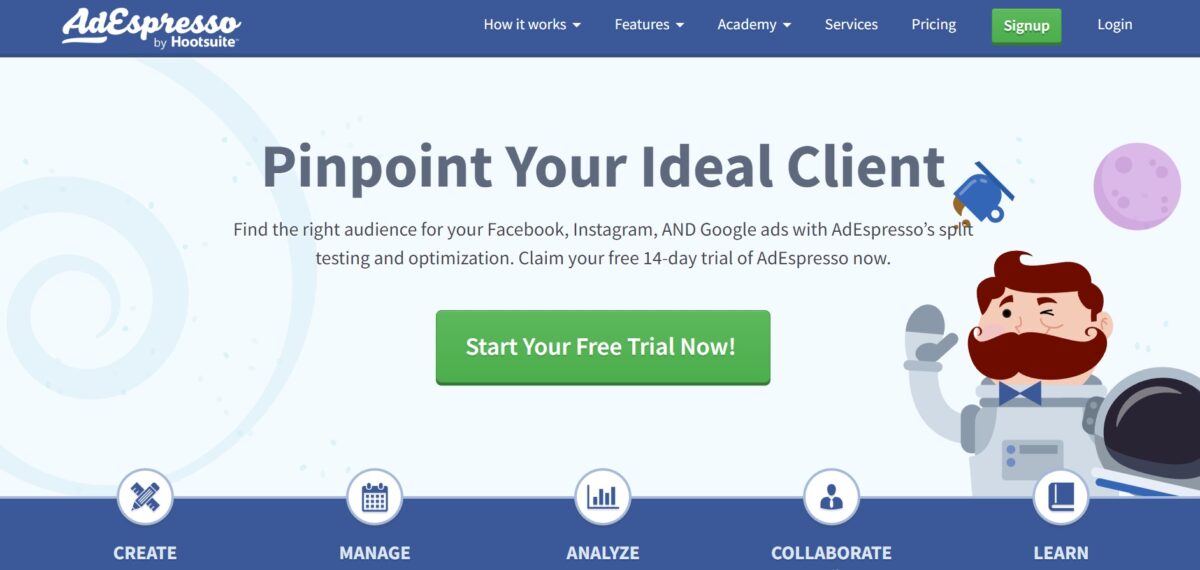 AdEspresso, a lead generation tool from Hootsuite, can help you identify your ideal client and find the appropriate audience for your Facebook, Instagram, and Google Ads. Using the platform's intuitive UI, you can develop and monitor campaigns for all three channels with its split testing and optimization features.
In addition, AdEspresso lets you integrate your Facebook Ad account with your existing CRM or email marketing platform, keeping all your leads, contacts, and audiences in sync. If you let this process run automatically, you'll have more time to create effective advertising campaigns.
AdEspresso also allows you to conveniently create and evaluate numerous ad versions, run advertisements for various audiences, and measure the impact of your campaigns with comprehensive data. This lead generating ad solution optimizes the whole process, making it less complicated to reach your target audience and achieve your marketing goals.
Pricing: Starter ($49/month), Plus ($99/month), Enterprise ($259/month)
---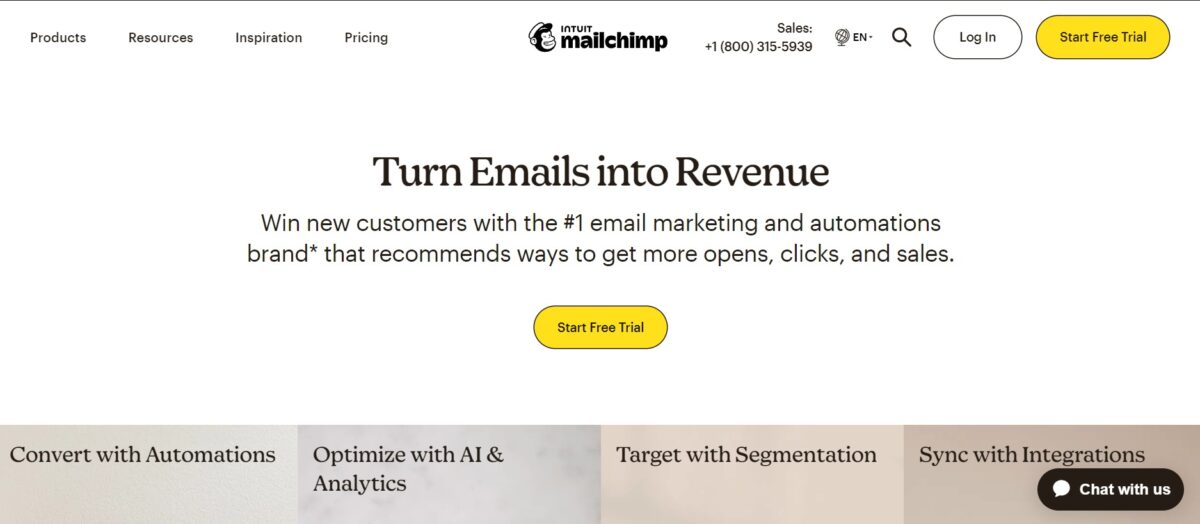 Mailchimp is a notable email marketing solution with a robust marketing platform for addressing and overseeing customer communications. It's a great tool to establish effective communication with your prospects at any stage of your business. Whether you're just starting your business or have an established, sizable client base.
Although it's famous for sending emails, Mailchimp also provides comprehensive tools for landing pages, eCommerce sites, advertisements, and social media. The platform's features are targeted at supporting several business goals like audience segmentation, user engagement, lead generation, and conversion.
By integrating A/B testing with data, MailChimp speeds up the process of generating new leads. It offers pre-built segments like top locations, recent growth sources, prevalent tags, and even customer lifetime value (CLV), helping you learn more about your customers.
Pricing: Free, Essentials (free for a month, then $13/month), Standard (free for a month, then $20/month), Premium ($350/month)
---
Lead Forensics helps you improve your sales funnel through lead generation. The software assists you in identifying prospects in real-time, zeroing in on the most promising leads, and growing your revenue through your marketing and sales campaigns. The platform identifies the people who visit your website, giving you access to important data like their names, email addresses, and professions. These vital details can then help you determine which visitors you should prioritize and direct toward conversion.
Lead Forensics also evaluates visitor activity on your site and allows you to prioritize the most promising leads using lead scoring. You can gain vital insights on potential clients by tracking their activities on your website, such as which pages they viewed, how many times they visited your domain, and which links they clicked on.
Pricing: Essential (upon request), Automate (upon request)
---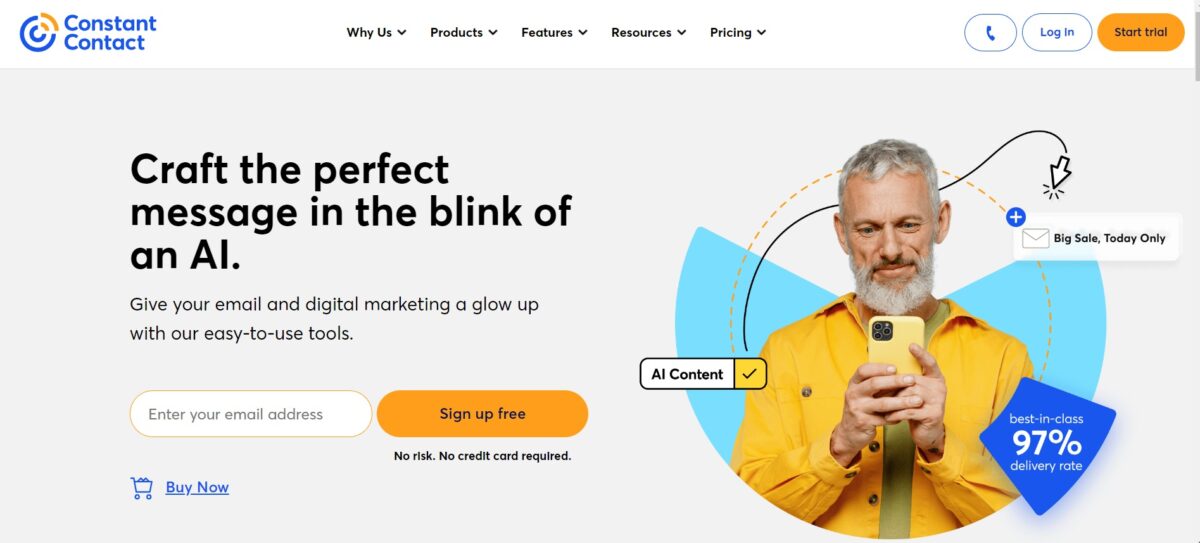 Constant Contact is an email marketing platform that facilitates consistent connections between businesses and their potential clients. The platform's primary mission is to help you get more leads through email marketing and social advertising. By leveraging the platform's lead generation and CRM features, you can instantly gain hot leads via email, social networks, and retargeting ads. Leads are scored automatically based on their behavior and passed on to your sales team without any manual intervention.
Constant Contact's compact and intuitive design makes it a breeze to use. You can also impress your leads with visually appealing emails thanks to their drag-and-drop editor and newsletter templates. Other key features of the platform include a website builder, email segmentation, SEO, and in-depth analytics.
Pricing: Email and digital marketing (starts at $12/month), CRM and lead generation (starts at $449/month)
---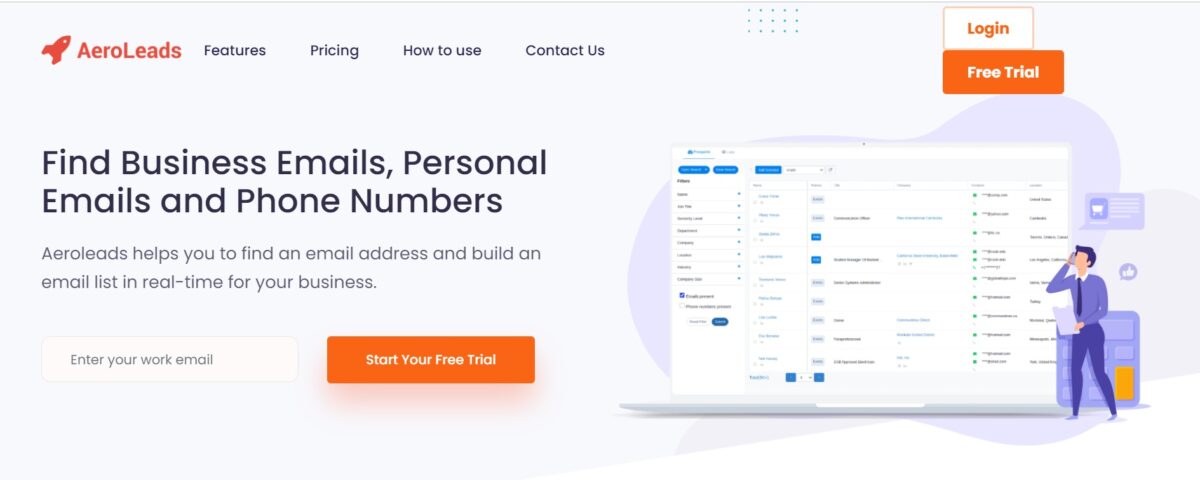 AeroLeads is a platform for generating leads by discovering businesses and individuals you can get in touch with. It also functions as an email address finder and list builder that runs in real time, streamlining the time-consuming process of acquiring leads' email addresses and creating an email list. AeroLeads' database has information on over 650 million prospective clients. You can browse through it, verify single or bulk email addresses, and even input your own data to expand your search. Using out-of-date information won't be an issue since all email addresses are validated promptly.
Upon registering, you'll have access to a Chrome extension that will enable you to search sites like LinkedIn, AngelList, and Crunchbase for contact information. In addition, AeroLeads not only identifies email addresses but also company websites, job postings, regions, and more.
Pricing: Free, Take off ($49/month), Climb ($149/month), Cruise ($499/month)
---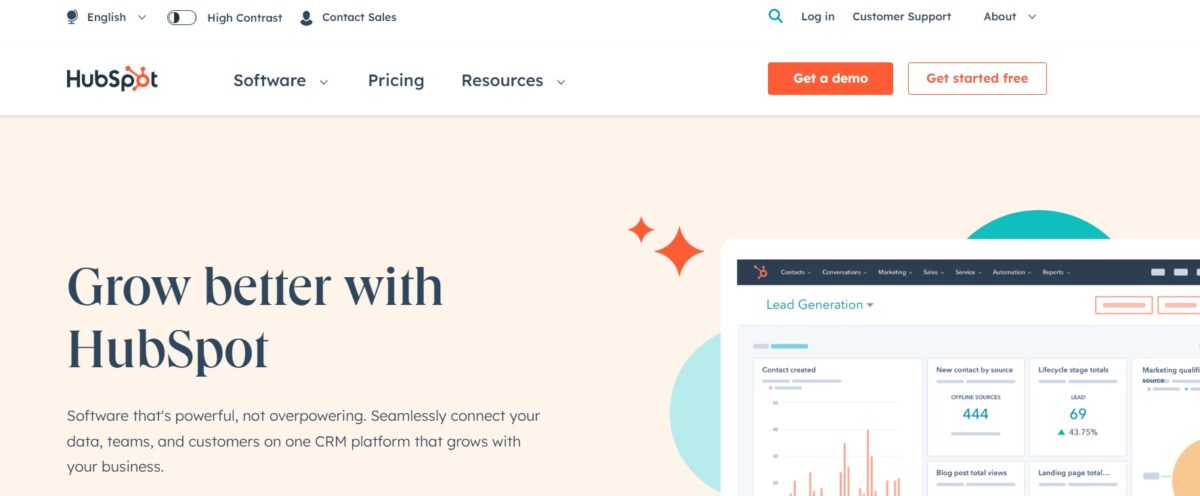 HubSpot is a CRM solution that simplifies and facilitates marketing, sales, content management, and customer support. It is an excellent lead generating platform with numerous functions that can be used to enhance interaction with your customers and boost sales. Its email marketing services have been commended for how they're able to help users generate visually pleasing and highly effective communications.
HubSpot also offers a live chat software to enhance interaction with customers. You can track client feedback, revenue, and more using the platform's built-in reporting tools. Integrating HubSpot with other tools like Slack enables you to centrally manage your contacts and follow-up messages, as well as synchronize your customer data across all your HubSpot modules.
Pricing: Free, Starter ($45/month), Professional ($800/month), Enterprise ($3600/month)
---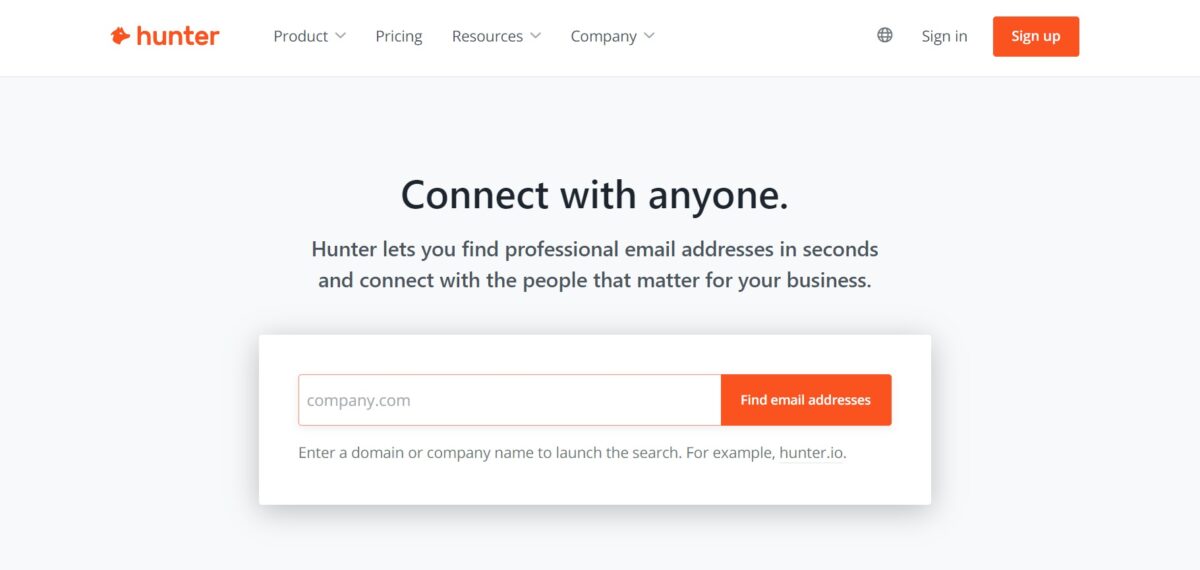 Hunter is a tool that can be used to verify the validity of an email address. Although it's not specifically designed as a lead generation platform, it has features that can help you find information about a specific individual. This can allow you to connect with possible leads by finding and verifying their professional email addresses.
Businesses can use this platform to collect the email addresses of individuals who belong to their target demographic. Hunter provides search parameters to detect certain types of email addresses (such as personal or role-based) and double-checks them for accuracy. You can even perform a company-wide email search. Hunter offers up to 25 searches and 50 email address verifications per month for free.
Pricing: Free, Starter ($49/month), Growth ($149/month), Business ($499/month)
---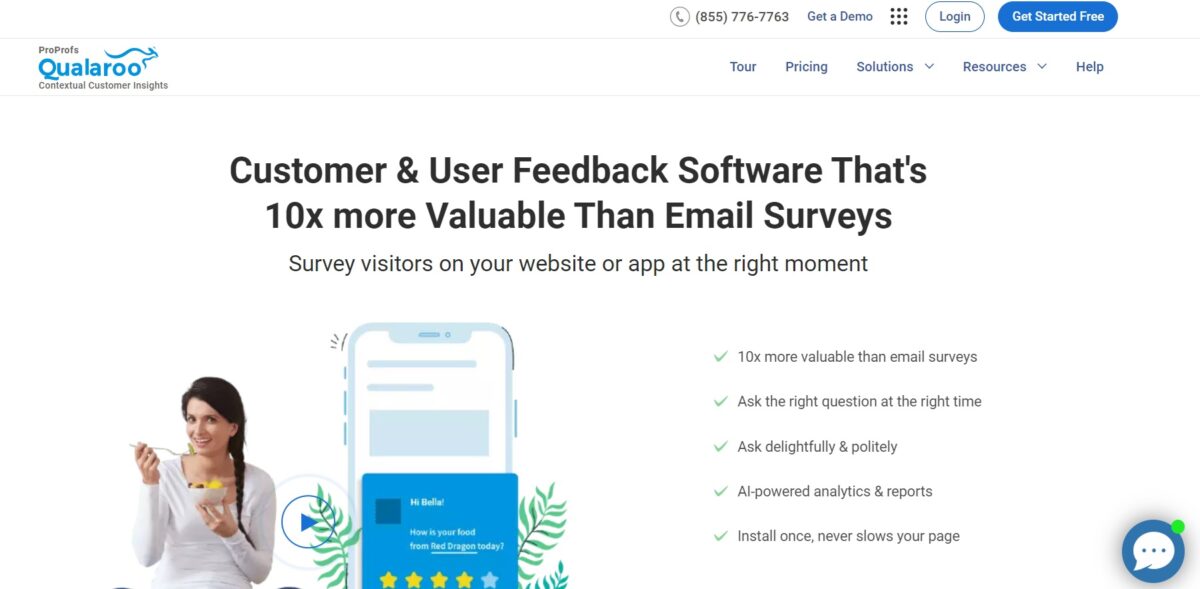 Qualaroo is a website polling software that lets you send a survey to specific guests on your website as they engage with your product or service. It doubles as a lead generator and feedback collector, allowing you to conduct multiple polls to gather information on the product and user experience. By leveraging on customer feedback, you can identify potential problems before they arise.
You can choose from an assortment of pre-made survey templates or develop your own. You can even personalize the design of your surveys using Qualoroo Nudges so that they seamlessly fit the style and vibe of your brand. It also provides data and analytics on your site's visitors, such as their purchase history and most-visited pages.
Pricing: Essentials ($69/month), Premium ($149/month), Business ($299/month)
---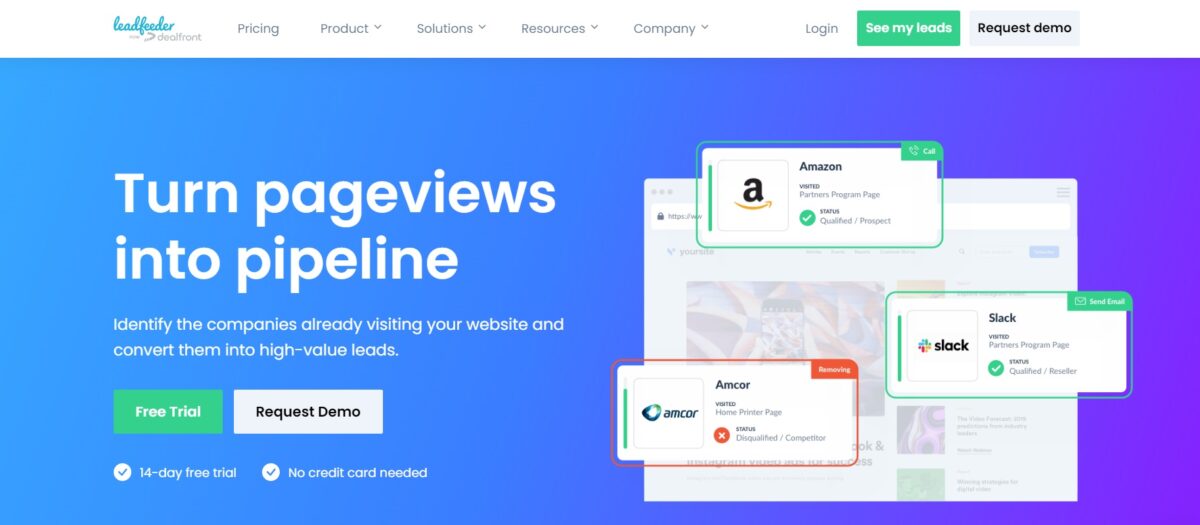 Leadfeeder is a lead-generating software for B2B marketers that tracks website traffic and its origins. The Leadfeeder Tracker script has to be installed on your website before you can start using it. This will help you identify the businesses that are visiting your site, convert anonymous website visitors into leads, and assess the quality of those leads. You can identify site visitors who did not inquire about your product and time your outreach emails to qualified prospects in the sales funnel by sending them straight to your CRM and email. You can also browse Leadfeeder's extensive IP database and choose which leads to add to your email list.
The primary objective of the platform is to provide company-level online analytics. Prospective customers can be split into subsets based on their job, region, tenure, and purchasing habits. Moreover, Leadfeeder's integrated sales and marketing team aims to help clients save time and increase conversion rates.
Pricing: Basic (€199/month), Pro (€999/month), Premium (€2999/month)
---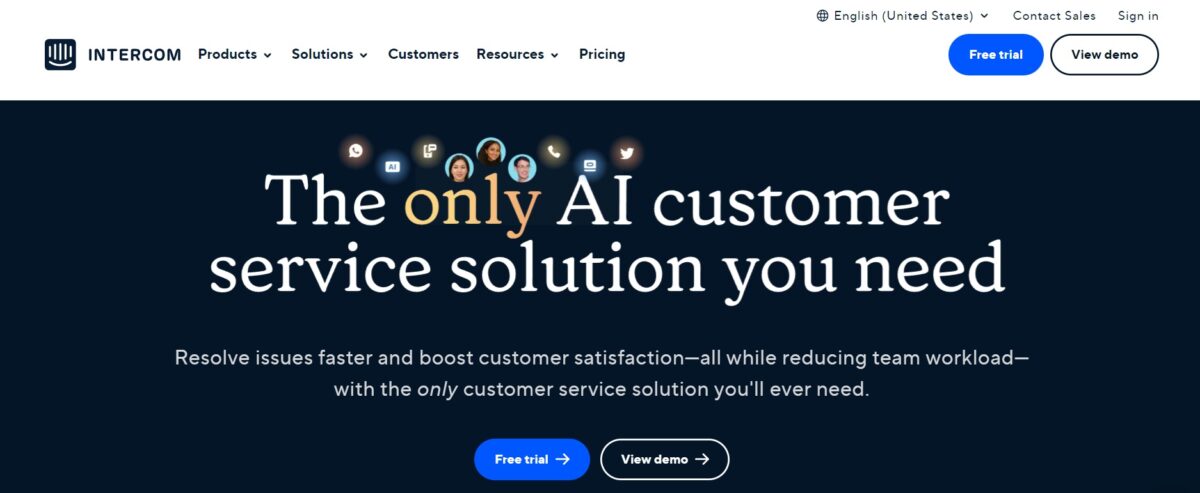 Intercom is a highly regarded online communication solution for fostering meaningful connections with customers. It offers services like conversational assistance, user interaction, and marketing. Its lead generation management platform focuses on two-way, real-time communication with leads and clients. You can use Intercom's live chat and chatbots to turn website visitors into prospective customers. One way that bots can initiate interactions with guests is by first collecting their contact details. Intercom also has a ticketing system and is able to categorize visitors into different groups.
You can also communicate with site visitors and learn more about them by using the built-in message and chat tools. Once you sign up, you can use their web or app activity to set up onboarding, support, and retention message triggers.
Pricing: Start ($74/month), Support (upon request), Engage (upon request), Convert (upon request)
---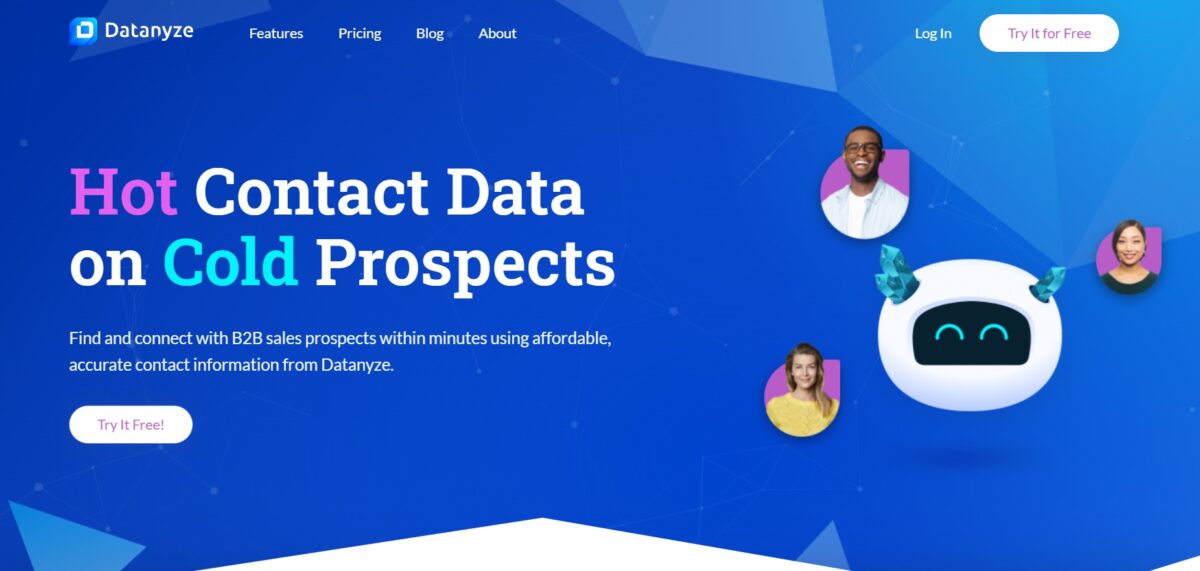 Datanyze is a platform that helps B2B sales teams communicate with leads via contact information, company data, and "icebreakers" to warm up cold calls and email outreach. You can use this outbound lead creation tool to find prospects, meet decision-makers, and incorporate them into your sales funnel. It emphasizes technographics, which can help identify other software applications that your website visitors, prospects, or customers are using. This type of lead generation can be extremely efficient if you are able to personalize your website or eCommerce site.
You'll be able to determine who to reach out to and how to begin an exchange by integrating data from social networks, local news sites, and other sources, enabling you to create genuine connections and improve revenue. Datanyze is accessible as a Chrome plugin, enabling you to get the contact information of potential customers from the web or on platforms like LinkedIn. Furthermore, you can find leads on social media in real time and immediately have their contact details.
Pricing: Nyze Lite (free for 90 days), Nyze Pro 1 ($21/month), Nyze Pro 2 ($39/month)
---
---
Final Thoughts
Generating leads is crucial to the success of any marketing campaign. Even the most effective campaigns will be wasted if you don't have a solid lead-generation strategy. One way you can optimize your campaign is by leveraging lead-generation platforms.
However, it's important to note that there is a sizable market for lead generation tools, so you might have to experiment with a variety of them. Once you find the right tool, you can use it to generate a steady stream of leads that you can convert into customers, allowing you to build a strong customer base and grow your business.