Advertising Disclosure
Advertising disclosure:
Our partners compensate us. This may influence which products or services we review (also where and how those products appear on the site), this in no way affects our recommendations or the advice we offer. Our reviews are based on years of experience and countless hours of research. Our partners cannot pay us to guarantee favorable reviews of their products or services.
Modern marketing has evolved, emphasizing the indispensable role of lead generation in securing a company's online presence. Nowadays, websites are no longer about aesthetics but are sophisticated tools for converting visitors into loyal customers. As the need for lead conversion grows, bridging the gap between website design and functionality comes at a high cost. But fear not, as that's where Lead Generation Web Design Agencies come in.
Lead generation web design agencies specialize in creating optimized websites to attract and capture potential leads. These agencies combine the art of design with the science of user experience and digital marketing strategies to ensure that a business's online presence is visually pleasing and effective in driving conversions.
 However, navigating the complexities of these agencies can be daunting for the inexperienced. So that's why we're here to give you our Top 10 Lead Generation Web Design Agencies to help you begin your digital transformation.
---
Top Web Design Lead Generation Agencies
Top
lead generation web design agencies
2024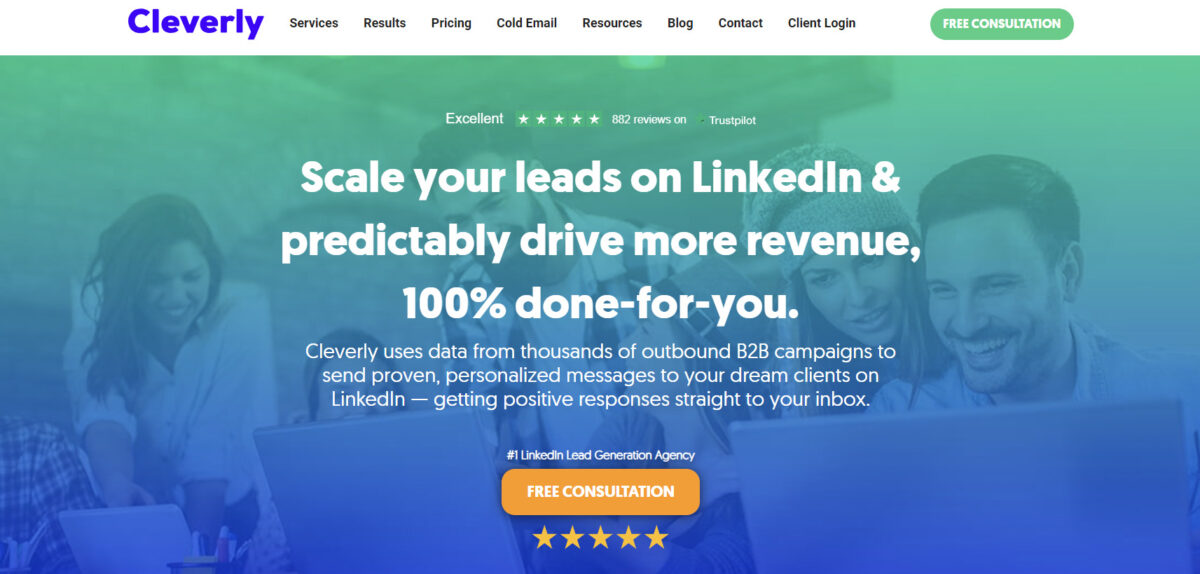 Headquarters: Los Angeles, CA, United States
Pricing: Cleverly projects commence from $1,000.
Average Hourly Rate: $25 – $49/hr
Cleverly has carved a niche in lead generation web design, particularly for B2B businesses. With a keen understanding of the synergy between persuasive messaging and impactful design, Cleverly ensures every landing page resonates with the right target audience, piques their interest, and drives them toward the desired action.
Their iterative approach marks their journey in the digital landscape. Having collaborated with multiple Google Ad agencies and refined their offerings over time, they've mastered the art of generating results. By eliminating distractions and emphasizing clear CTAs, they've successfully optimized each user journey and geared it toward conversions.
Cleverly's team of strategists and designers collaborate closely with clients, ensuring projects are tailored to meet specific business needs. Their commitment to continuous improvement is evident in their regular split tests, ensuring landing pages remain optimized for the highest conversion rates.
---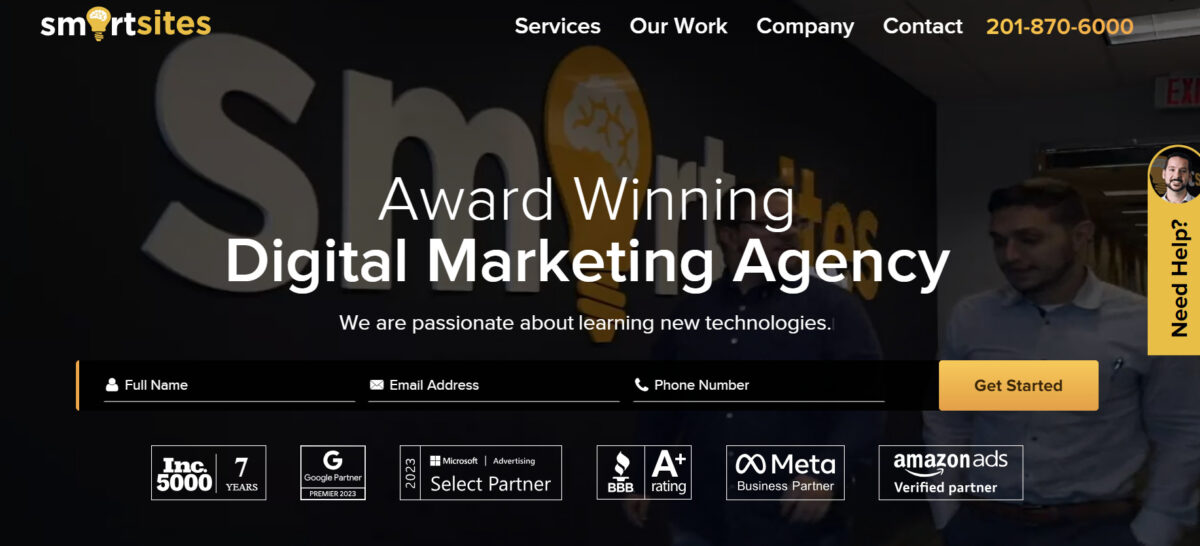 Headquarters: Paramus, NJ, United States
Pricing: SmartSites projects start from $1,000.
Average Hourly Rate: $100 – $149/hr
SmartSites is a premier web development agency that focuses on delivering powerful digital presences for businesses. They offer designs that provide a consistent user experience across desktops, tablets, and mobile devices. Over the years, they've become specialists in creating impactful landing pages tailored to meet industry-specific needs. 
Their holistic methodology covers every aspect, from understanding the business's objectives to optimizing the website's speed. They excel in crafting messages that capture attention and guide users to the desired outcome. With an emphasis on aligning their solutions with client goals, they frequently surpass the initial expectations. 
Recognizing the challenges many companies face with poor conversion rates, SmartSites offers a remedy. They build landing pages that establish trust and credibility, leading to enhanced conversion rates. Every facet of the project, from its content to its design, is under the vigilant oversight of their PPC marketing team to ensure maximum optimization.
---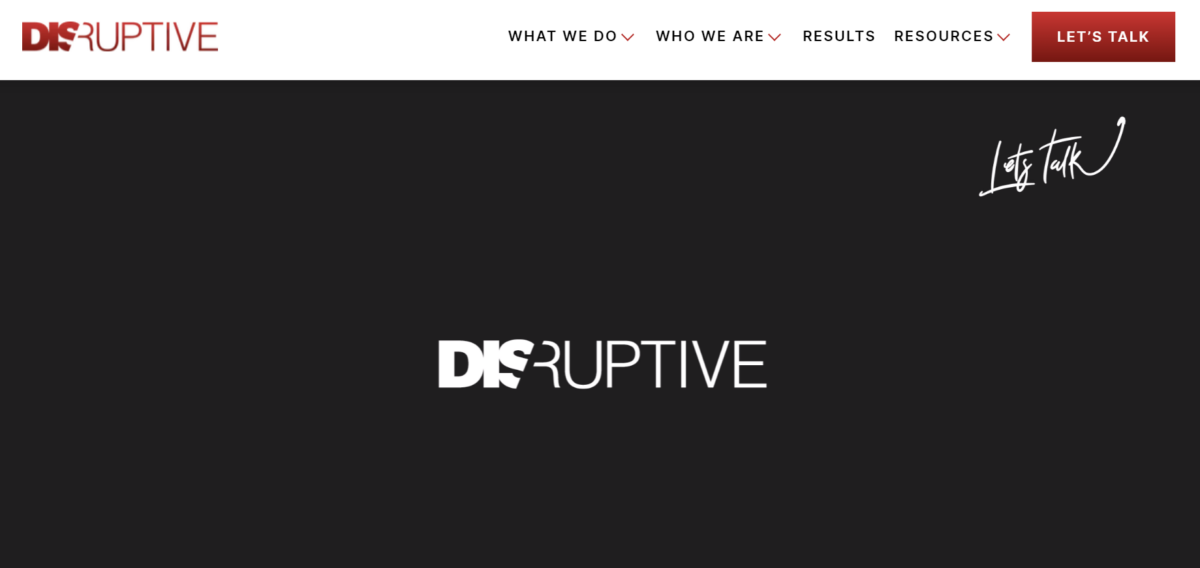 Headquarters: Pleasant Grove, UT, United States
Pricing: Disruptive Advertising projects start from $5,000.
Average Hourly Rate: $100 – $149/hr
Disruptive Advertising has emerged as a lead generation agency with services extended to web design. With a penchant for utilizing platforms like Unbounce, they have consistently delivered stellar results for their clientele. Their ethos revolves around the belief that even the most impeccable marketing strategy requires adept execution to truly shine. This is where Disruptive steps in, offering a holistic approach to lead generation.
Their expertise extends beyond mere strategy formulation. They delve deep into the intricacies of the marketing funnel, ensuring every step is maximized for optimal results. Their approach is underscored by a commitment to genuinely understanding businesses' unique challenges and aspirations, ensuring tailored solutions that resonate and deliver.
Disruptive Advertising's proficiency is evident in their landing page designs. They acknowledge the nuances that can provoke anxiety in a visitor and work diligently to mitigate them, ensuring trust from the get-go. Their emphasis on Calls to Action (CTAs) is noteworthy, ensuring clarity and compelling visitors to explore further. Content, usability, and urgency are other pillars of their strategy, each meticulously crafted for maximum conversions.

---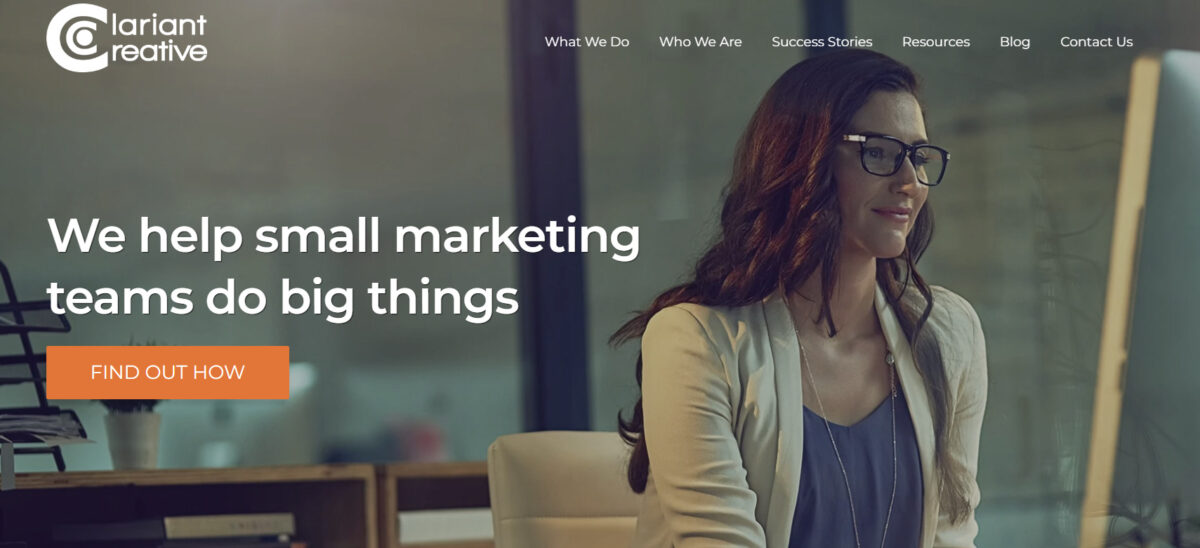 Headquarters: Naperville, IL, United States
Pricing: Clariant Creative Agency projects start from $5,000.
Average Hourly Rate: $100 – $149/hr
Clariant Creative Agency champions the belief that a website should be more than a mere digital brochure. Instead, it should be a robust foundation for all digital marketing endeavors. With this philosophy, they have carved a niche for themselves, specializing in lead generation websites using platforms like HubSpot and WordPress.
Every element they incorporate is meticulously designed to guide visitors through the marketing funnel, ensuring a seamless transition from mere visitors to loyal brand evangelists. Their holistic approach allows businesses to reach their target audience and engage them effectively.
Clariant's expertise shines in their ability to attract visitors and pique their interest. They employ a myriad of tools, from SEO to social media, for maximum visibility.  This focus on conversions guides visitors toward the desired action. Moreover, their comprehensive strategy ensures the user experience extends beyond the website, creating a cohesive journey culminating in sales.
---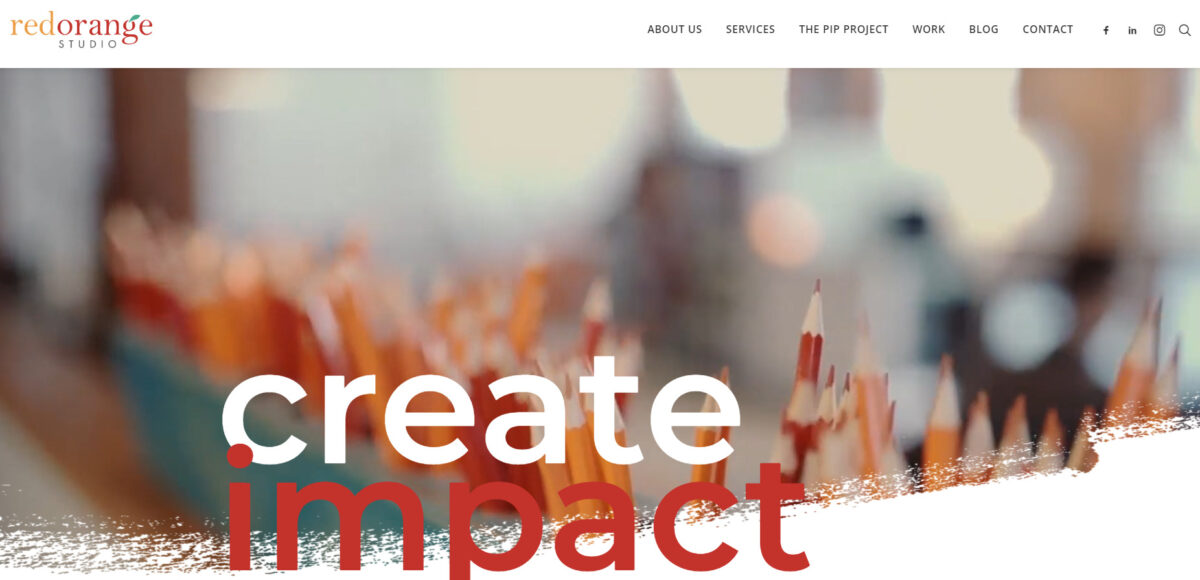 Headquarters: Richmond, VA, United States
Pricing: Red Orange Studio projects start from $5,000.
Average Hourly Rate: $100 – $149/hr
Red Orange Studio has made a mark in the realm of lead generation web design by seamlessly merging captivating design with actionable strategies. Their expertise stems from the understanding that while aesthetics are essential, the real magic lies in a clear call to action that drives results.
Therefore, their approach is rooted in a fundamental question: What do businesses want their website visitors to do? While many companies have a vision for their website's appearance, they often grapple with defining a clear objective. Red Orange Studio bridges this gap, ensuring businesses not only attract but also effectively engage potential clients.
This comprehensive strategy starts with understanding a business's challenges and goals and diving deep into audience needs. Their commitment to quality design is evident, but what truly sets them apart is their focus on driving new business through strategic design.
---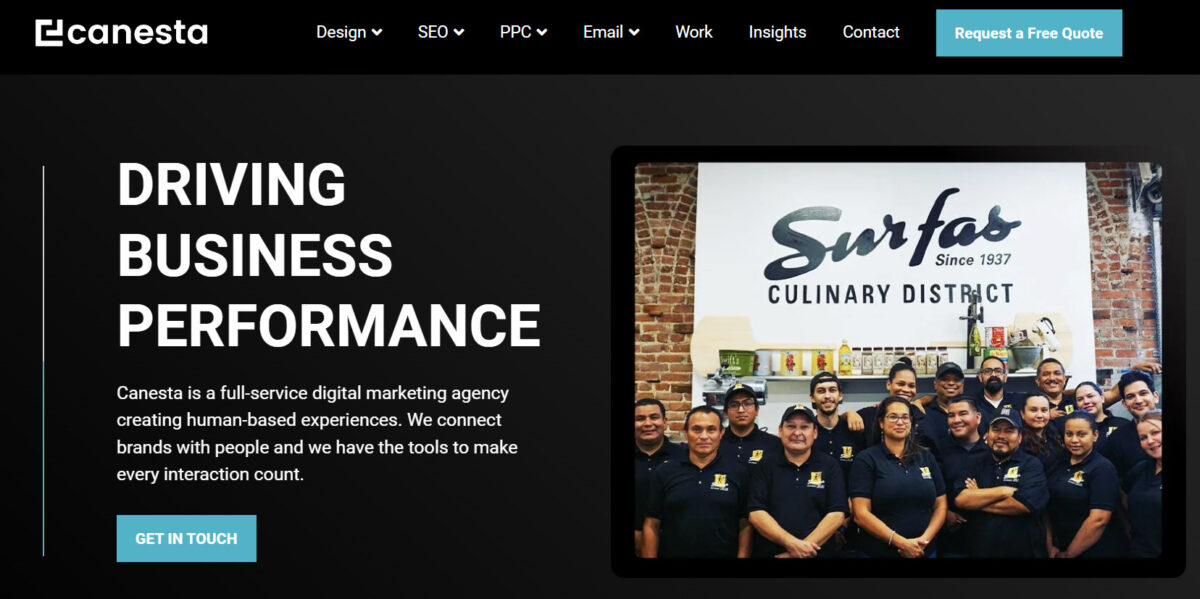 Headquarters: Los Angeles, CA, United States
Pricing: Canesta projects start from $1,000.
Average Hourly Rate: $100 – $149/hr
Canesta has shown prowess in the realm of lead generation design and development. Their strategies promise not just an enhanced user experience but a tangible reach, transforming casual visitors into actionable leads.
Understanding the importance of lead generation, particularly for B2C and B2B establishments, Canesta delves deep into creating designs geared beyond traditional marketing. With the digital landscape becoming ever-competitive, the agency recognizes that well-placed information and effective sales funnels can exponentially increase conversion rates. 
And their team, a dynamic combination of digital marketing specialists, designers, and content creators, ensures this vision is realized. They specialize in crafting websites that narrate a brand's story and actively engage visitors, nudging them toward making informed decisions.
---

Headquarters: Chicago, IL, United States
Pricing: Straight North projects start from $1,000.
Average Hourly Rate: $100 – $149/hr
Straight North is a professional B2B web design agency specializing in crafting custom lead-generation websites tailored for clientele. With over 25 years of experience, they've honed their skills to deliver solutions that look good and drive tangible results.
Their unique blend of SEO expertise ensures every website is optimized for search visibility while also being user-friendly and conversion-focused, ensuring businesses hit the ground running in their organic and paid marketing efforts. This dual approach allows businesses to attract potential clients and transform them into qualified leads.
Straight North's commitment to excellence is evident in their comprehensive approach to design, which encompasses everything from understanding a business's unique needs to crafting content that resonates with the target audience.
---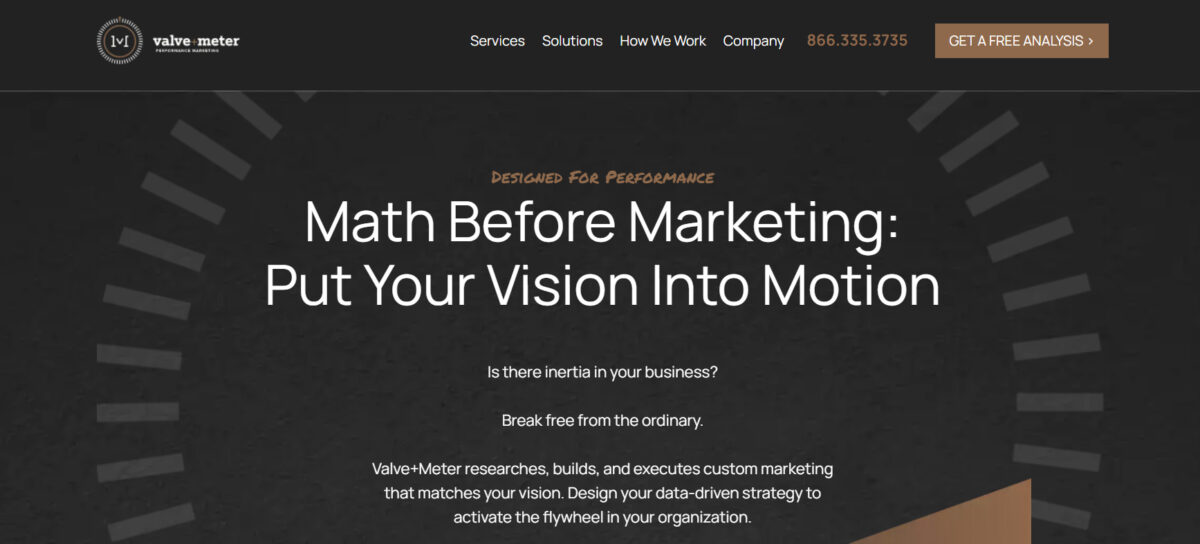 Headquarters: Indianapolis, IN, United States
Pricing: Valve+Meter projects start from $5,000.
Average Hourly Rate: $100 – $149/hr
Valve+Meter is a powerhouse in the digital realm, offering web solutions that captivate audiences and drive conversions. Recognizing the importance of a website as the first point of interaction in today's digital age, they ensure their designs truly reflect the brand they represent.
Their holistic approach starts with a deep understanding of a business's goals and then crafting a strategy that aligns with those objectives. With a team of skilled professional, Valve+Meter delivers web-based solutions that are both visually stunning and functionally robust.
One of the standout features of Valve+Meter's approach is their emphasis on data-driven designs. They understand that high-performing websites are primed for driving conversions. So, they are committed to developing responsive sites that reach audiences no matter the device they're using, while their expertise in WordPress offers flexibility and scalability.
---

Headquarters: Copley, OH, United States
Pricing: OuterBox services start from $1,000.
Average Hourly Rate: $150 – $199/hr
OuterBox is a distinguished agency that has carved a niche in landing page design. With a team driven by performance, they've mastered the art of website innovation through a combination of functionality and aesthetics. Their recognition as a Google Top Rated Agency and an Inc 500 Landing Page Design Agency speaks volumes about their expertise and commitment to excellence.
Their approach to success is rooted in understanding the digital journey of potential customers. By leveraging this understanding, they craft sites that resonate with the audience's needs. This ensures businesses can effectively capture leads through data-driven metrics without increasing their ad budget.
In addition, OuterBox's dedication to Conversion Rate Optimization (CRO) and extensive experience in the field make them a go-to choice for businesses looking to supercharge their digital marketing campaigns.
---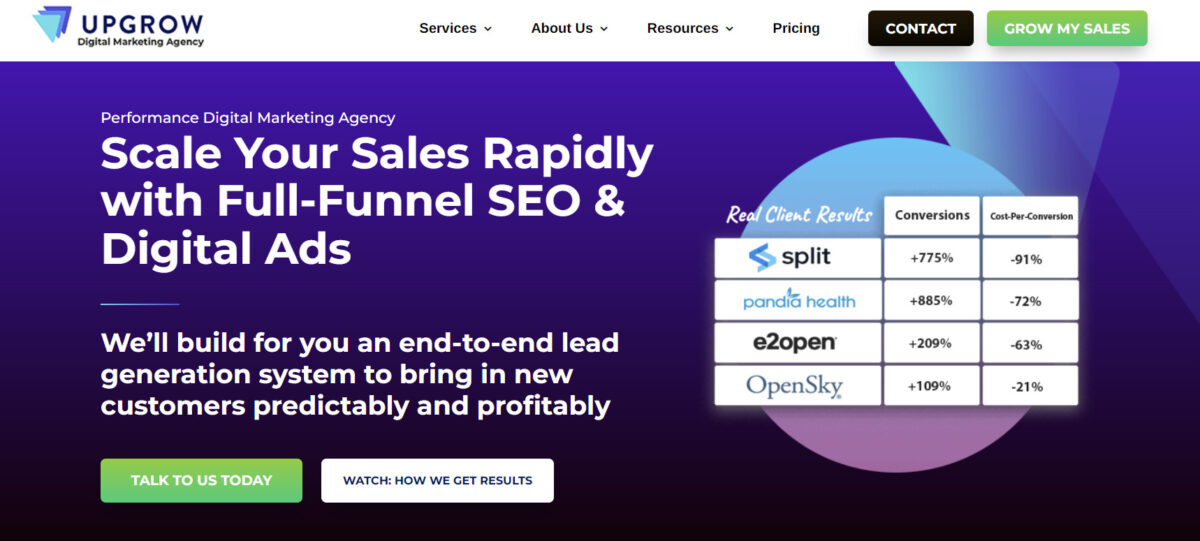 Headquarters: San Francisco, CA, United States
Pricing: Upgrow services start from $5,000.
Average Hourly Rate: $150 – $199/hr
Upgrow offers tailored web design services to amplify the impact of digital marketing campaigns for brands worldwide. Recognized by industry stalwarts like Neil Patel, they've consistently demonstrated their prowess in creating functional web solutions.
Their approach to web design is holistic, ensuring every element of a website or landing page is optimized for both user experience and conversions. With a team of over 30 years of combined experience, Upgrow crafts messages that resonate with the target audience, ensuring businesses can effectively capture and nurture leads.
Their commitment to performance-based digital marketing is evident in their strategy. By leveraging cutting-edge tools and methodologies, they identify and capitalize on opportunities that help boost brand visibility.
---
The Importance of Specialized Web Design for Lead Generation
For many businesses, the website serves as the primary touchpoint for potential customers. It's the platform where first impressions are made, and as the adage goes, "You never get a second chance to make a first impression." A well-designed website can captivate visitors, while a poorly designed one can deter them.
But aesthetics alone aren't enough. A website must also be structured to guide visitors toward taking a desired action, whether that's signing up for a newsletter, requesting a quote, or making a purchase. This is where the expertise of lead generation web design agencies shines through. They understand the nuances of creating a user journey that feels intuitive, engaging, and converting.
Moreover, targeting the right audience is paramount in a world of digital noise. Businesses aren't after leads; they're after quality leads. A website specifically designed for lead generation will employ strategies to attract the ideal customer, ensuring the leads generated are more likely to convert into loyal and, most importantly, returning customers.
---
Factors to Consider When Selecting the Right Agency
Choosing a lead generation web design agency is a pivotal step that can profoundly shape a business's digital trajectory. When making this decision, it's crucial to delve into an agency's past work, as their portfolio and case studies can reveal much about their design sensibilities, expertise, and their capacity to yield tangible results. Furthermore, the realm of web design is vast, and some agencies might specialize in specific sectors, like B2B or e-commerce.
Recognizing and aligning with an agency that comprehends the distinct challenges and requirements of a business's sector can be invaluable. Another illuminating aspect is the feedback from previous clients. Their testimonials and reviews can provide a window into the agency's dependability, level of professionalism, and overall efficacy. 
Beyond the design, a holistic approach is paramount for success. The most adept agencies will extend beyond mere design, integrating a comprehensive strategy for lead generation that encompasses elements such as SEO, content marketing, and an optimized user experience.
---
Conclusion
Partnering with a lead generation web design agency can be a game-changer for businesses aiming to maximize their online potential. As the digital landscape continues to evolve, having a website that's attractive and optimized for lead generation is crucial. This guide sheds light on the top agencies in the field, helping business owners make informed decisions and pave the way for online success.
Frequently Asked Questions
Why should I consider a specialized agency for lead generation web design?
Specialized agencies have the expertise and experience to create websites that look good and drive results. They understand the nuances of user behavior, the importance of A/B testing, and the strategies that maximize lead capture. By leveraging their expertise, you can ensure a higher return on investment.
Will these agencies also help with promoting my website?
Many lead-generation web design agencies also offer digital marketing services, including SEO, PPC, and social media marketing. It's always a good idea to check with the agency about their range of services. An integrated approach can often yield better results.
How long does it take to see results from a lead generation website?
While the design and development phase can vary, once your website is live, you might start seeing an increase in leads almost immediately. However, for sustained and significant growth, it might take a few months, especially if SEO and content marketing strategies are being implemented.
What if I'm not satisfied with the design?
Most agencies have a review and feedback process in place. It's essential to communicate your preferences and expectations clearly from the beginning and provide feedback during the design phase to ensure the final product aligns with your vision.