As the world's largest professional networking platform, LinkedIn provides many opportunities for companies to connect with potential hires or trade partners. That's why marketers must understand the importance of effectively leveraging compelling imagery on this channel to communicate a brand's message.
To do that—and make a lasting impression—marketers should start with LinkedIn's image size recommendations. While you can upload images outside LinkedIn's size recommendations, following the rules ensures that every image you upload is optimized for the platform, allowing you to showcase the most efficient visuals to your audience.
This comprehensive article will explore the ideal image dimensions, file formats, and best practices for every type of visual asset on LinkedIn.
---
Creating Visual Impact: A Marketer's Guide to LinkedIn's Image Size Recommendations:
---
Profile Photo or Company Logo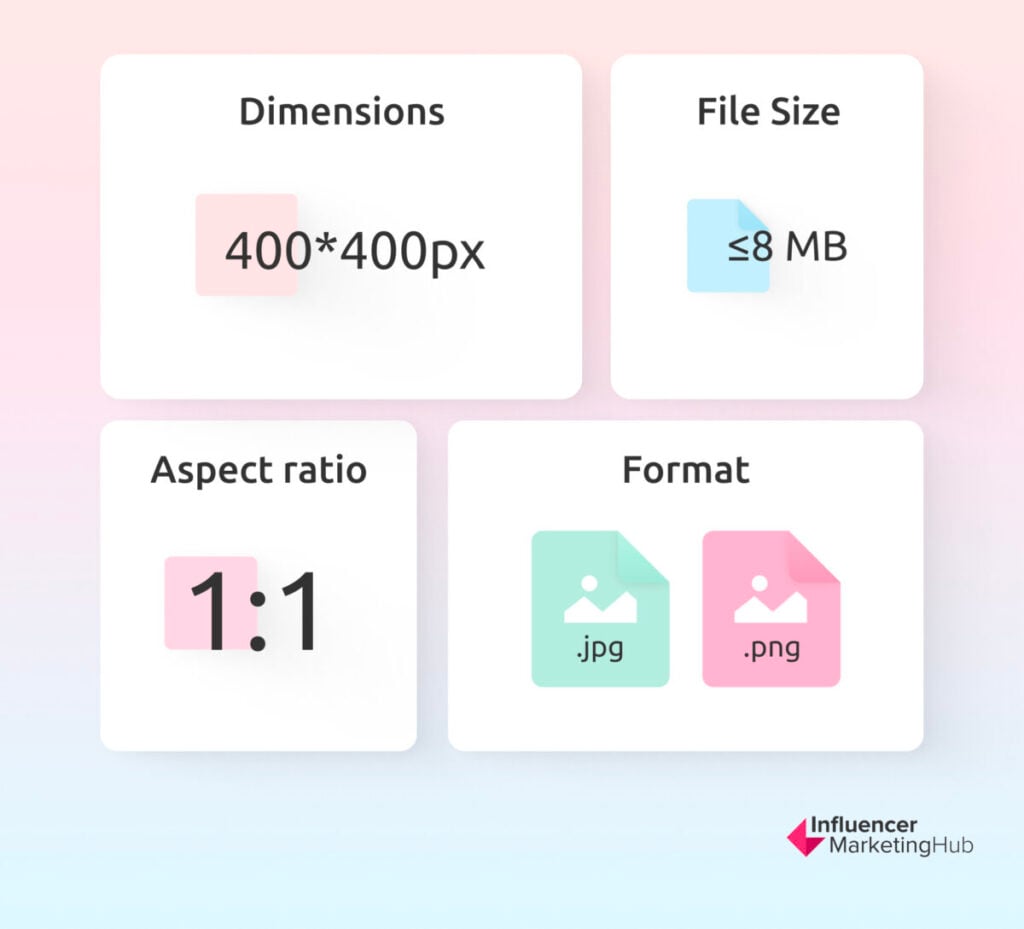 Whether you're a company looking to increase brand awareness amongst professionals or an individual professional trying to expand your network, these are the image sizes you need to note to maximize your visual leverage on social media.
Dimension
The recommended size of profile photos or company logos on LinkedIn profiles is 400 x 400 pixels. Uploading a 300 x 300 image can still work, but anything smaller could result in a pixelated or blurred outcome. If you upload a bigger photo, LinkedIn will likely accommodate it, but it's best to follow the recommended size to ensure optimum quality.
LinkedIn has a built-in photo editor where you can crop profile photos or company logos, but having a 400 x 400-pixel image ready in advance will save you time uploading.
File Size
LinkedIn supports up to 8MB for profile photos or company logos. Try to stay close to this number to ensure image quality.
Guidelines
Profile photos on personal pages are displayed as a circle, while company logos are shown as a square. If you're uploading a headshot, ensure the image's shape won't hide parts of your face or any other crucial detail. On the other hand, a company logo should fit the square without cropping any part of it out.
Crop the image using the 1:1 aspect ratio to make the subject or logo fit their frames. Lastly, upload them in JPG or PNG format.
---
Cover Photo or Company Banner
LinkedIn cover photos or banners are also called background photos. Adding one to your page allows you to showcase your brand image further or promote your most recent work, which can be especially helpful if you're an artist. Check out these guidelines before uploading a LinkedIn cover photo.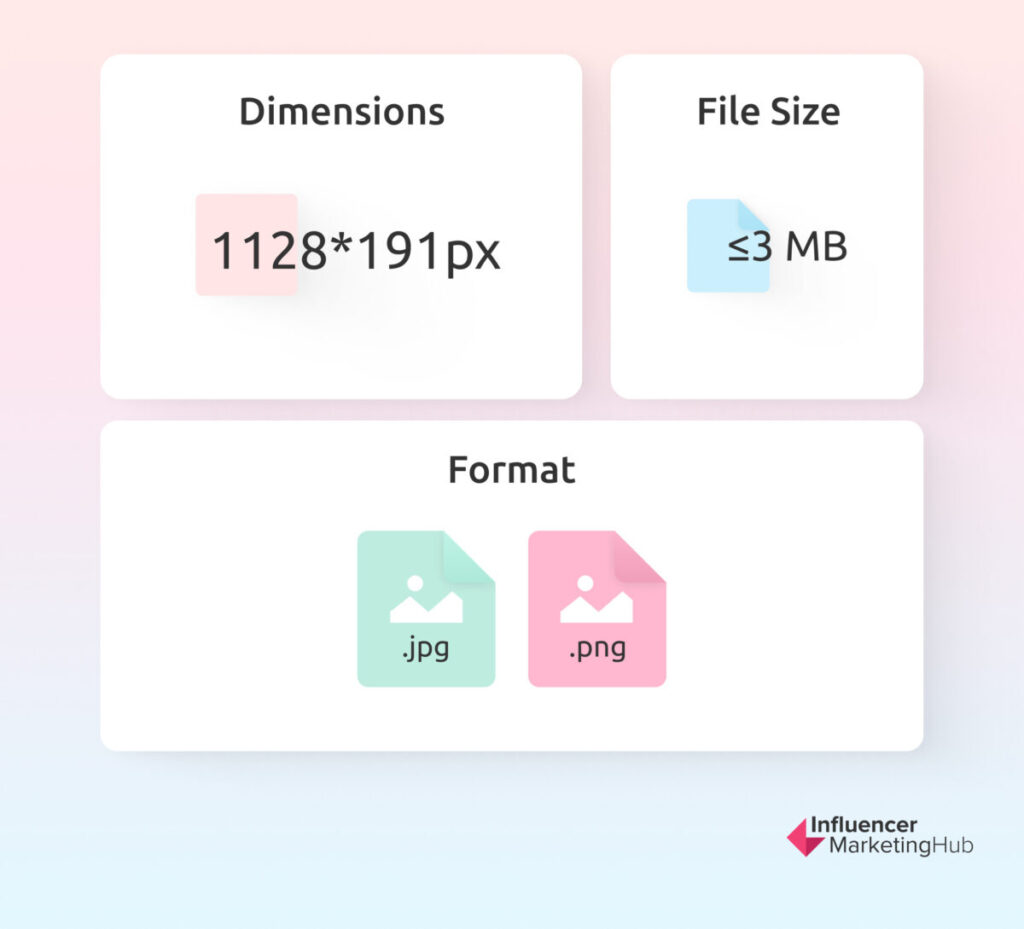 Dimensions
As of 2023, LinkedIn recommends banners on company pages to be 1128 x 191 pixels. However, you can upload up to 1584 x 396 pixels, which is Canva's default sizing for LinkedIn banners.
File Size
LinkedIn also supports up to 8MB for profile backgrounds on personal pages. On the other hand, LinkedIn recommends that company pages only have banners up to 3MB. The latest update on their Help Page states that 3MB is the maximum size for company page banners.
Guidelines
The profile image on a company page overlaps the banner, so the bottom-left corner part is covered. Design your banner with the critical details at the center or anywhere else the profile image won't interfere. Upload the image in JPG or PNG format.
---
Life Tab or What We Do Tab for Career Pages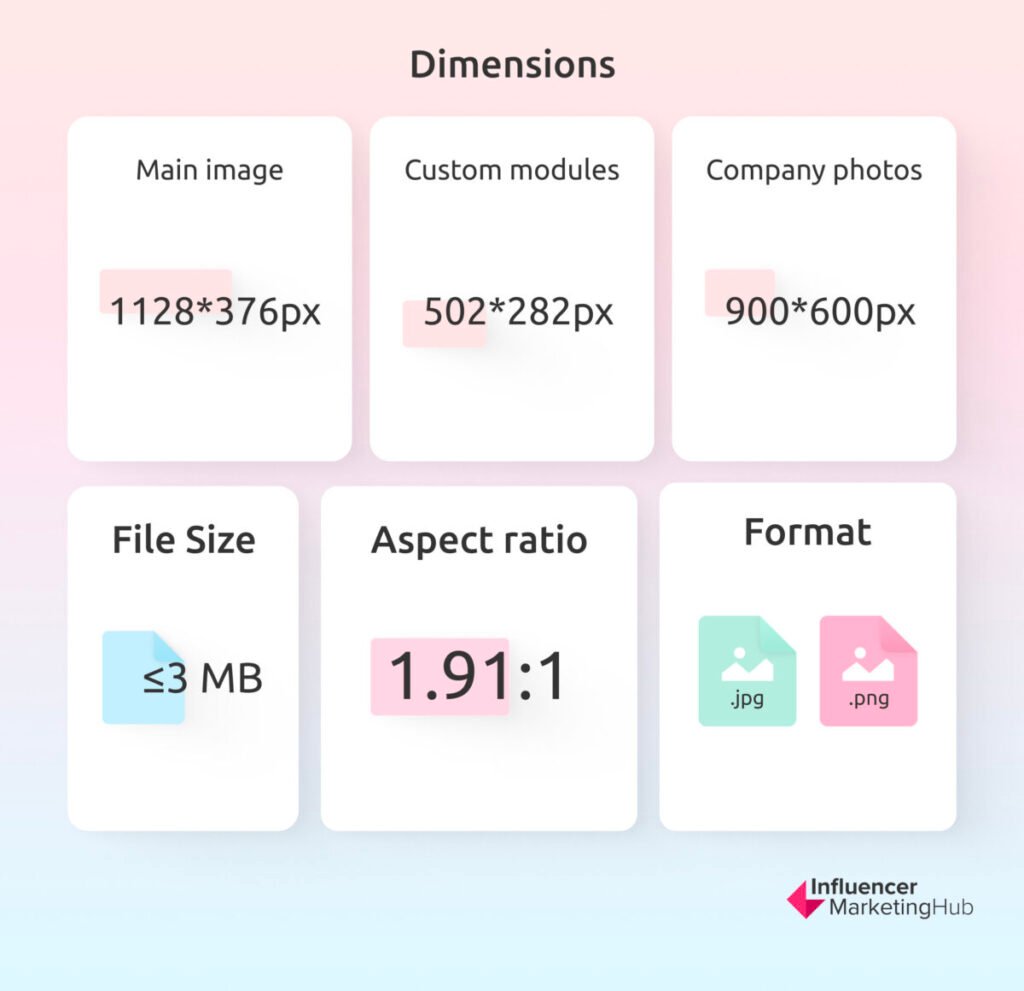 You can enhance your LinkedIn company page with a Career Page, which gives your audience some insight into your organization's culture and employee experience. This information will be available on the Life tab. The Life tab also provides information about your company's leaders, employee testimonials, and company photos.
If you're a Search and Staffing firm, you'll see a What We Do tab instead of a Life tab. This tab shows information about your leaders, culture, employee experience, client and candidate testimonials, and contact details.
The Life and What We Do tabs can also be enhanced with images. Here are the size recommendations and other guidelines.
Dimensions
The recommended size for the Life tab's main image is 1128 x 376 pixels. For custom modules, it's 502 x 282 pixels. The company photos should be a minimum of 264 x 176 pixels, but the recommended size for optimum quality is 900 x 600 pixels.
File Size
You should follow the file size recommendation for company pages, which is only up to 3MB.
Guidelines
When a page member clicks on an image from the Company Photos section, a larger version of the photo will appear. If you upload the minimum image size, the opposite will happen, and the picture will appear small. This makes it best to follow the recommended size to give the viewer a better experience browsing your company photos.
On a different note, if you're sharing a link with a custom image, the recommended size for the image is 1200 x 627 pixels with an aspect ratio of 1.91:1. LinkedIn emphasizes that the photo must be more than 200 pixels wide because anything smaller will cause the image to appear as a thumbnail on the left side of the post.
However, you can skip the size recommendations if you post an image, not a link. The image will automatically resize to fit the feed. It's a different scenario for mobile users, though. If you upload an image with a different aspect ratio, it will appear as is, with subtle white padding on the feed.
Lastly, remember to format any image you post on the Life or What We Do tab in JPG or PNG file formats.
---
Image and Blog Posts with Links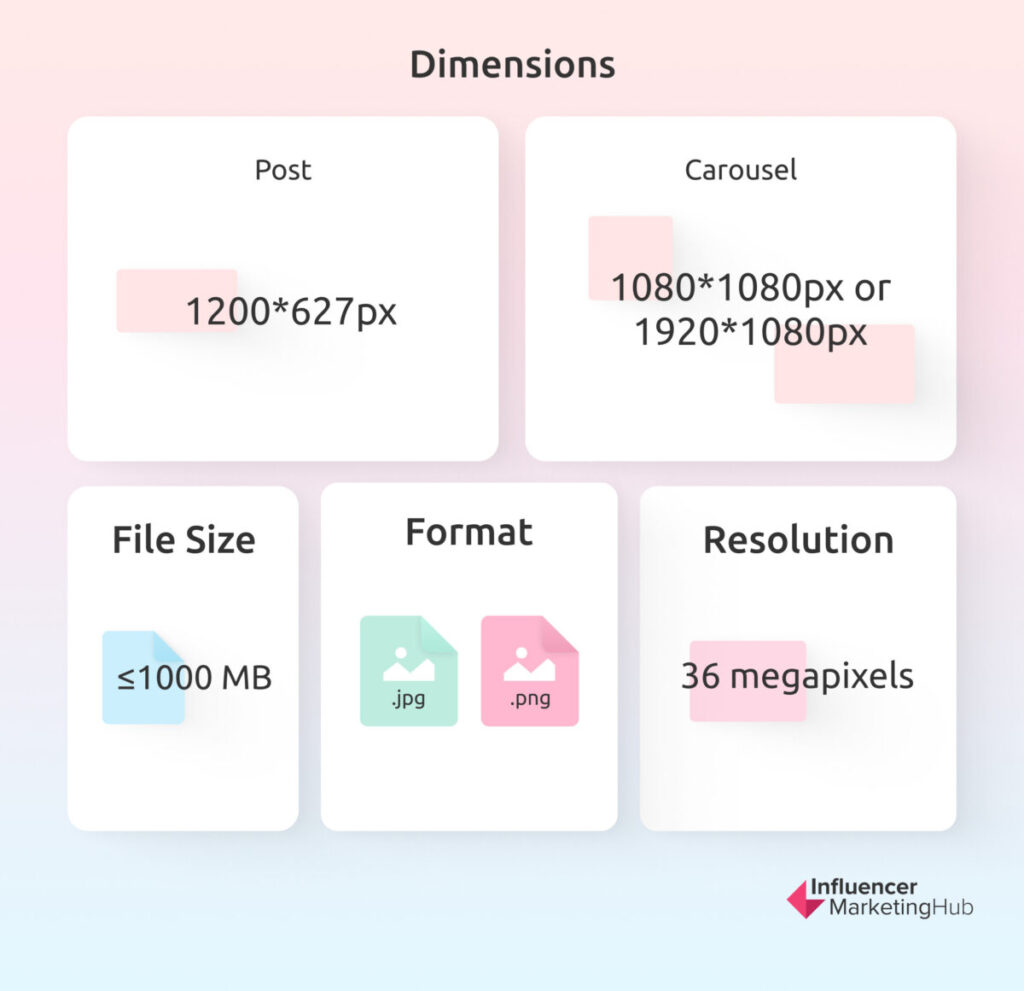 Even if LinkedIn differs from other social networks like Instagram, posting images on the platform still helps promote your brand and drive engagement. With industry professionals dominating LinkedIn, posting pictures and blogs can open plenty of opportunities for your company to expand its network and increase leads.
Follow these image size recommendations to get the most out of your LinkedIn posts.
Dimensions
The optimum image size for LinkedIn posts is also 1200 x 627 pixels. If you want to post a carousel, it's best to go for 1080 x 1080 or 1920 x 1080 pixels.
Though LinkedIn has removed the ability to create carousels as of June 26, 2023, you can still view existing carousels on the platform and post one with some nifty Canva hacks.
Here's how to create carousels with Canva and post them on LinkedIn:
Open Canva and upload the images you'll use for the carousel.

Click

Create a Design

and choose

Instagram Post

or

Custom Size

.

Add the first photo in the carousel to the blank image. Expand the photo to fit.

Click the

Add Page icon

on the top-right corner of the image.

Add the second photo in the carousel to the blank image and expand it to fit.

Repeat the steps until all the pictures are added.

Click

Share

on the top-right side of the screen.

Click

Download

and select

PDF Print

as the file format.

Post the images to LinkedIn as a document.
When the document is posted, users should be able to view all the photos by swiping them to the right like a regular carousel post.
If you post links to a blog post or website, LinkedIn will automatically generate a preview image along with the blog's or website's title. However, you can also use a custom image by clicking on the Image icon below the text box and selecting a photo from your device. Choose a 1200 x 627-pixel image to follow the recommended size.
File Size
LinkedIn is more generous with file sizes for image, video, and document posts. It can accommodate files up to 100MB.
Guidelines
LinkedIn supports various file formats for images, including GIFs, except for profile images and cover photos. If you're using an iOS device, you can also upload HEIC/HEIF images, but they may not display on desktop and Android devices. Meanwhile, only Android devices support WEBP file formats, so stick to JPEG and PNG for image posts to make them visible on all devices. Ensure that the resolution is 36 megapixels to make the image as crisp as possible.
For carousels, you can post more than 10 images, unlike Instagram. LinkedIn allows up to 300 pages, but that's because documents are mainly texts instead of images.
---
Advertisements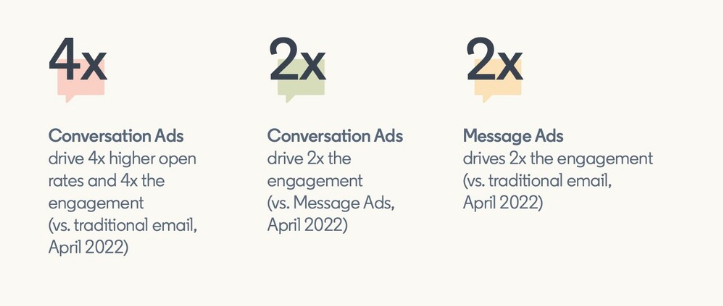 According to LinkedIn's internal data, advertisements generated open rates and engagement rates that were four times higher than those of traditional email blasts and twice as high as message ads. In addition, brands that posted ads on LinkedIn experienced an average of 10-15% spike in short-term sales performance. Furthermore, posting images helped brands be perceived as more professional, intelligent, and respectable.
For those reasons, LinkedIn ads can significantly boost your marketing efforts. Follow these image size recommendations to maximize the potential of your LinkedIn ads.
Dimensions
For sponsored content images, the recommended size is also 1200 x 627 pixels. For carousel ads, opt for 1080 x 1080 pixels. If you're also posting spotlight ads, the ideal size for the ad logo is 100 x 100 pixels, 300 x 250 pixels for custom background images, and 100 x 100 pixels for company logos.
Guidelines
The optimal aspect ratio for sponsored content images is 1.91:1, the same as blogs and organic image posts. The aspect ratio for carousel ads is 1:1. You can upload the ads in GIF, JPG, or PNG format.
---
Best Practices for Increasing Your Impact on LinkedIn Through Imagery
LinkedIn is a professional networking platform with a different culture than social media platforms like Facebook, Instagram, and TikTok. It isn't a place to be casual—unless that's the culture you or your company want to embody—but it's a place to showcase your professional endeavors. However, it doesn't mean you can't use the platform to promote your products or services or to market yourself as an outstanding job candidate.
With LinkedIn users interacting with LinkedIn pages more than two billion times every month, the platform can serve as a promising revenue driver. Take note of these best practices for increasing your impact with imagery, whether you're an individual or a company.
For Professional Individuals
Your LinkedIn profile can serve as your resume. If you're looking for jobs, you can optimize your profile with images to get you more noticed by recruiters. On the other hand, if you're a freelancer looking for gigs, the photos on your profile can give potential clients an idea of what you can offer.
For your profile image, a professional headshot is essential. Choosing the same photo on your other social networking profiles won't necessarily impact your chances of getting a job, but pairing a professional profile with a professional photo shows that you put thought into your presentation. Ensure that the image is well-lit and that the background is plain.
More importantly, show confidence to create a lasting impression. Your headshot is the first thing potential employers or clients will see, so a striking photo can help you become perceived as approachable and self-assured. Adding a cover photo to your profile can enhance your page as well. You can use stock photos if you don't have a custom banner, but the latter will leave a more profound visual impact.
Fortunately, creating a custom LinkedIn banner takes little effort. A candid photo of yourself at work will suffice. Just resize it to fit the banner space. You can also add some text to the image, like your name, what you do, and your website's URL, if you have one.
If you're an entrepreneur promoting your small business, you can also use an image of your premises as a cover photo. Make sure it's high resolution and resized according to the recommended dimension.
---
For Companies
There's more at stake for companies using LinkedIn to promote their business, so it's crucial to adhere to the platform's recommendations to drive as much engagement as possible.
Your logo's basic 400 x 400-pixel render will do for a proper profile image. You can change it during an important holiday or occasion; for example, many companies switched to rainbow-themed logos to celebrate Pride Month last June. Proactively updating your logo when it matters can boost your visibility and promote your brand's corporate social responsibility.
Replacing your company logo and cover photo may also be in order when your business celebrates its anniversary. Showcasing how long you've been in the industry helps highlight your integrity and promotes trustworthiness.
Use rich, eye-catching visuals for posts and ads to capture your audience's attention and encourage them to heed your call to action. Choose original images as much as possible because relying on stock photos may negatively affect your brand image, especially if your audience has already seen the stock photo from another company.
---
Reach Your Goals with LinkedIn Visuals
LinkedIn posts may not be associated with popular culture like TikTok videos and Instagram Reels, but it still presents a wonderful opportunity to grow your audience and network. According to LinkedIn stats, pages with weekly posts garner 5.6 times more followers than pages that post monthly. Evidently, LinkedIn has proven itself a valuable platform for marketing and advertising.
Because of that, many LinkedIn automation tools are now available on the market to help users manage their content and monitor essential metrics. Start reaching your goals with LinkedIn by leveraging these tools now.