Advertising Disclosure
Advertising disclosure:
Our partners compensate us. This may influence which products or services we review (also where and how those products appear on the site), this in no way affects our recommendations or the advice we offer. Our reviews are based on years of experience and countless hours of research. Our partners cannot pay us to guarantee favorable reviews of their products or services.
Online marketplaces have become an essential platform for enterprise businesses to reach a wider customer base and increase sales. However, optimizing an online marketplace can be a daunting and complex task that requires a strategic approach and the right tools. Fortunately, there are several online marketplace optimization software options available that can help enterprise marketers and executives streamline their processes and maximize their profits.
Leveraging the benefits of marketplace optimization can give you a competitive edge and enable you to attract your desired audience. The good news is that utilizing software tailored to marketplace optimization can make this process simpler and more efficient than ever before.
In this article, we will provide a comprehensive overview of the top online marketplace optimization software options for enterprise businesses. We will delve into the unique features and benefits of each software and provide an objective assessment of the pros and cons. Our aim is to equip readers with the necessary information to make an informed decision on which optimization software is best suited to their business needs.
---
Online Marketplace Optimization Software for Enterprises:
---
What is Online Marketplace Optimization Software?
Online marketplace optimization software is a powerful tool that helps businesses improve their online presence and drive sales on popular e-commerce platforms. This type of software typically includes a range of features designed to help businesses optimize their product listings, such as keyword research and analysis tools, product tracking and analysis, and performance metrics reporting. By leveraging these tools, businesses can identify areas for improvement, optimize their product listings, and ultimately increase their visibility and sales on online marketplaces.
One of the key benefits of online marketplace optimization software is its ability to provide businesses with a detailed analysis of their online performance. This analysis can include a range of metrics such as product rankings, click-through rates, conversion rates, and sales figures. Armed with this data, businesses can make informed decisions about optimizing product listings and improve their performance on online marketplaces.
Another important feature of online marketplace optimization software is its ability to track and analyze competitor activity. By monitoring their competitors' product listings, pricing, and marketing strategies, businesses can gain valuable insights into the competitive landscape and identify areas where they can improve their own performance.
---
How does it work?
With its capabilities, it can help enterprises fine-tune their digital storefronts to attract more customers, boost conversions, and ultimately maximize profits.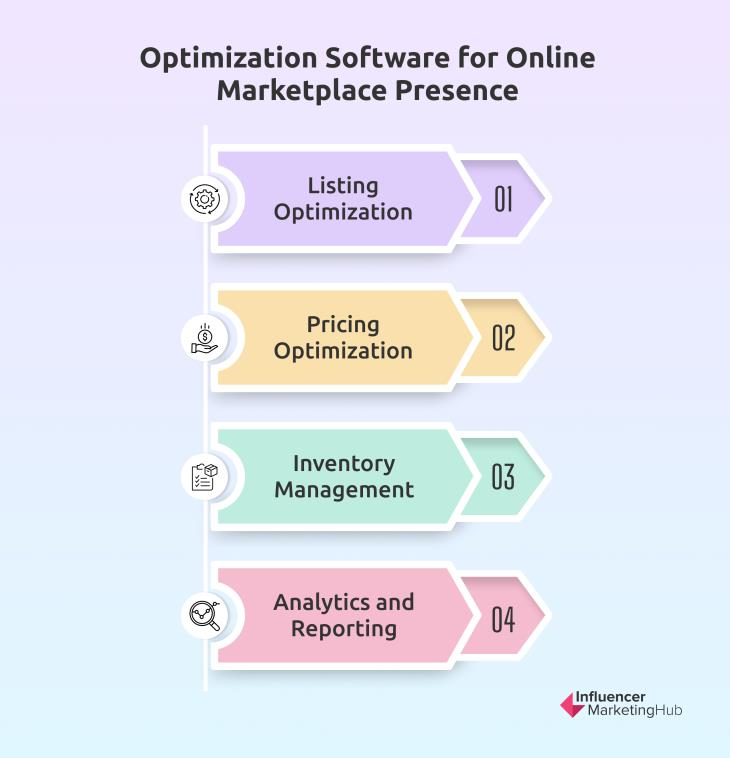 Listing Optimization: This feature allows enterprises to optimize their listings to increase visibility and conversions. It includes tools for keyword research, optimization, and analytics to ensure that the products are visible to the target audience and are presented in the most attractive way possible.
Pricing Optimization: This feature enables enterprises to optimize their pricing strategy to maximize profits. It includes tools for competitive pricing analysis, price testing, and dynamic pricing to ensure that the prices are competitive and the enterprise can increase its profit margins.
Inventory Management: This feature helps enterprises manage their inventory across multiple marketplaces. It includes tools for real-time inventory management, stock level monitoring, and order management to ensure that the inventory levels are optimized and orders are fulfilled efficiently.
Analytics and Reporting: This feature provides enterprises with data-driven insights and analytics to track performance, identify opportunities, and optimize strategies. It includes tools for reporting, data visualization, and predictive analytics to help enterprises make informed decisions and improve their marketplace presence.
---
Best Online Marketplace Optimization Software
Our review of online marketplace optimization software has identified several top-performing options for enterprises seeking to enhance their digital marketplace presence, so let's take a look:
---
---
---
---
---
---
---
Frequently Asked Questions
How can I optimize my marketplace ads?
To optimize your marketplace ads, you should focus on creating high-quality product listings, optimizing your product titles and descriptions with relevant keywords, using high-quality images and videos, and regularly analyzing and adjusting your advertising campaigns.
What is marketplace optimization?
Marketplace optimization refers to the process of improving and optimizing online marketplaces such as Amazon, eBay, and Walmart to increase sales and revenue. It includes improving product listings, optimizing advertising campaigns, and utilizing data and analytics to make informed decisions.
How can online marketplace be improved?
Online marketplaces can be improved by focusing on the user experience, improving product search and discovery, optimizing product listings, providing better customer service, and leveraging data and analytics to make informed decisions about product selection and pricing.
What is the pricing model for Pacvue?
Pacvue offers flexible pricing options based on the needs of individual businesses. Contact their sales team for more information.
Which is the best online marketplace optimization software?
There are several online marketplace optimization software options available, and the best one for you will depend on your specific needs and goals. Some popular options include Pacvue, Sellics, Teikametrics, and SellerApp. It is recommended that you do your own research and compare the features, pricing, and reviews of each software to determine which one will work best for your business.