Advertising Disclosure
Advertising disclosure:
Our partners compensate us. This may influence which products or services we review (also where and how those products appear on the site), this in no way affects our recommendations or the advice we offer. Our reviews are based on years of experience and countless hours of research. Our partners cannot pay us to guarantee favorable reviews of their products or services.
Online marketplaces have become an essential platform for enterprise businesses to reach a wider customer base and increase sales. However, optimizing an online marketplace can be a daunting and complex task that requires a strategic approach and the right tools. Fortunately, there are several online marketplace optimization software options available that can help enterprise marketers and executives streamline their processes and maximize their profits.
Leveraging the benefits of marketplace optimization can give you a competitive edge and enable you to attract your desired audience. The good news is that utilizing software tailored to marketplace optimization can make this process simpler and more efficient than ever before.
In this article, we will provide a comprehensive overview of the top online marketplace optimization software options for enterprise businesses. We will delve into the unique features and benefits of each software and provide an objective assessment of the pros and cons. Our aim is to equip readers with the necessary information to make an informed decision on which optimization software is best suited to their business needs.
---
Online Marketplace Optimization Software for Enterprises:
---
What is Online Marketplace Optimization Software?
Online marketplace optimization software is a powerful tool that helps businesses improve their online presence and drive sales on popular e-commerce platforms. This type of software typically includes a range of features designed to help businesses optimize their product listings, such as keyword research and analysis tools, product tracking and analysis, and performance metrics reporting. By leveraging these tools, businesses can identify areas for improvement, optimize their product listings, and ultimately increase their visibility and sales on online marketplaces.
One of the key benefits of online marketplace optimization software is its ability to provide businesses with a detailed analysis of their online performance. This analysis can include a range of metrics such as product rankings, click-through rates, conversion rates, and sales figures. Armed with this data, businesses can make informed decisions about optimizing product listings and improve their performance on online marketplaces.
Another important feature of online marketplace optimization software is its ability to track and analyze competitor activity. By monitoring their competitors' product listings, pricing, and marketing strategies, businesses can gain valuable insights into the competitive landscape and identify areas where they can improve their own performance.
---
How does it work?
With its capabilities, it can help enterprises fine-tune their digital storefronts to attract more customers, boost conversions, and ultimately maximize profits.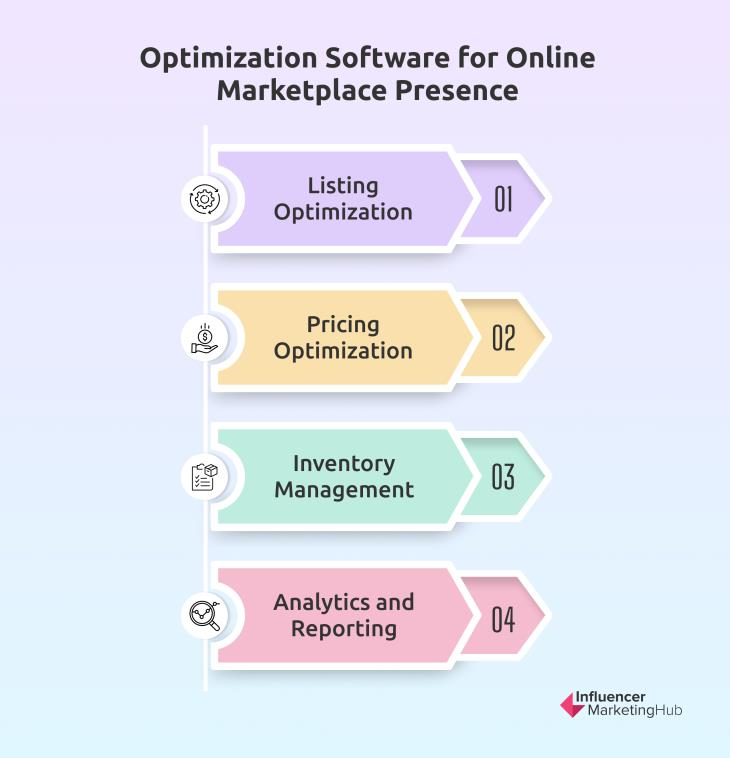 Listing Optimization: This feature allows enterprises to optimize their listings to increase visibility and conversions. It includes tools for keyword research, optimization, and analytics to ensure that the products are visible to the target audience and are presented in the most attractive way possible.
Pricing Optimization: This feature enables enterprises to optimize their pricing strategy to maximize profits. It includes tools for competitive pricing analysis, price testing, and dynamic pricing to ensure that the prices are competitive and the enterprise can increase its profit margins.
Inventory Management: This feature helps enterprises manage their inventory across multiple marketplaces. It includes tools for real-time inventory management, stock level monitoring, and order management to ensure that the inventory levels are optimized and orders are fulfilled efficiently.
Analytics and Reporting: This feature provides enterprises with data-driven insights and analytics to track performance, identify opportunities, and optimize strategies. It includes tools for reporting, data visualization, and predictive analytics to help enterprises make informed decisions and improve their marketplace presence.
---
Best Online Marketplace Optimization Software
Our review of online marketplace optimization software has identified several top-performing options for enterprises seeking to enhance their digital marketplace presence, so let's take a look:
Top
marketplace optimization software enterprises
2024
Pacvue is a software and services provider designed for brands, sellers, and agencies operating in the eCommerce space. It offers a full suite of tools for eCommerce merchants to simplify their business and achieve better results.
Pros:
Pacvue offers a comprehensive training program that includes visual learning modules to teach users how to launch campaigns and generate reports.
With advanced reporting and campaign analysis features, users can access in-depth insights and data to make informed decisions and drive business growth.
Pacvue's platform allows users to efficiently manage all of their online marketing campaigns across multiple channels in a centralized location.
The platform's advanced reporting tools provide real-time data, enabling users to track and analyze campaign performance with greater accuracy and efficiency.
Pacvue's technology includes advanced algorithms and machine learning capabilities, which allows users to optimize their advertising campaigns and maximize their ROI.
The platform also provides tools for automated bid management and keyword optimization, allowing users to streamline their advertising efforts and reduce manual workloads.
Pacvue's multi-channel capabilities allow users to manage advertising campaigns across a variety of platforms, including Amazon, Walmart, and Instacart.
The platform's intuitive user interface and streamlined workflow make it easy for users to manage complex campaigns and analyze data efficiently.
Cons:
The optimization process can be challenging due to the complexity of the data and the need for specialized knowledge and expertise.
The platform may require a significant investment of time and resources to fully integrate and optimize, particularly for complex campaigns or multi-channel strategies.
The user interface and navigation can be complex and may require a steep learning curve for new users, potentially reducing adoption rates and limiting the platform's overall effectiveness.
---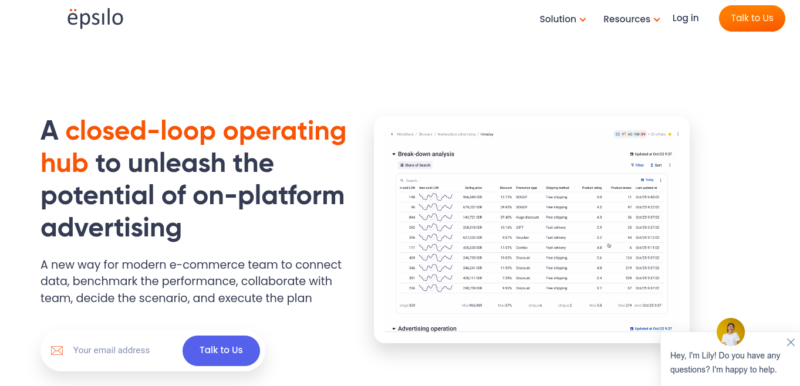 Epsilo is an execution hub for e-commerce teams that aims to help entrepreneurs and brands grow their revenue by providing automation, research, and collaboration tools. It caters to sellers of all sizes, whether they operate on a single or multiple marketplaces.
Pros:
Epsilo demonstrates a commitment to agile development through its regular rollouts of upgraded versions with new features, improved UI, and better UX.
The platform facilitates seamless scaling of on-retailer ads, allowing users to expand their advertising reach and drive revenue growth.
The platform's navigation, inspired by Notion, provides a clean and intuitive interface that enhances user experience and reduces cognitive load.
Epsilo's support team and customer success manager provide prompt and professional assistance to users, resolving issues quickly and ensuring that the platform delivers maximum value.
Cons:
Data discrepancies and syncing issues may arise, resulting in campaigns not being pushed to the retailer seller center, requiring manual flagging to the support team for resolution.
New feature launches may take some time to be implemented, possibly delaying any potential benefits they could bring to campaigns.
The platform can have a steep learning curve for new users, with some initial difficulty in navigating the interface and features. However, with continued use and practice, users can become more familiar with the platform and its capabilities.
---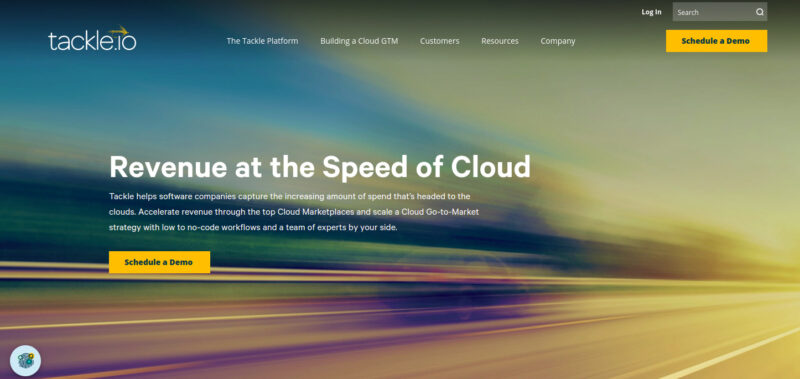 Tackle Cloud Marketplace Platform is a powerful and user-friendly platform dedicated to helping software companies generate revenue through Cloud Marketplaces, including AWS Marketplace, Azure Marketplace, Google Cloud Platform Marketplace, and Red Hat Marketplace. The platform enables a zero-engineering approach to listing, integrating, and managing Cloud Marketplace businesses. With Tackle, businesses can establish, operate, and scale their cloud businesses with ease.
Pros:
Intuitive User Experience: Tackle's platform boasts an easy-to-use interface that simplifies cloud business integration and management. Its user-friendly design ensures businesses can quickly adapt to the software and start working without a steep learning curve.
Stellar Customer Support: Tackle's customer support team is responsive, knowledgeable, and dedicated to helping businesses achieve success. Their expertise in cloud marketplace integrations ensures that businesses can resolve issues quickly and efficiently.
Robust Functionality: Tackle's platform provides a comprehensive suite of features to simplify cloud marketplace integration and management. Its powerful tools streamline the process of listing products, managing orders, and synchronizing data across multiple cloud marketplaces.
Cons:
Tackle's Salesforce integration has been reported to have high costs, which may pose a challenge for businesses with limited budgets.
While Tackle does support several cloud marketplaces, it may not be the best fit for businesses that operate in other cloud marketplaces, which could limit its effectiveness as a solution.
---
Quartile is the largest e-commerce cross-channel advertising platform that automates and optimizes advertising on popular marketplaces such as Amazon, Google, Bing, Walmart, Instacart, and Facebook. With six patented machine learning technologies, Quartile helps brands succeed with superior technology and strategy. Managing over $2 billion in ad spend annually for more than 5300 brands globally, Quartile was awarded the US Scaled Technology Award from the Amazon Ads Partners Awards in November 2022.
Pros:
Access to a team of experienced Amazon experts offers valuable insights and knowledge to enhance the platform's performance.
The ability to identify issues and opportunities with greater speed and efficiency, thanks to the platform's advanced data analytics and reporting tools.
Collaboration with account managers enables more effective communication and coordination of advertising campaigns, ensuring that all stakeholders are on the same page.
Strategy support offers expert guidance on how to optimize ad campaigns and maximize returns, utilizing advanced machine learning algorithms and data-driven insights.
Hourly bidding and AI management capabilities help to automate and streamline the bidding process, ensuring that ad campaigns are optimized for maximum performance and ROI.
Cons:
Quartile's campaign naming conventions may be confusing, which can lead to difficulties in tracking and analyzing campaigns.
Campaigns can take up to 10 days to ramp up and exit the learning phase, which may impact short-term campaign performance and require careful planning and monitoring. However, this is a common issue in the advertising industry.
Some ad channels may not be profitable for certain businesses due to industry-specific issues, which may require additional research and optimization efforts.
Account manager transitions may create a period of confusion, which can impact the quality of communication and service provided.
---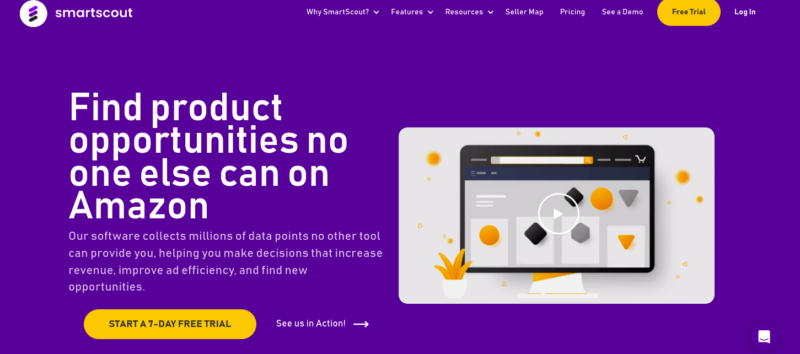 SmartScout is an innovative software tool that provides a top to bottom analysis of Amazon. It breaks down the top 20 categories and 43,000 subcategories, brand market share, ASIN performance metrics, and ASIN traffic data to help businesses make data-driven decisions to grow their brand or find profitable resell opportunities. SmartScout also has a database of every seller and their resell history, giving users a competitive edge in the market.
Pros:
Intuitive User Interface: SmartScout is designed with a user-friendly interface, including clear guidance videos and examples to help users navigate the platform with ease.
Comprehensive Amazon Analysis: The tool provides a detailed analysis of Amazon, including easy-to-understand data and filters that allow users to make data-driven decisions to grow their businesses.
Ideal for Amazon Sellers: SmartScout is perfect for Amazon sellers, particularly wholesalers, as it breaks out brands, sellers, and products across multiple Amazon selling regions.
Time-Saving Tool: The platform saves time and effort by compiling all necessary information in one place, eliminating the need for manual research and data collection.
Helpful for Discovery and Comparison: SmartScout is useful for discovering new client prospects, comparing brands, and pulling hard-to-get information from Amazon.
Easy to Understand Data Table: The tool is laid out like a giant data table, making it easy for anyone who can filter and sort in Excel to understand.
Accurate Sales Estimates and Scores: SmartScout provides accurate sales estimates and 'scores', comparable to more expensive tools on the market, making it a cost-effective solution for Amazon sellers.
Cons:
SmartScout's fee is relatively high compared to other research tools in the market.
The data provided by SmartScout is not comprehensive as it only relies on the data available on the Amazon website, instead of utilizing an API.
SmartScout needs to be used in conjunction with other software data to make informed business decisions.
The learning and logic behind some of SmartScout's sales estimates and scores are not clearly explained, which can be a downside for some users.
---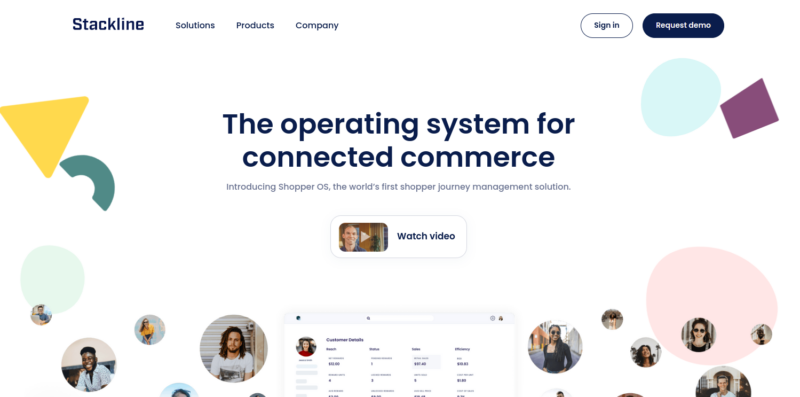 Stackline is a full-funnel connected commerce platform that uses proprietary neural networks and deep learning systems to provide transformational omnichannel insights. It helps brand leaders, product innovators, and performance marketers to power profitable growth in an increasingly complex retail ecosystem.
Pros:
Provides precise and detailed data that is both insightful and actionable.
The dashboard is user-friendly and easy to navigate, with a clear display of relevant metrics.
Enables the identification of market opportunities and efficient management of advertising campaigns across multiple channels.
The managed service team provides top-notch support and expertise to ensure optimal results.
The platform provides accurate and comprehensive reporting metrics to monitor performance and make informed decisions.
It helps in pivoting projects, developing new products, and optimizing advertising performance by leveraging the data insights.
Cons:
The dashboard uses week numbers instead of actual dates, which can create issues for businesses that require specific date-based analysis.
The lack of a streamlined pricing model can make it difficult to manage and forecast agency costs, especially when combined with complex internal finance processes.
---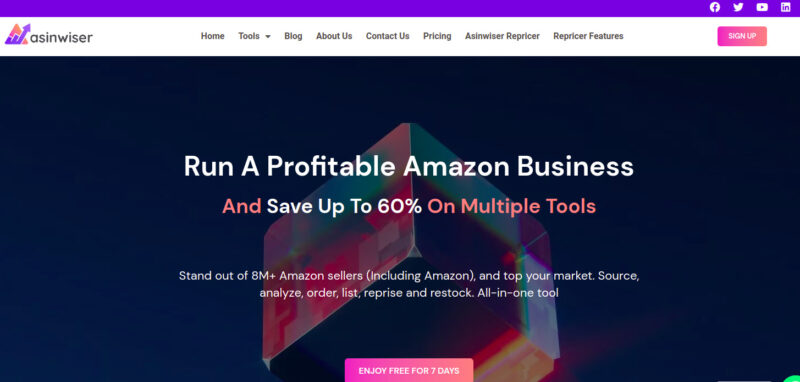 Asinwiser is an Amazon product research tool, competitor research tool, and European wholesale supplier tool. It also offers a variety of features, such as an FBA profitability calculator and a bulk scanner, to help Amazon sellers grow their businesses.
Pros:
Provides a wide range of tools and features to help Amazon sellers identify profitable products and retail arbitrage opportunities
A valuable tool for those new to selling online, providing guidance to grow their businesses in the right direction
Cons:
User Interface/User Experience Requires Enhancement: The UI/UX of the platform could be optimized for a more seamless and intuitive user experience.
Limited Feature Set: While Asinwiser boasts an array of useful features, certain users may desire more functions to be added to the platform.
Expensive Pricing: The cost of Asinwiser may be prohibitive for some sellers, particularly those in the initial stages of their business.
---
Frequently Asked Questions
How can I optimize my marketplace ads?
To optimize your marketplace ads, you should focus on creating high-quality product listings, optimizing your product titles and descriptions with relevant keywords, using high-quality images and videos, and regularly analyzing and adjusting your advertising campaigns.
What is marketplace optimization?
Marketplace optimization refers to the process of improving and optimizing online marketplaces such as Amazon, eBay, and Walmart to increase sales and revenue. It includes improving product listings, optimizing advertising campaigns, and utilizing data and analytics to make informed decisions.
How can online marketplace be improved?
Online marketplaces can be improved by focusing on the user experience, improving product search and discovery, optimizing product listings, providing better customer service, and leveraging data and analytics to make informed decisions about product selection and pricing.
What is the pricing model for Pacvue?
Pacvue offers flexible pricing options based on the needs of individual businesses. Contact their sales team for more information.
Which is the best online marketplace optimization software?
There are several online marketplace optimization software options available, and the best one for you will depend on your specific needs and goals. Some popular options include Pacvue, Sellics, Teikametrics, and SellerApp. It is recommended that you do your own research and compare the features, pricing, and reviews of each software to determine which one will work best for your business.